The grizzly bear has been added to the growing list of animals represented in my Over the Under-Schmeerings (OTUS) series.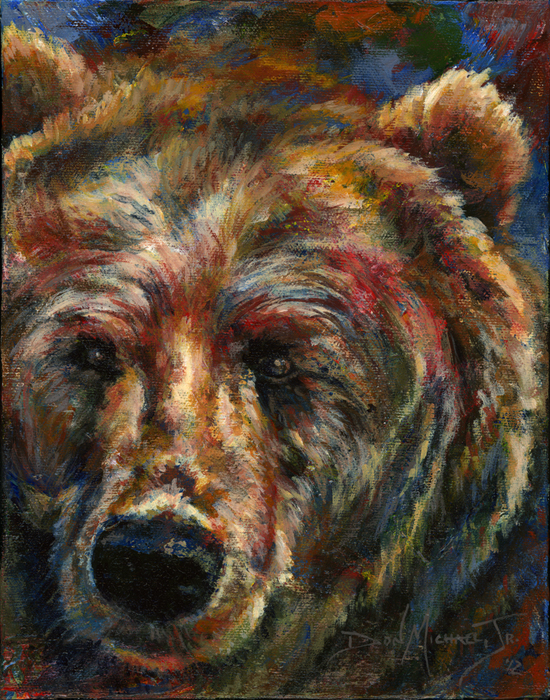 Guardian – 10″x8″ – Acrylic on canvas – Completed 10/25/12
©2012, Don Michael, Jr.
I'm now looking for more reference photos to work from. If any of my blogger friends have shots of wild animals that they have taken – whether in the wild, at the zoo, at a preserve, at the circus or any other venue – and are willing to share them with me, I would be truly grateful. You can email them to me at don@donmichaeljr.com. Photos that work the best for me feature the animal's face. As you may have noticed in this series, I'm focusing my compositions around their eyes. The photos don't have to be close-ups, I can crop in as tight as I need.
Well, it's time to get back to the studio…
Happy Creating!
I'm having some fun as I continue to explore the wild world of animals in my OTUS series. For this latest inductee into the series, I decided it was probably time to do something canine. Personally, I'm more of a cat person, but I know from experience that if I were to totally reject our canine friends this could lead to a Dogmatic Response.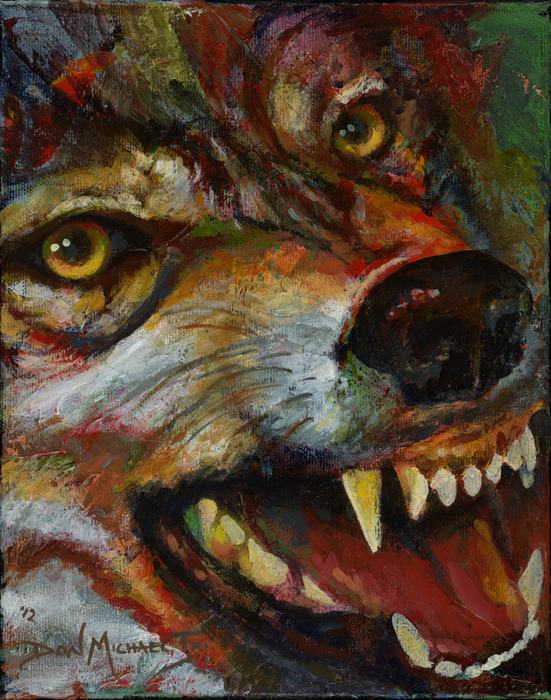 Dogmatic Response – 10″x8″ – Acrylic on canvas – Completed 10/21/12
©2012, Don Michael, Jr.
I know… it's a pretty weak pun, but it was right there for the taking and I couldn't resist. I'll even admit to having a wolfish grin on my face as I type this.
Ok, ok, I'll stop now…
Happy Creating!
As I was working on my latest OTUS painting my daughter came by and said, "Aaawwwwe, look at those eyes! Look at those cheeks! He's so cute! I want one of those.", to which I responded, "He will eat your head!". She then went on to tell me that it would be worth it because he is so cute. Egads!!! This wildcat has all the qualities of a Smooth Operator…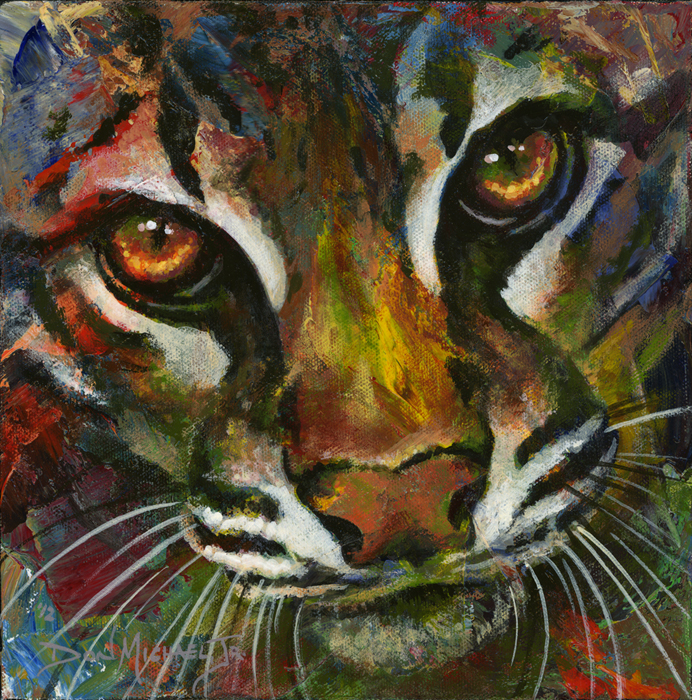 Smooth Operator – 10″x10″ – Acrylic on canvas – Completed 10/18/12
©2012, Don Michael, Jr.
Ocelots have always been one of my favorite wildcats. I remember drawing them from the encyclopedia when I was in high school. Actually, I drew all the wildcats I could find in the encyclopedias, but Ocelots ended up getting more Don time than did the others.
I am really having a blast with these animal OTUS's that I've been painting of late. It's been a nice tangent which is already paying huge dividends on many levels, primarily creatively. I'm starting to see things differently in my Schmeerings. I'm finding ways to draw out the colors from the Schmeerings into my final composition. Instead of painting Over the Under-Schmeerings, I find myself painting Into the Under-Schmeerings. Oh what fun it is to learn and grow!
Happy Creating!
Well, it's that time again. In just a few short weeks we'll be voting for our favorite candidates to serve in several federal, state and city positions. On a daily basis I'm being told from so many sources that I'm stupid if I don't vote one certain way or another. People that matter to me suddenly seem to hate me because I choose to have an opinion different than theirs. Talking heads on all the different news channels try to tell me, often with much vitriol, that the candidates or parties they prefer are the only choice that matters… that our country is 'going to hell in a handbasket' if we don't vote their way. To me, it's all just a Matter of Opinion…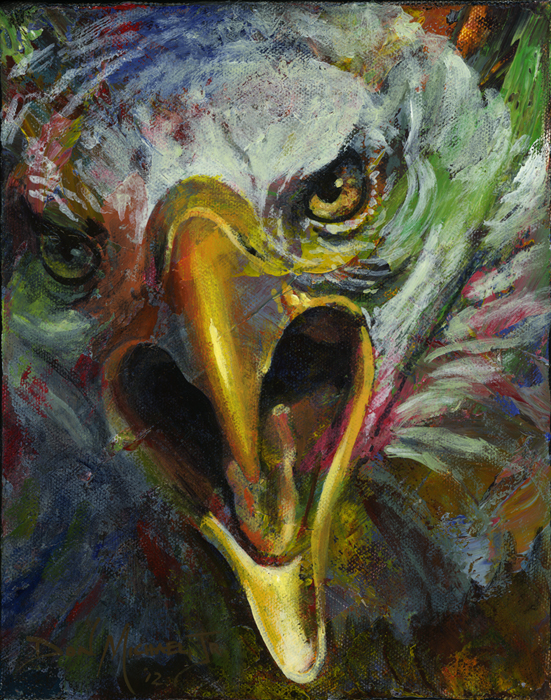 Matter of Opinion – 10″x8″ – Acrylic on canvas – Completed 10/16/12
©2012, Don Michael, Jr.
This OTUS painting is a continuation of an animal series I recently began. I love how the colors and energy of the Under-Schmeerings give a life and personality to each of these critters. I anticipate creating more of these.
As for the political quagmire I alluded to up above, all I'll say is I've listened to both sides. I've read about the issues that matter to me. My choices are mostly made. Now I'm willing to let the polls decide. At that point, I will choose to get behind whichever candidates our nation, state and city have chosen to put into office. I pray the rest of my country will be willing to do the same. We all need each other.
Can't we all just get along?
OK, my pontificating comes to a close. I will now return to my studio where only one opinion matters…
Happy Creating!
My latest OTUS painting is the continuation of an animal theme that started earlier this year. Where will this lead my work? Time Will Tell…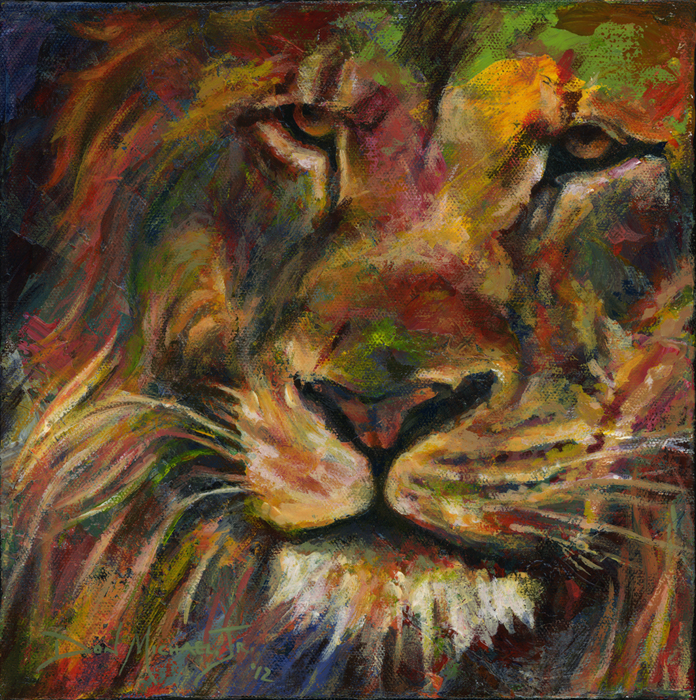 Time Will Tell – 10″x10″ – Acrylic on canvas – Completed 10/15/12
©2012, Don Michael, Jr.
Happy Creating!
My latest Over the Under-Schmeerings (OTUS) painting started out as a demo from this past weekend's Live Painting Event at the Gina M Woodruff Gallery in Long Beach, CA. When they invited me out, the ladies of the Gallery asked that I create an OTUS style painting. I was more than happy to oblige…
Before I started for the night, I went ahead and sketched out my design atop my previously 'Schmeered' canvas. If you ignore the goofy guy in the photo below, you can see how far along I was about an hour into my demo. And, if you look really close, you can still see some of my reference lines…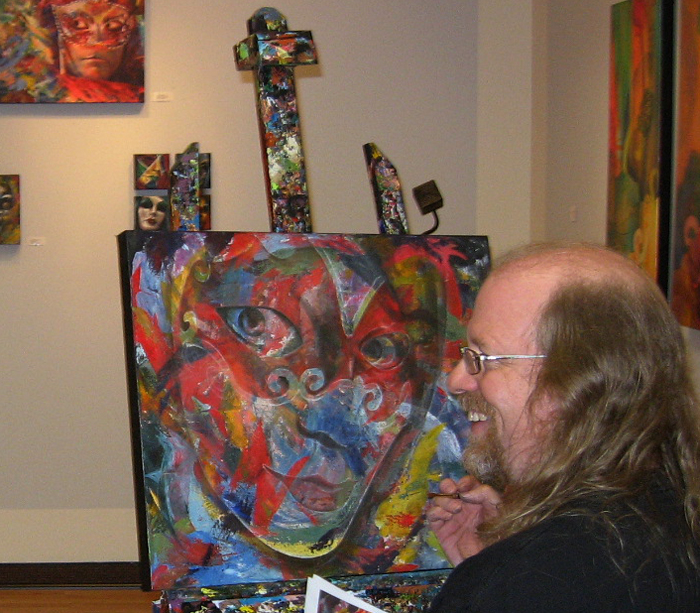 As the night continued I made pretty good progress. It was a lot of fun to paint while visiting with those who stopped by. As is usually the case, some of my favorite conversations came from the younger guys and gals. I had one 5 or 6 year old tell his Mom that he wanted to paint with a paper in his hand to look at like I did (more on that later). He's the blurry little guy in the photo below…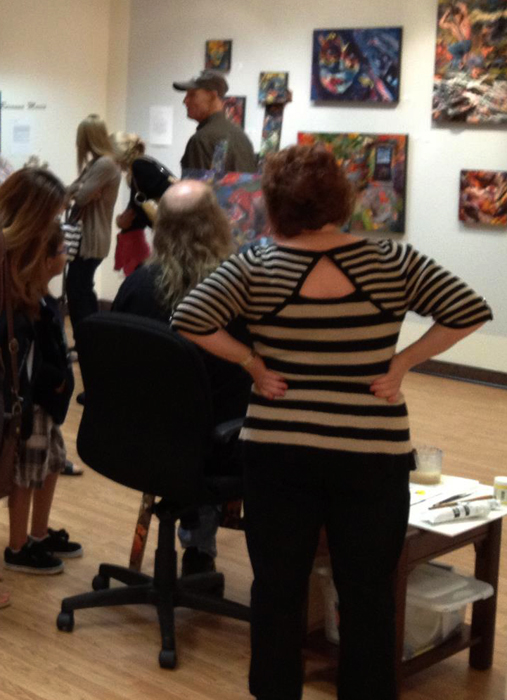 By the end of the night I was about 2/3's of the way finished with the painting. Here I am about to wrap it up for the night…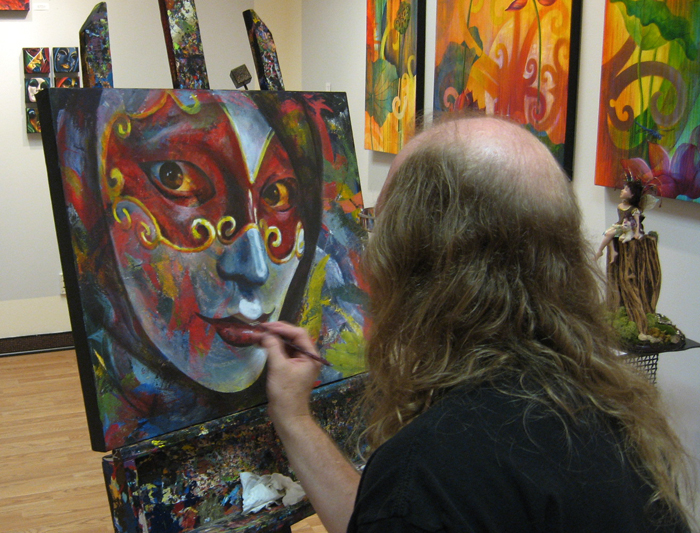 …and here's what the finished painting looks like after I got it home and spent a few more hours on it.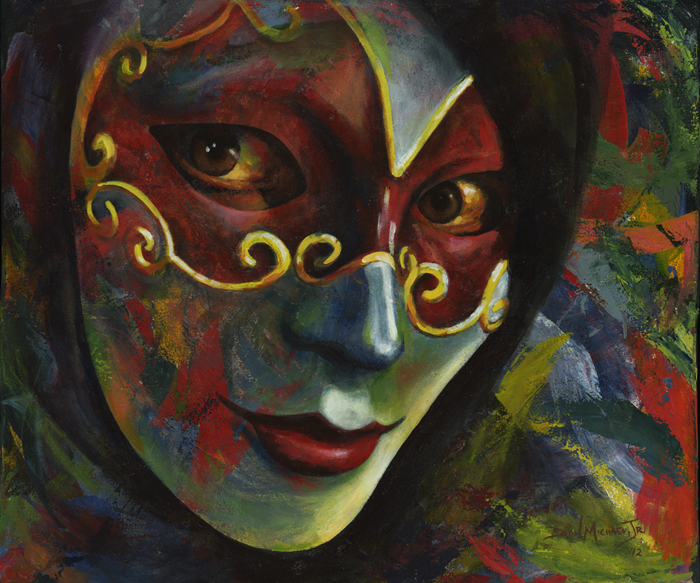 As Pretty Does – 20″x24″ – Acrylic on canvas – Completed 10/10/12
©2012, Don Michael, Jr.
For those new to my work, let me tell you a little more about my Over the Under-Schmeerings (OTUS) series. Each of the paintings in this series starts out as a blank canvas sitting by my easel as I paint. When mixing my paints for the painting that is currently on the easel I wipe the excess off my palette knife onto that extra canvas sitting by my easel. I've always hated to wipe that excess onto a rag because it seems like such a waste. At the end of a painting session, I then scrape all the excess paint off my palette and once again 'schmeer' it onto the extra canvas. By the time I finish the painting on the easel I have usually filled that extra canvas entirely with swipes and 'schmeers' of paint. I then take that 'schmeered up' canvas, which is pretty much a chaotic mess, and begin to incorporate imagery in an attempt to bring order to that chaos. In other words, I paint Over the Under-Schmeerings.
As an example, the 'schmeerings' which are the foundation of As Pretty Does started out looking like this…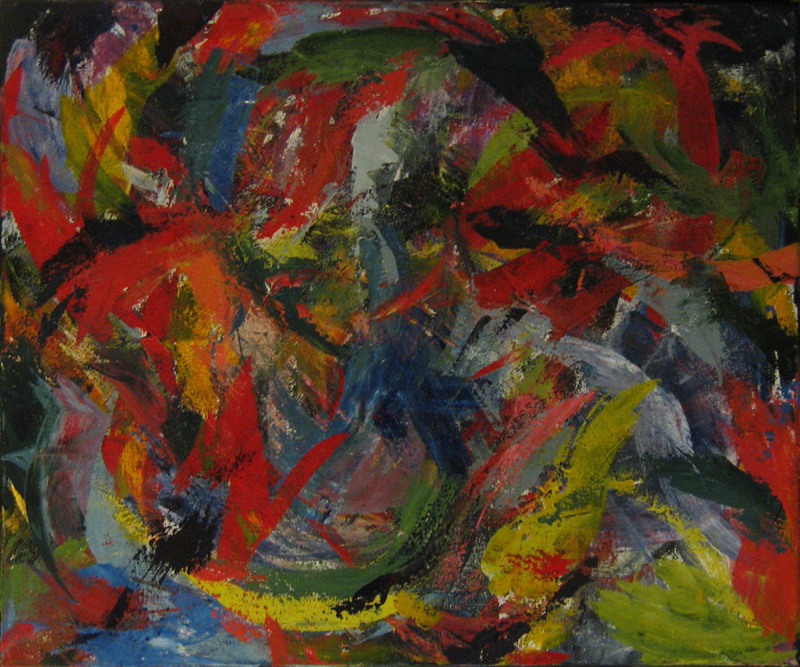 (Now I'm about to 'unmask' my process a little more than I ever have before.)
In reference to the "paper in my hands" that the little guy mentioned above, below is part of what I had printed out and was working from…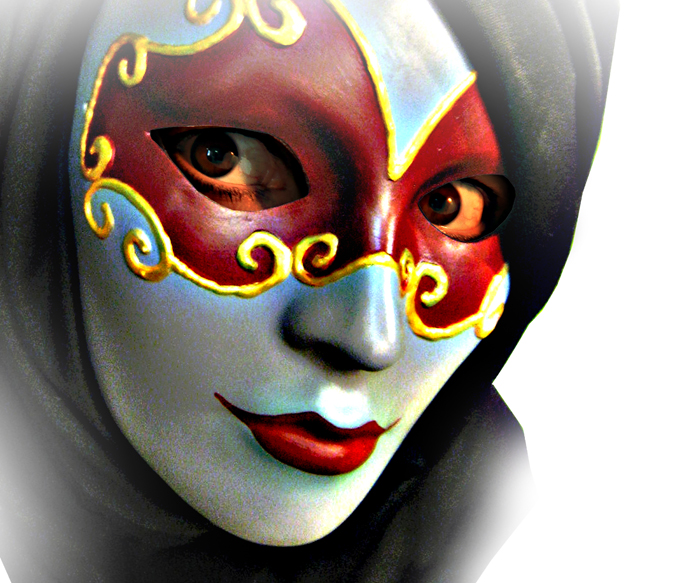 …which is a composite I created from a photo I took of one of my masks…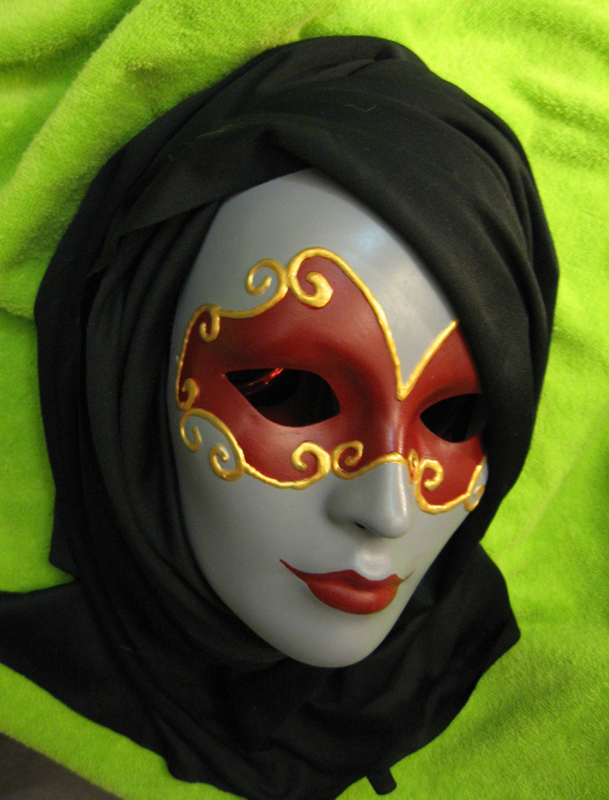 …and another photo that I had taken of a friend of mine behind a different mask…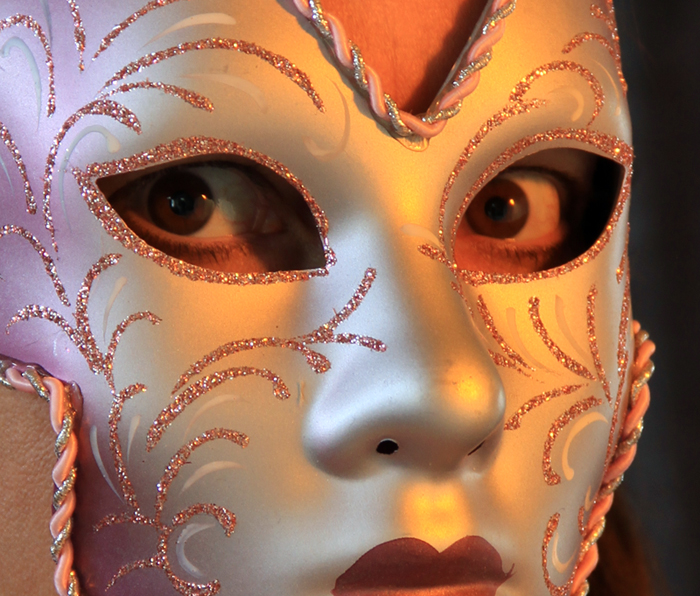 As I'm sure you must realize, there is a lot more to it than this. But, you must understand, I cannot share all my secrets!
Anyway, I hope I was able to clarify a bit about my OTUS series. I love the challenge of forcing order into the chaos. Add to that the duality of using masks as subject matter, and there are so many levels of interpretation that can arise from each of the pieces in this series.
Wow, I love this thing I do!!!
Ok, I think it's time to slide back behind my mask and head into the studio…
Happy Creating!
Nearly twenty months ago I wrote about dealing with a bit of an artistic existential crisis. In that same post I also introduced the beginnings of a 3D piece that I was working on. Since then I started and then stopped work on that 3D piece several times. I changed directions many times and even re-gessoed it once. I just couldn't get a sense of where I really wanted to take it – until a couple weeks ago. Here's what I finally came up with…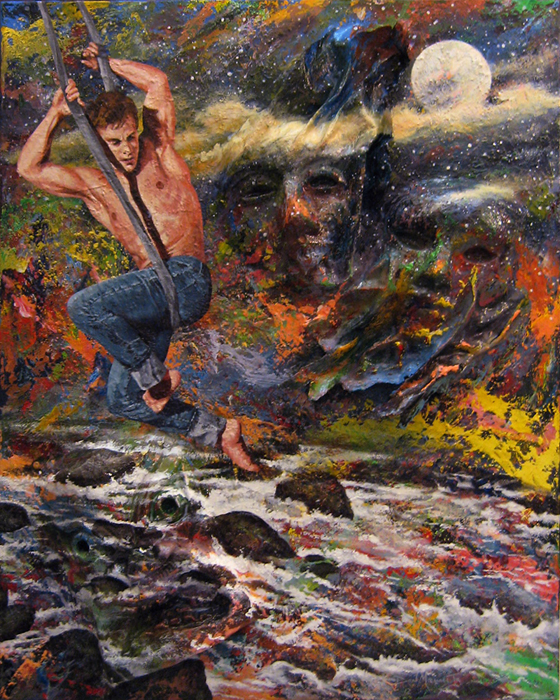 Of Things to Come – 30″x24″x3″ – Acrylic and Paper Mache' on Canvas – Completed 10/4/12
©2012, Don Michael, Jr.
I finished Of Things to Come just in time to take it with me to the Gina M Woodruff Gallery in Long Beach, CA where I was scheduled to be their featured artist for the weekend. We had a Meet & Greet on Friday and a Live Painting Event on Saturday. It was a great weekend of art and fellowship. Below are a few photos from the two nights…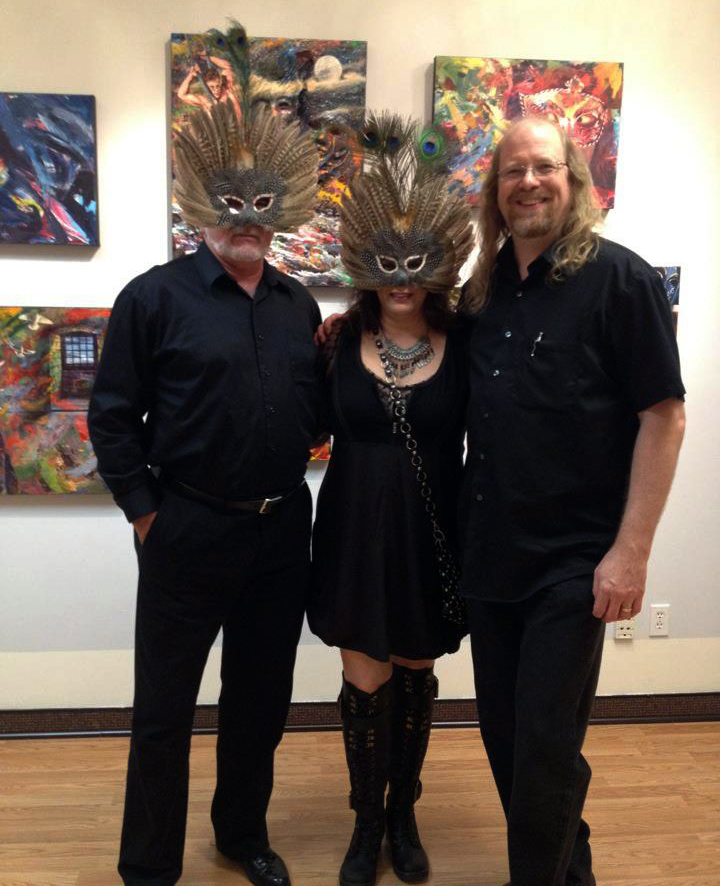 On Friday there were several people who came by wearing masks, which I found quite thrilling. They are part of a club called Masquerade Meetup from the Long Beach area. They seemed to really enjoy my work.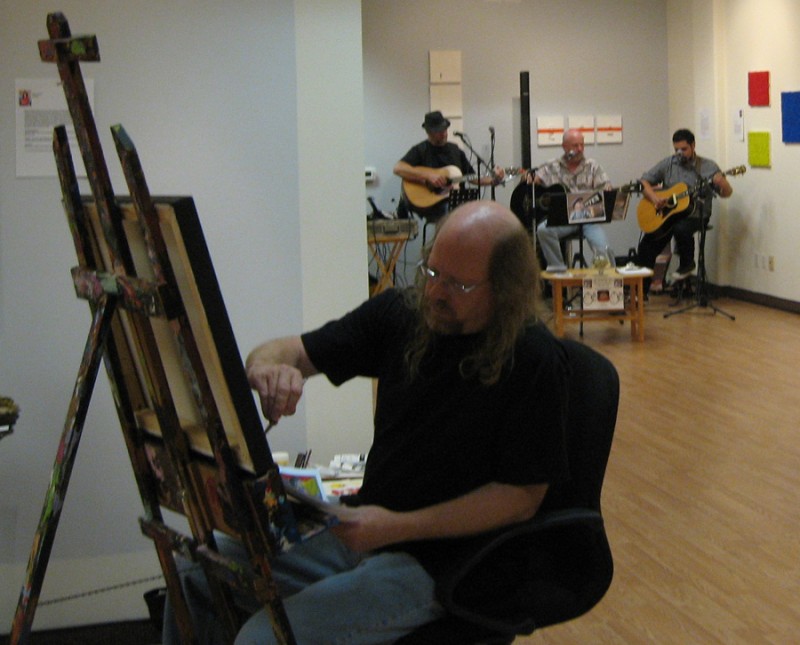 As I painted on Saturday night I enjoyed the sweet music of Listen TheBand. They regaled us with timeless classics – and quite beautifully, I might add.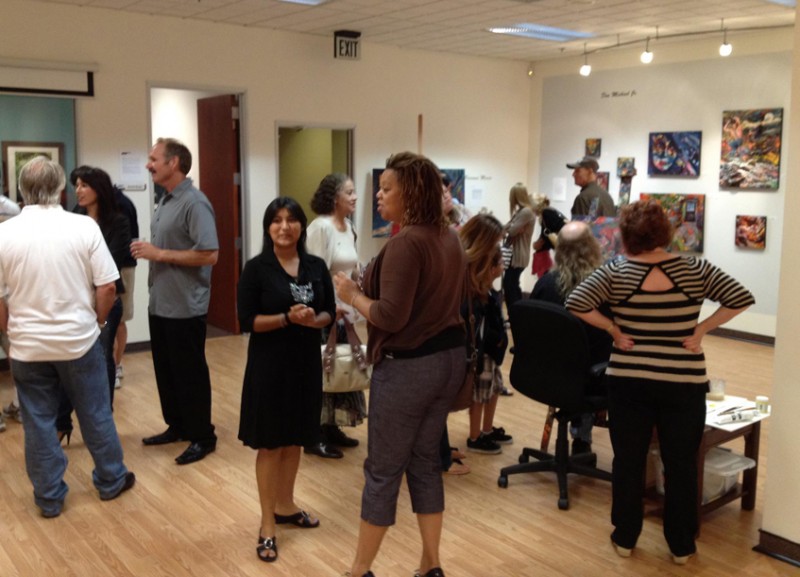 Both nights we had a pretty nice turnout. Here you can see me painting with a bit of an audience gathered around. That young man just to my left was really enthralled. His mom told me later that he wants to paint the way I do someday. I couldn't be more proud.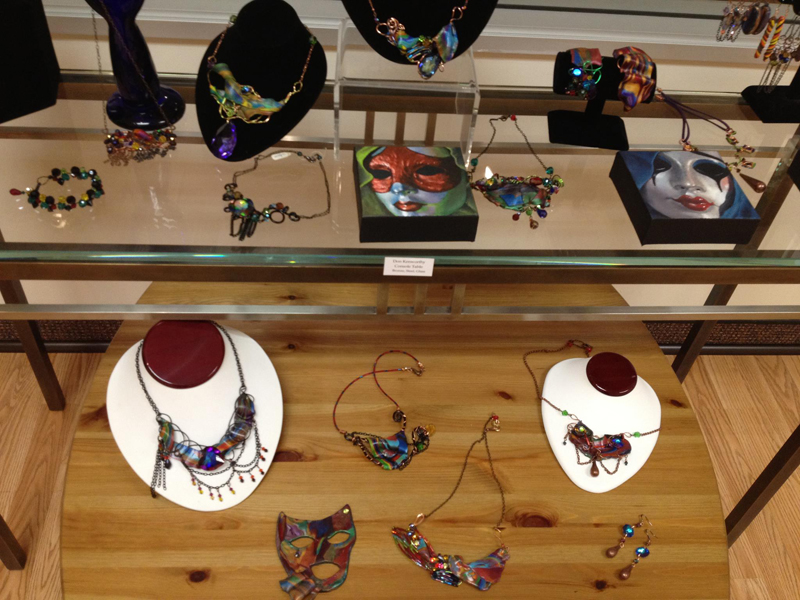 Speaking of things that make me proud… Fellow artist, Sherri Gleason, enjoyed my Over the Under-Schmeerings style of painting so much that she has started a series of jewelry pieces inspired by my work. How sweet is that!?!?
As for Of Things to Come, this is one of those paintings that you have to see in person to get a true sense of it. A photo just can't do it true justice. So, if you're in the Long Beach area, be sure to swing by to check it out. For those that cannot make it to the gallery, here is a photo of the 3D elements before the paint was added…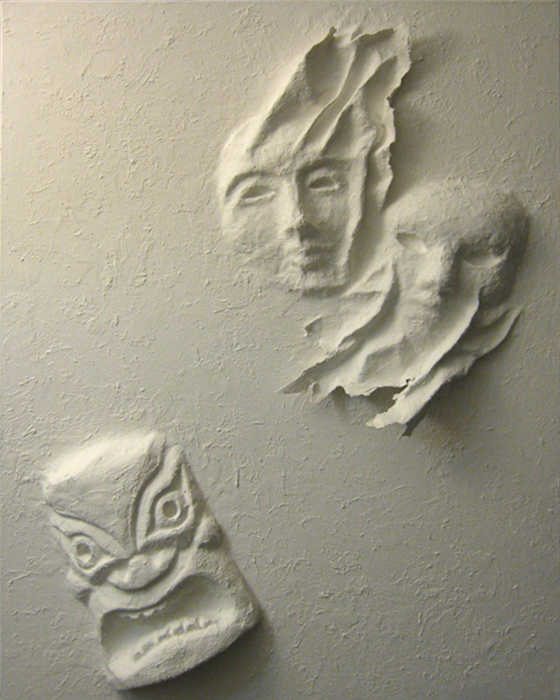 It was a long strange trip getting to the finished painting, but I feel it was worth it in the long run. Now I have that experience behind me from which to grow as I move into my next paintings.
Happy Creating!
I'm excited to announce the release of the book, Underground Ring: Book One, which is the first published novel by Toronto based author, M.M. Reid. You may wonder why this book warrants inclusion on my art blog? Well,that's an easy question to answer… I am the proud creator of the cover that graces it.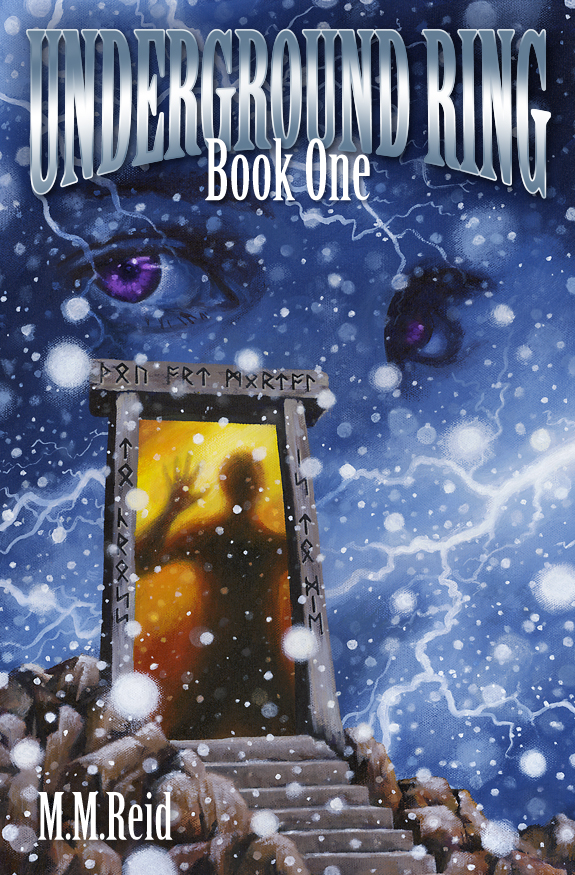 Underground Ring: Book One – Book cover artwork – ©2012
The artwork for this cover comes from a painting I created specifically for it entitled Precipice (written about here). It's a little different from most of my other work, while still being similar. A wonderful side-effect of this project, and all the other book cover projects I've worked on lately, is they stretch me. They cause me to consider different styles and different subject matter which end up informing my later works. At the same time, I'm able to inject some of my own style and subject choices into the project – making it a piece that fits into my repertoire, even as it takes me into new territory. Oh, how I love this thing I do!
Underground Ring: Book One is available on Amazon as a digital book. You can purchase it here for only $2.99. It's a really good read. I recommend you give it a try…
Now I need to get back to work as I prepare for this weekend's Meet & Greet and Live Painting Event at the Gina M Woodruff Gallery in Long Beach, California. If you live in the Los Angeles area be sure to stop by and see me either Friday or Saturday night (Oct. 5 & 6). The gallery specifics are:
Gina M Woodruff Gallery
5555 E. Stearns, Suite 203
Long Beach, CA
Ph.1-562-519-1614
I hope to see you there.
Happy Creating!