The UNLV Foundation hired my good friend, CJ's, company Alley Zoom Productions to create a Thank You video to send out to all their donors. I am greatly honored that CJ included me in the creation of this project.
As we shot video, we got to see 'behind the scenes' of a dynamic and vibrant campus that has faculty and students making a difference upon the world in which we live. We got to meet many students and faculty and learned a lot about what they are up to. We were invited into their classes, labs and training facilities where all of this magic is going on. Let me add that after seeing everything UNLV is doing and is involved in it makes me even prouder that one of our sons is currently attending there (he even appears briefly in this video).
Since we just celebrated our Thanksgiving Holiday (which I hope everyone enjoyed) I thought this little Thank You Video would tie in nicely. To see the video, just click on the photo below…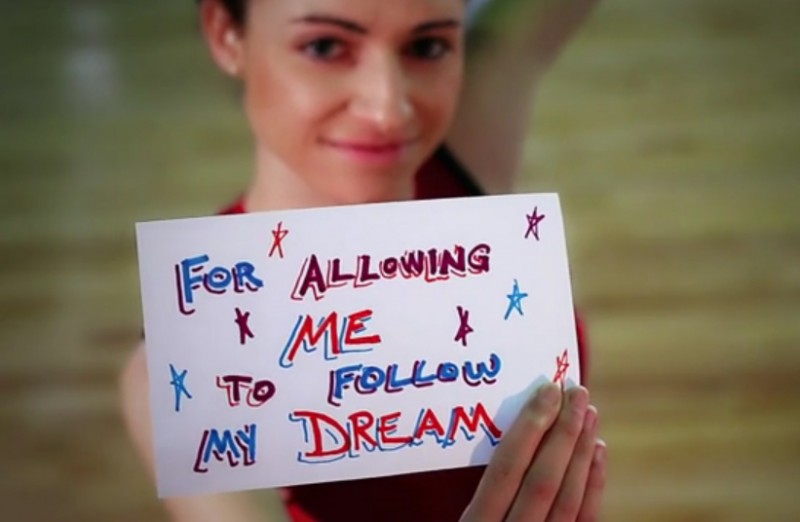 UNLV Foundation Thank You Video – Created November 2012
Oh, but how I love this thing I do…
Happy Creating!
One of the things I've always enjoyed about using masks as subject matter is how what is shown on the surface isn't necessarily what is truly represented underneath. This duality is further enhanced by the reaction of the viewer to the mask and what it represents to them. The viewer, in effect, has a tendency to project their own emotions onto the finished painting. Often, the 'story' I thought I was telling is not the 'story' the viewer took away from their exposure to the finished painting.
Now I've discovered this same phenomenon is occurring with the animal paintings I've been creating of late. I've been focussing each composition entirely on the animal's face with the intent of drawing the viewer to the eyes. A big part of understanding what an animal is feeling or preparing to do is through their body language. Without the visual aid of body-language the viewer has no idea what the animal is truly up to or how they really feel.
My latest painting is a good example of this. I've heard several different 'takes' on what this tiger represents or is up to. With that in mind, I decided that instead of projecting my own ideal of what this painting represents I'll just stand on the Outside Looking In…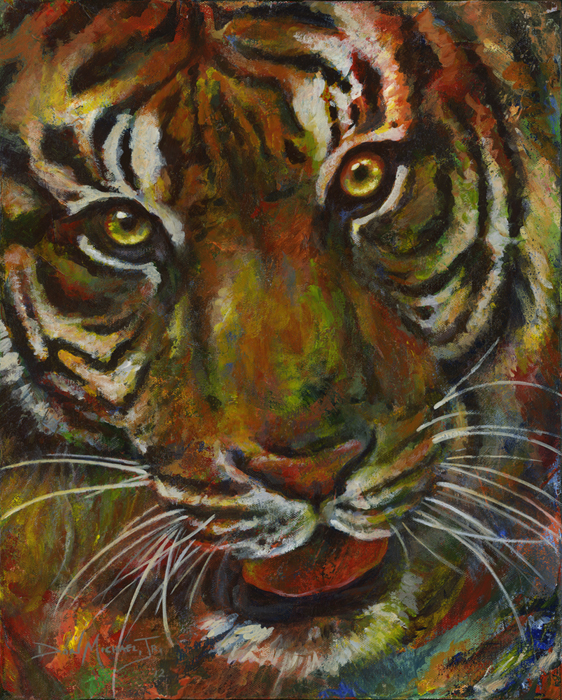 Outside Looking In – 20″x16″ – Acrylic on canvas – Completed 11/16/12
©2012, Don Michael, Jr.
If my math is correct, this latest Over the Under-Schmeerings (OTUS) painting is number 80 in the series… and number 81 is already in the works. Speaking of which, I think I hear it calling me from the studio.
Happy Creating!
After spending the last month painting only animals I decided it was time for some mask action. Here's what I came up with…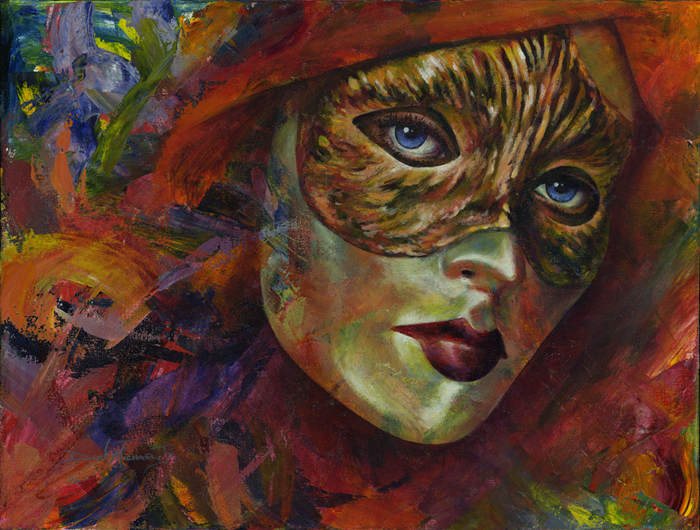 Listen to Your Heart – 18″x24″ – Acrylic on canvas – Completed 11/8/12
©2012, Don Michael, Jr.
Well, that was fun.
Now I have a new animal painting on the easel and it's time to get back to it…
Happy Creating!
When my good friend and fellow artist, Kathleen Krucoff, saw that I was starting to work animals into my Over the Under-Schmeering (OTUS) series she asked if I would be interested in trying a basset hound. Now, Kathleen did not have just ANY basset hound in mind. Nope. She specifically wanted me to do a portrait of her newest family member, Quorra. So, once again, I found myself wandering outside of my comfort zone. It's one thing to paint an animal generically. It's a totally different thing to paint one specifically – especially if you have never met the animal in person.
Something that really helped make this a less formidable challenge is the fact that Kathleen's husband, Dan, is an outstanding photographer. I asked Kathleen if she would have Dan take several photos of Quorra in her element so I could 'get to know her' before I started trying to immortalize her in paint. They ended up sending me around a dozen photos, which I found to be quite helpful. Based on those photos, here's what I came up with…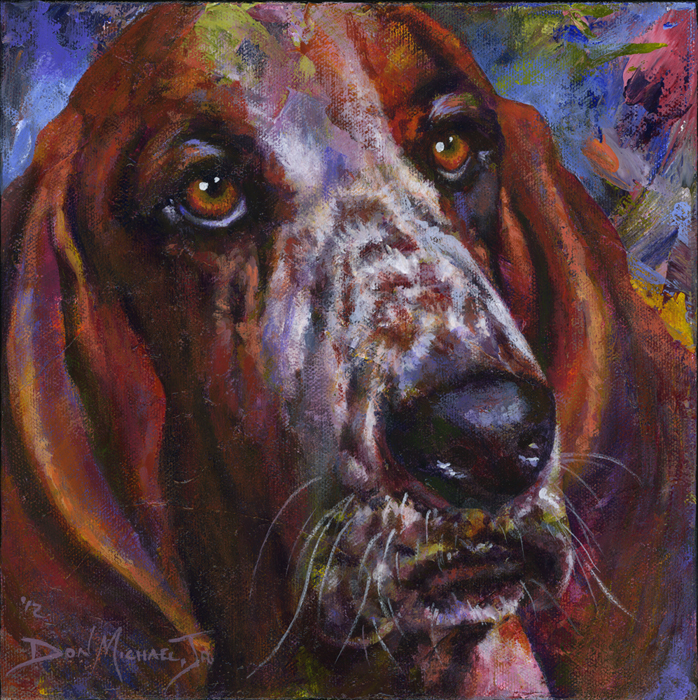 Quorra – 10″x10″ – Acrylic on canvas – Completed 10/31/12
©2012, Don Michael, Jr.
This afternoon I received an excited phone call from Kathleen. Quorra's portrait had finally arrived in the mail. The whole family got so into the fun of unpacking the new portrait that Dan had to take some photos of all the excitement. Below, Quorra and her older sister, Nocturne, are jumping up and down (well, as much as bassets jump up and down) for joy as Kathleen displays her new purchase.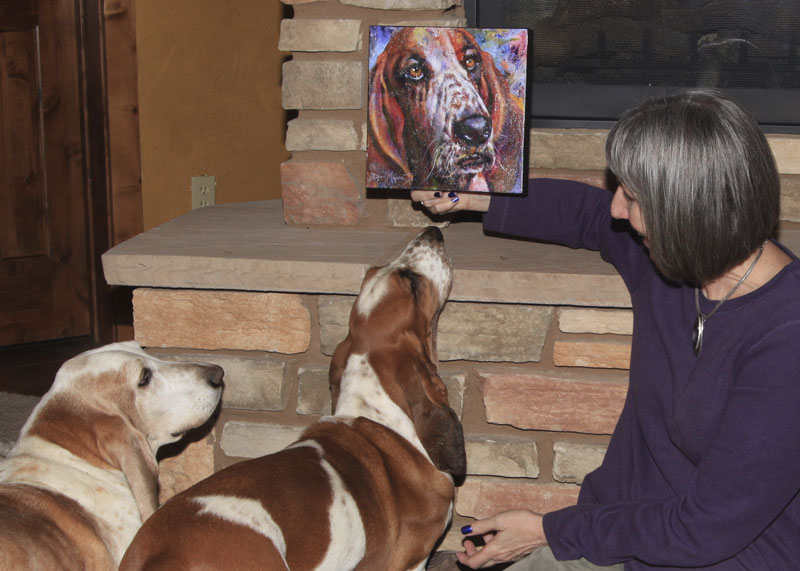 Once everybody settled down, Kathleen and Quorra were finally able to pose with Quorra's new portrait…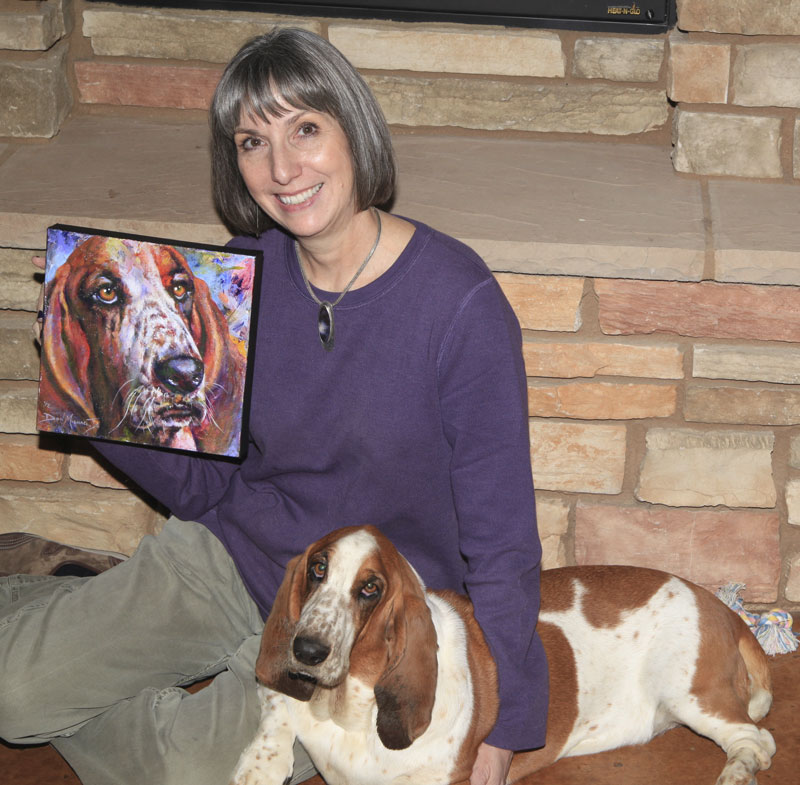 Thank you, Kathleen, for entrusting me with this honor. This was a fun commission and a wonderful opportunity to get to know you and your family a little better. I guess there is some warmth to be found in those Colorado winters…
Happy Creating!