All my life empty, run-down houses have given me pause. Those empty structures must have breathed life at some point in their existence. Surely, their foundations were layered with hopes and dreams. Those empty walls must have witnessed life, love and joy at some point. Were those homes abandoned for better situations? Or, are they monuments to lives long gone?
When I began to create a composition around one of these witnesses to times gone by, the optimist in me wanted to focus on life. Life as a gift. Life as a beautiful thing full of wonder and excitement. But, alas, the realist in me sees that life is also finite. The clock is always ticking.
Here's what I came up with…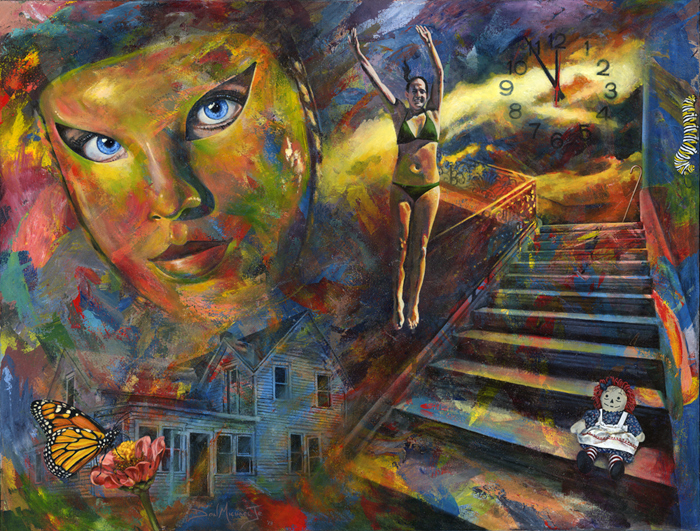 One Fleeting Moment – 30″x40″ – Acrylic on canvas – Completed 2/25/13
©2013, Don Michael, Jr.
I'm really proud with how this turned out. In fact, I was so excited right from the start of painting this and even posted its daily progress on my facebook page, http://www.facebook.com/DonMichaelJr .
One of the side effects of a project like this is that I don't get much sleep while I'm working on it. Each night I go to bed with it in my psyche and each morning I awaken ready to get back to the easel. So, without further ado, I'm going to bed…
Happy Creating!
After weeks of doing work for others, I decided it was time to do a painting for me. So, I sat down last night and came up with this…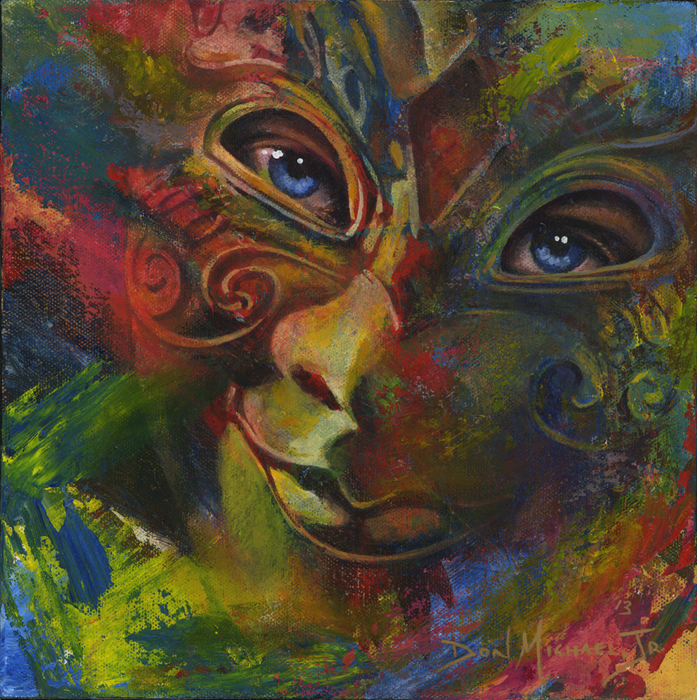 Holding Back – 10″x10″ – Acrylic on canvas – Completed 2/12/13
©2013, Don Michael, Jr.
For this painting I wanted to convey that a bemused smile can often be hiding much deeper feelings. The raw energy of the primary colors combined with the smile of the mask give this Over the Under-Schmeerings a friendly feel – until you meet the direct gaze of the eyes behind the mask, that is. What are those eyes really trying to tell us? For some reason, they sure don't seem to be carrying the same friendly energy as the rest of the painting. I wonder what they're Holding Back.
As I was preparing to post this it suddenly occurred to me that this was my first mask painting in quite a while. When I went back to look I realized that it's been exactly 3 months since the last one. Maybe that's why I had so much fun painting this last night…
Happy Creating!
Last month I was hired to create and modify the logos for four different companies. I can finally share one of them…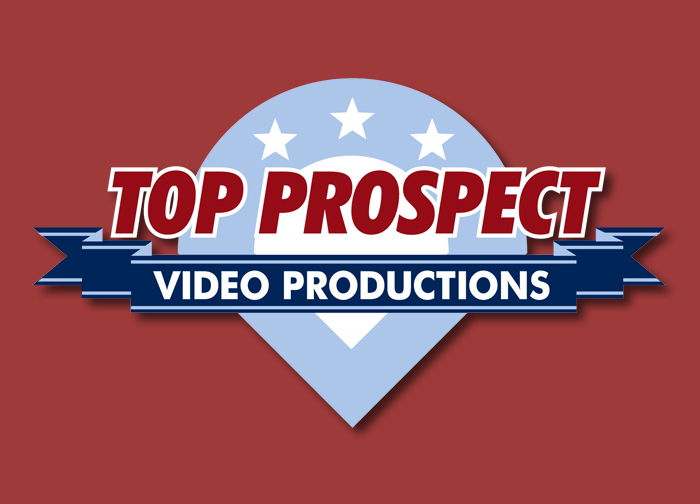 Top Prospect Video Productions – Logo Artwork
©2013, Top Prospect Video Productions, LLC
Top Prospect Video Productions creates recruitment videos for high school athletes in the Phoenix, AZ area. You can see a couple samples of their work by clicking here.
Top Prospect was founded by my good friends, Dale & Nancy Wyman. Dale and I worked together in television for a few years in the first decade of this century. In fact, Dale was the man who hired me as Art Director and convinced me to move my family to the Las Vegas area. I'm really glad he did. We did a lot of good work together during our time together while garnering several industry awards, including that EMMY I've mentioned here before. Not only did we do great work together, but we became lifelong friends and I'm honored we were able to once again collaborate on a project.
I wish this young company nothing but the best. I believe in what they're doing and know they will do a wonderful job creating recruitment videos for young athletes.
Happy Creating!
Once again I have the honor of being invited to participate in An Affair of the Heart for the Las Vegas Chapter of the St. Jude Children's Research Hospital. I'm proud to say that this is my third year to paint one of these Ginormous Hearts, which are then used to generate awareness of and money for the work St. Jude is doing in the fight against cancer in children.
The successes St. Jude has achieved during its 51 years of existence are phenomenal. For example, in 1962 the five-year survival rate of a child diagnosed with acute lymphoblastic leukemia was a paltry 4%. That survival rate is now up to 94%, which is just outstanding!!! (FYI, you can see more survival rates here. Check it out, you'll be amazed.) As wonderful as this is, there is still a lot of work to do, and that's what I wanted my concept for this year's heart to reflect. Let's keep reaching for even more success with even more young lives saved.
My artist statement for this year's heart is:
"The Carousel is a place where hopes and dreams abound. Those magnificent steeds of fiberglass, wood and steel take us to places of wonder where the cares of life are forgotten. But wait… It gets even better. There's the brass ring! A goal. A hope. A gift.

Thank you, St. Jude, for helping to give our children the hope and the gift of life after cancer.

Keep reaching for those brass rings!"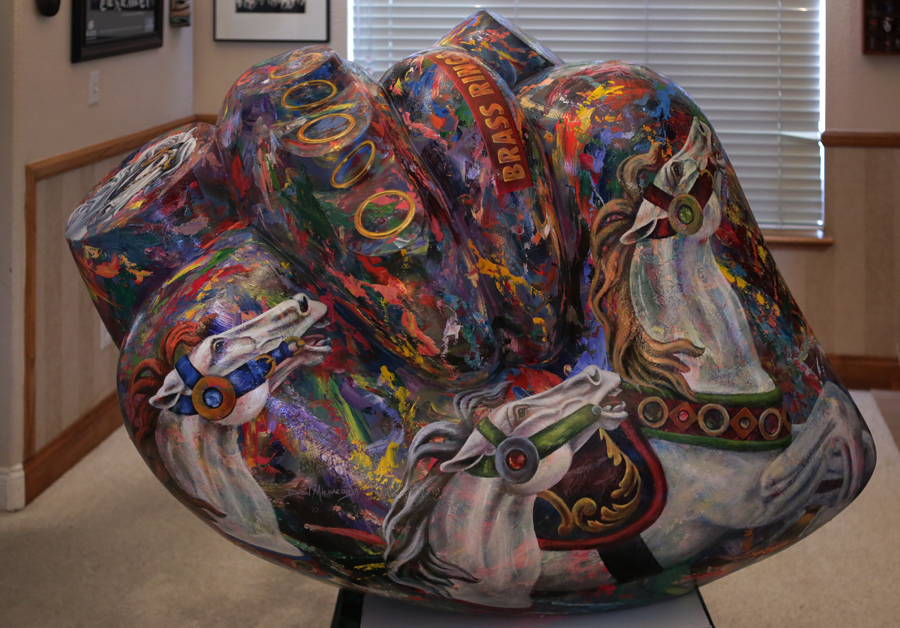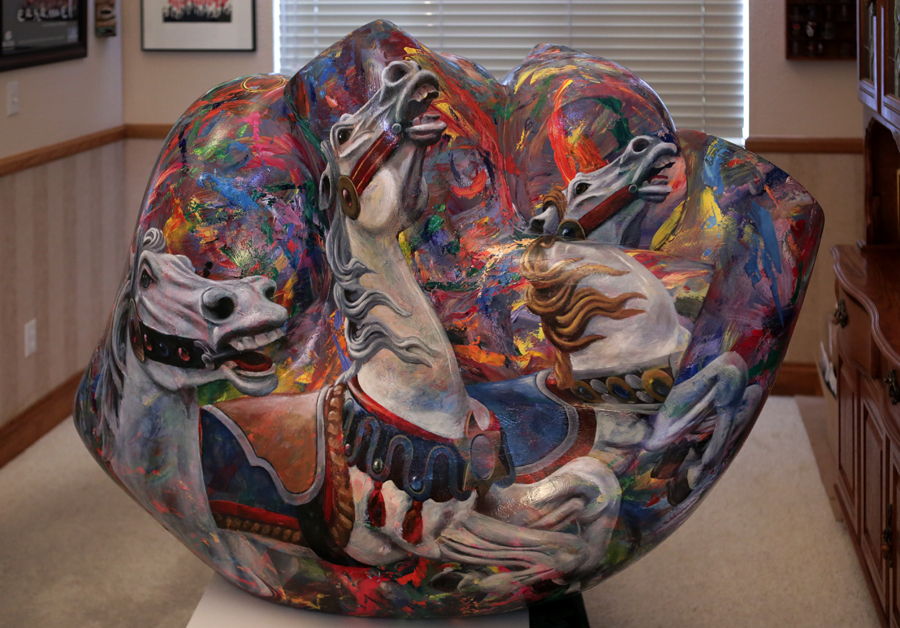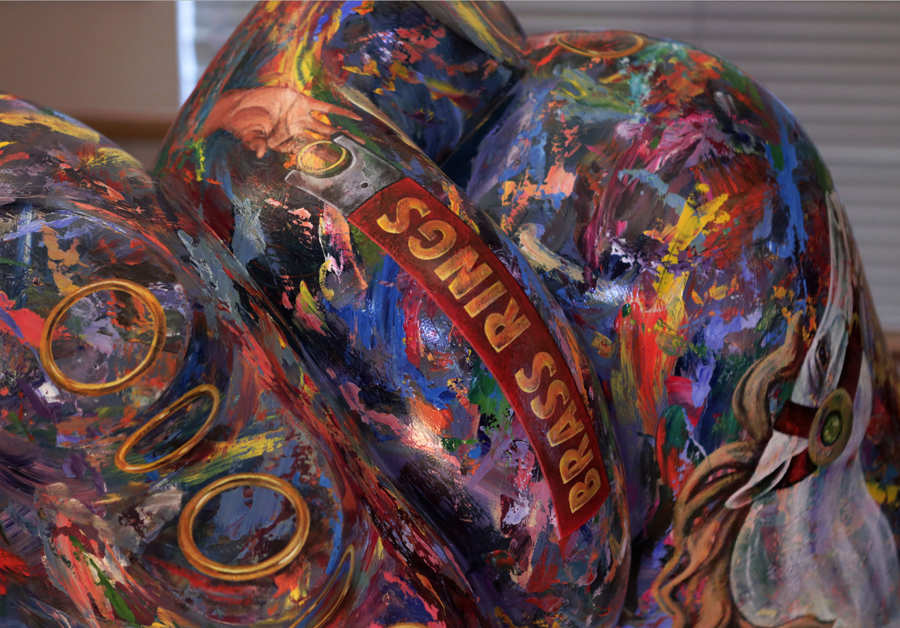 Brass Rings – Acrylic on fiberglass heart – Completed 2/8/13
There are a few people that I want to acknowledge and thank. First of all, I want to thank my wife and children for allowing me to, once again, take up the dining room for the duration of this project. I also thank them for their wonderful support and insightful input. I'd like to thank my good friend, CJ, for once again taking some fabulous photos of my work. And, finally, I'd like to thank my good friend and outstanding Las Vegas Artist, Niki J. Sands, for: 1) including me in this blessed project, and 2) challenging me to "knock her socks off" with this year's attempt. I'll be checking her feet when I see her at the unveiling later this month.
I now leave you with one more photo – one of a tired, but very satisfied artist…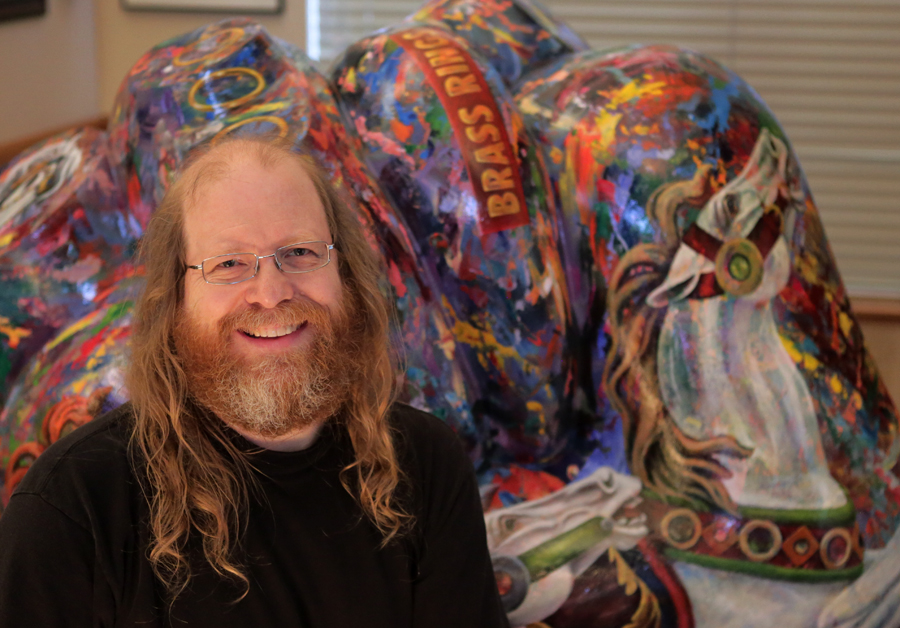 Happy Creating!