This past weekend I was invited to paint live at the Gina M Woodruff Gallery in Long Beach, California. So, I loaded up my family, my easel, some paints, a couple canvasses, and several recent paintings and headed west.
When we got there, Gina, the owner/curator of the gallery, suggested that we hang my animal OTUS paintings together on one wall. I was more than happy to oblige…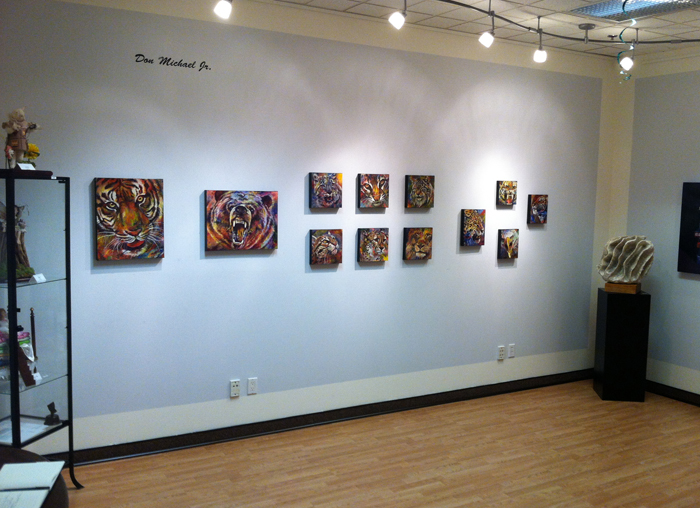 Don's Wall-o-Critters
On another wall we hung a few of my mask paintings…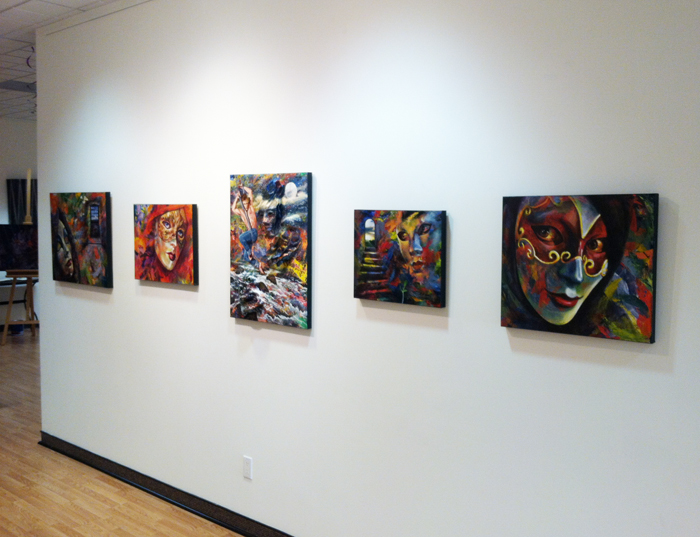 Don's Wall-o-Masks
Gina also laid out several of my Eye Candy mask paintings, along with a few of the masks I'd created to use as 'models' for my artwork, on 3 different tables. Here's one of those tables, which also included a few prints of my work…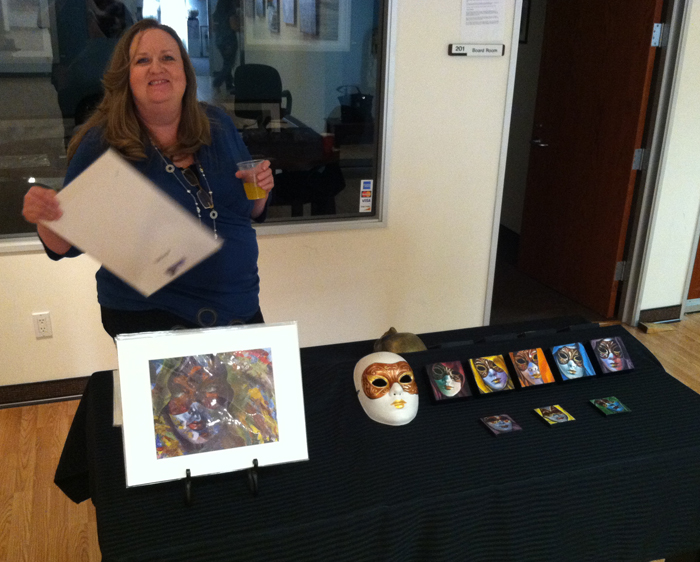 My Lovely Laura with some of my work
For the painting I created live, Gina requested I do an animal. Since wildcats have been my subject matter of choice lately, I decided to do a caracal. For those not familiar with this type of wildcat, it is found in Africa and parts of Asia and India. It's name comes from Turkish words meaning 'black ears'. Their most distinguishing characteristic would be the tufts of hair growing at the ends of their ears. Compositionally, I couldn't fit those tufts in, but that's why I carry an artistic license…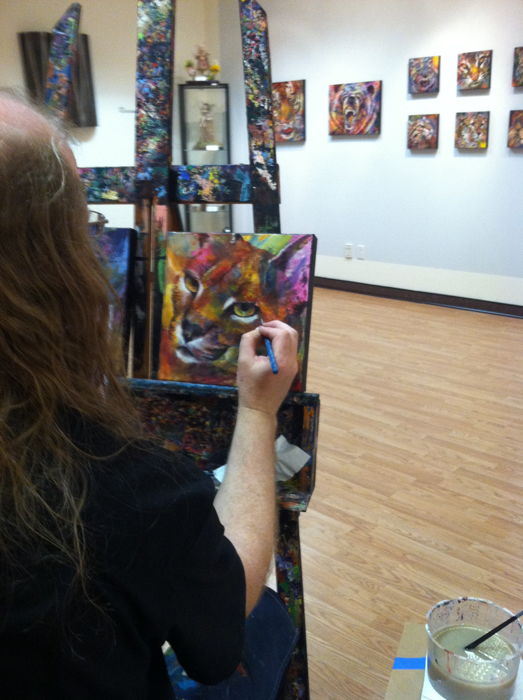 About an hour and a half into the painting
While I was painting, a young art student from one of the local colleges asked permission to sketch me. Never one to turn down an aspiring artist, I readily agreed. Once he got settled and started sketching me, another young artist came along and asked permission to sketch my sketcher sketching me. We both approved of that idea. My wife couldn't pass up this artful photo op…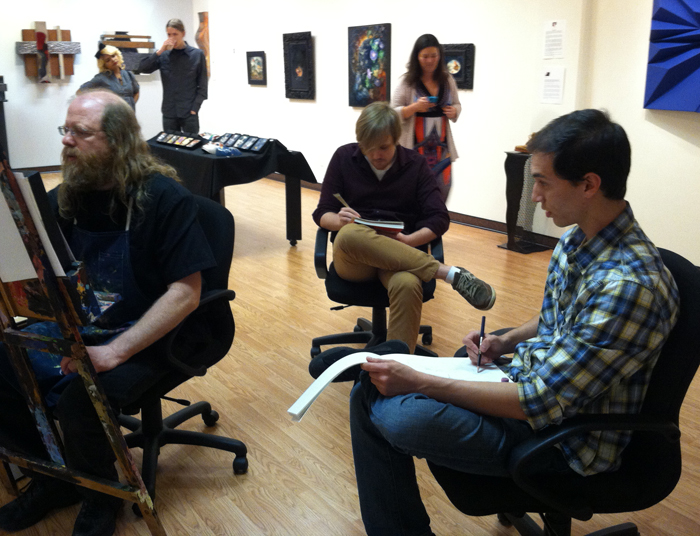 Jake Woodruff sketching Alex Balaban sketching me painting a caracal
Here's the drawing Alex did of me…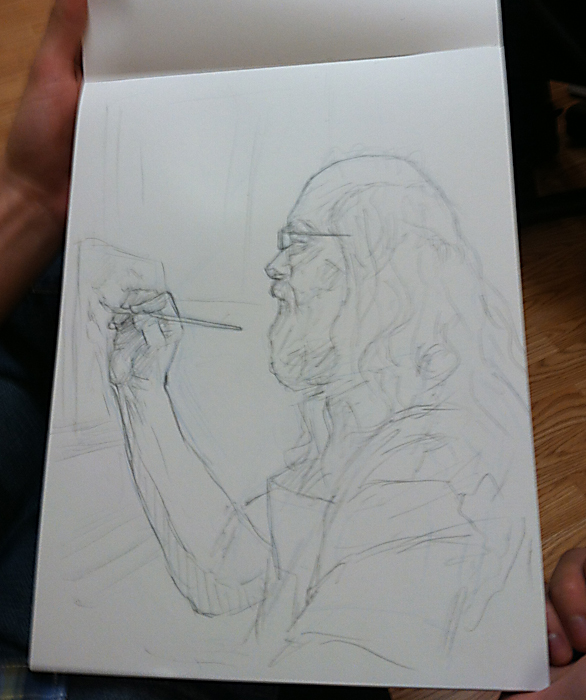 …here's the drawing Jake did of Alex…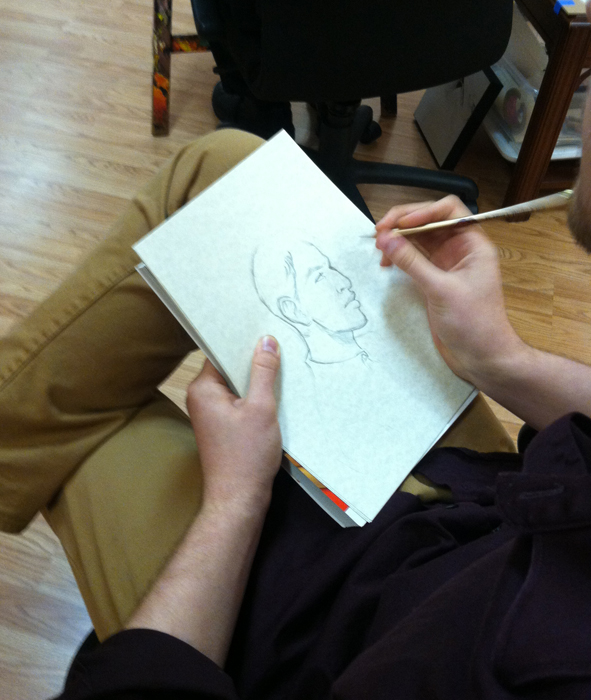 …and here's the painting I did of a caracal…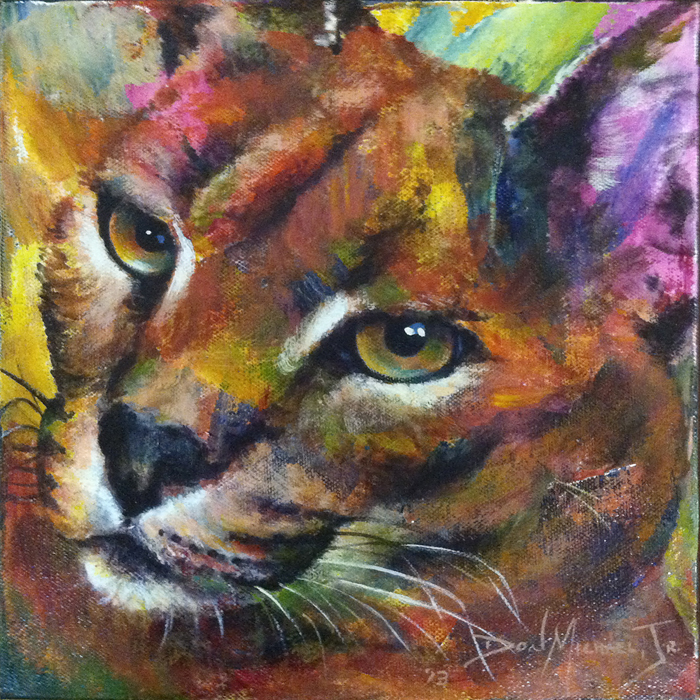 Gonna' Get It – 10″x10″ – Acrylic on canvas – Completed 3/23/13
©2013, Don Michael, Jr.
While all this art was being created, some other art was leaving the gallery. I'm happy to report that a few of my smaller paintings were sold – and I was commissioned to create a mask for one of the restaurants near the gallery. All-in-all, I'd call it a successful, art-filled night.
Now it's time to get back to my studio…
Happy Creating!
Thomas Jefferson once wrote, "When angry, count to 10 before you speak. If very angry, a hundred." Well, the jaguar in my latest OTUS painting looks like he's at least Counting to Ten. I'm not sure how angry he is, but I can tell he's definitely not happy…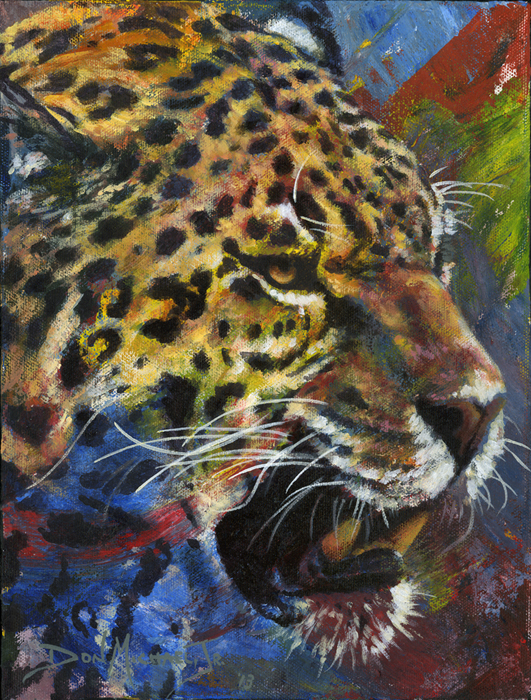 Counting to Ten – 12″x9″ – Acrylic on canvas – Completed 3/14/13
©2013, Don Michael, Jr.
If my count is right, this is the 90th in my Over the Under-Schmeerings (OTUS) series. It's cool that even with that many behind me I still find that I learn something new with each one. This time I learned that there are a LOT of dots on the head of a jaguar! (Well, that's not really the type of lesson I'm talking about, but it was an eye-opener none-the-less.) This lesson was actually about being careful not to overdo it with the natural color of the animal. I almost lost all of the Under-Schmeerings in the top half of his head – so, I pushed the color a little to contrast the blue that was still showing thru on the bottom. I'm still deciding how I feel about the final result. No matter what my final decision is though, I'm a strong believer in not going back into a painting once I call it finished. If I decide I don't like my choices I guess I'll just have to start Counting to Ten.
Now it's time to take what I learned and get started on the next one…
Happy Creating!
What I find in both creating my artwork and managing the business of art is that the only way to achieve any success is to have High Expectations.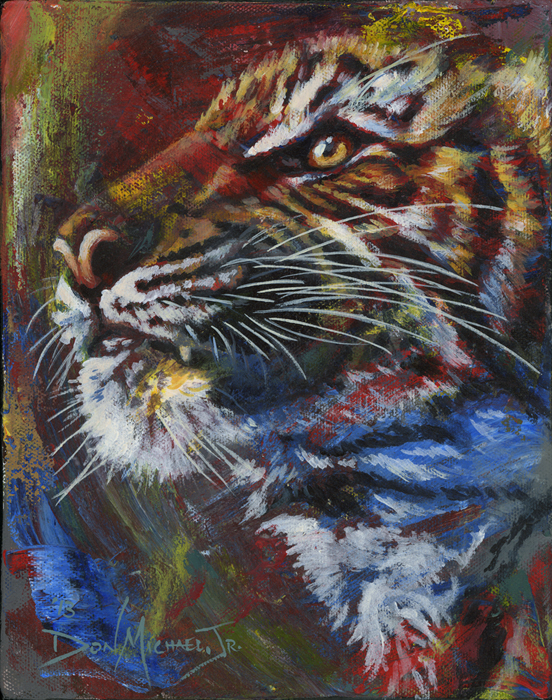 High Expectations – 10″x8″ – Acrylic on canvas – Completed 3/10/13
©2013, Don Michael, Jr.
 As you can see, this is one of my Over the Under-Schmeerings (OTUS) paintings. For those who are new to my work, each painting in my OTUS series starts out as a mess of 'schmeered' paint on a canvas. That 'schmeered' canvas was created when I was working on a previous painting. When I mix paints with my palette knife I hate to waste the excess by wiping the blade on a towel. So, I wipe the blade on an extra canvas. Also, at the end of a painting session I clean my palette by wiping the excess paint up with my palette knife and then 'schmeering' that excess onto that same extra canvas. When that extra canvas becomes completely covered in 'schmeerings' I set it aside and get out another extra canvas and continue that process. Later, I take that fully 'schmeered' canvas and create a composition to bring some semblance of order into that chaotic mess.
To help you visualize this process please check out the image below. In this image you'll see the 'schmeered' canvas on the left and the order that I attempted to bring to the chaos on the right.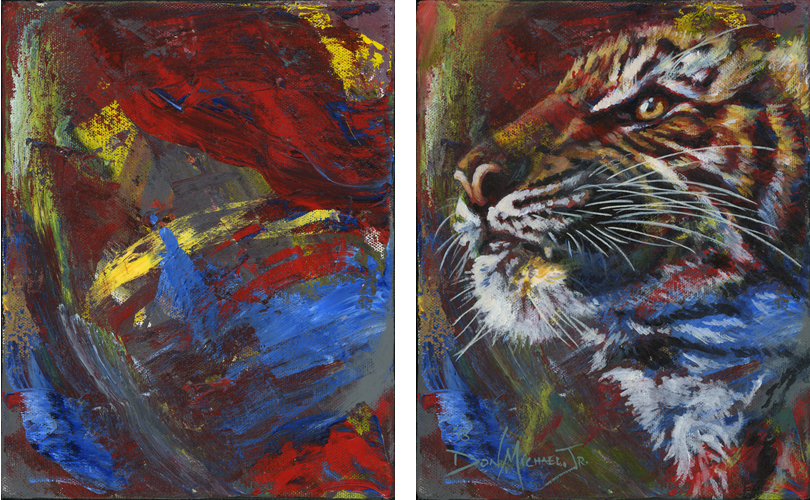 High Expectations – Before and After
©2013, Don Michael, Jr.
This is such a fun process for me. It's like working on a puzzle and creating a painting all at the same time. I hope my explanation was easily understood. Please, feel free to ask any questions or make any comments in the comments section below.
Happy Creating!
No matter how serene the face of a cheetah may look, its eyes seem to tell a different story. You can almost see the springs coiled up behind those eyes wound so tightly that they could explode into action at just A Moment's Notice…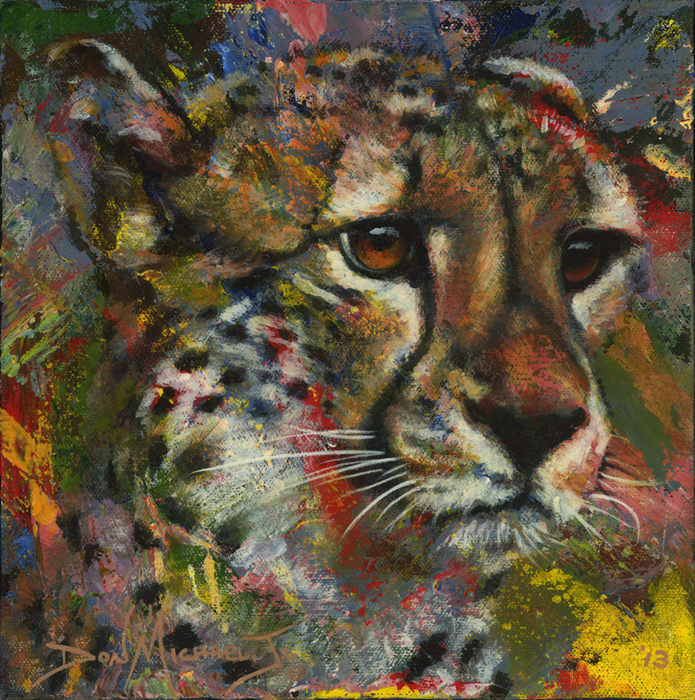 A Moment's Notice – 10″x10″ – Acrylic on canvas – Completed 3/8/13
©2013, Don Michael, Jr.
I am having such a good time with this series of animal Over the Under-Schmeerings (OTUS's). Each one has been a new adventure with its own built-in challenges. Trying to work just enough of the natural color of the animal into the raw colors of the 'schmeered' background is probably the biggest of these challenges. I'm especially happy with the results I achieved towards that goal on this one.
I have now created a baker's dozen of these and anticipate there will be more coming. In fact, I think I'll head to the studio and start on the next one…
Happy Creating!
Staying in the wildcat family, my latest Over the Under-Schmeerings (OTUS) painting is of a lynx. That cool beard and the markings on its face give me the impression of an old man who's seen it all. Even though this model was a fairly young male, he still has the countenance of an old soul…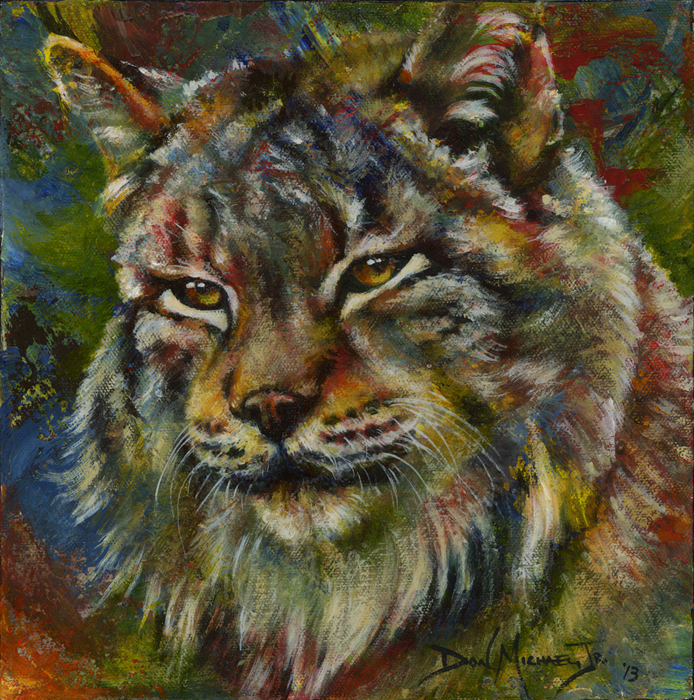 An Old Soul – 10″x10″ – Acrylic on canvas – Completed 3/5/13
©2013, Don Michael, Jr.
Happy Creating!
I've been reading the book, "Color: A Natural History of the Palette" by Victoria Finlay. It describes her travels as she searches for the origins of ancient colors all over the world. I've really enjoyed following her discoveries regarding the origins of, stories about, and myths revolving around Ultramarine Blue, Indigo, Crimson, Indian Yellow, Lead White and Mummy Brown – to name of few. Yesterday I was reading about Ms. Finlay's trip to Afghanistan in search of the small village where lapis lazuli, the semi-precious stone from which Ultramarine Blue was originally made, has been mined for several millennia. This small town is in the mountains of northern Afghanistan and is so difficult to get to that Ms. Finlay wrote, "Even Alexander had not managed to cast his greatly acquisitive eyes on the mines when he conquered the area 2,300 years ago…". I love interesting words and phrases, and two of the words in that quote jumped out at me, "…acquisitive eyes…".
I just happened to be working on the right painting when I read those words…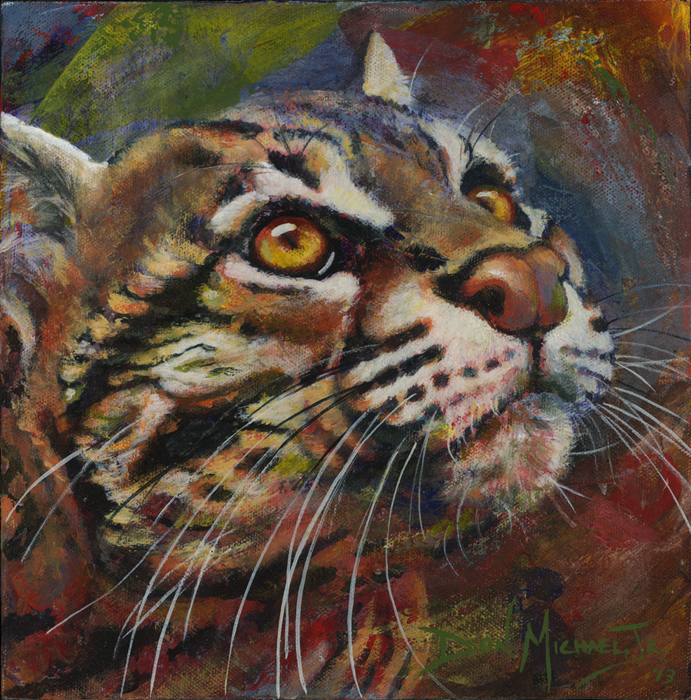 Those Acquisitive Eyes – 10″x10″ – Acrylic on Canvas – Completed 2/28/13
©2013, Don Michael, Jr.
This is my second attempt at capturing an ocelot in one of my Over the Under-Schmeerings (OTUS) paintings. Like I said when I wrote about the first one, Smooth Operator, ocelots have always been a favorite wildcat for me. So, I imagine they'll probably pop up in another work somewhere down the line.
Happy Creating!