It had been nearly a year since I last painted a new piece for my Eye Candy series of mask paintings. It had been exactly that same amount of time since I did a painting using only my palette knife. So, I decided this weekend that it was time to exercise my palette knife skills and in the process created this…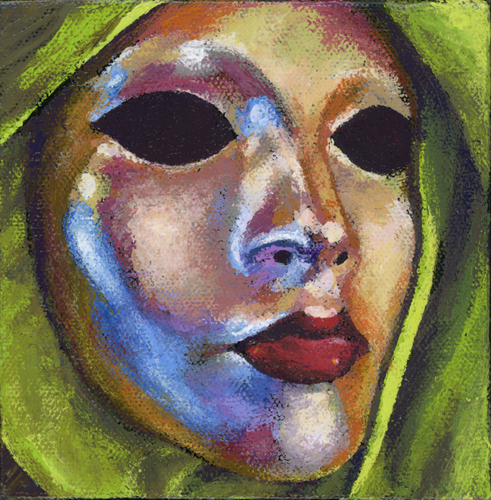 Dragée – 5″x5″ – Acrylic on canvas – Completed 6/23/13
©2013, Don Michael, Jr.
I honestly thought I was done with this series last year. But, I started missing the experience of designing and then painting these little paintings. They're a really good study in working with color – in fact, I tried out a new color for this one: Cobalt Titanate Green. They're also a good way for me to keep up my palette knife skills – and I could tell it had been a while. I probably spent about 3 hours more working on this than I had spent on any one of those painted in 2012.
The metallic shine of this painting made me think of those little silver round cake decorations that I had seen on wedding cakes as a child. So, I did an online search to find out what they are called and found both the title of this painting AND a new word to add to my dictionary – Dragée (pronounced draw-zhay´).
Now it's time for me to get back to my studio where a giant mass of paper mache' is starting to form into some semblance of a new mask creation.
Happy Creating!
Last night I finished my first painting for the month of June. I have so many other projects in the works that I allowed my easel to go unused for nearly 3 full weeks. Thankfully, I hadn't forgotten how to wield my brushes and knife – and this is what I came up with…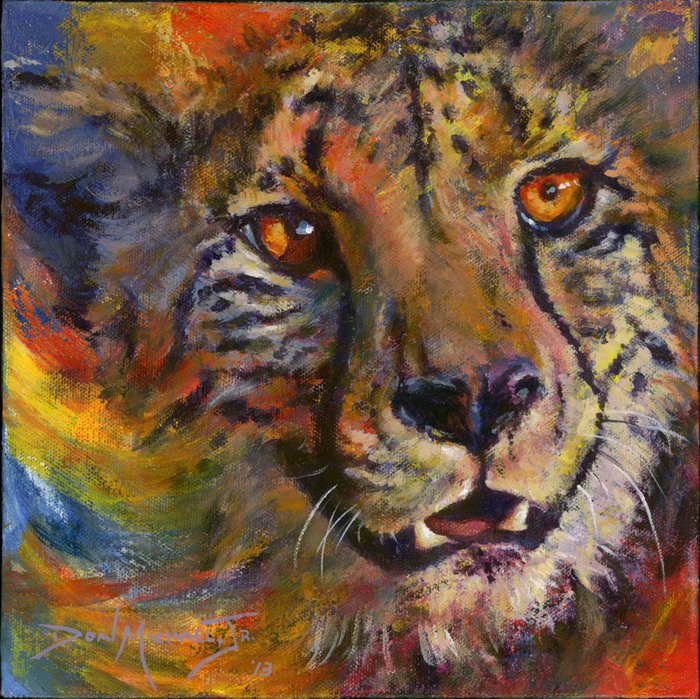 I Spy – 10″x10″ – Acrylic on canvas – Completed 6/14/13
©2013, Don Michael, Jr.
As I continue to explore this Over the Under-Schmeerings (OTUS) series I find myself constantly learning subtle new ways to incorporate the Under-Schmeerings into the final composition. I get more excited after each and every one to where I can hardly stand myself… Makes me wonder why I sometimes wait so long between paintings. Go figure…
Happy Creating!
I've alluded to an upcoming book cover several times over the past couple months. Now I can speak of it directly. I'm proud to announce the release of the book Living Ghost Time by David Michael – the cover of which was created by yours truly.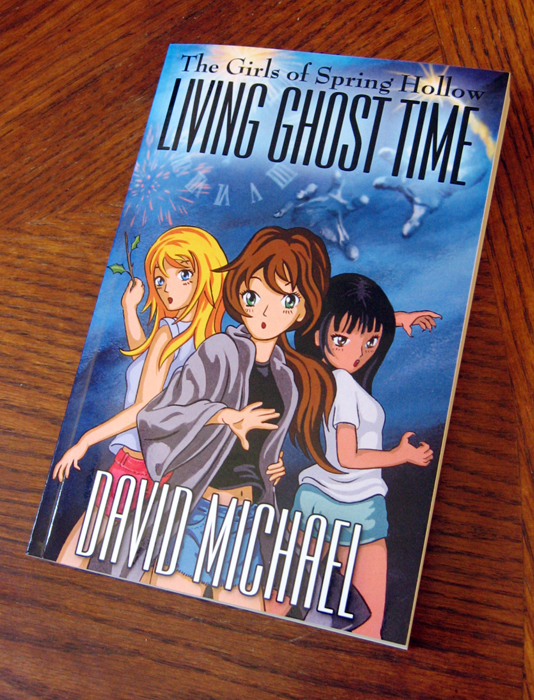 Living Ghost Time – Written by David Michael – Cover Art by Don Michael, Jr.
Published by Four Crows Landing
This is Book 2 in The Girls of Spring Hollow series which is geared towards middle-grade/tweenagers and up. You can read more about it – and find out how to purchase it – here.
For this book cover, as is usually the case, I started out by creating a painting. The cool thing about creating book covers this way is that I end up exploring styles and subject matter with my painting that I would probably never have done otherwise. It's good to get outside my comfort zone and push my boundaries. Here's the painting I came up with…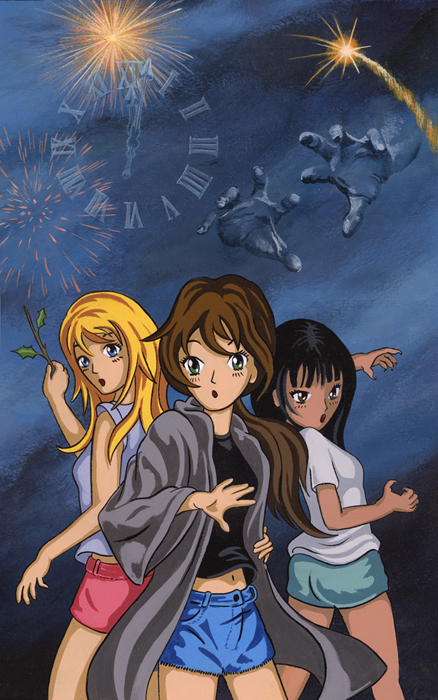 Living Ghost Time – 18.5″x12″ – Acrylic on Painting Board – Completed 5/14/13
©2013, Don Michael, Jr.
After scanning the painting and then manipulating it a bit, I came up with the book cover artwork. After approval from the author, this is what gets sent to the publisher.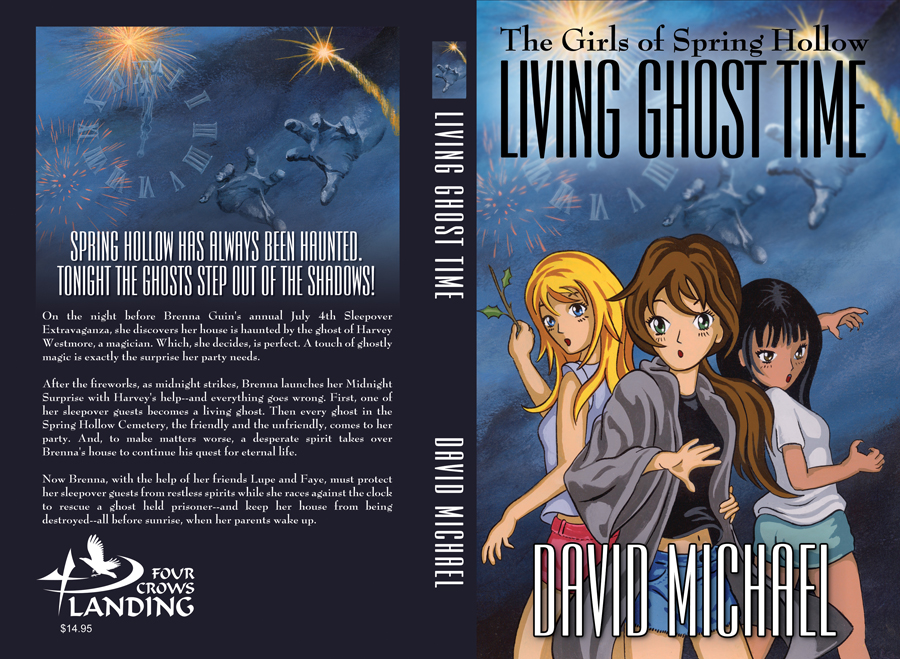 Living Ghost Time Book Cover Artwork – Created in Photoshop – ©2013, David R. Michael
All that was left at this was waiting on the finished results. One of the really exciting things about this thing I do is seeing the finished product for the first time. I tear into that box with the fervor of a child on Christmas Morning – every time. And then I can't wait to show everyone around me – probably with a stupid grin stuck on my face (but I guess that's just one of the hazards of this occupation).
Now it's time to get back to my studio where I have two totally different mask projects going on, as well as a painting. Fun times!
Happy Creating!
It has been a long time since I've posted here on my blog – a month and a half to be exact. Not only has it been a busy time with projects, but I'd found myself drifting away from the blogosphere of late – often just posting my latest works onto Facebook and leaving it at that. However, last night I was thinking about my blog and what it means to me and remembered that I originally started this blog as more of a 'journal/art diary' to chart my progress as an artist than with any other intent in mind. So, with that in mind, I set to typing…
In May I only finished two paintings – one which will be released soon as a book cover, and the other I'll talk about shortly. Also in May I: 1) created a logo for a company – as well as their business cards, stationery and a newsletter; 2) attended the "Affair of the Art" Gala where the giant heart that I painted for St. Jude was auctioned off along with the others, 3) took my daughter to the Andy Warhol exhibit which is going on at the Bellagio Fine Art Gallery; 4) attended to the ThinkArt! Spring juried exhibition – where two of my works had been juried in; 5) attended an art fair where my painting Threshold was purchased; 6) was involved in the set up, art direction and props for the film shoot which will become a short film later this year; and 7) put several of my smaller paintings into a local gallery – which has helped two of them find new homes. (There are stories and photos to illustrate most of these events on my Artist page on Facebook.)
The painting that I finished in late May is one that I'm really excited about. It started out like this…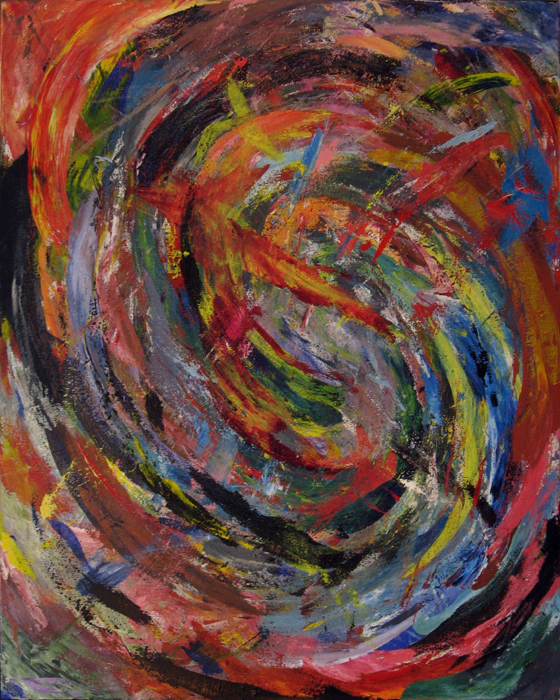 I then sketched in a couple of the elements in my composition and started painting…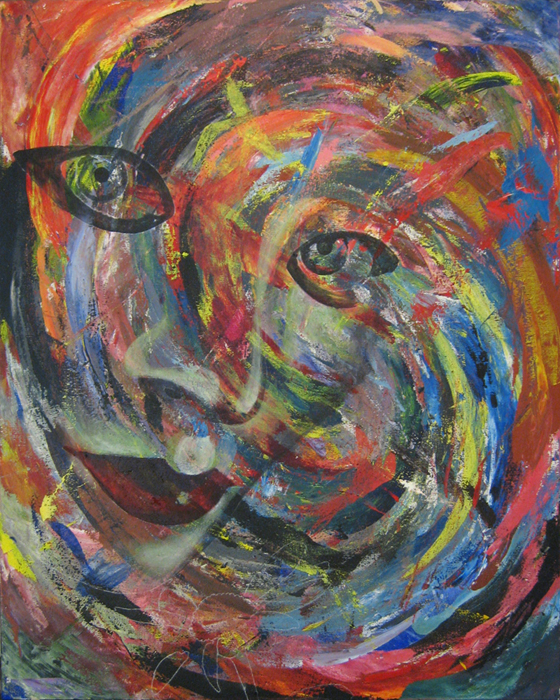 The next day of painting involved tweaking the mask and eyes a bit and then painting in the daisy. That daisy is a very important part of the story I want to tell with the completed painting…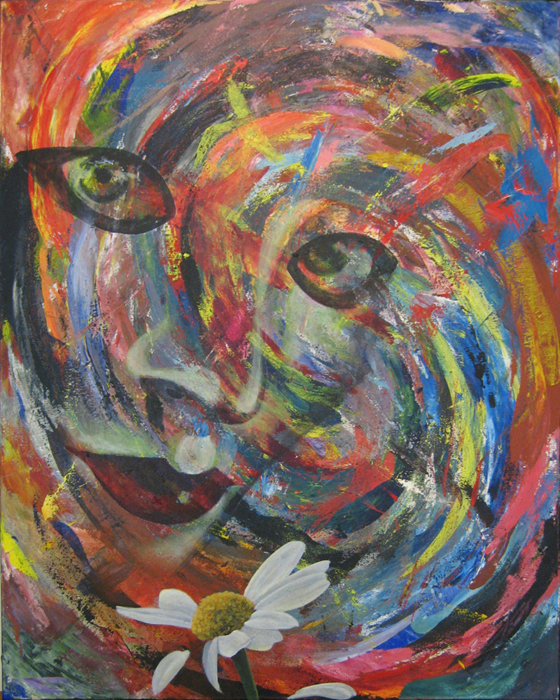 After taking almost a week off from the painting I was finally able to start painting in the main character of this composition…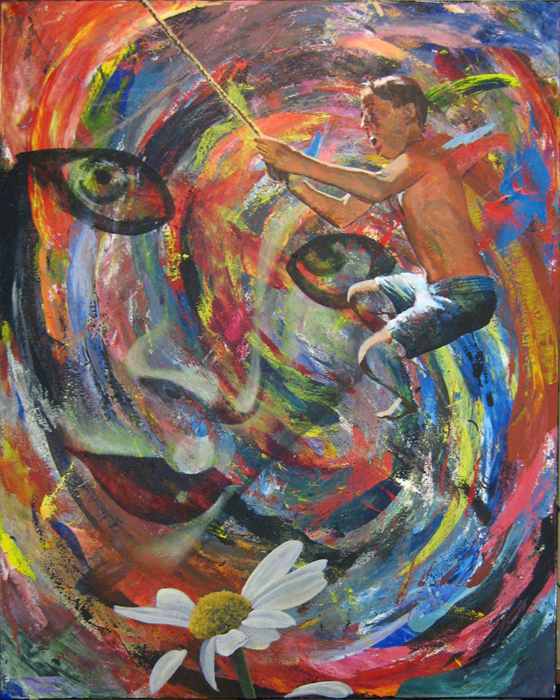 The young man swinging into the composition is our nephew, Brett. This comes from a photo my wife took almost two decades ago of Brett swinging out over a VERY frigid spring-fed watering hole found in the countryside around Rush Springs, OK. Here is that photo reference…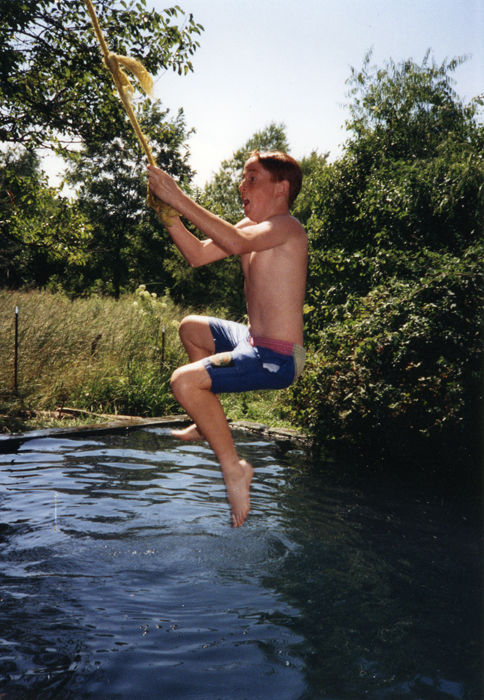 Now, back to the painting… The next day I continued to work on the image of Brett, while pushing the mask back a little more into the background…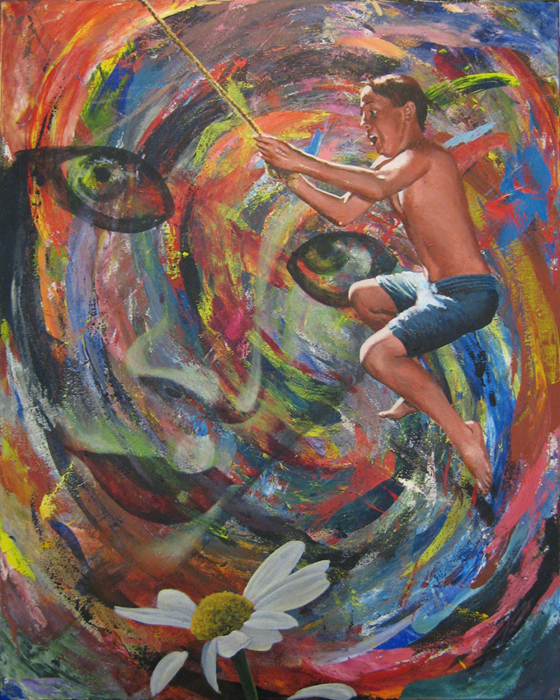 …but, I still wasn't satisfied with how the composition was coming together. So, I waited a few days and digested what I had done already and finally came up with a game plan to get what I wanted. This specifically involved pushing the mask and eyes back even further into the background. It also involved controlling some of the 'schmeerings' of color on the canvas which I thought were competing with the imagery in the composition. It took two more painting sessions to finally get to the finished product I had envisioned, at which point I finally signed it, clear-coated it and titled it…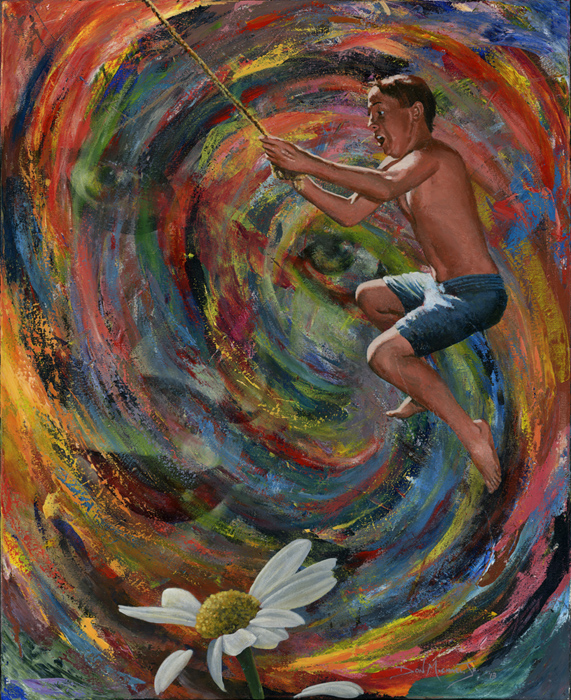 Crush – 30″x24″ – Acrylic on canvas – Completed 5/28/13
©2013, Don Michael, Jr.
I don't plan on being so long between posts again. Like I said above, this is my art journal/diary and I use it often to reference and research my earlier works. Gaps in the timeline and in the product are just not acceptable to me.
Happy Creating!