23 years ago I was inspired to create a series of silkscreen editions by my then 2 year-old son. Any time music would play, which was constantly in our home, he would break into dance. This is one of the pieces that came out of that series…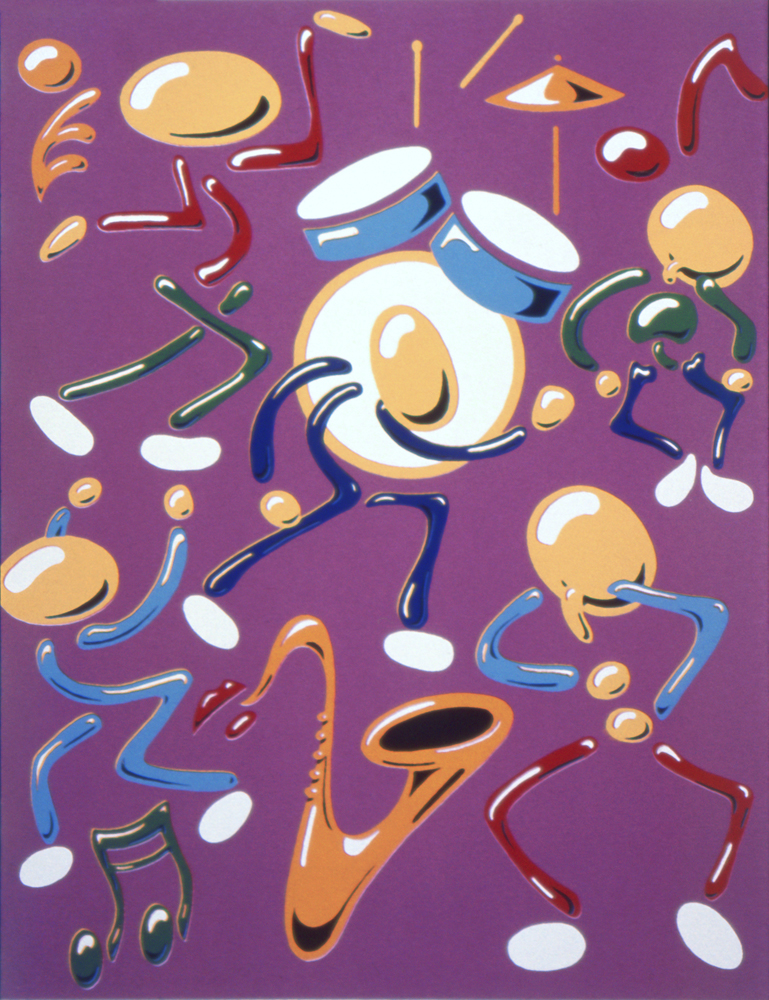 The Boy Loves to Dance – Serigraphy (Silkscreen) on Paper – 14.5″x12″ – Completed 4/90
©1990, Don Michael, Jr.
On July 18, 2013 at 4:35pm that same son's spirit left this world and is now dancing in the presence of our Heavenly Father. My family and I miss him tremendously, but we know he's in a better place and is no longer in pain.
His loss came upon us suddenly and we are still reeling. He was a big, strong, vibrant young man who lit up whatever room he walked into. He had a gregarious nature that drew everyone who met him into his orbit with smiles and laughter. Regrettably, melanoma, when it enters into a person's body, is an insidious beast that takes no prisoners. In our son's case by the time it revealed itself it was already too late.
We will miss you, Donald, for the rest of our lives.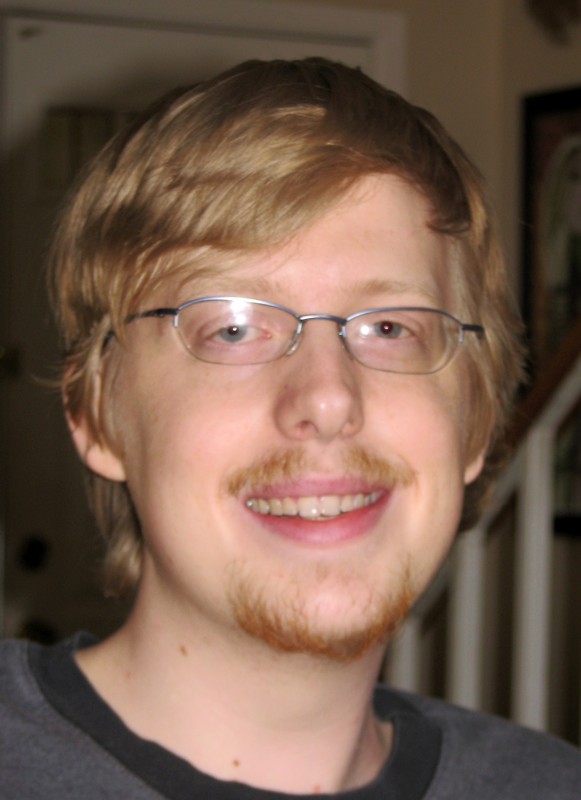 Donald Lee Michael III          1/23/1988 – 7/18/2013
Soon I hope to be able to return to my studio. As I'm sure you can imagine, I am currently in a state of shock and mourning which is really impacting my creative flow.
God Bless you all. I think I'm going to go hug Donald's mother, brother and sister now…
When I started on this Eye Candy painting last night I decided that I was going to use a brush for the first time in this series. Prior to this, every one of my Eye Candies have been painted entirely with a palette knife. But, after 2+ years of the same technique I was ready for a change of pace. Here's what I came up with…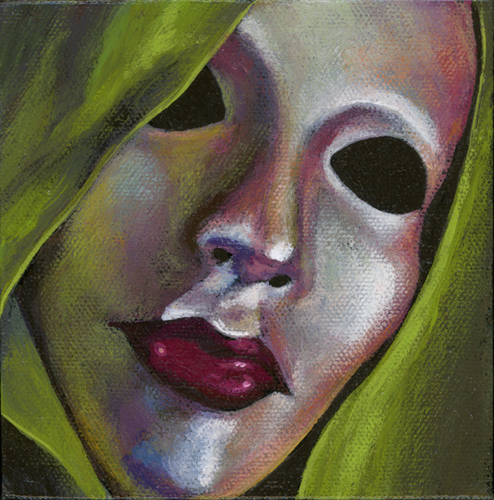 Abba Zaba – 5″x5″ – Acrylic on canvas – Completed 7/9/13
©2013, Don Michael, Jr.
I have never tried the candy called Abba Zaba. But, when I saw the name a while back I liked it and knew it would end up as an Eye Candy title eventually. And, now it has…
Happy Creating!
There is a certain look that crosses the face of my studio cat, Franzie, that tells me he's on a mission. That mission could be regarding an insect he has seen fly by – or, sometimes it's associated with a rubber band that needs thrown around until it sinks into his water bowl. Either way, I know when that look is in his eye there will be no relaxing until his mission is complete. That look is a sure sign that from whatever mischief he's up to, he is Not Easily Dissuaded.
That same look is in the eyes of this leopard in my latest Over the Under-Schmeerings (OTUS) painting. I would definitely not want to be on the other end of that stare…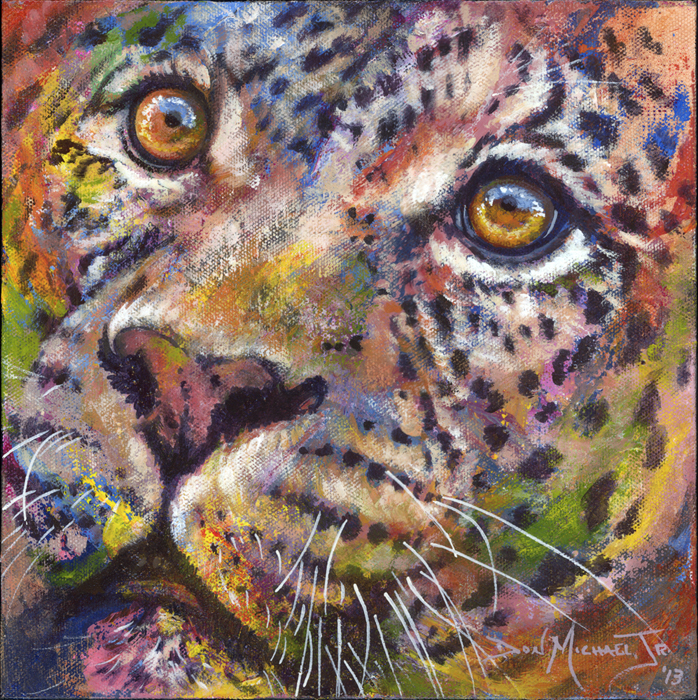 Not Easily Dissuaded – 10″x10″ – Acrylic on canvas – Completed 7/7/13
©2013, Don Michael, Jr.
Happy Creating!
Over the past couple months I have been working intermittently on a mask to donate to this year's Un-Masking the Mind charity auction. This will be the fifth year in a row that I've had the honor to create and donate masks to this event which generates funds for books and supplies for the Innovations International Charter School of Nevada (IICSN). This year I have the added honor of working with one of Las Vegas' beloved radio personalities, who is also a comedian extraordinaire, and most of all a good friend – Carla Rea.
Every weekday Las Vegas wakes up to The KKLZ Morning Show with Mike, Jim and Carla where we are served with laughs, insight and celebrity interviews – as well as some good music. Many nights in Las Vegas people go to bed still laughing from having seen that very same Carla Rea's stand-up comedy act at one of several venues thru-out the city.
Something I notice about Carla (and many other comedians I've met over the years) is that the smile on her face and the laughs she brings to others can belie other emotions lying beneath the surface. I've always said that the best mask any of us can wear is a smile – and even posted a blog about it a few years ago. Anyway, with that thought in mind, I created this mask…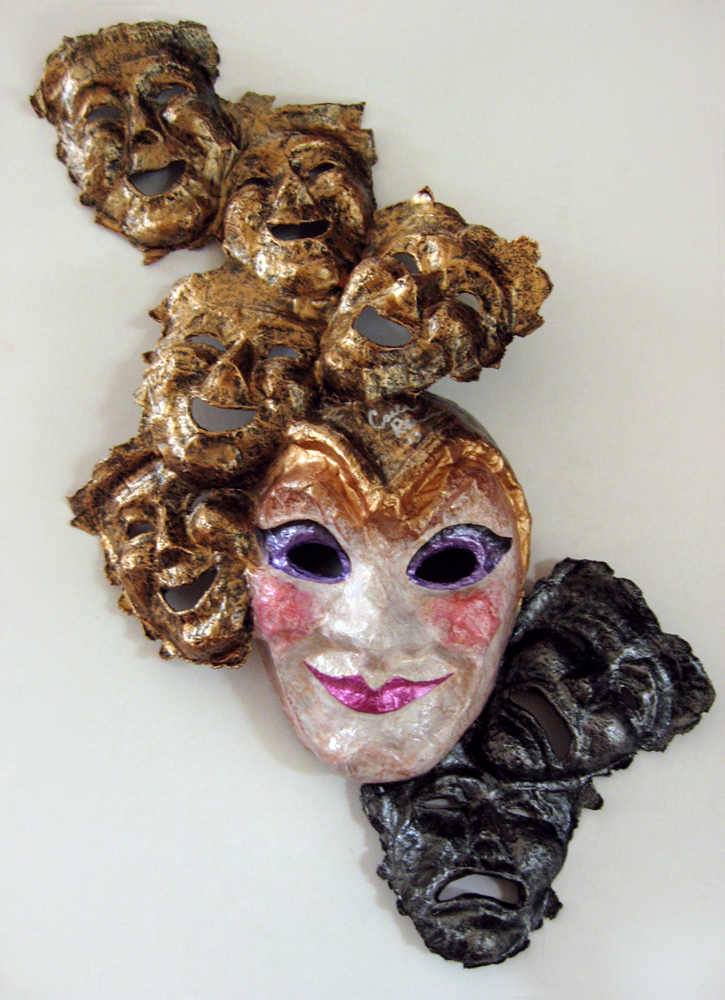 Behind the Smile – Approx. 23″x16″x4″ – Paper Maché Mask with Acrylic Paint – Completed 6/28/13
©2013, Don Michael, Jr.
Yesterday, several friends who once worked together gathered together at a local diner here in Las Vegas. While reminiscing about old times and catching up on each other's current activities we also enjoyed some familiar fare. Here is a photo of the lot of us towards the end of this lovely afternoon's respite…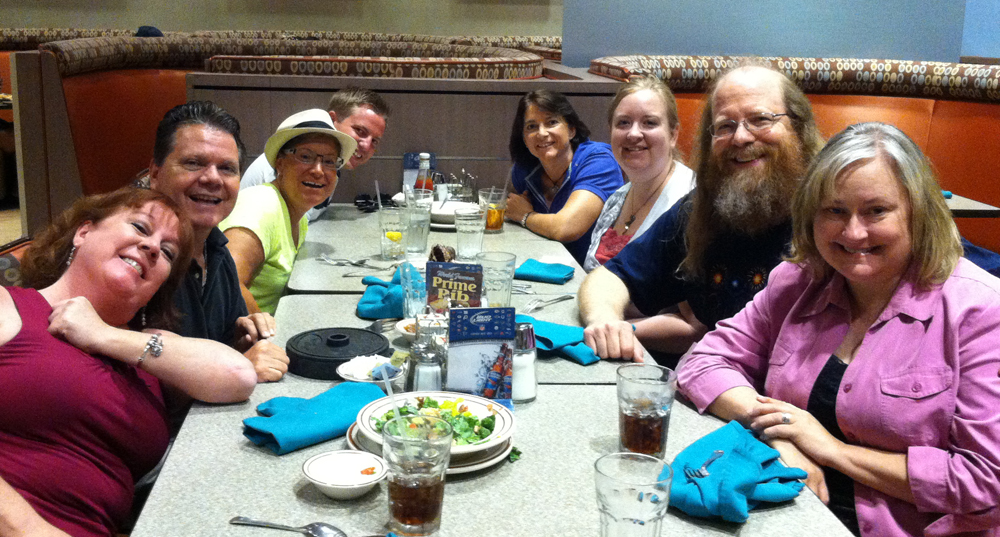 You may think I'm straying off subject here, but you'd be wrong… One of those dear friends is none other than Carla Rea. With her busy schedule, she's a difficult one to catch up with. So, I used this opportunity to get her to autograph Behind the Smile – which will greatly add to its value at the aforementioned auction.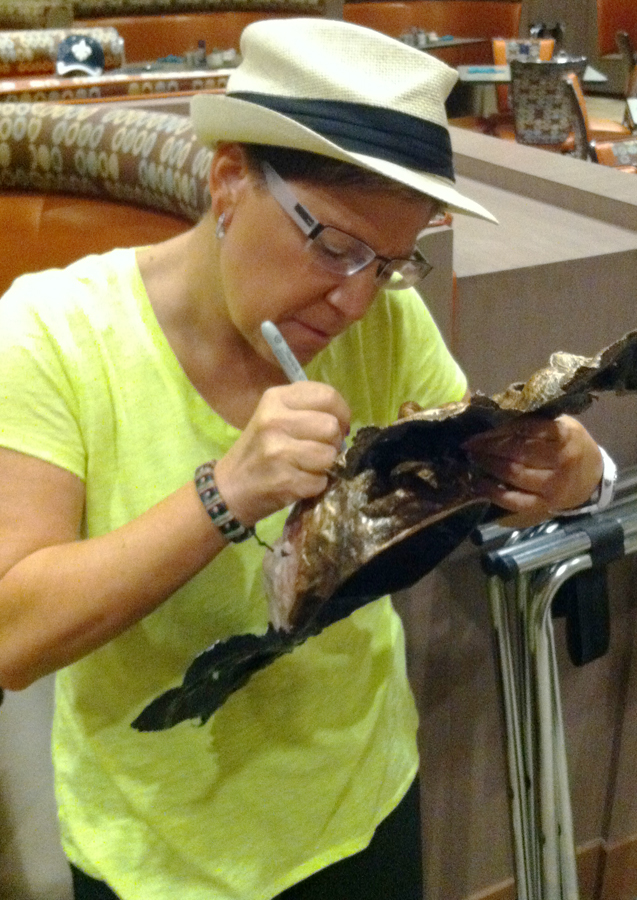 Carla autographing Behind the Smile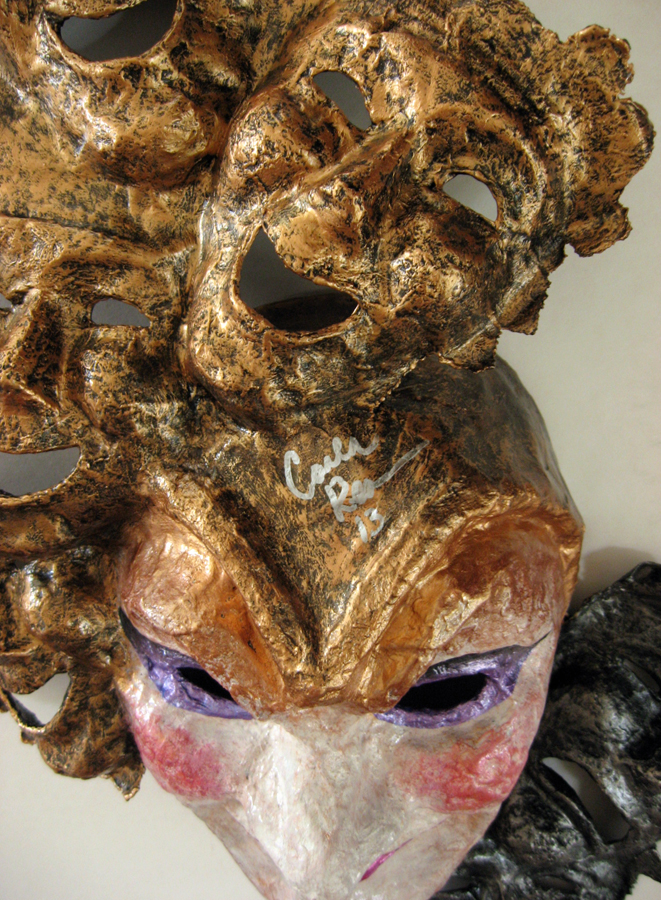 Carla Rea's autograph
To my great pleasure Carla tells me she loves this and that I really captured her with it. I could not be more proud. Thank, Carla!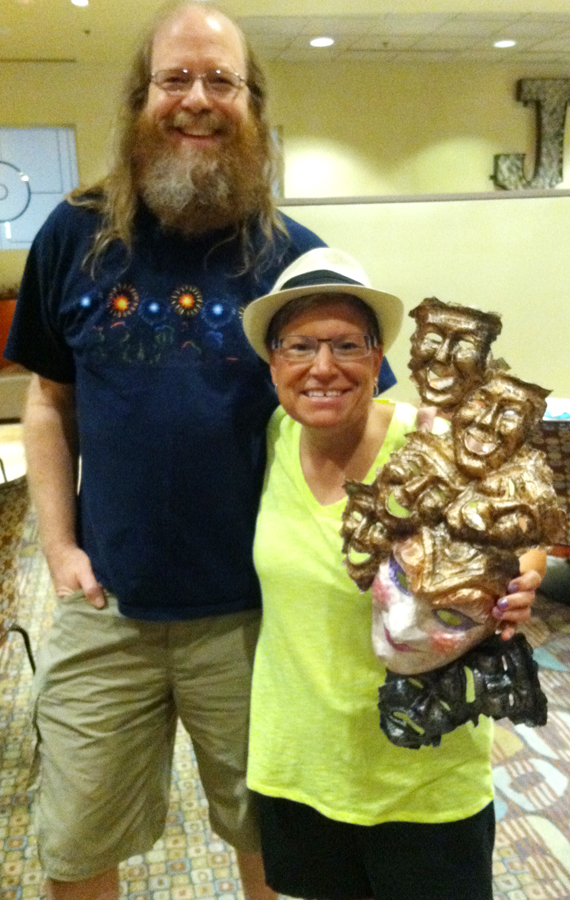 Don and Carla sharing some love
I would like to add one more thing. Another of those friends from our lunch contributed to the creation of this mask without even realizing it. Our good friend, Judy, had loaned me a couple small brass Drama/Comedy masks a few months ago. Those little masks became the molds for the laughs and frowns on Behind the Smile. It was a pleasure to see Judy's reaction when she realized her contribution. Judy and her husband have been great supporters of my work and of Un-Masking the Mind – and I'm proud to say, have collected several pieces of mine over the years. Thank you, Judy!
Now it's on to other projects…
Happy Creating!
Well, it's past midnight here on the left side of the good ol' US of A and the illegal fireworks have finally stopped going off all around our neighborhood. Our animals have decided it's safe to settle back down now, and are resting quite soundly.
It was a hot Independence Day here in Las Vegas, so I did the smart thing and stayed in my nice air-conditioned studio/home most of the day. I was even feeling a bit 'kitschy' and decided to do this painting…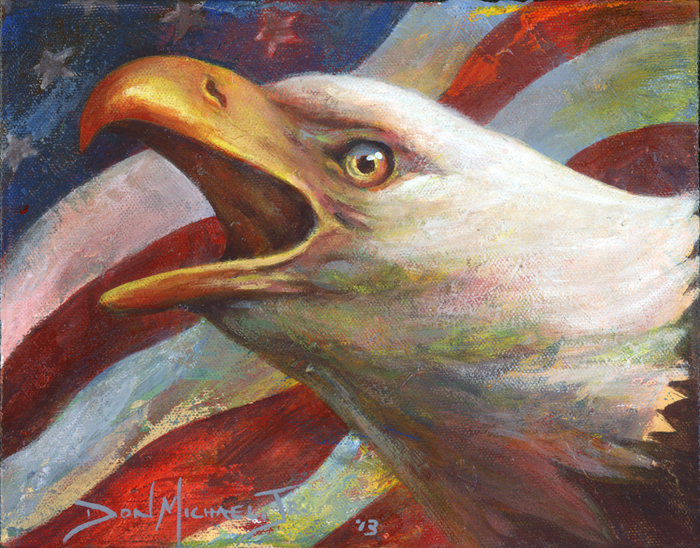 The Fourth of Thirteen – 8″x10″ – Acrylic on canvas – Completed 7/4/13
I hope everyone had a safe and happy Fourth of July. As you can tell from above, ours was nice and mellow this year. All I really have to show for this year is this new addition to my Over the Under-Schmeerings (OTUS) series. It was a fun little respite. Now it's time to get back to work on all the freelance jobs that have sprung up over the past couple weeks. Have I mentioned lately how much I LOVE this thing I do??? Well… I do.
Happy Creating!
A lot of my time in the studio the last couple weeks has been spent in the pursuit of creating a new mask to donate to this year's Un-Masking the Mind charity auction. This will be my fifth year to create and donate masks to this worthy cause which generates funds to help pay for books and supplies for Innovations International Charter School of Nevada (IICSN). I'll be sharing more about this mask soon.
In the meantime, I was finally able to set aside some time this weekend to create for me… and this is what I came up with.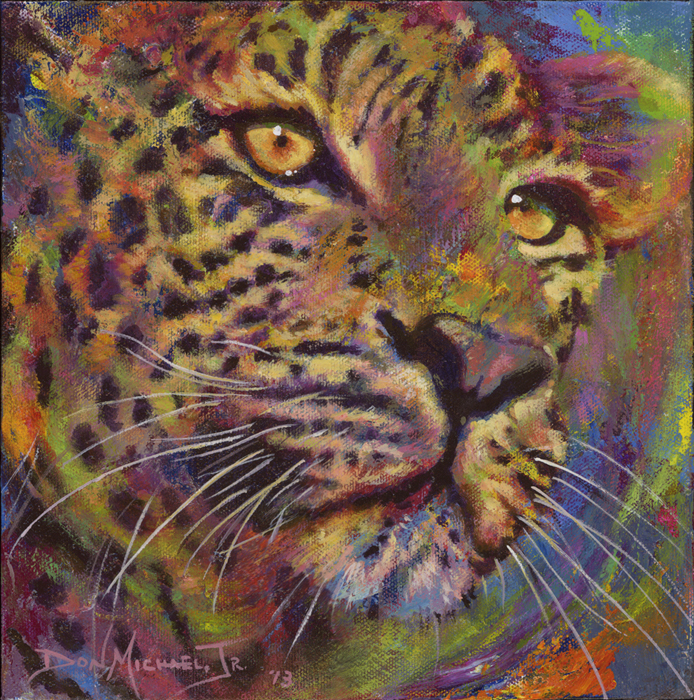 Jungle Fever – 10″x10″ – Acrylic on canvas – Completed 6/29/13
©2013, Don Michael, Jr.
If my calculations are correct, this makes the 100th painting in my Over the Under-Schmeerings (OTS) series, but only my 16th wildcat. As much fun as I'm having with these little felines, I imagine there will be many more before this sub-series has run its course.
Happy Creating!