As Life after Donald continues, so too does my series of Sunflowers…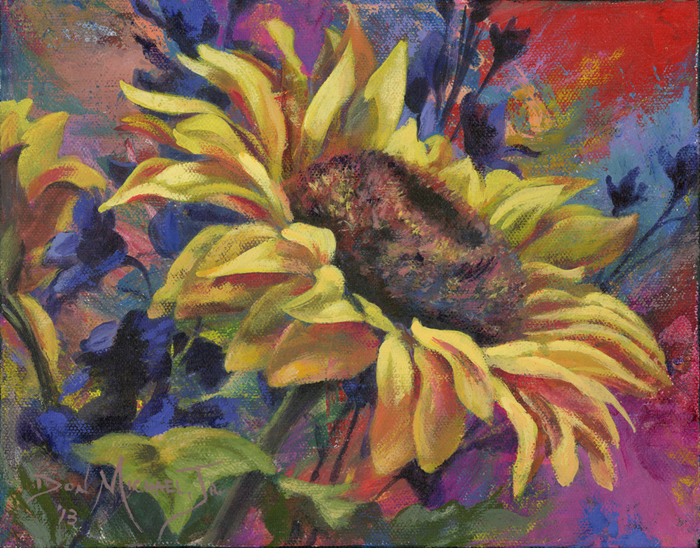 In the Light – 8″x10″ – Acrylic on canvas – Completed 8/25/13
©2013, Don Michael, Jr.
As I was painting this one and meditating on our new family situation, the song In the Light by DC Talk came up on my iTunes. This song has always moved me, but I could really relate to the chorus this time:
I wanna be in the light 
As you are in the light 
I wanna shine like the stars in the heavens 
Oh, lord be my light and be my salvation 
Cause all I want is to be in the light 
All I want is to be in the light
I know Donald is in the light. I know that someday I'll join him. Until that day, I know I will miss him daily. Oh, how I miss him.
Each day is a challenge, but I know I can make it because I can do all things through Christ which strengthens me (Phillipians 4:13).
And in faith I know that one day I'll be able to say once again with a truly cheerful heart, Happy Creating!
I'm continuing the sunflower motif I began last week. This week I decided to incorporate the sunflower into one of my Over the Under-Schmeerings (OTUS) paintings. Here's what I came up with…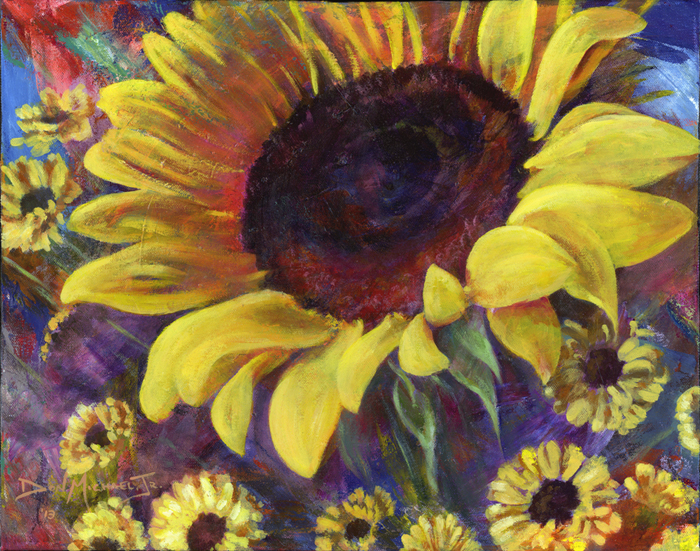 Role Model – 16″x20″ – Acrylic on canvas – Completed 8/17/13
©2013, Don Michael, Jr.
I want to thank everyone who has left such wonderful comments regarding this new series. I'm still not able to correspond coherently or individually with each of you, yet. Just know that your comments, thoughts and prayers continue to be a source of strength to me and to my family. God Bless!
Deut. 31:8 – And the Lord, he it is that doth go before thee; he will be with thee, he will not fail thee, neither forsake thee: fear not, neither be dismayed.
Happy Creating!
Words fail me as I try to come up with something to say about this painting… Just know that I appreciate every single person who has been here with my family and me through their words, thoughts, cards, notes, messages, hugs, gifts, food and prayers. We've needed every single bit of it and are eternally in your debt. God Bless You All.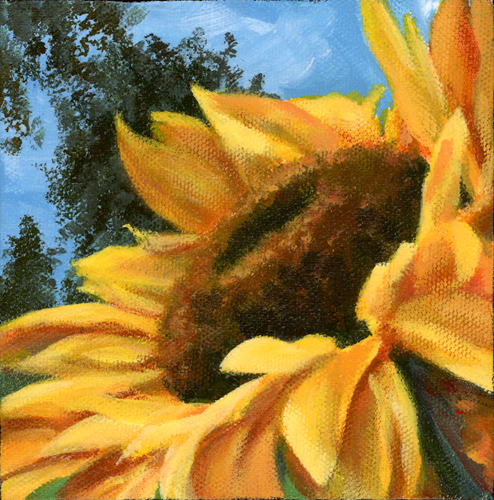 Finding the Sun – 5″x5″ – Acrylic on canvas – Completed 8/12/13
©2013, Don Michael, Jr.
The Joy of the Lord is My Strength. (Nehemiah 8:10)
Happy Creating!
For the first time in a very tumultuous month I headed into the studio to paint. Things in my life are so different now that I knew my first painting back would have to be different as well.
First, the subject matter that I chose… A sunflower. To my wife and I, the sunflower is the perfect flower to represent our son Donald. The sunflower is big and strong. It stands alone beautifully, yet compliments any arrangement well. That big yellow head towers over the other flowers, but it does not intimidate them. It welcomes them with its radiant glow.
Secondly, the application of the paint… I used only a 1/2″ brush (#6 Bright). I eschewed my trusty palette knife and all the finer brushes that I would usually employ. I feel that as I'm finding my way through life after Donald, I should also be finding my way similarly through creation after Donald. I'm not saying that I'm changing everything – I'm just saying that right now I cannot focus on what was my previous normal in the studio.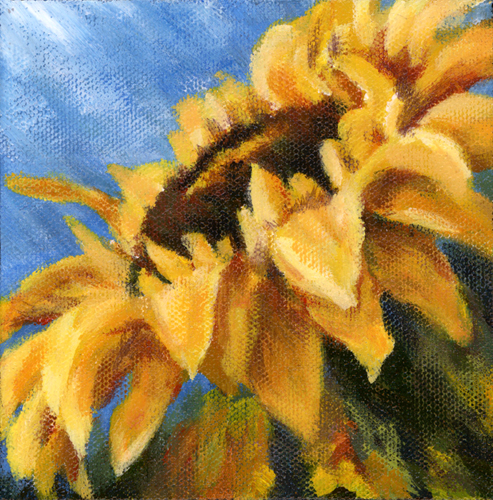 Sunny Side Up – 5″x5″ – Acrylic on canvas – Completed 8/9/13
©2013, Don Michael, Jr.
I ask all my art friends and blog followers to please bear with me. My family and I are still coming to grips with our loss and I know it will be affecting every aspect of our lives for a long time to come. We thank God that we can look forward to the day our family will be rejoined in eternity. Until then, as they say, "Life goes on"… but wow!!!
God Bless and Happy Creating!