I decided it was time to paint another cat. So, I did…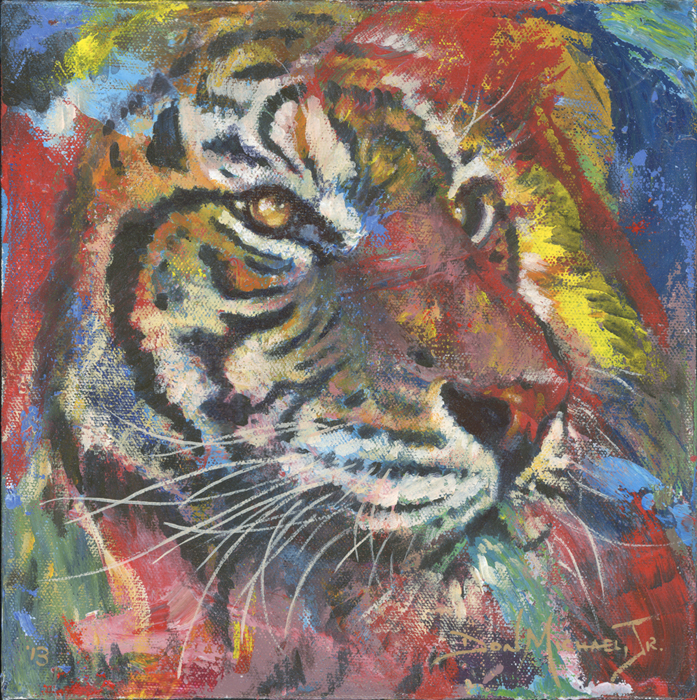 From Within – 10″x10″ – Acrylic on canvas – Completed 10/22/13
©2013, Don Michael, Jr.
That was fun. I may just have to do it again soon.
Happy Creating!
Last night was the 5th Annual Un-Masking the Mind charity auction. It was also the 5th year that I've created a mask for this event. What made this year different, for me anyway, was that I painted live and donated the finished painting to be auctioned off at the end of the night.
Not being one to follow status quo, I decided that I was going to paint at one of the guest tables in the middle of the room. Everyone got a kick out of the fact that I was audacious enough to paint at the same table where I and others were going to eat. I, however, thought this was a great idea, especially since it would allow me to enjoy the company of my lovely wife while I was working. It didn't take long at all for our table to fill up with other artists and friends which made for a very enjoyable evening, indeed.
Here I am hard at work about halfway thru the evening…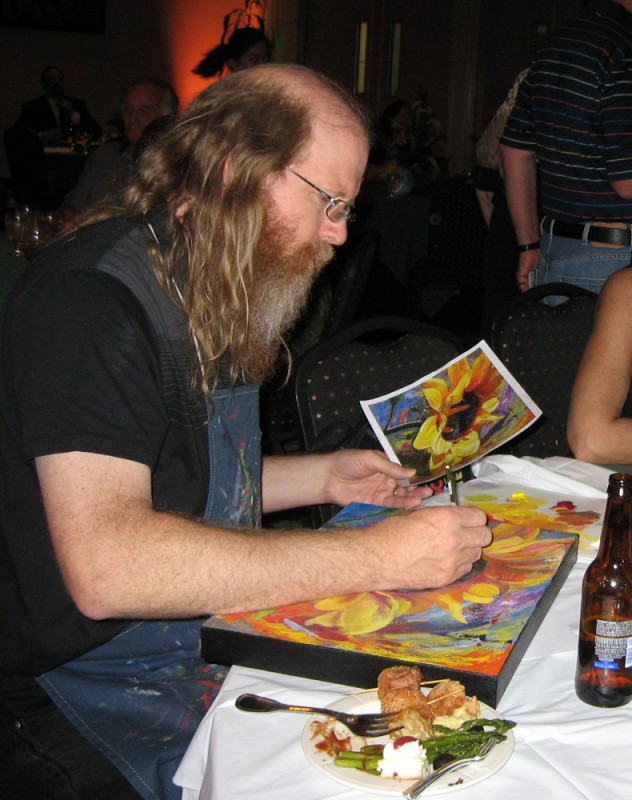 As the night progressed, I had several people come by to see what I was up to. It was a lot of fun to chat with everyone and to hear their input.
Meanwhile, there was still an auction going on. Around 40 masks, which had been created by local artists and celebrities, were being auctioned off to generate funds to purchase books and supplies for Innovations International Charter School of Nevada. The mask I created (which I wrote about here earlier this year) was autographed by my good friend, Carla Rea – a talented comedienne and radio personality for KKLZ here in Las Vegas. Later in the eventing, Carla and I were both happy to be photographed with the new owners of Behind the Smile. Here we are bracketing the new owners…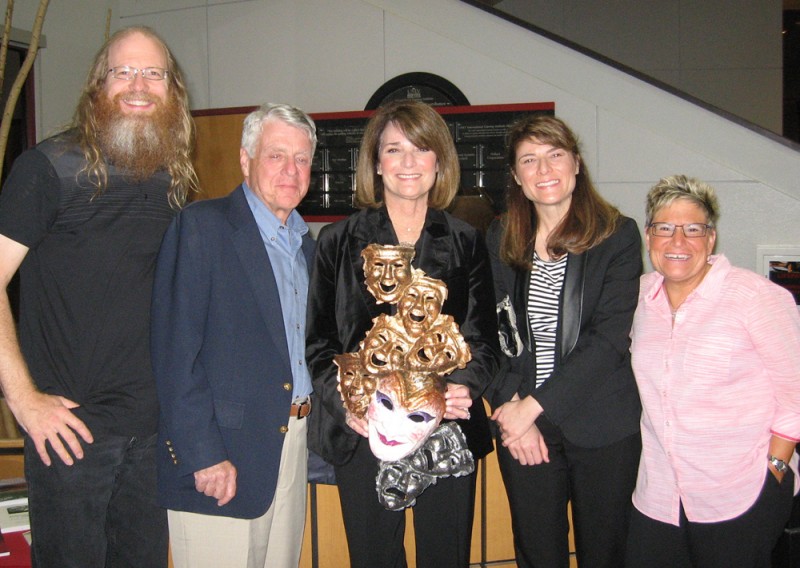 Behind the Smile surrounded by smiles
As I'm sure many of my long-time blogging friends know, it's hard for me to be around masks without finding at least one to add to my collection. Last night was no exception. I am now the proud owner of Blue Bruno, created by local artist Anya Peterson. Anya tells me that she modeled the mask after her pet dog, Bruno – hence the title, Blue Bruno. I told Anya that from now on I was going to call my new addition Bluno. She was quite happy with the idea – especially since her boyfriend has been calling it that ever since she finished creating it. Anyway, here we are celebrating this new addition to my collection…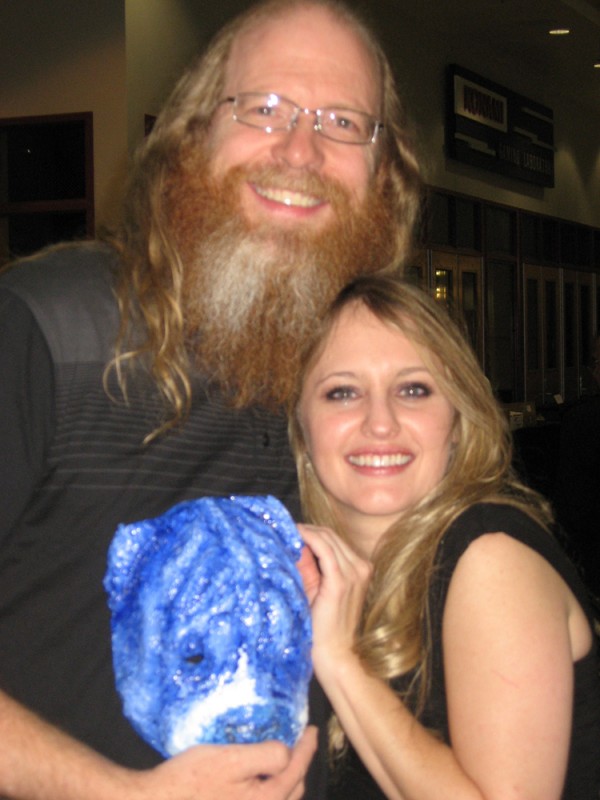 Don, Anya and Bluno
And here is Bluno in all his glory now hanging on my studio wall…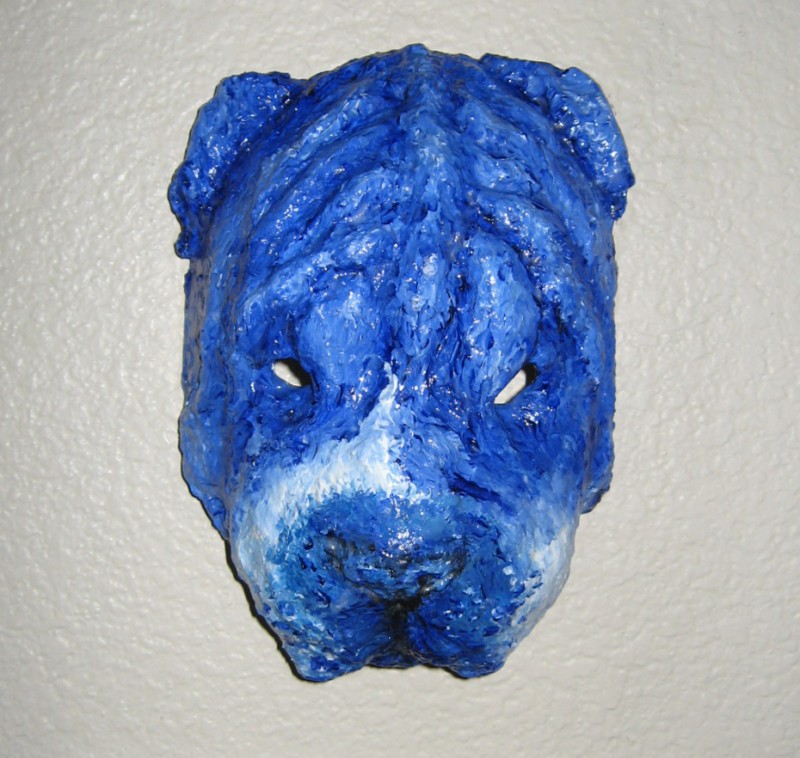 Bluno
In case you wondered, yes, I finished my painting. And, yes, it was auctioned off. Below is what I came up with. (The photo is a little fuzzy, but it was the best I could do at the event.) I donated the painting in memory of our son, Donald, from whom this sunflower series was inspired.
After the event I found out that my painting will be on permanent display in one of the main offices at Innovations International Charter School of Nevada. I couldn't be more pleased…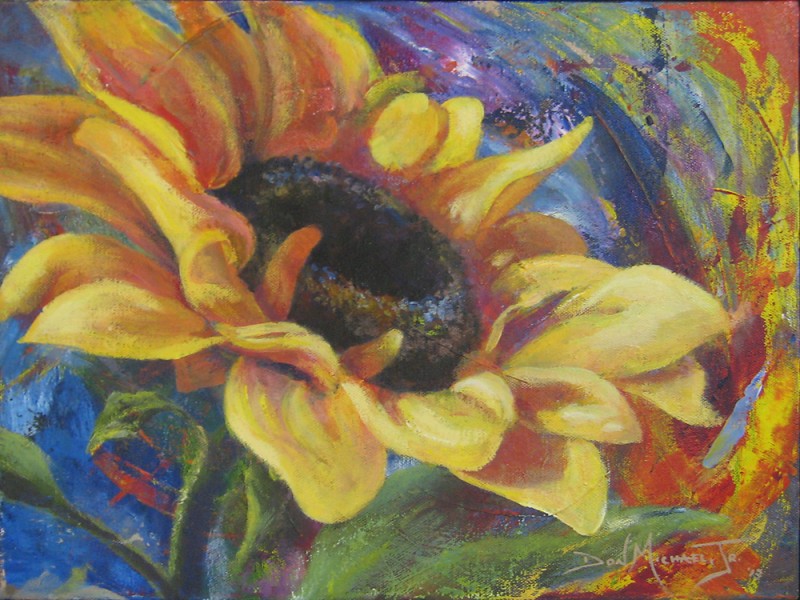 Life Anew – 12″x16″ – Acrylic on canvas – Completed 10/19/13
©2013, Don Michael, Jr.
At the same time I was painting, so was fellow Las Vegas Artist, Teresa Maharaj. I regret that I did not get a photo of her or her beautiful painting, which was also auctioned off. Here is her finished painting which I borrowed from her Facebook page.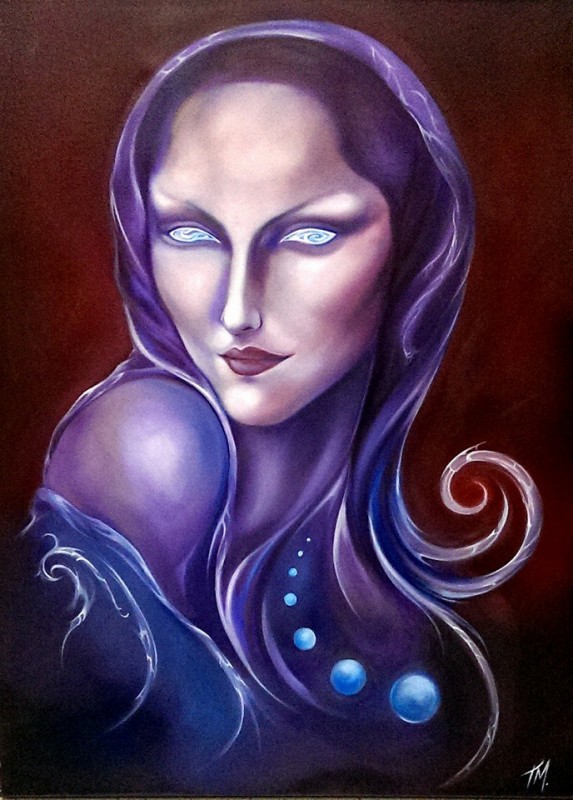 Let's End This Masquerade – Oil on canvas – by Teresa Maharaj
Great job, Teresa. She is beautiful!
All-in-all, last night was a wonderful evening involving good fellowship, good food, fine art and much love. Who could ask for anything more?
Happy Creating!
In May of 2011 I picked up my palette knife and started what was to become the Eye Candy series. My original intent was to do a few paintings of masks I had created using only a palette knife. No Eye Candy canvas was larger than 5″x5″ and a few even went as small as 3″x3″. Titling the completed works after different candies was not a part of my original plan, but luckily, the first one I painted made me think of the word "Butterscotch". After that, it was a matter of deciding which candy each of the completed paintings reminded me of. Here is that first Eye Candy painting…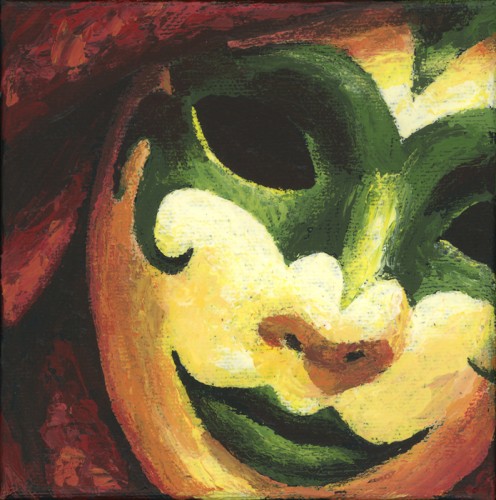 Butterscotch – 5″x5″ – Acrylic on canvas – ©2011, Don Michael, Jr.
When I completed the fourth in this series, Tootsie Pop, my online blogging friend Celeste Bergin commented simple, "Eye Candy", and the title of the series was created. Thank you, Celeste.
Less than two months after I started this series our son, Donald, was diagnosed with malignant melanoma. These Eye Candy paintings became a source of distraction and escape for me during that stressful month of July 2011 during which Donald went into surgery and emerged with what we were told was a clean bill of health.
Over the next couple of years I continued to create new additions to this series, even going so far as to create some smaller sub series, like Eye Candy Starbursts and Eye Candy Skittles. Here is one of the Eye Candy Skittles, which were only 3″x3″ in size…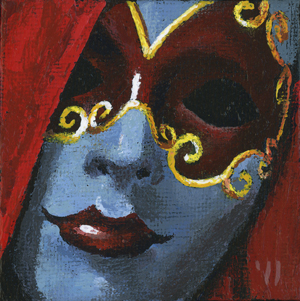 Strawberry Skittle – 3″x3″ – Acrylic on canvas – ©2011, Don Michael, Jr.
Earlier this year I was beginning to feel that the series may be coming to a close, but I just wasn't ready yet. So, periodically I would create another. In early July, I even experimented with using only a brush on one instead of a palette knife. I wanted to try at least one that way to decide whether I was quicker with the blade or with the brush. I decided it was pretty even time-wise, but I had more fun with the knife. Here is the finished piece…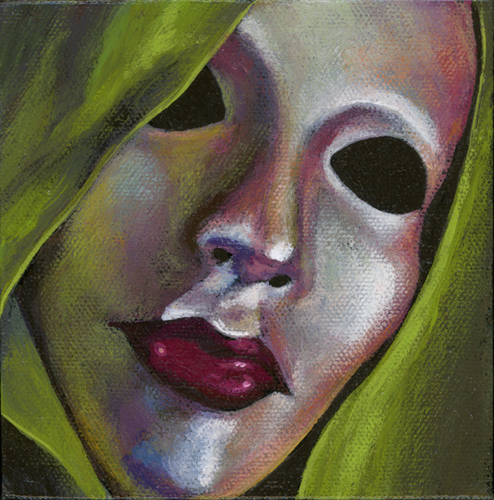 Abba Zaba – 5″x5″ – Acrylic on canvas – ©2013, Don Michael, Jr.
Just two weeks after I finished this painting we suddenly lost our son, Donald, to a brain tumor which was associated with the malignant melanoma that we had been told he was clear of. I say suddenly, because one day he mentioned a bad headache and two weeks later he was gone. Needless to say, our family is still in shock, but is daily getting closer to our new sense of normal.
Now that a little time has passed and I've been able to get my creative bearings I have come to the decision that I will create no more Eye Candy paintings. Abba Zaba is officially the last in the series.
On a lighter note, three of my Eye Candy paintings sold this weekend at the Art in the Park fine art festival in Boulder City, NV including one of my favorites…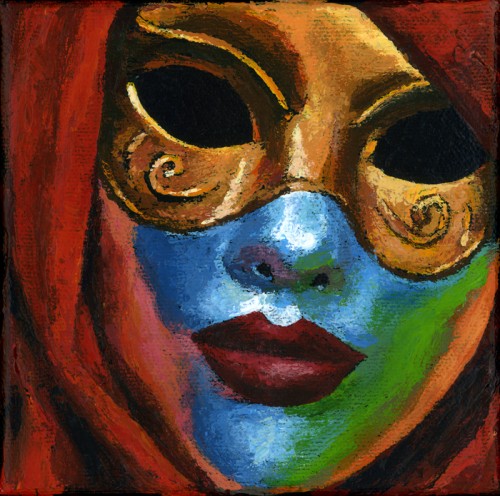 Atomic Fireball – 5″x5″ – Acrylic on canvas – ©2011, Don Michael, Jr.
The weather was beautiful and a lot of people came out to enjoy the art, the crafts, the food and the fun. I believe there was even a lot of Christmas shopping going on all around me. Here I am with my booth all set up and ready for the crowds this past Saturday morning…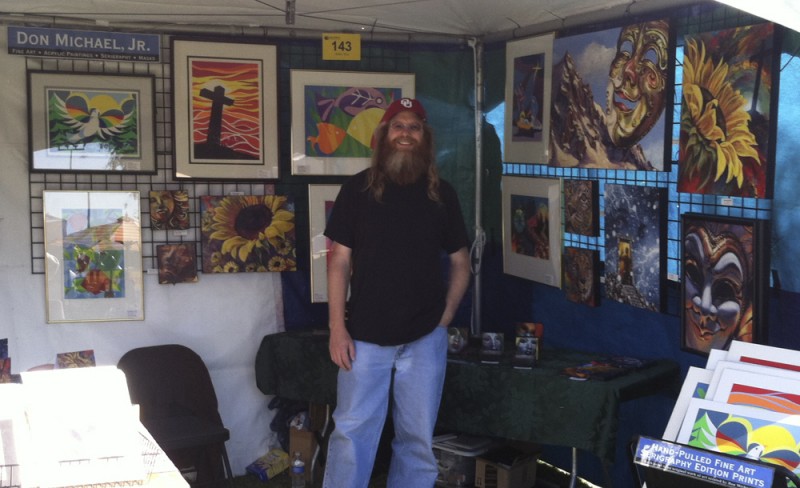 Don and a sampling of his artwork 10/5/13
Well, it's time to get back to the studio where I have a couple major commission projects in the works. Hopefully, I will be able to share about them soon.
Happy Creating!