It's hard to believe another year is already coming to a close. Time just keeps marching on.
Below is my last painting for 2013. It's a quasi-self-portrait using a favorite from my mask collection.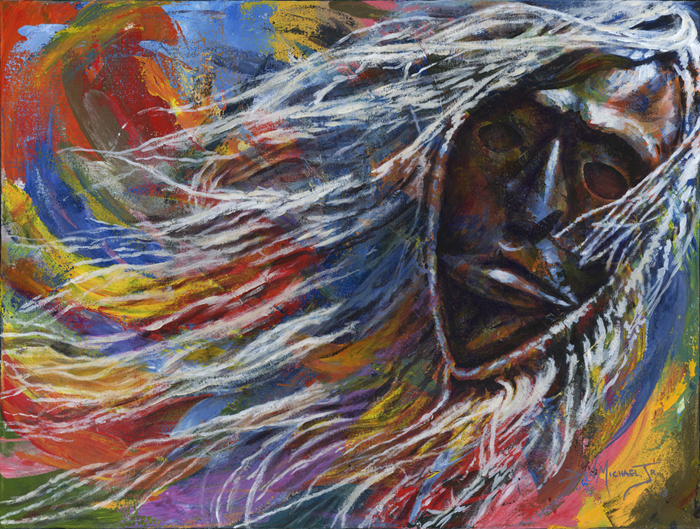 Wind Chill – 18″x24″ – Acrylic on canvas – Completed 12/28/13
©2013, Don Michael, Jr.
I wish all of my blogging friends a Happy New Year! Here's hoping 2014 is a good one.
Happy Creating in 2014!
Twenty-six years ago, my wife and I were excited to be expecting our first child. Below is the Christmas card I created that year to share with family and friends which celebrated our good news…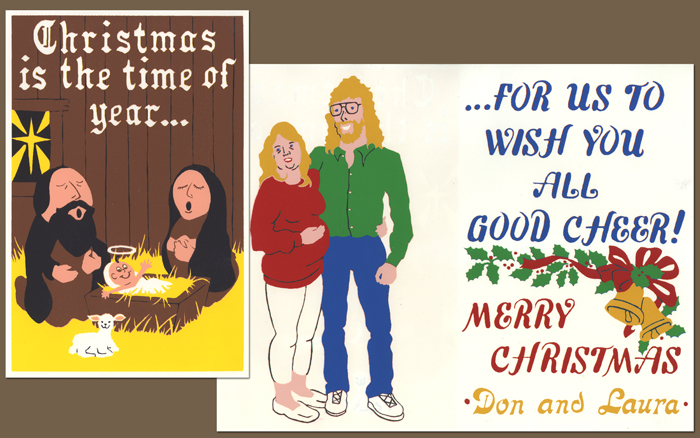 Family Christmas Card 1987 – Hand-pulled silkscreen on archival paper
Of course, the next year our precious boy had to be features significantly in the Family Christmas Card…
Family Christmas Card 1988 – Hand-pulled Silkscreen on Archival Paper
For nearly every year after, the Family Christmas Card featured something about our family. The Christmas after our second child arrived found me experimenting with a more graphical style. Of course, I still had to feature our boys on that year's card…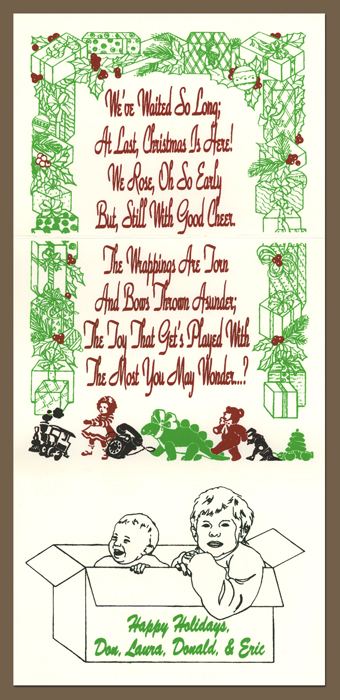 Family Christmas Card 1994 – Hand-pulled Silkscreen on Archival Paper
When those boys' little sister was born, there was no doubt that she would show up in that year's Family Christmas Card. At this point, I was beginning to experiment with Photoshop as my primary tool for creating the cards. This is what I came up with…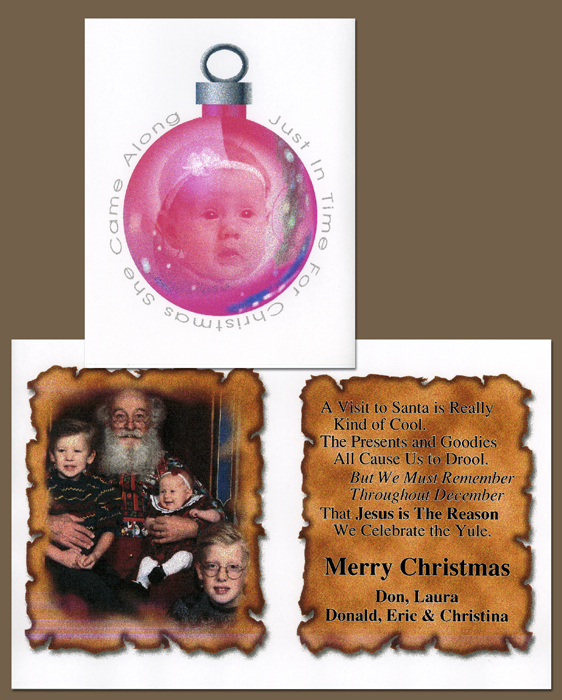 Family Christmas Card 1998 – Inkjet Print on Bright White Paper
Through this yearly tradition I have shared the love of our family, while keeping everyone up-to-date on things going on in our lives. During the past twenty-eight years I have created a Family Card each Christmas – until now.
As many of my blogging friends know, we lost our oldest son earlier this year. I cannot find it in me to create a card of celebration while my heart continues to ache so much with our loss. However, I will not allow the pain to overshadow what Christmas is really all about.
Christmas celebrates that momentous day when God became man in the form of His son, Jesus Christ. Because of God's grace we now have the opportunity to spend eternity with Him. All we have to do is believe that Jesus died for our sins and then arose from the grave three days later. When we accept Jesus Christ as our personal savior, we are given the greatest gift ever, God's Grace. The Bible tells us the whole story, but Jesus summed everything up beautifully in John 3:16, where He tells us, "For God so loved the world, that He gave His only begotten Son, that whosever believes in Him should not perish, but have eternal life."
Happy Creating!
Lately, most of my creative/studio time has been tied up in freelance design work. As much as I enjoy the design work, painting is my true passion. So, to maintain my creative sanity I make sure to set aside some time to paint at least a few hours each week. This is what came from my painting sessions this week…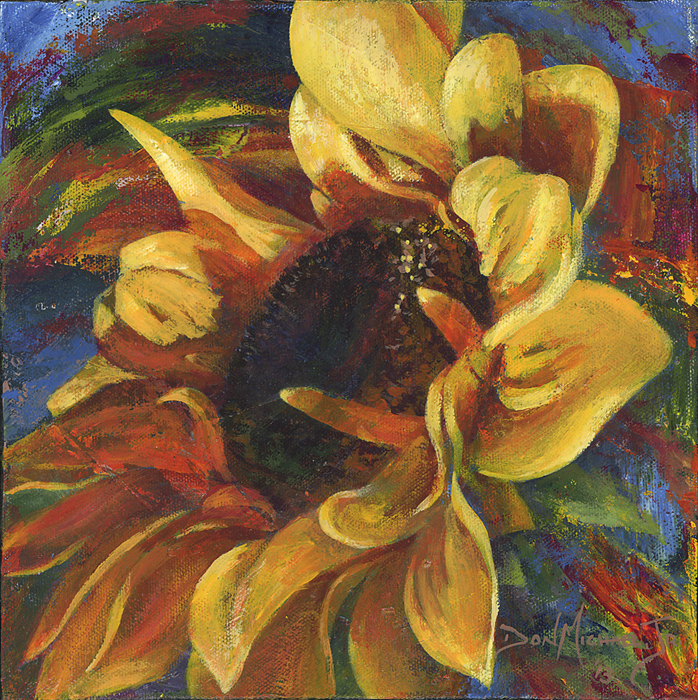 Sun Burst – 10″x10″ – Acrylic on canvas – Completed 12/11/13
©2013, Don Michael, Jr.
Usually by now there would be some kind of seasonal type work coming out of my studio. This year is different, though. So, for now, I'll continue to work on my Sunflower Series.
John 3:16 – For God so loved the world that He gave His only begotten Son that whosoever believeth in Him should not perish, but have everlasting life.
Happy Creating!
My Dad, Don Michael, Sr., has written Devotional Prompts. My brother, David Michael, has organized them into book form and published them. Yours truly created the cover. Talk about keeping it in the family…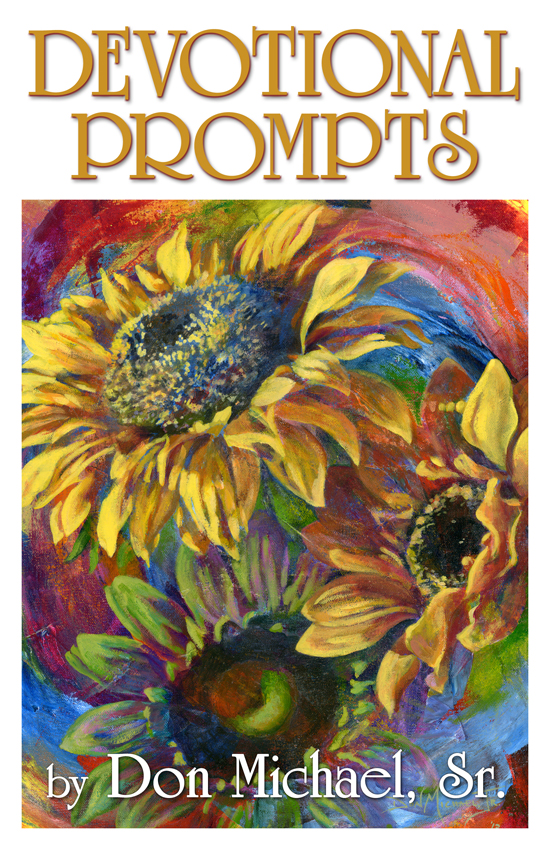 Devotional Prompts – Written by Don Michael, Sr.
©2013, Four Crows Publishing
When David asked me to create the cover for this, I was truly delighted. I immediately thought of my Sunflower Series of paintings, which coincidently, David suggested using as well. 🙂 The painting I chose for the cover is Spiritual Growth, which fits on so many levels.
Book Description (from Amazon): The purpose of the Devotional Prompts is to help you with your personal devotional time, your everyday private worship. Each prompt presents a tenet of faith or personal discovery for you to consider, and includes a call to action. Going beyond passive reading and acceptance, Devotional Prompts encourage you to write out what's in your heart, to see the wisdom of God you have glimpsed in your own life, and to highlight those areas in your life where you need to grow.
I enjoy the process of reading thru these Devotional Prompts, and think you will too. The book is available here. Check it out.
Happy Creating.