Wind Chill
December 31st, 2013
It's hard to believe another year is already coming to a close. Time just keeps marching on.
Below is my last painting for 2013. It's a quasi-self-portrait using a favorite from my mask collection.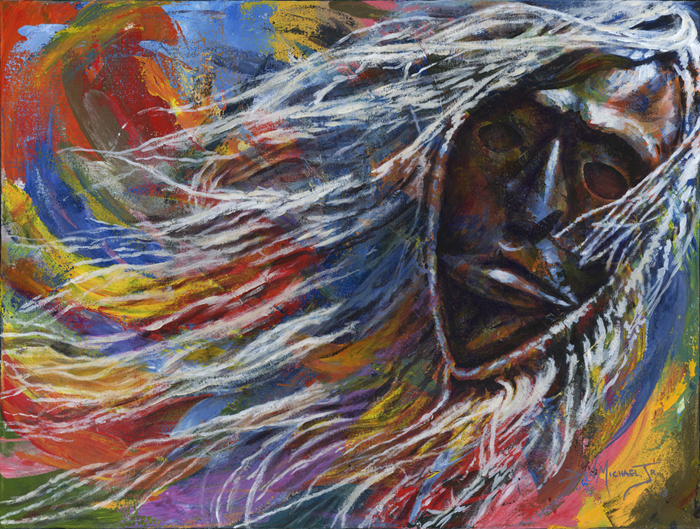 Wind Chill – 18″x24″ – Acrylic on canvas – Completed 12/28/13
©2013, Don Michael, Jr.
I wish all of my blogging friends a Happy New Year! Here's hoping 2014 is a good one.
Happy Creating in 2014!
3 Comments for 'Wind Chill'
Dan Kent Said:

I know this must be a hard transition for you to a new year that without your son, and it is hard to know what to say – the traditional new year's greeting seems inadequate, even callous.

I wish for you and your family in 2014 a year of healing, and of growth. Of course, I wish for you all much more than that as well – everything in its time in the best way for each of you. Your painting seems to me to represent all of this.

Here's what I can definitely say: Have an Artful New Year!

Don Michael, Jr. Said:

Dan… Words cannot express how much your comment means to me and the family. You have hit the nail right on the head. Thank you, and God Bless!

-Don

Hw(hallie)Farber Said:

Amen to what Dan said. I like the bronzy face and the soft string-like hair. I'm betting you enjoyed painting this. Wishing you and your family the best for the new year.