The promise of hope, joy and peace are wonderfully illustrated when a storm cloud breaks apart and the sun shines thru. Here is my attempt to symbolize that feeling in paint…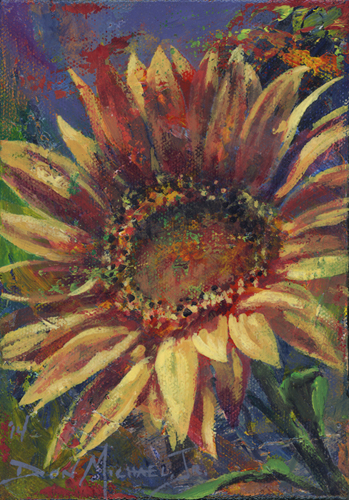 Thru the Storm – 7″x5″ – Acrylic on canvas – Completed 1/27/14
©2014, Don Michael, Jr.
Happy Creating!
Several people have asked me recently why there weren't more lions in my wildcat series. Being the introspective type, I took a long, hard look at both the series and my intentions – and I realized something… It's a lot easier to create portraits of cheetahs, leopards, ocelots and tigers because of the markings on their faces. Those markings give me a 'leg up' compositionally right from the start. In effect, I was taking the easy way out by primarily focussing on those spotted and striped felines. How cowardly of me…
So, I painted a lion…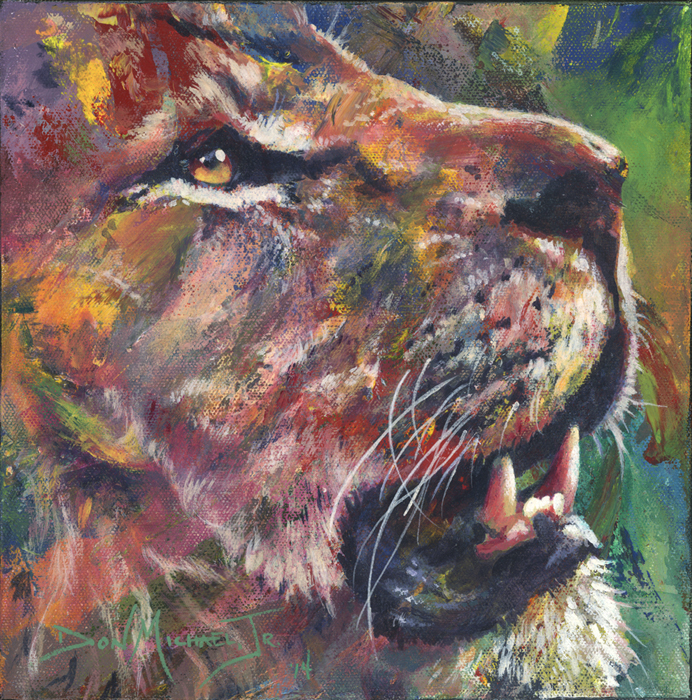 Higher Call – 10″x10″ – Acrylic on canvas – Completed 1/22/14
©2014, Don Michael, Jr.
Happy Creating!
Getting back into the studio in this new year has really been a challenge for me. Oh, the excuses abound, but that is all they are – excuses. The fact is, I've just not felt like it, and I honored that feeling… Until this past weekend.
So, without further ado, I present my first painting of 2014…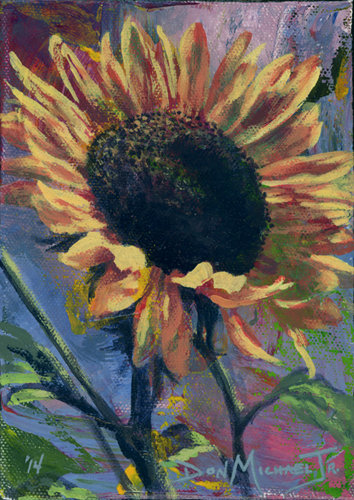 Nearness of You – 7″x5″ – Acrylic on canvas – Completed 1/19/14
©2014, Don Michael, Jr.
This is the 11th painting in the Sunflower series. As I've mentioned before, this series is my way of memorializing our oldest son. This past weekend marked the 6 month anniversary of his death. This upcoming Thursday, January 23rd, he would have turned 26 years old. Needless to say, he is always very much on our minds and in our hearts – hence the title of this painting.
We miss you Donald.
In the Sermon on the Mount Jesus tells us, "Blessed are they that mourn: for they shall be comforted." (Matt. 5:4) We receive that comfort, and thank God for it. In an answer to the many prayers sent up by so many wonderful people on our behalf, Jesus has provided us with the strength and the peace to go on with our lives. And, this is why I can still say with all sincerity…
Happy Creating!
I'm very proud to announce that the very first Ginormous Heart I painted for the St. Jude Las Vegas Chapter has found a permanent home at the JW Marriott Resort and Spa here in Las Vegas. Ever since I completed this heart in 2011 it has traveled extensively around the Las Vegas with several other hearts painted by local artists to help bring awareness to the work the St. Jude Children's Research Hospital is doing for our children. The heart, which I titled Heartstrings, is now on permanent display just outside the Spa Tower of the JW Marriott.
Below is a photo of me being interviewed by the lovely Beth Fisher for KTNV Channel 13 while standing beside this heart. If you'd like to see the segment that Channel 13 put together which included my interview, be sure to click here.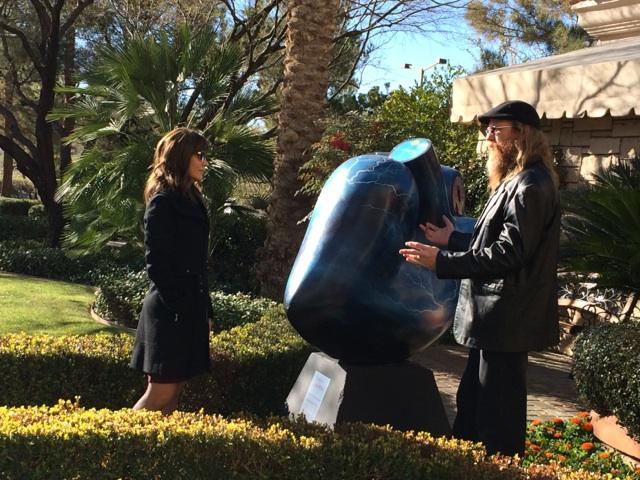 Beth Fisher interviewing Don Michael, Jr. for KTNV Channel 13
Through the rest of January there will be several other of the St. Jude Hearts on display throughout the JW Marriott Resort and The Rampart Casino campuses. In fact, the other two Ginormous Hearts that I painted in 2012 and 2013 are currently there. You can find out more info about this traveling collection by clicking here.
This year we are working with a very different sculpture for this wonderful awareness campaign for St. Jude. I will be posting more about that soon. Right now I'm still trying to figure out just what I'm going to paint. Stay tuned…
Happy Creating!