Most of this week has been spent preparing for this weekend's Arts, Eats & Beats arts festival which will be held at Village Square here in Las Vegas. I will be one of 15 artists who will be featuring our work there on both Saturday and Sunday from 11am – 5pm. Village Square is at the intersection of Sahara and Ft. Apache.
During all this prep I was still able to get a couple of design projects finished up as well as this new sunflower painting…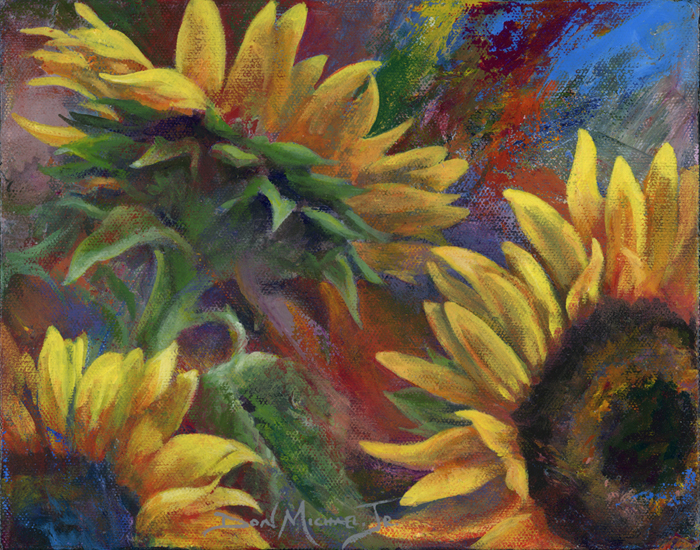 The Way You Do – 8″x10″ – Acrylic on canvas – Completed 3/27/14
©2014, Don Michael, Jr.
This painting will be one of several new ones I will be exhibiting this weekend at Arts, Eats & Beats.
Here is the official poster for the event…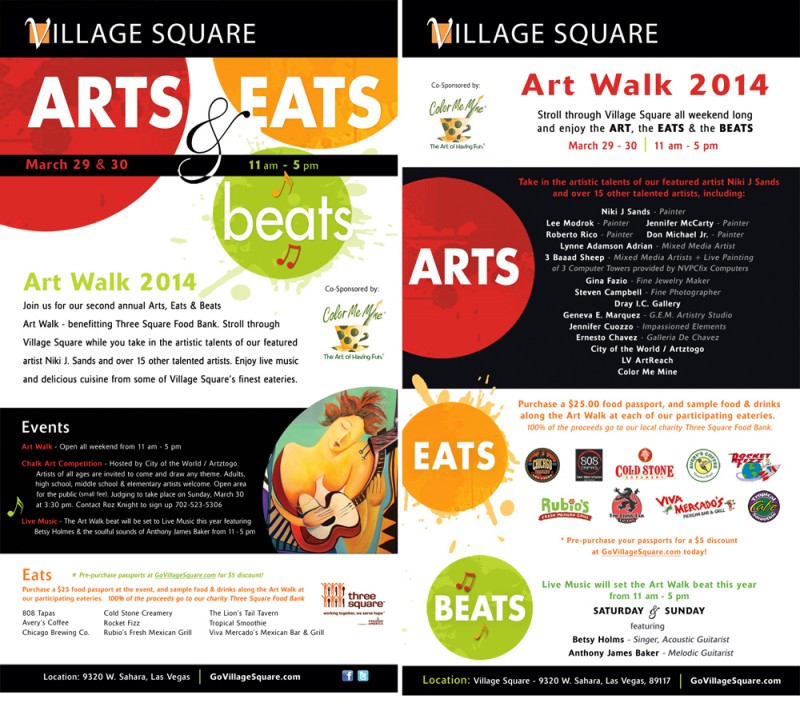 I hope to see you there.
Happy Creating!
Over the past year-and-a-half I have painted several different wildcats – including tigers, ocelots, leopards, cheetahs, and lions – among others. Recently someone asked me why I didn't paint domestic cats. To be quite honest, I just hadn't really thought about it… but, in the infamous words of Barney Stinson of tv's How I Met Your Mother, "Challenge accepted!"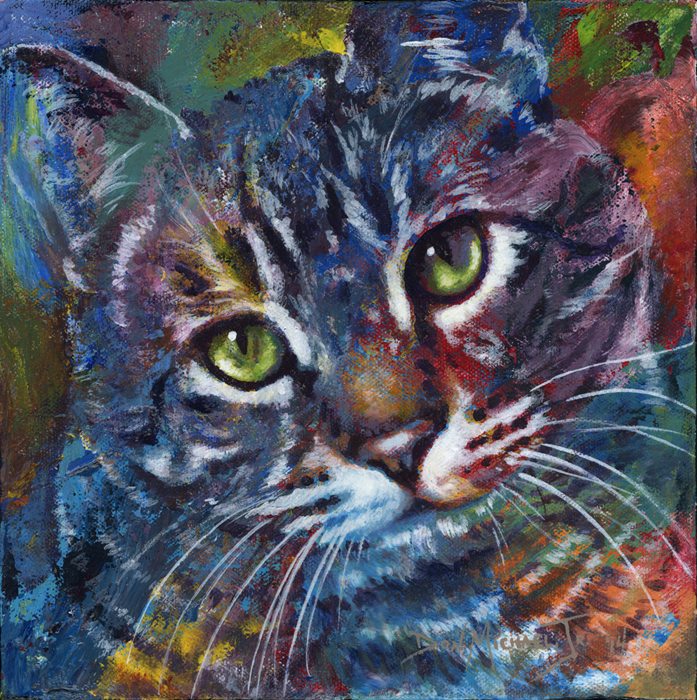 Irresistible – 10″x10″ – Acrylic on canvas – Completed 3/23/14
©2014, Don Michael, Jr.
The subject of this cat portrait is my very own Franz Marc, seen below enjoying his morning devotional. He has been my studio cat for nearly 4 years now and no project can be considered complete until it has received his stamp of approval. Thankfully, even this one passed…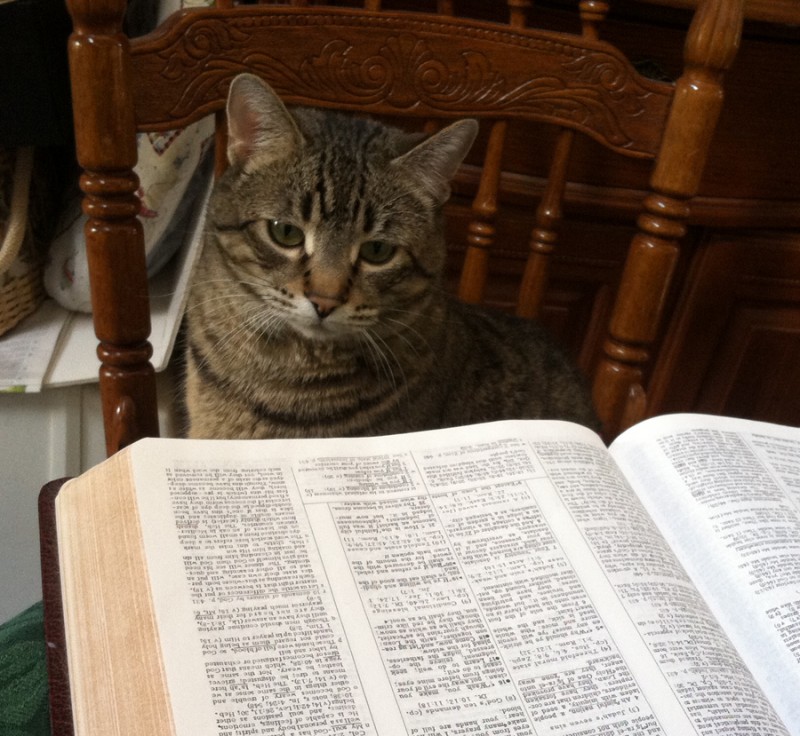 Happy Creating!
I have three kids. You'd think that coming from the same folks and growing up in the same household they'd be very similar… Nope, the opposite is true. Each child has definitely been One of a Kind…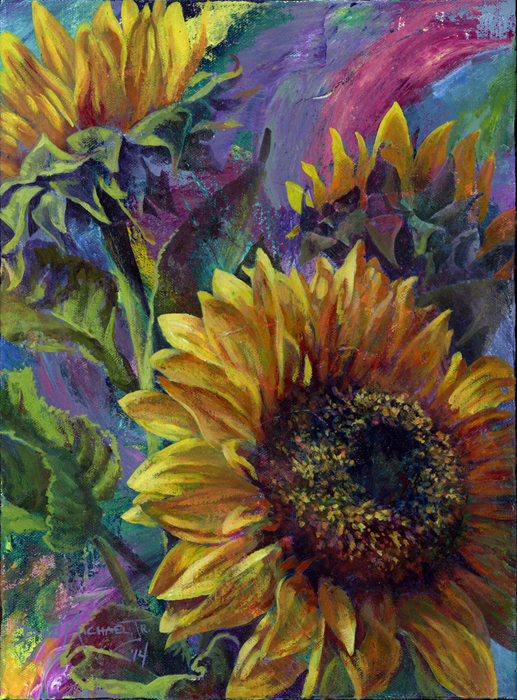 One of a Kind – 16″x12″ – Acrylic on canvas – Completed 3/13/14
Happy Creating!
This past Thursday the St. Jude Local Las Vegas Chapter presented the 2014 Celebration of Life Sculpture Exhibit which is currently on display in the Symphony Park at the Smith Center here in Las Vegas. This collection of 10 sculptures designed by sculptor Dorit Schwartz and painted by several Las Vegas based artists, including yours truly, are designed to bring awareness to and help generate funding for the St. Jude Children's Research Hospital.
Here I am with the sculpture that I painted, which I titled Miracle…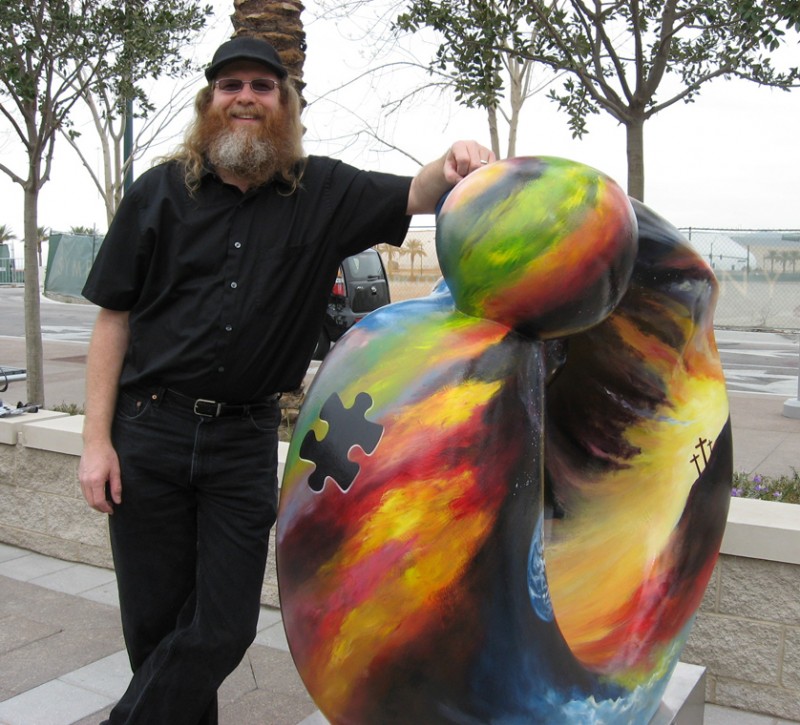 Don with Miracle
Before I even started painting this year's sculpture I knew Miracle would be its title. Miracle is a word that resonates with my family. Even though we didn't get the miracle that we prayed for this past July, we know that God is still doing a work in our lives. We hold close the words from Romans 8:28 "And we know that all things work together for good to them that love God, to them who are the called according to His purpose."
Because of all the intense emotions flowing through and over me as I created Miracle I knew I had to keep my Artist's Statement short and to the point.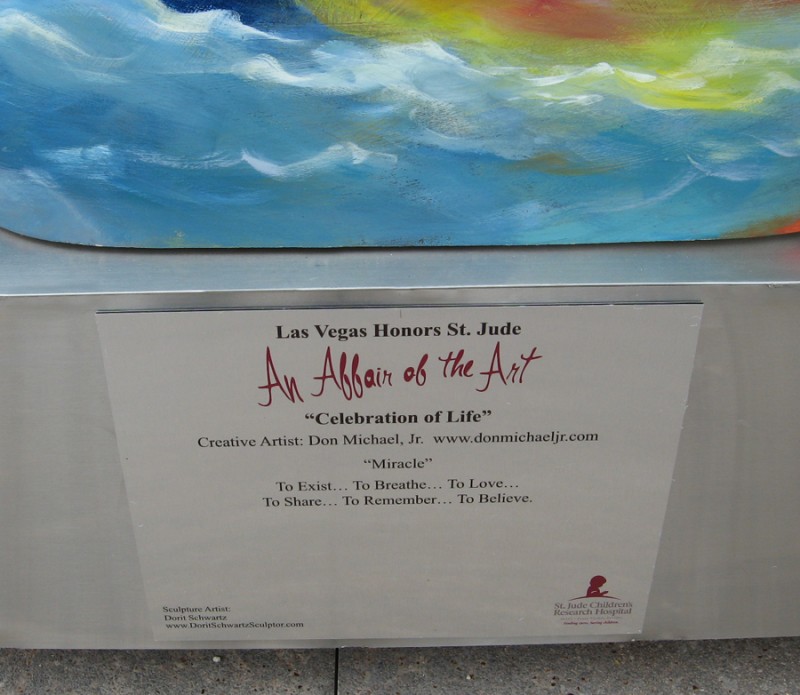 "To Exist… To Breathe… To Love… To Share… To Remember… To Believe."
This is by far the most personal piece of art that I've created in a long time. In it I have expressed my faith, I have acknowledged my family, and I have acknowledged my grief. With that all said, I wanted to express all of these in a positive and uplifting way. I wanted to make sure that my artwork in no way conflicted with my desire to bring a positive message to the families who are coming to St. Jude with a hope for healing and life after cancer. I pray for the day when the cure rate for cancer is 100% and no family has to go through what ours has ever again.
Below are more photos of the different parts of Miracle. Some were taken outside and some were taken while still in my dining room, so their quality varies.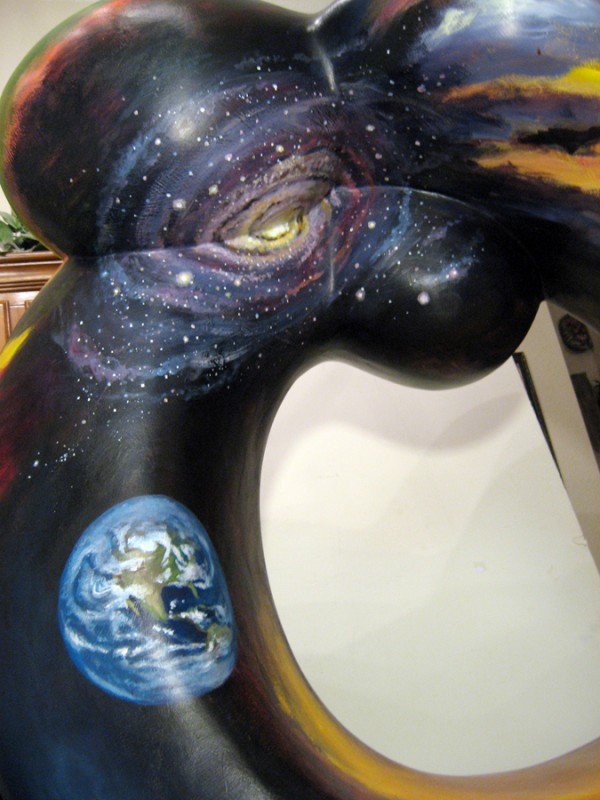 In the Beginning God Created the Heavens and the Earth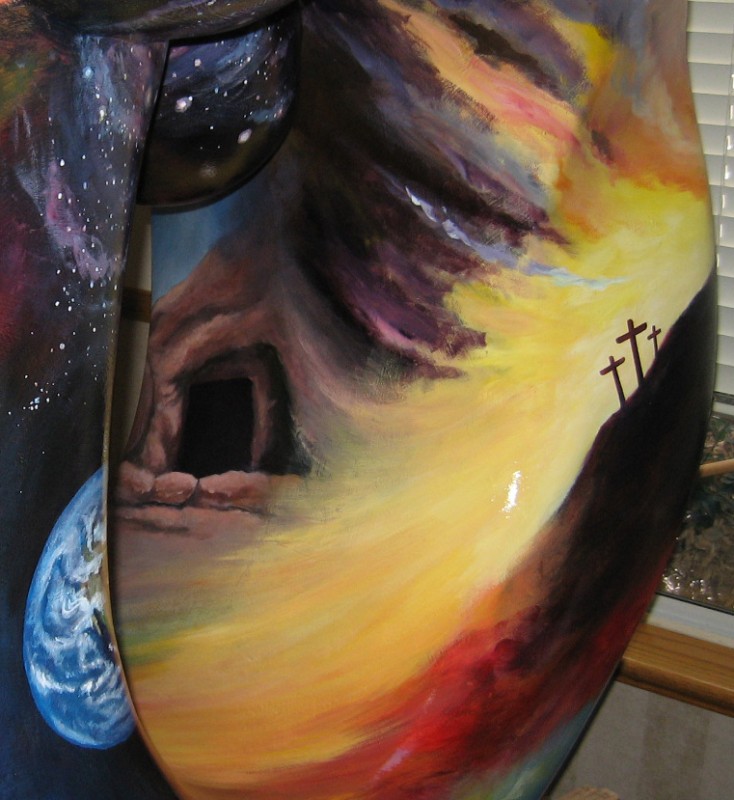 The Crosses and the Empty Tomb represent God's Grace – Death is Nothing to Fear for Those Who Believe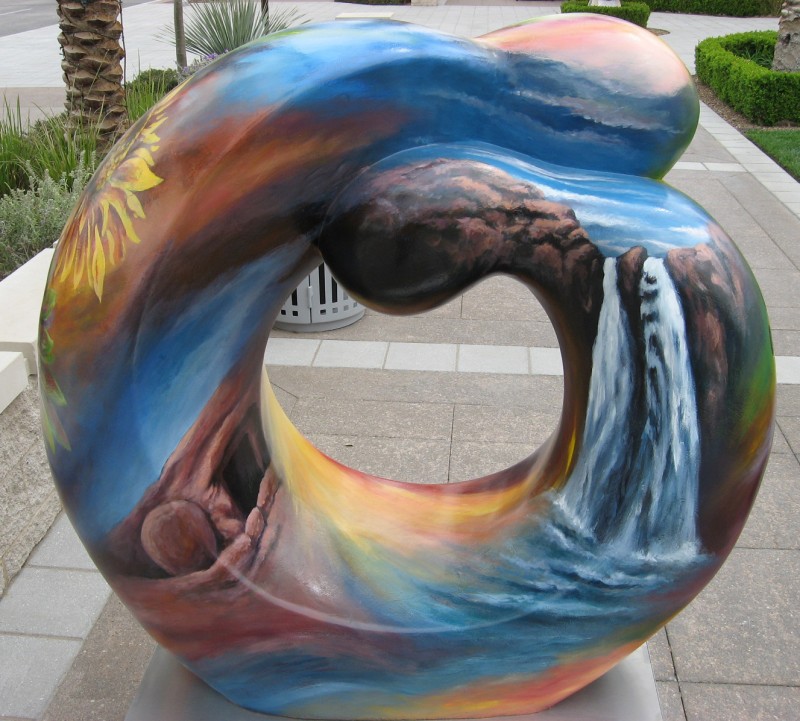 "He that believeth on me, as the scripture hath said, out of his belly shall flow rivers of living water." John 7:38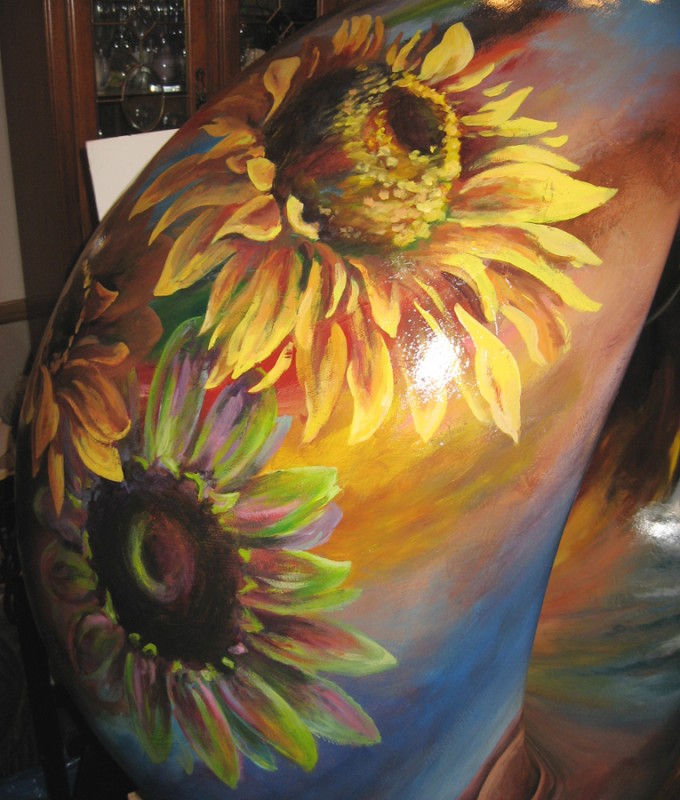 Sunflowers Memorialize Our Son, Donald, the Oldest of Three
As many of my long-time blogging friends know, no art project can leave my studio until it meets with the final approval of my studio cat, Franz Marc. I smile every time I see this photo.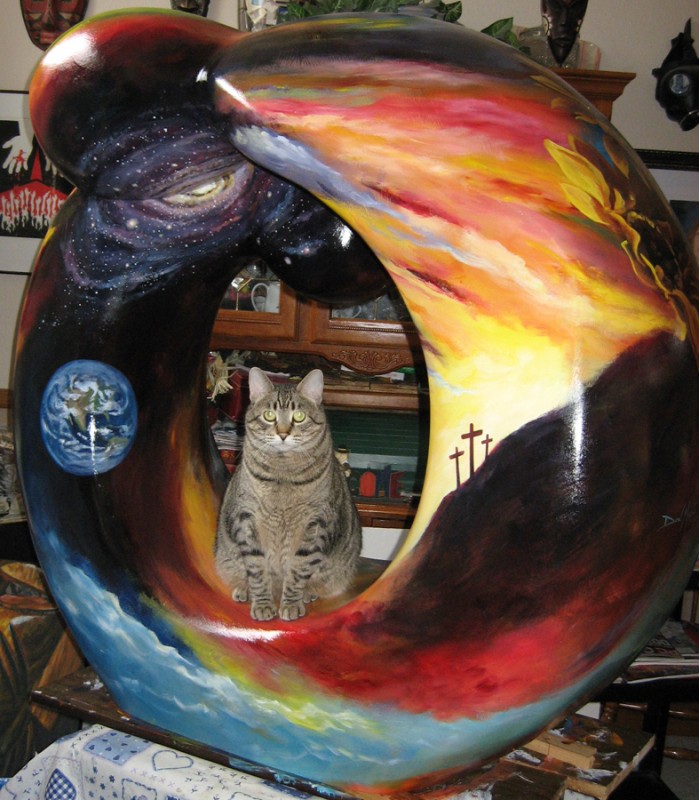 Franzie Approved
I'm sure you've noticed that there are a few elements upon which I have not elaborated. I'm a strong advocate of always leaving a touch of mystery to my work – let people have a chance to find their own meaning…
-A Final Note: The event was blessed with decent media coverage and my photo even ended up in the Las Vegas newspaper. On top of that, a few other photos of me and Miracle ended up on their website. I couldn't be more proud. Check it out here: http://www.reviewjournal.com/life/photos-reflection-love
Happy Creating!
I just added the dozenth painting to my Sunflower series. I wish I could say more about each of the paintings in this series, but for now my comfort level just won't allow it…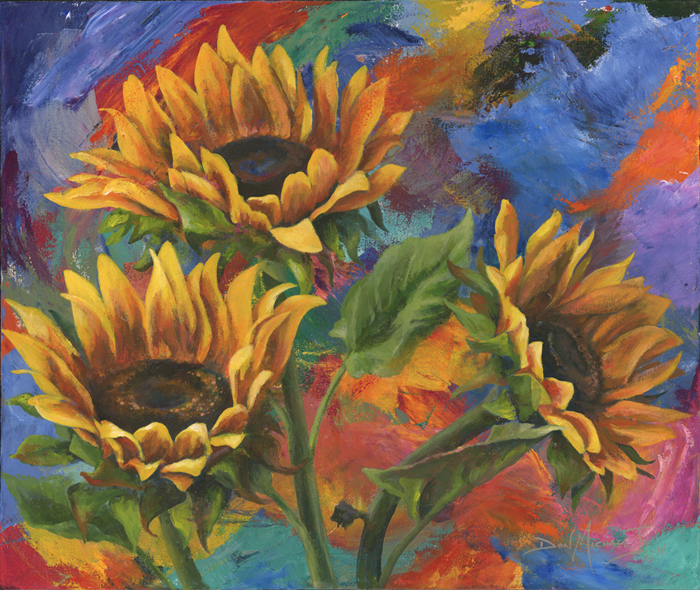 Soliloquy – 20″x24″ – Acrylic on canvas – Completed 3/4/14
©2014, Don Michael, Jr.
I will say thank God for these Sunflower paintings. They are helping me to work through a lot as the healing process continues…
Happy Creating!