Recently I was approached to create a painting that "includes a waterfall and a cross like your St. Jude sculpture". The lady commissioning the piece had accepted Jesus Christ as her personal savior a little over a year ago and wanted me to create a piece representing that new birth. We hammered ideas around and I came up with the idea of having the waterfall flowing from the cross. When talking with the client she had mentioned that she had gotten a tattoo of a butterfly to represent rebirth upon accepting Christ. I think that is an excellent symbol for rebirth and wanted to include it in the painting. We then decided to include two butterflies – one inviting the other to follow it to the cross.
Stylistically, we decided that I would use my Over the Under-Schmeerings style. In the process of the painting I found that I needed to use my palette knife to create a gritty, bold and raw energy in the sky, the cross and the waterfall. I then finished up by getting very specific and detailed in painting the butterflies. I love the juxtaposition of the  very realistic elements against the expressionistic background – all in a surreal environment. Oh, how I love this thing I do!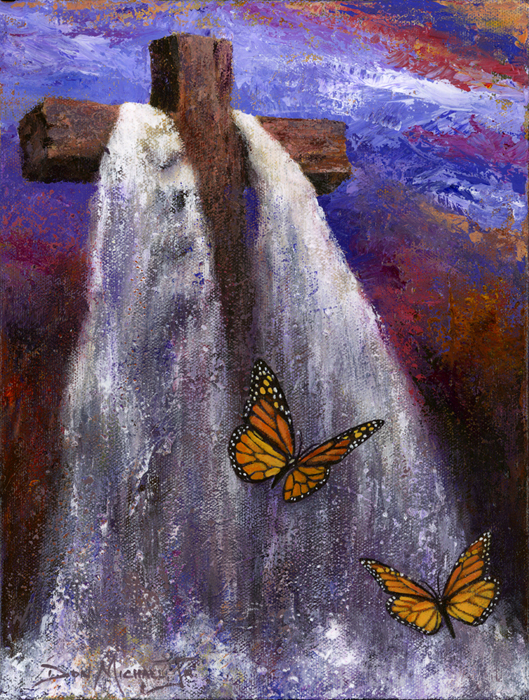 Rebirth (John 4:14) – 12″x9″ – acrylic on canvas – Completed 5/12/14
©2014, Don Michael, Jr.
The verse referenced in the title of the painting, John 4:14, has Jesus saying, "But whoever drinks the water I give them will never thirst. Indeed, the water I give them will become in them a spring of water welling up to eternal life."
How refreshing! How enriching! How sustaining! Praise God.
Happy Creating!
The first half of this year has involved a lot of intense reflection for me – on many levels. So, as I have a tendency to do, I took my reflections to the canvas. The following auto-biographical self-portrait is what I came up with…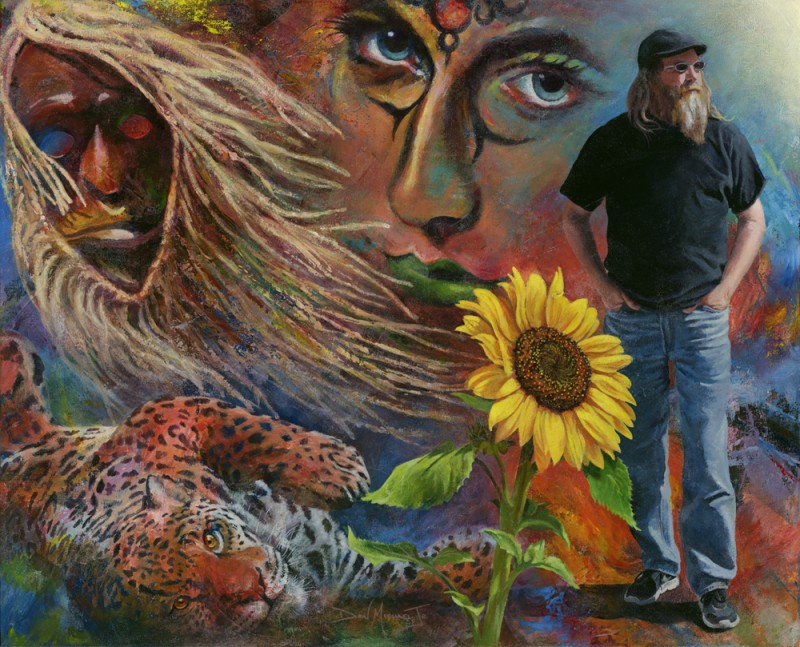 The Artist Pauses to Reflect and Consider – 24″x30″ – Acrylic on canvas
Completed 5/3/14 – ©2014, Don Michael, Jr.
The working title for this one was, "The Artist Pauses as he reflects upon where he's been and considers where he would like to go next"… I know, very wordy – and for me, a little too descriptive. Even with me 'stripping' it down it is still the longest title I have ever assigned to a painting. Anything less just didn't work.
The lovely eyes that are looking over the Artist's shoulder belong to a local talent extraordinaire, Nickole Muse. I met her this past December at the Circus Couture Charity Event. She is one of the few women in life that I have had to physically look up to – of course, the 4′ long stilts probably added to that effect. 🙂 Being a giant kid at heart, I took full advantage of the chance to give the lovely lady a low-body-hug. Thankfully, she didn't slap me down or hit me over the head with that lamp she was carrying…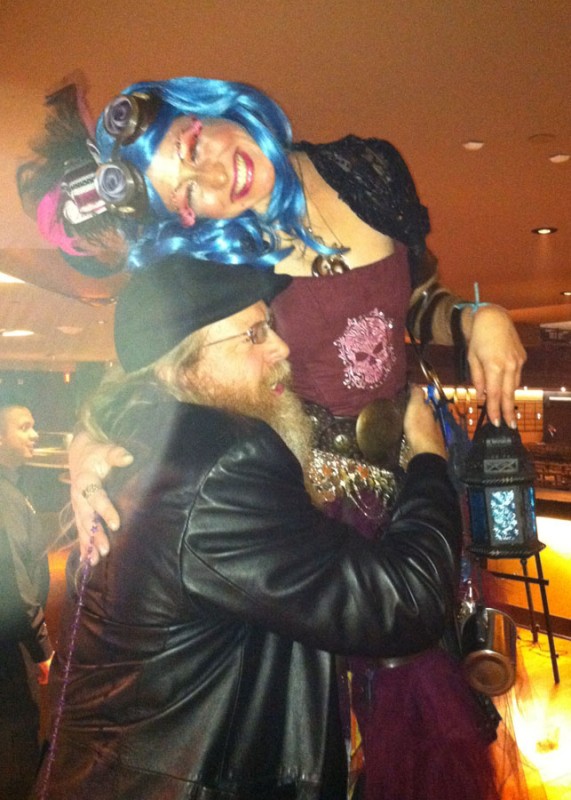 Don hugs the Magnificent Nickole Muse
Anyway… Nickole and I became Facebook friends and I've been admiring her many escapades in costume and performance for the past several months. One day, when going thru some of her photos I found one that felt to me like it belonged in one of my paintings. Those eyes!!! Both Nickole, and the photographer, Robert Lopez, were gracious enough to give me permission to use it, and so I did… Thank you, Nickole and Robert.
Now, you may ask, what has this Artist decided to do next after his extended period of reflection and consideration? Why, paint more, of course!
Happy Creating!