For the 5th year in a row I will be donating a painting to Circus Couture to help raise funds for pediatric cancer treatment and research. I'm really proud of the fact that I've donated a painting to this event every year since its inception. I believe strongly in what they do and I know that even my small part can make a difference in children's lives. I'm honored and humbled that the Circus Couture board has recognized the small part I've played over the past few years and has chosen me to be a featured artist this year during the live auction part of the event. Wow.
Each year Circus Couture chooses a theme around which the performances revolve. This year's theme is "Unlocked". As I prepared to create the painting to donate I meditated on the poem that they sent me titled, You Hold the Key to Your Own Cage:
A lock to keep it safe, a lock to make it hide
A lock protects the value of what we hold inside.
A key to find success, a key to open doors,
Keys perhaps to set us free toward all we hope and more.
Combining the words to this inspiring poem with my love for my family and my love for my savior, Jesus Christ, I came up with the following painting…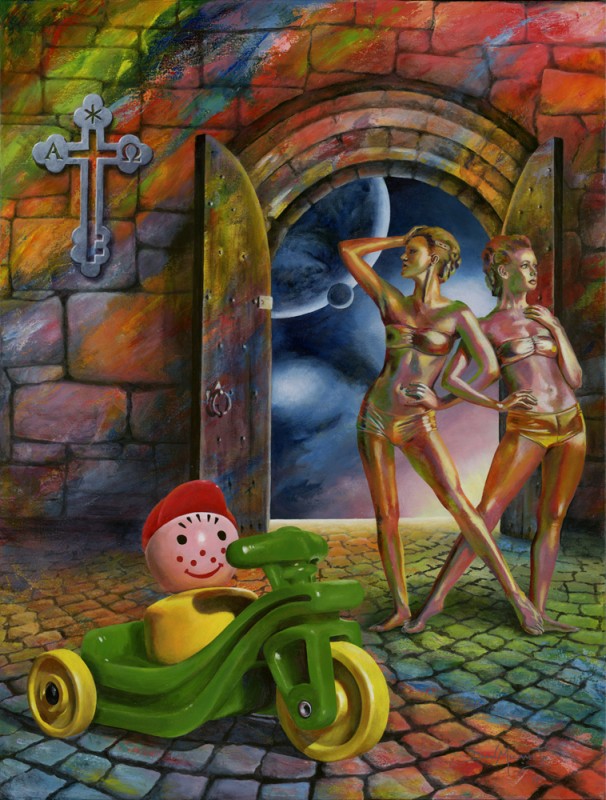 Unlocked – 40″x30″ – Acrylic on canvas – Completed 8/25/14
The lovely models in Unlocked are Lora Kelsey and Kat Day. They are both Las Vegas performers who have donated their time and skills to Circus Couture. The reference photo that I used of those lovely ladies was taken by the outstanding photographer Jerry Metellus who has also graciously donated his time and skills to this wonderful charity event. The photo of the ladies comes from a promotional piece for this year's Circus Couture event, which can be seen below…

I loved the reflective nature of the gold makeup on the models and thought they would work really well in this painting. I also LOVED the pose of the ladies with their interlocking arms while looking in two totally different directions. After getting permission from both the photographer and the Circus Couture president/artistic director, Erica Linz, I got busy. I tweaked their coloring quite a bit to give them an 'ethereal' look, and then I put them in front of the open doorway with the whole world on display behind them.
But, before I did any of this, I needed to experiment to decide how I wanted to incorporate them in one of my Over the Under-Schmeerings (OTUS) paintings. So, I painted this little study of the effervescent Erica Linz from the same photo… (You may notice that Erica is the performer doing the backflip just to the left of center in the photo above.)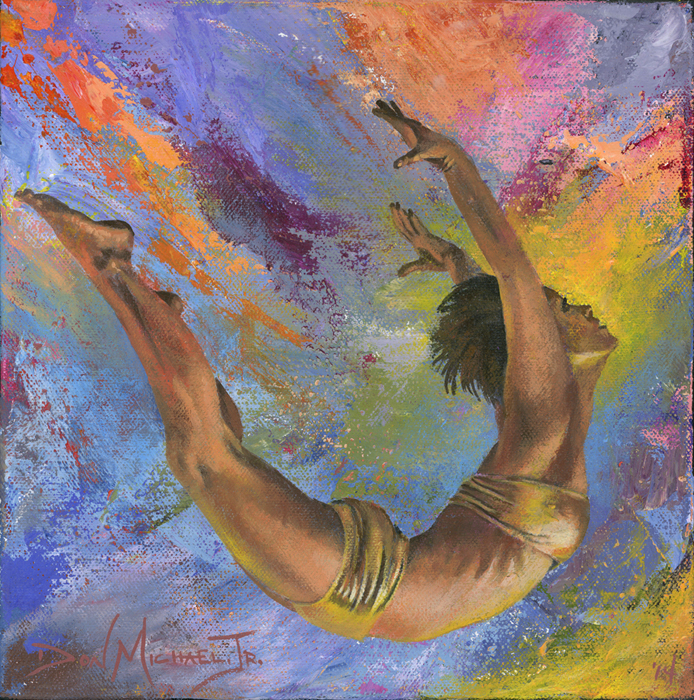 Effervescence – 10″x10″ – Acrylic on canvas – Completed 7/30/14
After painting this study, I decided to 'tweak' the coloring of the ladies for the painting Unlocked and make them even more reflective. As much as I liked the way Effervescence turned out, I felt Erica got a little lost in the schmeerings and wanted Lora and Kat to 'punch' a little harder visually. Like this…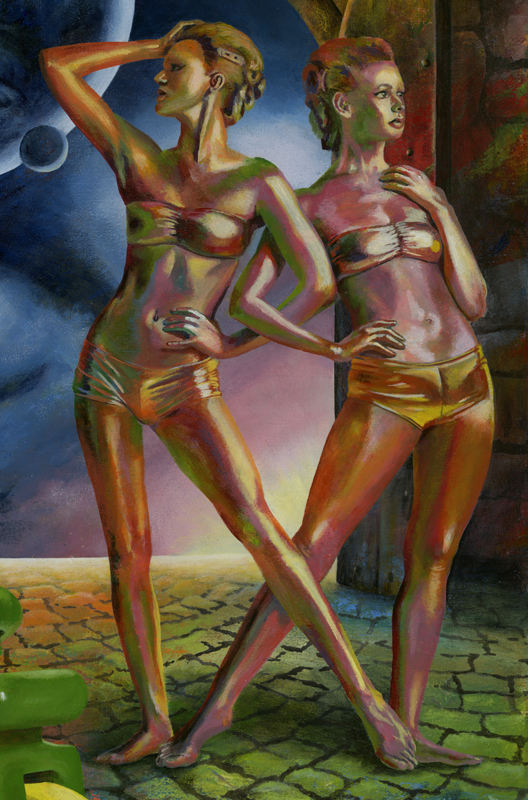 The inclusion of the little Fisher Price toy has a two-fold purpose for me. Primarily, for this event, it represents the innocence of childhood and its boundless potential. Secondarily, and on a more personal level, it memorializes our son, Donald, who lost his battle with cancer last year. Donald had a green three-wheeled tractor that he rode like a wild man from the time he got it when he was almost 3 until he outgrew it a few years later. Here he is driving it around on the Christmas morning that he received it…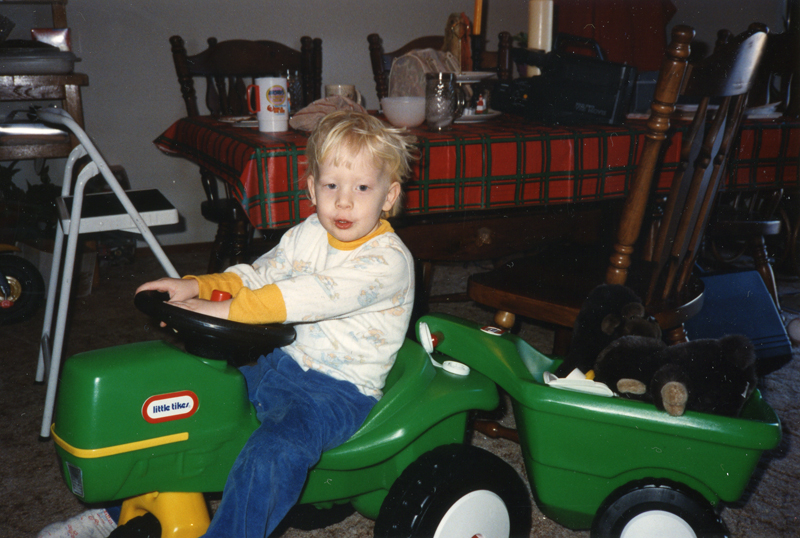 Christmas Morning 1990
Last, and certainly not least, the cross hanging on the wall… I wanted to represent the key to the doorway. The key that unlocks everything. It's been put to use. It's job is finished.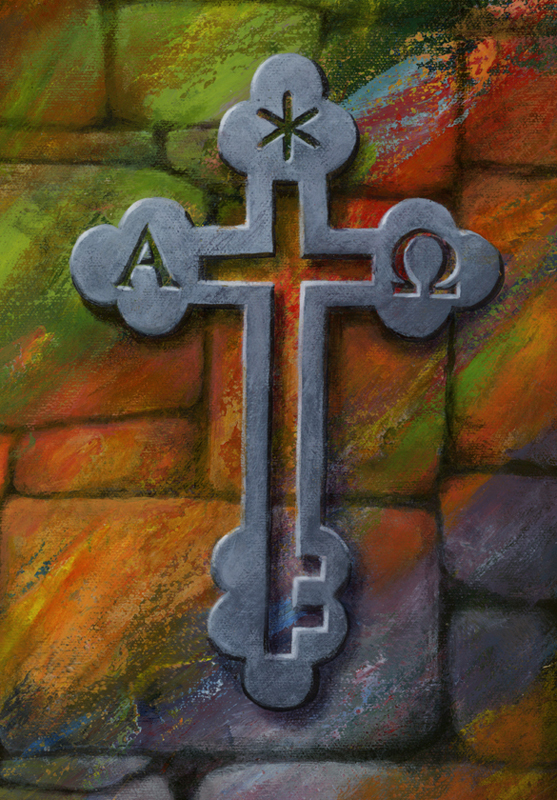 Unlocked (Cross detail) – approx. 10″x8″
So, if you're not doing anything on the evening of October 5th, come on out to The Joint inside the Hard Rock Hotel & Casino and be entertained while helping to generate funding to treat children with cancer and other blood-born illnesses. It's a labor of love put together by an eclectic, beautiful and artistic group of individuals. Click here for more details.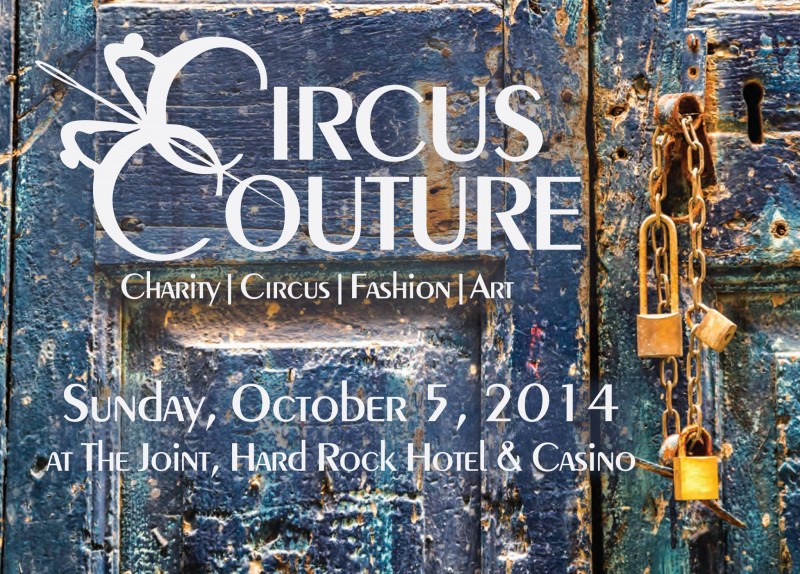 Circus Couture – Save the Date card
Happy Creating!