I have had the good fortune to have access to some beautiful photos of some lovely athletes in action which were originally taken to be used in promotional materials for this year's Circus Couture event coming up on October 5th. (I wrote more about this year's event here.) The photos were all taken by the phenomenal photographer, Jerry Metellus. Both Jerry and the president/creative director of Circus Couture gave me permission to use these photos to paint from. So, I took them up on it… and… below is the third painting that has come from these photos…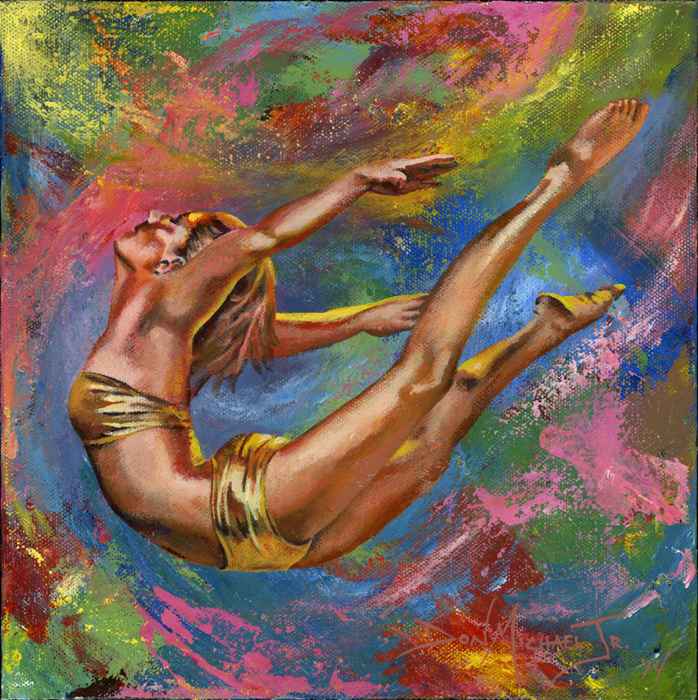 Exuberant – 10″x10″ – Acrylic on canvas – Completed 9/9/14
(The model featured in this painting is the KA performer Lindsay Kazandjian, who has generously donated her time and talent to this year's Circus Couture. I am honored that she approved of the painting… Phew!)
As I was painting Exuberant I started thinking about how much I enjoy painting these athletes and how the energy of their movements really play well with the energy of my Over the Under-Schmeerings (OTUS) style of painting. As tends to happen, those thoughts led to others… This time the train of thought took me back to the first time I ever attempted to include an athlete in action in one of my creations. Below is the result…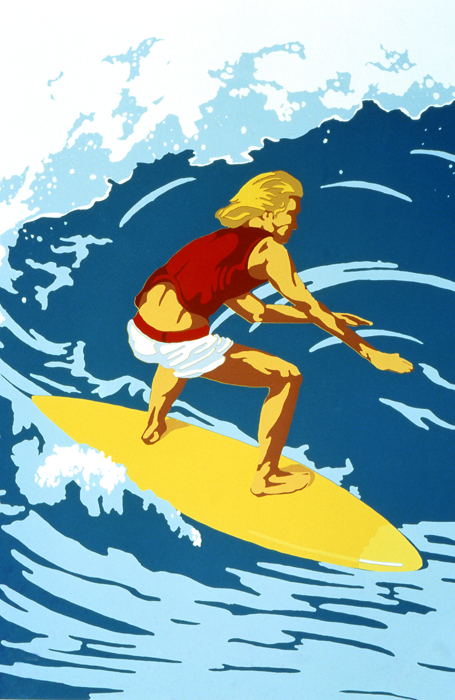 Bitchin' – 17″x14″ – Serigraphy(Silkscreen) – Created July 1983
At the time I had just discovered serigraphy(silkscreen) as a creative medium and was having a lot of fun experimenting with how it worked with different subject matter. I'm still happy with the way this composition came out. The energy of the moment comes thru nicely.
Seven years later I was pushing the boundaries on a totally different medium and once again turned to athletes in action. This time the medium was watercolor…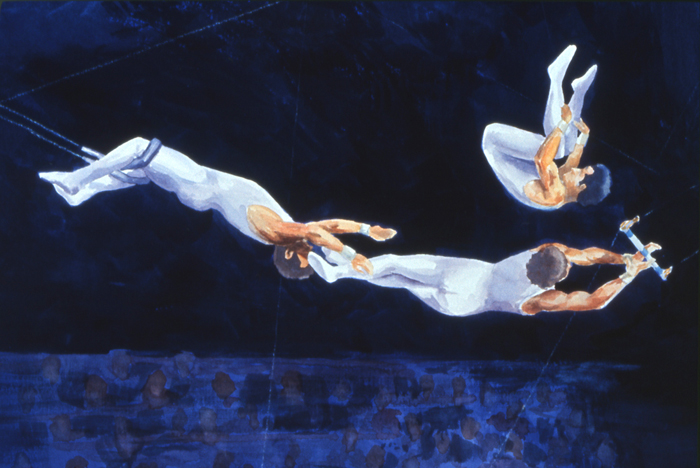 Exhilaration – 14″x21″ – Watercolor – Completed July 1990
I'm not as happy with the results of this one. The energy of the moment is not conveyed very well. It captures the 'moment in time' pretty well, but the true drama of the moment gets lost. I was so focussed on the medium that I didn't spend the time getting the composition right. Everything stops. Nothing keeps your eye moving.
Fast forward nearly two decades. My medium of choice had become acrylic paint. I had created a style of painting that I called Over the Under-Schmeerings (OTUS). My primary subject matter for over a decade had been masks. However, as I was preparing to create my second painting for Circus Couture I didn't want to only include masks. I wanted to reflect the craft of some of the performers donating their time to generate funding for research and treatment of pediatric cancer. So, I went back to the aerialists…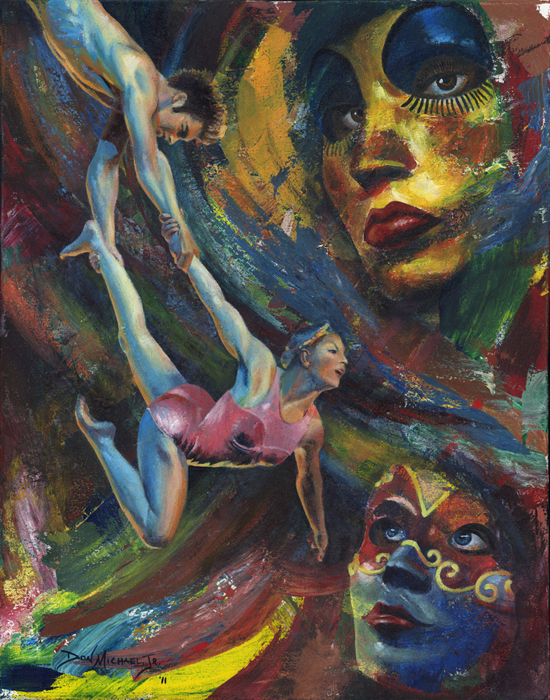 Dare to Believe – 20″x16″ – Acrylic on canvas – Completed May 2011
This time I knew I had gotten it right! I immediately fell in love with how the energy of my Under-Schmeerings worked with the energy of the athletes. The raw nature of the strokes in the schmeerings really helped to add drama to the motion of the performers. At that point, I knew that I would be doing more OTUS paintings involving people in motion.
I have. And, here are a few of them…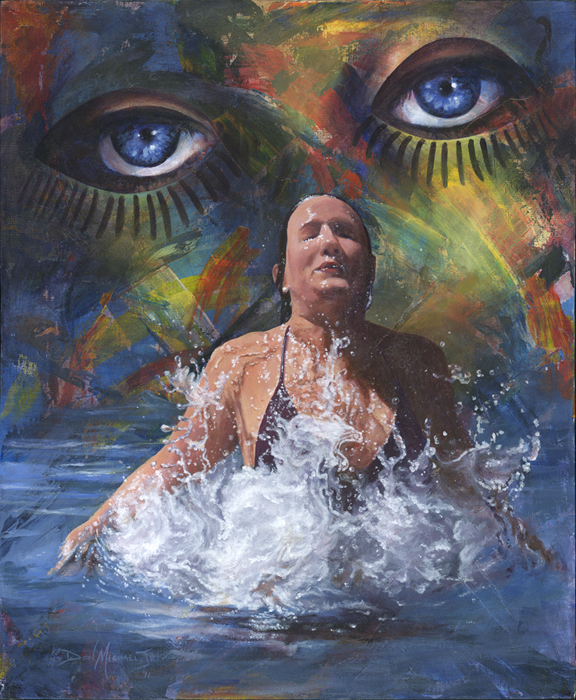 Out of the Blue – 24″x18″ – Acrylic on canvas – Completed 12/8/11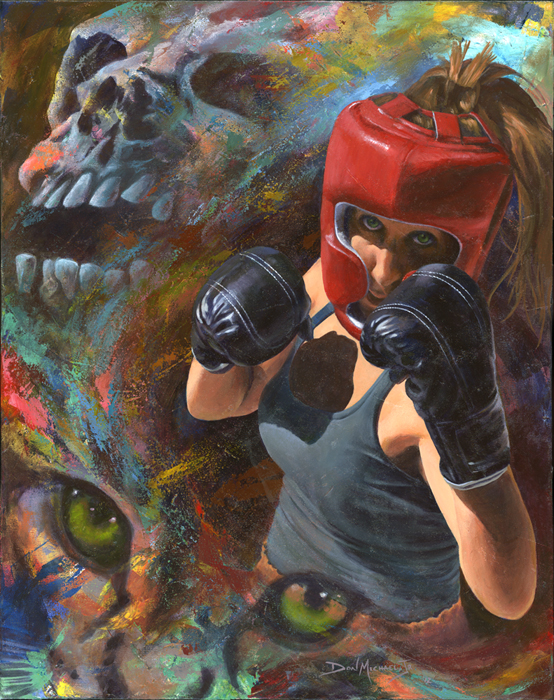 Killer Instinct – 30″x24″ – Acrylic on canvas – Completed 1/30/12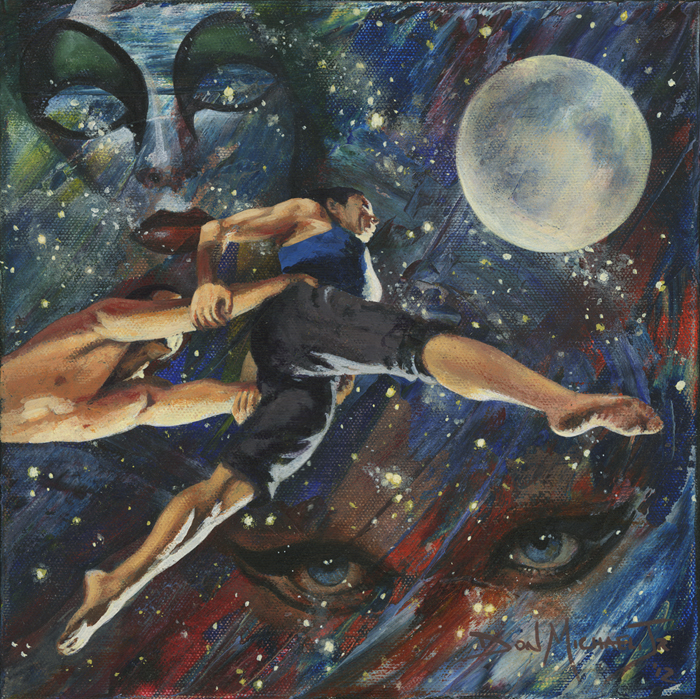 Leap of Faith – 10″x10″ – Acrylic on canvas – Completed 7/20/12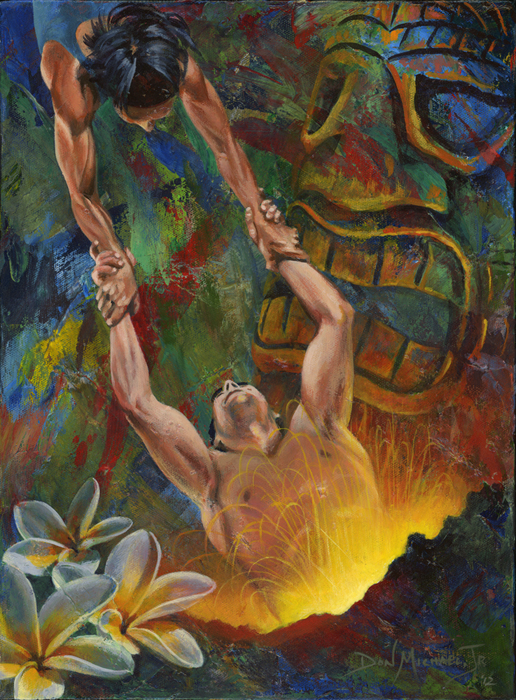 Esprit de Corps – 16″x12″ – Acrylic on canvas – Completed 8/18/12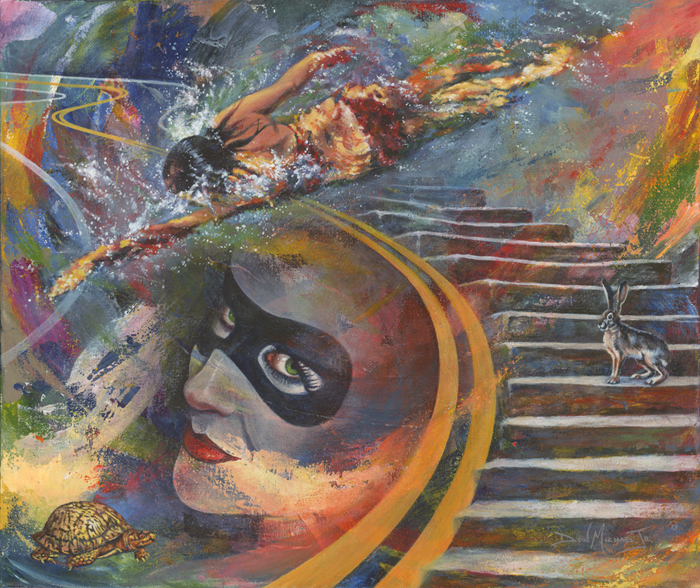 Wherewithal – 20″x24″ – Acrylic on canvas – 4/16/13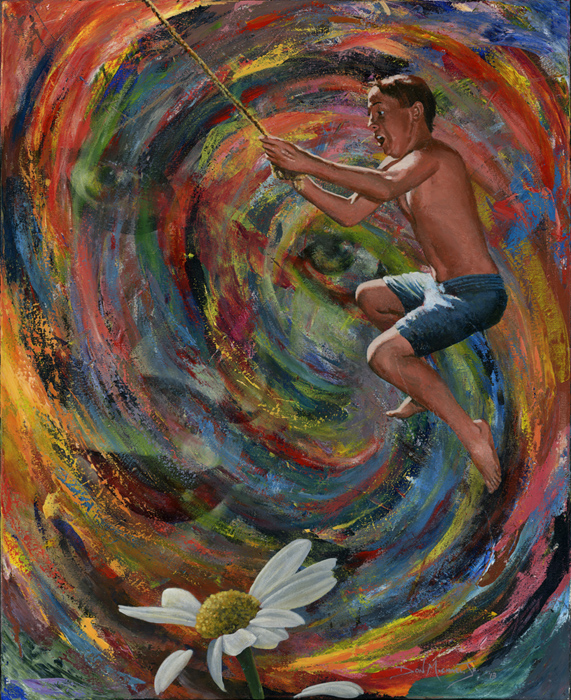 Crush – 30″x24″ – Acrylic on canvas – Completed 5/28/14
Happy Creating!