This past Tuesday night my artwork and I were featured at Grinder's Pizza Lounge here in Las Vegas. It was a fun night of food, adult beverages, fellowship and painting. I hadn't done a mask painting in several months and decided that since all of the works featured that night were of masks, I would actually paint one as well. Here I am getting started on my painting for the night…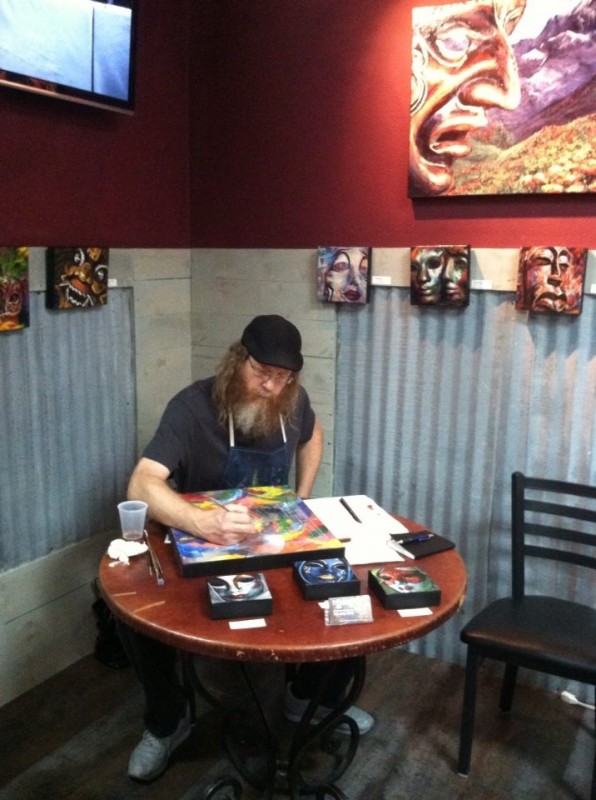 Of course, since I was at a pizza establishment I had to sample their wares. Below, I am proving that I can indeed do two things at once…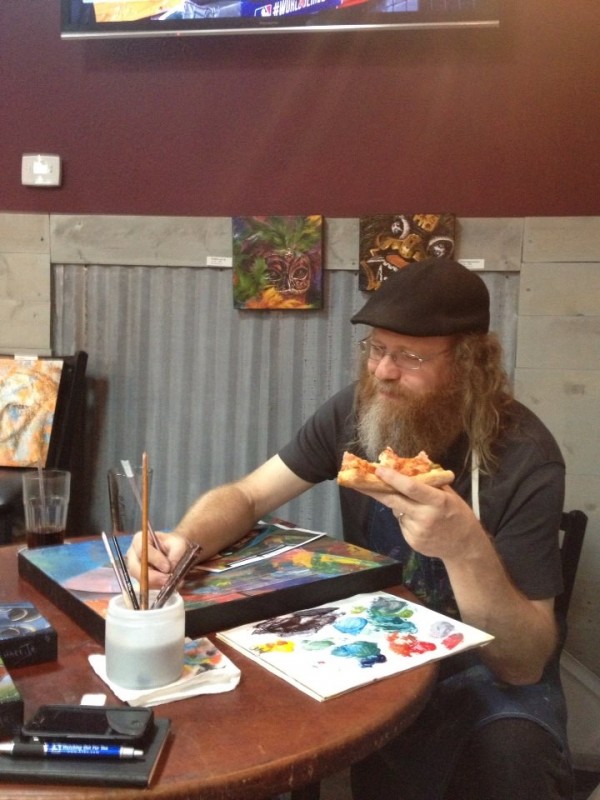 As the evening went along I made pretty good progress with the painting. I also ended up selling 3 of the paintings from my Eye Candy series, including Jelly Bean which my friend, Ashley (pictured below), bought. (FYI, I am donating 20% of all sales from Tuesday night to Cure 4 the Kids.)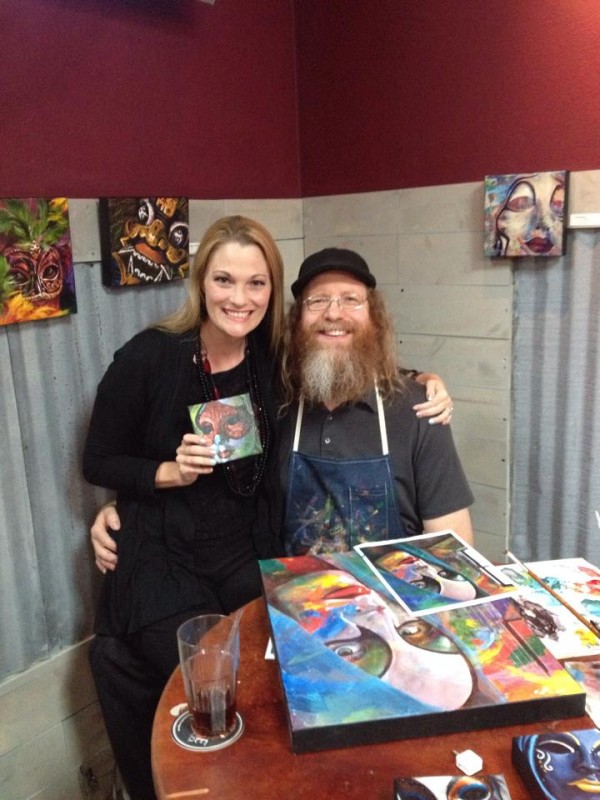 I was very delighted to have my wife there with me. We had several friends stop by and ended up making several new friends as well. By the end of the night the painting was about 2/3's of the way complete. Below, my wife and I share a laugh with our friend Erica towards the end of the evening…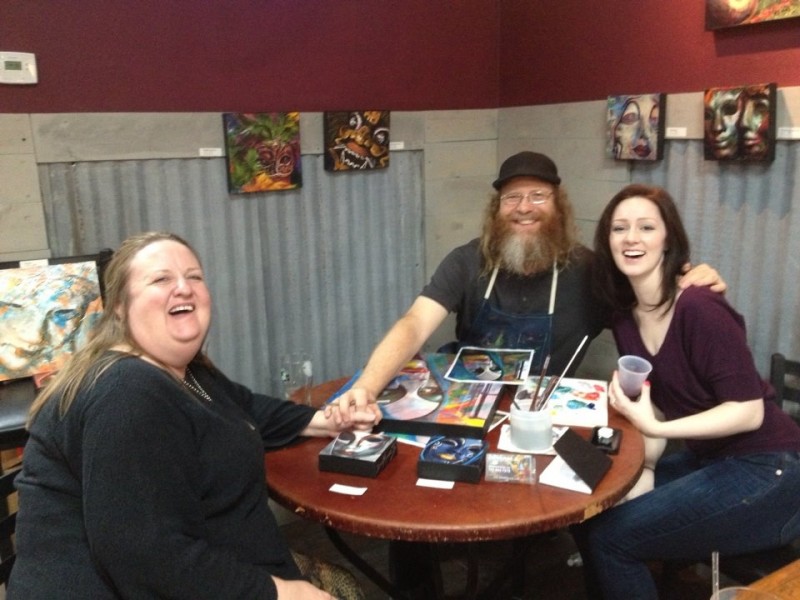 The rest of the week was quite busy with other art related adventures (tales for another day), so I wasn't able to finish the painting until last night. Without further ado, I present Let the Day Begin…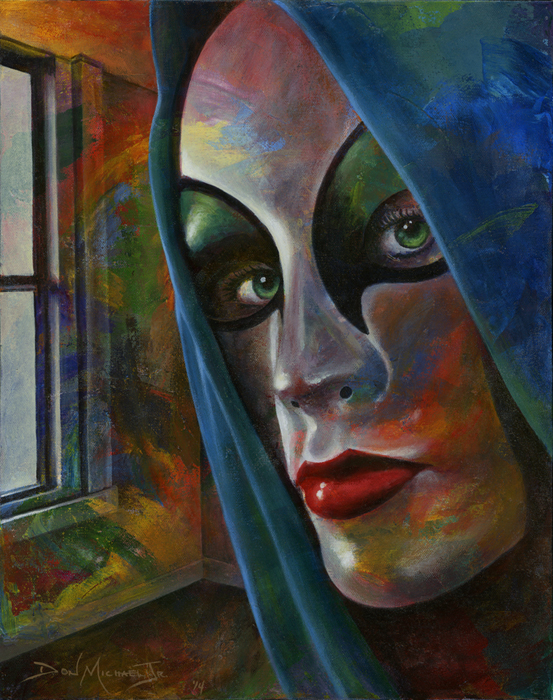 Let the Day Begin – 20″x16″ – Acrylic on canvas – Completed 10/24/14
Now it's time for me to head back into the studio. Until next time…
…HAPPY CREATING!!!
Last Sunday, October 5th, my family and I attended the auspicious and ever-entertaining Circus Couture charity event. Festivities for the evening included stunning aerial acts, amazing acrobatic performances, jaw-dropping fashion, gorgeous fine art, and a very lively live auction. (You can see more about what the event is about by clicking here.)
This was the 5th year of Circus Couture and this is the 5th year that I've donated a painting for them to auction off. The paintings I donated the first 4 years helped to garner between $2,500 and $3,000 – all of which goes towards the treatment of children dealing with cancer and other devastating diseases. It's an amazing feeling to know that the art I create can help generate that kind of money which I could not give to the charity otherwise.
Since I have been donating paintings to Circus Couture from the beginning they honored me this year as one of their featured artists. This meant that my painting was featured during the live auction part of the event. It also meant that I was interviewed on camera a few weeks before the event. The edited version of my interview was played just before my painting was auctioned. If you're interested in what I had to say, click on the image below…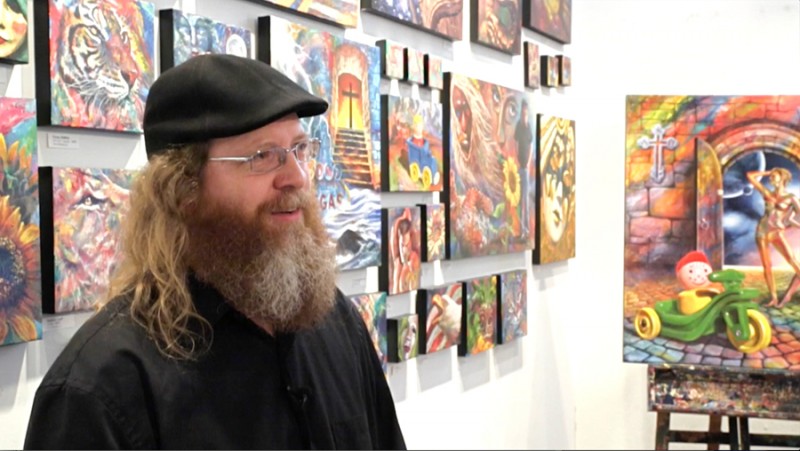 Don Talks About His Involvement with Circus Couture
Many of the children being treated at the Children's Specialty Center of Nevada were able to attend the event with their families. A couple of those families were sitting in the row in front of my family and me. It was really sweet that one of the young girls kept turning around and looking at me while the video was playing. She was in awe that I was up on the big monitor AND sitting right there behind her at the same time. 🙂
Once the video was finished the auctioneer took the stage and got busy. After a very exciting several minutes of bidding and clapping I was awestruck to hear that my painting had sold for $6,000!!! That was more than twice the amount that all the other paintings I had donated to Circus Couture over the years had sold for – COMBINED!!! I thank God and give Him the honor and glory. Wow!
Below is the painting which now resides in a gorgeous penthouse near the Las Vegas Strip. I hope the new owner enjoys it for years and is blessed beyond all measure for his generous donation to such a worthy cause.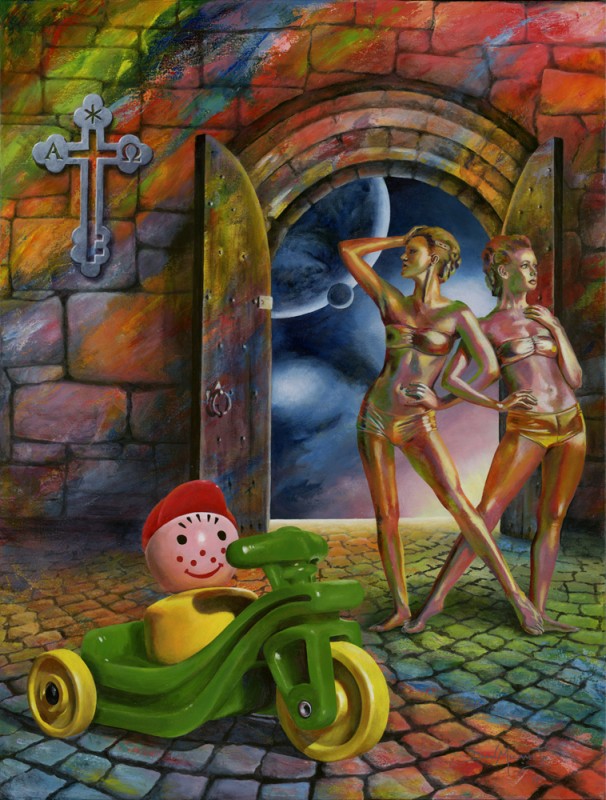 Unlocked – 40″x30″ – Acrylic on canvas
©2014, Don Michael, Jr.
To put a face to what Circus Couture is all about I want to end this post by introducing you to one of the mighty warriors being treated thru the Children's Specialty Center of Nevada and the Hemophilia Treatment Center. He came up to me and gave me a giant hug during intermission. He was so excited that I had been "on TV". His name is Sawyer and he is my hero. That 3-year-old body has so much love and kindness in his soul and my life is eternal changed by having met him and his loving family. God Bless them, each and every one.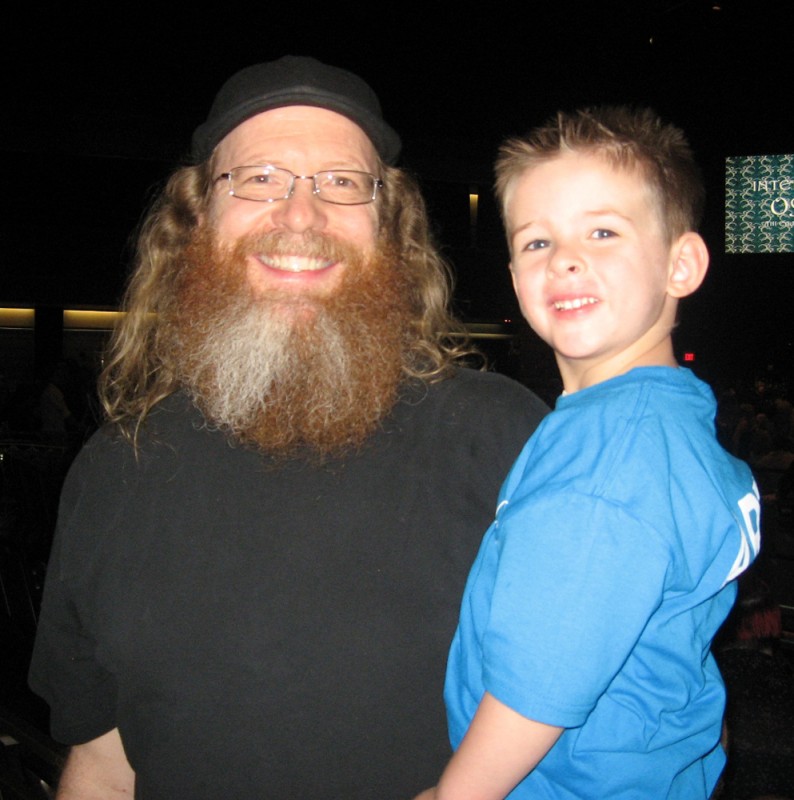 Don and Sawyer
To find out how you can help these children check out the Cure 4 the Kids website. Explore the site and see what they are up to. It's amazing!
I love this thing I do, and I'm proud that there are ways that it can impact others' lives. Wow!
Happy Creating!