Nearly twenty months ago I wrote about dealing with a bit of an artistic existential crisis. In that same post I also introduced the beginnings of a 3D piece that I was working on. Since then I started and then stopped work on that 3D piece several times. I changed directions many times and even re-gessoed it once. I just couldn't get a sense of where I really wanted to take it – until a couple weeks ago. Here's what I finally came up with…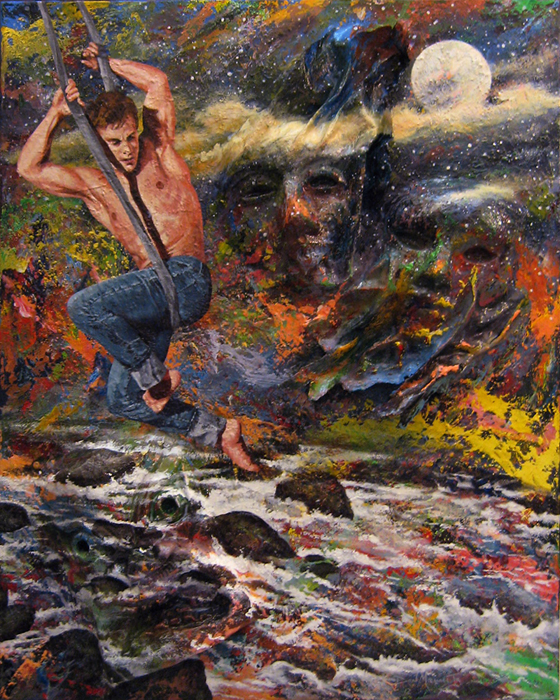 Of Things to Come – 30″x24″x3″ – Acrylic and Paper Mache' on Canvas – Completed 10/4/12
©2012, Don Michael, Jr.
I finished Of Things to Come just in time to take it with me to the Gina M Woodruff Gallery in Long Beach, CA where I was scheduled to be their featured artist for the weekend. We had a Meet & Greet on Friday and a Live Painting Event on Saturday. It was a great weekend of art and fellowship. Below are a few photos from the two nights…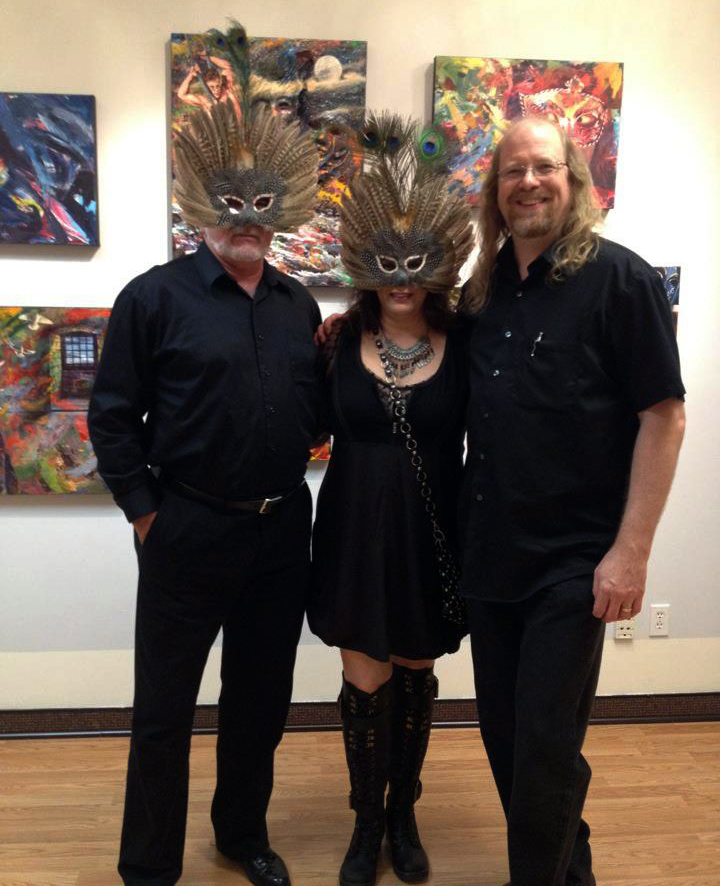 On Friday there were several people who came by wearing masks, which I found quite thrilling. They are part of a club called Masquerade Meetup from the Long Beach area. They seemed to really enjoy my work.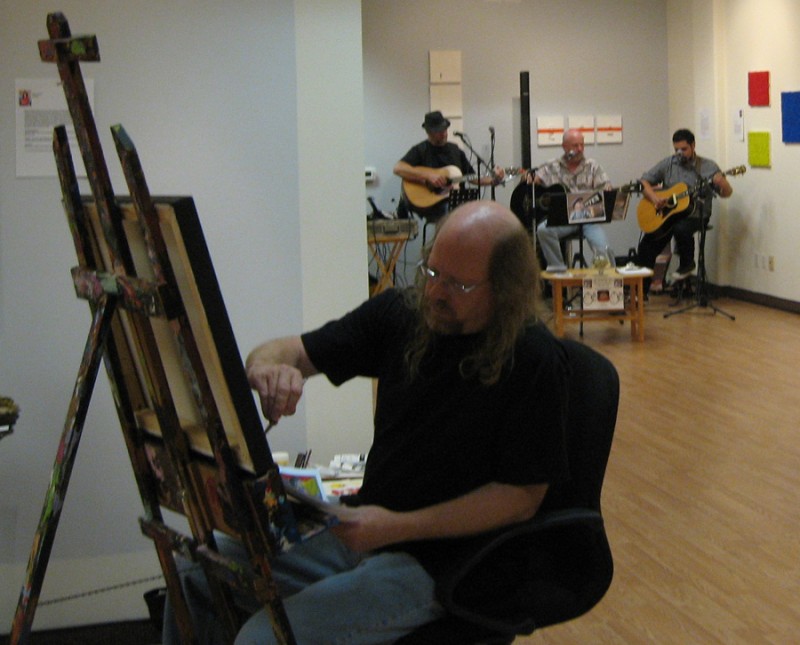 As I painted on Saturday night I enjoyed the sweet music of Listen TheBand. They regaled us with timeless classics – and quite beautifully, I might add.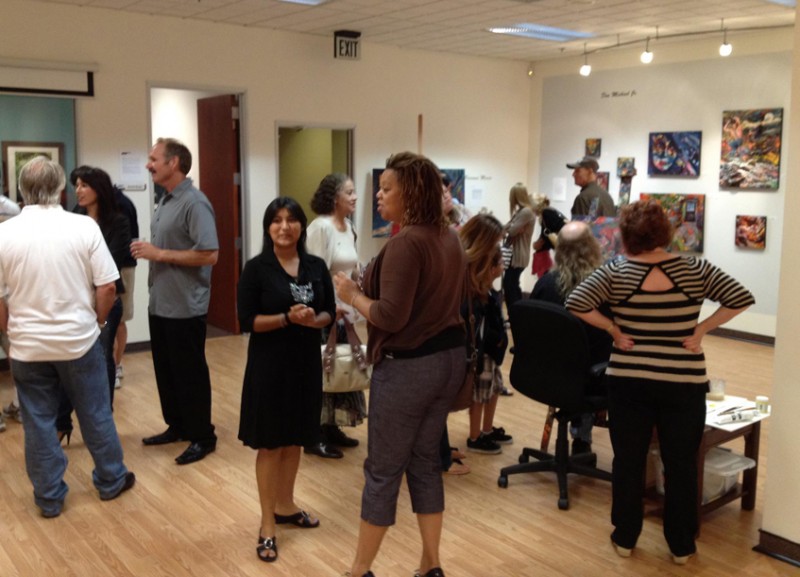 Both nights we had a pretty nice turnout. Here you can see me painting with a bit of an audience gathered around. That young man just to my left was really enthralled. His mom told me later that he wants to paint the way I do someday. I couldn't be more proud.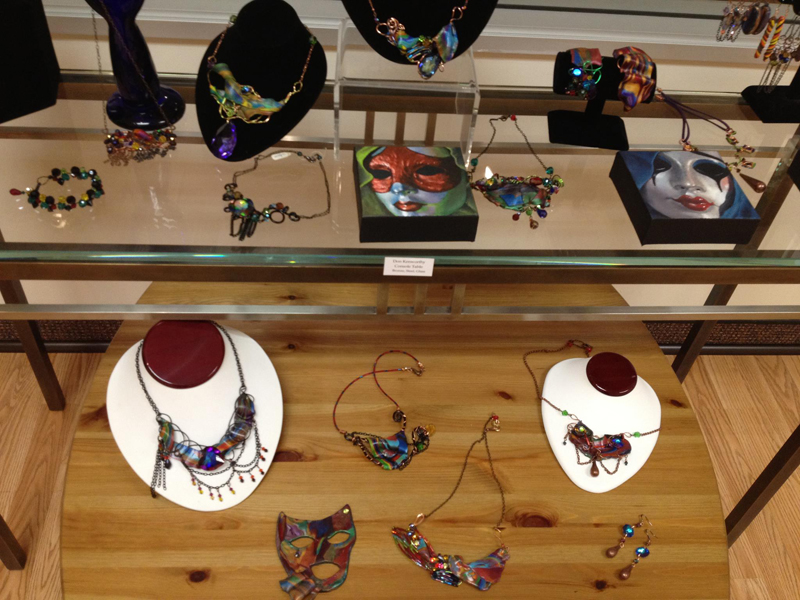 Speaking of things that make me proud… Fellow artist, Sherri Gleason, enjoyed my Over the Under-Schmeerings style of painting so much that she has started a series of jewelry pieces inspired by my work. How sweet is that!?!?
As for Of Things to Come, this is one of those paintings that you have to see in person to get a true sense of it. A photo just can't do it true justice. So, if you're in the Long Beach area, be sure to swing by to check it out. For those that cannot make it to the gallery, here is a photo of the 3D elements before the paint was added…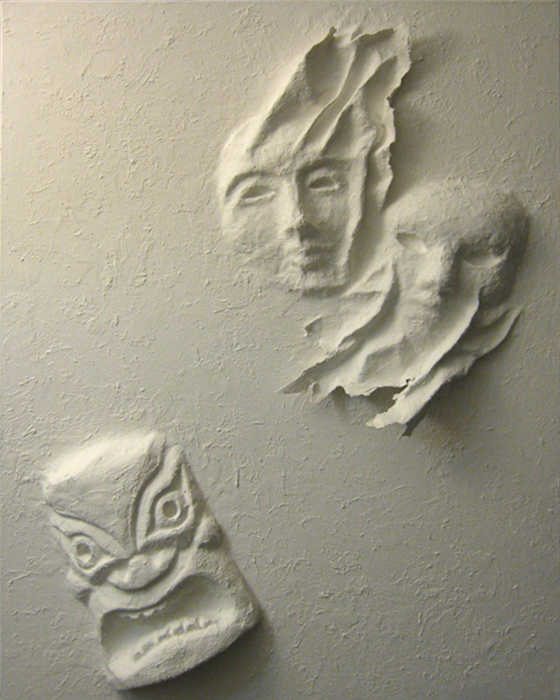 It was a long strange trip getting to the finished painting, but I feel it was worth it in the long run. Now I have that experience behind me from which to grow as I move into my next paintings.
Happy Creating!
At long last I have completed the 3D piece that I've been working on since early September. For now, I will not water this creation down with words. I feel it can speak for itself quite loudly.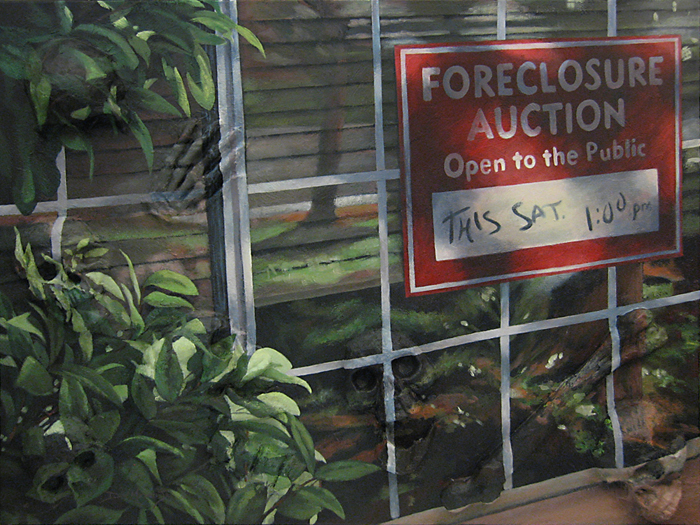 American Dream – 30″x40″x3.25″ – Acrylic and Paper Mache' on canvas   Completed 12/10/10
Here are a few detail shots of the 3D elements.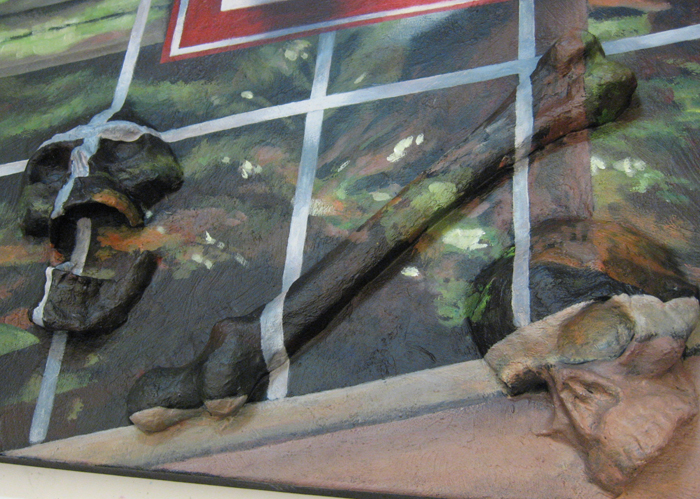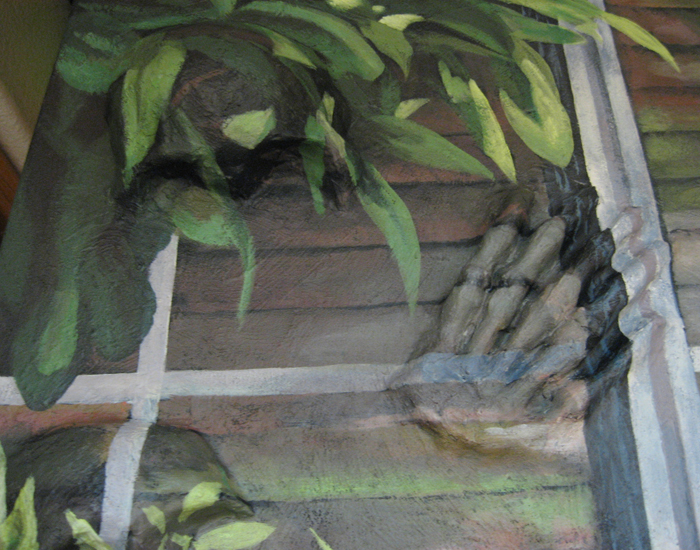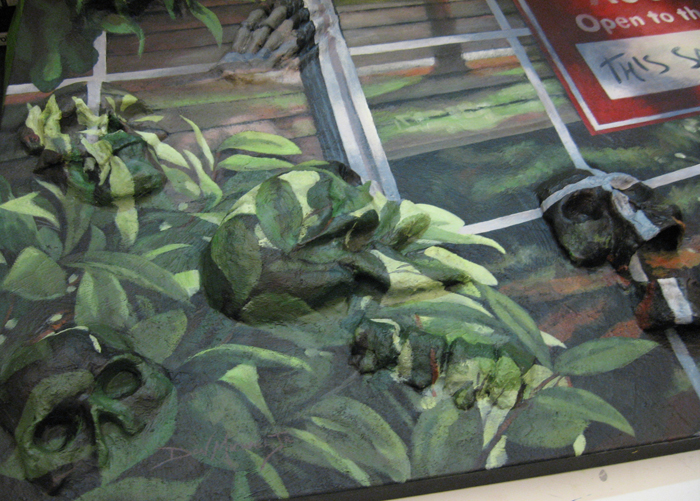 To give you a better sense of the 3D elements I thought I'd show you what lies beneath the paint.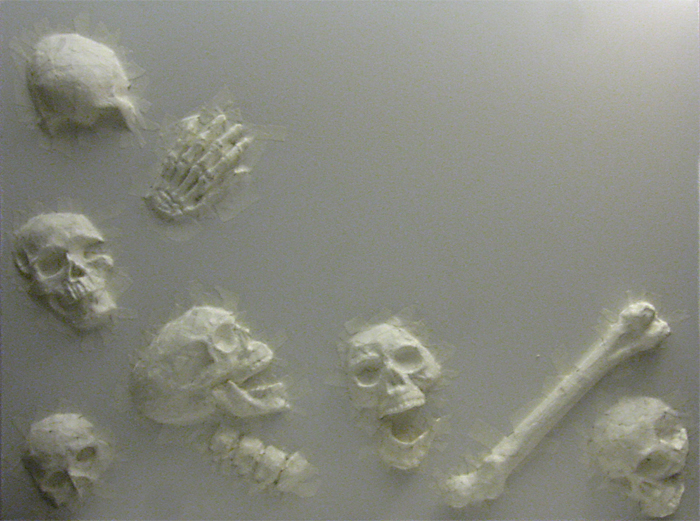 All Images ©2010, Don Michael, Jr.
It's now time to take a long winter's nap and get ready for the next one…
Happy Creating!
As I mentioned in my previous post, I have been working on a piece that will be auctioned off for charity. The event is called Three Square's DISH Las Vegas. It is touted as a "culinary event" which includes a live and silent auction called "Signature Dish". Chefs from all across the Vegas area will be preparing a feast for those who have bought tickets to the event. At the end of the evening they will be auctioning off artwork which has been created on and with plastic cafeteria-style serving trays by local artists and celebrities. 100% of proceeds will go to support Three Square's mission of "providing wholesome food to those in need while passionately pursuing a hunger-free community". Below is my contribution.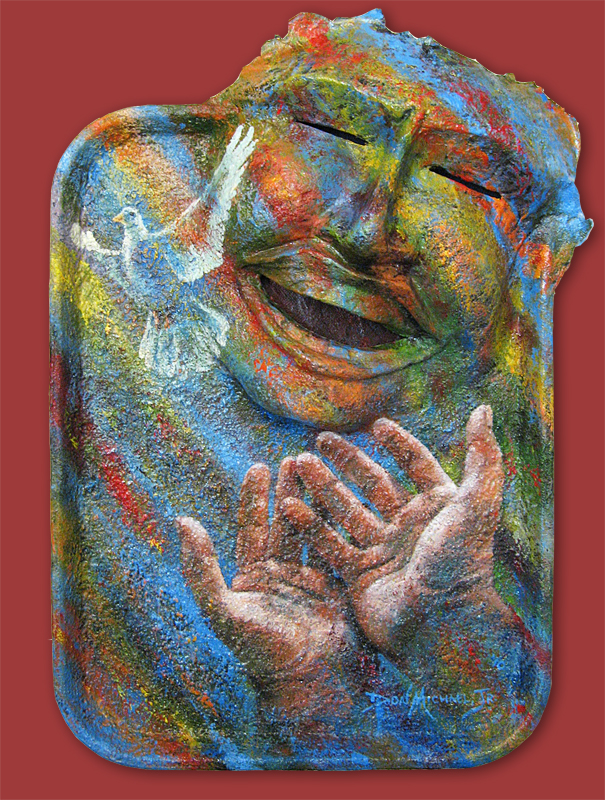 The Joy of Giving – 18.5″x12.5″ – Acrylic and Paper Mache' on Plastic Tray
Completed 9-9-10 ©2010, Don Michael, Jr.
Below you can see the tray that I started with as it awaits my ministrations…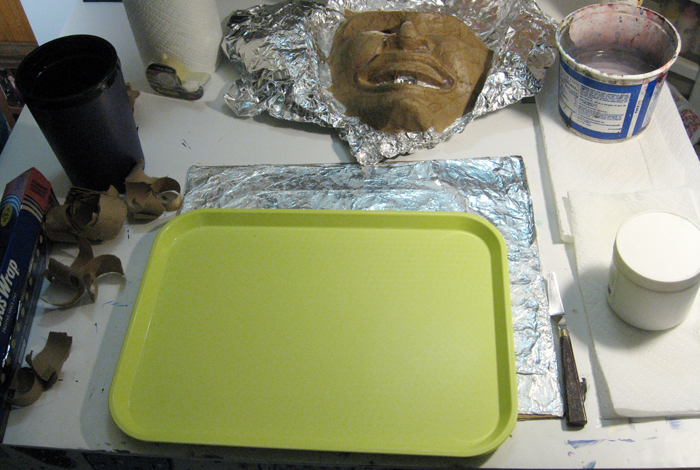 To make sure that the paper mache' mask I created was going to adhere permanently to the plastic tray I decided to wrap the tray entirely in paper mache'. Below the tray and mask are ready for the next step…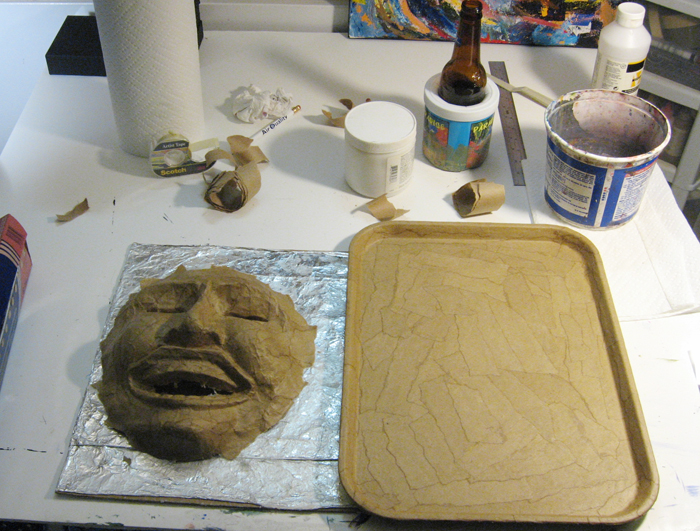 …which involved me applying a dark reddish-purple gesso mixture to the tray for the background which would appear behind the mask's mouth and eyes, followed by the adhesion of the mask to the tray.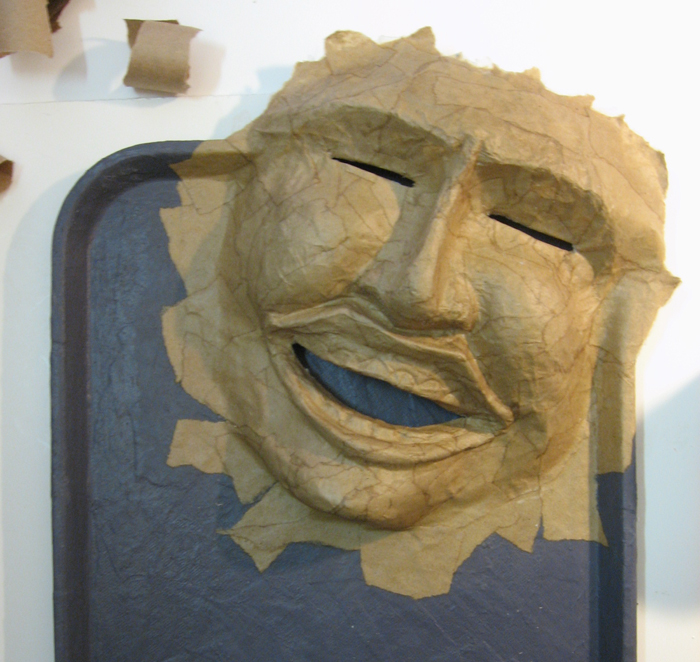 I then applied Light Molding Paste to the entire piece while texturing it with a natural sponge.
I found the white snowy mess a little too distracting and evened everything out nicely with a good coat of black gesso. (BTW, you can see the bottom of the painting from my last posting, Halcyon Parade, which was a work in progress at the time.)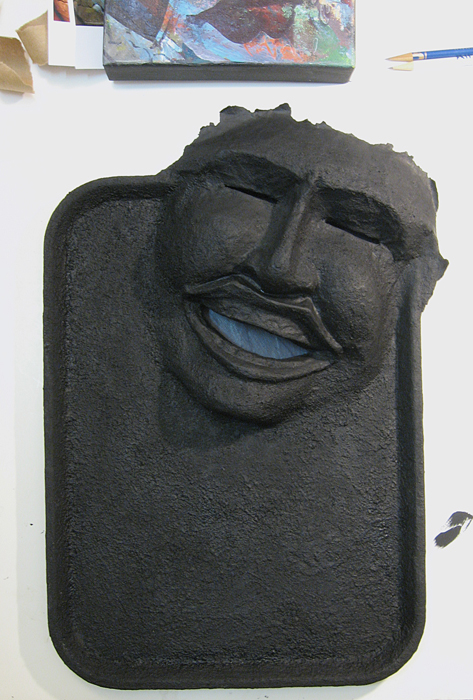 As cool as the black looked, I decided it was time for some color and I laid in my base coat – which also served as my background.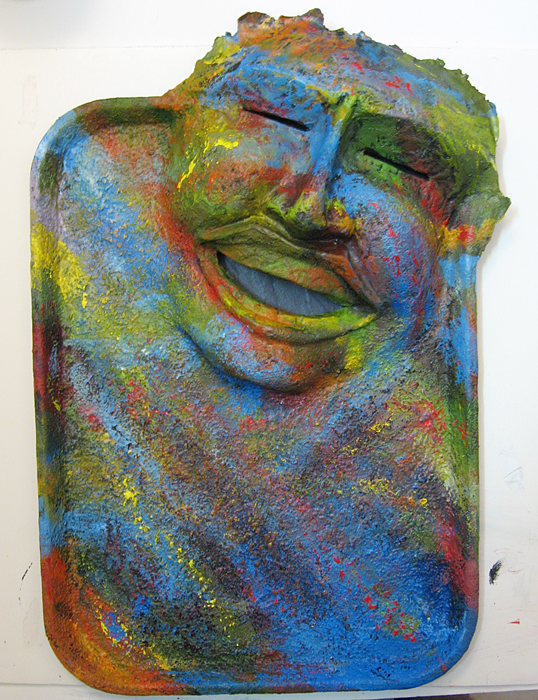 From here I proceeded to paint the hands and dove. I have no shots of that part of the process. I got too caught up in the painting and forgot to document it… Oh well, at least I got most of the steps…
Happy Creating!
Here is a video that CJ and I put together about the creation of my mixed-media painting Petroleum By-Product. It saddens me that a fear I illustrated in early March became a reality just 45 days later. Click on the image below to see the video.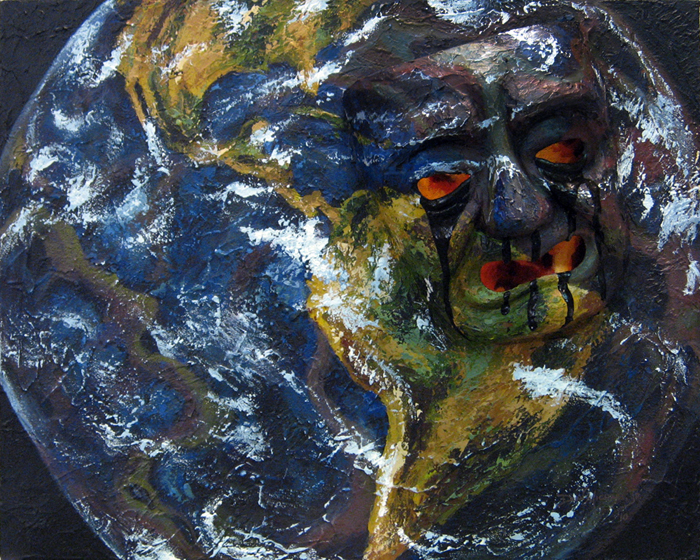 Petroleum By-Product – 12″x16″ – Acrylic and paper mache' on canvas
Completed 3-2-10 – ©2010, Don Michael, Jr.
My good friend, CJ Boisvert, of AlleyZoomProductions convinced me recently to get in front of a camera as I was creating Hidden in Plain Sight. This may not seem like much to many, but you have to understand that I worked in television for 15 years and did a pretty good job of avoiding the front end of a camera – and I liked it that way.
All the shooting, editing, and music composition was done by CJ. She is my Promo Goddess… and a true Renaissance Woman. All I had to do was show up at my easel and run my mouth. Here's what we came up with…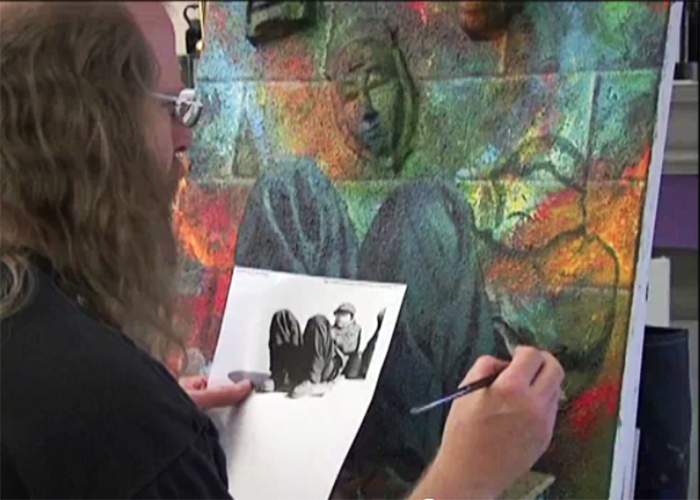 After finishing my latest painting, Lip Service, I realized that I had no brilliant ideas lined up for starting anything new. This doesn't mean there are no pieces in the works; but, it means that none of them are 'speaking' to me right now. In the distant past, I would have used this as an excuse to mope around and feel sorry for myself while getting nothing done. In the more recent past I would have started another painting whether I had any real plans for it or not and used it as an opportunity to experiment with paint or its application. This time I decided I was going to use this as an opportunity to experiment further with creating my paper mache' masks hoping that ideas will start percolating as I do so.
First, I got out two of the blank Mardi-Gras paper mache' masks that you can buy fairly cheaply online and wrapped them with aluminum foil. (I use  cheap foil since it conforms to the shapes a lot  easier than the heavy duty stuff.) I then got two of my masks down from the walls in our home and wrapped them as well. You can see what they look like in all their reflective glory below. (The mask on the far left was sent to me by my brother, Duane, when he was a sailor on shore leave in Guam. The one on the far right is a joker/jolly Venetian mask that I added to my collection late last year from an online site.) Using Golden's Regular Gel (Matte finish) acrylic medium and torn strips of cotton paper I spent the next few hours mache'ing away.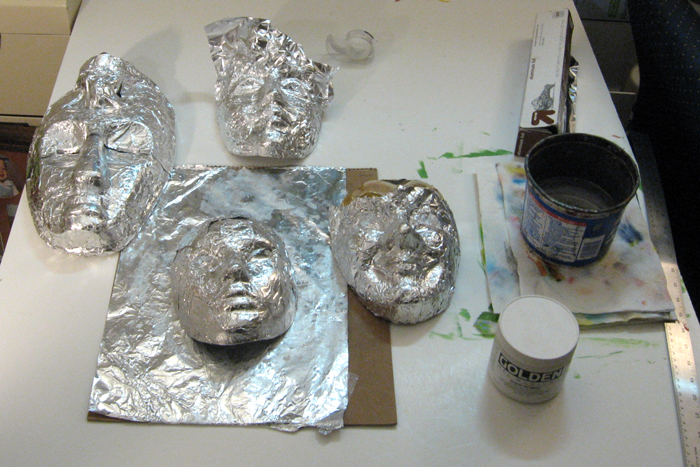 After paper mache'ing all four of them into the wee hours of the morning I went to bed with a sense of having accomplished something and anticipating what fun ideas could come from this exercise. When I got up later in the morning and saw what I'd done I got excited and grabbed down a couple more of my masks to continue this process. You can see below that I've wrapped my mask from the Cirque show "Ka" and am preparing to wrap my "O" Cirque mask. You can also see that I've peeled the foil from three of the finished pieces and still await the final drying of the one in the upper right corner so I can peel it as well.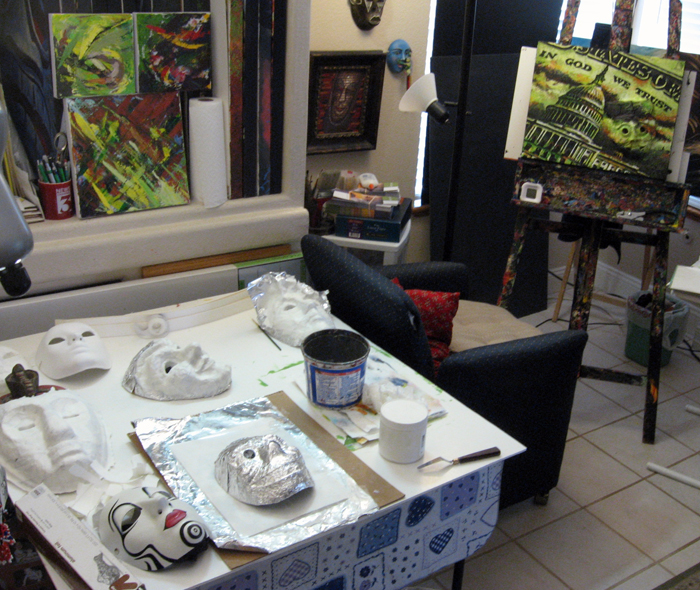 As I was preparing to paper mache' these masks I suddenly had a wild idea and re-foiled two of the masks I'd paper mache'd the night before. I allowed the foil to hang off the masks and really liked the 'draped' look this created – especially on the one in the upper left. While I was wrapping them I also got down my Chinese holiday mask (sent to me by Duane while on shore leave in Japan) and included it in this foiling frenzy. It is the one sitting front and center below.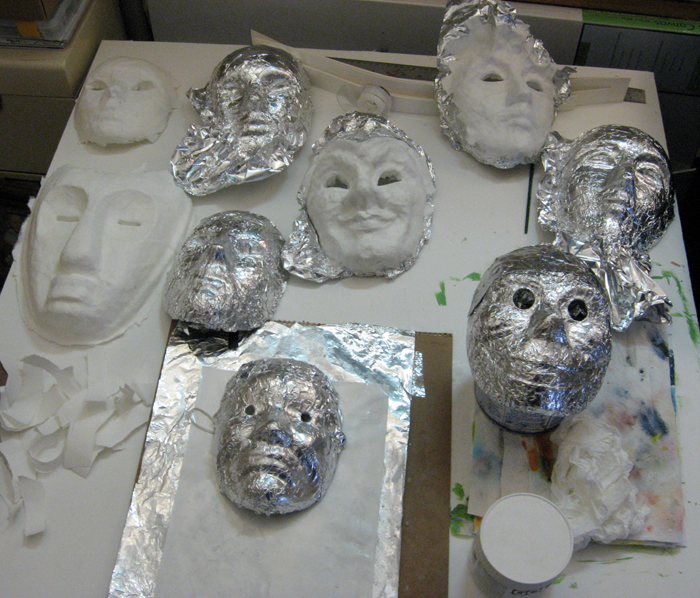 After another few hours of paper mache'ing I finished two more – including the 'draped' one that I was so excited about. Below you can see how they've all turned out, so far. I've still got a few to paper mache', but I've definitely made some progress. I consider this 24 hours well spent.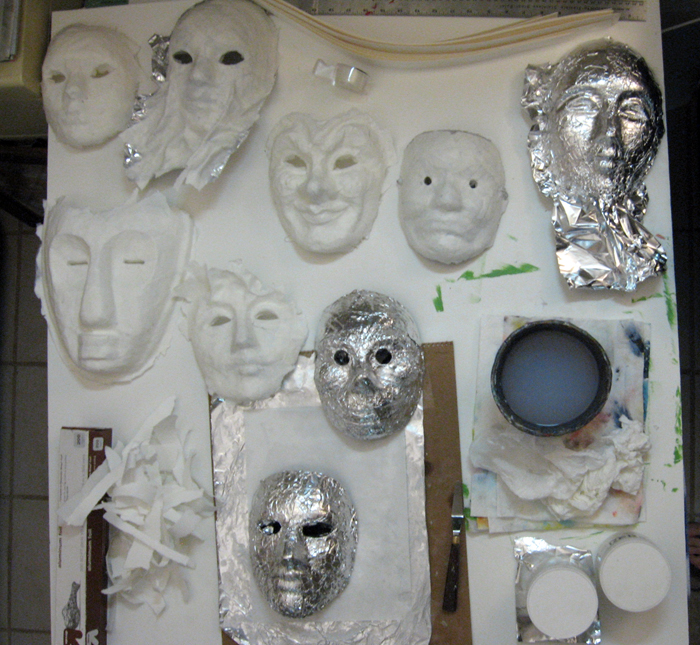 My army of lightness is ready for duty and awaiting orders. Hmmm… I've got some ideas starting to swirl around in that empty space between my ears – now if they'd only gel.
Stay tuned…
Wow! Was this one busy week! With plane trips, airports, sick kids, art shows and everything else life threw at me it was a challenge to squeeze in time to create. But, create I did, albeit much slower than usual.
You may recall that I posted a tease late last week about the progress of my latest 3d painting. Well, I've finally finished. Since the irony is pretty obvious on this one I will let it speak for itself. The one thing I'll add is that the working title was "Mammon", but I didn't feel it quite got across the message I was trying to convey – although it did fit within the context of the image. I don't think I have ever gotten as excited about a title for one of my works as I did when the words "Lip Service" popped into my mind as I was finishing the painting.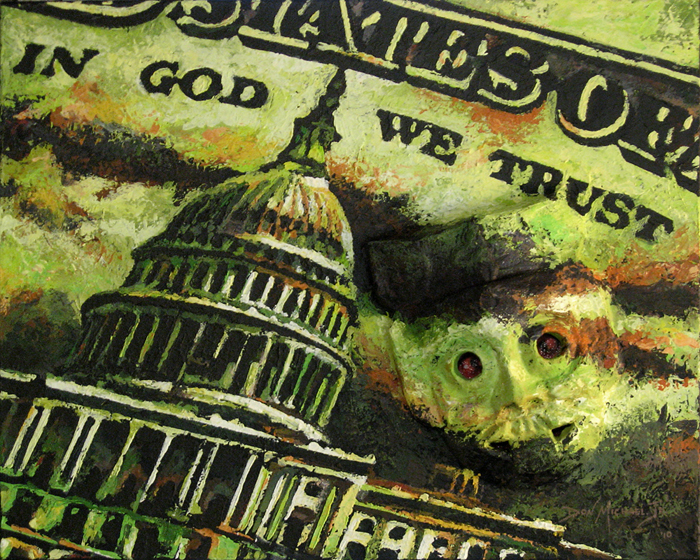 Lip Service – 16″x20″ – Acrylic and paper mache' on canvas – Completed 5-8-10
©2010, Don Michael, Jr.
In my post last week I had finished the eyes and was preparing to paper mache' the mask to the canvas. After doing so, I used hard molding paste to texture the entire piece and hide the seams created by the paper strips.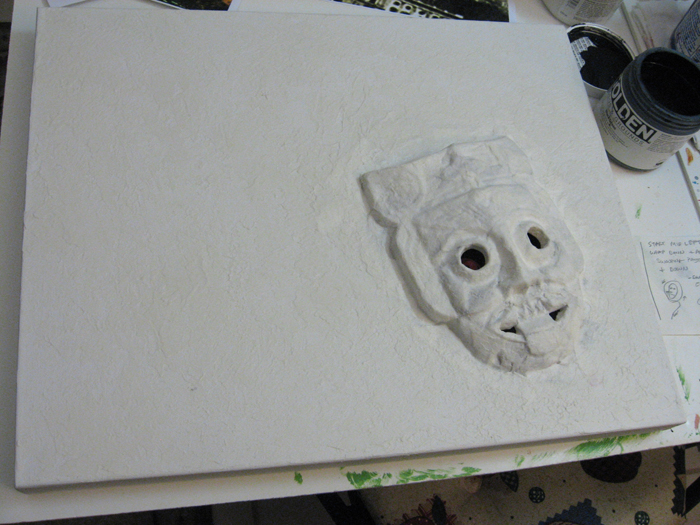 I then used black gesso to coat the canvas and mask…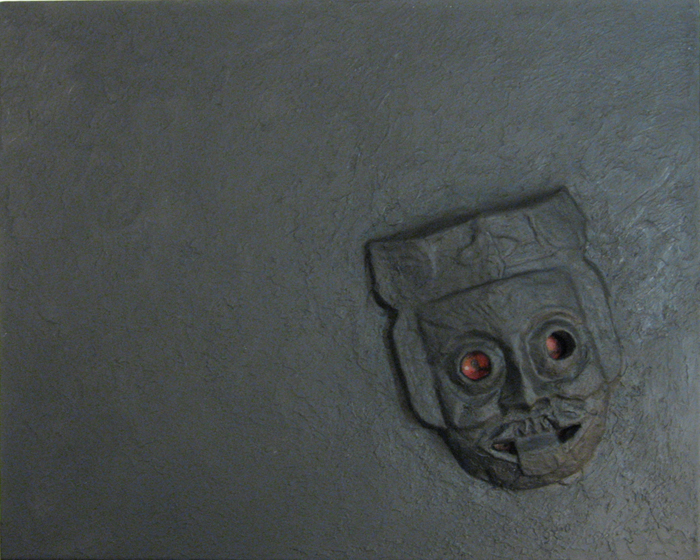 The intricacy of this design required I sketch everything in fairly precisely – so I did… Here is the tracing paper with gray conte' scribbled on the back waiting for me to transfer image.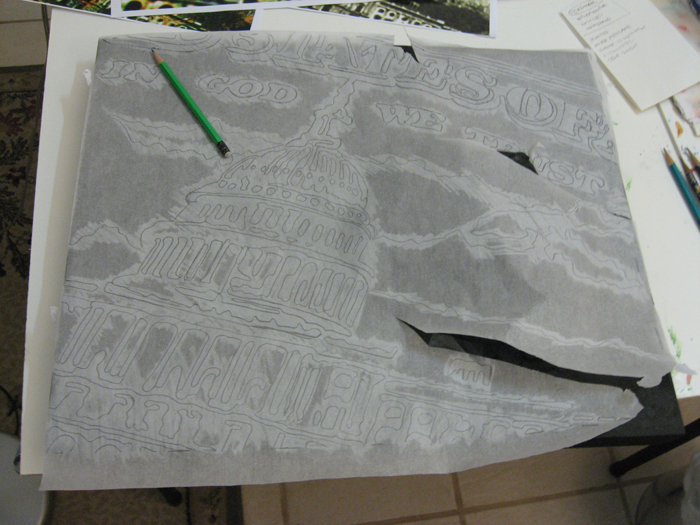 And, here it is traced in and waiting for me to grab up my trusty palette knife and start schmeering some paint…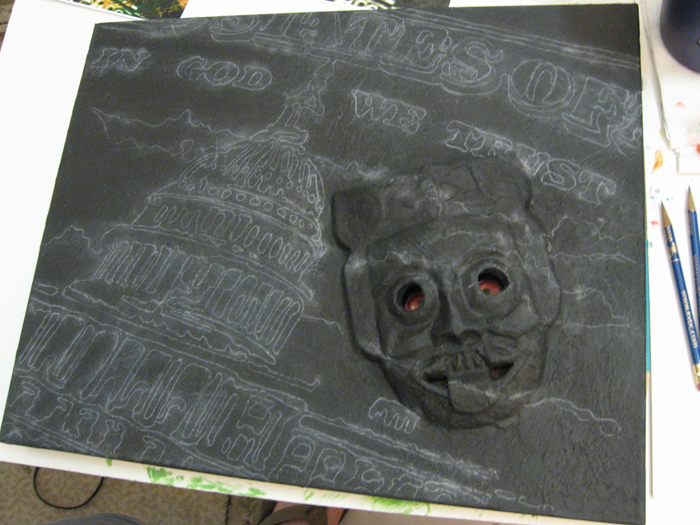 The first painting session involved getting those letters all blocked in… It was getting pretty late when I finished this session, so I just quickly shot my working area.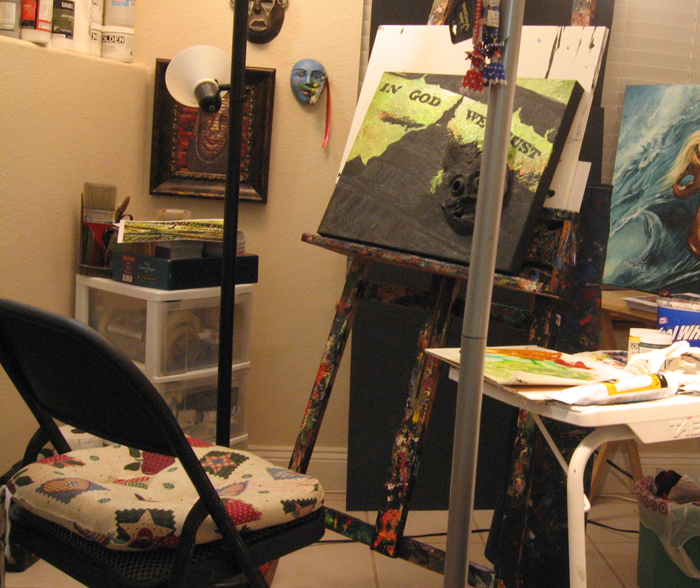 As I was turning to put my camera up, I noticed that our ferocious watchdog, Lucy, was on full alert – giving me a sense of security that I wish everyone could enjoy in their home late at night…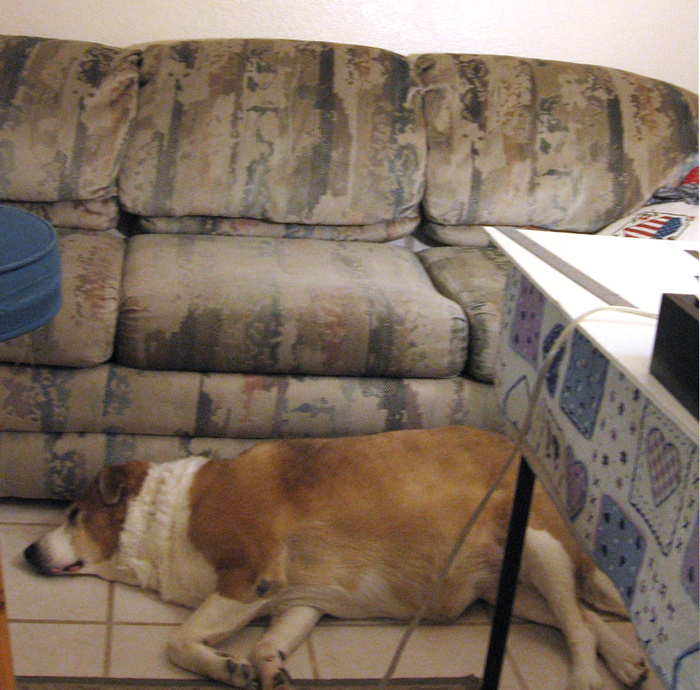 After Lucy and I got a bit of shuteye, it was back at it… In this photo you can see I'm well on my way towards getting paint over the entire canvas. You can also see the two Under-Schmeering canvases that were being created at the same time.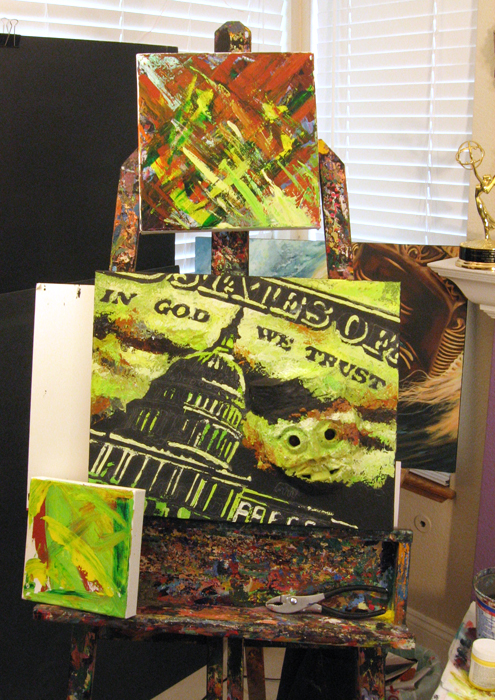 At long last, I am almost finished… In the following shot you can see a couple other projects that are now in the works.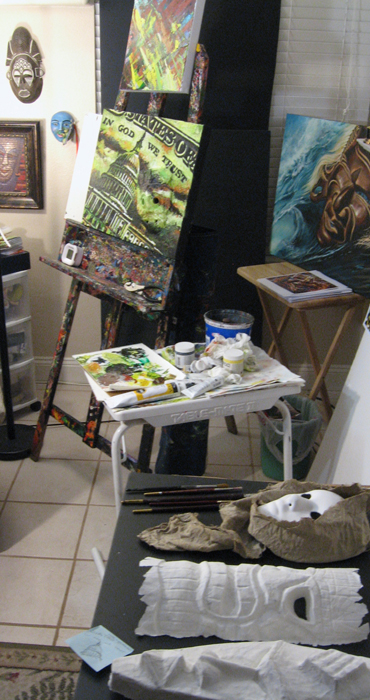 As I was shooting the above photo, I realized that the little Post-It note you see in the extreme foreground was my original quick sketch made late one night which led to Lip Service. It will now be stored away with my other little scraps of paper for me to 'discover' again some year down the road…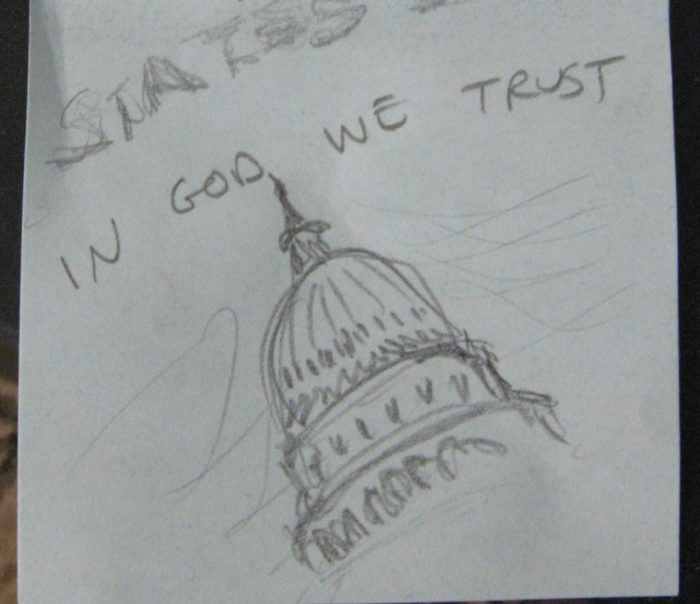 One final note: For my international blog friends who may not be familiar with the different denominations of U.S. currency, the image used in Lip Service comes from the back of the $50 bill.
I now bid everyone a good night and Happy Creating!
Well, my blogging friends, I will be taking a nice 4 day weekend to enjoy with my kids. I'll fill you in on all our "doings" when once again I fire up my trusty Mac.
Before I turn my Mac off for the weekend I'd like to share a little tease of what I'm currently working on. It is another in my multi-media/3d series which involves paper mache' masks, acrylic paint and social commentary based on my own observations. The only clue I will give you to go with these two images is that the final piece will be regarding the ironic images and words on certain pieces of paper we all use fairly regularly.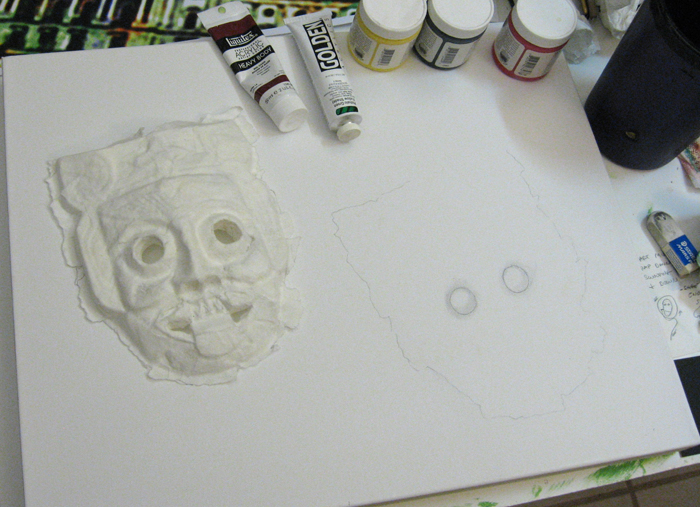 Above, you can see that I've chosen my palette and drawn in where the mask will find his final resting spot. If you notice the little scribblings to the right of the canvas, that has nothing to do with this piece, but everything to do with an upcoming one. I'm always making quick little notes as I create and have scraps of paper laying around my studio for just that purpose.
Below, you can see that the mask is ready to be adhered to his final resting spot. His eyes are finished and some color is suggested to go behind his mouth. Now it's time to get out my acrylic medium and paper strips and get busy adhering…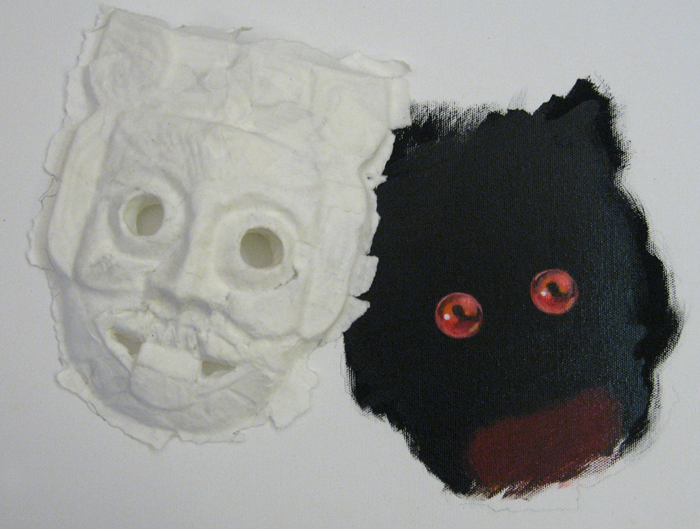 ©2010, Don Michael, Jr.
Have a wonderful weekend…
Have you ever considered as you were driving by a homeless person in your comfortably air-conditioned or heated car how easy it would be to end up right there on the street with them? The human condition is so fragile that the right circumstances can send one spiraling out of control – emotionally, psychologically, medically, socially, legally and/or economically. It saddens me to think that personal demons can drive a person to the point of loneliness, despair and poverty – sending them out to fend for themselves in the streets. Regrettably, once they get to the streets they can become Hidden in Plain Sight .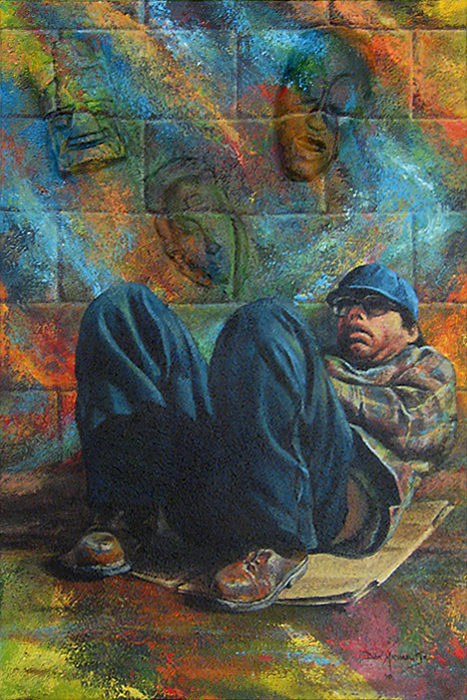 Hidden in Plain Sight – 36″x24″x3.25″ – Acrylic and paper mache' on canvas
Completed 4-18-10 – ©2010, Don Michael, Jr.
This is a concept that has been brewing in the back of my mind for several years. The TV stations I worked for in both Norfolk, VA and Las Vegas were just down the street from social services facilities that strove to care for the homeless populations of those cities. Every day I saw these people living on the streets, pushing their shopping carts around gathering what they could find throughout the day and curling up in a box or just their many layers of clothes to sleep at night. Recently I was meditating on how to approach this subject while the Rush song, Sweet Miracle, was playing. The line "I was hiding in plain sight" resonated with me and I immediately started the process of putting my vision to canvas. (BTW, IMHO, Neil Peart is one of the best lyricists EVER – and a dang good author, as well.)
After working out the composition in Photoshop I realized that I would need to incorporate some of my masks to help underscore the impact I was striving for. So I got down 3 of my smaller masks and wrapped them in foil.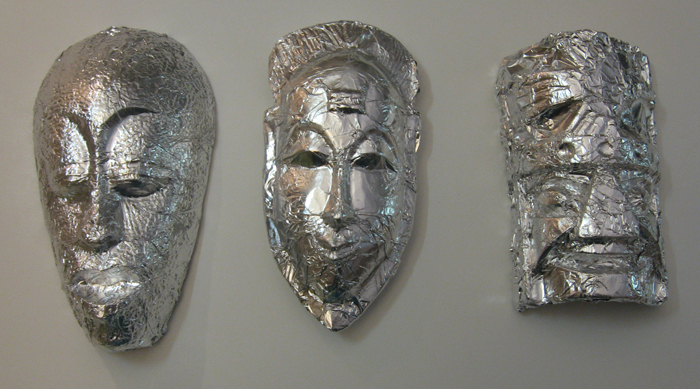 I then got out my box of torn up archival cotton paper strips and my jar of acrylic medium gel and started paper mache'ing. After the paper mache' set, I separated the foil/paper mache' from the masks. Here's what the paper mache'd masks look like before I peel all the foil from the back of them…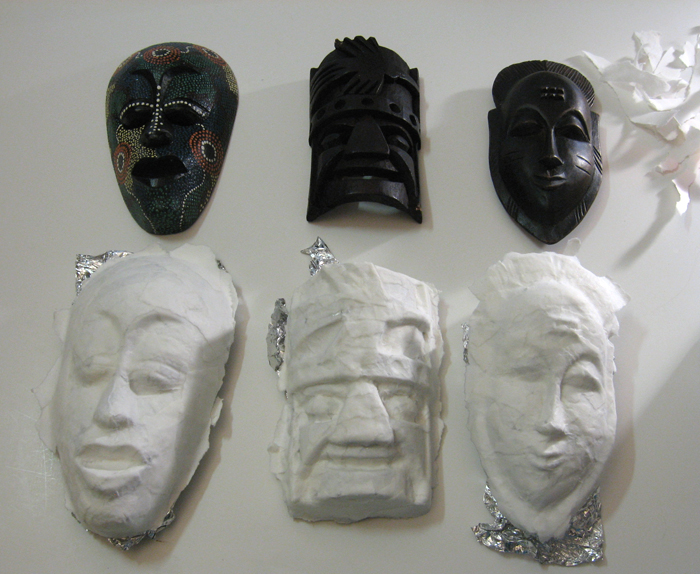 After peeling the foil, I arranged them on my canvas to determine their placement.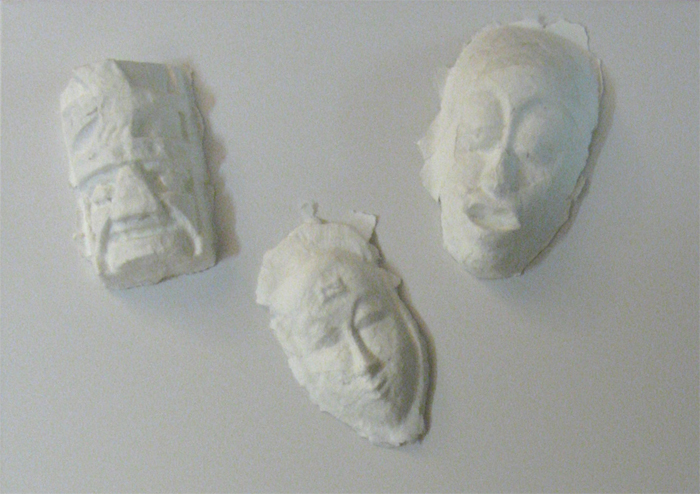 After penciling in their placement, I started adhering them to the canvas with the paper strips and acrylic medium gel.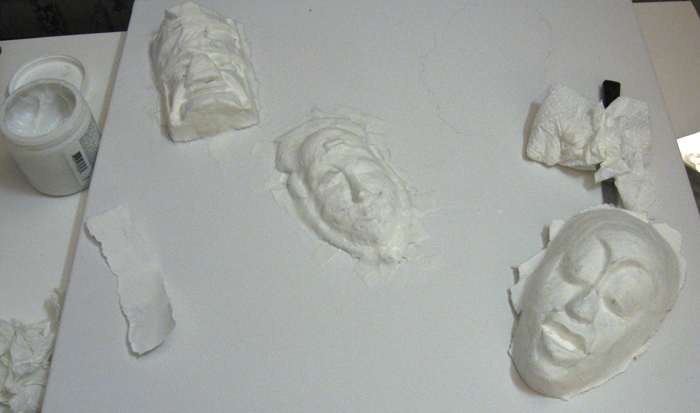 Once the paper mache'd strips had dried I started slathering on molding paste to camoflauge the seams.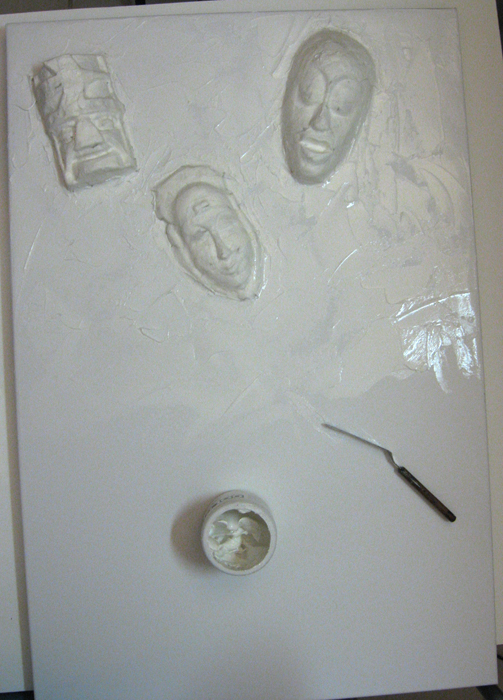 Before the molding paste started to cure I grabbed one of my natural sponges and started texturing the heck out of the whole thing giving it a stucco-esque look.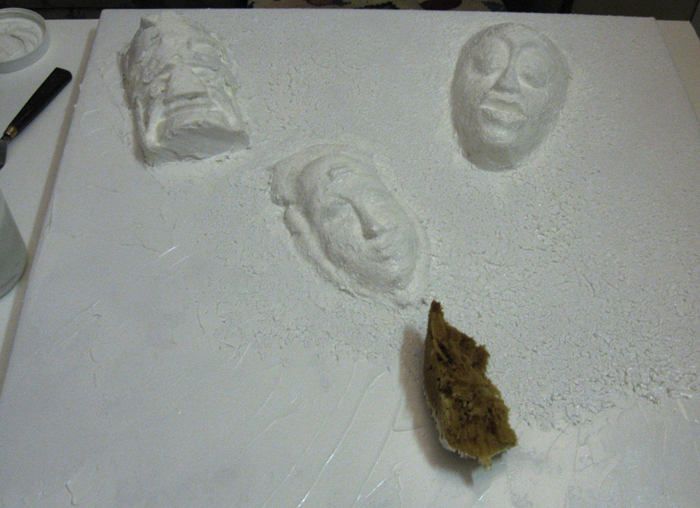 After the molding paste dried I squeezed neutral gray gesso, phthalo blue, cadmium red medium and cadmium yellow deep directly onto the canvas and proceeded to scrub it all together with one of my large flat bristle brushes to create the undercoat.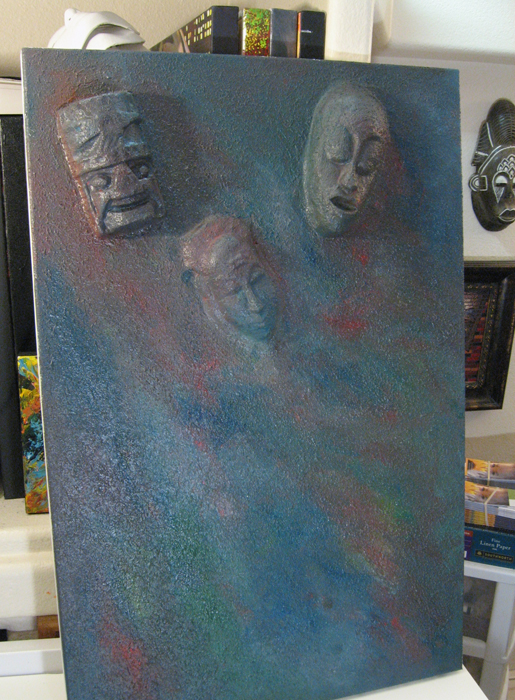 While the gesso was drying I took time out to paint one of my "Over the Under-Schmeerings" pieces titled Perennial. (Above, you can see its 'schmeered' canvas hiding just to the left behind this one.) After I finished with my little side-track I got back to work on this one by schmeering globs of pure color right onto the canvas.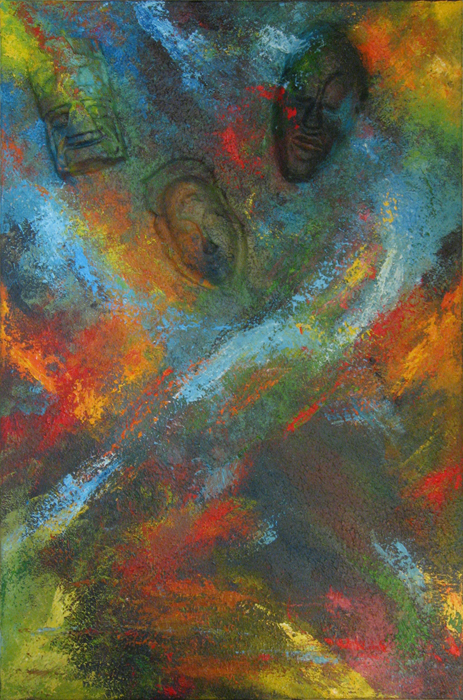 While this was drying I leaned it up out of the way and decided to take a few photos of my studio in action. You can see a clue to one of my upcoming projects in this shot.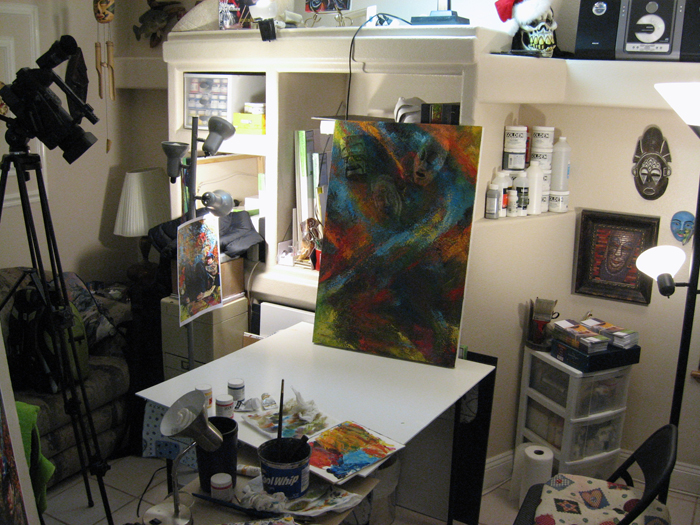 OK, back to this project… I painted in the lights and darks to delineate the bricks in the background.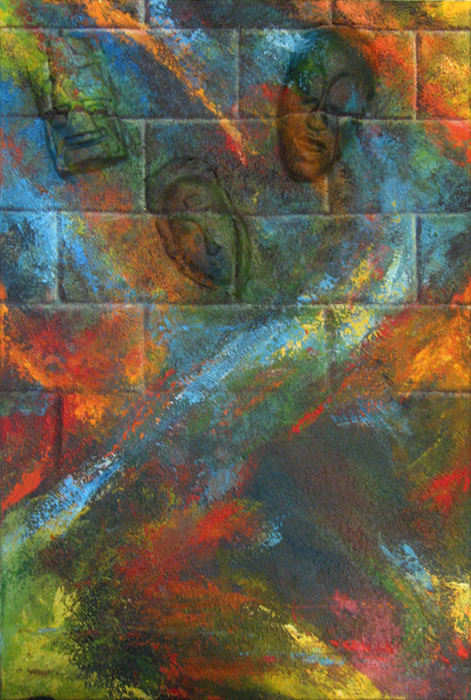 Using my bristle brush I blocked in the shape of my foreground figure and then started painting the pants, shoes and other elements.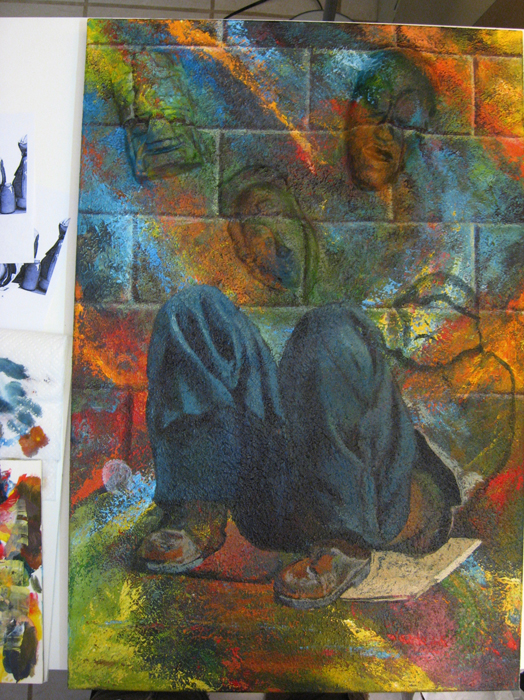 Continuing to move forward I finished blocking everything in and prepared to get down to the final details. I thought I'd throw in one more shot of the studio in action, but from a different perspective. Among other things, you can see one of the two under-schmeering canvases that came to fruition during the creative process of this piece laying on the table there with the paints.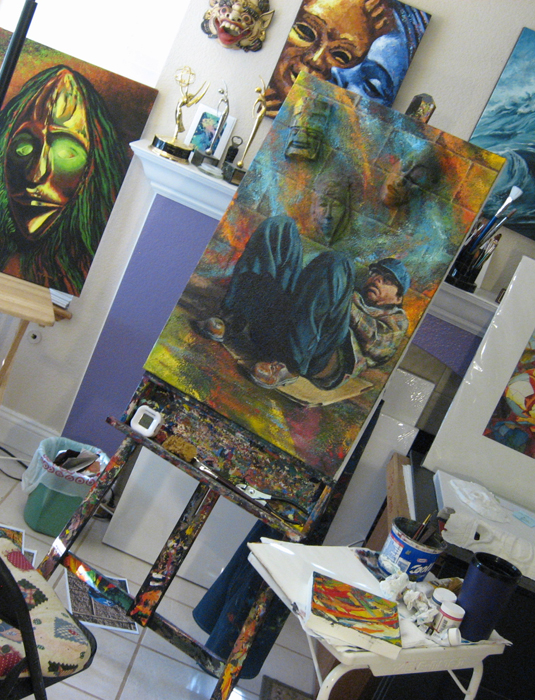 From this shot I only needed to add a few details and tweaks, after which I signed it and applied a protective coat of matte acrylic varnish.
Now its time to move on to the next one…
Some of you may remember that back in December I griped about a painting that drove me so crazy I repainted it twice and finally gessoed over it – after which I went in a totally different direction to create what became Shadow of a Doubt.
At the time I didn't think I 'd ever go back to this problematic concept. But, being a glutton for punishment and not being one to let a challenge go unheeded, I DID go back to it recently. I added a new element, used a different paper mache' mask, rearranged the composition and started painting. After three weeks of gnashing my teeth and ripping out handfuls of my hair (now you know why I'm going bald) I can finally call this project complete.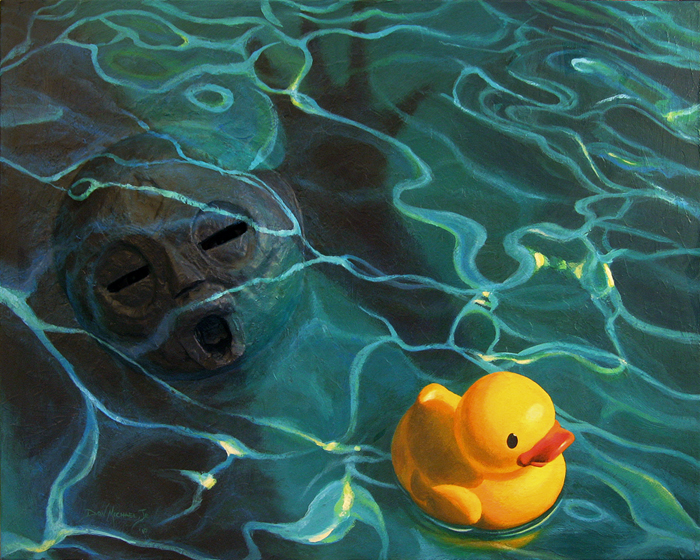 Adolescence – 24″x30″ – Acrylic on canvas – Completed 4-7-10
©2010, Don Michael, Jr.
(Regrettably, the above photo does not do justice to the painting. The cheapy camera I have could not handle the brightness of the yellows in the rubber duck. It had trouble figuring out what it should focus on. I color corrected as best I could with what I had to work with in Photoshop.)
The mask in this composition was originally created by wrapping one of the masks in my collection with aluminum foil and then paper mache'ing over the top of it. Here it is, foiled and ready for some glooping. You can see all the strips of torn paper, the acrylic medium gel, the foil and my ever present and trusty palette knife gathered around and ready to take part in the fun.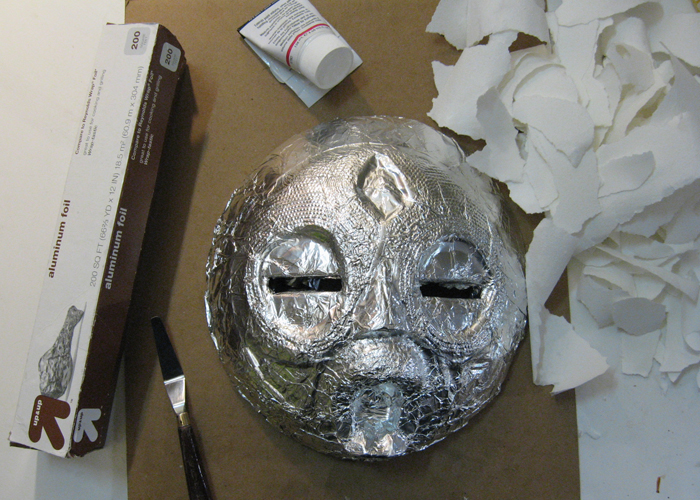 I didn't get any photos during the glooping process. It's a bit messy, as I'm sure you can imagine, and I want my camera to last a while longer. Therefore, the next photo we see below is of the paper mache' mask ready to be adhered to the canvas. It waits patiently by the eyes I have painted to go behind it. You can see the mess that is my palette to the right.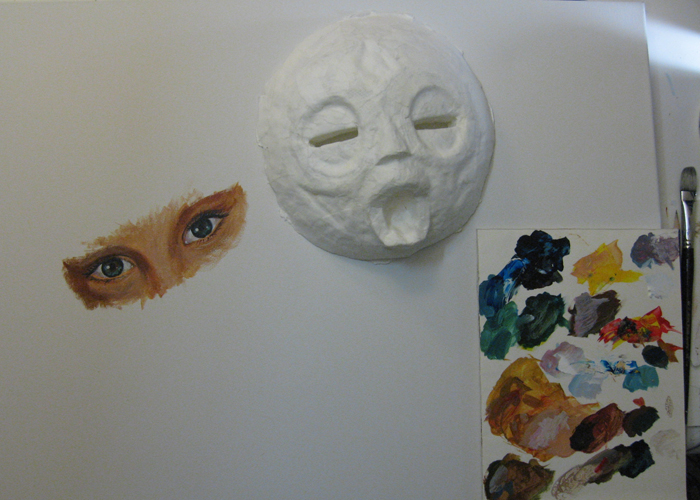 The mask is now attached to the canvas and awaits texturing. You can see a couple of my leftover strips of torn paper in the lower right corner, next to an ever present balled-up paper towel – a must-have when I'm around…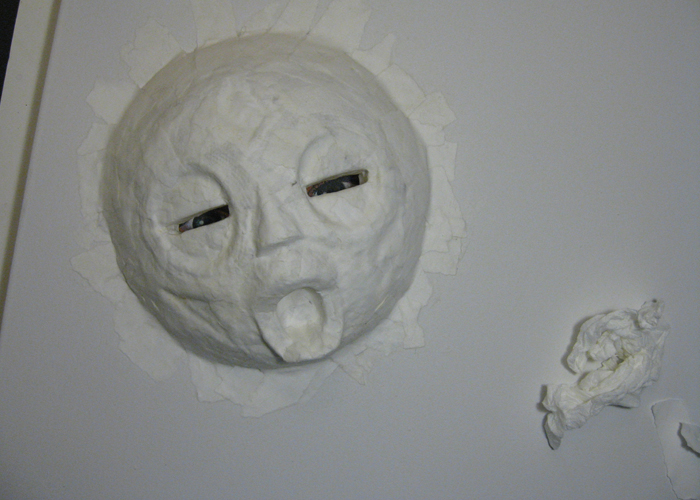 I textured the canvas using Golden's Hard Molding Paste to camoflauge the paper strips and to add continuity to the whole piece. I then gessoed everything with a mixture of white gesso mixed with the red and yellow from my palette. You can see the results below. In the upper left corner you can see the beginning of the schmeerings canvas that would soon become the painting Reflection…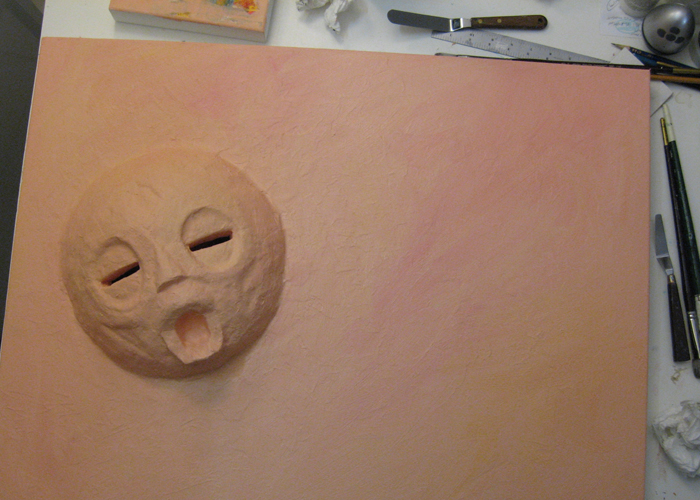 I had such a "fun" time painting this one that I did not take any photos during the painting process. You'll have to use your imagination to fill in the blanks. (Be sure to include tufts of hair surrounding flipped over furniture while imagining this). Now I'm going to go have a beer – or so…
Next Page >>