For the 6th year in a row I am taking part in Un-Masking the Mind, a charity auction designed to generate funds for books and supplies for Innovations International Charter School of Nevada. Here is the mask that I created for this year's event…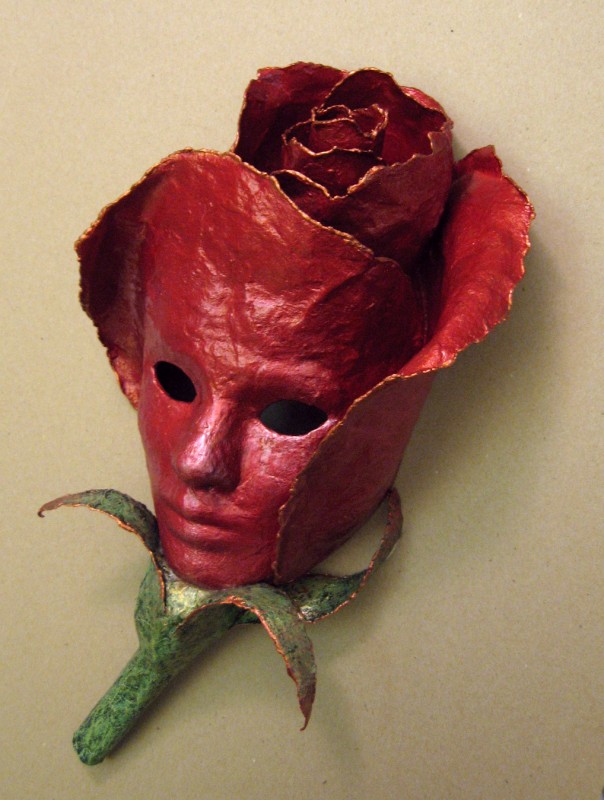 Queen of Hearts – 17.5″x9.5″x4.25″ – Paper Maché Mask – Completed 7/3/14
©2014, Don Michael, Jr.
This one was a really fun project to create. In fact, I had such a good time with it that I think I'll share some of the process…
Below is a photo from early in the process. My art table became a huge mess as I started creating the swirls for the inside of the rose. On the right you see the very center piece of the rose. On the left you see the outer swirl sitting on the mask protected by foil. And on the far left you can barely see the beginnings of the large petal that goes across the face. The brown strips of paper that you see laying around are what I use for my paper maché. The bonding agent that I use for my paper maché is a mix of acrylic medium and acrylic gel.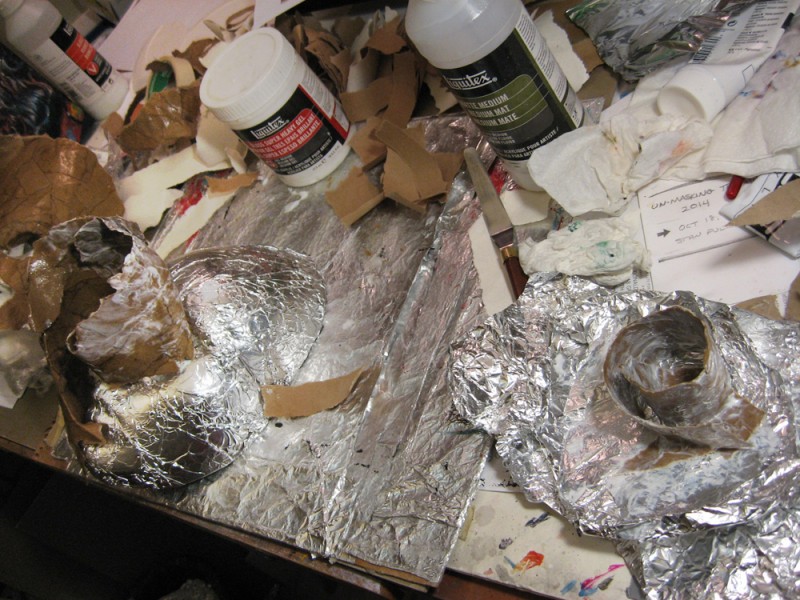 As you can see below, after the pieces dried I then attached them to the mask with the paper maché. On the right you can see the beginnings of the petal which will wrap around to the right side of the mask. I used a paper plate to create the mold/support for this petal. It worked beautifully…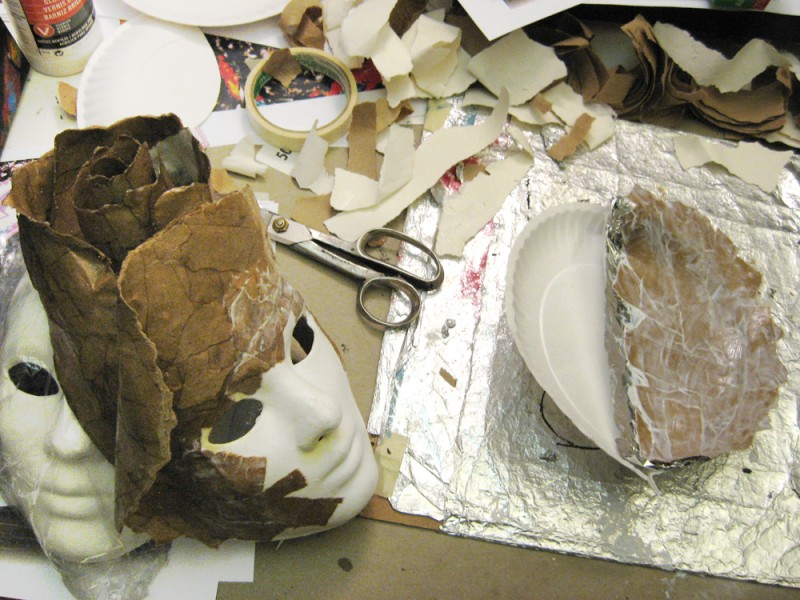 This next photo shows the rose elements all attached to the mask. There was still some adjusting needed at this point – a little tearing here and there, followed by a little addition in other places – but the hard part was done.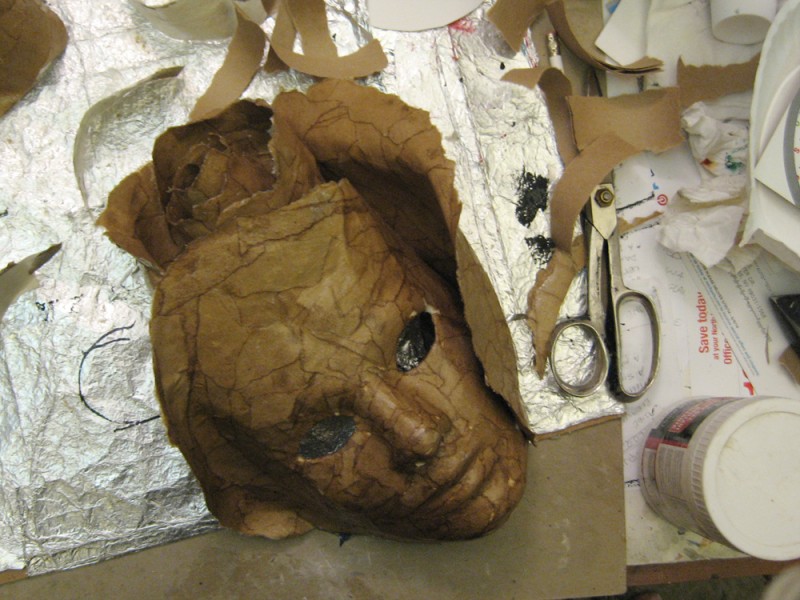 Once the flower part of the mask was finished it was time to create the stem. Below you see the finished rose and stem.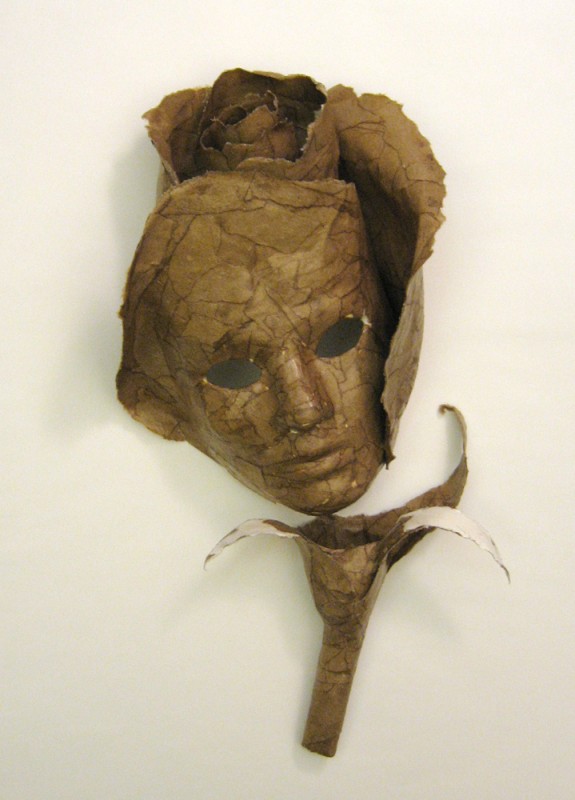 I wasn't ready to attach them together at this point. First, I wanted to paint both pieces separately to prevent any color contamination. To make sure the surface of the mask took the paint evenly I decided to gesso it before painting. Here it is after two coats of gesso… (So the white would stand out, I placed the mask pieces against one of my schmeered canvases.)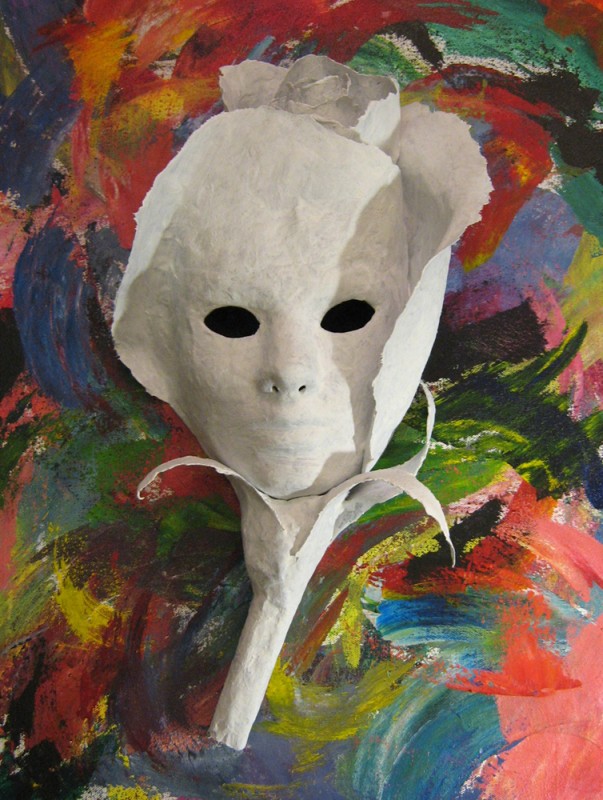 Then it was time to get started with the paint. Here's a shot of me in the middle of that process…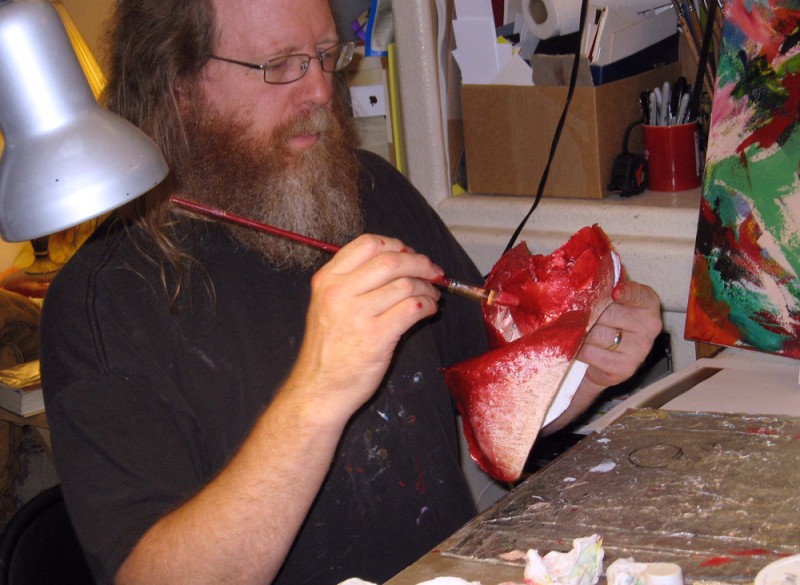 I went thru several variations of color application before finding the exact combination I wanted. I won't bore you with all those experiments. Just know that I pulled out even more of the very finite amount of hair left on my head while trying to find the elusive answers.
Below are the pieces with the final colors…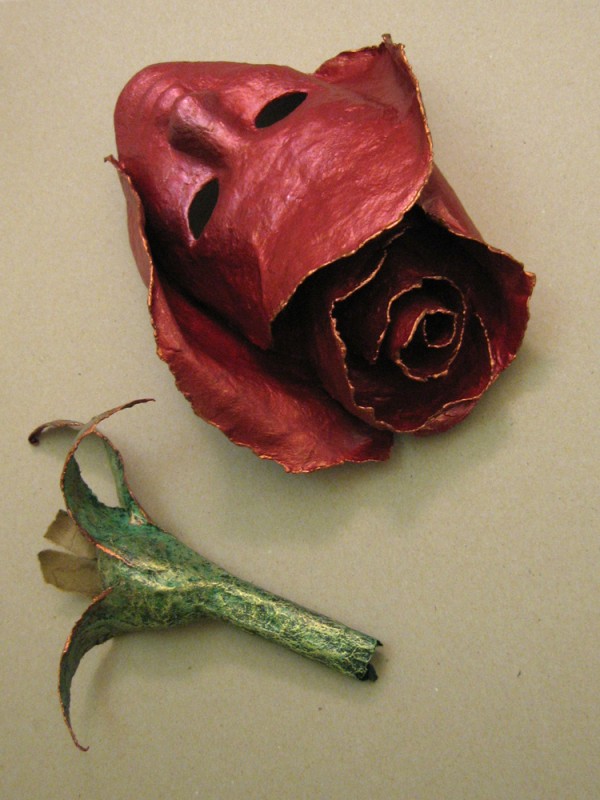 …and below are the pieces drying upon assemblage completion.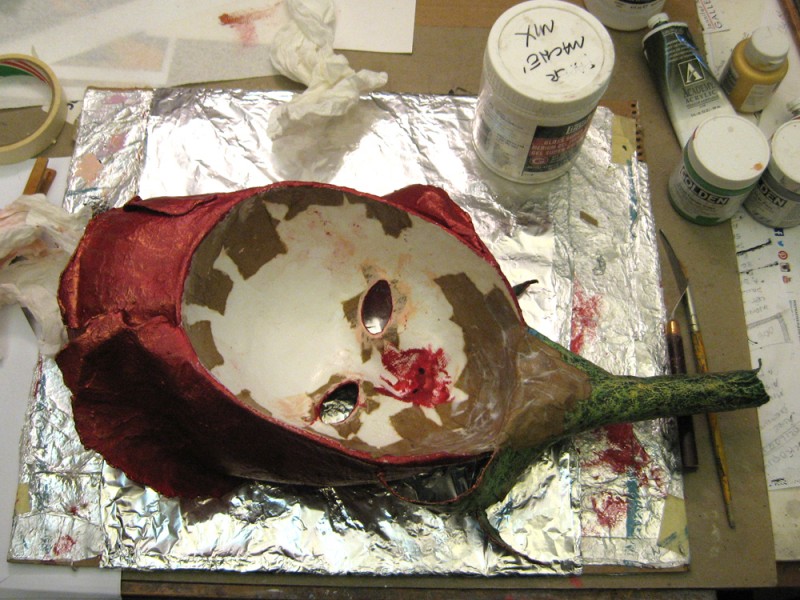 I couldn't leave my mask with a bloody nose, so I painted the inside of it black before signing, titling and dating it. Here is one last image showing both the front and back of the finished Queen of Hearts. I hope you enjoy.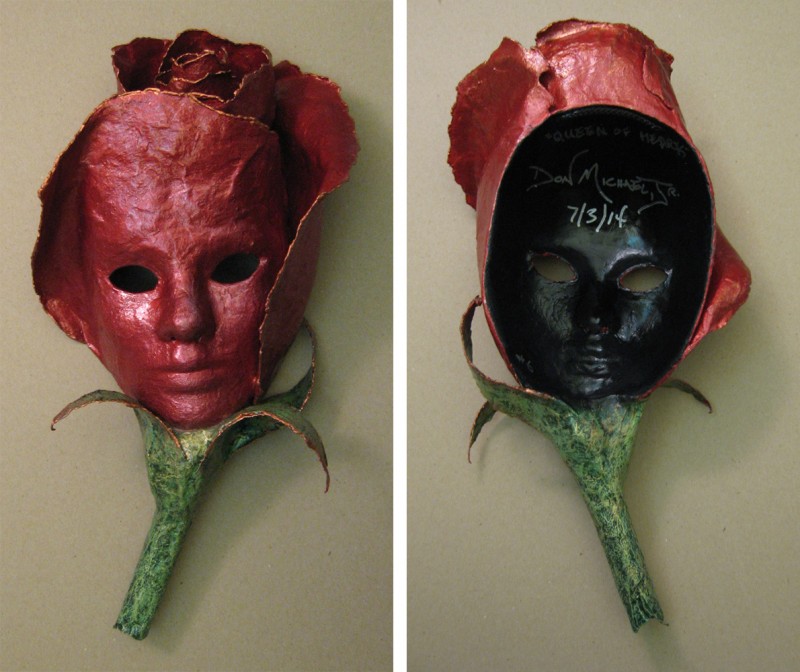 ©2014, Don Michael, Jr.
Happy Creating!
Over the past couple months I have been working intermittently on a mask to donate to this year's Un-Masking the Mind charity auction. This will be the fifth year in a row that I've had the honor to create and donate masks to this event which generates funds for books and supplies for the Innovations International Charter School of Nevada (IICSN). This year I have the added honor of working with one of Las Vegas' beloved radio personalities, who is also a comedian extraordinaire, and most of all a good friend – Carla Rea.
Every weekday Las Vegas wakes up to The KKLZ Morning Show with Mike, Jim and Carla where we are served with laughs, insight and celebrity interviews – as well as some good music. Many nights in Las Vegas people go to bed still laughing from having seen that very same Carla Rea's stand-up comedy act at one of several venues thru-out the city.
Something I notice about Carla (and many other comedians I've met over the years) is that the smile on her face and the laughs she brings to others can belie other emotions lying beneath the surface. I've always said that the best mask any of us can wear is a smile – and even posted a blog about it a few years ago. Anyway, with that thought in mind, I created this mask…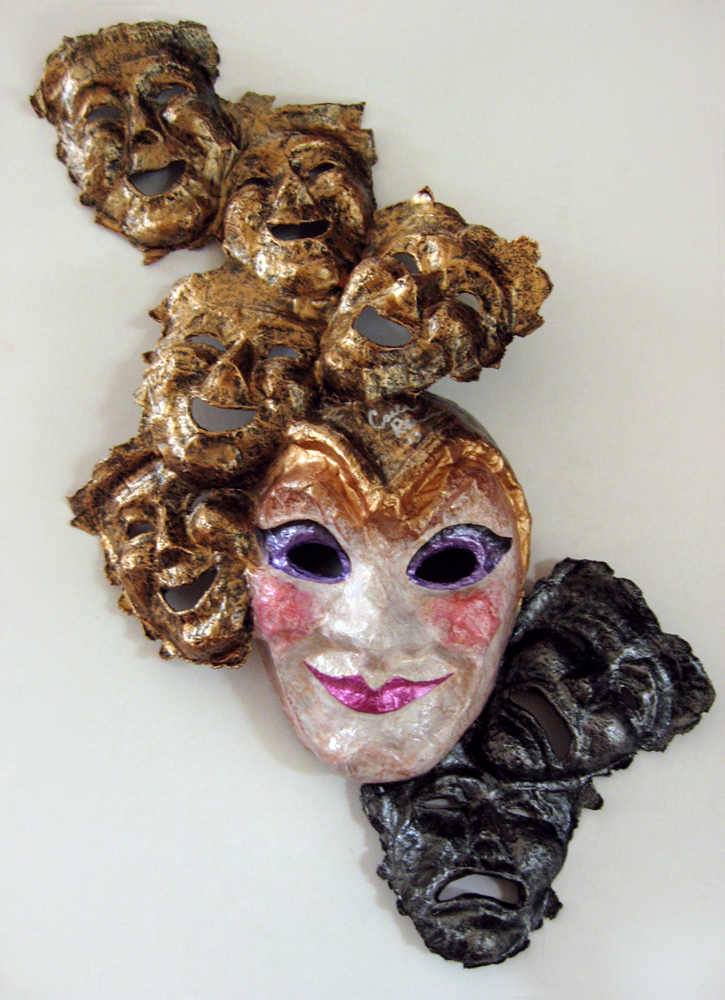 Behind the Smile – Approx. 23″x16″x4″ – Paper Maché Mask with Acrylic Paint – Completed 6/28/13
©2013, Don Michael, Jr.
Yesterday, several friends who once worked together gathered together at a local diner here in Las Vegas. While reminiscing about old times and catching up on each other's current activities we also enjoyed some familiar fare. Here is a photo of the lot of us towards the end of this lovely afternoon's respite…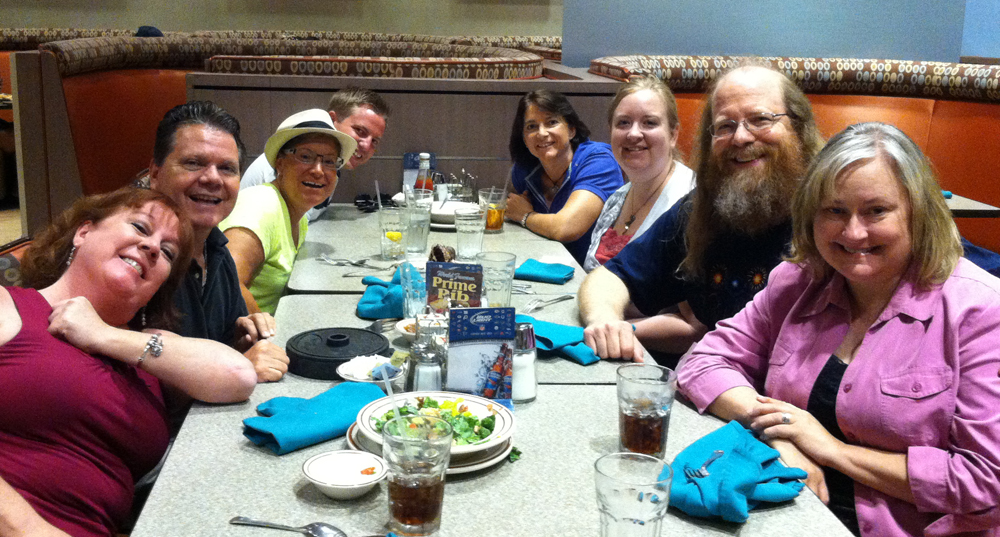 You may think I'm straying off subject here, but you'd be wrong… One of those dear friends is none other than Carla Rea. With her busy schedule, she's a difficult one to catch up with. So, I used this opportunity to get her to autograph Behind the Smile – which will greatly add to its value at the aforementioned auction.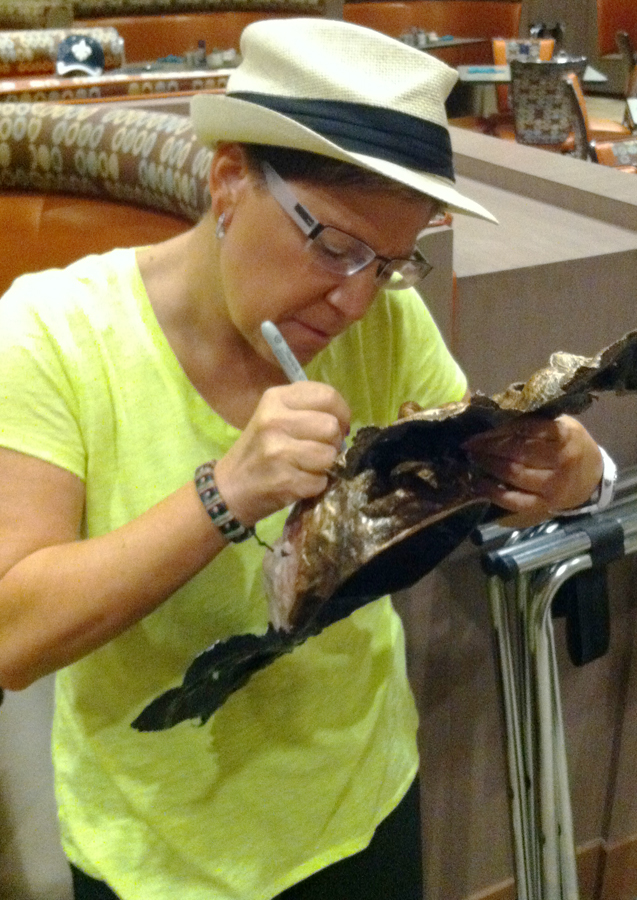 Carla autographing Behind the Smile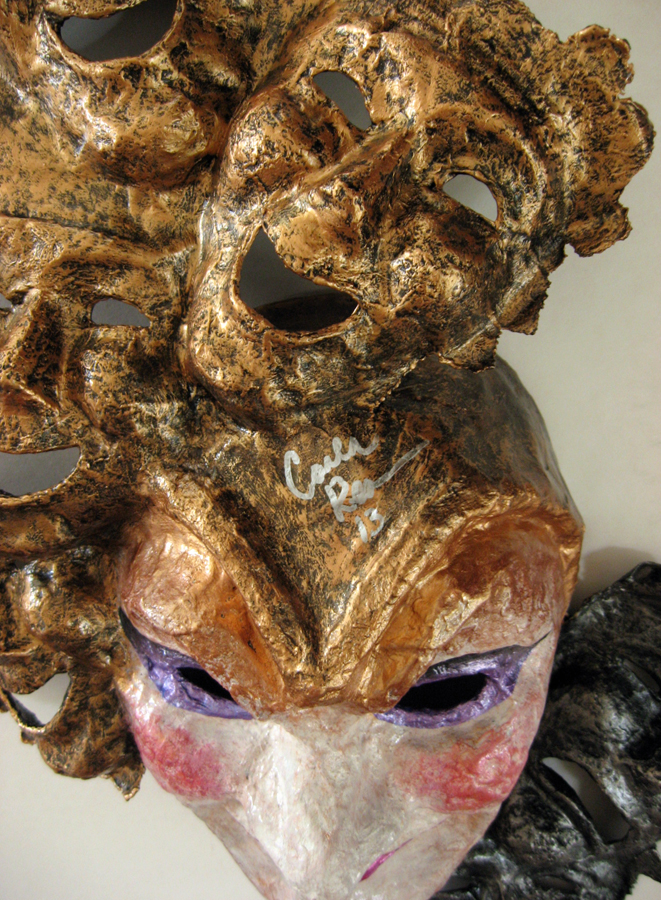 Carla Rea's autograph
To my great pleasure Carla tells me she loves this and that I really captured her with it. I could not be more proud. Thank, Carla!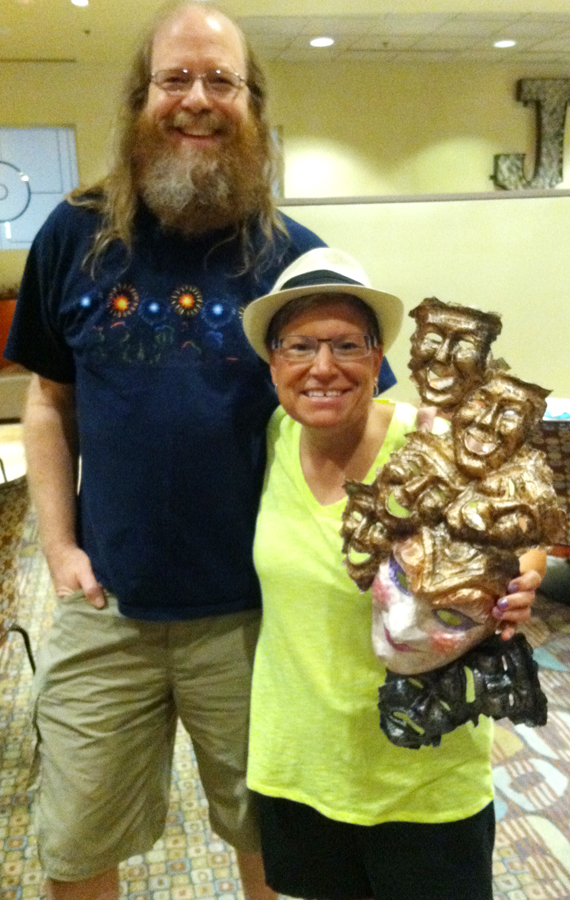 Don and Carla sharing some love
I would like to add one more thing. Another of those friends from our lunch contributed to the creation of this mask without even realizing it. Our good friend, Judy, had loaned me a couple small brass Drama/Comedy masks a few months ago. Those little masks became the molds for the laughs and frowns on Behind the Smile. It was a pleasure to see Judy's reaction when she realized her contribution. Judy and her husband have been great supporters of my work and of Un-Masking the Mind – and I'm proud to say, have collected several pieces of mine over the years. Thank you, Judy!
Now it's on to other projects…
Happy Creating!
After a long day of setting up and then painting live at the Gina M Woodruff Gallery in Long Beach late last month I was very relieved to finally be cleaning up my brushes and breaking down for the night. There was a cold beer and a warm bed calling my name from our hotel room.
Suddenly, this bundle of whirling energy came buzzing through the gallery door at about a jillion miles an hour. It's amazing how much 'presence' some people can bring to a room, and the lovely Samone, proprietor of Delightful Crepes Cafe of Long Beach, is one of them. Long-story-short, about an hour later I was finally heading to my hotel room with a new commission job to start considering…
…and here is the new piece of art now hanging in that very same Delightful Crepes Cafe.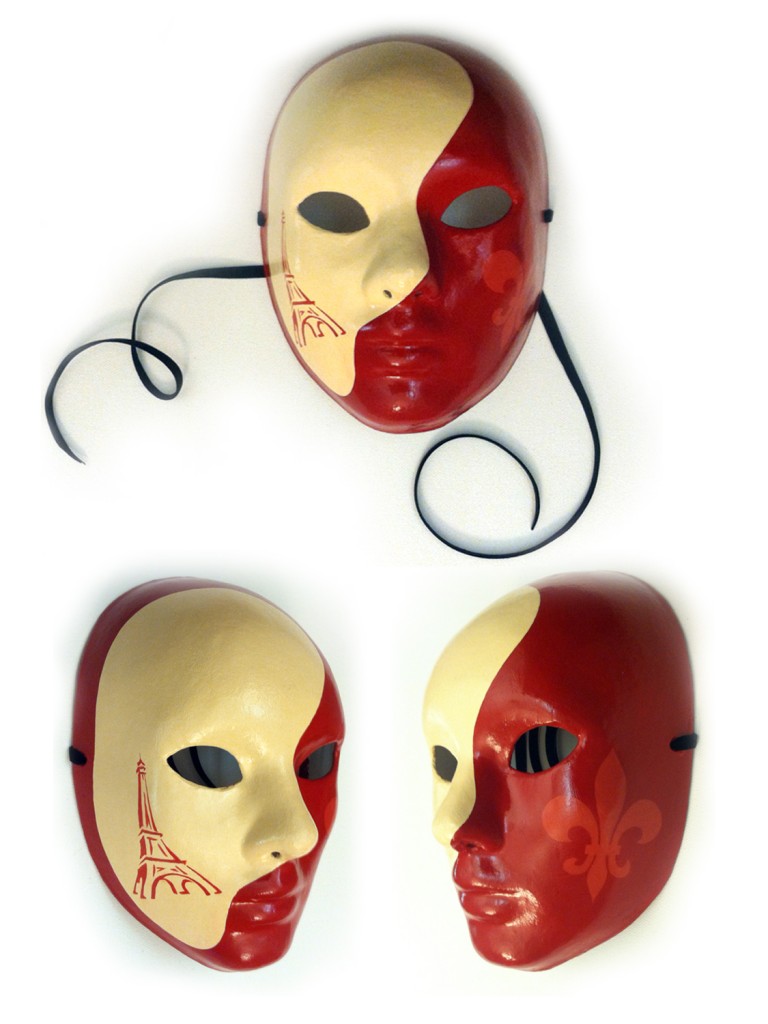 Phantom of Delight – Acrylic paint of paper mache' mask – Completed 3/2/13
©2013, Don Michael, Jr.
Samone had requested that this mask use the colors from her cafe's logo. She also wanted me to include iconic images of French origin – a couple she specifically mentioned were the fleur de lis and the eiffel tower. Something else she mentioned in our conversation was how cool it would be if I created a mask with ties to the Phantom of the Opera mask. From what I understand, Samone is quite happy with the results. Next time I'm in Long Beach I'll have to go have me some crepes and see how she has her new mask displayed.
Until then, though, I'd better get back to the studio… I've got several projects calling my name. And one of those has a pretty tight deadline.
Happy Creating!
Tonight (Saturday) I will be enjoying art and fellowship at the Grand Opening of the Gina M. Woodruff Gallery in Long Beach, California (where 5 of my paintings will be residing for the next 3 months). I look forward to making several new artist friends while enjoying their fabulous art. Since I'll be 'out of pocket' for the next few days I thought I'd share two of my latest creations…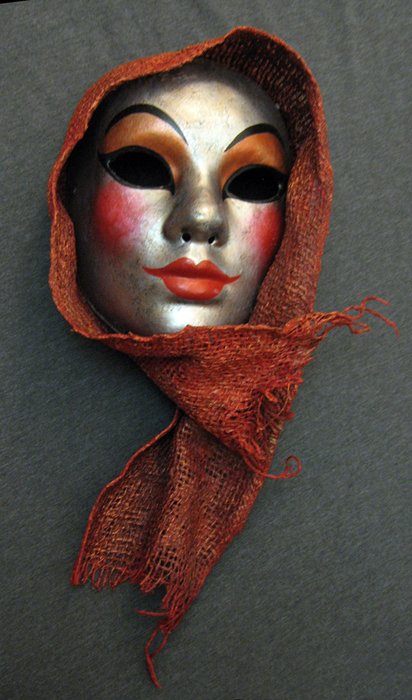 Zephyr – Acrylic, Burlap & Acrylic Medium on Paper Mache' Mask – Completed 5/13/12
©2012, Don Michael, Jr.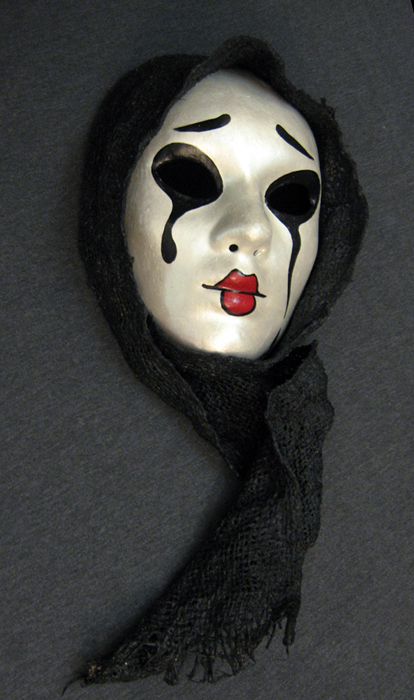 Nebulous – Acrylic, Burlap & Acrylic Medium on Paper Mache' Mask – Completed 5/12/12
©2012, Don Michael, Jr.
Zephyr and Nebulous are both going to be donated to the Innovations International Charter School of Nevada to be auctioned off in October at this year's UnMasking the Mind charity auction and gala. Any proceeds from their sale will be applied towards books and supplies for the school. I'm proud to say that this will be my 4th year of involvement with this event.
The drapery around both Zephyr and Nebulous was created using burlap and acrylic medium. It was a lot of fun experimenting with this new material (for me). I wouldn't be surprised if it appears in other works in the future.
Have a great weekend…
Happy Creating!
As I mentioned in my last post, I have been working on masks which will be donated to this year's Un-Masking the Mind charity gala and auction. The proceeds for the masks auctioned off at the event will help pay for books and supplies for Innovations International Charter School of Nevada. I'm proud to say that this year will be my fourth with this event.
A major part of my process in creating these masks is to experiment with different materials and concepts. Although I have not finished the masks that I will be donating, I do have a couple of successful experiments that I'd like to share…
My new material of choice this year was burlap. I'd never used it with my mask creations before and I thought I'd see what I could come up with. For my first experiment I cut the burlap into several small strips and adhered them to a mask mold as I would paper mache'. I knew before I was even half-way done that this experiment would not be one I'd donate to the school – but it would be one I'd have some fun with… I think the results speak (pun intended) for themselves…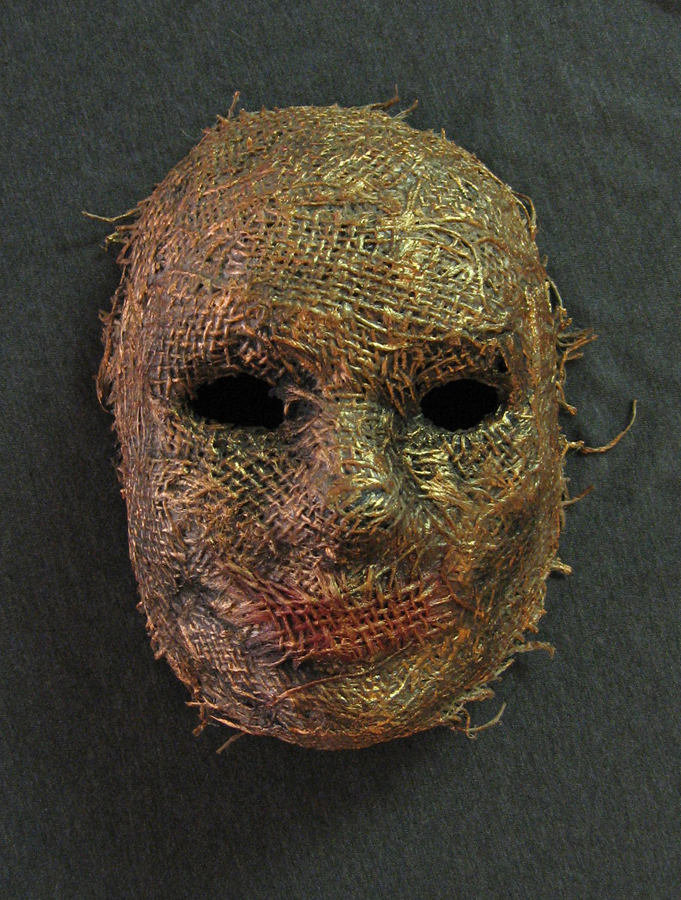 Mum's the Word – Burlap, Acrylic Medium and Acrylic Paint – Completed 5/10/12
©2012, Don Michael, Jr.
This next experiment primarily revolved around the use of translucency in the application of paint to the mask. I'm really happy with the results, but realized that she didn't lend herself to the use of burlap. She's just too dainty and elegant… I like the use of contrasts, but I knew this wasn't a time for that design element.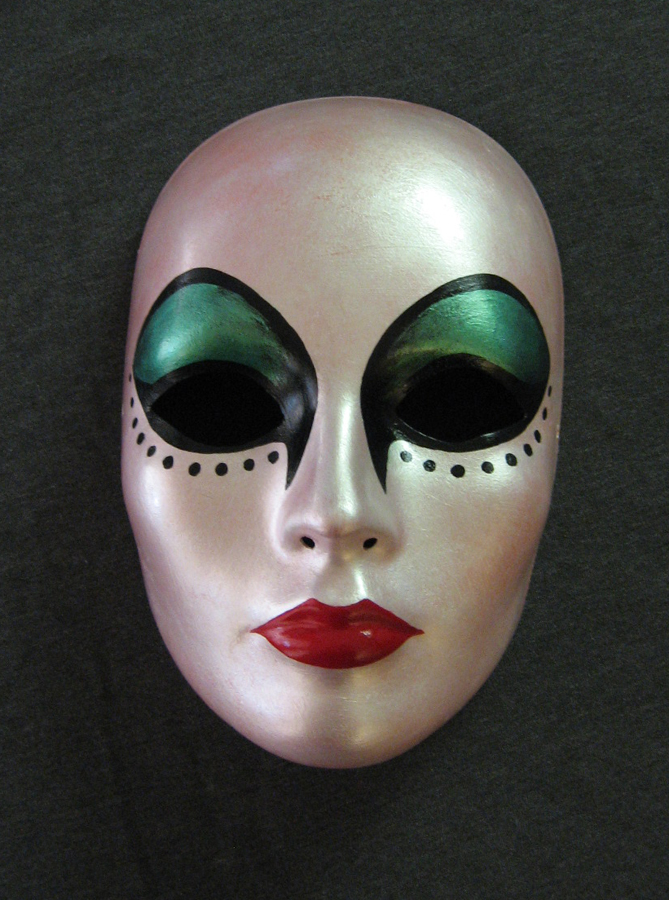 Maggie – Acrylic on primed plastic mask – Completed 5/11/12
©2012, Don Michael, Jr.
I am really thrilled with how both of these experiments turned out. Now if the other masks will only turn out as nicely… We'll see.
Happy Creating!
I've not had new work of late that I could share. However, there's still a lot going on in and around my studio. Currently, I'm working on some new masks, a couple of which will be donated to this year's UnMasking the Mind charity auction coming up in October. Here's what the main table in my studio looks like right now…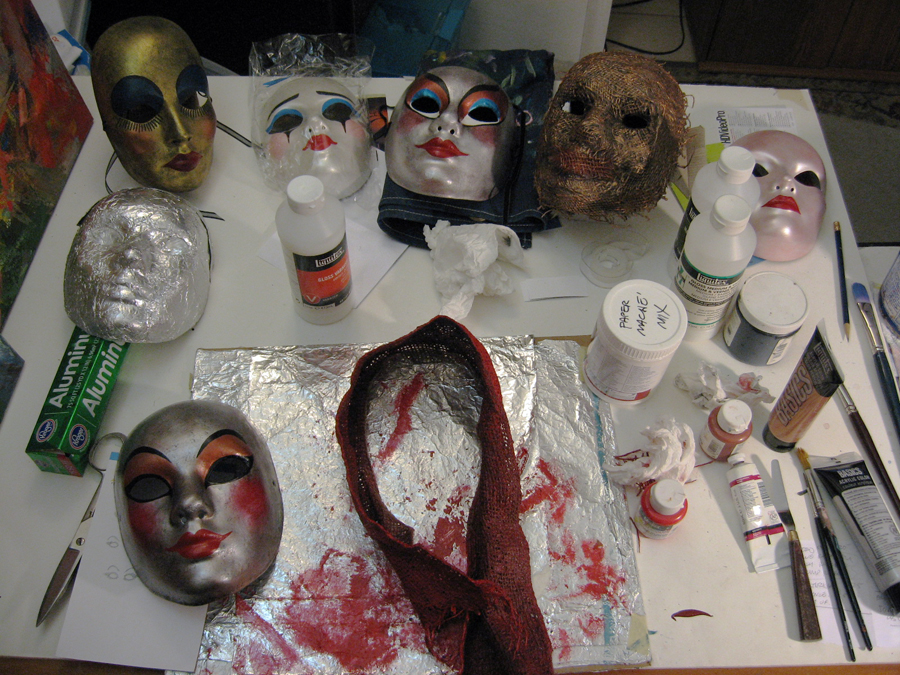 Don's Studio 5/6/12
Creating these masks is always a fun adventure. I try to do something entirely different each time. One of the materials I'm experimenting with this year is burlap. More on that when everything is complete… but, for now just know that I'm having some fun!
This Saturday is the long-awaited St. Jude's Affair of the Heart Gala and Charity Auction at the Four Seasons in Las Vegas. (There are still a few tickets available. For more info click here.) The ginormous heart that I painted for the event will be there, as will I – with brush in hand. I have been invited to paint live during the early part of the evening. As you may imagine, I'm honored and excited!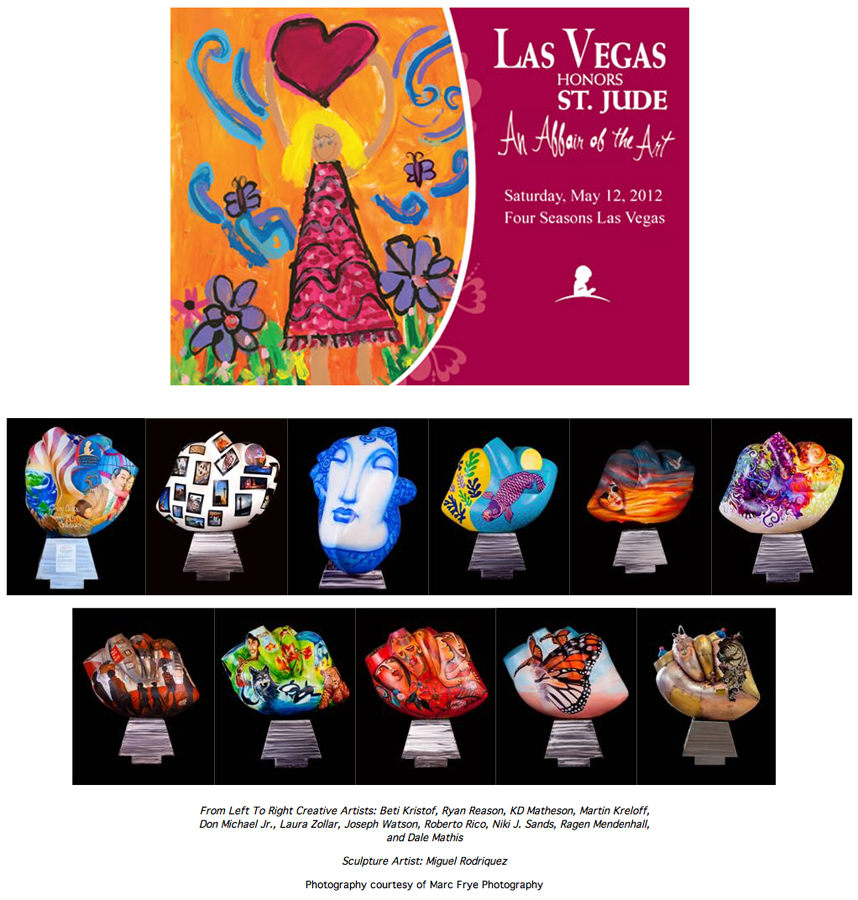 An Affair of the Heart 2012 – Invitation and Hearts
Then, next weekend five of my paintings will be a part of the Grand Opening of the Gina M. Woodruff Gallery in Long Beach, CA. I plan to attend the night of Saturday, May 19th. Any of my friends who will be in the Los Angeles area are invited to come out and see some great art while meeting the artists.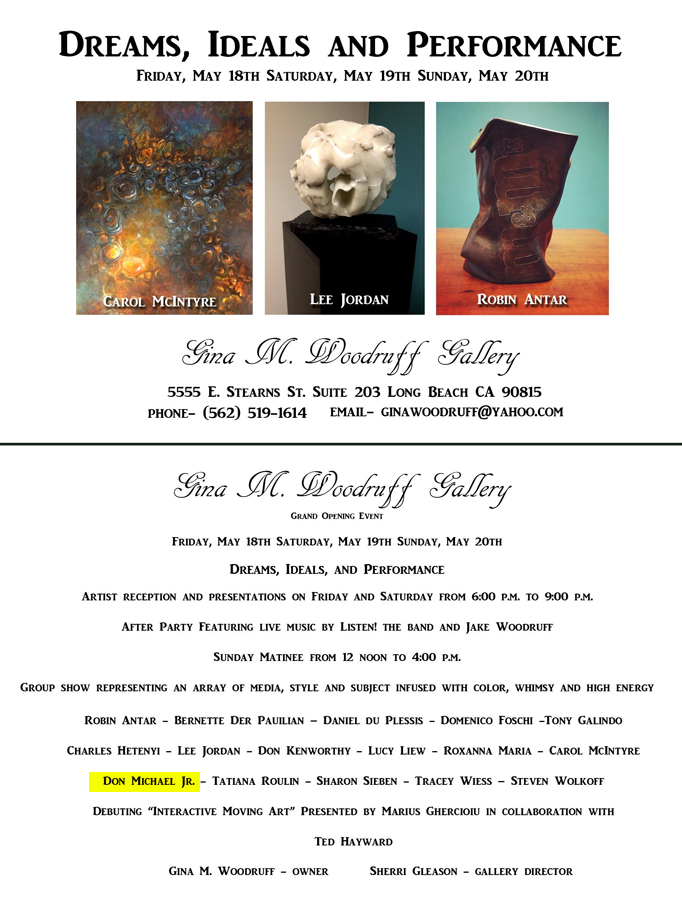 Gina M. Woodruff Gallery – Invitation and Artist List
Sometime in the next couple weeks I'll finally be able to announce a new book release with a cover that I created. I'm really looking forward to this one since it's really a change of pace for me. You'll soon see what I mean…
Until then, Happy Creating!
As I conclude what was a wonderfully artful weekend I'd like to share my most recent mask creations. As I was finishing the first one earlier this evening a special was running on Turner Classic Movies which showed short silent era movies and clips. The movie snippet that really caught my eye was an early piece by Clara Bow which showed her applying her makeup in front of a mirror. I was intrigued with the similarities between the lips of my new creation and the way she applied her lipstick. So, I felt it only right to name my mask accordingly…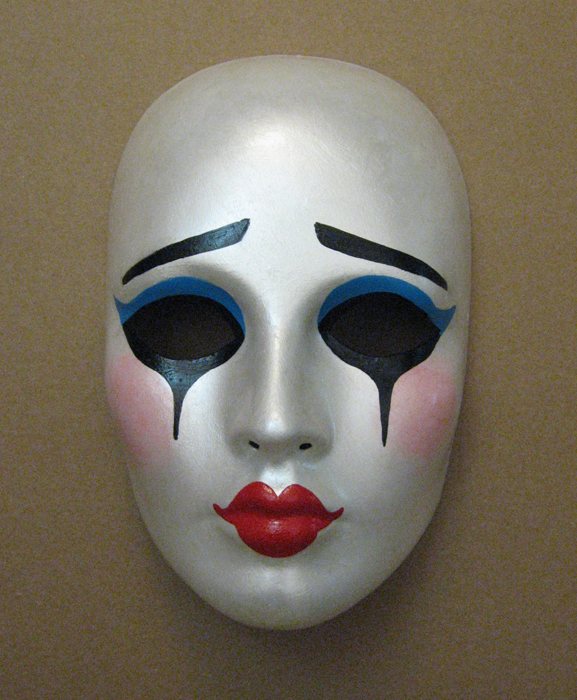 Clara – Acrylic on Primed Plastic Mask – Completed 12/4/11
©2011, Don Michael, Jr.
When it was time to name this next mask I had absolutely no clue. So, I decided to flip through the channels of my TV with the volume off and use the first name that appeared in closed-captioning.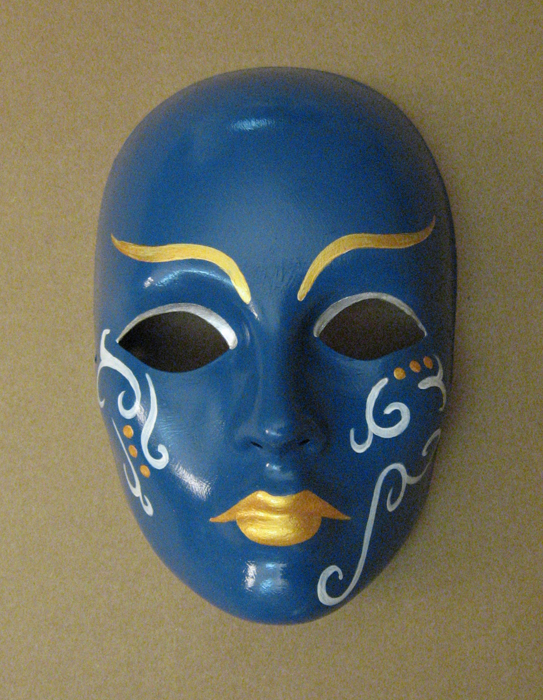 Francis – Acrylic on Primed Plastic Mask – Completed 12/4/11
©2011, Don Michael, Jr.
Both of these masks have been in the works for quite some time but I had not found a resolution for either of them until Saturday night. After having a great First Friday evening and then teaching a rewarding painting class on Saturday afternoon I felt inspired to pull them out and try again. I'm glad I did…
I can't wait to start experimenting with getting both of these into some of my Eye Candy paintings. But, for now, I guess I should probably quit procrastinating and get to work on the big projects that are already on my plate.
Happy Creating!
Does anyone remember those 'books' of Life Savers that were available at Christmas 'back in the day'? I haven't seen them around in years, so I don't know if they are still a part of Christmas tradition, or not. What I do know is how in years past I enjoyed opening up that little box knowing that I would get several days, and possibly even weeks, of enjoyment from this one little gift. Once I opened that little treasure I would immediately start planning out how I would work my way through those assorted rolls of delectability. My plan almost always consisted of me saving my favorite flavors until last. Below is my tribute to one of those favorites…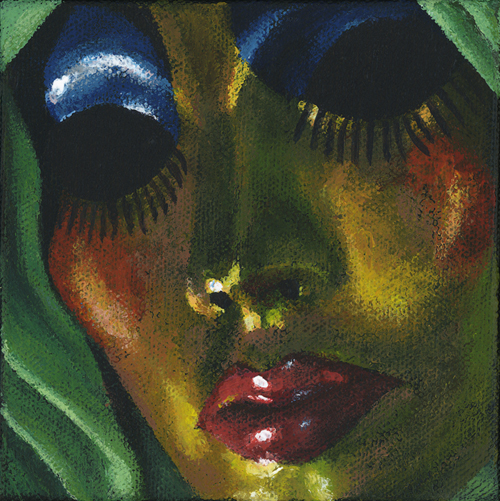 Butter Rum – 5″x5″ – Acrylic on canvas – Completed 11/17/11
©2011, Don Michael, Jr.
If the words above seem familiar to some of my long-time blogging friends, it's for a very good reason. I quoted them verbatim from my June 28, 2011 post about Wild Cherry. In that post I mentioned having a co-favorite candy in that Christmas box of delights that would someday be "represented on canvas". Someday has arrived.
Some of you may have noticed that this Eye Candy series of palette knife paintings has included only masks of my own creation as models. For example, the model for Butter Rum is Nelli. who has now been featured in 4 paintings in the series. Having completed 41 paintings in this series now using only 9 different masks, I decided this past week that it's time to have another option from which to work and came up with this…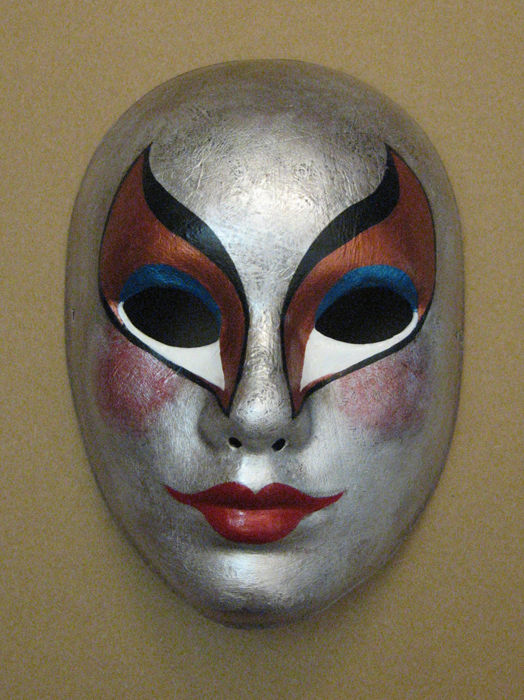 Rika – Acrylic on paper mache mask – Completed 11/17/11
©2011, Don Michael, Jr.
The decor on this mask was inspired by makeup I have seen on a few of my Cirque Du Soleil friends over the past few years. I chose not to copy any of them directly, but instead just used them for inspiration. The title of the mask is a very abstract 'tip-of-the-hat' to one of these wonderful performers who is quite diminutive in size, but has a heart as large as the one I am preparing to paint in my living room.
Speaking of which, I guess I'd better get busy…
Happy Creating!
For the third year in a row I created a mask to be auctioned off for charity which had been autographed by a celebrity. For the second year in a row the celebrity autograph was that of Jay Leno, host of The Tonight Show on NBC. (You can see last year's mask here.) On October 29th, the following mask, and many others, will be available for live auction at the Un-Masking the Mind Charity Auction. All proceeds will go towards books and supplies for Innovations International Charter School of Nevada.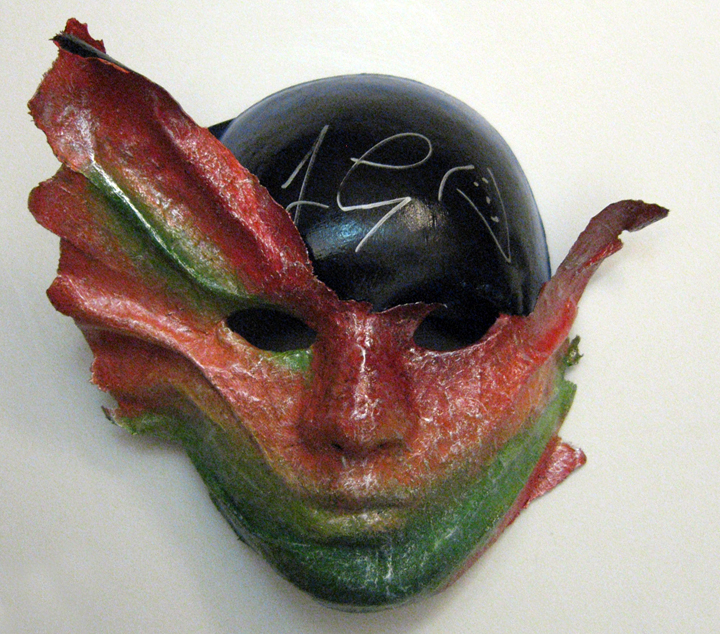 Autumn Spirit – Acrylic and Paper mache' – Completed 9-26-11
This year I decided that the mask did not need to have any direct relevance to Mr. Leno or his show.. I wanted it to have a more organic flow and to fit more within the style of painting that I've been up to lately. To get there, though, I had to work around Mr. Leno's autograph, which was done in silver Sharpie on a black gessoed paper mache' mask.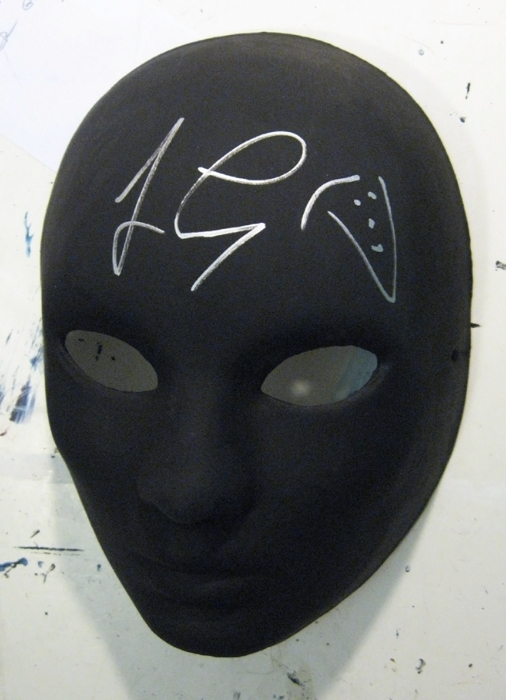 Mask with Jay Leno autograph
To protect the autographed mask I used a stand-in mask for all molding and experimenting. Below you can see the stand-in ready for some paper mache' fun…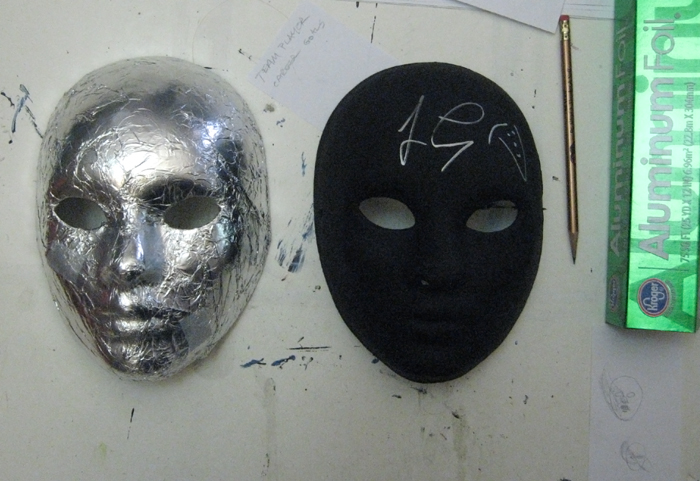 Foiled Again!
You can see below that this mask project was not the only one 'in the works' in my studio…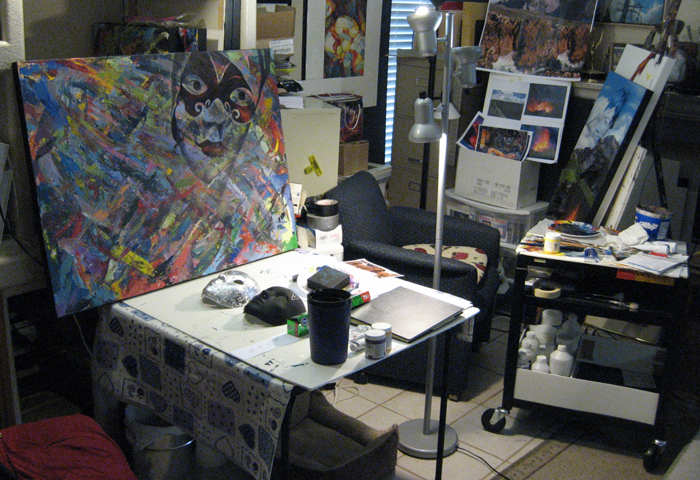 Organized Chaos
Once I finished agonizing over all the projects demanding my attention I decided to start gooping some paper mache' onto the stand-in. The red oval you see drawn on the foiled mask references the area of the autograph on the final mask.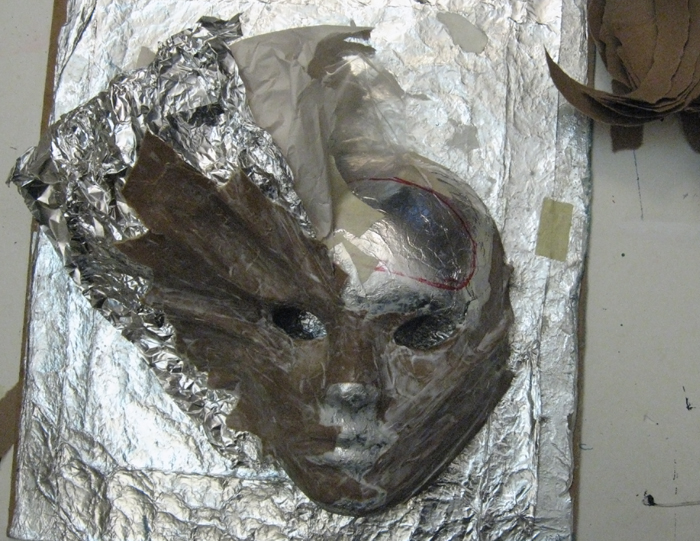 Do I have something on my face?
Once the paper mache' dried I removed all the foil and then placed it back on the stand-in to help it keep its form…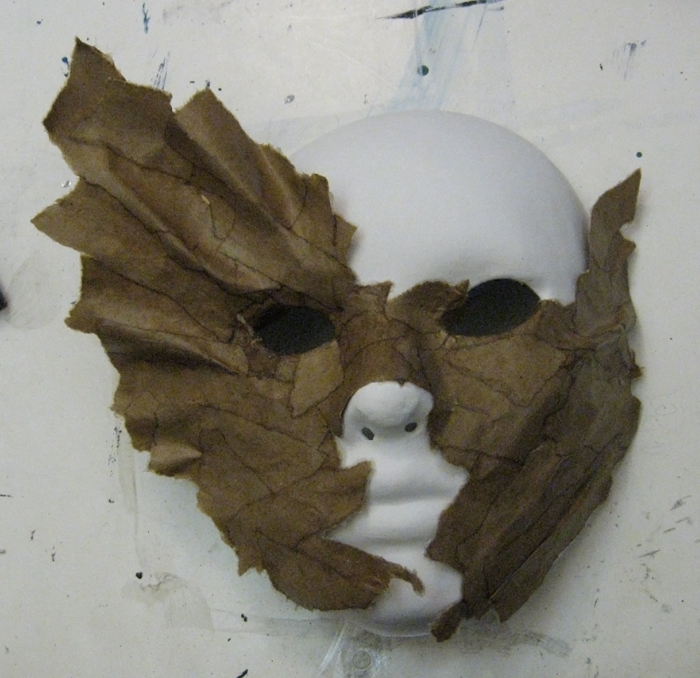 Winged Victory
…then I started doing color experiments on some other masks I had laying around.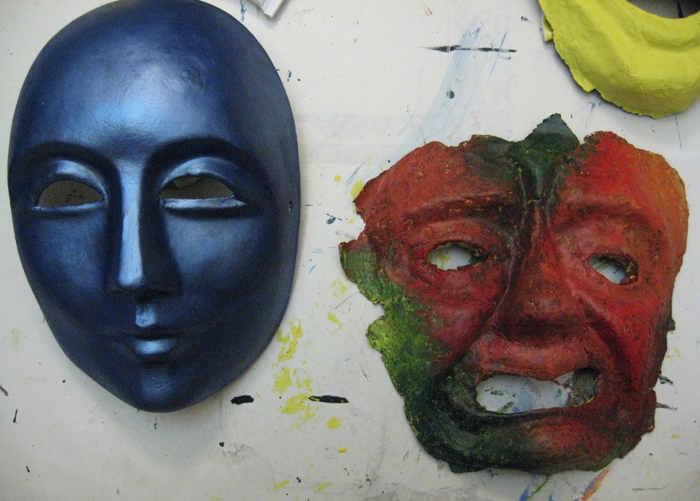 Cold and Hot
My color experiments helped me decide how I wanted to bring color into the black gessoed mask without affecting the autograph area. Here's what I came up with…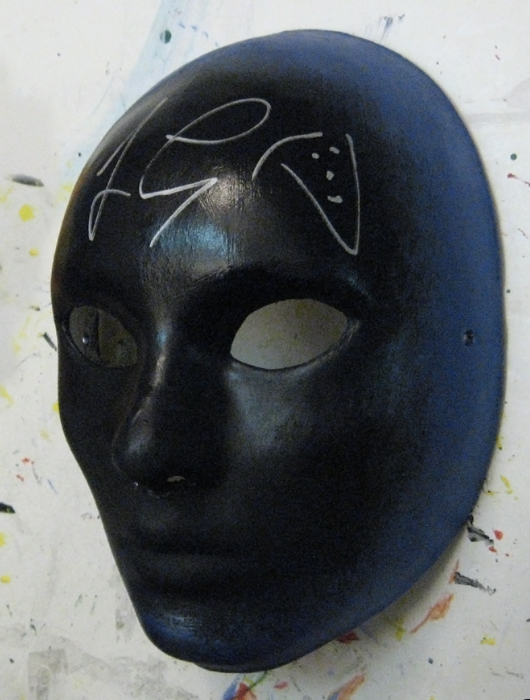 A Touch of Blue
…which was then ready for me to attach to the previously created 'wings'. This is always the most nerve-wracking of all the steps. Thankfully, I made it through relatively unscathed.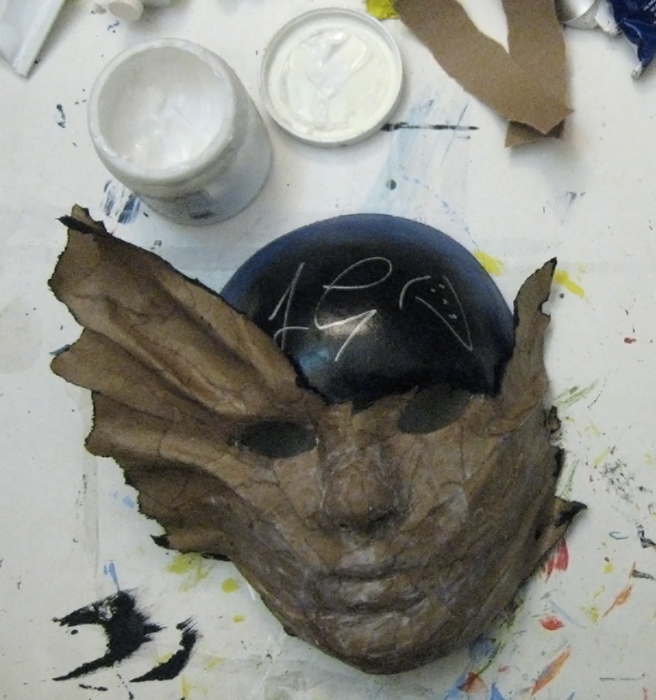 No Guts, No Glory
After the paper mache' dried, I painted black gesso over the raw areas, covered the finished areas with foil, and then started adding some color. Since I was going for a 'fall foliage' look, I chose to start off with green…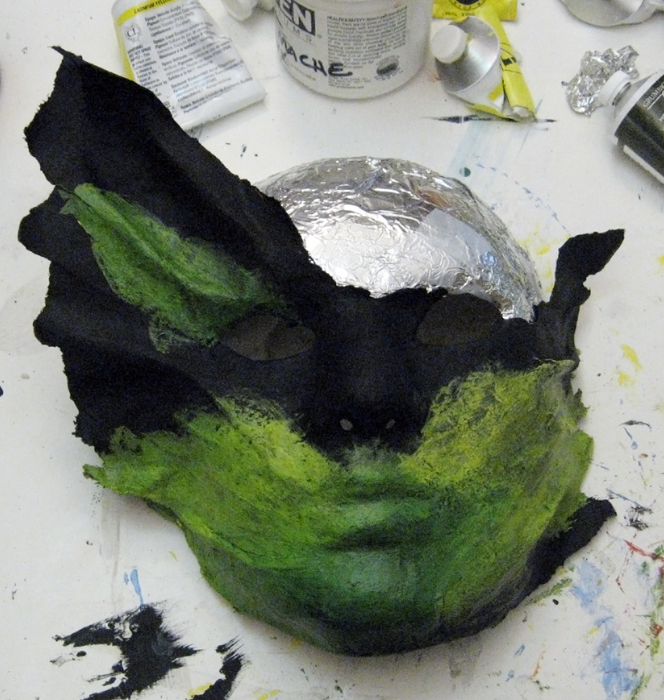 Untainted Chlorophyll
…which could then transition into the fall colors.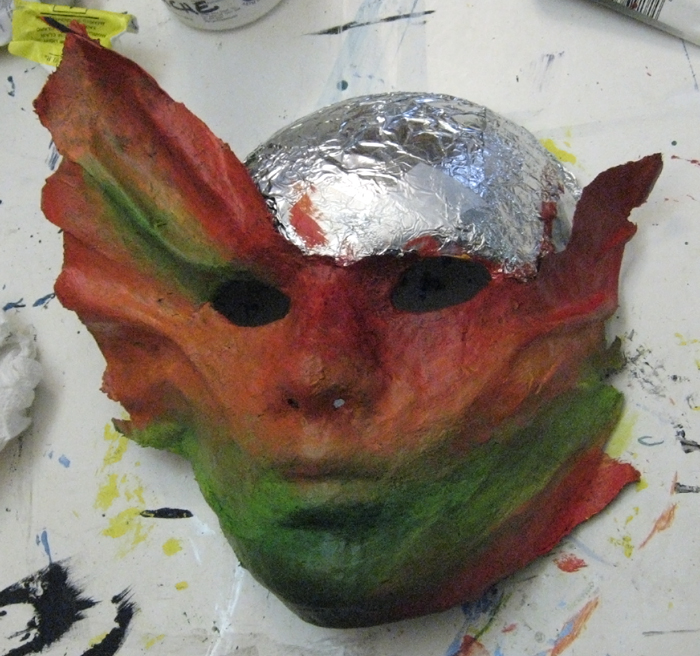 Autumn Splendor
As much as I liked the colors, they were still too flat…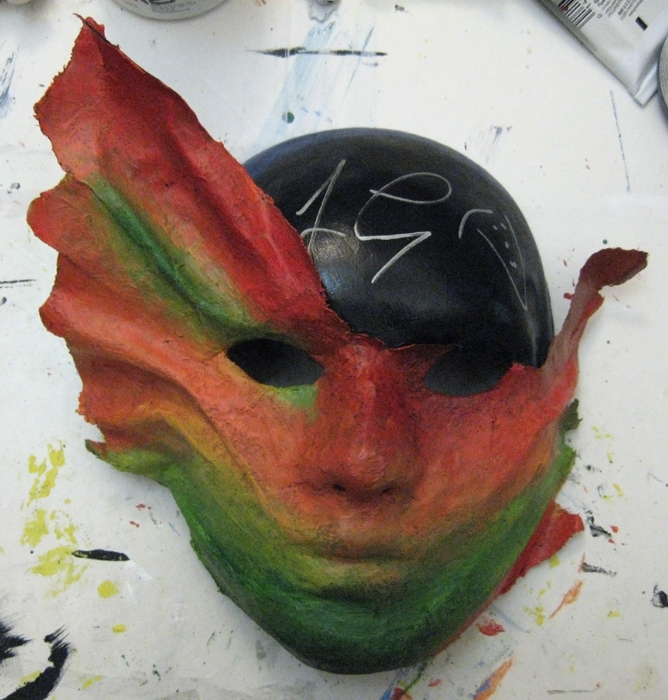 Nearly There
…so, a little iridescent paint was lightly whisked across the whole 'foliage' area.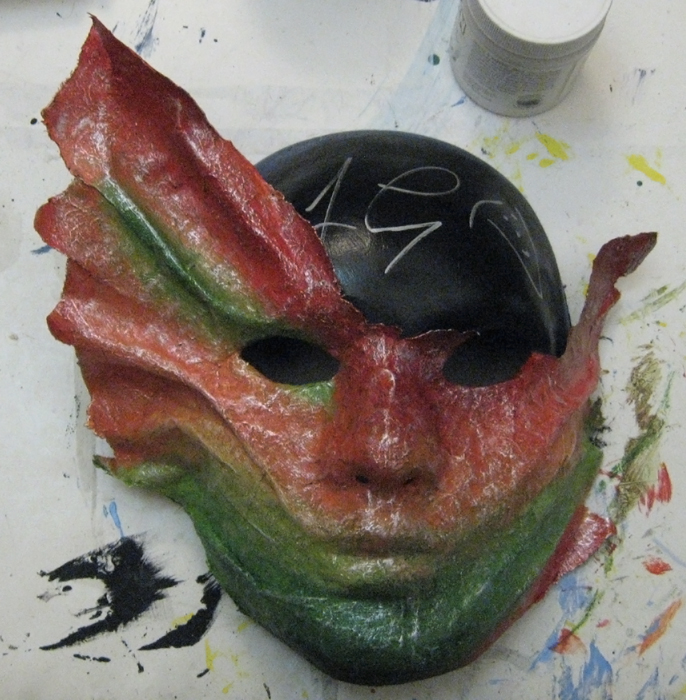 Done
All that was needed at this point was a protective coating of gloss finish, the attachment of the strings, and then delivery. Check, check, and check!
Now I can get back to work on some of those other projects.
Happy Creating!
Today I did my second of three demos for the week at the new Michael's Arts and Crafts store in North Las Vegas. Here I am taking a small break to pose for the camera…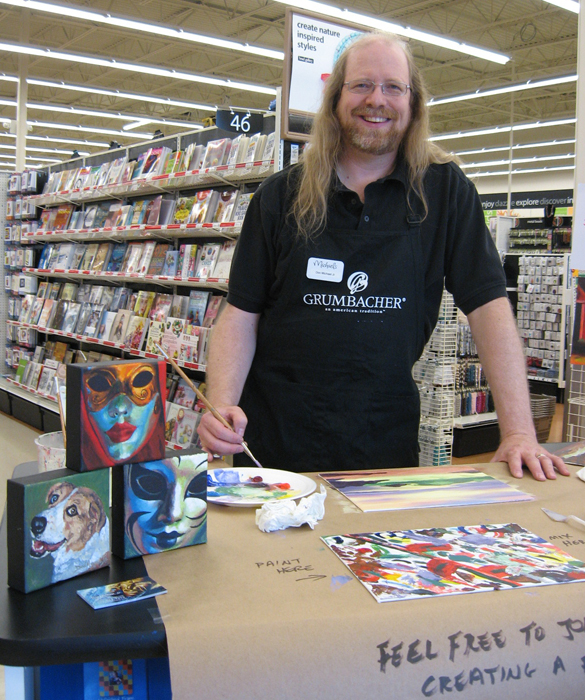 Don Takes a Photo Break
… and here I am chatting with a couple of aspiring artists.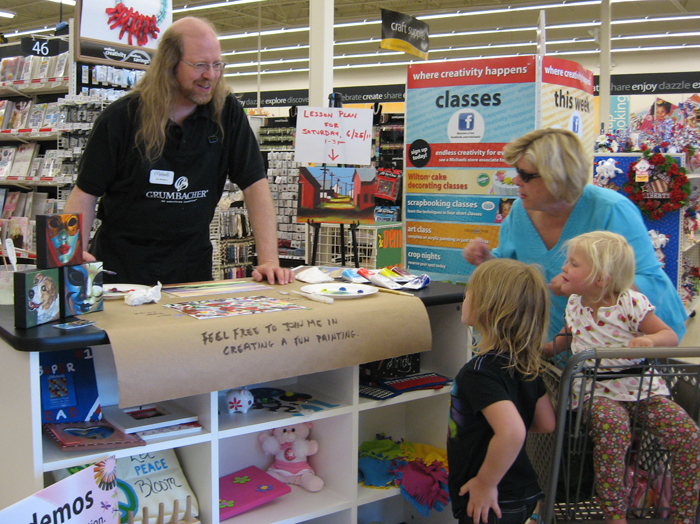 Don is Such a Hit with the Ladies
For today's demo I recreated one of the Grumbacher Lesson Plans for a Seascape. This lesson plan was put together by Chris Cozine, a Michael's Instructor in Washington. Here's what I came up with based on Chris' instructions…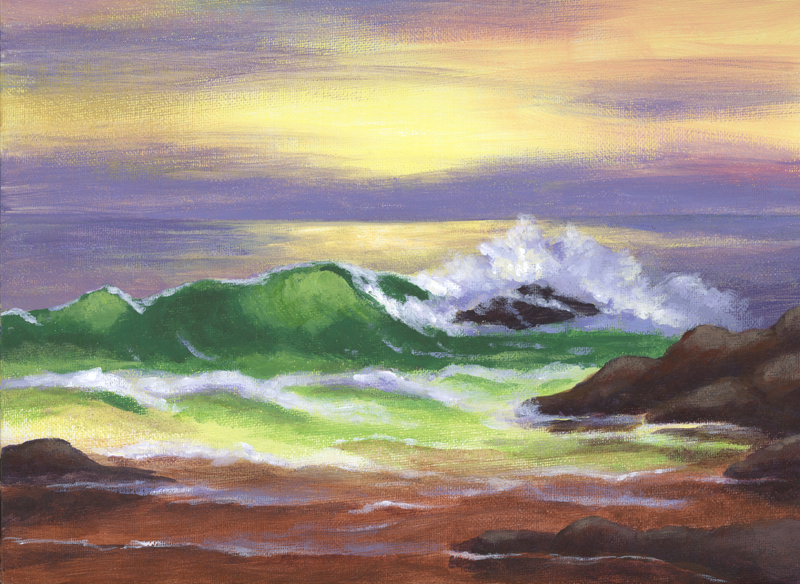 "Classic Wave" Seascape Demo – 9″x12″ – 6-20-11
As for what's going on in my studio, there's plenty – but very little to share right now. I'm in the middle of a painting which will become a book cover in the near future. I also have a few "Eye Candy" pieces in the works, but nothing close to finished yet. The only thing I've finished of late is another mask to be used for reference material for future paintings.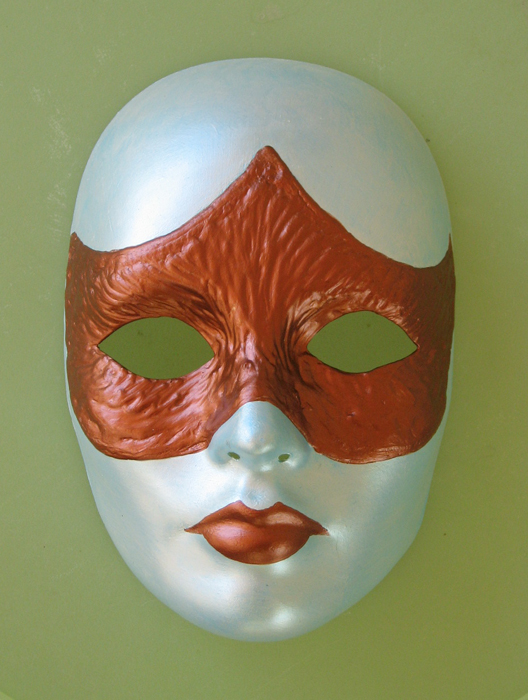 Kerri – Acrylic on Primed Plastic Mask – Completed 6-18-11
©2011, Don Michael, Jr.
There's a story behind her name, as is usually the case. While I was putting the finishing touches on her I was also watching the Semi-Finals of the Ladies Beach Volleyball World Championships which were going on in Rome. My favorite team, consisting of Misty May-Treanor and Kerri Walsh, happened to be playing. The hard part was choosing whose name would grace my latest creation. I went with the tall blonde…
Now it's time to get back into the studio and see if I can't get some work done.
Happy Creating!
Next Page >>