For over a decade I used the animation software Adobe After Effects almost daily in my capacity as an Art Director in television. I loved it. However, after being summarily dismissed from this capacity in August of '09 I had no reason to open the program or have anything to do with animating – until this week, that is… I'm not doing anything spectacular, but it's a lot of fun to once again be weaving the dimension of time into my creative process. As soon as the project is done I intend to share it with all my friends.
One of the things I did not miss about animating is the amount of downtime I have as I wait for renders and effects to be generated. Thankfully, my easel is not 10 paces from my computer so I can work on something during the downtime. Below is a photo of the mess that is my studio right now. You can see I'm in the middle of my largest Over the Under-Schmeering paintings, to date. There's much more to come with this piece, but I'm really excited about its progress so far.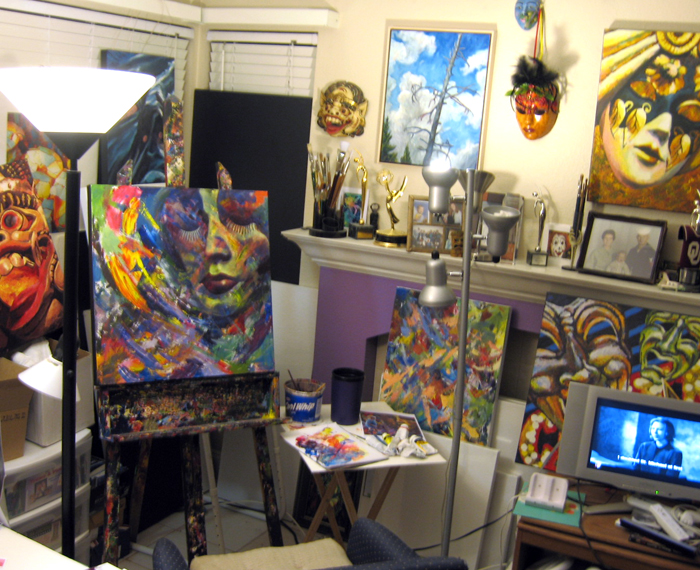 Don's Studio after 2am on a typical night.
I also used some of the downtime to work on the following mask. I decided to try something totally different from my earlier masks in painting this one. While finishing it up, the instrumental, "Lenny", by Stevie Ray Vaughan was playing on my i-Tunes and seemed as good a name as any other.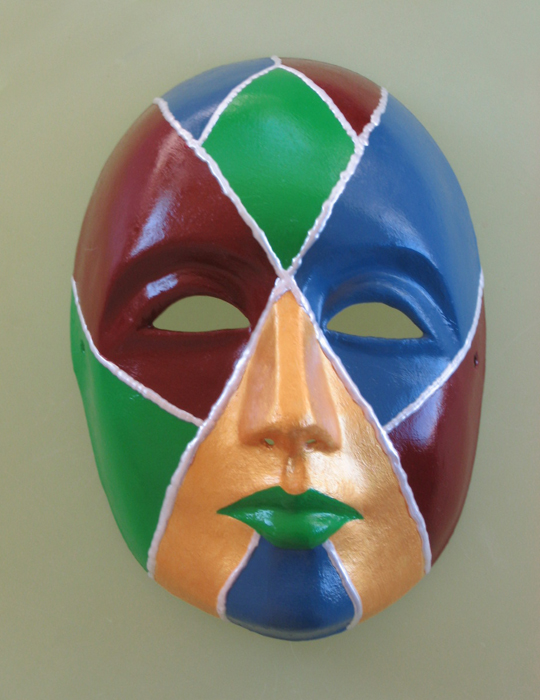 Lenny – Acrylic on Paper Mache' Mask – Completed 3-13-11
Last, but certainly not least, in this hodge-podge of ramblings… I have the wonderful opportunity to "give life" to a 5'x5'x5′ sculpture of a heart for a public project that will benefit St. Jude Children's Hospital. It is a part of a gala event called "An Affair of the Heart" and will be on public display here in the streets of Las Vegas, along with several others done by local artists. I'm really excited about the opportunity to be able to take part in this project which will benefit the Children of St. Jude. My giant heart arrives on Friday and will probably consume every waking hour of my creative time until I can call it complete. Because of the size of the heart I will be converting my garage into a temporary studio for the next few weeks. Thank God it's not summertime yet. Temperatures are already moving into the 80's around here and that garage could get hot quickly. All the more reason to jump on this project and get it done ASAP.
I guess I've rambled enough for now…
Happy Creating!
A couple weeks ago I got in my shipment of new blank masks to paint. This time around I had to go with a different style of mask since the one I prefer was sold out no matter which vendor I tried. (I think it had to do with this being the Mardi Gras season.) This new style of mask has a totally different surface to work with that brings its own unique challenges to the process. They are made of hard plastic instead of the paper mache' that I'm used to. Even though they are prepped to receive any type of media you want to apply to them, they receive the media differently. After a few starts-and-stops I finally began making some good headway with them and now have 3 new additions to the family.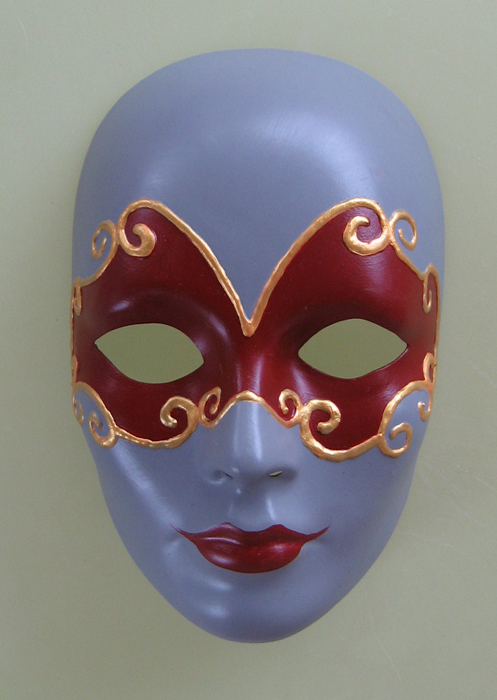 Fia – Acrylic on Primed Plastic Mask – Completed 3-1-11
The design around Fia's eyes was drawn in using the 3D paint I've used on a few other masks now. I then used neutral gray gesso over the entire image after which I painted the burgundy areas. I finished by using Iridescent Brilliant Gold on the lines. I won't be doing that again. My eyes are still buggy from trying to keep my edges clean – and it took two coats. Next time I'll experiment with adding gold to the 3D paint and using it as the last element. We'll see how that goes. Fia's name occurred to me as I was painting and looked up to see Sofia Loren on my TV screen. Even though this looks nothing like her, it just seemed right.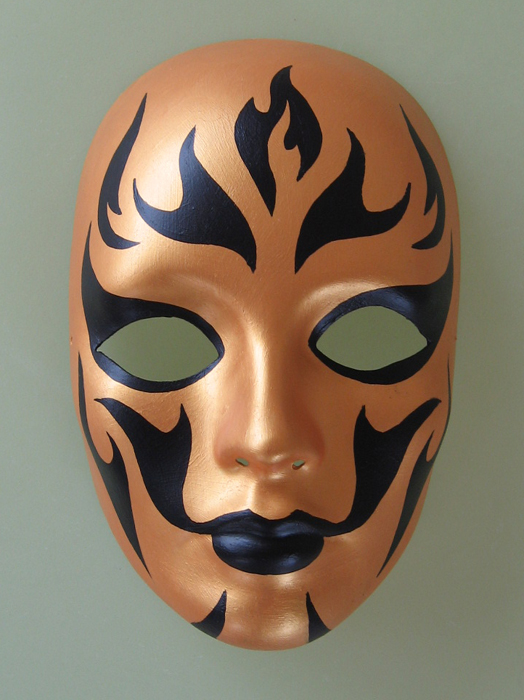 Fenix – Acrylic on Primed Plastic Mask – Completed 3-1-11
After painting Fenix with two coats of Iridescent Brilliant Gold I let her sit for several days before I touched her again. The gold was beautiful by itself, but I wanted to bring in some type of imagery to make it uniquely mine. Last night the idea of flames came to me and I realized I had my answer. The intentionally misspelled title Fenix is my tip-of-the-hat to that mythological bird which rose from the ashes of its own conflagration.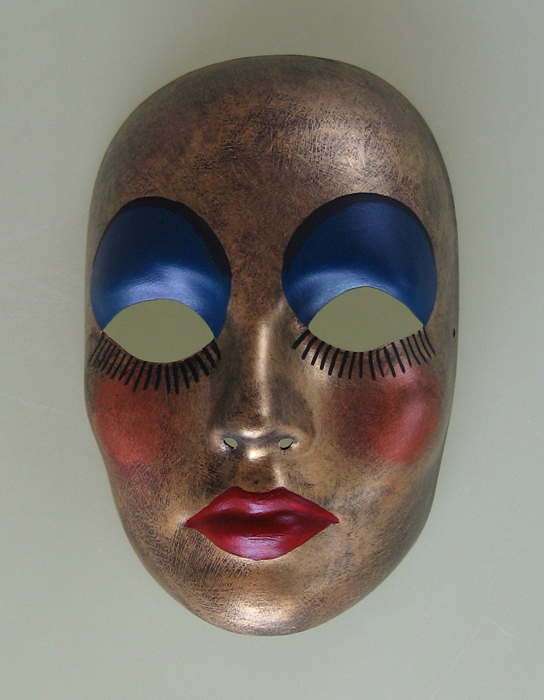 Nelli – Acrylic on Primed Plastic Mask – Completed 3-2-11
I first painted Nelli with black gesso. I then lightly brushed Iridescent Copper over her entire surface, allowing the black gesso to show through in many areas. As I had done with Fenix, I had to let Nelli sit a few days before I came up with an idea for her imagery. The inspiration finally came in a roundabout way. When working in my studio I have my music playing and my TV turned to Turner Classic Movies with the volume down. The artistry of those old movies is a good place for me to rest my eyes when I look up from what I'm working on. Last night while creating the other two masks I looked up to see Liza Minelli in "Cabaret". Her eye make-up in one of the scenes inspired me to get started on this one. As a tip-of-the-hat to that inspiration I titled Nelli accordingly. When I finished and stepped back I realized I could have tipped my hat to Geena Davis as well. Those lips look a lot like hers, don't you think?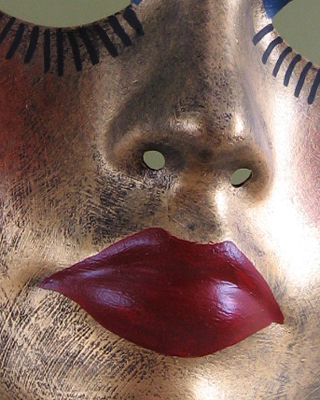 Wow, was this fun! I can't wait to get into the studio for some more.
FYI, all three of these will be with me at First Friday this week and will be for sale. If any of my online friends are interested in purchasing one of them please let me know before Friday evening.
Fia – $45
Fenix – $40
Nelli – $55
Happy Creating!
My mask experiments continue with the following two additions…
I started the first one by once again using the 3D paint I had experimented with on an earlier mask. I wanted to 'take it up a notch', so I really included a lot of swirls and spirals all tightly woven together. It took 3 sessions of using the 3D paint to get to the depth I desired. Over the 3D sections I used two different shades of metallic copper paint and one of metallic gold. The rest of the mask is painted a light pinkish-orange – which is a mix of one of the coppers, the gold, and titanium white.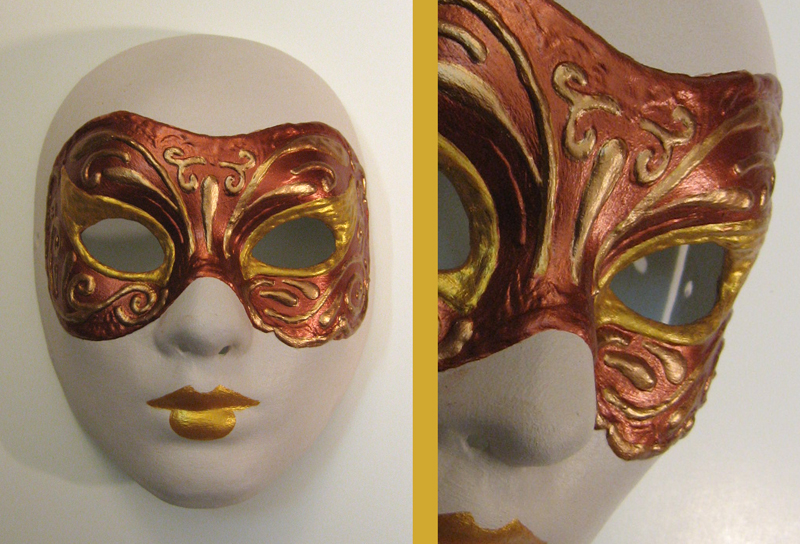 Coquette – Acrylic on paper mache mask – ©2011, Don Michael, Jr.
The following mask was one I created as a model when I painted End of Days to be used as the book cover for The Summoning Fire, by David Michael. I had hacked at the mask with a serrated knife to give it a gritty texture and to create the scar across the eye. I had then forced an antique copper paint mixture down into the texture followed by lightly brushing silver across the top. That worked perfectly for my model. Yesterday I got it back out and decided to smudge Carbon Black paint all around the edges. I then gently brushed some Naphthol Crimson down into the scar. The name of this mask is the name of the protagonist in The Summoning Fire.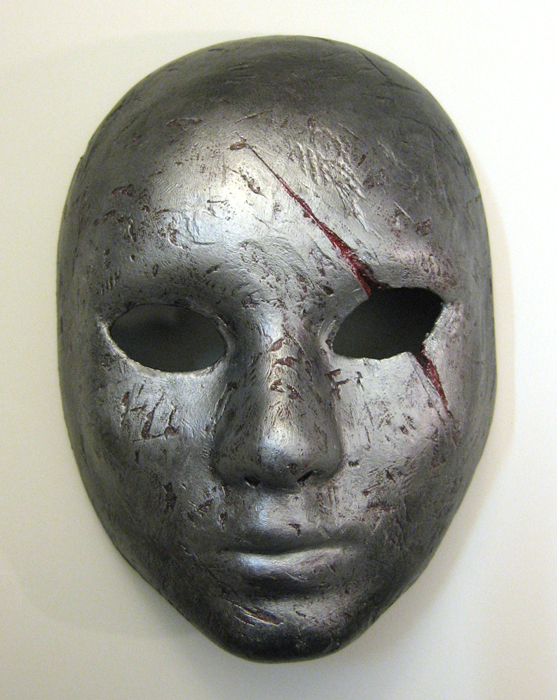 Reese – Acrylic on paper mache mask – ©2011, Don Michael, Jr.
I have now completed 6 masks that I will be using as subject matter in future paintings. I am in the process of photographing them ad nauseam and will probably have over 100 shots of each before I'm done. Since I won't need them after photographing them I have decided to offer them for sale at March's First Friday Art Festival here in Las Vegas. I thought I'd give my blogging friends an opportunity to acquire them beforehand if they so desire. Below is a photo of the collection with their respective prices listed below them. (For this project I will cover shipping.)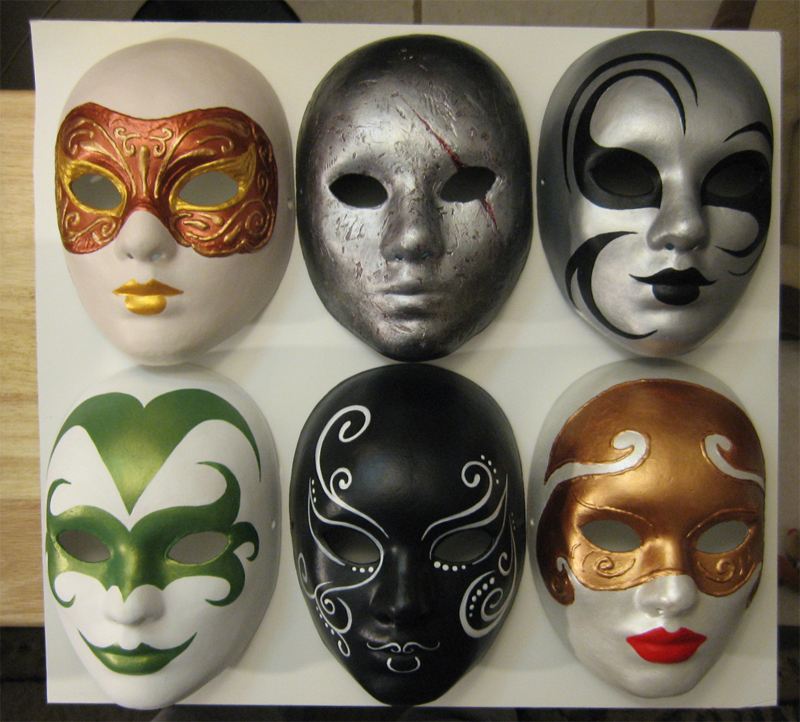 Clockwise from top left: Coquette – $45; Reese – SOLD; Swoops – $40;
Chary – $30; Swirls – SOLD; Harlie – $30
If anyone is interested in any of these feel free to email me at: don@donmichaeljr.com.
Now it's time to get back to the easel.
Happy Creating!
Addendum:
Since two of the masks sold today I thought I'd reshoot those that remain: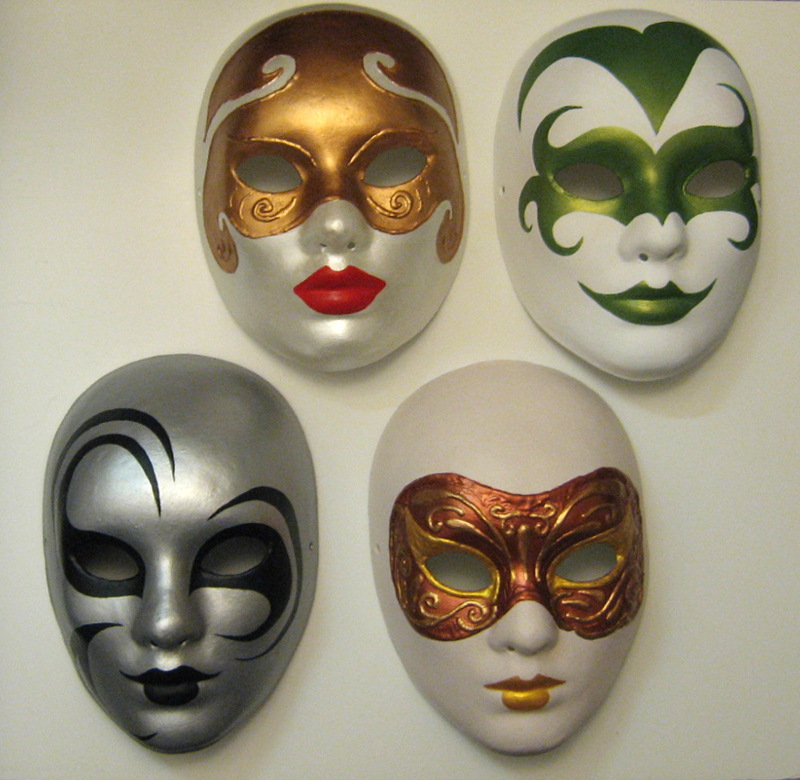 Top L-R: Chary – $30; Harlie – $30
Bottom L-R: Swoops – $40; Coquette – $45
I sincerely appreciate everyone's wonderful feedback. There will be more of these coming in the future. Regrettably, I've run through my inventory of blank masks and with Mardi Gras nearing all of my vendors have sold out of this particular style. I guess that's a sign that it's time to experiment with other styles. Stay tuned…
As I continue experimenting with painting and decorating my own masks to be used for future subject matter I decided it was time to go totally black and white with one of them. There is still a little more work that I'll put into this one, but I'm really excited about how it's coming along.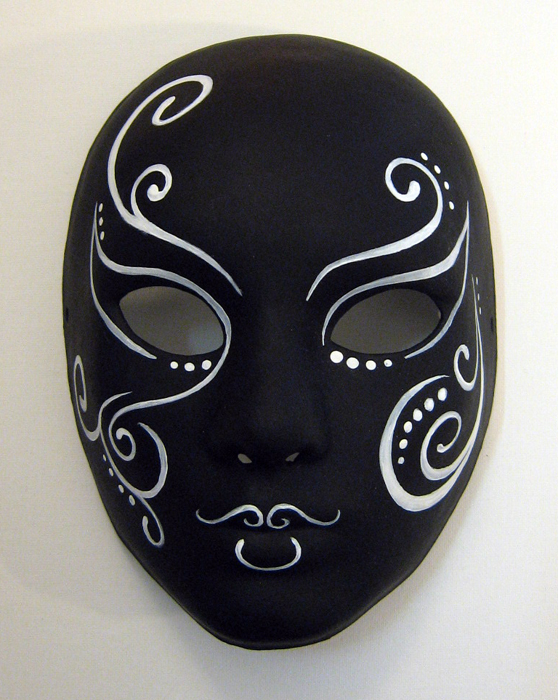 ©2011, Don Michael, Jr.
As I was working on this mask, I started thinking about how much I've always enjoyed working with strong black & white designs. This was really evident back in my college days when I worked with relief printing. I created several editions over the years, but they are all in storage right now. Thankfully, I have some old slides of one series I did. Even though the slides clip a little of their compositions, I thought I'd share them anyway…
In the Fall of 1993 I decided to create a series of editions inspired from the Bible. I wanted the imagery to be as intense as the contrast between the black & white. I started with the scripture from I Peter 5:8 which reads, "Be wary, be vigilant; because your adversary the devil, as a roaring lion, walketh about, seeking whom he may devour." (KJV)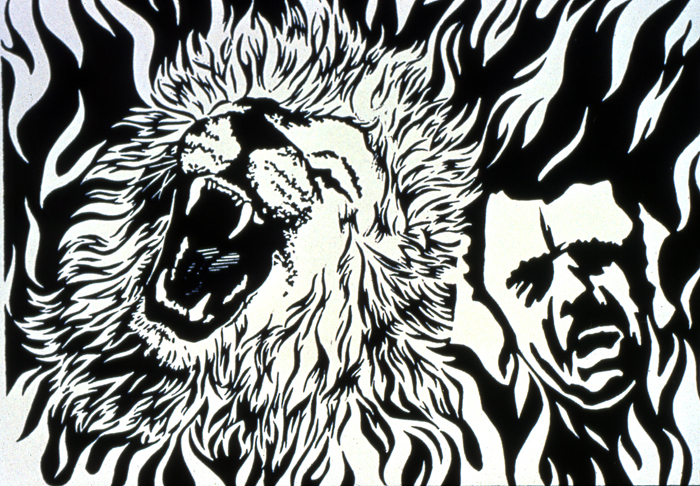 Your Adversary As a Roaring Lion – Relief Print Edition on Paper
©1993, Don Michael, Jr.
I liked the intensity of the final product, but was a bit disappointed with my transitions from the mane to flames and how they related to the man. I addressed those issues in the next edition which also was based on that same scripture.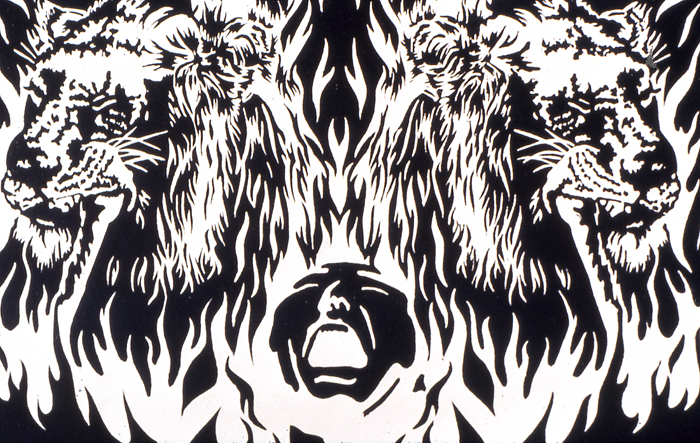 Your Adversary Seeking to Devour – Relief Print Edition on Paper
©1993, Don Michael,  Jr.
Being an eternal optimist, and a strong believer in grace, I decided I wanted to end the series on a positive note. For this one I went to Daniel 6:22 which reads in part, "My God hath sent His angel, and hath shut the lions' mouths that they may not hurt me…'". (KJV)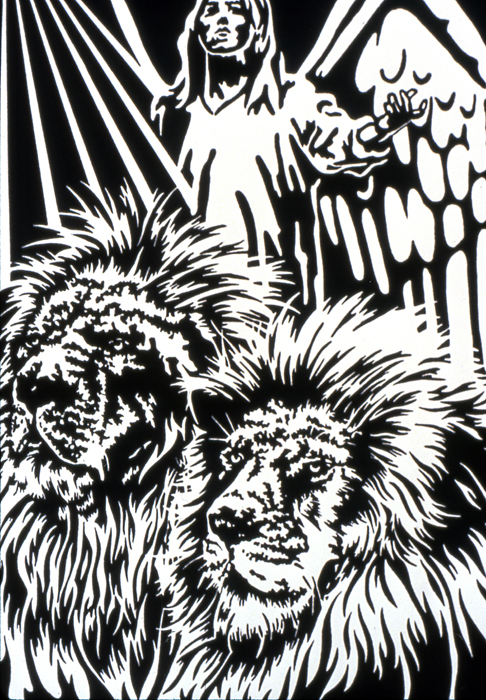 The Lord Sent His Angel to Shut the Lions' Mouths – Relief Edition on Paper
©1993, Don Michael, Jr.
(This print suffers the most from the cropping of the slide. There is almost 1/4″ of composition missing on the top and left side.)
During my years as a graphic designer and art director in television I continued to use this strong visual element in everything I did. Every single logo that I created started out in black & white. Every time I started working on a new graphics package I would create the basic elements in black & white first. I always felt that if it could work as a black & white design it would work once color was added. Sometimes it was difficult to add color once my design was ready but people paid good money for their color TV's…
OK, my little tangent is over now. It's time for me to get some colors squeezed out onto a palette and start globbing and schmeering them onto a canvas. But, first I'm going to have to step over this mess…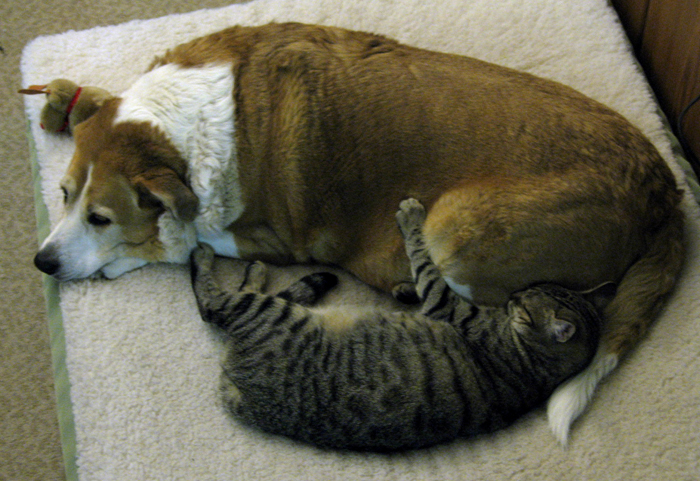 Lucy (9 years old) & Franz Marc (8 months old) in Don's studio
Happy Creating!
Yesterday I decided it was time to create some new masks to paint from. I thought about some of my favorite masks and what it was about them that I enjoyed. Then, with no real plan I just started painting some swoops and swirls on a couple of blank paper mache' masks I had laying around.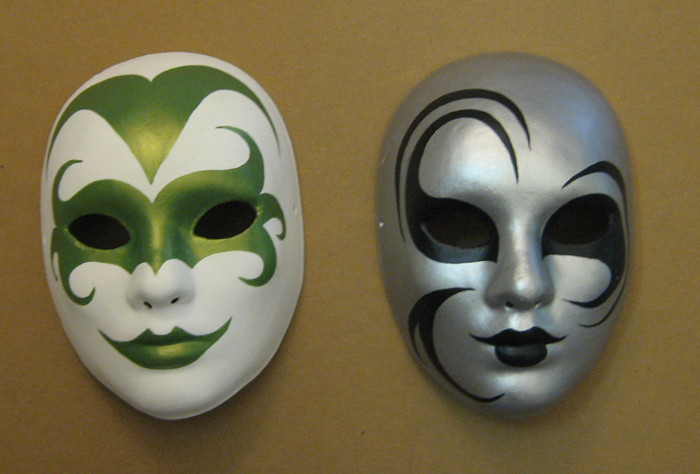 ©2011, Don Michael, Jr.
I had painted the one on the right silver a while back and then used it to work from when painting End of Days and Fearless. I thought just black for its swoops and swirls would work well and I'm happy with the results.
The one on the left is still a work-in-progress. I like the metallic green against the white mask, but think that adding some deep red elements to it would take it to a much better place. Now I've just got to get the nerve up to go for it…
Meanwhile, I took them outside to enjoy a little mid-morning sun. I think they really enjoyed the fresh air. I know I did…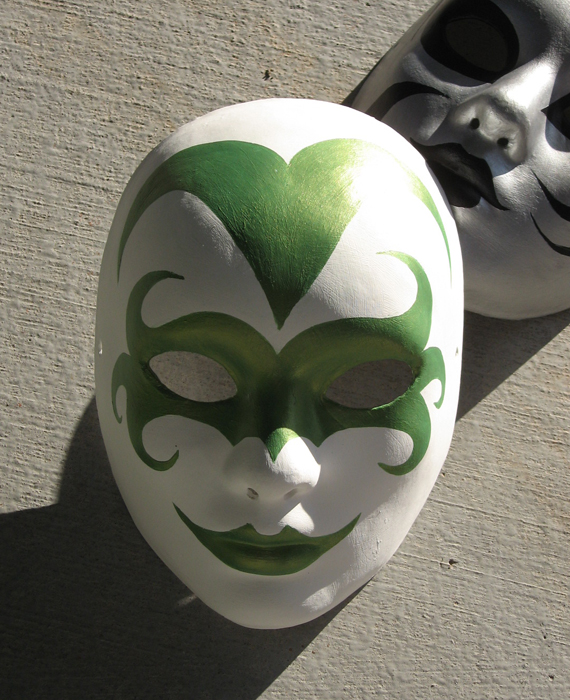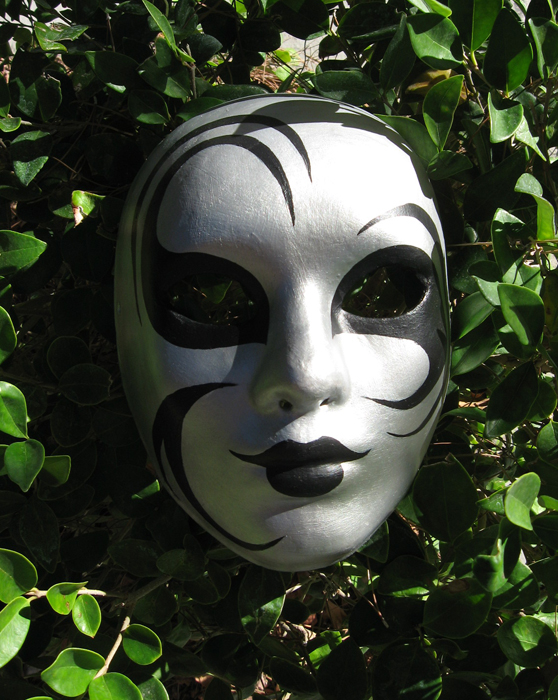 ©2011, Don Michael, Jr.
While ideas stew for how I'll end up using these in future works it's time for me to get back to the easel. Break's over…
Happy Creating!
After many months of preparation the big night finally arrived. Un-Masking the Mind was held last night in the Stan Fulton building on UNLV's campus. Masks created by several different artists – with many having been autographed by celebrities – were auctioned off to benefit the Innovations International Charter School of Nevada. Here you can see all the masks lined up waiting for their turns on the auction block.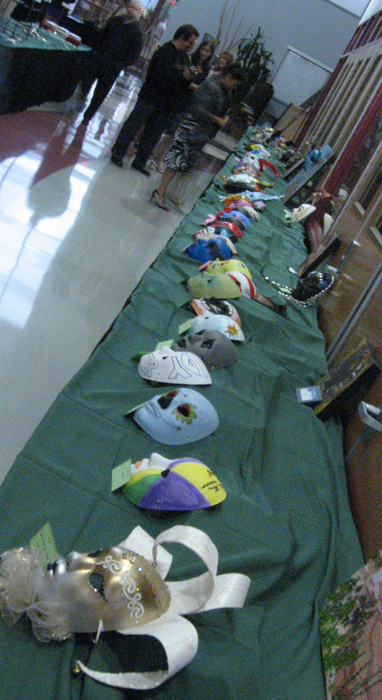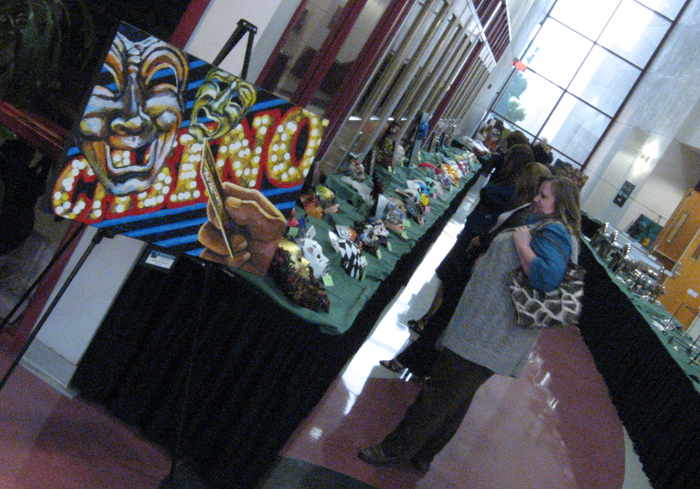 Below is a closer view showing three of the four I created for the event. Gathered around mine are some of the masks created by local artist friends of mine, including Niki J. Sands, Alex Huerta, Maria VanderMolen, and Eric Belanger.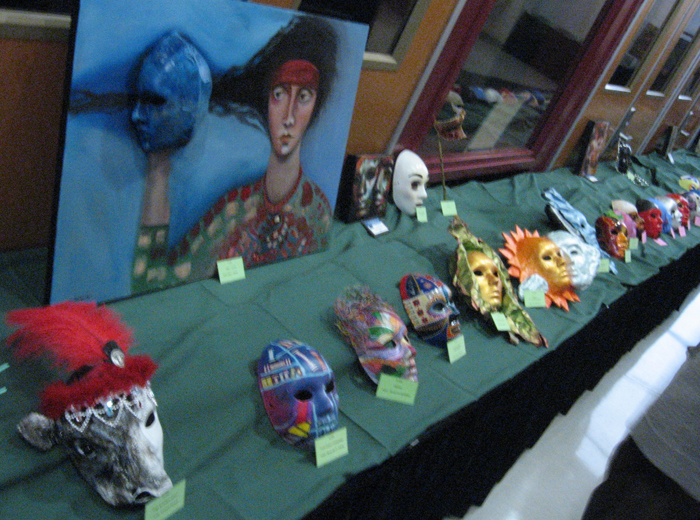 Interspersed throughout the venue you could see mask paintings created by yours truly. Here are a few of them near the entry area…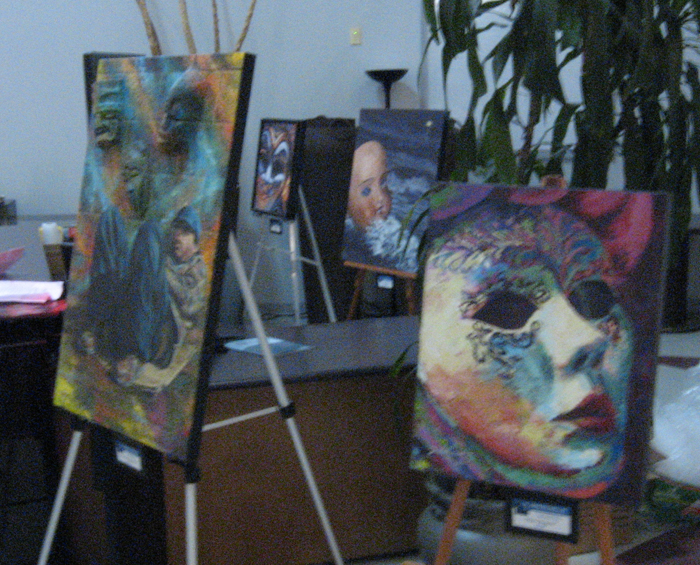 …and here are a few further back in the hall.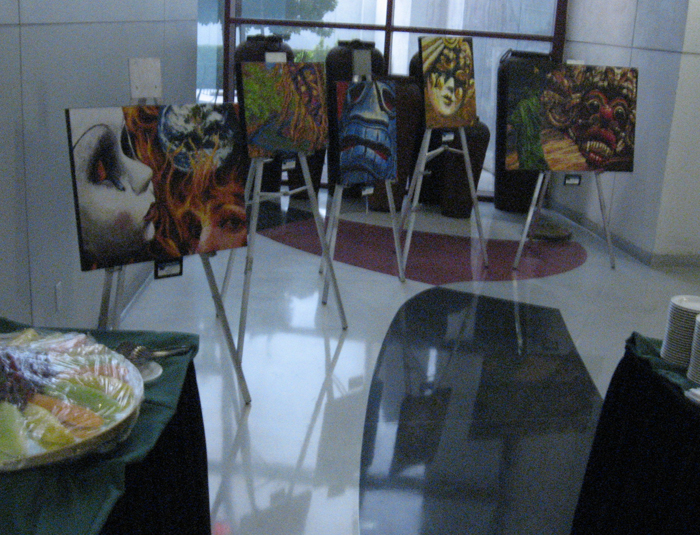 A nice surprise was sprung upon us at the last minute. Antonio Fargas volunteered to MC the event for us. Most people of my generation will remember him as Huggy Bear on the TV series "Starsky & Hutch". Younger folks will know him as Doc from the TV series "Everybody Hates Chris". Mr. Fargas added a lot of fun to the event and even donated a few items of memorabilia which were auctioned off, as well. Below you can see us having a moment together after the event was over.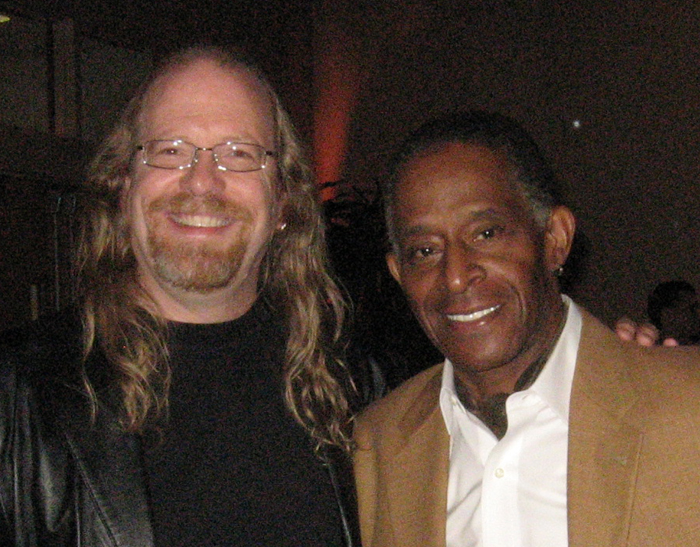 If I look pretty proud, it was for a good reason. Mr. Fargas was actually congratulating me on the success of the mask I created which was autographed by Jay Leno. It garnered the largest sum of money for the school after a long and entertaining bidding war. Below you can see it awaiting its turn earlier in the evening.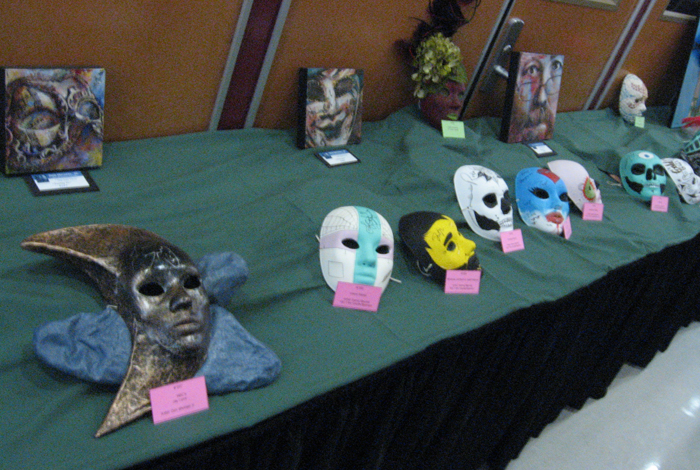 I'm proud to say that the four masks I created garnered a total of $955 for the school. It's a good feeling to know that this money will be helping to buy books and supplies to be used in teaching the inner-city youth of Las Vegas.
Now it's time for me to get my studio back in order and get busy painting.
Happy Creating!
I mentioned a couple of days ago that I had created 4 masks for the charity auction called Un-masking the Mind. At that time I had only blogged about 3 of them since I was saving this last one as a surprise for my friend who would be autographing it.
Last night I had dinner with this lovely lady who happens to be one of the news anchors for the 11pm newscast at a local TV affiliate here in Las Vegas. We had worked together a few years ago and it was a nice treat to spend time together after a few years of traveling separate paths.
One of the things about this lady that has always impressed me is she competes in triathlons. So, I decided that the mask we were donating together should reflect this impressive fete of endurance which has been a major part of her life. Thankfully, she fell in love with the mask right away and immediately recognized it for what it represented. She also really liked the title I had chosen for it. (Be sure to click on the image to get a larger view.)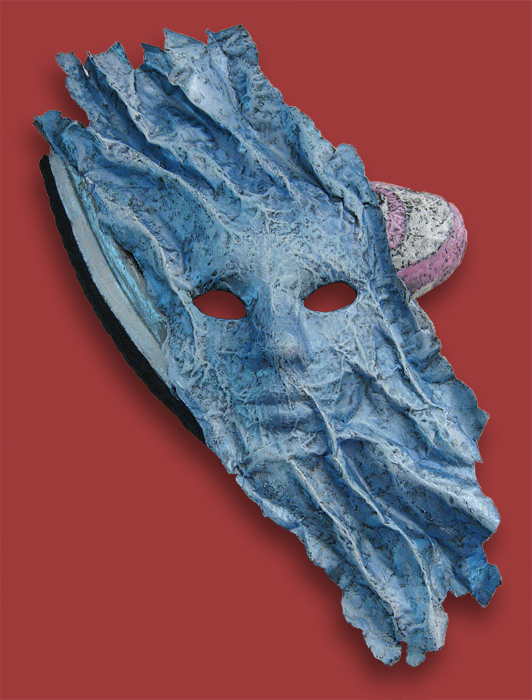 Endure – 19″x12.5″x4″ – Paper mache' – Completed 6-23-10
©2010, Don Michael, Jr.
Now, a little something about this mask's creation. I didn't take very many photos during the process, but was able to piece something together from the few I have.
A conversation with my friend, CJ, triggered a tangent for which I am eternally grateful. She mentioned that maybe I could include textures relating to some of the elements from the triathlon. (A triathlon is a sporting event which consists of bicycling, swimming and running.) Well, that got me started on a few experiments which started feeling "right" to me. Below, you can see that I've created quite a mess on my table which seems to happen when I'm experimenting. I've got a paper mache'd piece of a bike tire, a running shoe tread, and now the mask…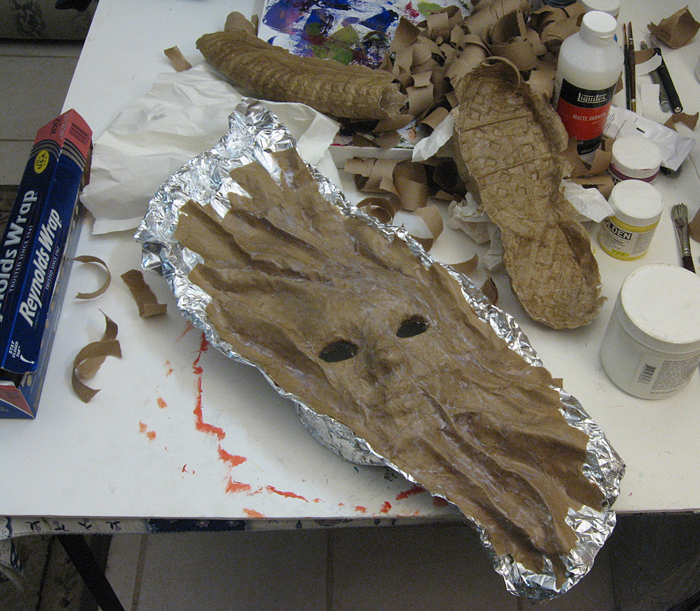 Well, I decided that the running shoe tread was not going to work for me, so I back-tracked a bit (pun intended) and paper mache'd the front part of a ladies running shoe instead. Below you can see the pieces laying together awaiting their final compositional placement…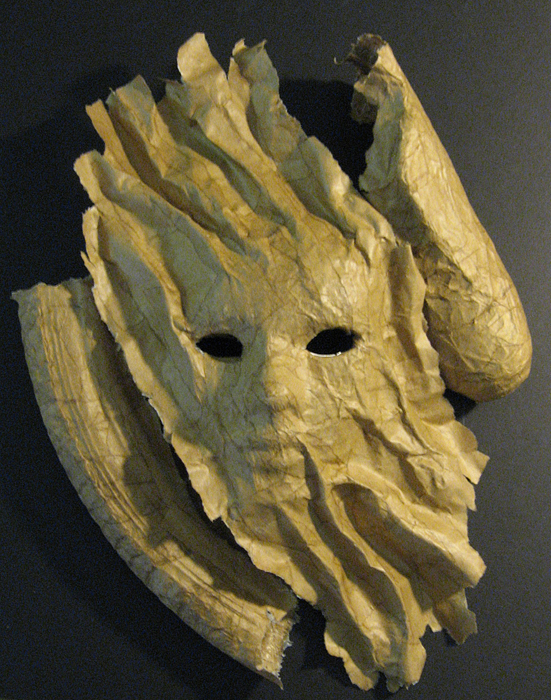 ..and, here they are linked together awaiting some color.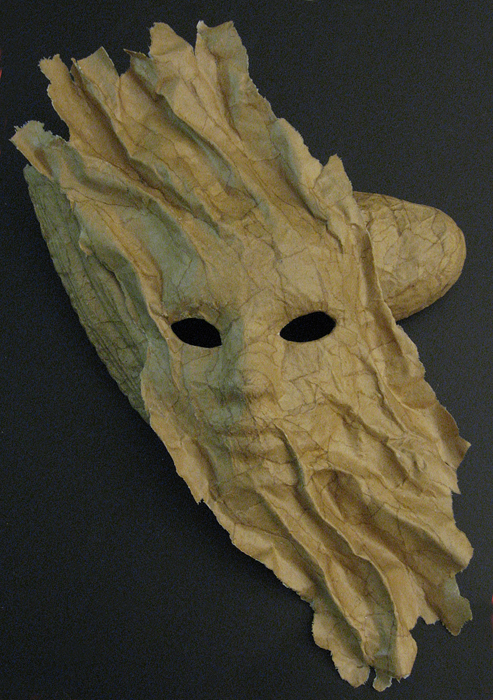 I started by painting the entire thing with a coat of black gesso. I then lightly brushed on color to emphasize the textures of all the elements. At this point I was adding the final touches to the shoe element.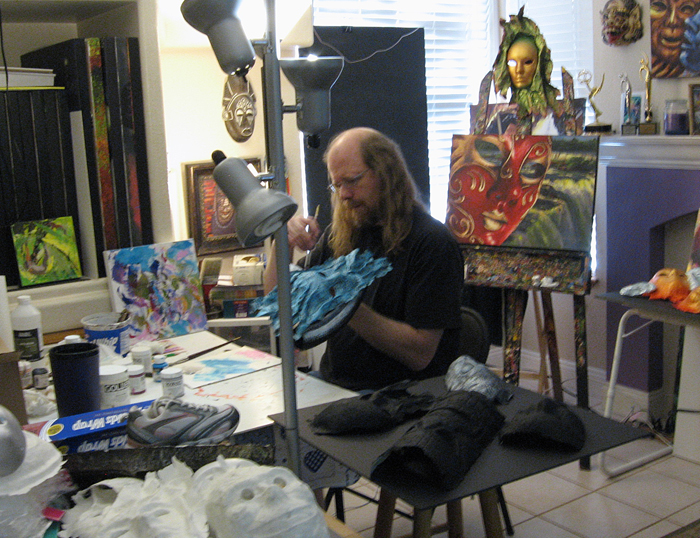 Here I am with the lovely Ms. Nina Radetich after a wonderful dinner during which she autographed the mask. If you look really close, you can see that we decided to have her sign it on the white wall of the tire.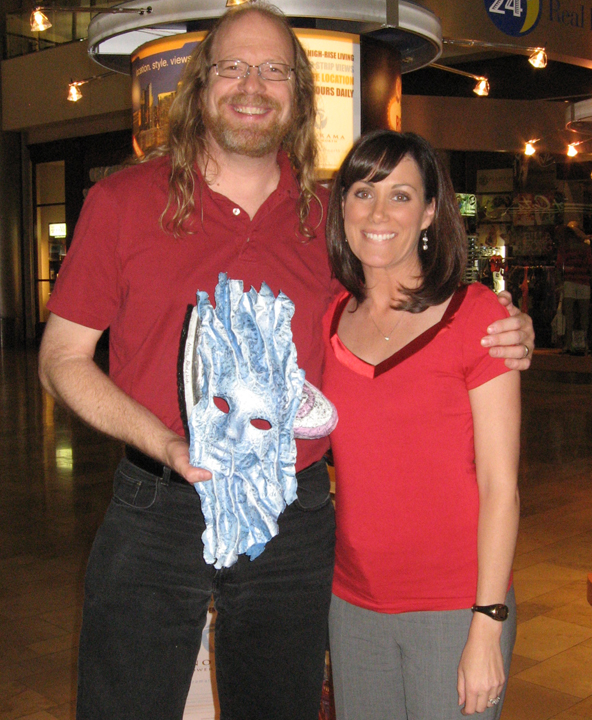 I anticipate that this will be the last mask I create for this year's Un-masking the Mind event which will occur in late October. As fun and rewarding as it has been, I'm ready to focus entirely on my work for a while. I leave you now with the 4 masks that I created for this event…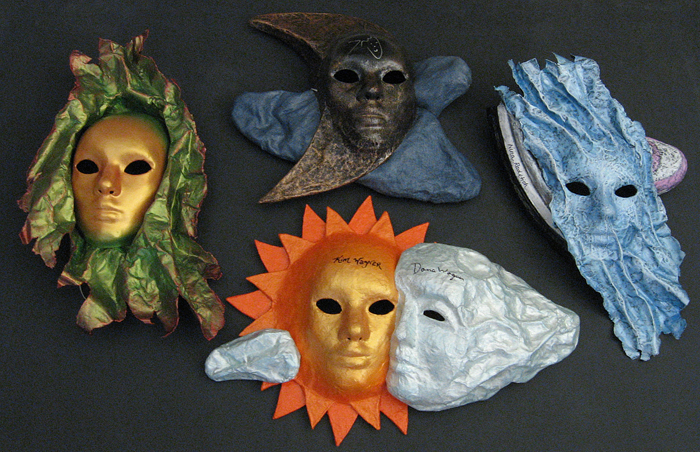 Clockwise from left: Persephone Returns – autographed by the artist, Lunar Leno – autographed by Jay Leno, Endure – autographed by Nina Radetich, Wake Up – autographed by Kim and Dana Wagner
Happy Creating!
So far this year I have created four masks which will be auctioned off for charity in October. (Details on the charity event can be found here.) Well, with all the fun I'd had creating these masks, I decided it was time to create one more – this time for ME.
As I was creating this one I was thinking about the legend of the Phoenix which rises from the ashes of its own conflagration. I couldn't help but associate that with my own situation. (2009 sucked. 2010 is the Year of the Don. 'Nuff said.) This, coupled with the materials used in creating this mask led to the title, Rags to Riches.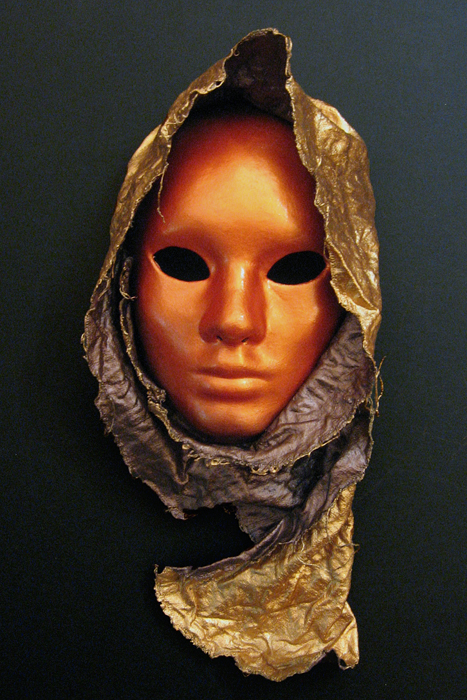 Rags to Riches – 16″x7″x4″ – Paper mache', linen, acrylic paint –  7-5-10
©2010, Don Michael, Jr.
This one started out as a blank paper mache' mask and an old scrap piece of linen, (left over from my painting, Kangaroo Court, completed in 1995).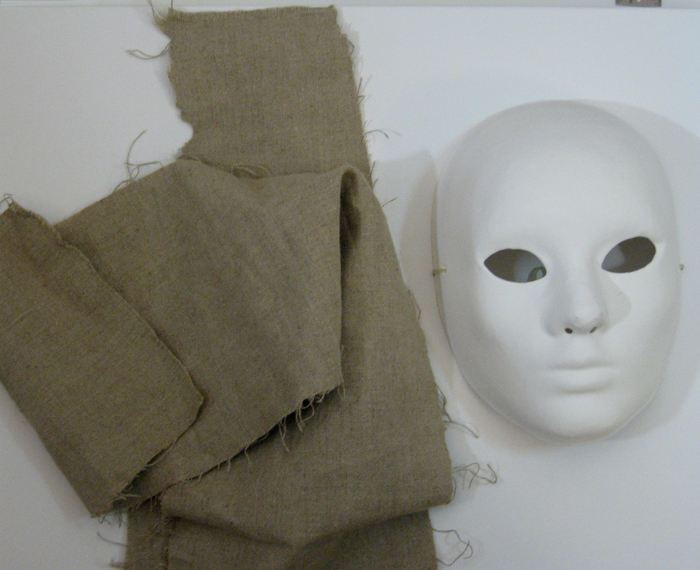 I experimented for a while figuring out how I wanted the linen and mask to relate to each other until I found a nice flowing composition. I decided this worked nicely, but was too smooth and neat…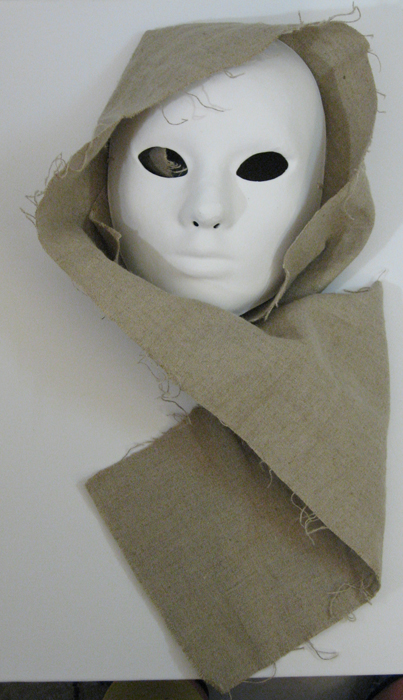 …so I ran the linen under hot water to make it shrink and wrinkle and then re-wrapped it around the mask.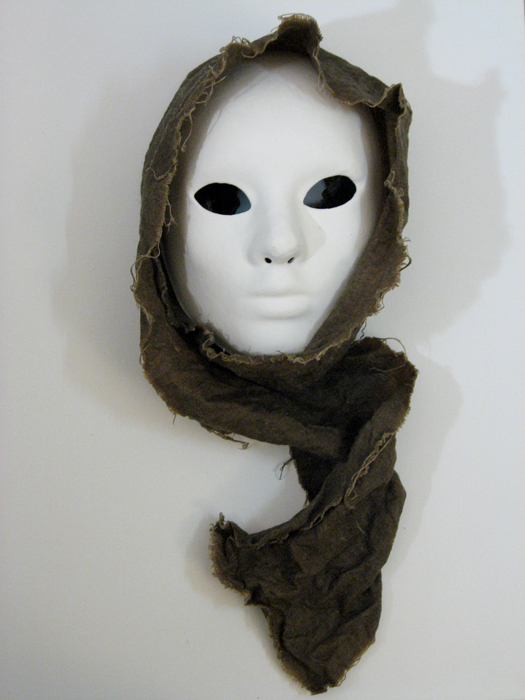 After that dried, I then painted acrylic matte medium all over the linen to stiffen it up so it would maintain its shape. You can see I tweaked the folds and draping a bit during this step.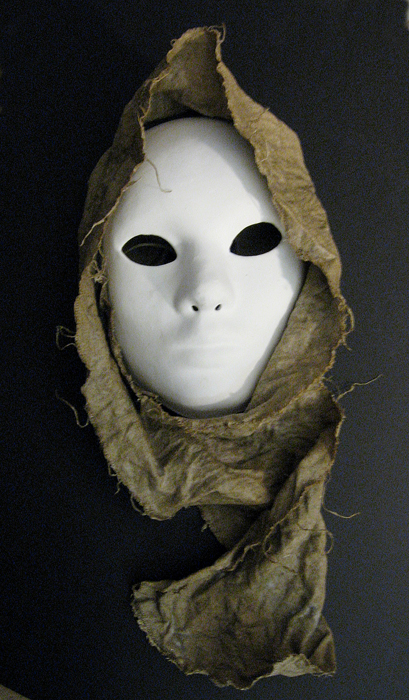 Then it was time to paint. Using Golden's Iridescent Brilliant Gold and Napthol Medium Red I mixed up a red for the mask. I then added Iridescent Copper and Raw Umber to the mix to create the dark areas in the drapery.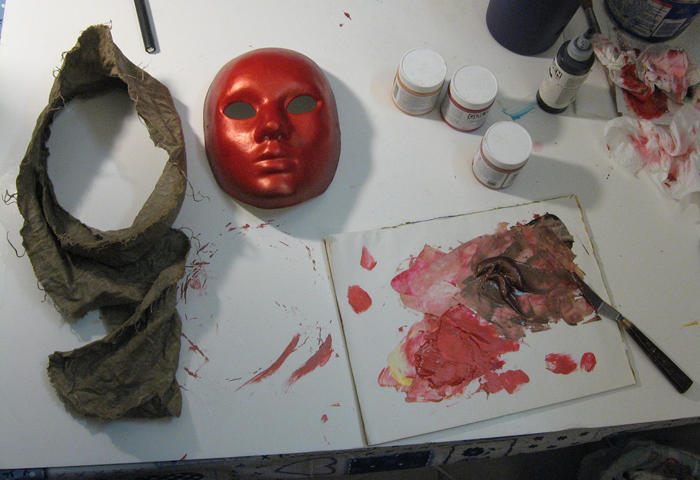 For the lighter areas of the drapery I used the Iridescent Copper right out of the jar. Also, I decided the red was too rich on the mask, so I added more Gold to the mix.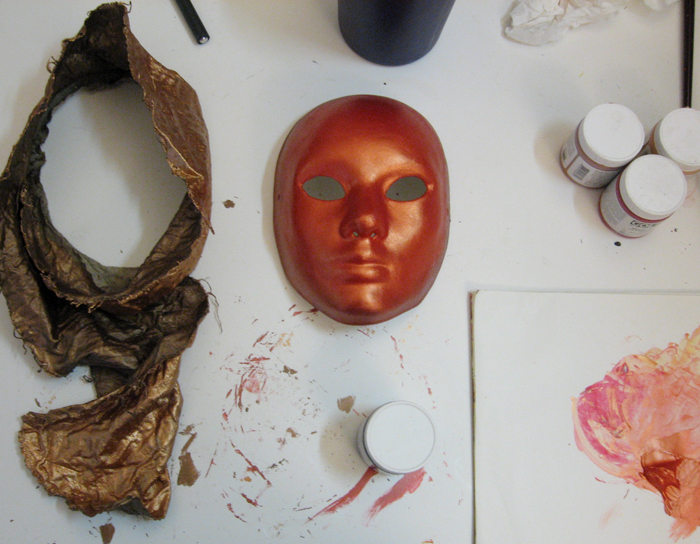 Once all the paint was dried I attached the mask to the linen using torn strips of brown wrapping paper and acrylic medium. This was the most time-consuming step since I had to do it in phases.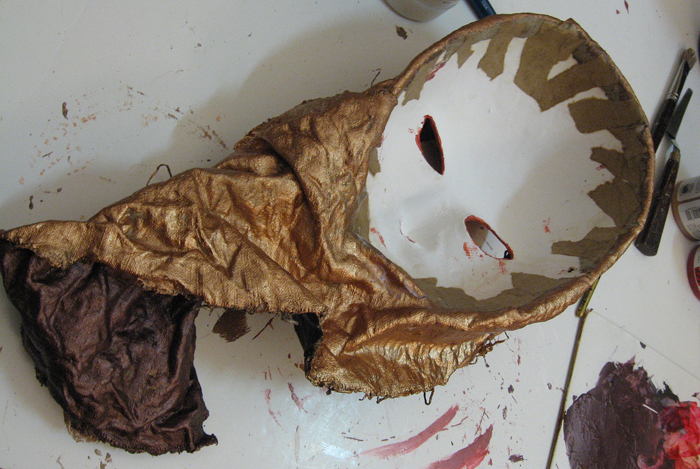 And here she is, ready to join the rest of my mask collection…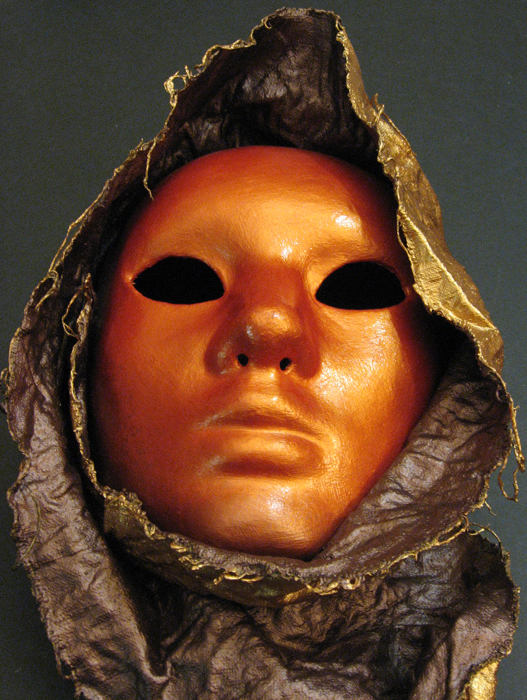 …to which she adds a nice bit of color.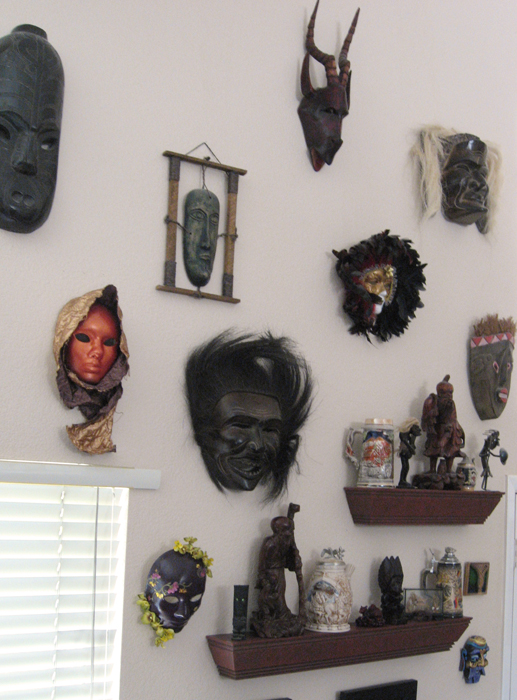 All images ©2010, Don Michael, Jr.
Well, my blogging friends, the promised video of me creating the recent mask for charity titled, Wake Up, is finally complete. If you haven't had enough of my talking face you can check it out by clicking on the photo below.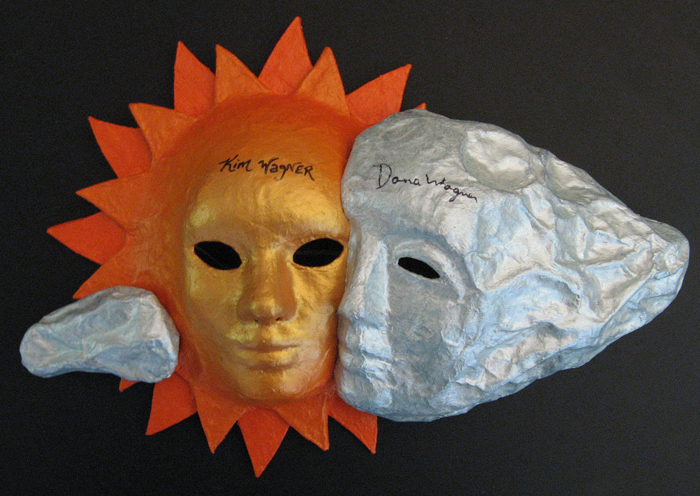 Wake Up – Paper Mache' Mask – ©2010, Don Michael, Jr.
I would like to thank my good friend, CJ Boisvert, of AlleyZoom Productions for all of her hard work and talented input. She not only shot and edited this piece, but the music you hear in the background came from her. She continually amazes me with her depth of talent. To top it all off, somehow she's able to make even ME look good and – I know this is hard to believe – sound like I know what I'm talking about. She MUST be a master magician, as well…
After a week of near silence in the land of the blogs, I have returned. My trusty Mac was sitting on a workbench for many days and was finally released to come home late yesterday afternoon. I then had the pleasure of re-installing every piece of software that I use. I still have some more work to do to get it back to 100%, but, like it or not, I'm baaaaa-aaaack…
I would now like to introduce you to one of my latest mask creations. This mask will be autographed by two friends of mine who happen to be the morning anchors at one of the local TV stations here in Las Vegas. Interestingly enough, they also happen to be married to each other. This mask will be donated to the Un-Masking the Mind Charity Auction coming up in late October. You can see more details about the charity here.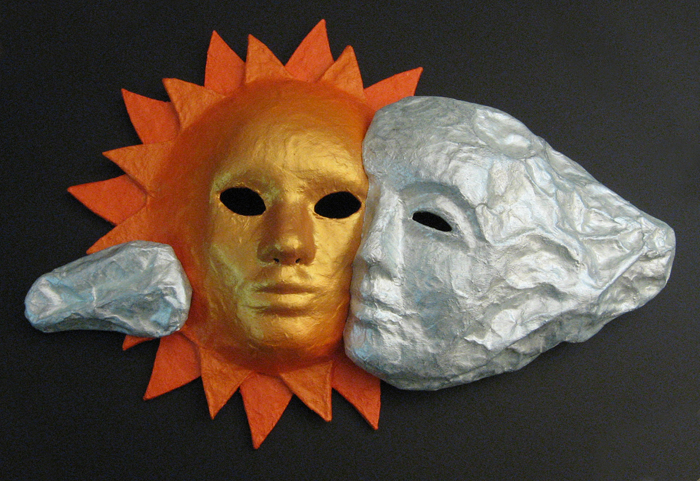 Wake Up – 14″x20″x4″ – Paper Mache' Mask – Completed 6-16-10
©2010, Don Michael, Jr.
With this couple anchoring a morning show, I felt the sun was an obvious choice of subject matter. Since they're married, I decided to challenge myself with the task of creating a "double" mask. I'd seen one double mask in the past which included a sun and a moon (in fact I did a painting of it called Eclipse). However, not being one to copy something outright, I thought I'd include some other element and thought that a cloud would be a perfect fit since the husband is also a meteorologist.
To create the sun, I built a mold using one of the blank masks wrapped in foil, a circle cut out of stiff cardboard and duct tape. (Is that MacGyver enough for you, Kathleen. :-P)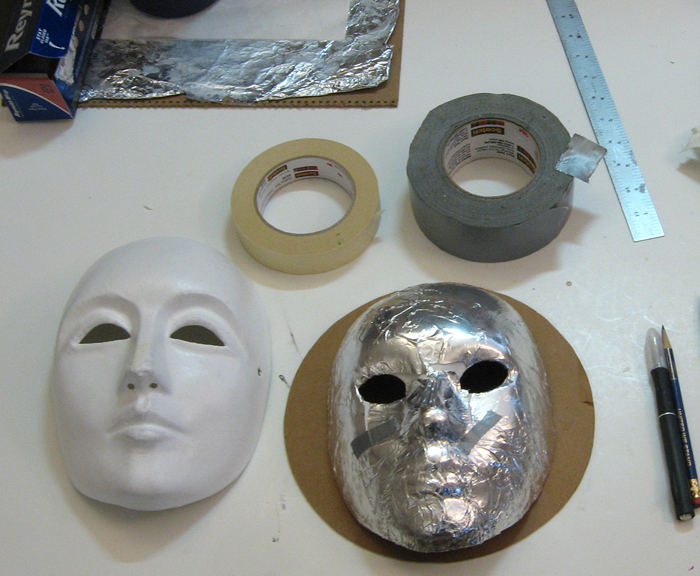 Tearing the duct tape into thin strips, I slowly worked my way around creating a 'blend' between the face of the mask and the circle.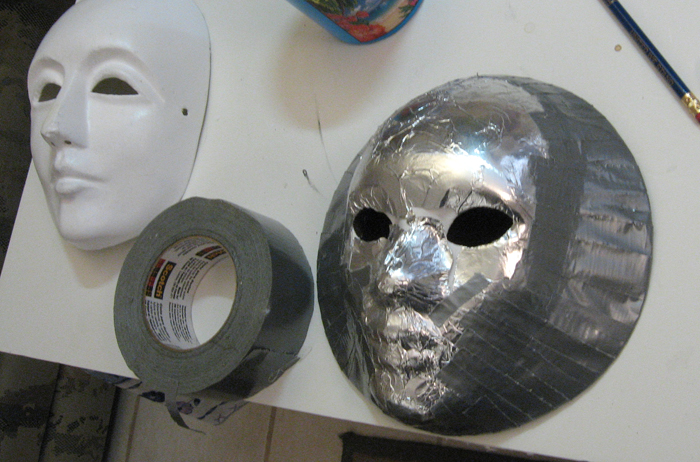 Before going too far, I used one of my scrap/test masks from an earlier project as a template to use later in creating the cloud to make it fit to the sun. Stay with me here, it'll make sense soon…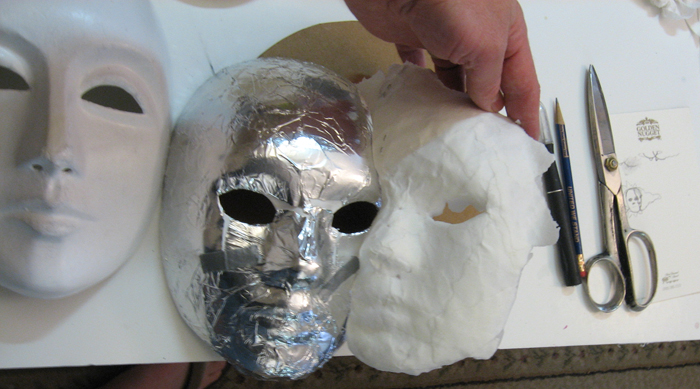 OK, back to the sun… Using foam board, I cut a form for the outer ring of 'rays'. I then cut individual 'rays' to be used for the inner ring. You can see them attached here and ready for the paper mache'ing to begin.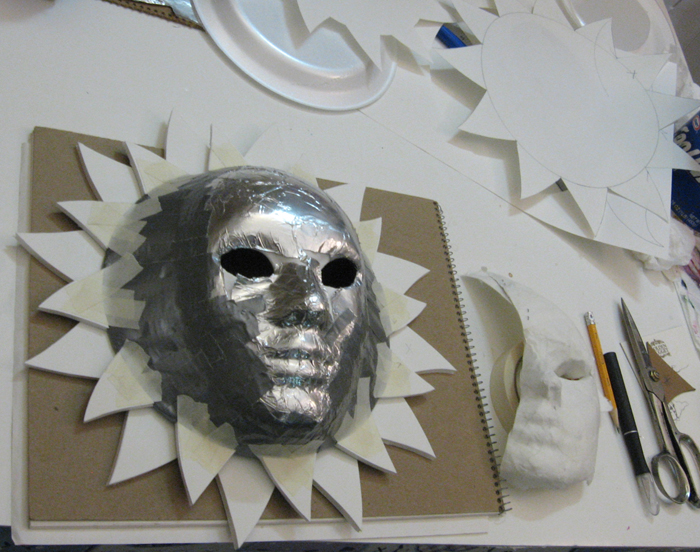 After wrapping the whole thing in foil, I started adhering torn strips of brown shipping/wrapping paper using acrylic medium.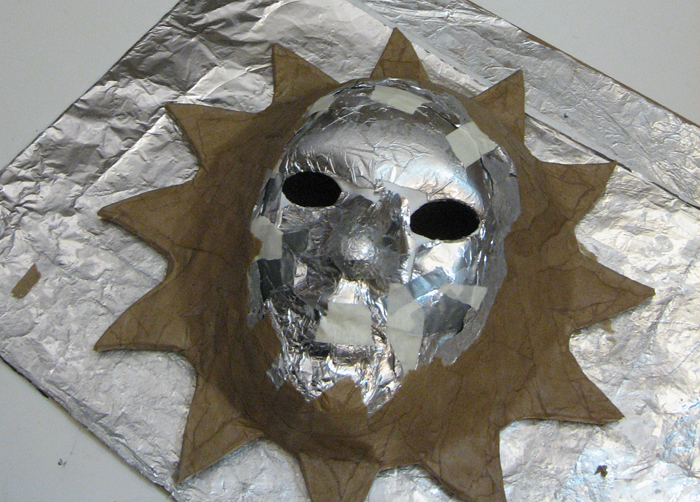 While the paper mache' was drying on the sun, I started prepping the mask for the cloud. You can see that I've wrapped it with foil and used my template created earlier to trace the edge with a blue Sharpie. I discovered in an earlier project that the blue line will transfer to the paper mache' making it easier to cut correctly later. (Remember everyone, live and learn…)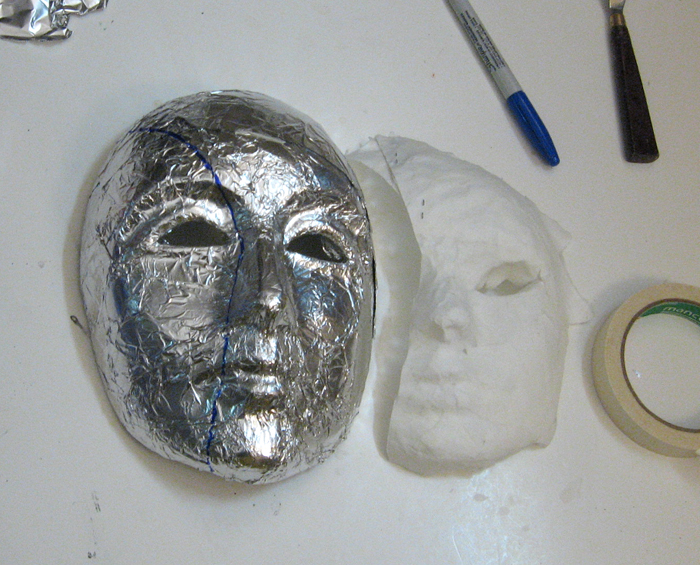 I decided to do two different masks for the cloud from which to choose my favorite later, and also give me a buffer in case I screwed one of them up. Here they are with one drying and the other already awaiting the next step.
Below you can see several things. 1) the rings of the sun mask are dry and ready to be adhered to the mask, 2) The two cloud masks are dried and one has been cut to shape, 3) I've created another mask using the sun mold for use later for testing my colors in the painting stages.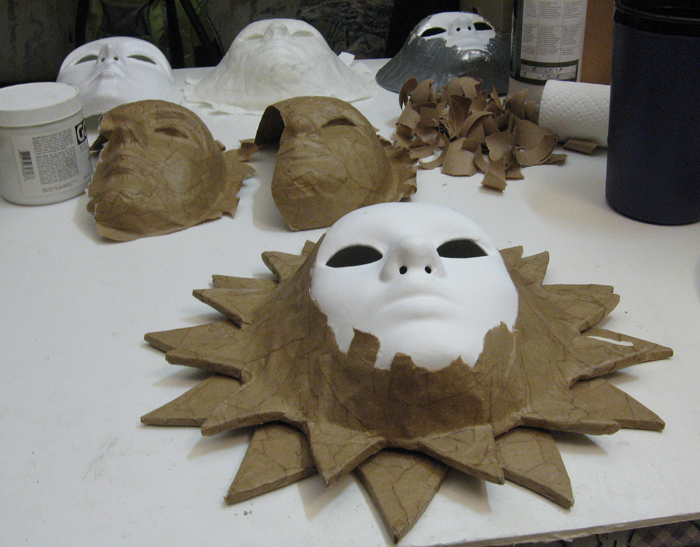 After I'd paper mache'd the sun mask and rings all together it was time to create the cloud. Using discarded packing paper, I created the shapes which I then wrapped with foil. To balance the composition, I decided I'd need a small cloud opposite the 'face' cloud. I also felt it would create a cool illusion of the sun 'peaking' through the clouds.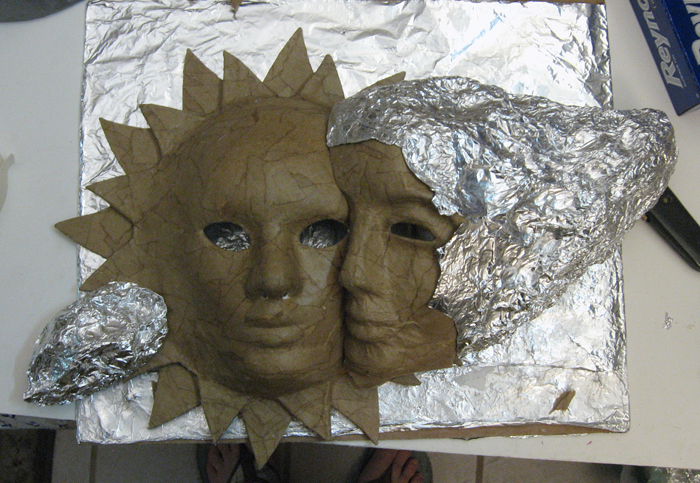 Here the cloud parts are paper mache'd and drying…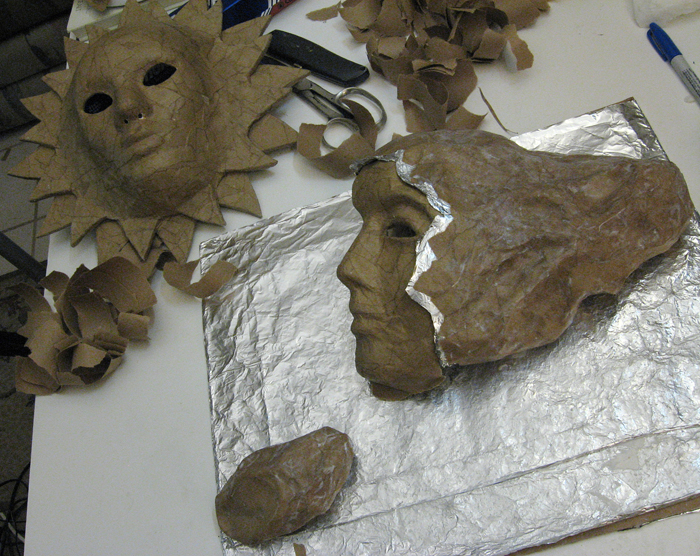 While they were drying, I started experimenting with my color choices for the sun using the test pieces I created for that very purpose.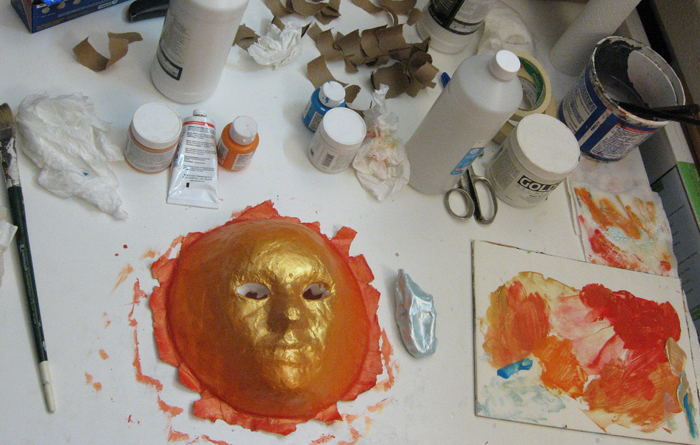 At this point, I'd attached the big cloud to its face and placed all the pieces together to make sure everything would fit the way I want. The sun and the two pieces of the cloud are still separate entities at this point to make painting them a little less challenging.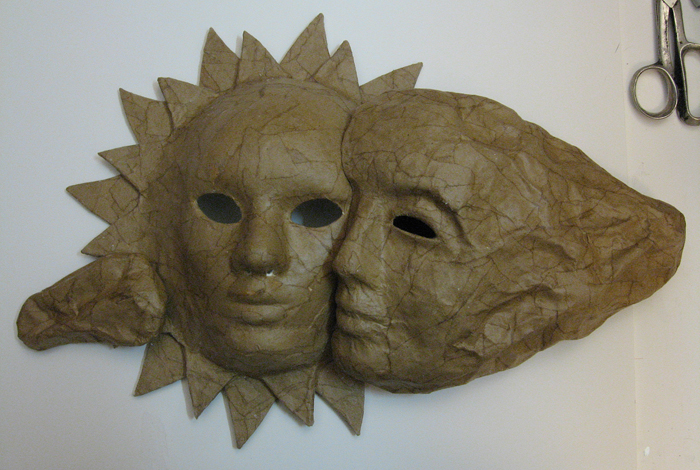 To make sure the colors would be bright I used white gesso on all the pieces…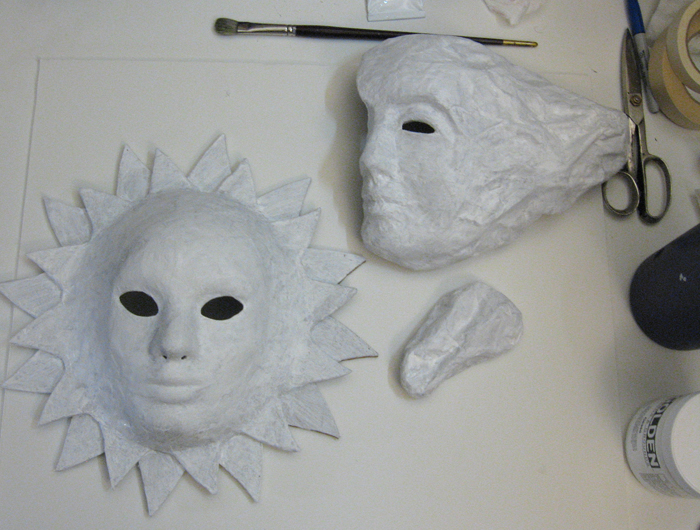 …and while the gesso dried, I took time out to paint Language of Love. When I was going through these photos I had to laugh out loud, because I hadn't payed attention to what was going on in the background. I guess Lucy has just become part of the furniture to me… figuratively and literally.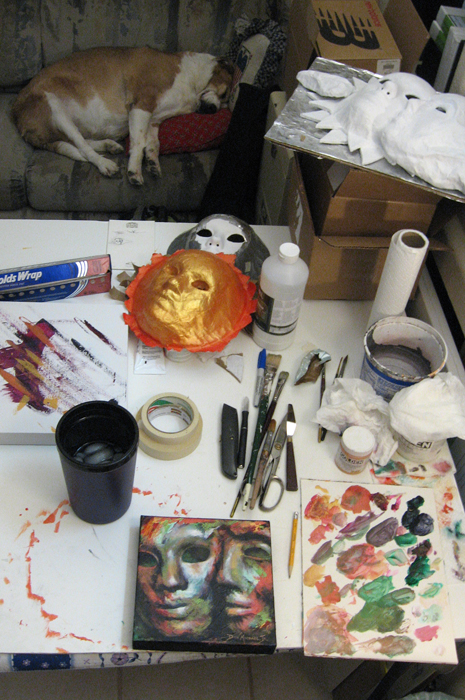 Here I've finished the sun and placed the clouds up to it. I realized at this point that I needed to do some more work on the clouds since they were too bright and there wasn't enough variation in the color.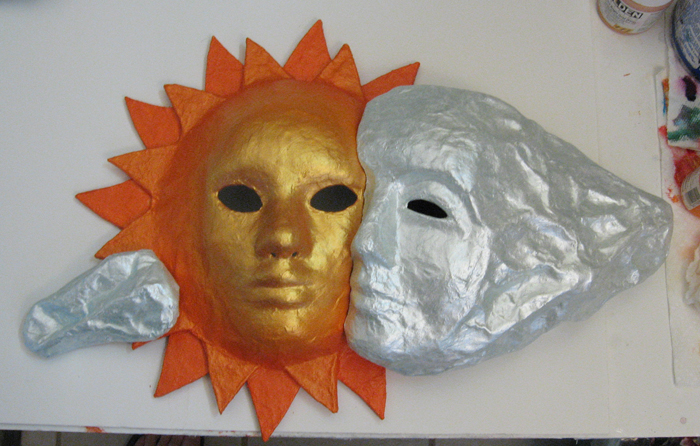 As soon as the paint dried it was time to start adhering all the pieces together. You can see that I had to cut off one of the 'rays' from each of the rings. My hand was too big to fit down in there otherwise.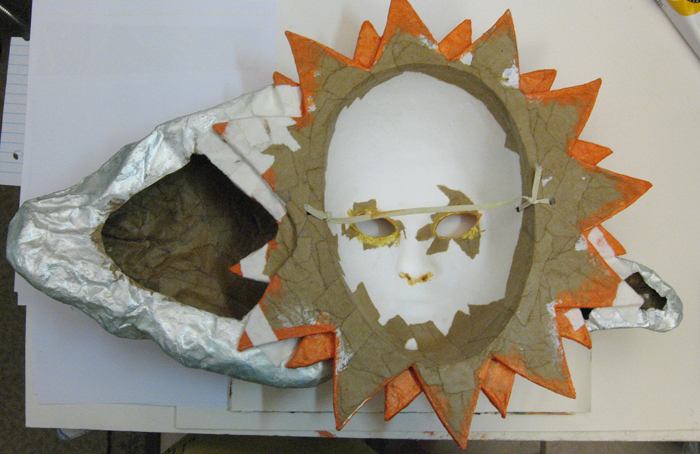 To finish it up I chose to paint the entire inside with white gesso. The little black rectangle you see on the table is the beginnings of what was to become Interlude.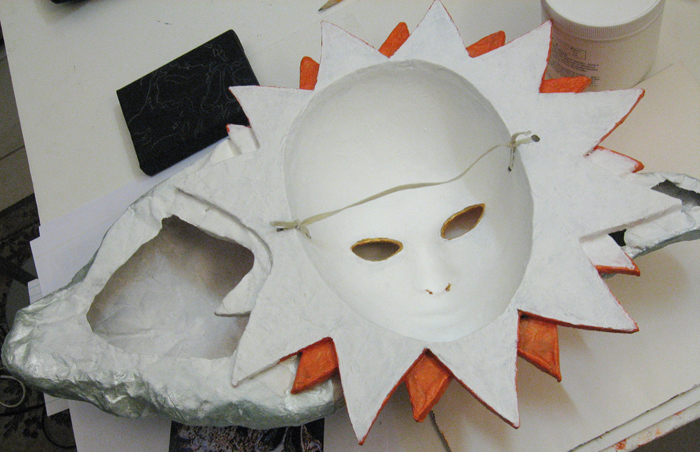 All I need now is a couple of signatures…
The whole time I was working on this project my friend CJ and I were putting it to tape. So, be watching for the video to appear sometime in the next few weeks. Meanwhile, my fingers are typed out for one night…
Happy Creating!
<< Previous Page - Next Page >>