I was recently approached by one of the ladies in my church to create a painting for her to give to her husband on his first Father's Day. Her husband is a good friend and is also one of the pastors in our church. I love that he has a HUGE heart for families – especially children. He had recently seen a painting titled, Love Over Time, by artist Hannah Jordan, and had fallen in love with it. To him it represented everything he wanted to be for his young son, and he's even been using it for the masthead on his Facebook page. Below is that painting…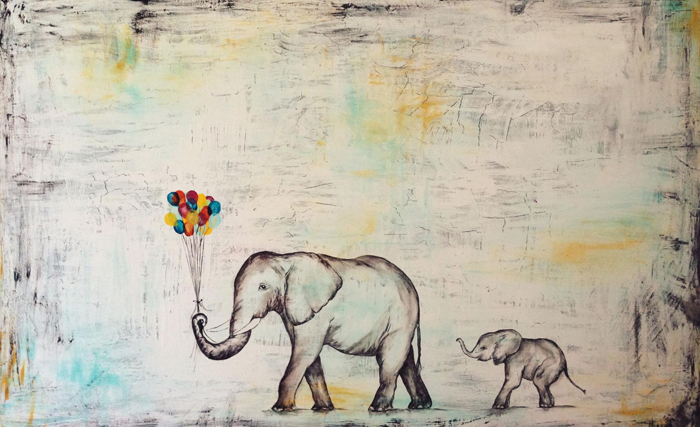 Love Over Time – by Artist Hannah Jordan
My client wanted me to create a painting very similar to Love Over Time for her gift to her husband, but in my style. You may think that this would make the process of creating my painting easier in that the concept was already fairly complete. However, this actually made the process quite difficult because I never want to copy another artist's work outright.
Knowing my friend's favorite colors I made sure that they were prevalent throughout the 'schmeerings' in the background. As for the elephants, I wanted the child to be copying Dad's stride, but opposite. As anyone with children knows, young minds are a sponge, and they try to emulate what they see mom and dad doing. The results are often not quite right, but are almost always adorable. I also wanted to show the energy of the young guy trying to keep up with Dad by having his tail bouncing behind him while Dad's tail is gently swaying. Below is what I came up with…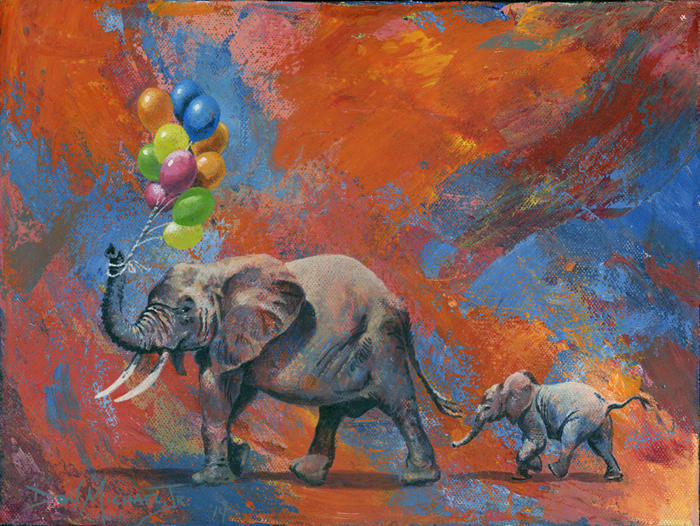 Lead By Example – 9″x12″ – Acrylic on canvas – Completed 5/21/14
©2014, Don Michael, Jr.
So, you may ask, why am I posting about this Father's Day gift two weeks before Father's Day? Funny you should ask… Some people just can't wait to share the gifts they have for their loved ones. So, this beautiful young family already has this painting hanging in their home. 🙂 Thank you, Martha, for letting me be a part of this fun gift… and, Happy early Father's Day, Jeremy!
To every one else I say…
Happy Creating!
If someone had told me just two years ago that I would one day be painting animal portraits I'd have laughed out loud. Not because I don't like animals, mind you, but because the idea had just not crossed my radar – at all.  Well, the laugh would have been on me, because I just completed my 4th dog portrait… And, I'm having fun doing it.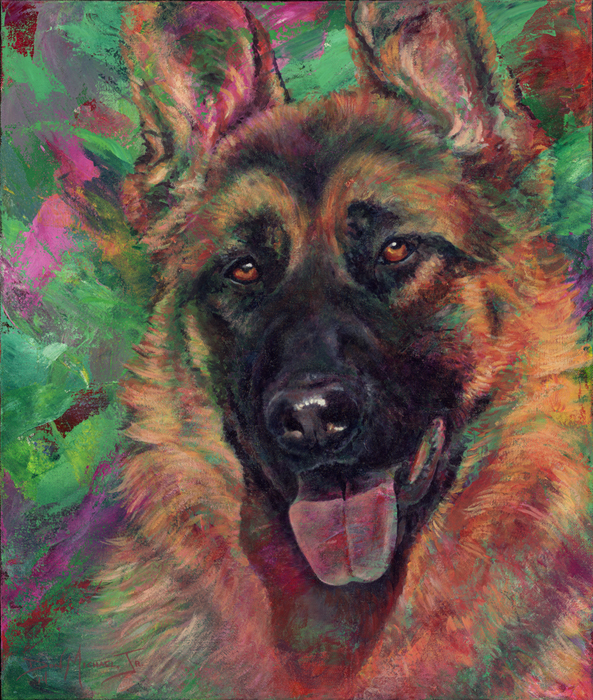 WindRidge's Love – 24″x20″ – Acrylic on canvas – Completed 5/31/14
©2014, Don Michael, Jr.
It is really a fun challenge to make these animal portraits work within the confines of the Over the Under-Schmeerings (OTUS) style of painting that I created a few years ago. Creating the illusion of the real colors of the animal while keeping many of the extraneous colors from the under-schmeerings is a very fun exercise. And, each animal has brought its own unique challenge to the process. Oh, how I love this thing I do!
I would like to thank WindRidge German Shepherds (www.windridgek9.com) for giving me such latitude in creating this portrait. Also, thanks for allowing me to post the daily progress of the painting process on Facebook. I had a lot of fun with it, and I'm really proud of how it turned out.
For those interested, here is how the painting progressed on a daily basis…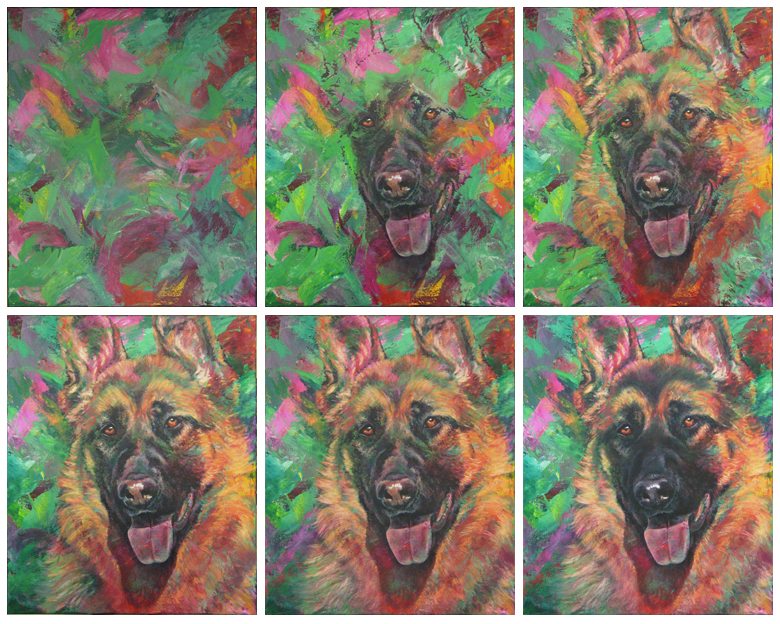 Happy Creating!
Over the past year-and-a-half I have painted several different wildcats – including tigers, ocelots, leopards, cheetahs, and lions – among others. Recently someone asked me why I didn't paint domestic cats. To be quite honest, I just hadn't really thought about it… but, in the infamous words of Barney Stinson of tv's How I Met Your Mother, "Challenge accepted!"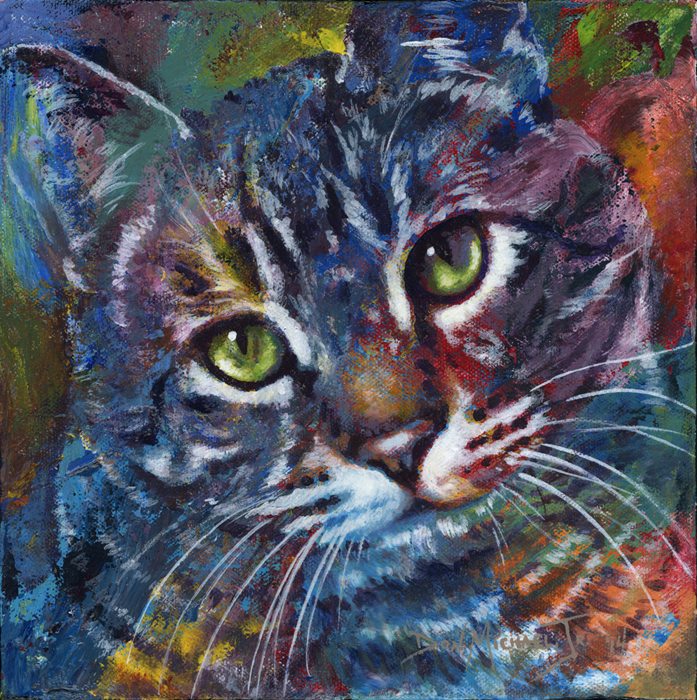 Irresistible – 10″x10″ – Acrylic on canvas – Completed 3/23/14
©2014, Don Michael, Jr.
The subject of this cat portrait is my very own Franz Marc, seen below enjoying his morning devotional. He has been my studio cat for nearly 4 years now and no project can be considered complete until it has received his stamp of approval. Thankfully, even this one passed…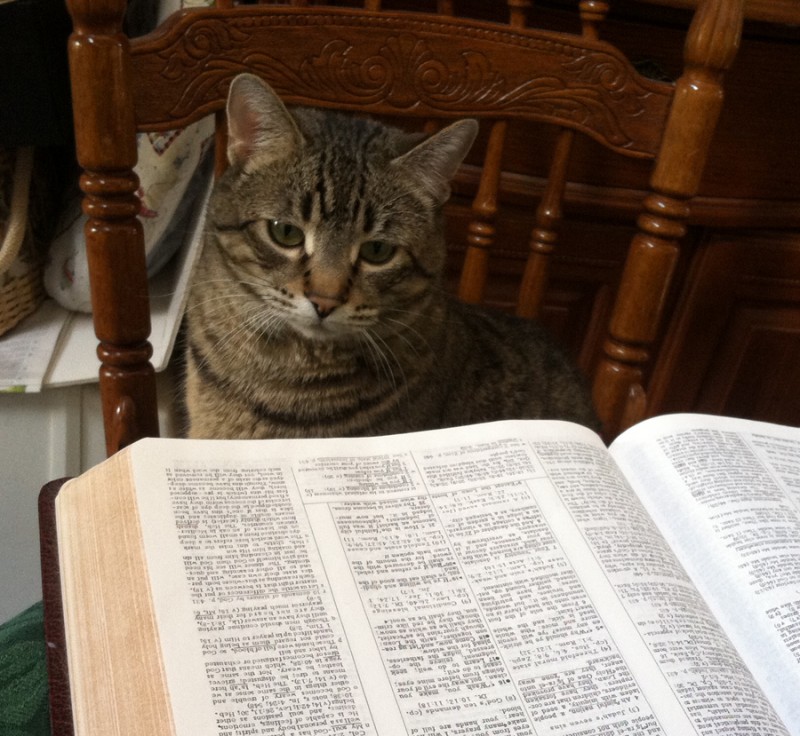 Happy Creating!