Today I had the honor of being interviewed by our local NBC affiliate regarding the sculpture I painted in 2014 for the Las Vegas Chapter of St. Jude. If you click on the photo below it will take you to that interview…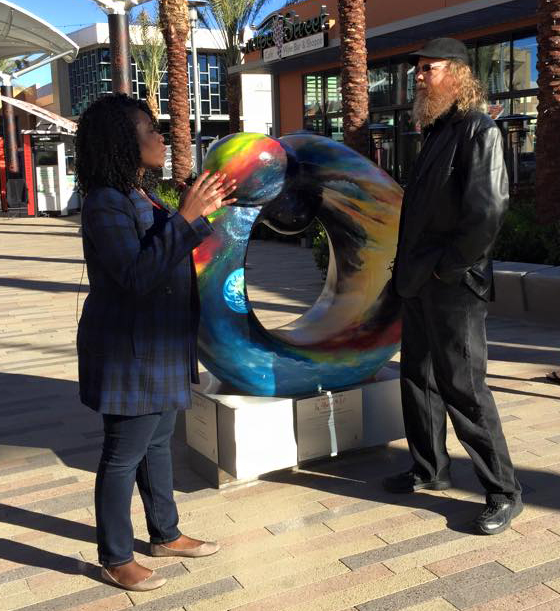 Venise Toussaint interviews Don Michael, Jr. about Miracle
(Photo credit: Dorit Schwartz)
The design for this sculpture was created by Las Vegas sculptor Dorit Schwartz – and, an amazing piece it is! The one I painted, Miracle, as well as the other 9 painted last year are currently on display at Downtown Summerlin. If you are in the Las Vegas area be sure to go check them out. They will be there until April 20, 2015.
Happy Creating!
Next weekend I will be the featured artist at the Gina M. Woodruff Gallery in Long Beach, California. On Friday night (Oct. 5) I will be there for a meet and greet. On Saturday (Oct. 6) I will be painting live. You can find out more details on the GinaMWGallery facebook page.
I'm really excited about this opportunity. So much so, in fact, that I got my paints out for the first time in over a month… and it felt good! Here's what I came up with…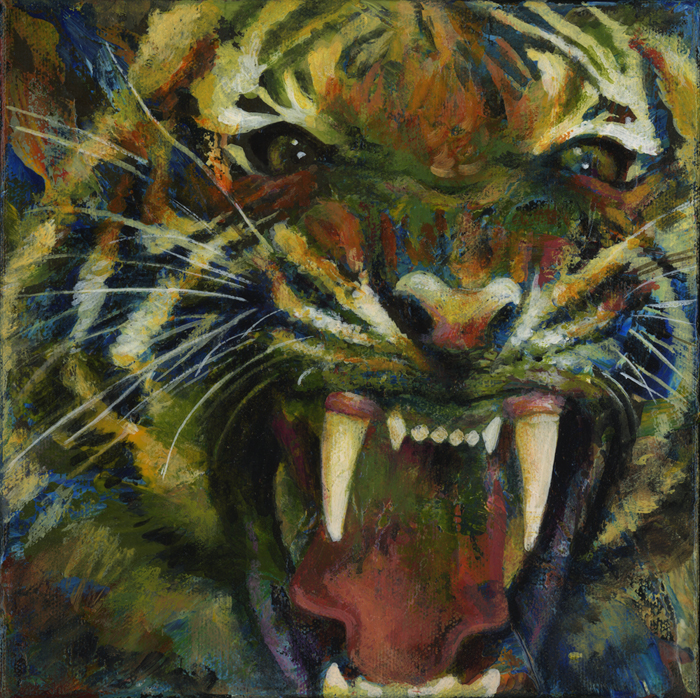 Fair Warning – 8″x8″ – Acrylic on canvas – Completed 9/28/12
©2012, Don Michael, Jr.
As I was typing up this blog my daughter came in from school, pointed at this new painting, and announced, "I want that one!". (How's that for a compliment?) She's out of luck, though, because Fair Warning is one of several paintings that will be with me next weekend in Long Beach. I anticipate that it will stay behind in Gina's Gallery when I return home. Of course, that's up to Gina and her awesome Curator, Sherri Gleason.
If you live in or near the Los Angeles area be sure to come by to see me and my work. Here's their information…
Gina M Woodruff Gallery
5555 E. Stearns, Suite 203
Long Beach, CA
Ph.1-562-519-1614
I hope to see you there.
Happy Creating!
In the midst of my many projects I took time out last week to prepare for and then take part in the downtown Las Vegas art event, First Friday. Here is what my wall inside of the Blue Sky Yoga Gallery looked like…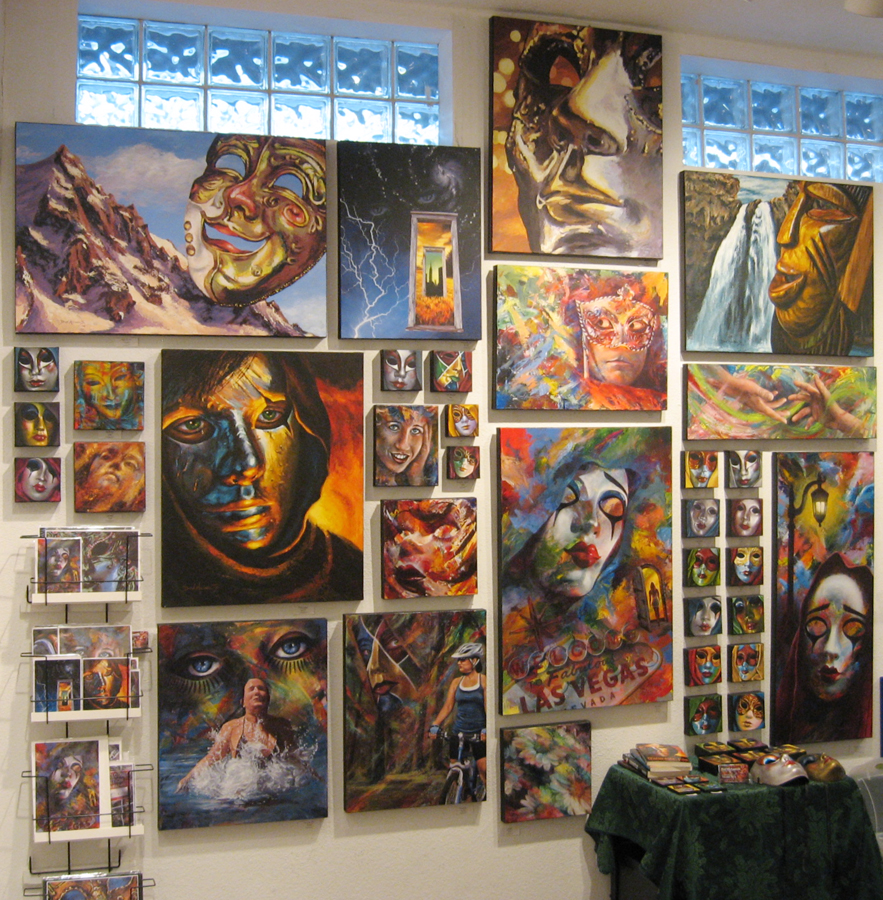 And here's what my wall in the gallery outside of the Blue Sky Yoga Gallery looked like…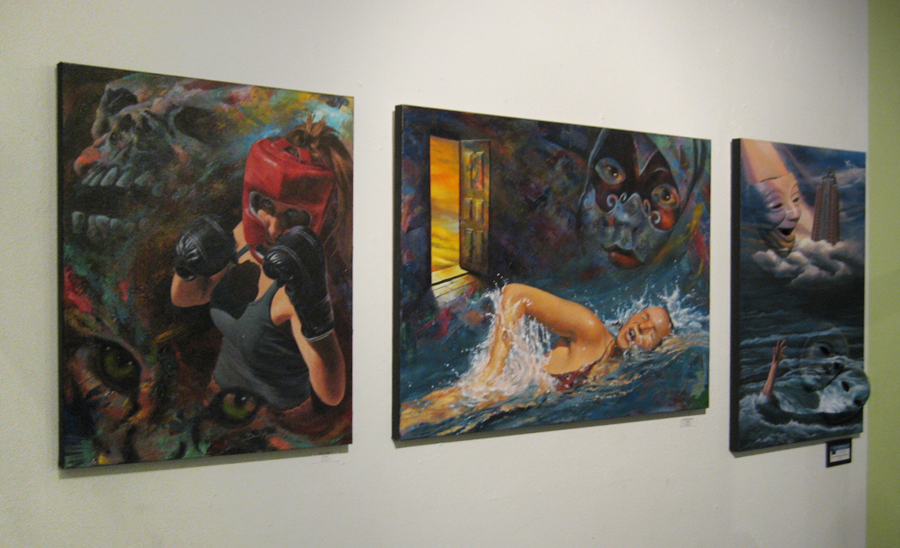 We had a pretty decent turnout this month which always leads to some wonderful conversations on art. I even made a couple of small sales – which almost garnered enough to pay the rent. 🙂 The highlight of my night occurred when my friend, Cheryl, noticed that there was a painting of her hanging on my wall. I think the highlight of her night was when she found out that the painting was in fact hers to do with as she pleased. Here she is with her new painting…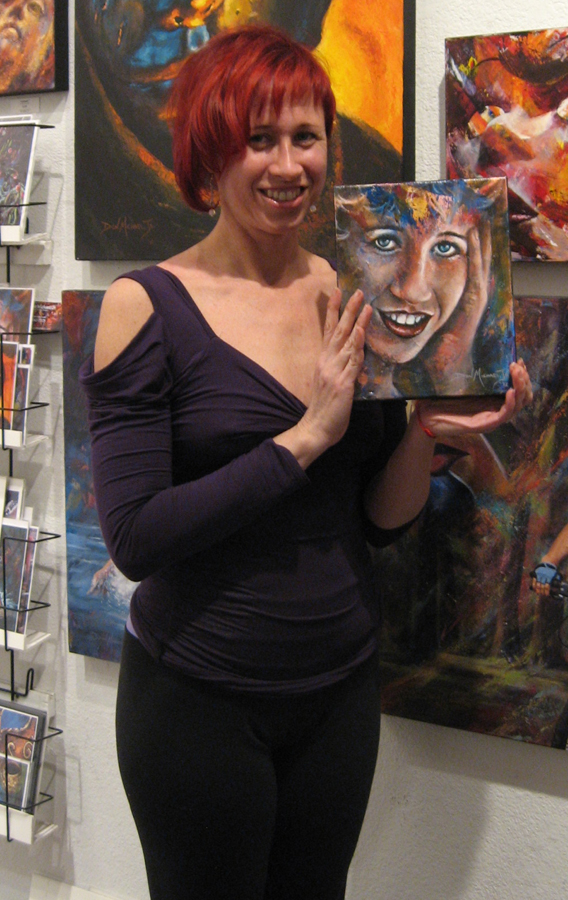 Cheryl with Cheryl
I didn't get home until quite late Friday night, but there would be no sleeping in for me on Saturday. I had to get up and prepare for a 'Meet and Greet' at the Michael's Arts & Crafts store where I teach Acrylic Painting Classes. This was an opportunity for all of the Michael's instructors to spend time with the customers, letting them know about our classes. Happily, I ended up with 3 new students, two of which have already signed up for two classes. So, I'd call that a couple hours well spent.
The rest of the weekend was spent with the family and on freelance projects. One of those projects is approaching the halfway point which is where all the real fun begins. I'll share more when I can…
Happy Creating!
After dropping my daughter off at school this morning I loaded up my SUV and headed downtown to the Arts Factory to set up my wall for our First Friday art event. After a couple of hours of unhanging, measuring and rehanging here's what my wall looked like…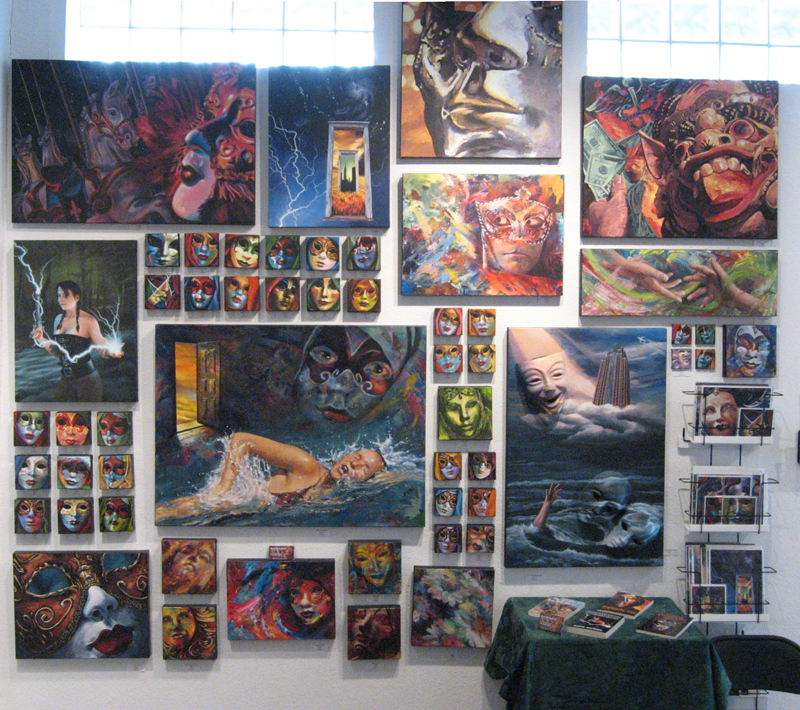 Don's Wall 11-4-11
You'll notice that my recently finished painting Aspire and Endure ended up 'front and center' on the wall. If you look closely, you can also see that my Eye Candy: Starbursts paintings are all hanging together for the first time…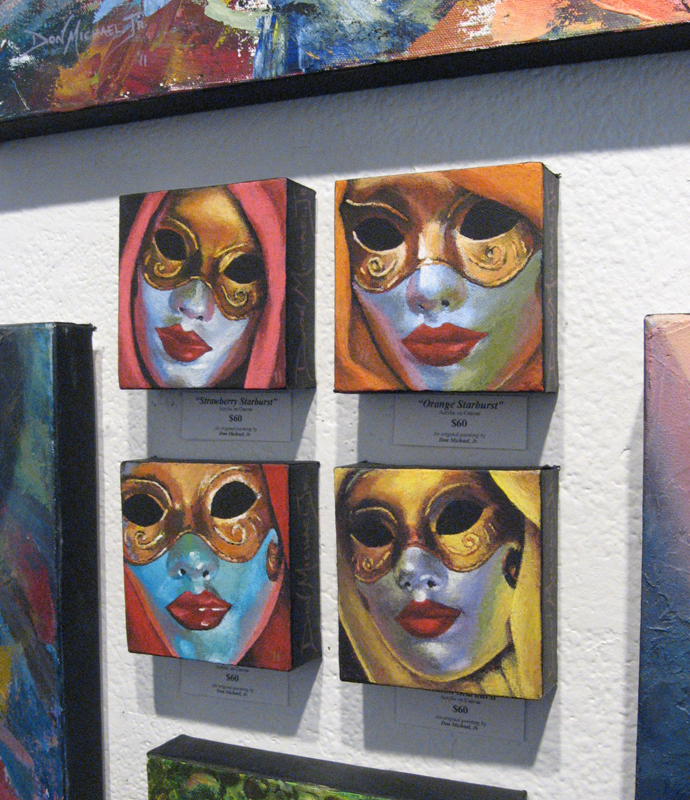 Eye Candy: Starbursts Series
While I was hanging my work I had a lady drop by to purchase my painting Spring Break. She had seen it hanging in the Arts Factory over a year ago and it had been calling her name ever since. She had tried to quiet the voices by buying a couple prints of it several months ago, but I guess that just wasn't enough. This past Wednesday she called to tell me that she had to have it, so we arranged to meet and complete the transaction this morning. Here is the painting that now hangs in her office…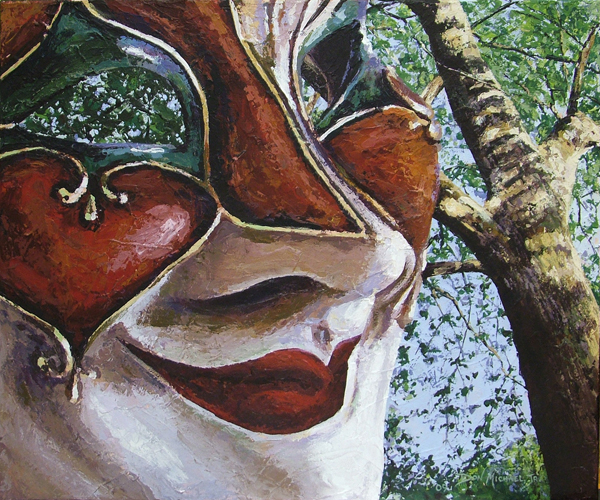 Spring Break – 20″x24″ – Acrylic on canvas – ©2009, Don Michael, Jr.
Thank you, Hazel! I hope you find great enjoyment in this painting for years to come!
After finishing up my wall, I headed a few blocks north to hang a couple paintings at Luca's Cafe & Deli. Of course, while I was there I had to stay for lunch…
After lunch it was time to head back home to pick my daughter up from school and then drive her and her brother around. By the time I got home I barely had time to spend a few minutes with my lovely wife before it was time to head back downtown. I like to get to the Arts Factory a little early on First Friday so I can get a parking spot. Otherwise I end up walking several blocks…
Anyway…
The weather ended up getting quite chilly and wet, which wreaks havoc in this desert town. So, the turnout for First Friday was pretty abysmal. At least my good friend, Melissa, came by to see me – and more importantly – the painting I did that features her quite prominently. She had not had a chance to see the painting in person yet and was really excited to finally get to. Here she is twice – standing in front of, and swimming through, Aspire and Endure…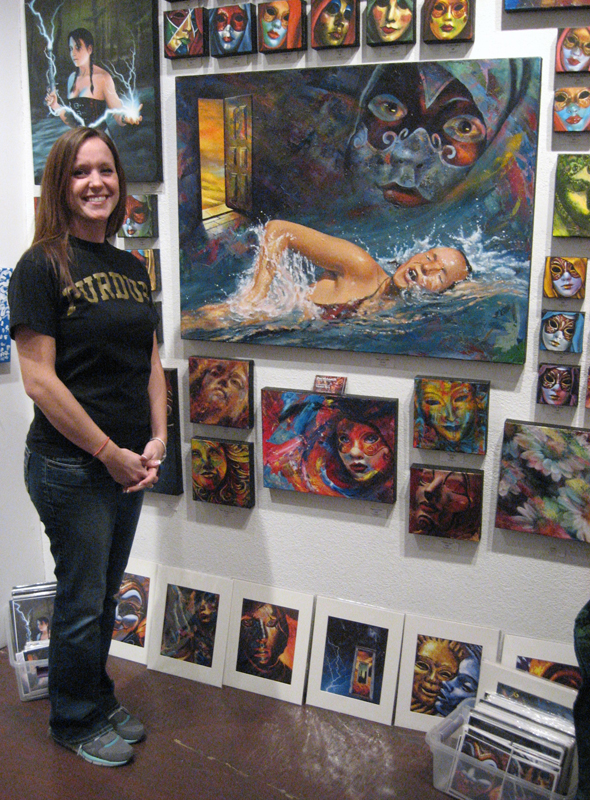 Melissa with Aspire and Endure
Thanks, Melissa, for coming by. You were the highlight of my night.
Now it's time for me to get my stuff together for my Acrylic Painting Workshop tomorrow. Then I think I'll retire for the night…
Happy Creating!
Last night my wife, Laura, and I dressed up and headed downtown to the Marriott SpringHill Suites for the Black White and Night art reception put together by ThinkArt and Marriott International. One of the first things to greet us when we walked into the lobby was a grouping of portraits done by five local artists of Marriott Int'l CEO and Chairman, Mr. JW "Bill" Marriott, including one by yours truly…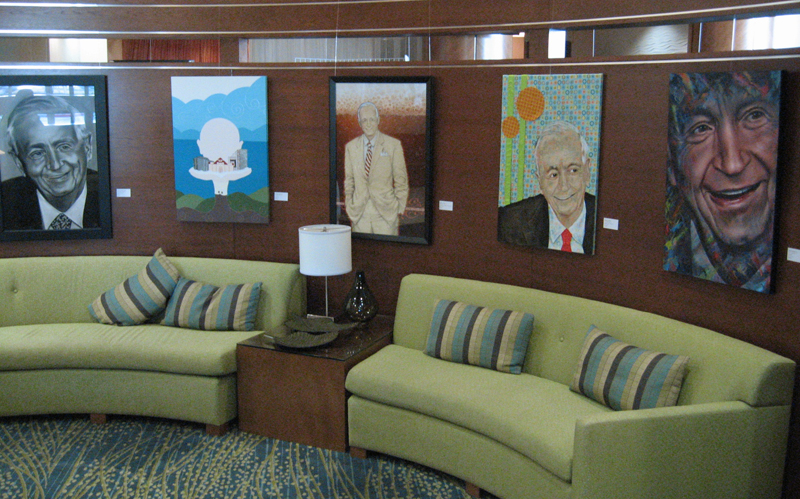 Five Portraits, Five Visions, Five Works of Art
It was really exciting to see all five of these portraits hanging together. Everyone commented on how diverse a sampling of work they were, and I agree.
Laura and I barely had time to get our drinks and hors d'oeuvres when I was grabbed to go do an interview about the portrait I created, which I titled Warm Regards. Thankfully, they let me swallow my food and rinse it down before turning on the camera. My good friend, CJ, was lurking nearby with her camera and she caught me between questions in a relaxed moment.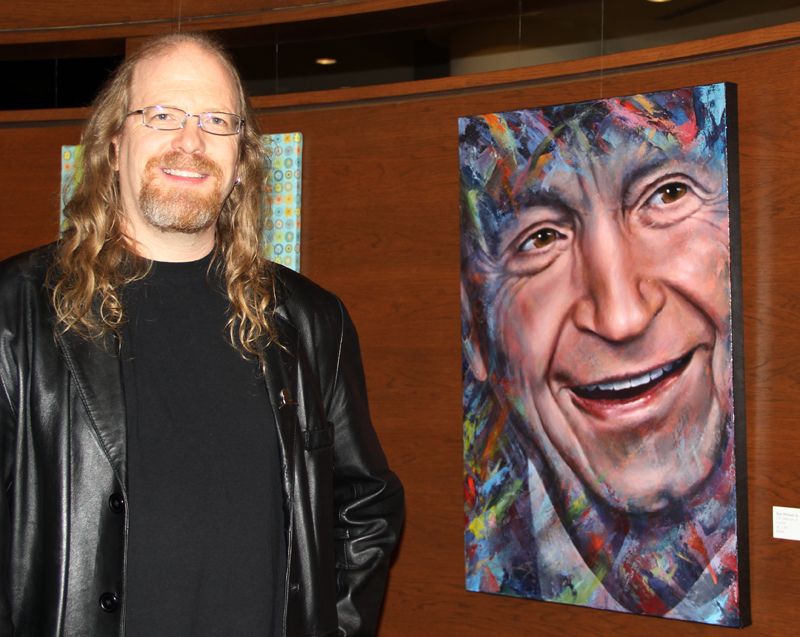 Don with Warm Regards
I met several people who worked for Marriott, both locally and corporately, and everyone was so nice. I can tell that working within their organization is something they all enjoy. Several of them who have worked directly with Mr. Marriott told me that I captured his eyes perfectly, that he is really as warm and engaging as I had represented him to be. One lady even told me that she could almost hear his laugh just looking at the painting. I actually got chills. A gentleman who had retired from Marriott pulled Laura aside to tell her that he had worked with Mr. Marriott for 41 years and that I had captured him perfectly. How cool is that! I don't know that I have ever had more meaningful and expressive compliments about a piece that I created and I actually feel a little bit humbled by it.
As if it couldn't get any better, I actually had an even greater compliment come later in the evening when I was told that the painting was being purchased by the local Marriott SpringHill Suites to be hung in their lobby. This was immediately followed by someone from corporate saying that they wanted to buy it for the the corporate offices in Washington, DC. Wow! I must admit that I was walking on a cloud.
Below, I was talking to the owner of the local Marriott SpringHill Suites, his General Manager, and one of the VP's from the corporate offices about the creation of the painting and my intent.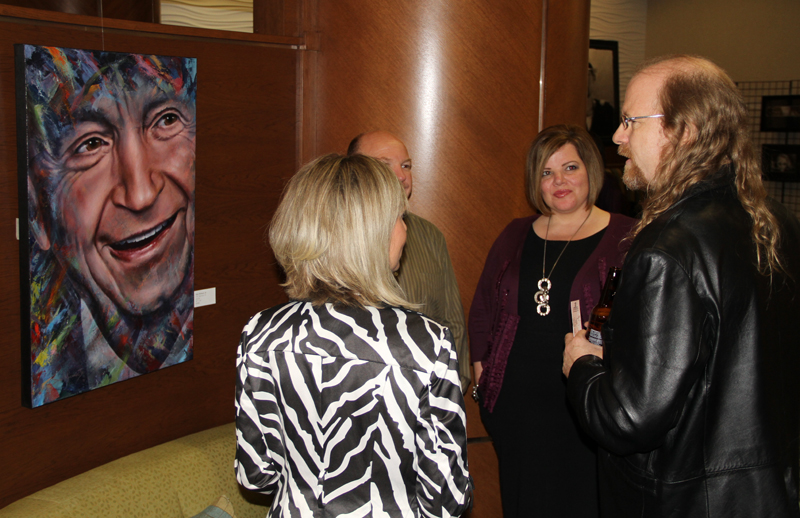 Telling the Story of Warm Regards
There was a lot more going on all around me, and a lot of great work on display, but I must admit that a lot of it passed me by. I hope you don't mind, but I was just a bit distracted. I want to thank all my friends who came out to support me and my work. Judy, Gary, Mary, Maggie, CJ, and especially, Laura, you all made a wonderful night even more memorable. I would also like to thank Dinh Chau-Kieckhafer, the driving force behind this event, for inviting me to take part. Bless you, Dinh!
I must add that I was so excited after the event that I ended up going into my studio and finishing two projects while starting on another. There's nothing like a little boost to your ego to help stir up the creative juices. Now that I've been talking about it I'm starting to get juiced up again, so I'd better head over to the easel.
Happy Creating!
On September 27th Marriott SpringHill Suites and ThinkArt! will host a one-night Art Reception event to be held at Marriott SpringHill Suites Las Vegas Convention Center: 2989 Paradise Road · Las Vegas, Nevada 89109 – from 4:30 pm to 8:00 pm.  Live music, Food, and Cocktails will be provided.
I will have a painting on display that night. It was not juried into the exhibition, but it has a special status anyway. I was one of five local artists who were each invited to paint a portrait of J.W. "Bill" Marriott, Jr., the Chairman and CEO of Marriott International. It's really fun to see all five portraits hanging together. You can see not only the likeness of Mr. Marriott, but you can get a sense of the personality and style of each of the artists. The only criteria we had been assigned was to 1) create the image at 36″x24″, and 2) use the same photo of Mr. Marriott as our reference. The photo was a nearly full view of a seated Mr. Marriott in a relaxed moment during a television interview.
The first thing I noticed about the photo of Mr. Marriott was his eyes. There was a warmth to them that went beyond the pleasant smile on his face. Upon further research I discovered that Mr. Marriott is a very 'hands-on' CEO with the willingness to listen to, respect, and reward his employees. He even wrote a book titled "The Spirit to Serve" about this very thing. (I was especially thrilled to see that there was a chapter titled, "Give to Your Employees, and They'll Give Back to You".) I felt this warmth and intimacy needed to be the focus of my painting and thought that a super tight cropping of his face was in order. To further enhance these characteristics, I decided to bring out Mr. Marriott's portrait in my Over the Under-Schmeerings (OTUS) style from a canvas chaotically 'schmeered' with primarily dark and cool colors. Below is what I came up with…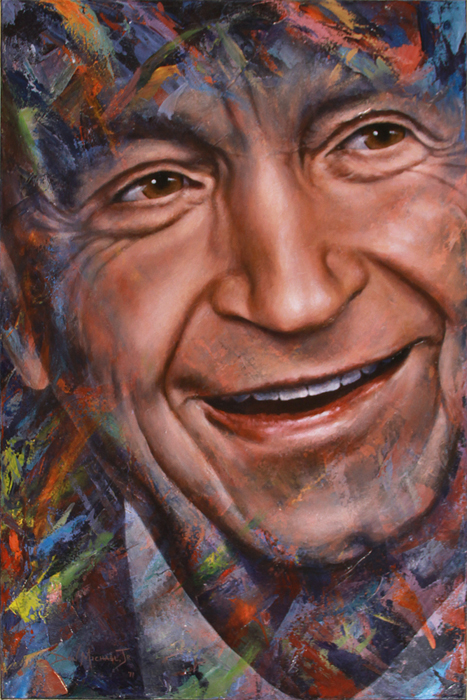 Warm Regards – 36″x24″ – Acrylic on canvas – Completed 8-31-11
This is by far the largest OTUS that I've painted to date. It was a fun challenge and I really look forward to hearing what the input from the Marriott corporate people will be. Something that makes this extra exciting is I just found out that Mr. Marriott will be flying in to view the five portraits, as well as the rest of the exhibition. He even plans to blog about the portrait series, which I look forward to reading.
If you happen to be in Las Vegas next Tuesday evening, please come by and check out all the wonderful artwork on display. I'll be there the whole evening and I would love to spend some time chatting with you.
Now, the 'big' bug has bit me and I'm in the middle of an even larger OTUS! I guess I'd better go get some work done on it.
Happy Creating!
This weekend started with the ever-enjoyable First Friday Arts Festival in downtown Las Vegas. Once again I was set up inside the Arts Factory with several of my paintings on display. We had a pretty good turnout, considering the heat, and it was a lot of fun to fellowship about art with so many enthusiasts and fellow artists.
I've always enjoyed watching people's reaction when they first take in my work, and this month was no exception. I had more than doubled my Eye Candy Series in the past month and I was a little nervous that hanging them all together in one grouping might be too overwhelming. Thankfully, my fears were allayed early in the evening as people seemed to be drawn to them as soon as they walked into the room, leading to some great conversations. Here's what they saw when they got close…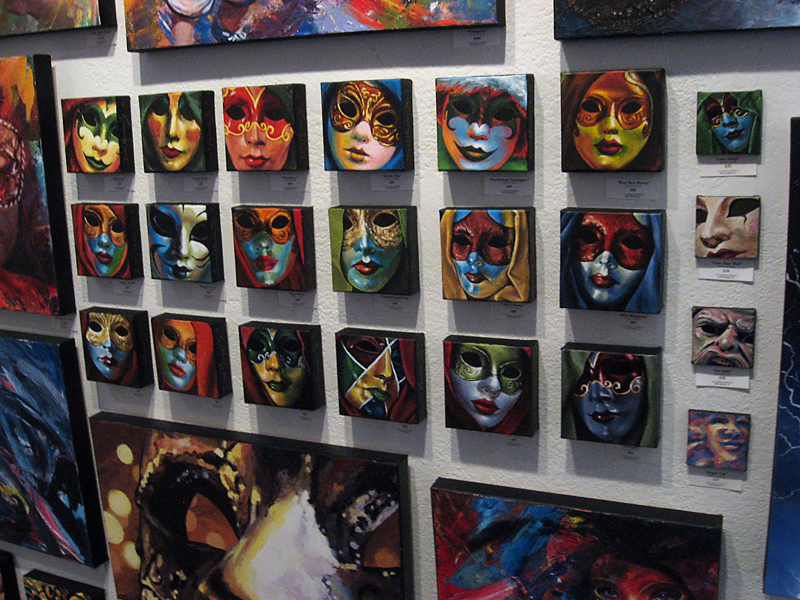 Eye Candy Series – 8-6-11
My artwork sure had some pretty stiff competition in the room wherein we resided. There was a lady promoting her beautiful feather creations with the use of a lovely young model. Here's what I had to tolerate for most of the night, but I suffered through… 😉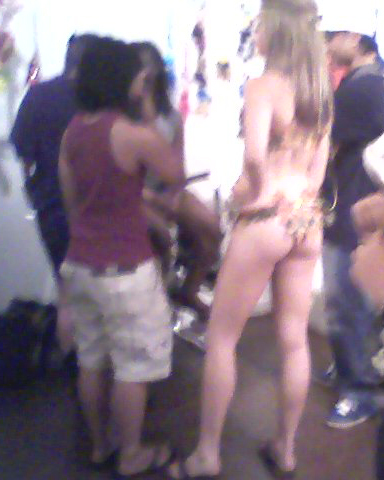 Only in Vegas
In spite of this traumatic experience I was still able to make it to the Acrylic Workshop I was scheduled to teach Saturday afternoon. I'm glad I did, because the three students that attended did EXCELLENT jobs with their paintings. (Hey! Maybe I'm starting to figure out this teaching thing!) Regrettably, I left my camera at home, so I'm sad to say that I didn't get shots of their wonderful work. It's funny, though, that I have the wherewithal to remember I have a camera in my cell phone when presented with a lovely hind end, but I forget I have it when I have some great artwork to show off. Oh well, live and learn…
Sunday afternoon will be spent in my studio. I'll see if I can keep distractions to a minimum and maybe I can get some work done…
Happy Creating!
Tonight is the monthly downtown arts festival here in Las Vegas called First Friday. My work will be on display, as it has been for several months, at the Blue Sky Yoga Gallery inside the Arts Factory.
In preparation for this event I spent my entire morning swapping out paintings and rearranging my wall. Here's what I ended up with…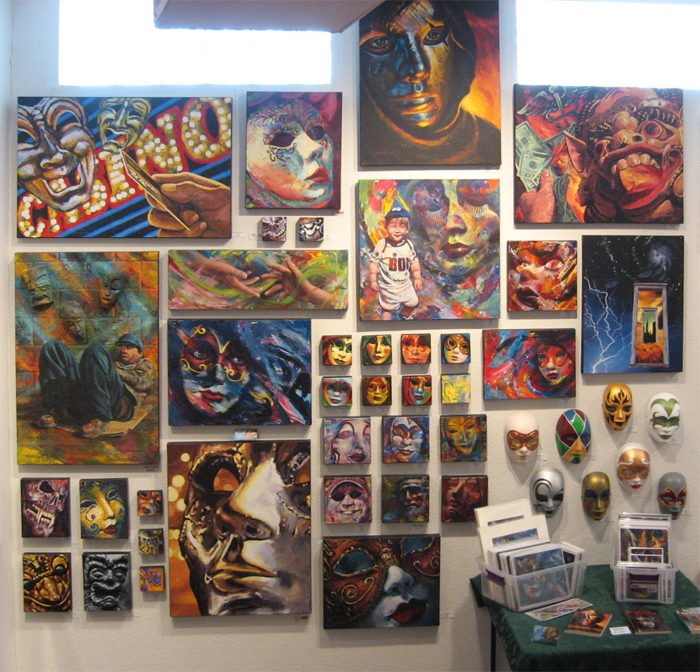 Don's artwork at the Blue Sky Yoga Gallery inside the Arts Factory
This will be the first time any of my new Eye Candy series of paintings will be publicly displayed. I promised my friend, Hallie, that when I got them all together in one place I'd take a shot of them for her. So Hallie, here it is…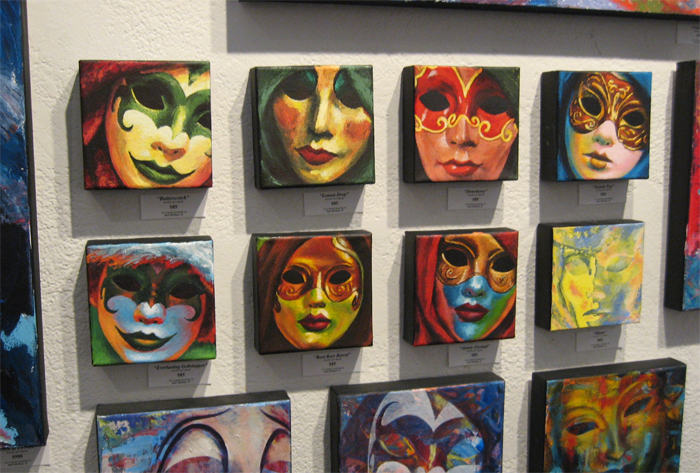 Eye Candy series
Since there are only 7 pieces in the series, so far, I rounded out the display by including another of my small palette knife paintings titled Illume. I'm sure it's obvious enough, but just be sure, she's the one on the lower right…
If you live in the Vegas area be sure to stop by and say "hi". The event runs from 6-10pm. Tell me you saw this invitation on my blog and I'll reach into my ice chest and pull out an ice cold beer just for you.
Now it's time for me to head out to the event. It's always a fun time, but I know I'll be tired tonight. I doubt there will be any painting done today in my studio, but I'll be sure to make up for lost time tomorrow.
Happy Creating!
I'm excited to announce that 5 of my Over the Under-Schmeering paintings were accepted into the Upstream People Gallery's "13th Annual Faces Juried Online International Art Exhibition"! They will be featured in the exhibit for the entire month of March. Since this calls for a celebration I decided it must be Beer-Thirty, so that's the image I'm featuring to illustrate this auspicious occasion. If you click on Beer-Thirty below you will find yourself in the middle of the exhibition…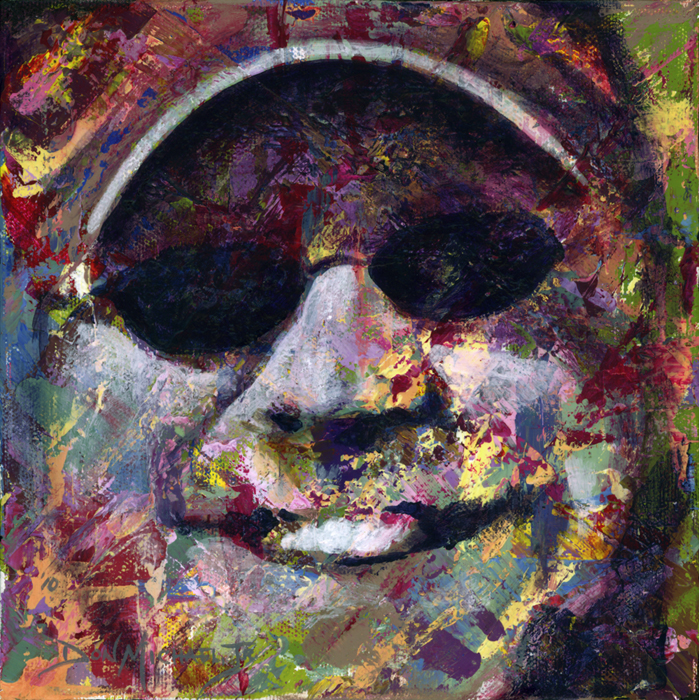 Beer-Thirty – Acrylic on canvas – ©2010, Don Michael, Jr.
I would like to thank the juror, Laurence Bradshaw, for including my work in the show and for offering Special Recognition to 3 of my entries. Be sure to check out the Juror's Statement while your checking out the artwork.
Many of my blogging friends may have noticed my frequent absences of late here in our community. I'm still around, but have been quite occupied with several projects, some of which I hope to be able to share with you soon. One of my paintings is just itching for me to get it 'out there', but I'm stuck waiting on somebody. (You know who you are.) I've warned this somebody that I can only wait so long… Meanwhile, I have blocked out the rest of tonight to paint. So that's where I'm heading as soon as I click 'Publish'.
Happy Creating!
Yesterday was a great day to head to the mailbox. First of all, my copy of Art Buzz: The 2011 Collection arrived and I couldn't wait to check it out. I knew that at least one of my paintings was going to be featured in it, but was pleasantly surprised to turn to page 53 and find two of them…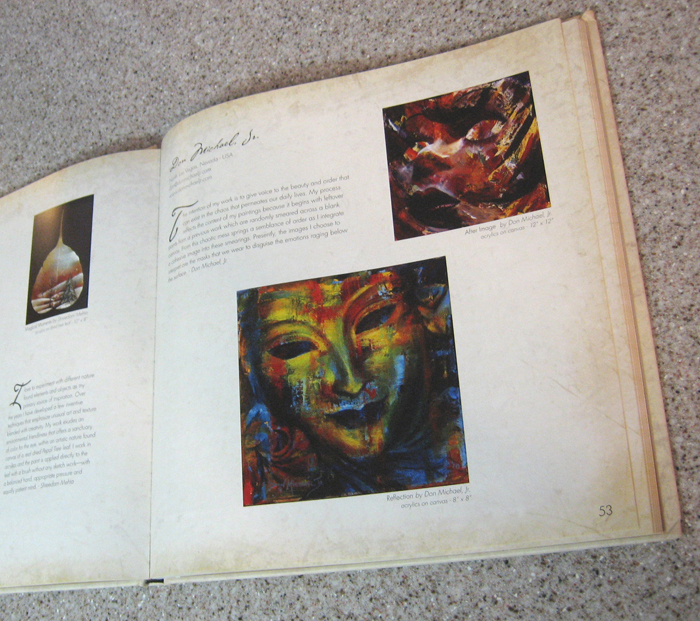 Page 53: Featuring Reflection and Afterimage
…and then surprise turned to outright excitement when I turned the page and found another of my paintings!
Page 54: Featuring Perennial
For my artist's statement I wrote, "The intention of my work is to give voice to the beauty and order that can exist in the chaos that permeates our daily lives. My process reflects the content of my paintings because it begins with leftover paints from a previous work which are randomly smeared across a blank canvas. From this chaotic mess springs a semblance of order as I integrate a cohesive image into these smearings. Presently, the images I choose to interpret are the masks that we wear to disguise the emotions raging below the surface." (A good friend of mine helped me fine tune this verbiage. She knows who she is and I thank her.)
The 2nd bit of good news that arrived in the mail yesterday was an acceptance notice from The Coos Museum in Coos Bay, Oregon. My painting Cult of Personality was accepted into their show Expressions West 2011 which will run from April 8 through May 28 of this year. If any of my friends in Oregon are in the area, be sure to stop by and check it out.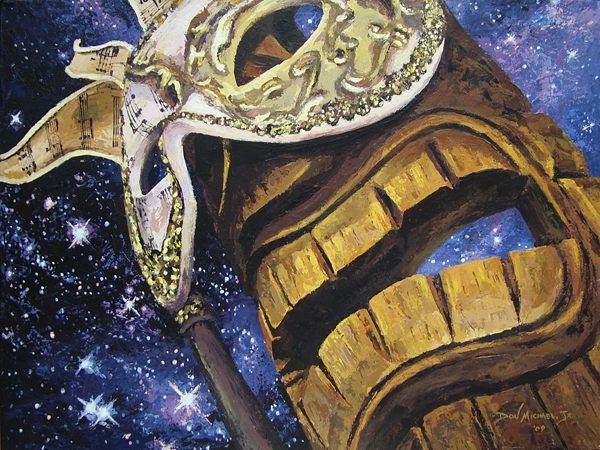 Cult of Personality – ©2009, Don Michael, Jr.
(Interestingly enough, this painting has now been accepted into two different shows and both of them were in Oregon.)
And, lastly I found out that my painting Loan Modification Request, which had been on the wait list for the juried exhibition Wide Open 2 in Brooklyn, NY, will not be making the trip east. It is rewarding to know that the piece was so well received by the juror that it was earmarked for the show should room permit – but alas, it was not meant to be. I actually breathed a little sigh of relief because it would have cost me an arm-and-a-leg to ship it with such a short turnaround. Oh well, maybe next time…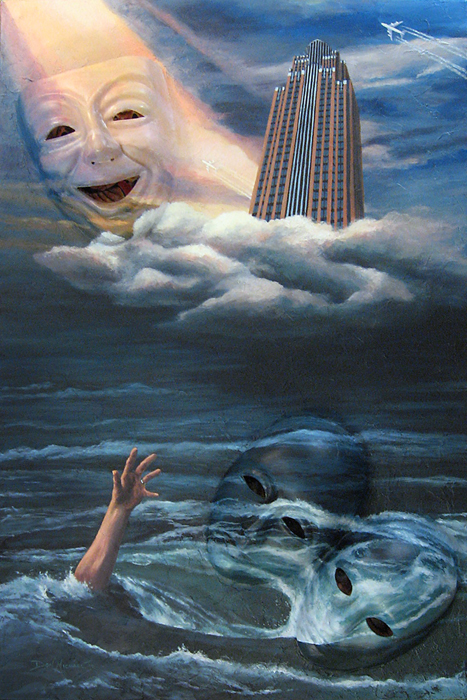 Loan Modification Request – ©2010, Don Michael, Jr.
All this excitement has me ready to do some creating. Watch out studio, because here I come…
Happy Creating!
Next Page >>