Last night was the 2nd First Friday of 2011 – ALREADY! (Where did January go?) Anyway, it was time to set up some artwork and enjoy a night of exhibiting and visiting. My son, Eric, went with me and even took a little time out from texting his girlfriend to help me set up. Of course, that time-out only lasted until the instant we were finished…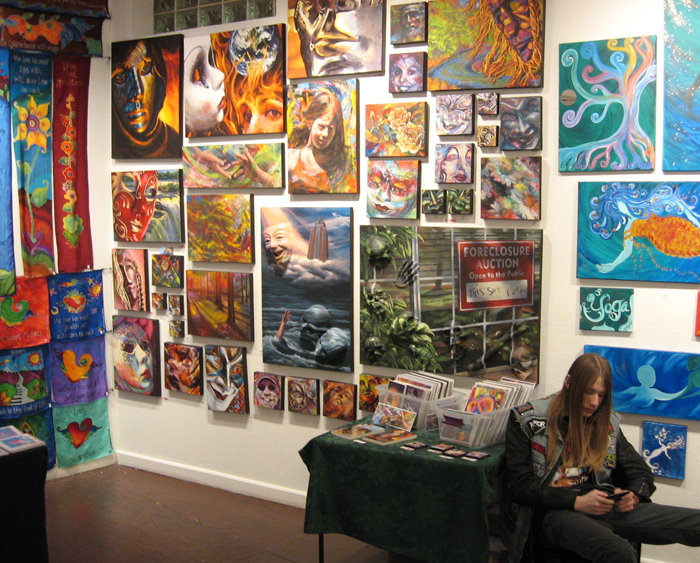 Eric totally enthralled by Summer's, Don's and Areeya's artwork
It ended up being a pretty good night. One of my itty-bitty paintings, Rumours, was bought by a cute young lady who thought it looked a lot like her. (It kinda' did.) It was fun watching her talk her dad into loaning her the money. I think it was the fluttery blinking eyes that won the day for her. We dad's and our daughters…
You may remember that I painted the visage of one of the showgirls that had come to visit First Friday a few months ago… Well, last month she saw the painting for the first time and has since become one of my best First Friday Friends. She actually calls me "FABULOUS!" and has said it often enough that I'm starting to believe her…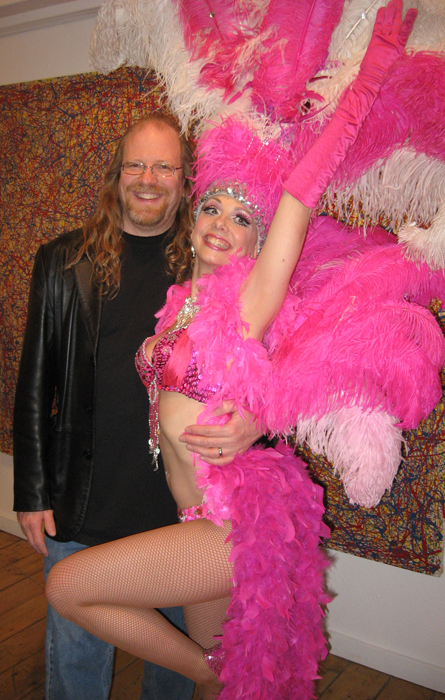 Don & Julie at First Friday – 2/4/11
Well, the party is over and now it's time for this FABULOUS artist to get back to work…
Happy Creating!
Wow! 2011 has started with a bang here at Don Michael, Jr. Studio. There's been so much going on this week that I feel the need to share…
Wednesday I had an interview with a former colleague of mine over lunch. Her name is Jochabel Reese and she is a freelance writer for AOL's City Best. We met at Luca's Cafe & Deli, where several of my paintings reside, and had a wonderful visit – mixed in with the business of the interview. If you would like to see the results of the interview, click here. I must admit that it's a bit of a shock to see the rambling words that tumble out of my mouth transcribed directly. Thank goodness she had to keep the article under 500 words. I think I need to work on my interviewee skills… In all seriousness, thank you, Jochi!
Meanwhile, I've been getting ready for the first First Friday of 2011, which will be going on tonight. I decided to completely redo my wall in the Blue Sky Yoga Gallery, which required taking everything down on Wednesday and hanging an entirely different set of paintings on Thursday. Cheryl & Corey Slader – who run the gallery/yoga studio – were generous enough to repaint the wall for me during the interim.  Below you can see how my wall looks now. I love how Montana Black's painting seems to be reaching out to my work, so I kept it in the photo. (I wish I had taken note of the title, so I could refer to it. Sorry Montana.) I notice that I need to straighten up the paintings in the upper right corner. That's what I get for being in such a hurry. The gap in the lower right corner is where I put my table of prints which is only up for First Friday. Nine of these paintings will be seen for the first time outside of my studio. I look forward to any conversations they may inspire.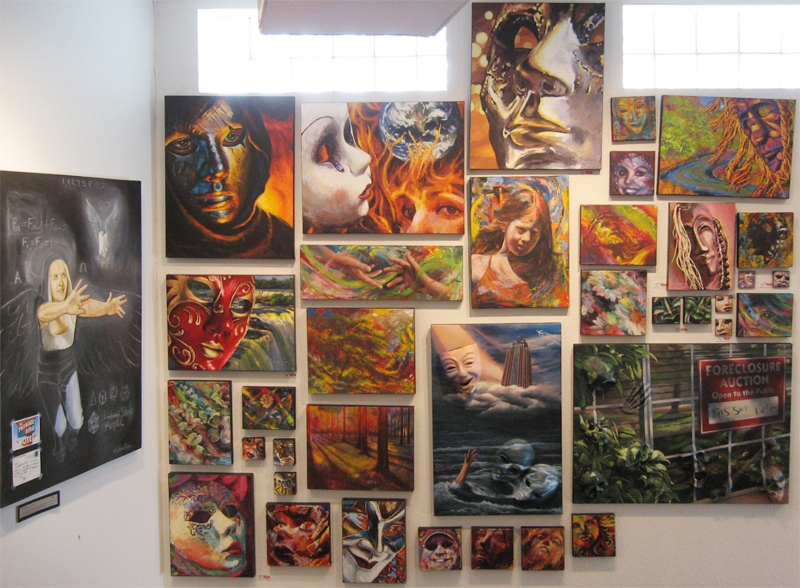 While preparing for First Friday I am also preparing two paintings for shipping to two separate juried shows. My painting Adolescence will be going to Elk River, Minnesota to hang in the Arts in Harmony 2011 International Juried Art Show at the Sherburne County Government Center. The show will run from February 7th thru March 24th…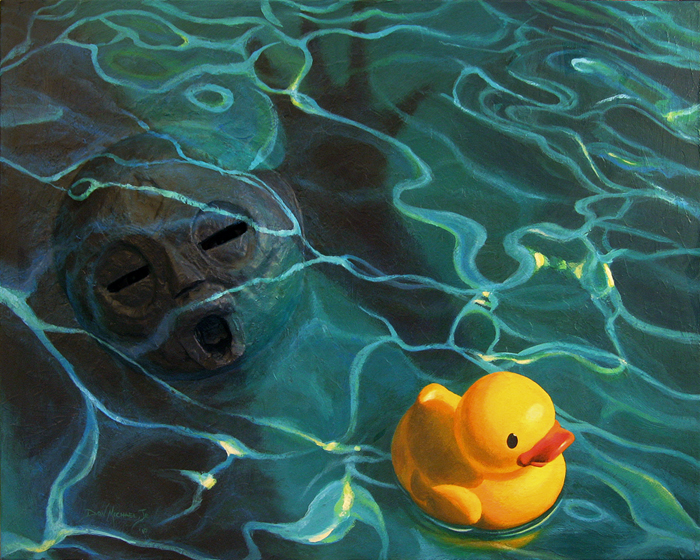 Adolescence – 24″x30″ – Acrylic and Paper Mache' on canvas
©2010, Don Michael, Jr.
…and my painting Sanctuary will be going to Wormleysburg, Pennsylvania to hang in the Susquehanna International Fine Art Competition at the West Shore Gallery. The theme of this show is "River Art" and will run from February 11th thru March 10th.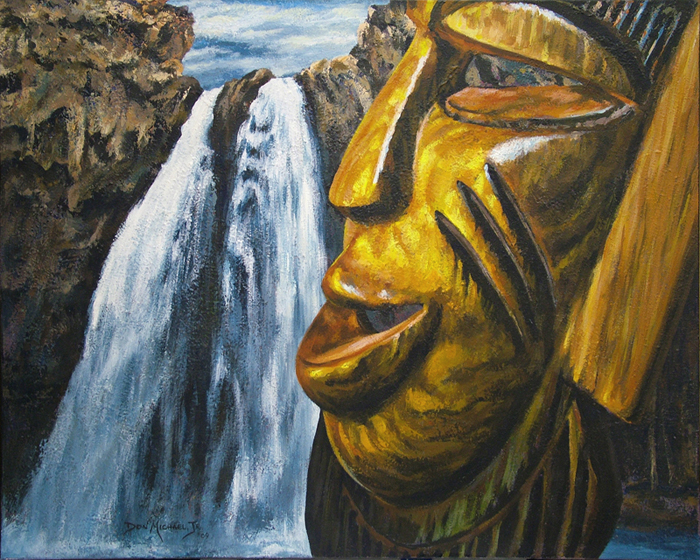 Sanctuary – 24″x30″ – Acrylic on canvas – ©2009, Don Michael, Jr.
I've also been working on a new book cover for my brother, David. I'm really excited about how it's coming along and cannot wait to see it in print. It's a book of some of the short stories he wrote based on mask paintings I have done – with one of them being featured on the front cover. As I'm sure you fear, I will be blogging about it when it is released.
While all this is going on, I am in the final stages of one freelance project and preparing to start two more – all three with short turnarounds, of course…
Well, I guess I'd better quit blathering on about myself and get back to work. There's still some painting that must occur… My boss insists.
Happy Creating!
This Friday marks the beginning of the first weekend in December and the last First Friday of 2010. I'll be in downtown Las Vegas in the Arts Factory with a couple dozen of my paintings from 6 – 10 p.m. If you're in Vegas that night swing on by, see some great artwork by several area artists, and say hello.
Meanwhile, 1,673 miles away, the 41st Annual River Road Show will be going on at the Louisiana State Archives Gallery in Baton Rouge, Louisiana. I am proud to announce that the following two of my paintings were juried into this exhibition.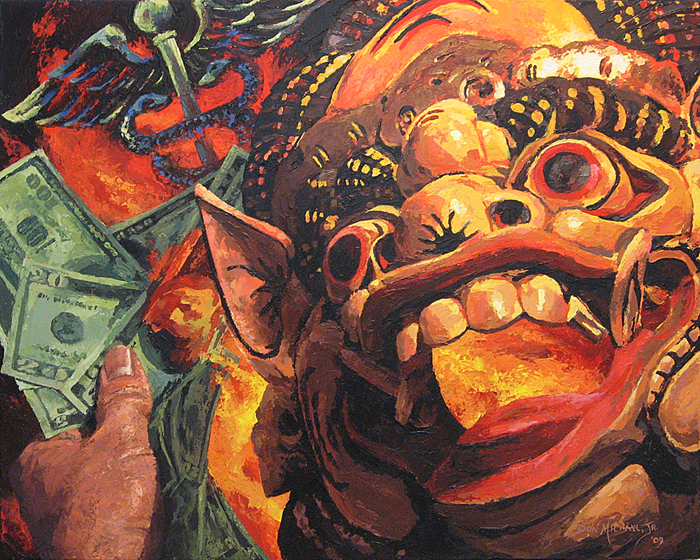 Health Care Reform – 24″x30″ – Acrylic on canvas – ©2009, Don Michael, Jr.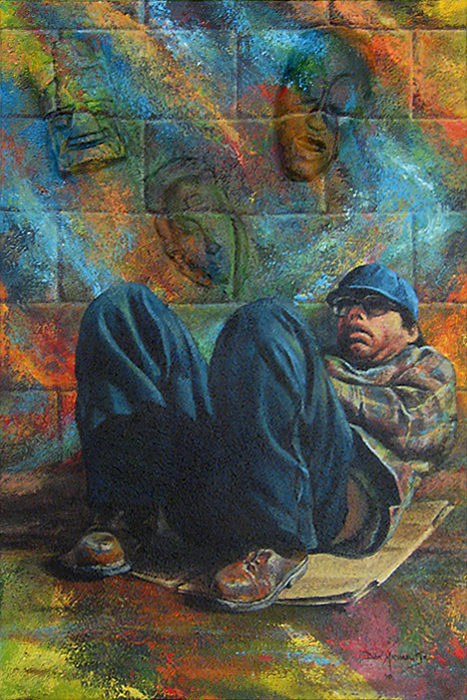 Hidden in Plain Sight – 36″x24″ – Acrylic on canvas – ©2010, Don Michael, Jr.
This will be the second juried show that Health Care Reform has been a part of this year. As for Hidden in Plain Sight, this is the first of my 3D pieces to be accepted into a juried event.
I wish I could be there to see them in the show, but alas… If any of my friends or family are in the Baton Rouge area between December 2nd and January 30th please swing by to see my work and the 80 other works of art that comprise this exhibition. The address is:
Louisiana State Archives Gallery
3851 Essen Lane
Baton Rouge, LA 70809
The reception for the exhibition will be held on December 12th from 2:00-4:00 p.m.
Happy Creating!
My family and I decided it was time for a little road-trip and headed to Los Angeles for a couple of days.  I'd been wanting to  make it out to the Getty Center to check out their collection of art for years. Thankfully, I was able to convince the family that this would be worth it – and it was. The facility is gorgeous and houses a collection that extends from the Middle Ages to the Present. There was so much to take in that we had to come up with a game plan. Here we have Laura and Christina charting our course…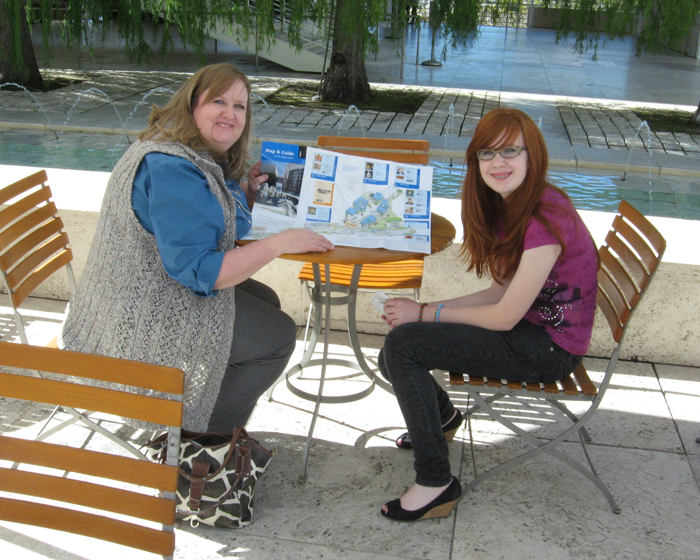 Laura and Christina in the Central Plaza
The facility is up on a hill with a great view no matter which direction you choose to look. To give a sense of the beauty of the place and its surroundings I placed my lovely model in front of a couple of the views from the balconies: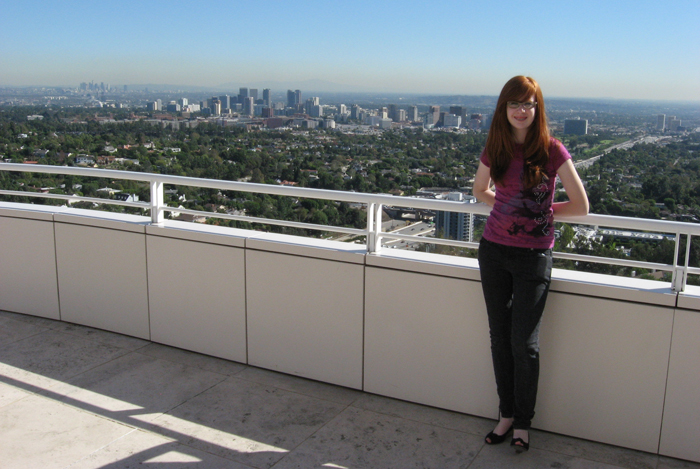 Christina with Los Angeles behind her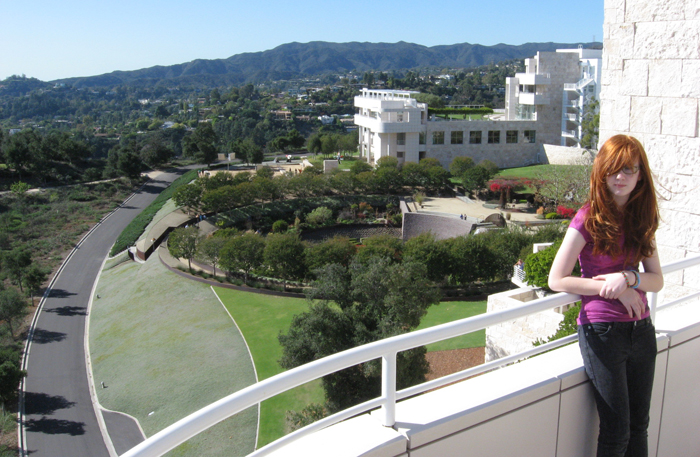 Christina over the Getty's Central Garden
This was the first time that Christina had been to an art museum with me since she was around 6-years-old. It was really a joy to watch her take it all in. We had some great conversations throughout the day about art, history and religion. She's really into the Renaissance period right now and was a bit disappointed that there was nothing at the Getty by da Vinci or Michelangelo, but I was able to at least show her a piece from one of da Vinci's students which seemed to appease her.
As for me, as soon as I walked into the first gallery and saw that they had an El Greco in the collection I knew it was going to be a great day. (They were gracious enough to allow me to take photos of most of the work I was interested in, but I'm not sure they would be happy if they knew I posted any of it here, so I'll err on the side of caution and just link to a few of the images on their site.) Although it was difficult to do, I've chosen just a few of Laura's and my favorites to share…
The Return From War: Venus Disarms Mars – by Peter Paul Rubens.
St. Bartholomew – by Rembrandt Harmensz van Rijn
Van Tromp, Going About to Please His Masters – by Joseph Mallord William Turner
The Eternal Feminine – by Paul Cezanne
The Wounded Foot – by Joaquin Sorolla y Bastida
Belisarius – by Jean-Baptiste Stouf
Mischief and Repose – by John William Godward
At lunchtime an old college friend of mine showed up to spend the rest of the day with us. We had not seen each other in 25 years and really enjoyed getting caught up as we exposed our families to the wonderful art that was before us. She and I were fairly inseparable back in those glory days of college and it felt like we just picked up where we left off all those years ago. Thank you Rhonda for coming out to meet us and for introducing us to your beautiful family.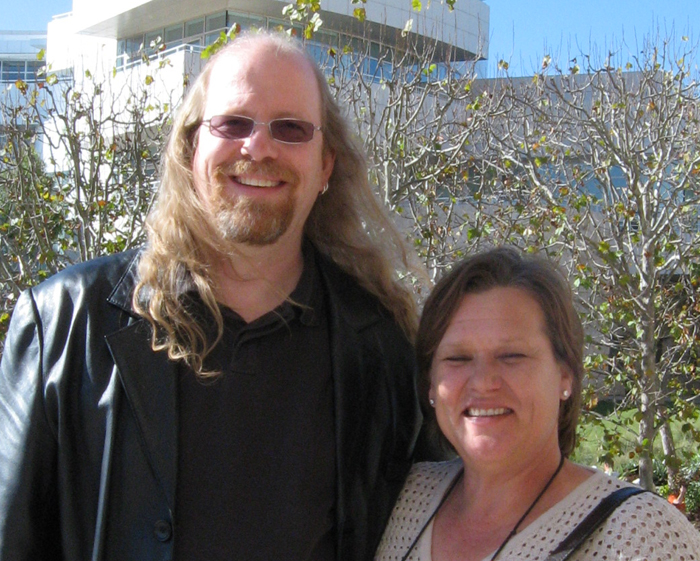 Don and Rhonda catching up on old times
As we were getting ready to leave we stopped off at the Gift Shop to see about souvenirs and I saw a postcard that really excited me. It was of a detail of a painting by James Ensor that I had always wanted to see. I asked the clerk if the painting was in the collection and was told that it was. I asked if it was out on loan since I had not seen it and was told no, but that it was in a room a little removed from some of the others. Needless to say, I turned my butt around and went looking for it. I have wanted to see this piece in person since the first time I saw it in my Art History book my sophomore year of college – and there it was! It was even bigger and more amazing than I had ever imagined!
My perfect day was complete.
The Arts District in Downtown Las Vegas was inundated with Art, Music, Entertainment and people of all walks of life as we celebrated First Friday. I had the greatest time all night answering questions about my work, meeting some interesting people, networking, and swapping a few lies. About halfway through the evening I caught a glimpse of bright red out of the corner of my eye and turned just in time to see two beautiful ladies have to stoop at least a foot to get through the doorway. What's a red-blooded American boy artist supposed to do when confronted with such a sight except to ask these visions of loveliness to pose in front of his artwork? As I was getting ready to take the photo they told me that I should be in it with them. Without further ado, I handed my camera off to a friend and soon found myself surrounded by enough feathers to start my own pillow factory. For the only time all night long I actually felt short…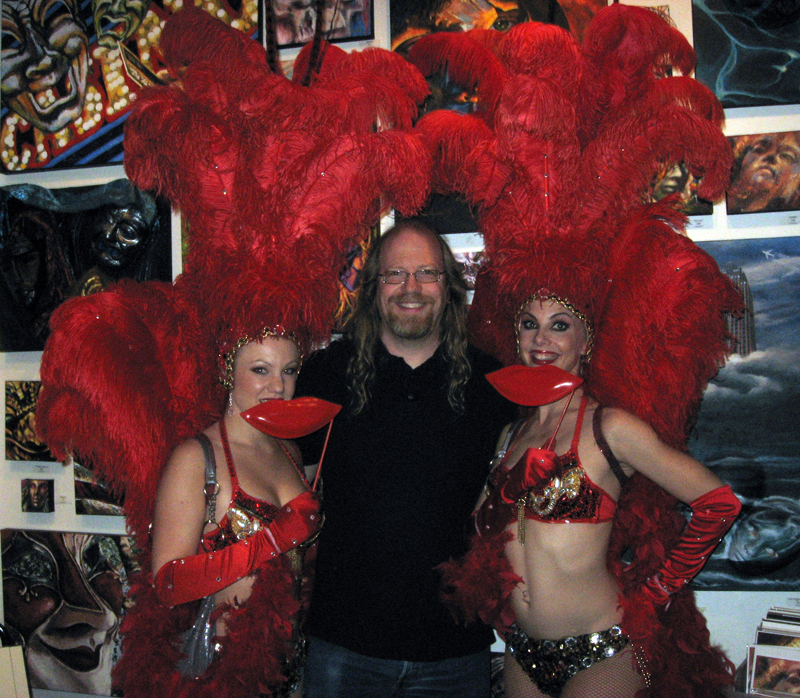 Don with two lovely ladies of Las Vegas Starlettes
Imagine my delight when I got home and discovered that my painting Flirting With Disaster happened to be quite prominent in the background of the photo. How fitting…
Now it's time for this tired but happy artist to retire for the night – with visions of plumage dancing in his head…
I'm excited to announce that my first attempt at getting some of my Over the Under-Schmeerings paintings juried into a show has met with success! Five of the series have been accepted into the 12th Annual Abstraction Juried Online International Art Exhibition and are now featured in the Upstream People Gallery online. Click on the image below to take you to the exhibition site.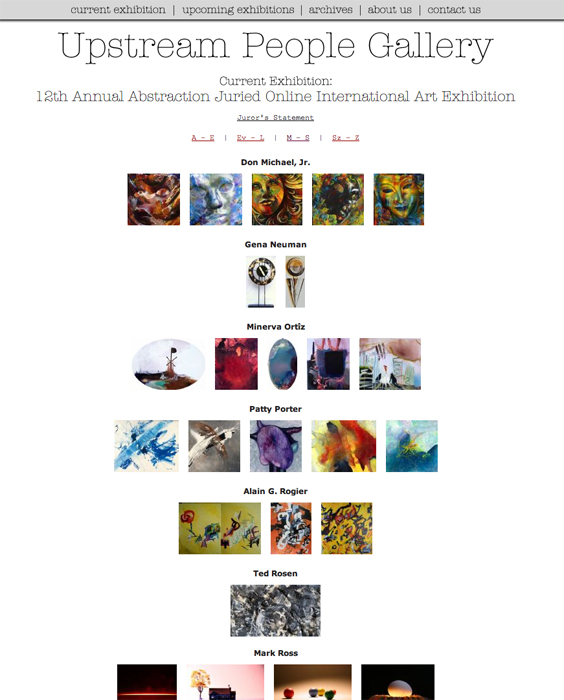 I would like to thank the juror, Mr. Laurence Bradshaw, for including my work in this show and for the special recognition he gave a couple of the paintings. In his Juror's Statement he commented, "DON MICHAEL, JR. of North Las Vegas, Nevada has some striking works with the facial images as seen in "After Image" wherein the texture is overall, yet the face emerges. Also the more cool palette of "Evanescent" works much in the same manner."
On another note, last night the Signature DISH event for which I donated the painted tray, The Joy of Giving, took place at Rain in the Palms Resort and Casino. The event featured culinary delights created by all the major chefs in Las Vegas. It was attended by many leading citizens and celebrities in the community. (At one point I heard a very distinctive voice and looked up to see Robin Leach speaking with one of the chefs.) There were several wonderful trays auctioned off to help feed the hungry here in Las Vegas created by some very talented and creative local artists. I'm excited to announce that my tray received the highest auction price – selling for $700! It makes me proud to know that ALL of that money, and the other moneys generated during the auction, will be used by the folks at Three Square to provide meals for those in need. Below are a few photos from the event.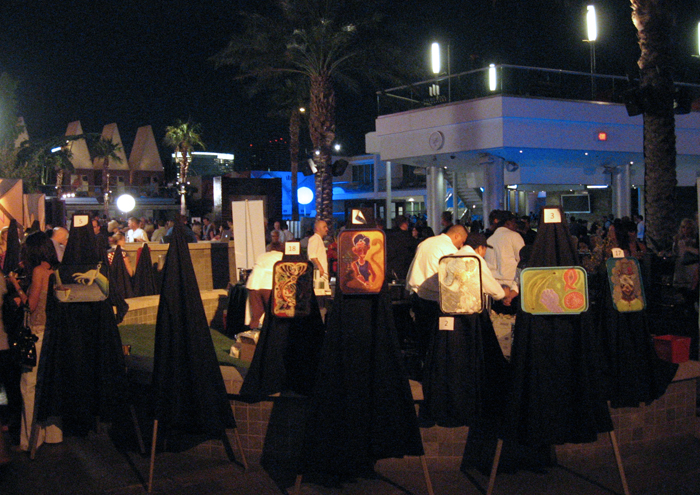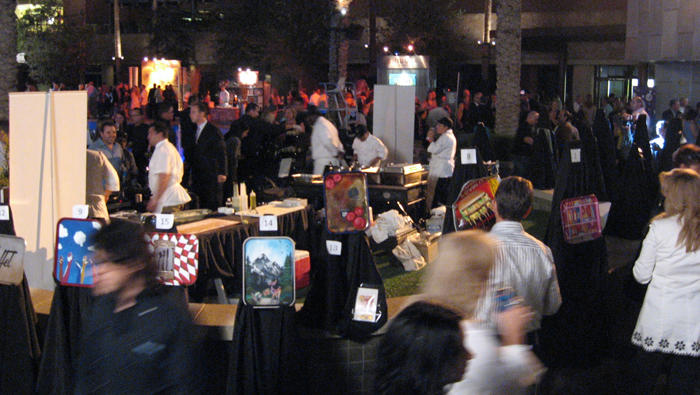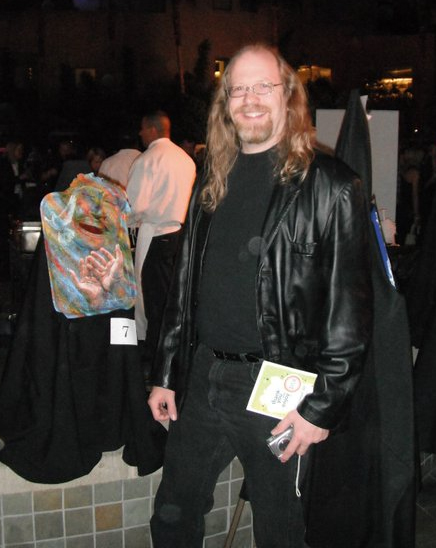 I'd like to thank my good friend and fellow artist, Niki Sands, for the decent photo of me. My camera must not have liked my countenance last night…
Well, there's no rest for the wicked… I'm now off to finish setting up for our First Friday downtown art festival where I will have 41 of my mask paintings on display and will have a few copies of David Michael's new book The Summoning Fire available for sale.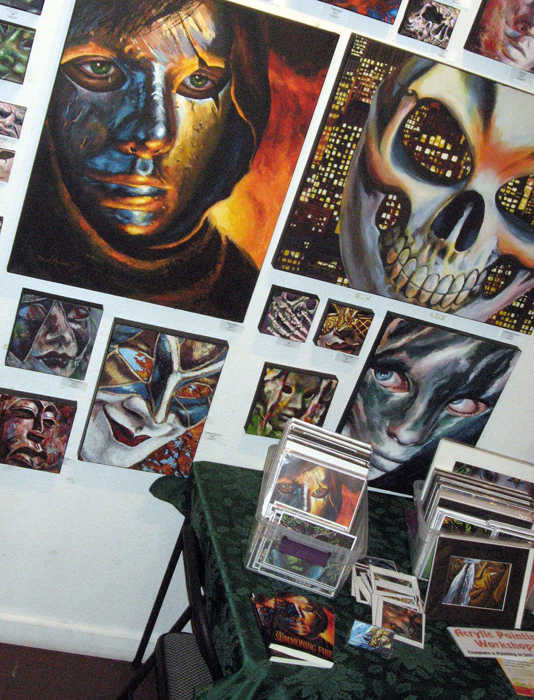 Happy Creating!
Since tonight is First Friday, a downtown art show here in Las Vegas, my week has been spent in preparation. There were wires to be strung; prints to be made,  bagged and tagged; signs to be made; and finally, paintings to be hung. Last night I took in 9 of my 10 new paintings from August and switched them out on the wall of the gallery I share with 7 others in the Arts Factory. Everything is now ready for 6pm to roll around, at which time First Friday will begin.
As you can see below, I have hung my work salon style so I can get more "bang for my buck" in regards to the gallery space. The blue and red paintings on the right side of this photo are by my friend Areeya. (I would link to Areeya's website, but regrettably she must be having server troubles.)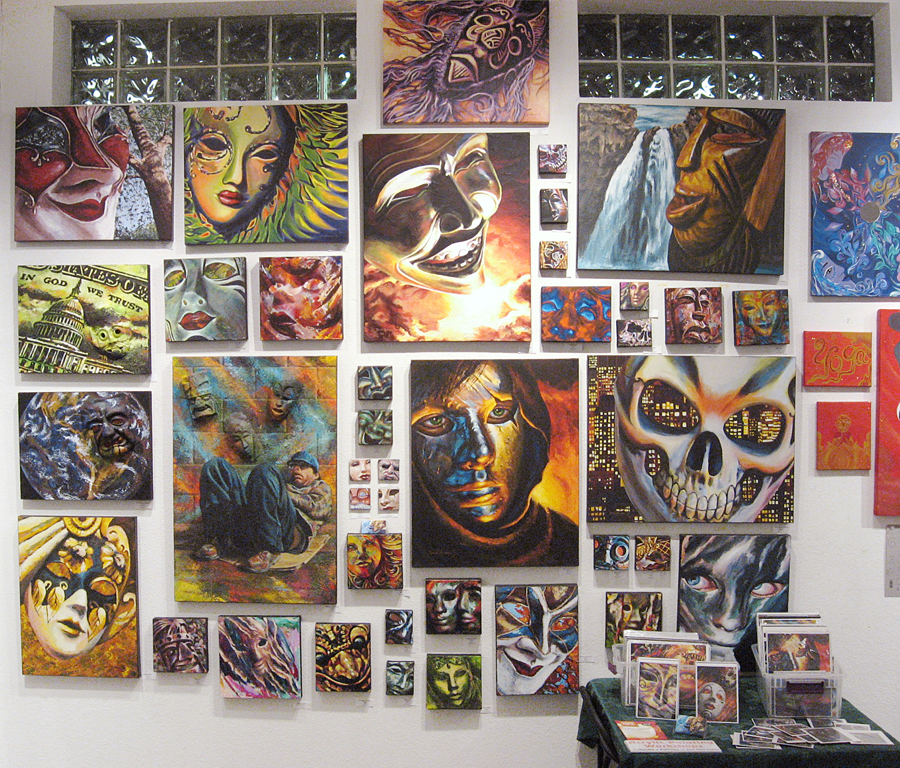 All paintings ©2008, 2009, 2010, Don Michael, Jr.
My brother, David, who has not had a chance to see in person the painting, End of Days, which I created for his book cover, asked that when I put it on display I take a photo of it to give a sense of its scale and impact. Being a frugal guy, I thought I'd use this as an opportunity to also showcase the scale of the little, itty-bitty canvasses  I was painting on with my palette knife all last week. Seven of the ten paintings I finished in August are shown below in this closeup of the wall. (End of Days is the large one with the eyes behind the mask.)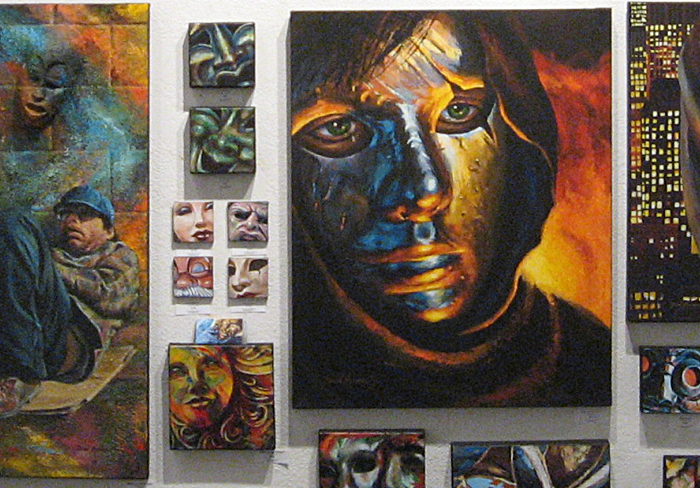 All paintings ©2008, 2009, 2010, Don Michael, Jr.
If you live in or near Las Vegas, be sure to stop by and see me tonight. I'll be hanging out with my artwork from 6pm until 10pm. Hit me up for a beer. I'll have a few stashed in my ice chest.
Happy Creating!
Well, my friend CJ is still up to no good. She just snuck in two more videos with me running my mouth. I figure since she did all this work, the least I could do is share it. Click on the images below to see what I'm talking about.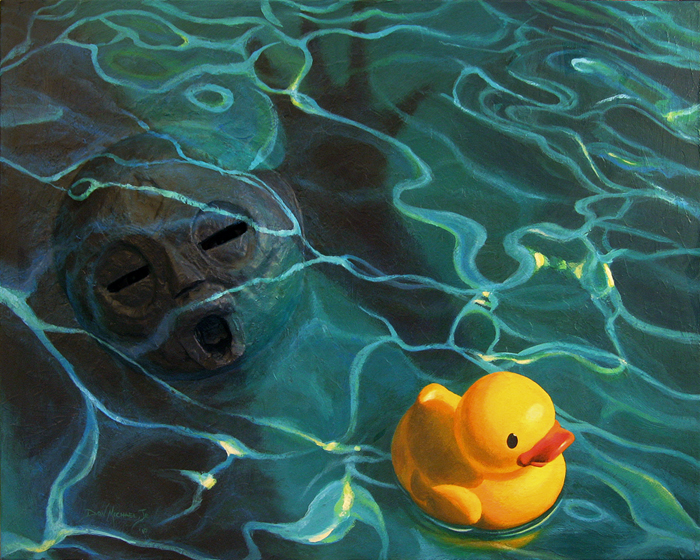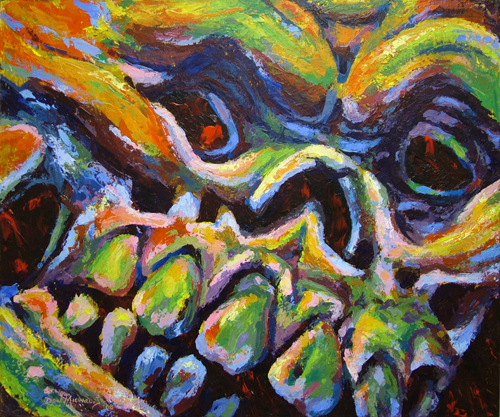 While you're watching these, I'll be setting up for First Friday which will be occurring in Downtown Las Vegas tomorrow night (6-4-10) from 6pm-10pm. My work will be on display in the Arts Factory, downstairs in the Blue Sky Yoga gallery. If you're in Vegas, be sure to stop by and say "Hi!".
During the month of March my painting Health Care Reform was hanging in the juried show, "Art 2010" at the Nathan D. Rosen Museum Gallery in Boca Raton, Florida. In mid April it arrived back home in great shape. I dug around in the shipping box to see if any notes, letters, catalogs or flyers were included and was disappointed to find the box empty of anything except the artwork. "Oh well", I thought, "at least the painting's home and in great shape."
Imagine my delight yesterday when I got the mail and found an envelope with a check made out to me with "Award of Merit" in the memo line. Imagine my dismay that once again there was no letter or note regarding the show or the fact that I had won this award. Oh well… the check is in the bank and the honor is recorded on my website, so I'm quite happy, if just a touch befuddled. (Don't worry friends, the show was legit and the award is for real – I'm not being scammed here.)
I'd like to thank juror Jorge H. Santis for choosing my work for this exhibition, as well as for awarding me this honor. I'd also like to thank everyone at the Nathan D. Rosen Museum Gallery for taking such good care of my work and making sure I received such a nice surprise. It was like Christmas in May…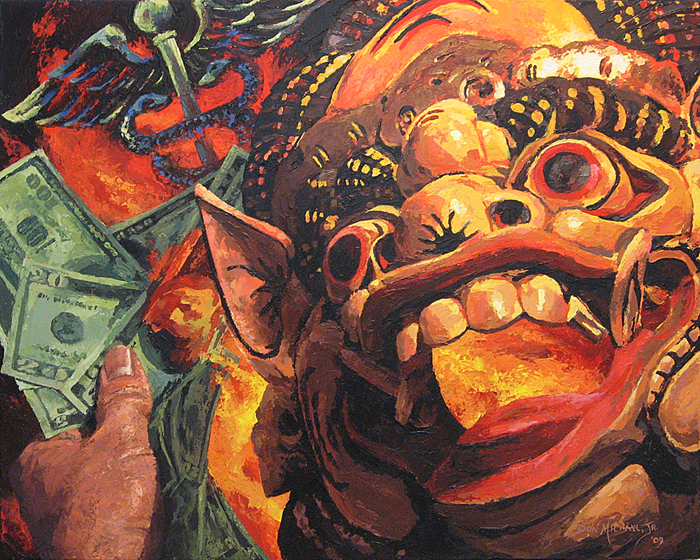 Health Care Reform – ©2009, Don Michael, Jr.
Last week I blogged about one of my works being auctioned off for charity. (You can read about it here.) Well, last night was the event and I knew I couldn't miss it.
I knew it was going to be a good night when I arrived at the Palms Resort. I parked on the roof of the parking garage (a local's secret) and was met with an amazing sight. The full moon was just coming up over the strip and it was gorgeous! I wish my camera would have been able to capture the full beauty, but here's what I got…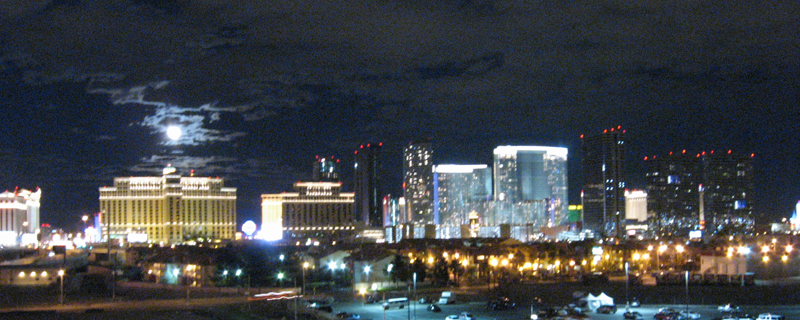 Once I got into the nightclub, Rain, where the event was being held, I was inundated with lots of wonderful artwork. I counted 46 pieces up for auction, including mine. You can see that not only were there static works of art on display, there were also some very lovely organic works making the rounds.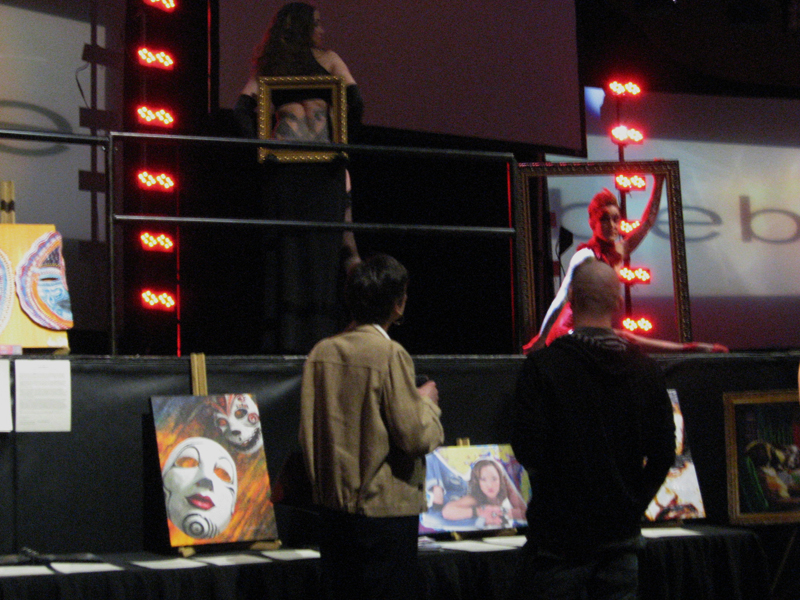 To get a sense of the whole room, I put together a rough panoramic montage of shots from my seat which covers about 180 degrees.

They finally closed the silent auction and then started the live auction with a piece created by a 3 year old, Devon Lynn Weniger, who has been battling Acute Lymphoblastic Leukemia since she was just 22 months old. She is a little art and dance prodigy who will be receiving her last treatment in June. (You may recognize the MC who is holding Devon's painting. He is Murray SawChuck from VH1 television.)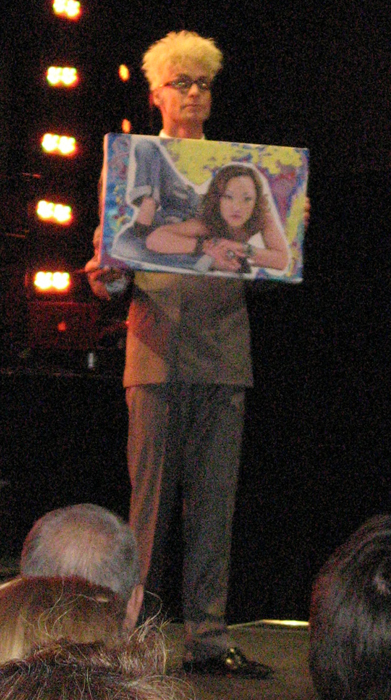 The auction continued with only one hiccup. My painting had disappeared! Apparently someone had bid on it in the silent auction because it had not been properly labeled and had "won" it. Needless to say I was a bit befuddled, but glad that the disappearance had a legitimate reason. After a couple other items were auctioned they announced that the person who had purchased my painting was donating it back so it could be properly auctioned. It ended up going for 3 times what the original purchase had been, which was quite satisfying. I would like to congratulate my friend, Mark Jenkins, for having the largest purchase price for his Beatles portrait.
After the auction things got even more exciting with the entrance of Mr. and Mrs. G who shot crossbow arrows at each other while holding different objects including an apple on her head and a balloon between his legs while he was doing a handstand. The energy of the crowd was up when they left the stage – as I'm sure you can imagine. They had no sooner left the stage than a gorgeous couple of performers came out with a mirror which they kept switching back and forth while each preened. The man ripped off his shirt at one point eliciting a cheer from the ladies. We guys were waiting in anticipation as the woman reach for her leather jacket. You should have heard the gasp of the crowd when she whipped out an electric razor and immediately started shaving her head! They finished their set with her starting to shave his head as well…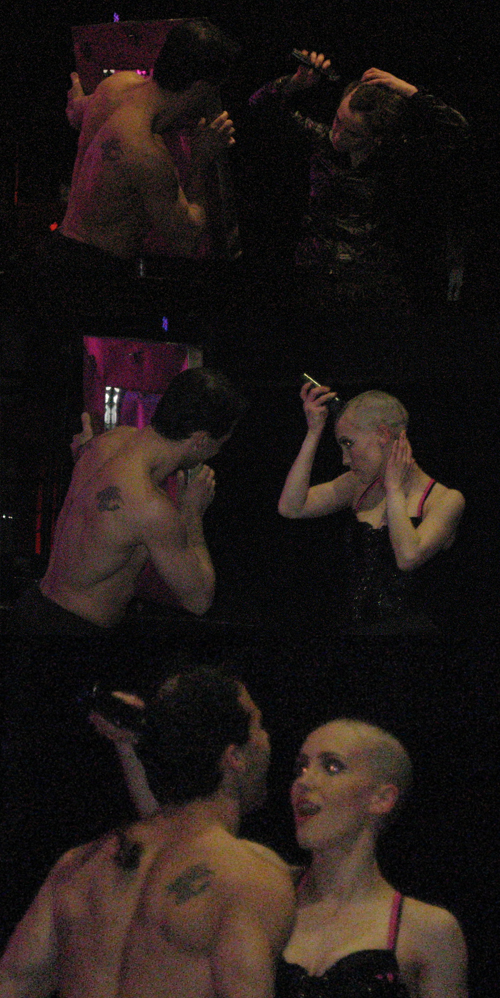 (Let me explain what just happened. The charity this event was raising money for is called St. Baldrick's which these Cirque performers have been supporting for a few years now.)
The fun continued after this lovely couple left with a slew of models doing the runway in all sorts of interesting and lovely attire. Then a young man came out to perform on the Corde Lisse. I was excited to see that this was Brien McCrea, who had headed up the art auction part of the event. (After the event I had the opportunity to take a quick photo with him.)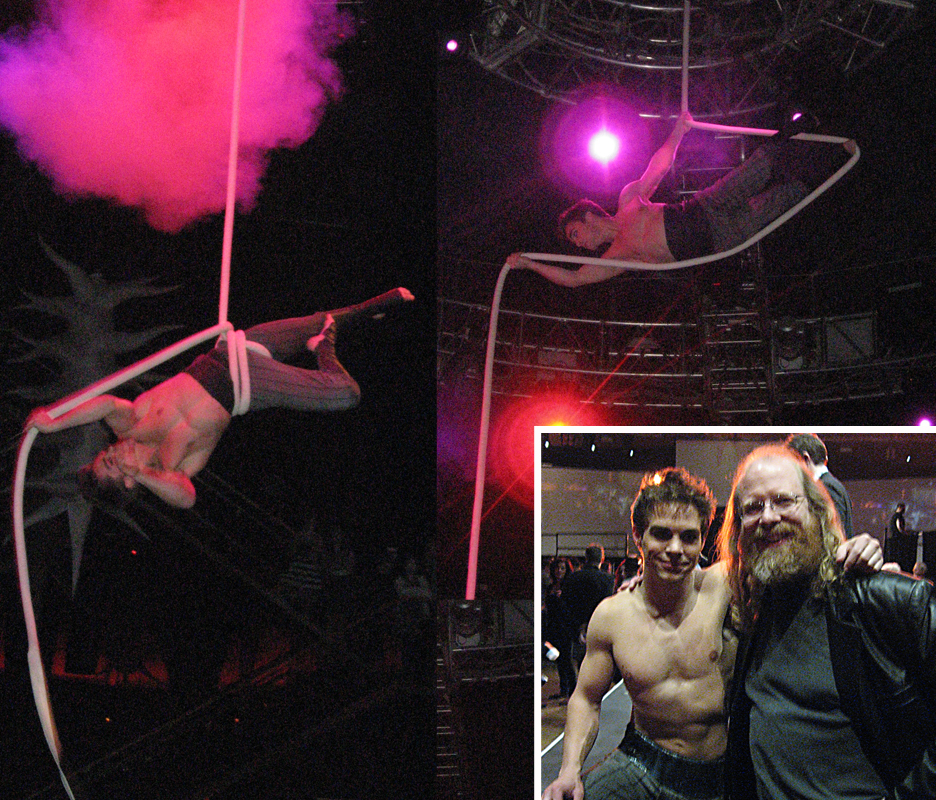 After Brien performed out strolled some more models. First there were the ladies and then came the guys. The last two guys came out with a little more attitude than the others so there was a sense of anticipation as to what could be next. Suddenly both of them ripped their shirts off and, yep, they were ripped! A group of male singers, called Mosaic, came out to perform "Lean on Me" a capella while these hunks did a whole lot of leaning on each other.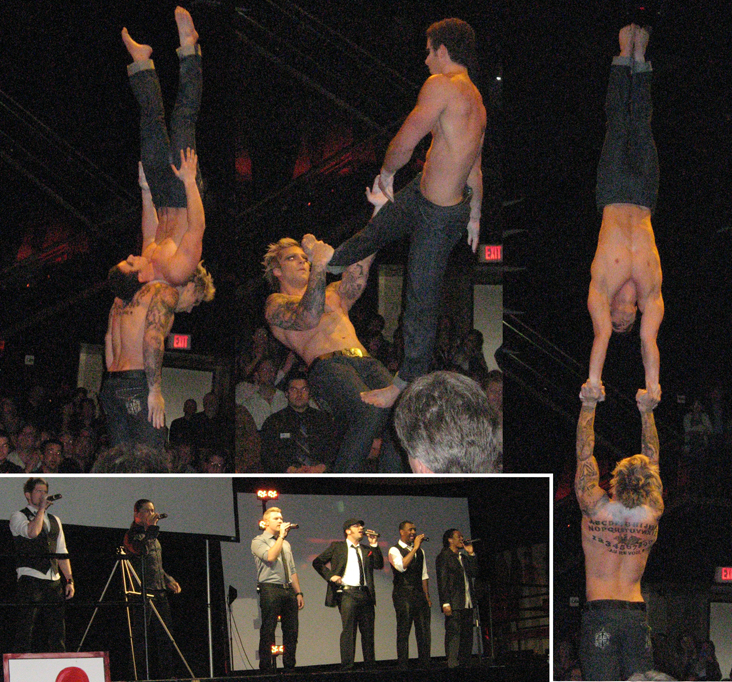 This was followed by even more models, some magic, some more acrobatics, some contortion, and some wushu (martial arts style dancing/faux fighting). Some of my photos didn't turn out very well so I've fast-forwarded quite a ways. Remember the lovely couple who shaved their heads? Well they showed back up with a wonderful performance on the Aerial Straps.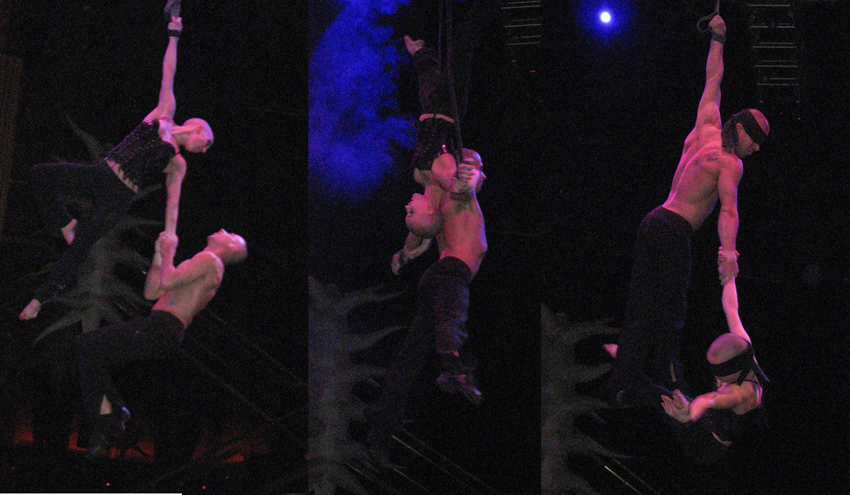 I found out later that this lovely lady is Erica Linz, who is the Artistic Director of this wonderful event. And boy was it an artful event! She should be quite proud of how it turned out. Erica and her partner, Pierre-Luc Sylvain were followed by more models cavorting on the runway. But, these models were dressed in some outrageously fun costumes. Once again, my camera failed me since they were moving so quickly on the runway. After the models finished, they ALL came back out for a curtain call, so I was able to at least capture a few of them in this last photo.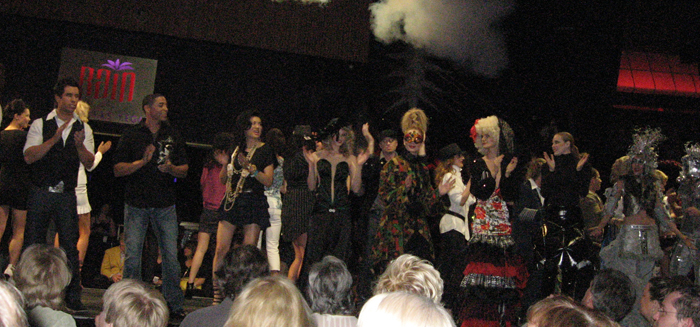 As you can tell, I had a great time. They had an after party up in the Palms' Ghost Bar for people to go hang out with the performers and models, but this old man chose to come on home.
I have me some creating to do…
<< Previous Page - Next Page >>