My Dad, Don Michael, Sr., has written Devotional Prompts. My brother, David Michael, has organized them into book form and published them. Yours truly created the cover. Talk about keeping it in the family…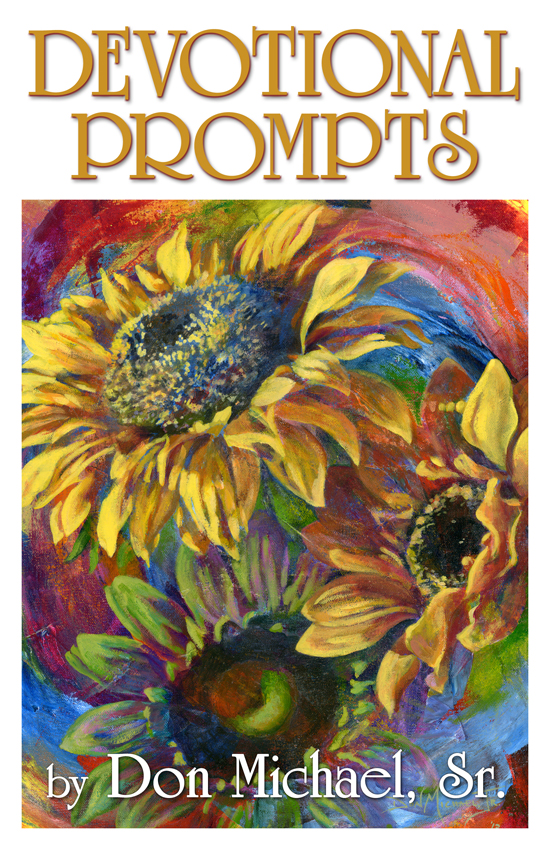 Devotional Prompts – Written by Don Michael, Sr.
©2013, Four Crows Publishing
When David asked me to create the cover for this, I was truly delighted. I immediately thought of my Sunflower Series of paintings, which coincidently, David suggested using as well. 🙂 The painting I chose for the cover is Spiritual Growth, which fits on so many levels.
Book Description (from Amazon): The purpose of the Devotional Prompts is to help you with your personal devotional time, your everyday private worship. Each prompt presents a tenet of faith or personal discovery for you to consider, and includes a call to action. Going beyond passive reading and acceptance, Devotional Prompts encourage you to write out what's in your heart, to see the wisdom of God you have glimpsed in your own life, and to highlight those areas in your life where you need to grow.
I enjoy the process of reading thru these Devotional Prompts, and think you will too. The book is available here. Check it out.
Happy Creating.
I'm excited to be able to finally unveil one of the graphic projects I've alluded to over the past couple months. My brother, David Michael, has just released his latest novel. Here is the book cover I created for him…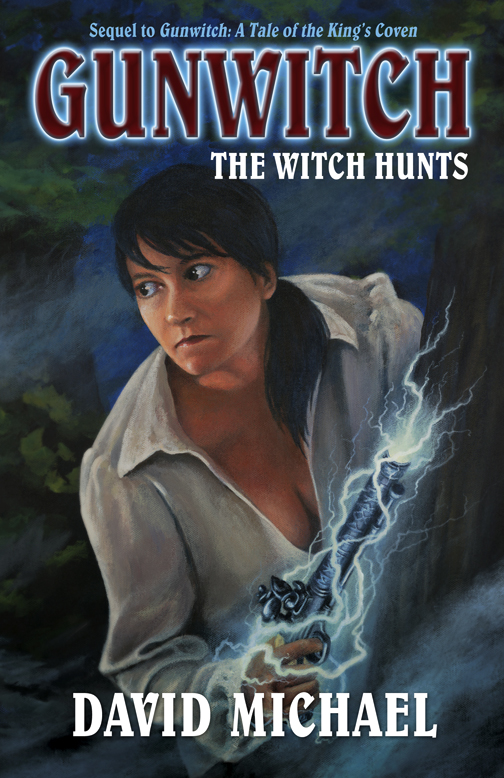 Gunwitch: The Witch Hunts – Acrylic Painting and Photoshop
©2013, David Michael
Be sure to click on the image above. That way you'll get to see the entire cover, including the spine and the back. To find out more about the book and/or to purchase it, click here.
In the midst of all my design projects I'm still finding time to paint. I haven't finished anything lately, but that's because I'm in the middle of painting another Ginormous Heart to help raise awareness and money for the Las Vegas Chapter of the St. Jude Children's Research Hospital. This is the 3rd year that I've had the honor of taking part in this wonderful program. This is a detail of where I wrapped up painting last night…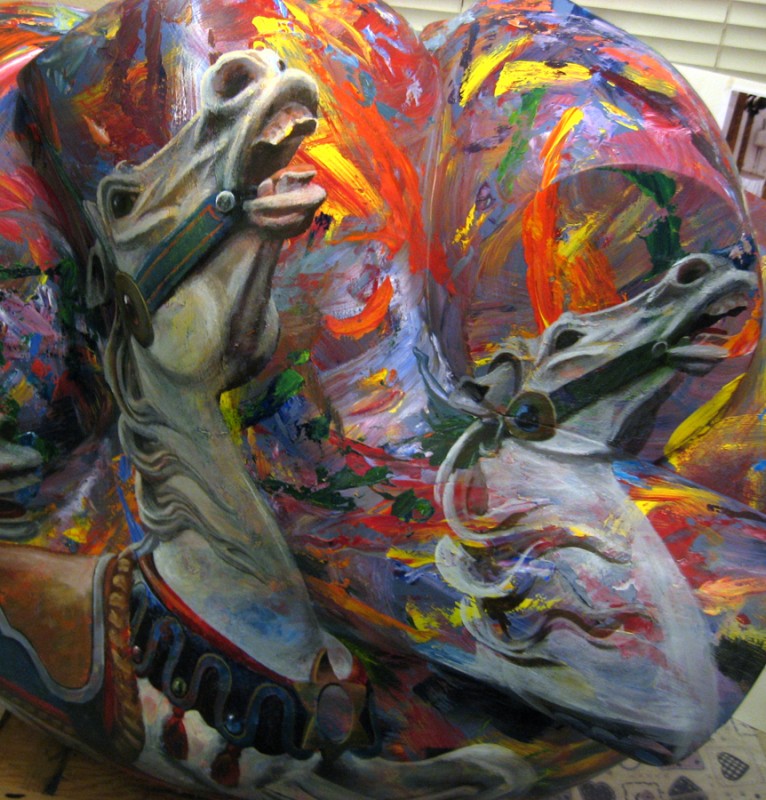 St. Jude Heart – In Progress – Detail from 1/28/13
I still have a long way to go on this. It's a major undertaking, but it's for a great cause.
Happy Creating!
I'm excited to announce the release of the book, Underground Ring: Book One, which is the first published novel by Toronto based author, M.M. Reid. You may wonder why this book warrants inclusion on my art blog? Well,that's an easy question to answer… I am the proud creator of the cover that graces it.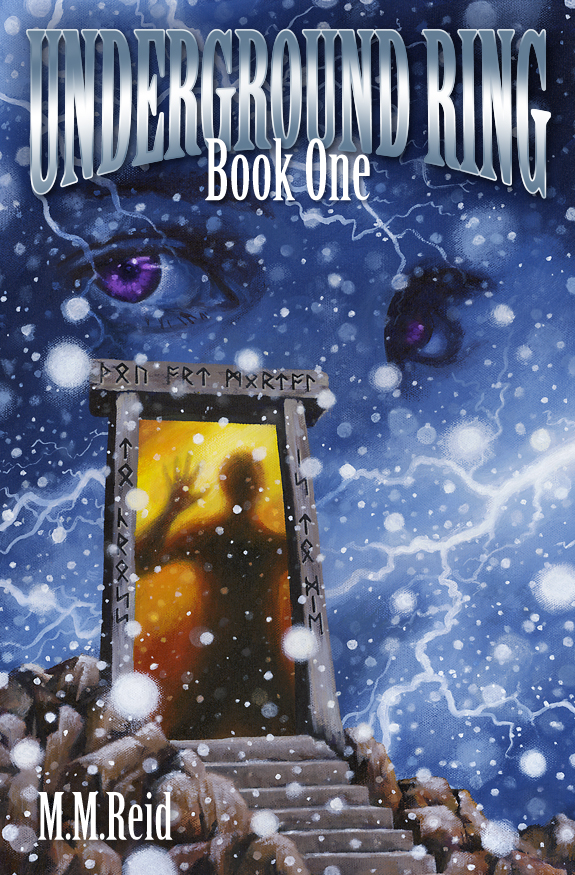 Underground Ring: Book One – Book cover artwork – ©2012
The artwork for this cover comes from a painting I created specifically for it entitled Precipice (written about here). It's a little different from most of my other work, while still being similar. A wonderful side-effect of this project, and all the other book cover projects I've worked on lately, is they stretch me. They cause me to consider different styles and different subject matter which end up informing my later works. At the same time, I'm able to inject some of my own style and subject choices into the project – making it a piece that fits into my repertoire, even as it takes me into new territory. Oh, how I love this thing I do!
Underground Ring: Book One is available on Amazon as a digital book. You can purchase it here for only $2.99. It's a really good read. I recommend you give it a try…
Now I need to get back to work as I prepare for this weekend's Meet & Greet and Live Painting Event at the Gina M Woodruff Gallery in Long Beach, California. If you live in the Los Angeles area be sure to stop by and see me either Friday or Saturday night (Oct. 5 & 6). The gallery specifics are:
Gina M Woodruff Gallery
5555 E. Stearns, Suite 203
Long Beach, CA
Ph.1-562-519-1614
I hope to see you there.
Happy Creating!
The mountain is high. The climb is arduous. The weather worsens. The doubts arise. The summit is near. The door is open. Your goal is at hand. But, is it what you really wanted?
It's time to choose.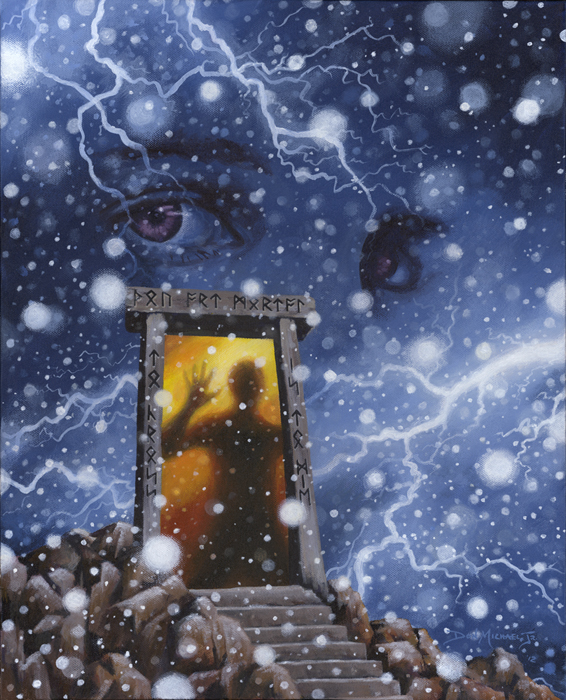 Precipice – 20″x16″ – Acrylic on canvas – Completed 3/21/12
©2012, Don Michael, Jr.
I will be writing more about this piece in the future. For now I can only say that there will be a book bearing this image soon.
As I was painting Precipice the song "The Man on the Silver Mountain" from the band Rainbow started resonating in my head. It goes something like this:
I'm a wheel, I'm a wheel,
I can roll, I can feel.
And you can't stop me turning.
Cause I'm the sun, I'm the sun,
I can move, I can run.
But you'll never stop me burning!
Coming down with fire, to lift my spirit higher.
Someone's screaming my name.
"Come and make me holy again!"
I'm the man on the silver mountain.
I'm the man on the silver mountain.
I'm the day, I'm the day,
I can show you the way.
And look! I'm right beside you!
I'm the night, I'm the night,
I'm the dark and the light.
With eyes that see inside you.
Coming down with fire, to lift my spirit higher.
Someone's screaming my name.
"Come and make me holy again!"
I'm the man on the silver mountain.
I'm the man on the silver mountain.
(Lyrics by Ritchie Blackmore and Ronnie James Dio)
Little of this has anything to do with the book. It just seemed to fit nicely with the imagery. As soon as I'm able I will share more…
Happy Creating!
Some of my regular readers may recall that I've alluded to a large project that I've been working on for the past several weeks. It's a hot little number that is coming along quite nicely. I hope to have the painting finished by the end of the week, but I won't be able to reveal it for quite a while after. So, for now, I leave you with a little tease…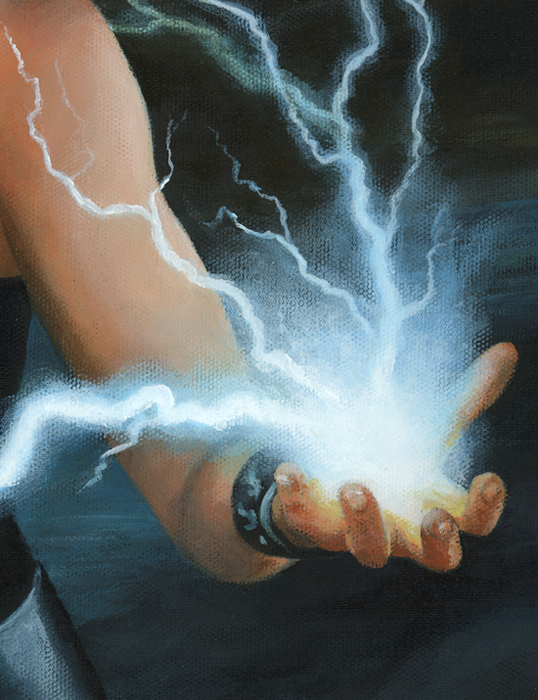 Detail of work in progress. ©2011, Don Michael, Jr.
While I'm wrapping up this project I'm preparing to start on an even larger one that has landed on my plate. It's a really exciting opportunity that I look forward to sharing about in the very near future. For now, I'll just say that it will be the largest Over the Under-Schmeerings painting I've done to date.
I know, I'm just a big tease, but that's all I can share for now…
Happy Creating!