This is my first blog post in a LONG time… But, it's for a good cause. On October 9th many aerialists, contortionists, musicians, gymnasts, fashion designers, models, entertainers and fine artists will come together for the wonderful event, Circus Couture 2015. All monies generated will be going to Cure 4 the Kids where it will be used towards the treatment of children suffering from serious medical afflictions. I am honored to say that this will be the 6th year that I will be donating a painting to be auctioned off at this event.
The theme of this year's event is "Twelve". In the words of the organizers:
There is strength in numbers…
A year of months, a jury's count, a clock's divided face.
The Zodiac, the steps to heal, it measures time and space.
TWELVE is our divider shown in
inches, hours, and grades, and dozens
are the ways that 12 has shaped the plans we've made.
Join us as we work to wind down the clock
on childhood cancer.
So, while meditating on those words I came up with this…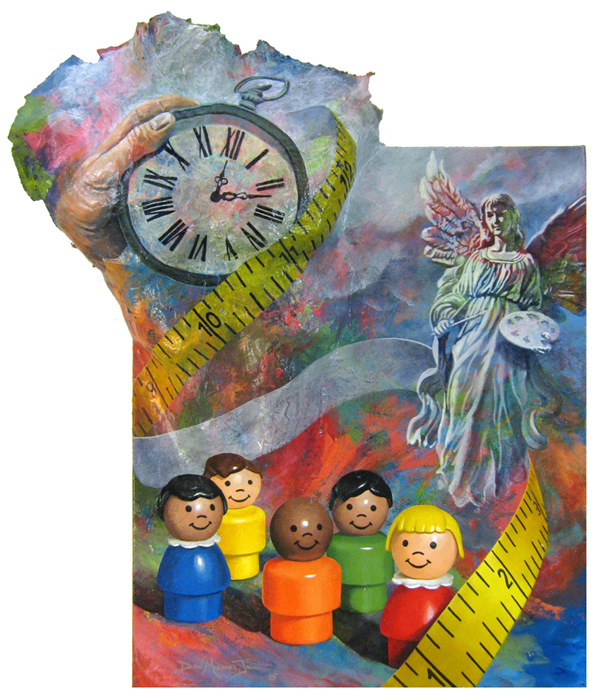 Precious Time – 28″x24″x5.5″ – Acrylic and Paper Maché on canvas – Completed 9/20/15
©2015, Don Michael, Jr.
Each of the elements have a special meaning to me. First of all the clock. You'll notice the time is set to 12:12 to tip my hat to the theme of the show. The tape measure is my nod to the fashion industry which is represented so beautifully and imaginatively each year. The 3D torso which is built into the canvas is my way of honoring the athletes, aerialists, gymnasts, models and contortionists who contribute such beautiful acts to the show. The angel represents all those who are doing their part for the kids and the palette and brushes she is holding are my tribute to the artists who create such beautiful works and donate them to the auction. And lastly, but most importantly, the toys. They represent the children that we are all contributing our time, talents and monies for. They are what this thing is all about.
To get a better idea of the torso which I built into the canvas, here is a photo of it just before I started to add paint.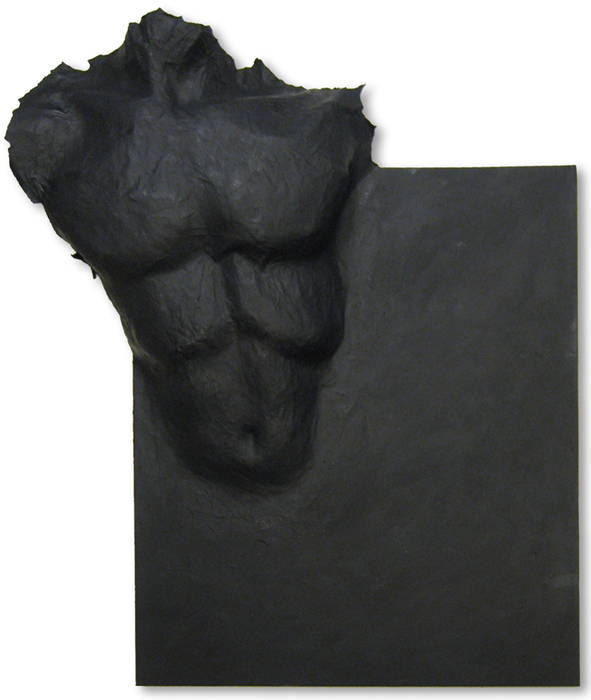 Black Gesso on 3D Canvas – Ready for paint
Please mark your calendars for October 9th. Here is a card to remind you…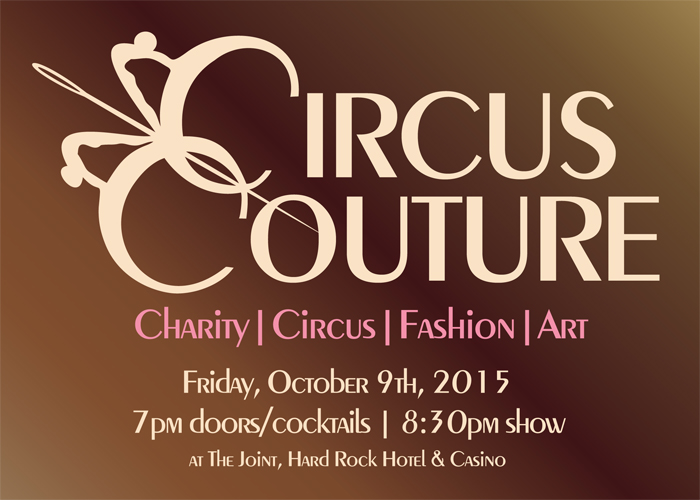 And, if you would like to learn more about Cure 4 the Kids – or to donate – please check out their website at: cure4thekids.org
Happy Creating!
Last Sunday, October 5th, my family and I attended the auspicious and ever-entertaining Circus Couture charity event. Festivities for the evening included stunning aerial acts, amazing acrobatic performances, jaw-dropping fashion, gorgeous fine art, and a very lively live auction. (You can see more about what the event is about by clicking here.)
This was the 5th year of Circus Couture and this is the 5th year that I've donated a painting for them to auction off. The paintings I donated the first 4 years helped to garner between $2,500 and $3,000 – all of which goes towards the treatment of children dealing with cancer and other devastating diseases. It's an amazing feeling to know that the art I create can help generate that kind of money which I could not give to the charity otherwise.
Since I have been donating paintings to Circus Couture from the beginning they honored me this year as one of their featured artists. This meant that my painting was featured during the live auction part of the event. It also meant that I was interviewed on camera a few weeks before the event. The edited version of my interview was played just before my painting was auctioned. If you're interested in what I had to say, click on the image below…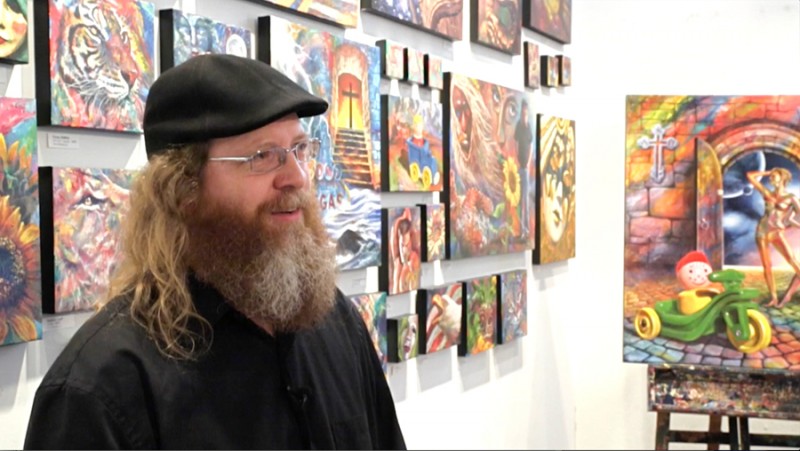 Don Talks About His Involvement with Circus Couture
Many of the children being treated at the Children's Specialty Center of Nevada were able to attend the event with their families. A couple of those families were sitting in the row in front of my family and me. It was really sweet that one of the young girls kept turning around and looking at me while the video was playing. She was in awe that I was up on the big monitor AND sitting right there behind her at the same time. 🙂
Once the video was finished the auctioneer took the stage and got busy. After a very exciting several minutes of bidding and clapping I was awestruck to hear that my painting had sold for $6,000!!! That was more than twice the amount that all the other paintings I had donated to Circus Couture over the years had sold for – COMBINED!!! I thank God and give Him the honor and glory. Wow!
Below is the painting which now resides in a gorgeous penthouse near the Las Vegas Strip. I hope the new owner enjoys it for years and is blessed beyond all measure for his generous donation to such a worthy cause.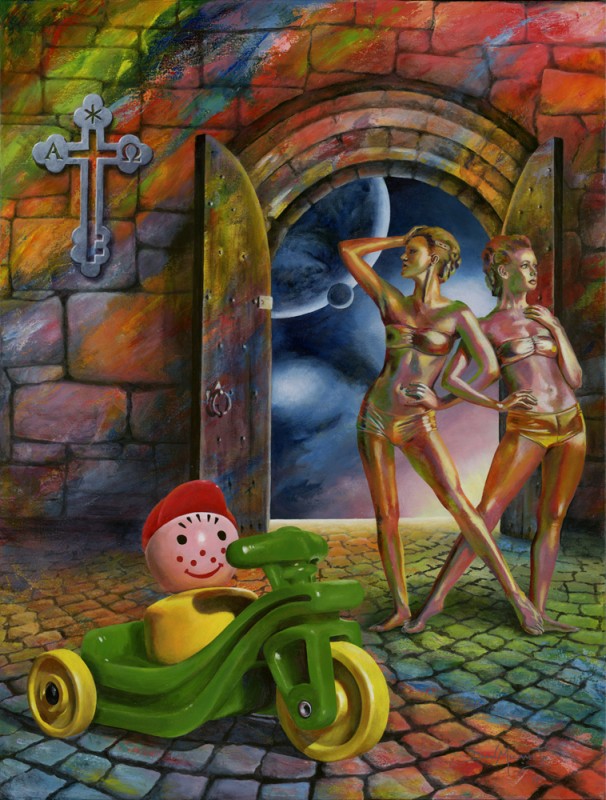 Unlocked – 40″x30″ – Acrylic on canvas
©2014, Don Michael, Jr.
To put a face to what Circus Couture is all about I want to end this post by introducing you to one of the mighty warriors being treated thru the Children's Specialty Center of Nevada and the Hemophilia Treatment Center. He came up to me and gave me a giant hug during intermission. He was so excited that I had been "on TV". His name is Sawyer and he is my hero. That 3-year-old body has so much love and kindness in his soul and my life is eternal changed by having met him and his loving family. God Bless them, each and every one.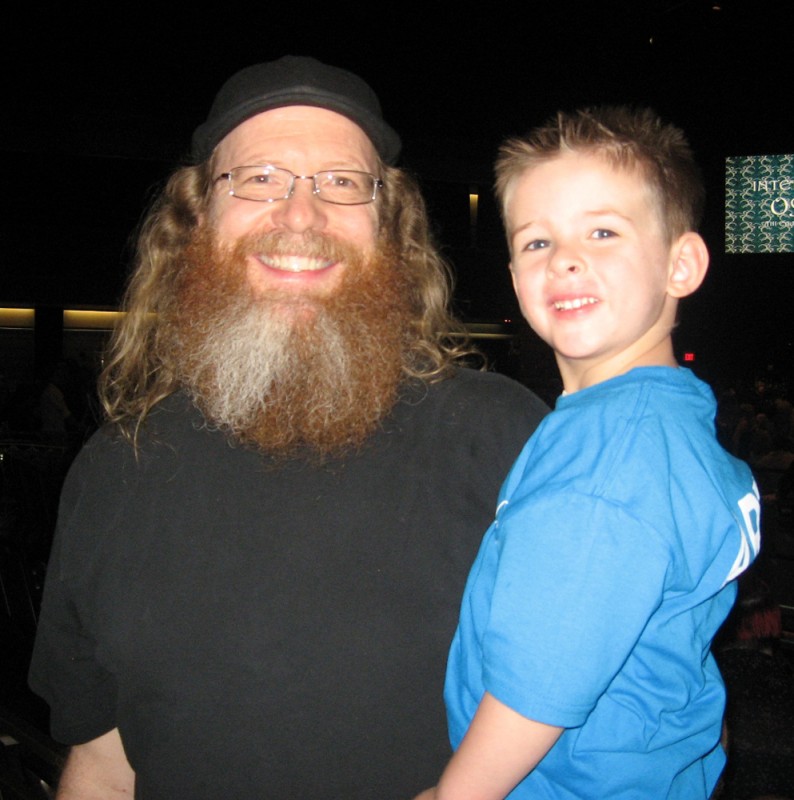 Don and Sawyer
To find out how you can help these children check out the Cure 4 the Kids website. Explore the site and see what they are up to. It's amazing!
I love this thing I do, and I'm proud that there are ways that it can impact others' lives. Wow!
Happy Creating!
I have had the good fortune to have access to some beautiful photos of some lovely athletes in action which were originally taken to be used in promotional materials for this year's Circus Couture event coming up on October 5th. (I wrote more about this year's event here.) The photos were all taken by the phenomenal photographer, Jerry Metellus. Both Jerry and the president/creative director of Circus Couture gave me permission to use these photos to paint from. So, I took them up on it… and… below is the third painting that has come from these photos…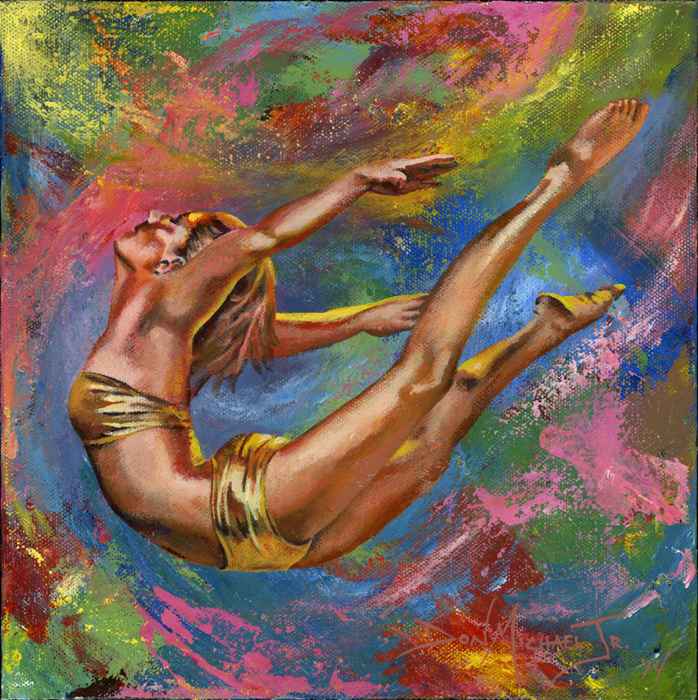 Exuberant – 10″x10″ – Acrylic on canvas – Completed 9/9/14
(The model featured in this painting is the KA performer Lindsay Kazandjian, who has generously donated her time and talent to this year's Circus Couture. I am honored that she approved of the painting… Phew!)
As I was painting Exuberant I started thinking about how much I enjoy painting these athletes and how the energy of their movements really play well with the energy of my Over the Under-Schmeerings (OTUS) style of painting. As tends to happen, those thoughts led to others… This time the train of thought took me back to the first time I ever attempted to include an athlete in action in one of my creations. Below is the result…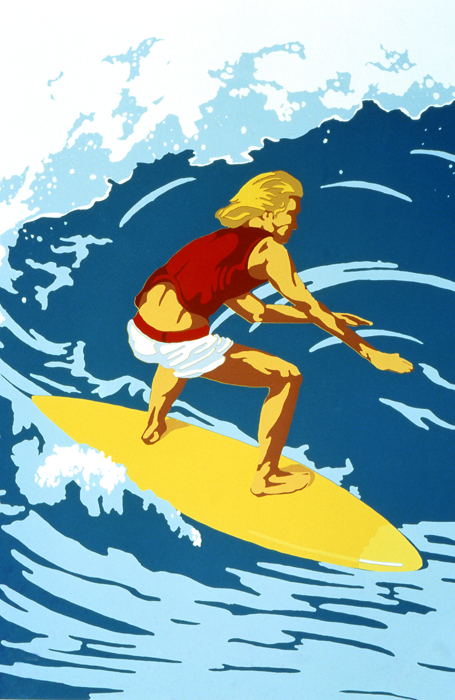 Bitchin' – 17″x14″ – Serigraphy(Silkscreen) – Created July 1983
At the time I had just discovered serigraphy(silkscreen) as a creative medium and was having a lot of fun experimenting with how it worked with different subject matter. I'm still happy with the way this composition came out. The energy of the moment comes thru nicely.
Seven years later I was pushing the boundaries on a totally different medium and once again turned to athletes in action. This time the medium was watercolor…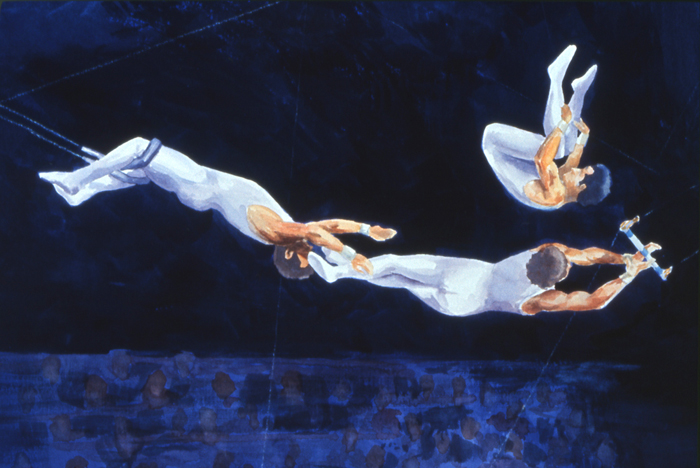 Exhilaration – 14″x21″ – Watercolor – Completed July 1990
I'm not as happy with the results of this one. The energy of the moment is not conveyed very well. It captures the 'moment in time' pretty well, but the true drama of the moment gets lost. I was so focussed on the medium that I didn't spend the time getting the composition right. Everything stops. Nothing keeps your eye moving.
Fast forward nearly two decades. My medium of choice had become acrylic paint. I had created a style of painting that I called Over the Under-Schmeerings (OTUS). My primary subject matter for over a decade had been masks. However, as I was preparing to create my second painting for Circus Couture I didn't want to only include masks. I wanted to reflect the craft of some of the performers donating their time to generate funding for research and treatment of pediatric cancer. So, I went back to the aerialists…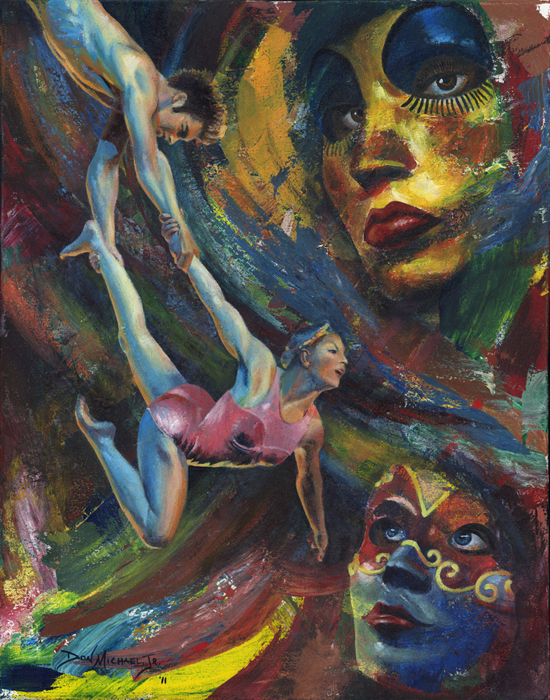 Dare to Believe – 20″x16″ – Acrylic on canvas – Completed May 2011
This time I knew I had gotten it right! I immediately fell in love with how the energy of my Under-Schmeerings worked with the energy of the athletes. The raw nature of the strokes in the schmeerings really helped to add drama to the motion of the performers. At that point, I knew that I would be doing more OTUS paintings involving people in motion.
I have. And, here are a few of them…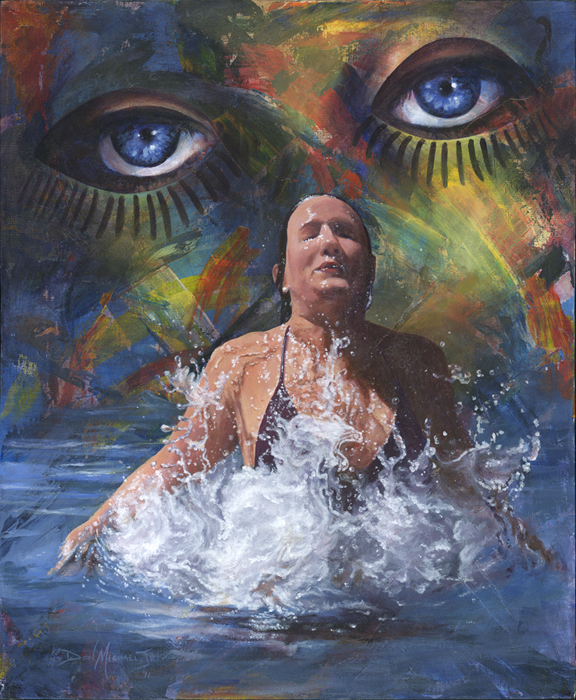 Out of the Blue – 24″x18″ – Acrylic on canvas – Completed 12/8/11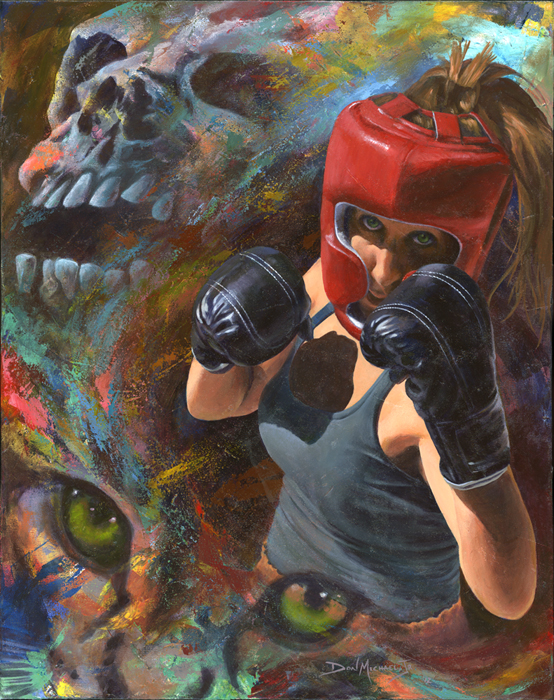 Killer Instinct – 30″x24″ – Acrylic on canvas – Completed 1/30/12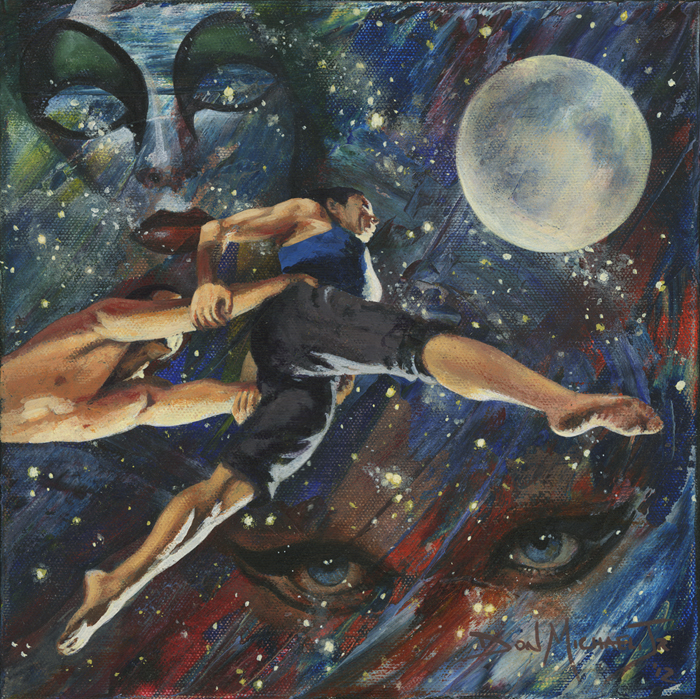 Leap of Faith – 10″x10″ – Acrylic on canvas – Completed 7/20/12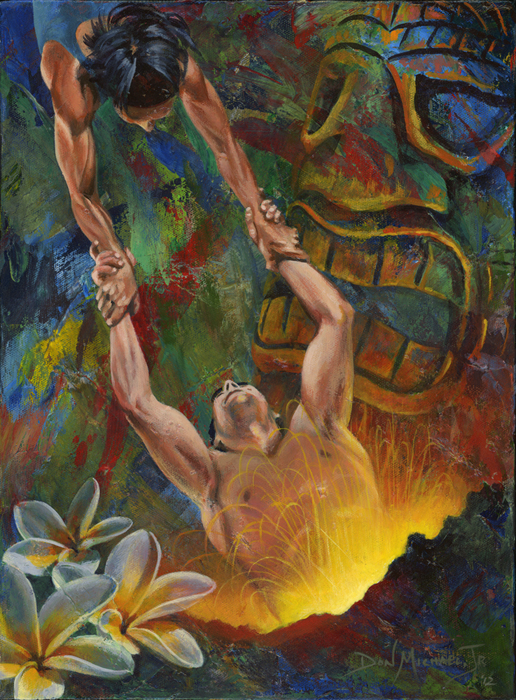 Esprit de Corps – 16″x12″ – Acrylic on canvas – Completed 8/18/12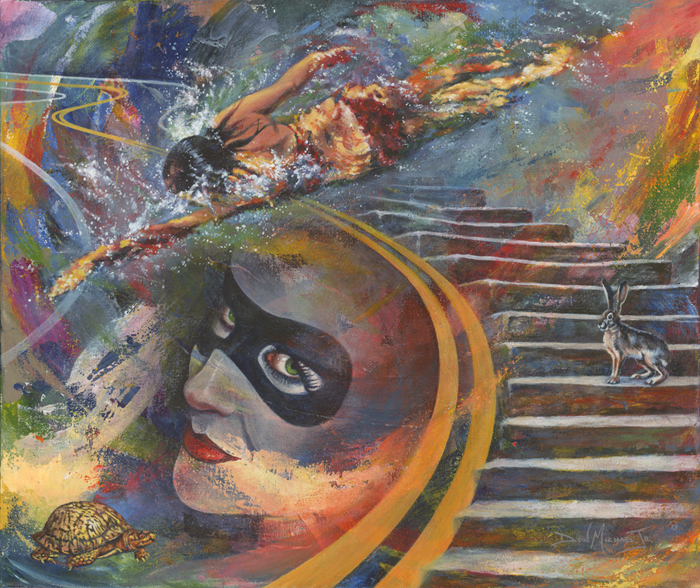 Wherewithal – 20″x24″ – Acrylic on canvas – 4/16/13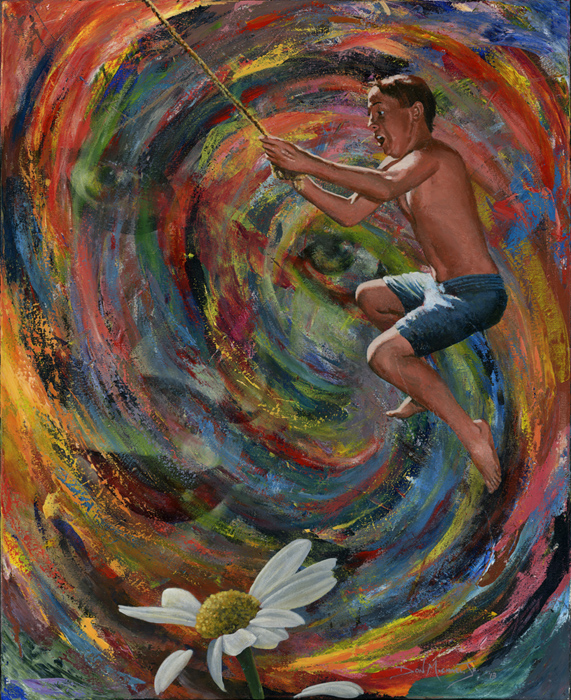 Crush – 30″x24″ – Acrylic on canvas – Completed 5/28/14
Happy Creating!
For the 5th year in a row I will be donating a painting to Circus Couture to help raise funds for pediatric cancer treatment and research. I'm really proud of the fact that I've donated a painting to this event every year since its inception. I believe strongly in what they do and I know that even my small part can make a difference in children's lives. I'm honored and humbled that the Circus Couture board has recognized the small part I've played over the past few years and has chosen me to be a featured artist this year during the live auction part of the event. Wow.
Each year Circus Couture chooses a theme around which the performances revolve. This year's theme is "Unlocked". As I prepared to create the painting to donate I meditated on the poem that they sent me titled, You Hold the Key to Your Own Cage:
A lock to keep it safe, a lock to make it hide
A lock protects the value of what we hold inside.
A key to find success, a key to open doors,
Keys perhaps to set us free toward all we hope and more.
Combining the words to this inspiring poem with my love for my family and my love for my savior, Jesus Christ, I came up with the following painting…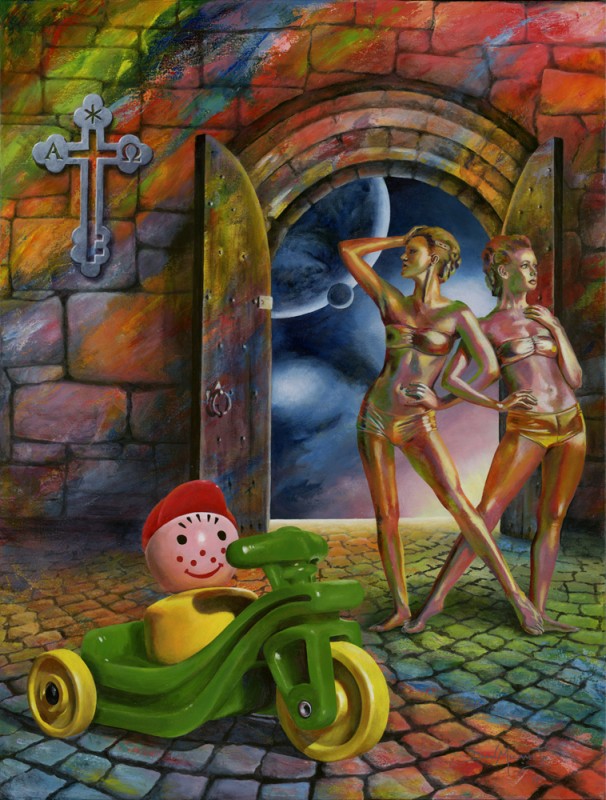 Unlocked – 40″x30″ – Acrylic on canvas – Completed 8/25/14
The lovely models in Unlocked are Lora Kelsey and Kat Day. They are both Las Vegas performers who have donated their time and skills to Circus Couture. The reference photo that I used of those lovely ladies was taken by the outstanding photographer Jerry Metellus who has also graciously donated his time and skills to this wonderful charity event. The photo of the ladies comes from a promotional piece for this year's Circus Couture event, which can be seen below…

I loved the reflective nature of the gold makeup on the models and thought they would work really well in this painting. I also LOVED the pose of the ladies with their interlocking arms while looking in two totally different directions. After getting permission from both the photographer and the Circus Couture president/artistic director, Erica Linz, I got busy. I tweaked their coloring quite a bit to give them an 'ethereal' look, and then I put them in front of the open doorway with the whole world on display behind them.
But, before I did any of this, I needed to experiment to decide how I wanted to incorporate them in one of my Over the Under-Schmeerings (OTUS) paintings. So, I painted this little study of the effervescent Erica Linz from the same photo… (You may notice that Erica is the performer doing the backflip just to the left of center in the photo above.)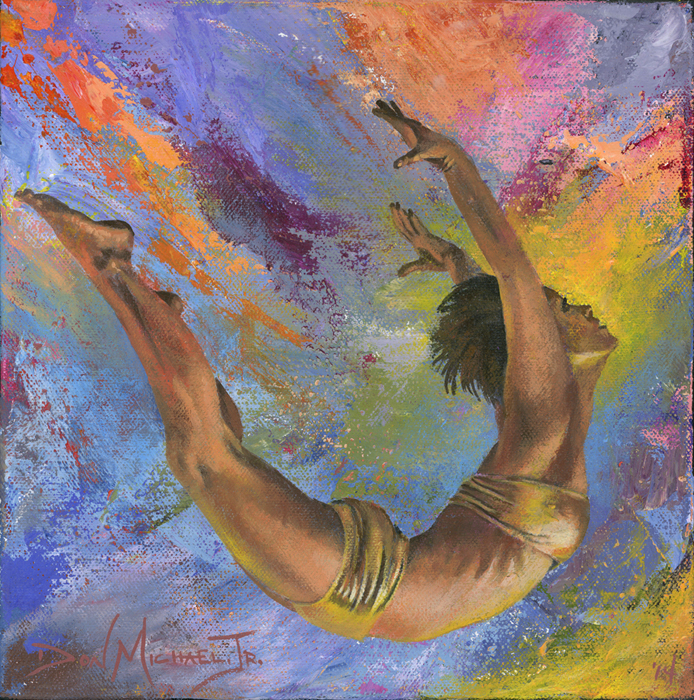 Effervescence – 10″x10″ – Acrylic on canvas – Completed 7/30/14
After painting this study, I decided to 'tweak' the coloring of the ladies for the painting Unlocked and make them even more reflective. As much as I liked the way Effervescence turned out, I felt Erica got a little lost in the schmeerings and wanted Lora and Kat to 'punch' a little harder visually. Like this…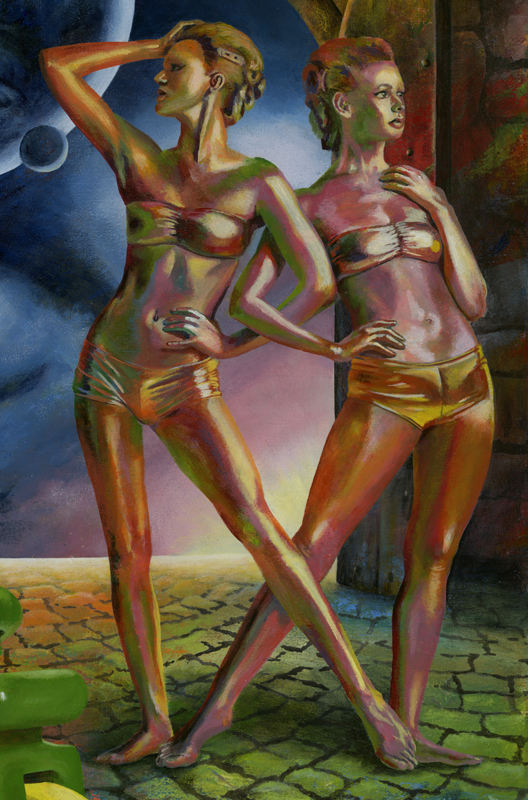 The inclusion of the little Fisher Price toy has a two-fold purpose for me. Primarily, for this event, it represents the innocence of childhood and its boundless potential. Secondarily, and on a more personal level, it memorializes our son, Donald, who lost his battle with cancer last year. Donald had a green three-wheeled tractor that he rode like a wild man from the time he got it when he was almost 3 until he outgrew it a few years later. Here he is driving it around on the Christmas morning that he received it…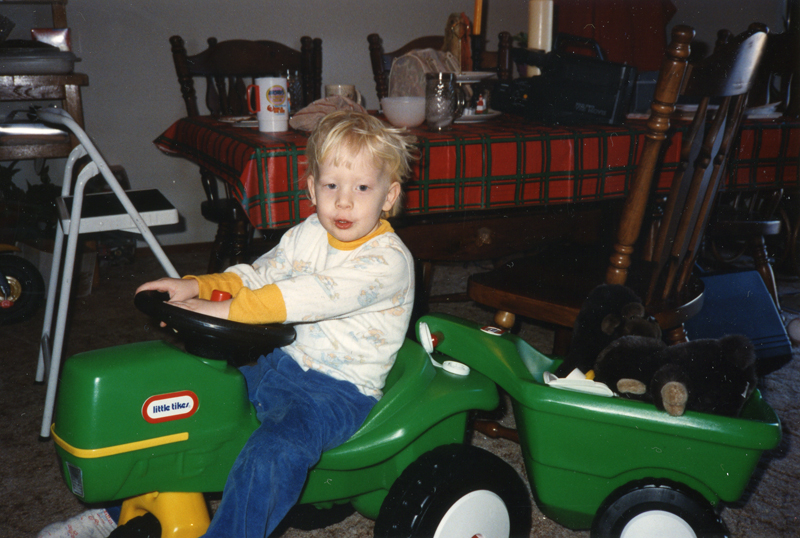 Christmas Morning 1990
Last, and certainly not least, the cross hanging on the wall… I wanted to represent the key to the doorway. The key that unlocks everything. It's been put to use. It's job is finished.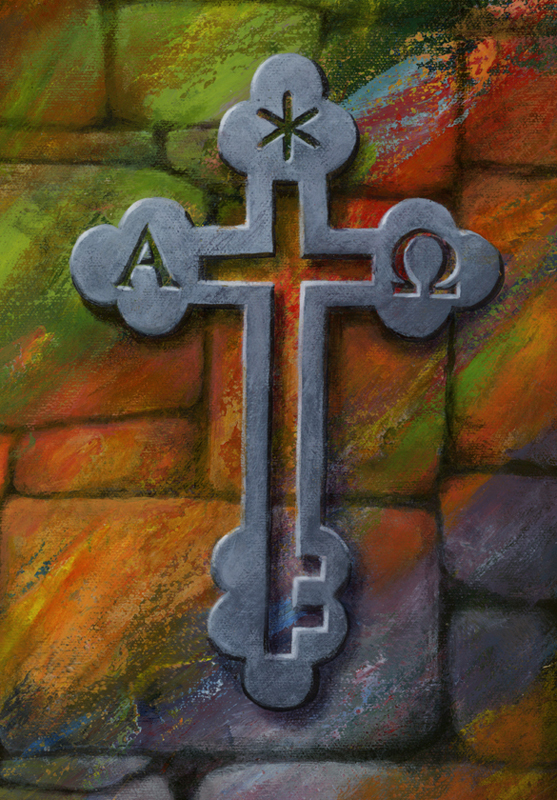 Unlocked (Cross detail) – approx. 10″x8″
So, if you're not doing anything on the evening of October 5th, come on out to The Joint inside the Hard Rock Hotel & Casino and be entertained while helping to generate funding to treat children with cancer and other blood-born illnesses. It's a labor of love put together by an eclectic, beautiful and artistic group of individuals. Click here for more details.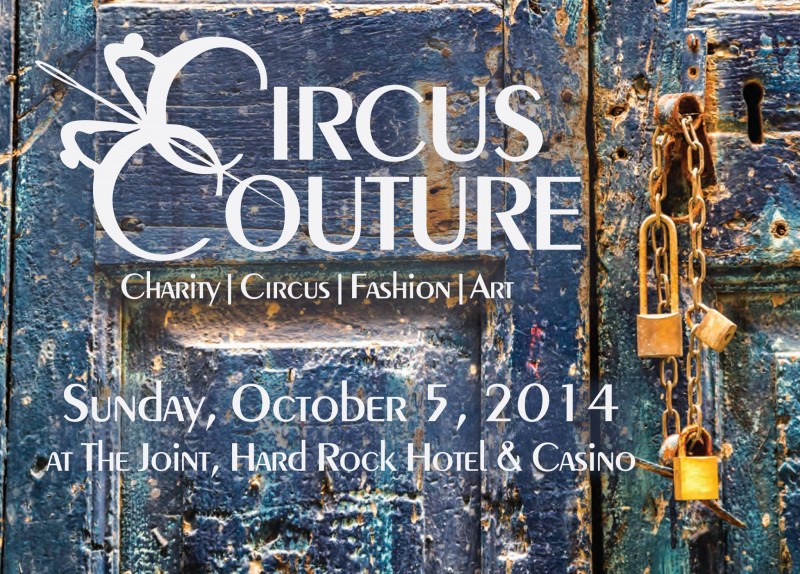 Circus Couture – Save the Date card
Happy Creating!
For the Fourth year in a row I am donating a painting to Circus Couture where it will be auctioned off. As with each year, all funds raised will be donated to the St. Baldrick's Foundation who in turn writes a grant directly to The Children's Center for Cancer and Blood Diseases of Las Vegas. I consider it an honor to be able to take part in this event which features top circus performers and dancers from shows on the Las Vegas strip, fine art from local professional artists, and the finest high fashion and runway models. You can find out more about the event and their mission by going to the Circus Couture professional page on Facebook. While you're there be sure to give them a LIKE.
For this year's painting I wanted to 'tip my hat' to the wonderful Cirque du Soleil performers, many of whom donate their time and talents to Circus Couture. My friend, Julia Parrot, who is a wonderful artist and a former Cirque performer, gave me permission to use a frame from a video she created using some of the performers from the Cirque du Soleil show, KA. You can see her video here. It's really cool, so be sure to check it out.
Here is the painting I came up with…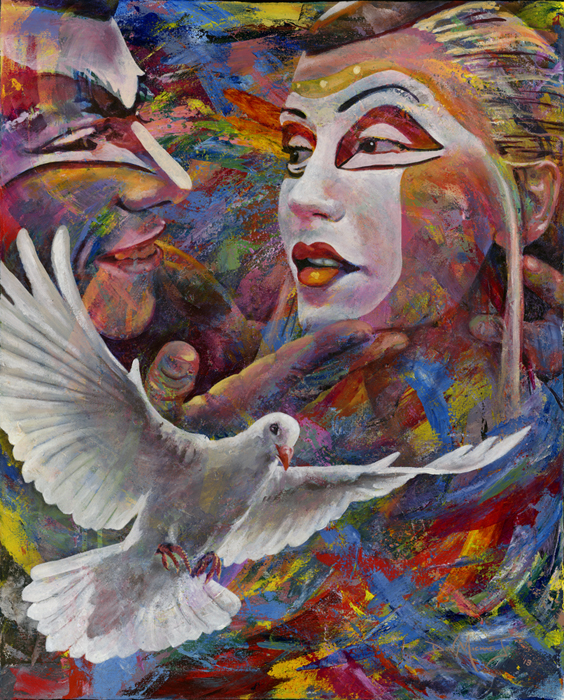 On the Wings of a Dream – 30″x24″ – Acrylic on canvas – Completed 11/4/13
©2013, Don Michael, Jr.
Something very special to me about this painting is that the lovely lady pictured is a major driving force behind Circus Couture. I tip my hat to you, Erica, and thank you for all that you do for our children here in Las Vegas. God Bless You!
As I was finishing up this painting the song Beautiful Stranger by Rebecca St. James came on Pandora. The lyrics for that song really touched me and I feel they fit well with what Circus Couture stands for. I hope you enjoy…
Do you see me?
The questions in her eyes
Do you relate to the pain I can't disguise?
Oh, look beyond what you see
The outside is not all there is
Won't You tell me now when did I see
You in need of water?
Oh, and tell me now, when did I see You
Hungry on the street?
God, I hear You calling out to me
In the voices of the least of these
Calling me to reach beyond my world
To the beautiful stranger, beautiful stranger
He does not look like everyone else
Does not fit in anywhere I know
You ask me to be Your hands
And show him now that he is loved
Won't You tell me now when did I see
You in need of water?
Oh, and tell me now, when did I see You
Hungry on the street?
God, I hear You calling out to me
In the voices of the least of these
Calling me to reach beyond my world
There's beauty that lies deep within
Waiting to be discovered
God help me see what You see
The diamond in the stone
You in need of water
Tell me now, when did I see You
Hungry on the street?
God, I hear You calling out to me
In the voices of the least of these
Calling me to reach beyond my world
To the beautiful stranger, beautiful stranger
God, I hear You calling out to me
In the voices of the least of these
Calling me to reach beyond my world
To the beautiful stranger, beautiful stranger
Happy Creating!
For the third year in a row I have honor of taking part in the wonderful charity event Circus Couture. This event combines the talents of aerialists, acrobats, fashion designers, musicians, dancers and fine artists to help generate monies that will be used to sponsor children in their treatment of cancers and bloodborn illnesses. My small part in each of these events has been to donate one of my paintings to be auctioned off during the event. Below is this year's painting…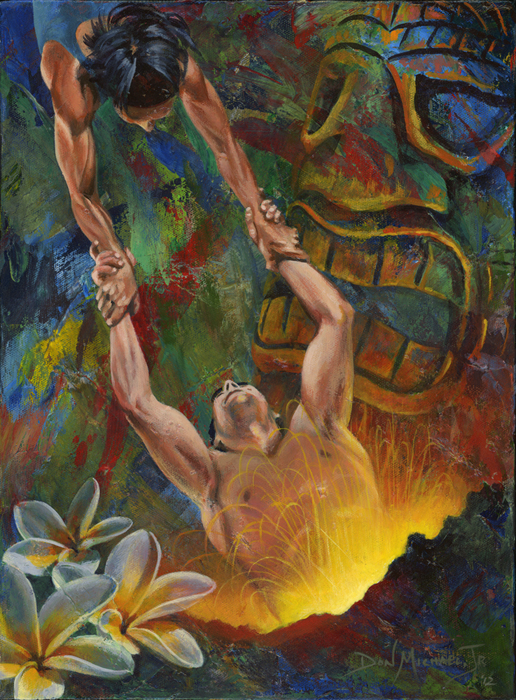 Esprit de Corps – 16″x12″ – Acrylic on canvas – Completed 8/18/12
©2012, Don Michael, Jr.
Before I even started this painting I gave a lot of thought to the ideals I wanted to convey. First of all, I wanted to 'tip-my-hat' to the wonderful performers who donate of their time and talents to this wonderful event. Secondly, I wanted to convey the idea that we all need each other to make it in this world. Other key words for me as I was designing this were: trust, exhilaration, fear, desire, collaboration and passion. I hope my ideals convey. More importantly, I hope my painting is able to generate significant monies to help our local children in their fight to beat cancer.
If you would like to find out more about this year's event be sure to click on this link: http://www.circus-couture.com/event.htm
Happy Creating!
The family and I started this weekend with a BANG, and it never let up from there. On Friday night, my sons and I took their Mom to see her favorite rock band of all time – RUSH. I must say that Laura's enthusiasm for this band has rubbed off on all three of us guys and we are prone to concur with her assessment of them being the best rock band, EVER. This marks the 8th time I've seen RUSH with Laura, and the 3rd with our boys. After 37 years of touring together, you wouldn't blame RUSH if they took it a little easy when they hit the stage. But, alas, they are not ones to rest on their laurels. These 3 men are still some of the best musicians in Rock-n-Roll and can still put on a show that will blow your mind.
Here we are on our way out to the car. I inserted a little press photo of RUSH for your viewing pleasure…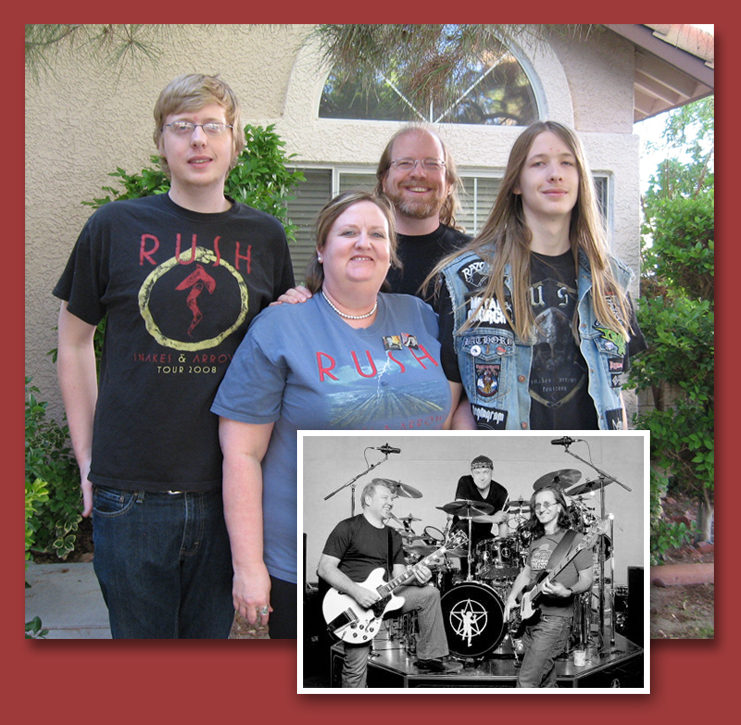 Laura and her 6 Favorite Men
Saturday I was a little slow getting around. I think it had something to do with jumping up and down for almost 3 straight hours the night before, but I can't be sure. Anyway, I got myself together enough to head over to the new Michael's store to teach my first Acrylic Workshop there from 1-3pm. We had a great class with 4 new students and one who has been to a few of my other workshops. Everyone did a wonderful job and left with finished works of art. Regrettably, my camera was still sitting on my desk at home, so I have no visual proof of this, so you're just going to have to trust me this time.
Sunday morning I remembered to take my camera to the demo I was doing at the Grand Opening of this same Michael's. However, it sat right in the tub with my supplies and didn't do me a dang bit of good since I forgot to put it to use. For this demo I was placed in the classroom with all the other Workshop instructors doing their demos. Although we all had a great time visiting together, most of the customers didn't make it in to see us. I think they were either a) a little intimidated to walk into a busy classroom, or b) too worried about putting all their great coupons to use. Maybe it was both…
Sunday evening I took my lovely daughter to the Circus Couture event to which I had donated one of my paintings. I had told her ahead of time that I would need her to remind me to grab the camera. Thankfully, she did not let me down. In fact, she even took the first photo of the night…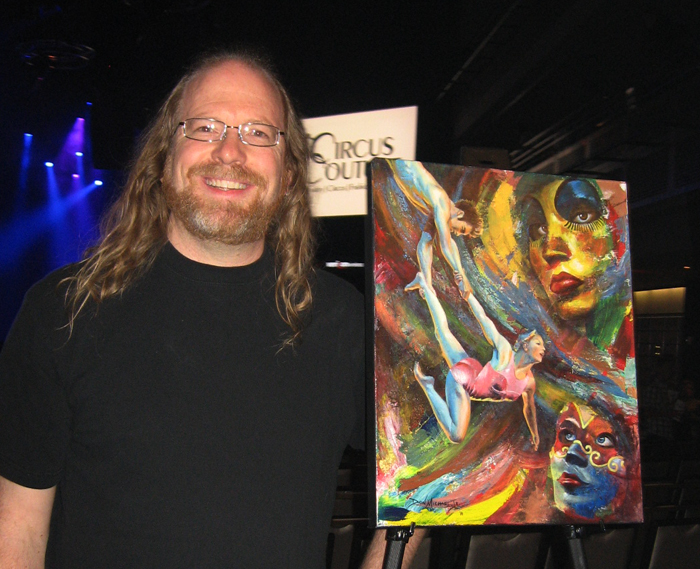 Don with his donated painting Dare to Believe
… and then co-starred in the second photo of the night.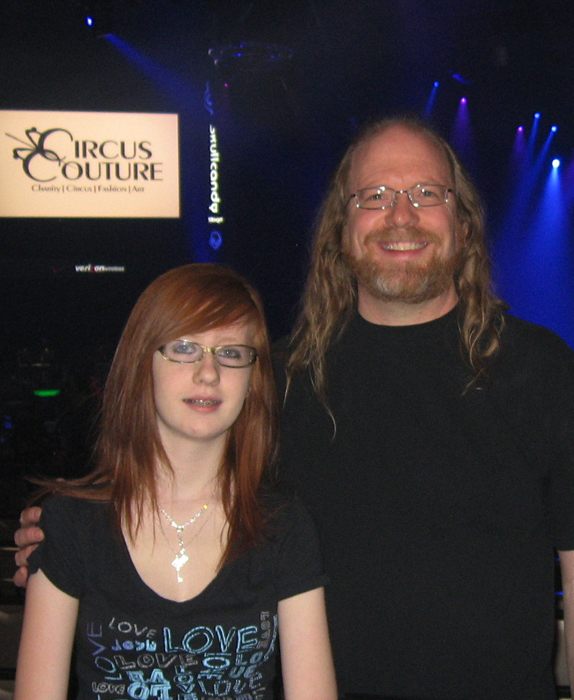 Christina and Don at Circus Couture
You can see the lights and large monitor on the stage behind us. Upon that stage there was a live auction of 6 works of art, with mine included. If my math was correct, those 6 works generated nearly $4,000. That's money that will go directly to help sponsor children receiving treatment for cancer in our local hospitals, as will all of the proceeds from this wonderful event.
Also, upon that stage, several performers wowed us with amazing feats of strength and agility mixed with outstanding fashion. My shots of the event are mostly fuzzy, but here is one of the whole group on stage making their final bow.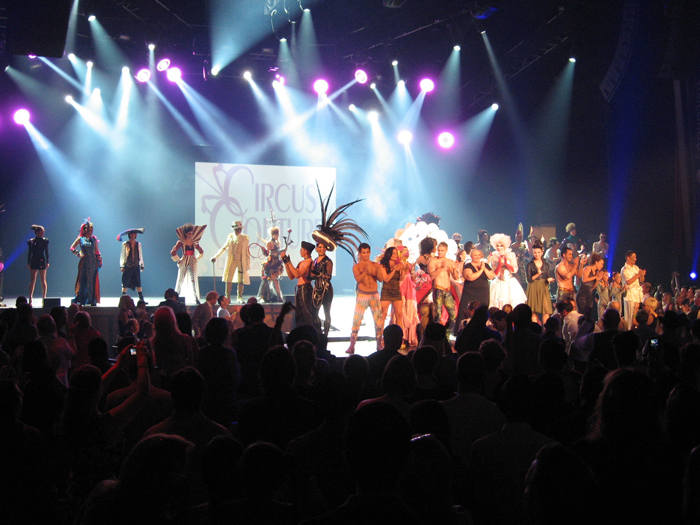 Circus Couture Performers
I wanted to include a couple of the less-fuzzy shots of the performers in action and asked Christina which were her favorite acts. She chose these two.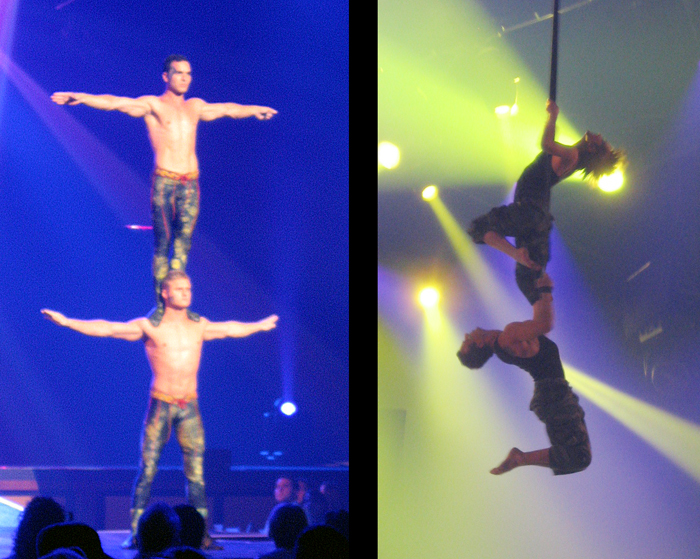 Circus Couture Performers in Action
To paraphrase our conversation, Christina told me she was amazed at the strength of the two men and awed by the grace and beauty of the aerial couple. I am in total agreement with her assessment.
Another cool thing about the Circus Couture event is the fact that there are so many of the performers in attendance from the different acrobatic, aerobatic and aqua-batic shows around town. I struck up a conversation with a couple of lovely ladies who were sitting by Christina and me and found out that they were performers for the show Le Reve. As we were talking I also found out that these ladies had represented the Netherlands in the past two Olympics as a duet team in synchronized swimming. Only in Vegas…
Thankfully, Monday will be a day for Don. I plan to sleep in, followed by a return to the studio. It's time to get some work/play done for me…
Happy Creating!
Many of my blogging friends will remember that last year I had the opportunity to be a part of the charity event Circus Couture 2010. I blogged about it here. Last year's Circus Couture brought in over $100,000 which went to the Children's Specialty Center of Nevada via The St. Baldrick's foundation to help children in our community in their fight with cancer and other blood born diseases. (Now there is a video on youtube which shows the highlights of last year's event which you can watch here.)
Well, I'm exited to once again be invited to take part in this wonderful event. Circus Couture 2011 will be held on June 26th at The Joint in the Hard Rock Hotel & Casino here in Las Vegas. This year I wanted to make sure that the piece I created would honor the men and women who are working so hard to put this wonderful event together. I must admit great pride in the final result…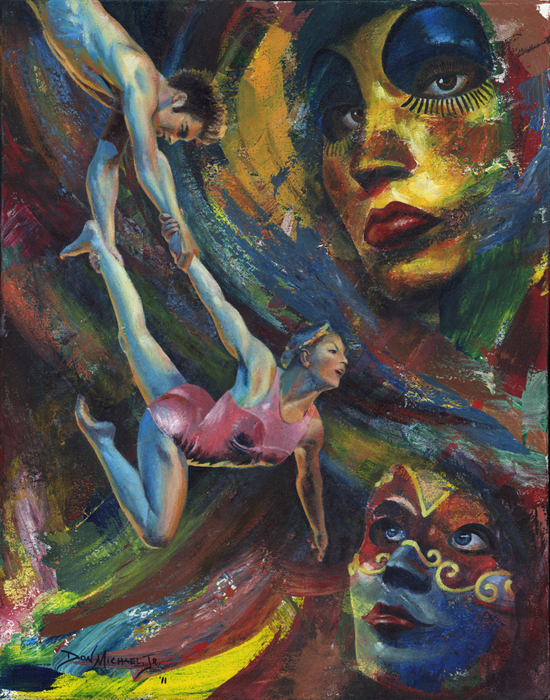 Dare to Believe – 20″x16″ – Acrylic on canvas – Completed 5-25-11
©2011, Don Michael, Jr.
As you can see this is a new addition to my Over the Under-Schmeerings (OTUS) series. The 'Schmeerings' for this one was created while I was painting Look at Us Now, Butterscotch, Lemon Drop and Strawberry. Below you can see the before/after.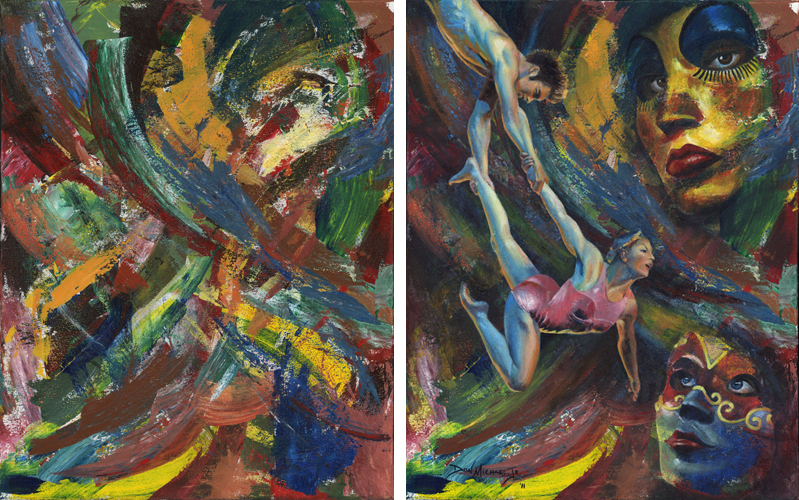 ©2011, Don Michael, Jr.
Thankfully, this is the last of the charity events that I have committed to for a few months. Even though these have been a lot of work I have found them all to be wonderful learning experiences which have stretched me as both an artist and as a person. It will be nice, though, to get back to the studio with no looming deadlines other than my own self-imposed ones…
Happy Creating!
Last week I blogged about one of my works being auctioned off for charity. (You can read about it here.) Well, last night was the event and I knew I couldn't miss it.
I knew it was going to be a good night when I arrived at the Palms Resort. I parked on the roof of the parking garage (a local's secret) and was met with an amazing sight. The full moon was just coming up over the strip and it was gorgeous! I wish my camera would have been able to capture the full beauty, but here's what I got…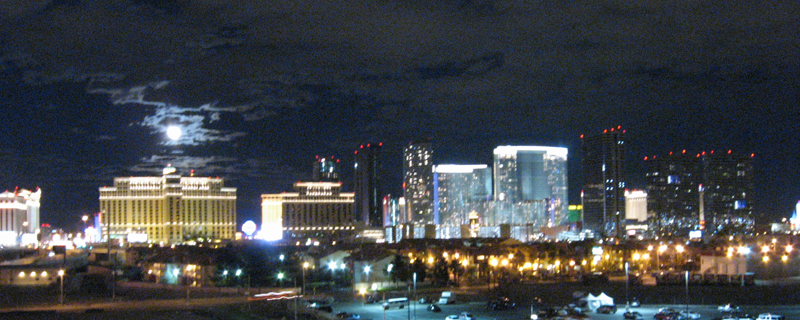 Once I got into the nightclub, Rain, where the event was being held, I was inundated with lots of wonderful artwork. I counted 46 pieces up for auction, including mine. You can see that not only were there static works of art on display, there were also some very lovely organic works making the rounds.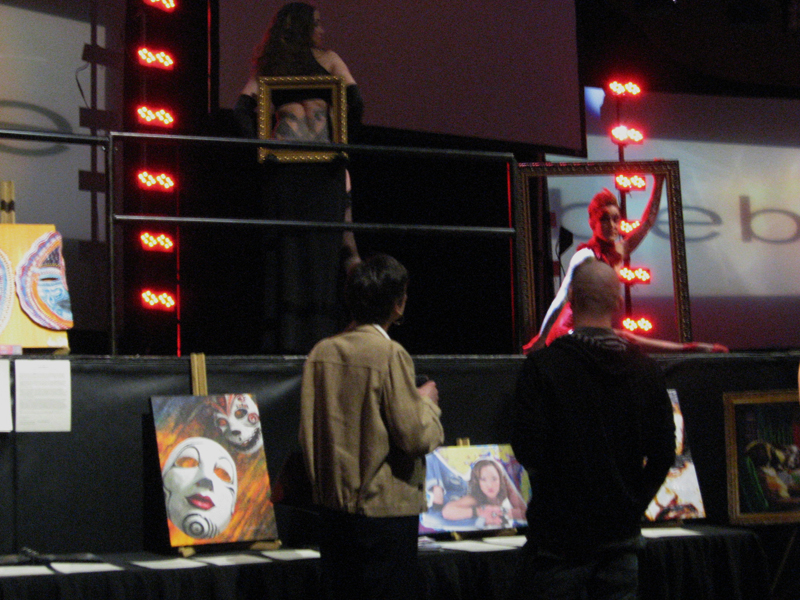 To get a sense of the whole room, I put together a rough panoramic montage of shots from my seat which covers about 180 degrees.

They finally closed the silent auction and then started the live auction with a piece created by a 3 year old, Devon Lynn Weniger, who has been battling Acute Lymphoblastic Leukemia since she was just 22 months old. She is a little art and dance prodigy who will be receiving her last treatment in June. (You may recognize the MC who is holding Devon's painting. He is Murray SawChuck from VH1 television.)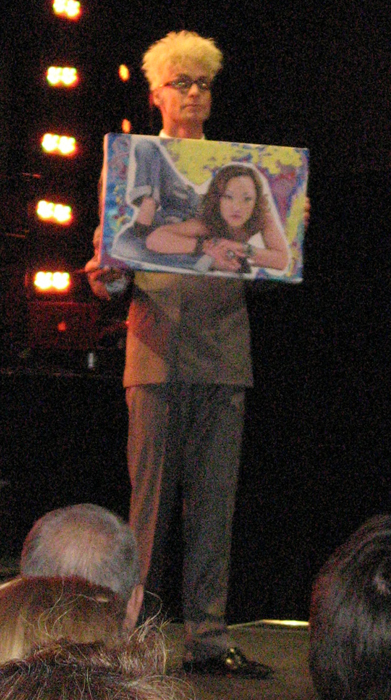 The auction continued with only one hiccup. My painting had disappeared! Apparently someone had bid on it in the silent auction because it had not been properly labeled and had "won" it. Needless to say I was a bit befuddled, but glad that the disappearance had a legitimate reason. After a couple other items were auctioned they announced that the person who had purchased my painting was donating it back so it could be properly auctioned. It ended up going for 3 times what the original purchase had been, which was quite satisfying. I would like to congratulate my friend, Mark Jenkins, for having the largest purchase price for his Beatles portrait.
After the auction things got even more exciting with the entrance of Mr. and Mrs. G who shot crossbow arrows at each other while holding different objects including an apple on her head and a balloon between his legs while he was doing a handstand. The energy of the crowd was up when they left the stage – as I'm sure you can imagine. They had no sooner left the stage than a gorgeous couple of performers came out with a mirror which they kept switching back and forth while each preened. The man ripped off his shirt at one point eliciting a cheer from the ladies. We guys were waiting in anticipation as the woman reach for her leather jacket. You should have heard the gasp of the crowd when she whipped out an electric razor and immediately started shaving her head! They finished their set with her starting to shave his head as well…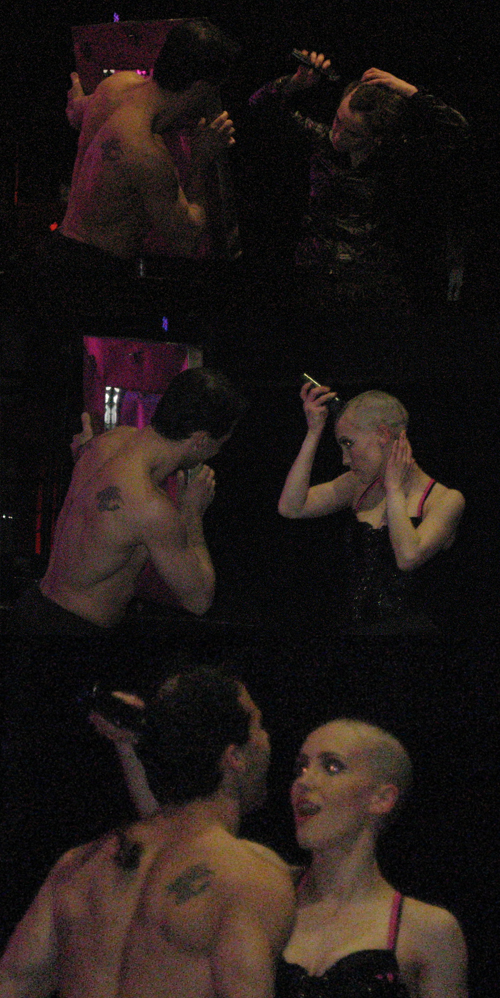 (Let me explain what just happened. The charity this event was raising money for is called St. Baldrick's which these Cirque performers have been supporting for a few years now.)
The fun continued after this lovely couple left with a slew of models doing the runway in all sorts of interesting and lovely attire. Then a young man came out to perform on the Corde Lisse. I was excited to see that this was Brien McCrea, who had headed up the art auction part of the event. (After the event I had the opportunity to take a quick photo with him.)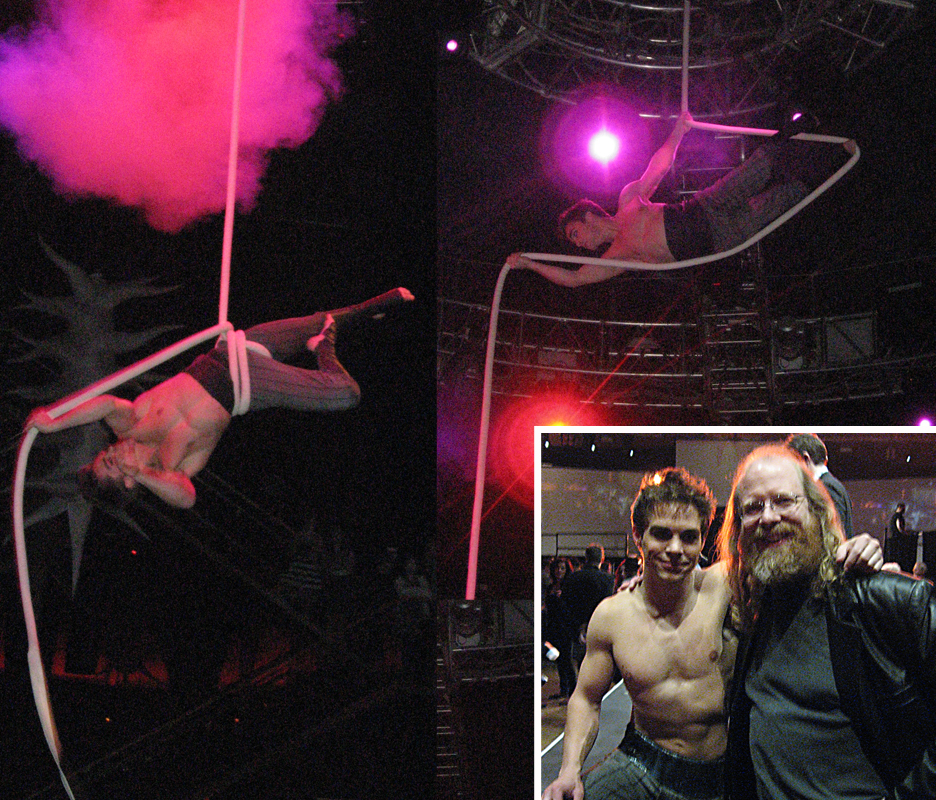 After Brien performed out strolled some more models. First there were the ladies and then came the guys. The last two guys came out with a little more attitude than the others so there was a sense of anticipation as to what could be next. Suddenly both of them ripped their shirts off and, yep, they were ripped! A group of male singers, called Mosaic, came out to perform "Lean on Me" a capella while these hunks did a whole lot of leaning on each other.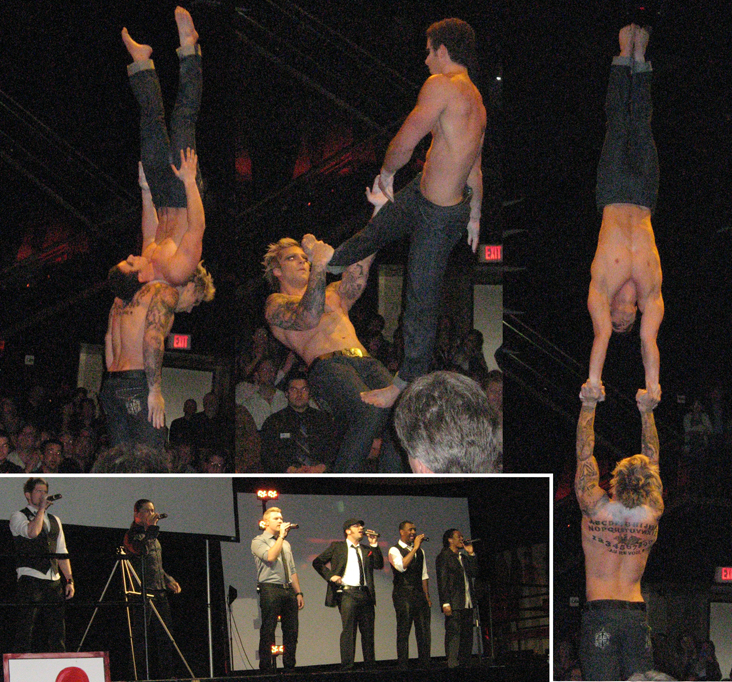 This was followed by even more models, some magic, some more acrobatics, some contortion, and some wushu (martial arts style dancing/faux fighting). Some of my photos didn't turn out very well so I've fast-forwarded quite a ways. Remember the lovely couple who shaved their heads? Well they showed back up with a wonderful performance on the Aerial Straps.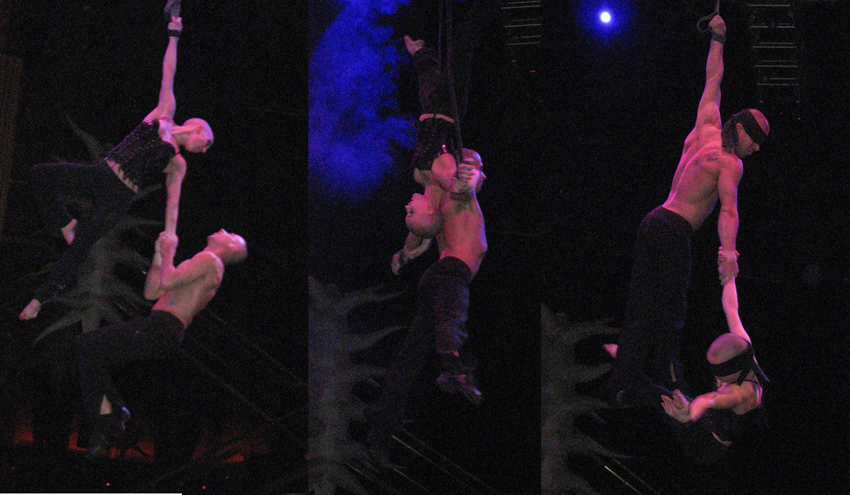 I found out later that this lovely lady is Erica Linz, who is the Artistic Director of this wonderful event. And boy was it an artful event! She should be quite proud of how it turned out. Erica and her partner, Pierre-Luc Sylvain were followed by more models cavorting on the runway. But, these models were dressed in some outrageously fun costumes. Once again, my camera failed me since they were moving so quickly on the runway. After the models finished, they ALL came back out for a curtain call, so I was able to at least capture a few of them in this last photo.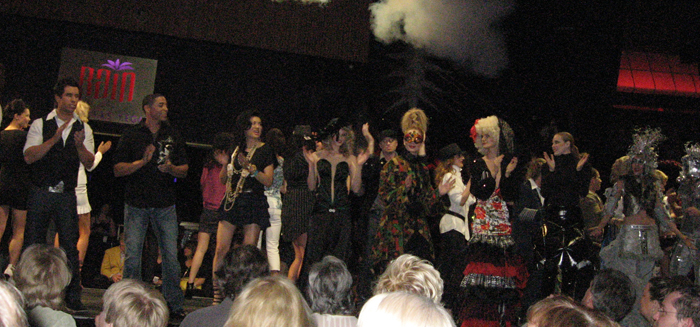 As you can tell, I had a great time. They had an after party up in the Palms' Ghost Bar for people to go hang out with the performers and models, but this old man chose to come on home.
I have me some creating to do…
One of my paintings will be a part of an exciting charity event called Circus Couture coming up this Sunday, February 28th at Rain Nightclub in the Palms Resort and Casino. In their own words, "Circus Couture is a Performance, Fashion, and Art Event to benefit St. Baldrick's and The Children's Center for Cancer and Blood Diseases of Las Vegas." You can find out more about the event and this wonderful charity on their website www.circuscouture.org/.
Once I found out that this event would be put together by performers and crew from the different Cirque du Soleil shows here in Las Vegas I knew instantly which painting I wanted to contribute. Late last year I featured masks from the Cirque shows "O" and "KA" in my painting Love at First Sight, shown below. (I wrote about the creation of this painting here.) When I dropped the painting off today it was met with much excitement – making me even happier with my decision.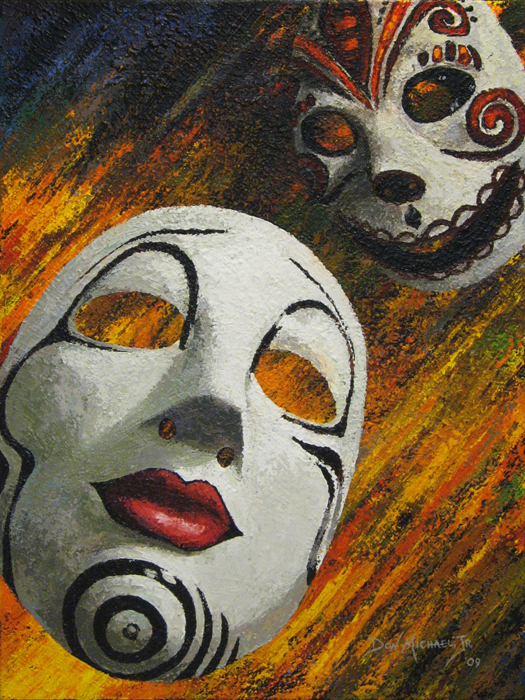 Love at First Sight – ©2009, Don Michael, Jr.
On a TOTALLY" different front, my copy of the book "Art Buzz, the 2010 Collection" finally arrived in the mail today. I now know that my painting Birthright was the one selected to appear in this publication which will be sent to museums and galleries around the world in support of up-and-coming artists. I'm so happy Birthright was juried into the book and proud that it was also awarded a 3rd place in acrylic. Below is a photo showing my featured painting as well as an inset showing the cover.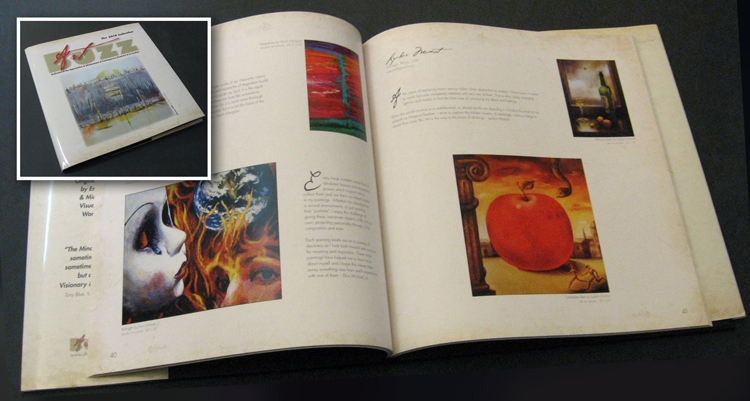 You can find out more about this publication here.
Now, it's time to paint… Happy Creating!