This past Saturday I had the opportunity to paint live in Downtown Summerlin for the St. Jude Children's Research Hospital Las Vegas Chapter.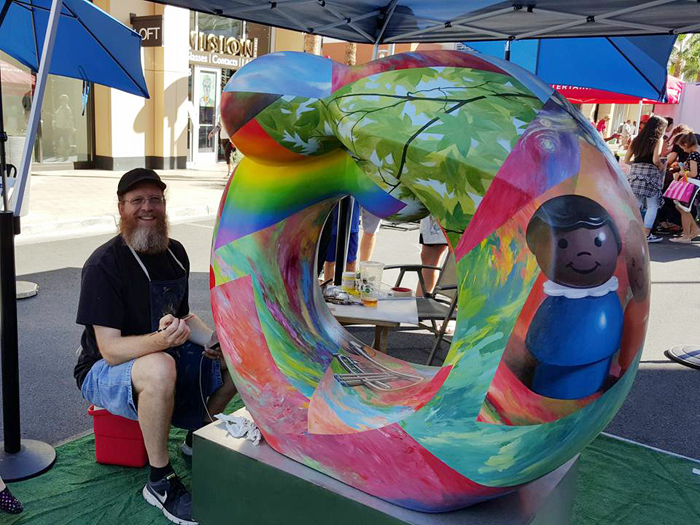 I was painting on a sculpture created by Las Vegas artist Dorit Schwartz. I am one of ten artists painting casts of this sculpture for the 2015-16 installment of Celebration of Life. Our intention is to bring awareness to and donations towards the outstanding work St. Jude is doing in the fight against childhood cancer.
Here is a photo of the sculptor with this painter…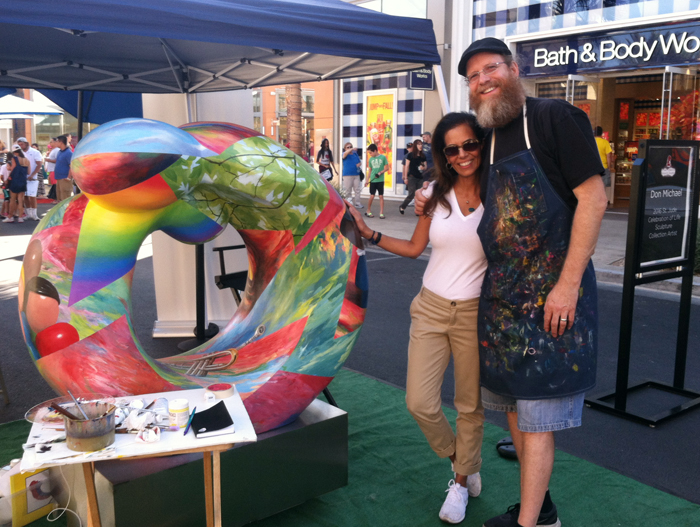 St. Jude Artists Dorit Schwartz and Don Michael, Jr.
…and, below is a photo of fellow artist, Joseph Watson, striking a pose as he takes a pause from painting on his sculpture. I love what he has going on with his and can't wait to see his finished piece!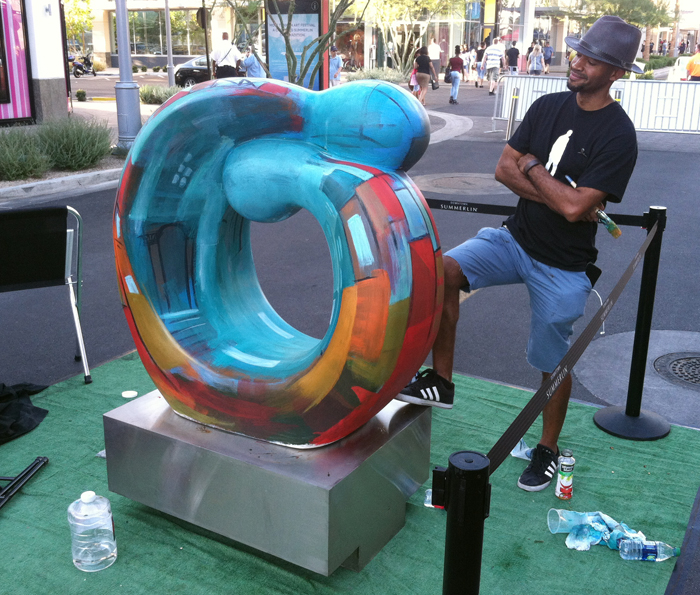 St. Jude Artist Joseph Watson
This is the fifth large sculpture I have painted for St. Jude. The other four still reside in various locations around Las Vegas and continue to do their job of bringing awareness for St. Jude. Here is a montage of those previous four…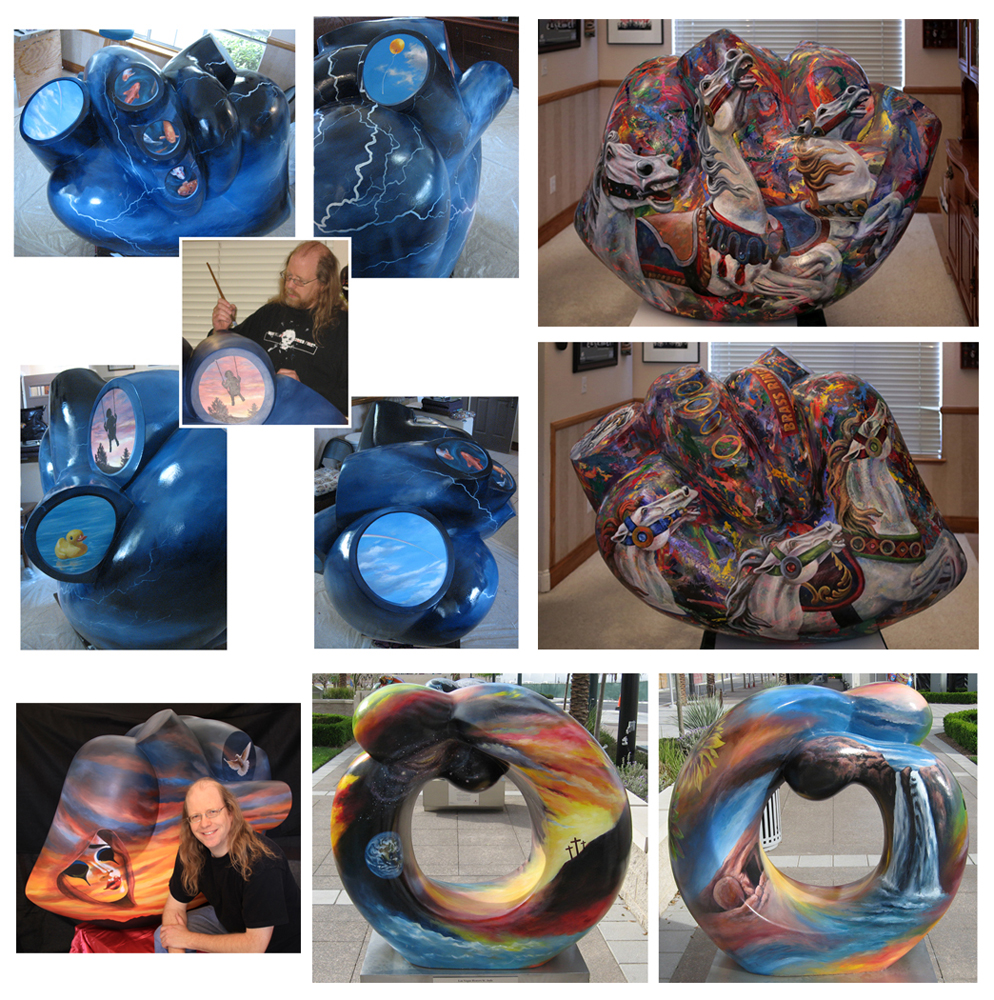 Clockwise from top: Heartstrings, Brass Rings, Miracle, Hope
For this year's installment I used the song What a Wonderful World, made famous by Louis Armstrong, and written by Bob Thiele and George David Weiss, as my inspiration. Using the lyrics, here's how it played out…
I see trees of green…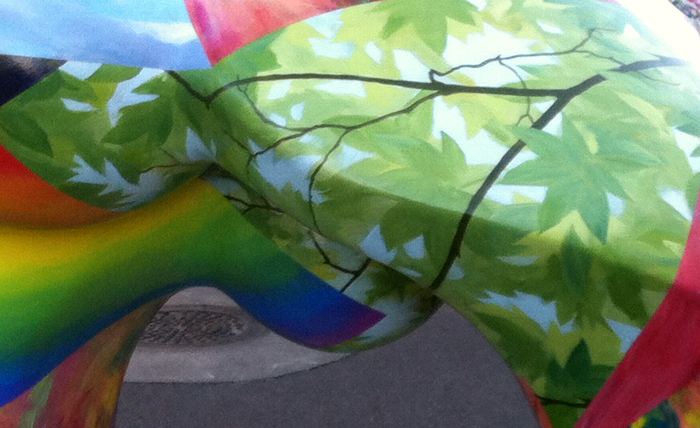 …red roses, too,
I see them bloom, for me and you
And I think to myself
What a wonderful world…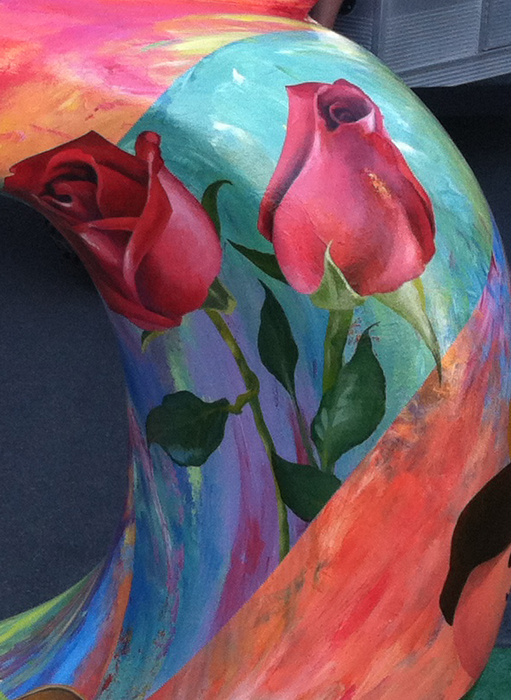 I see skies of blue, and clouds of white…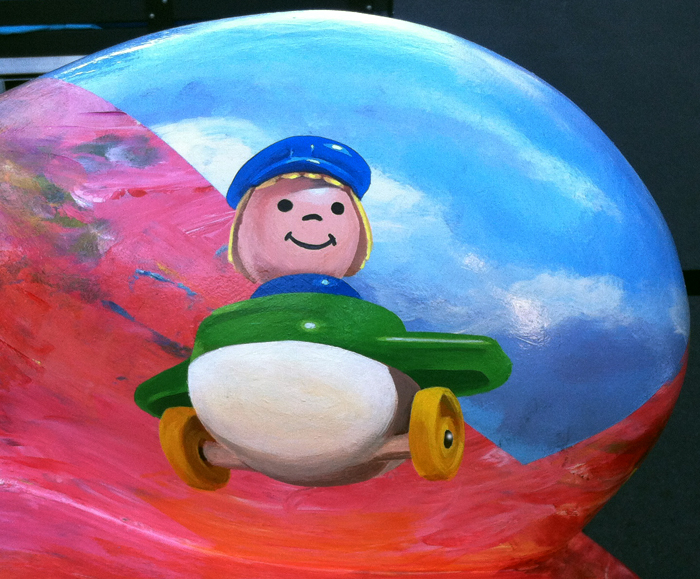 The bright blessed day…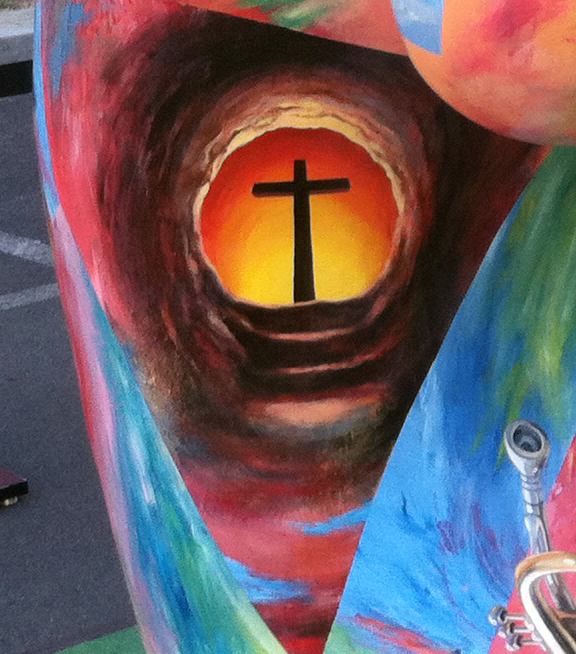 …the dark sacred night
And I think to myself
What a wonderful world…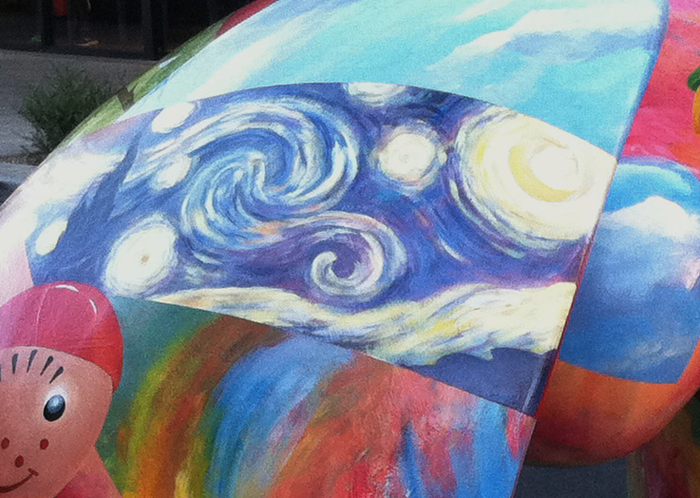 The colors of the rainbow, so pretty in the sky,
Are also on the faces of people going by…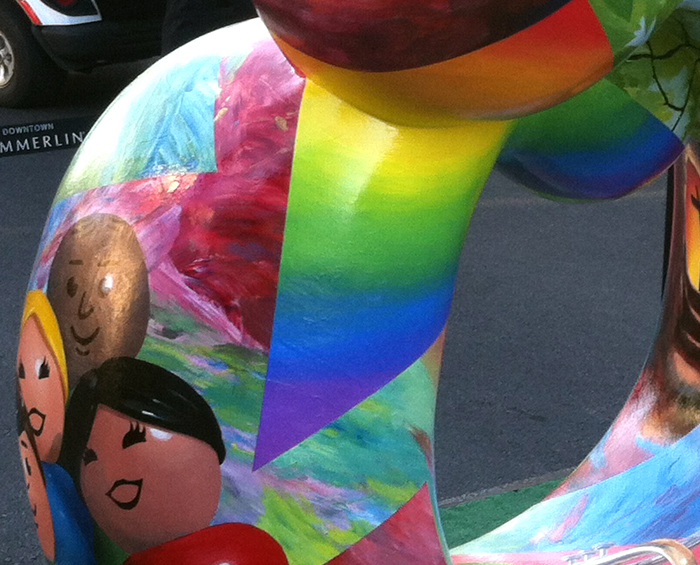 I see friends shaking hands, sayin', "How do you do?"
They're really sayin', "I love you."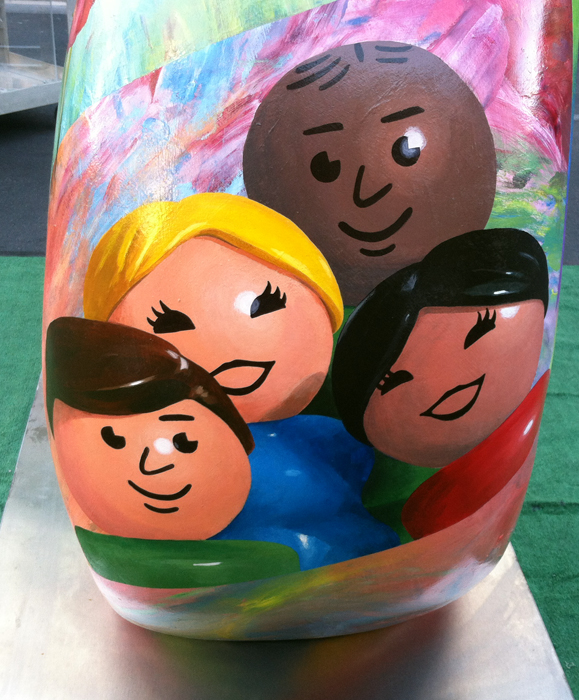 I hear babies cryin'. I watch them grow.
They'll learn much more than I'll ever know…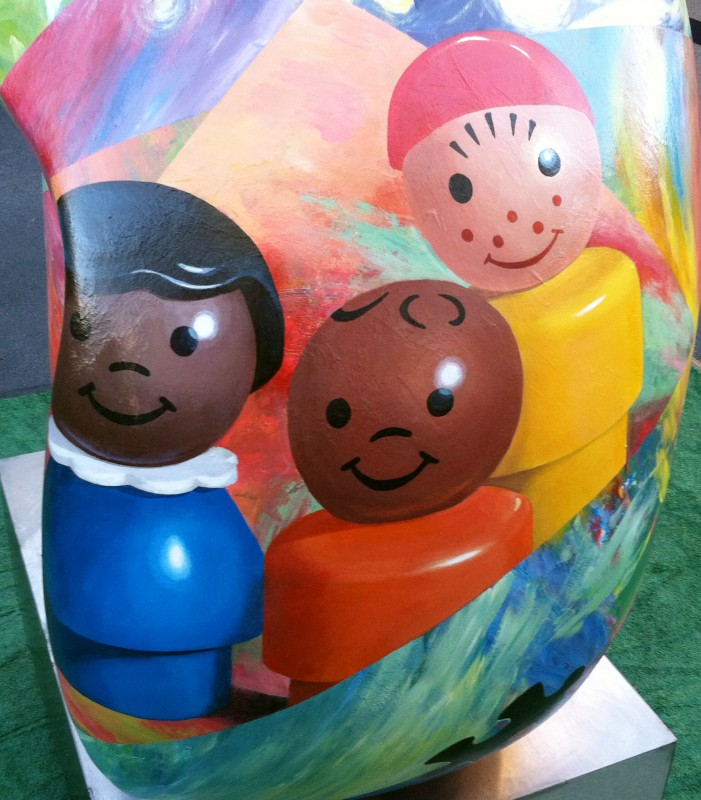 And I think to myself
What a wonderful world...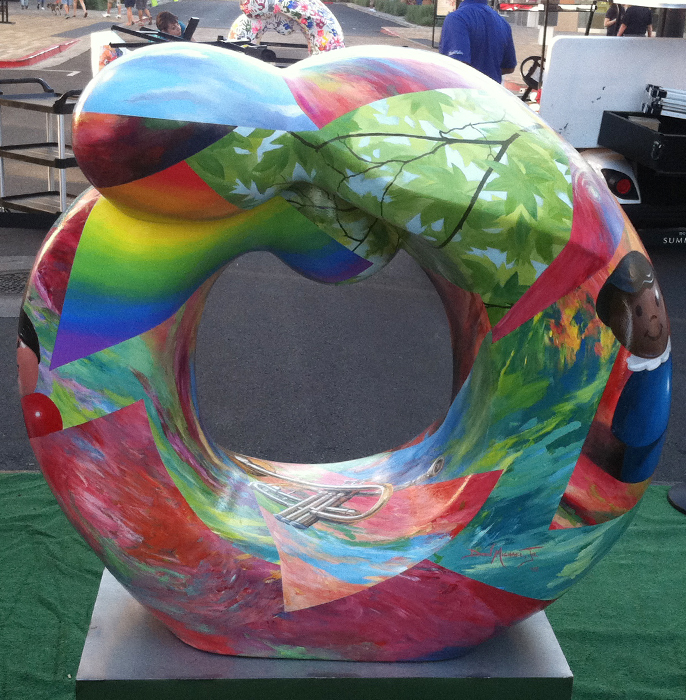 Yes, I think to myself
What a wonderful world.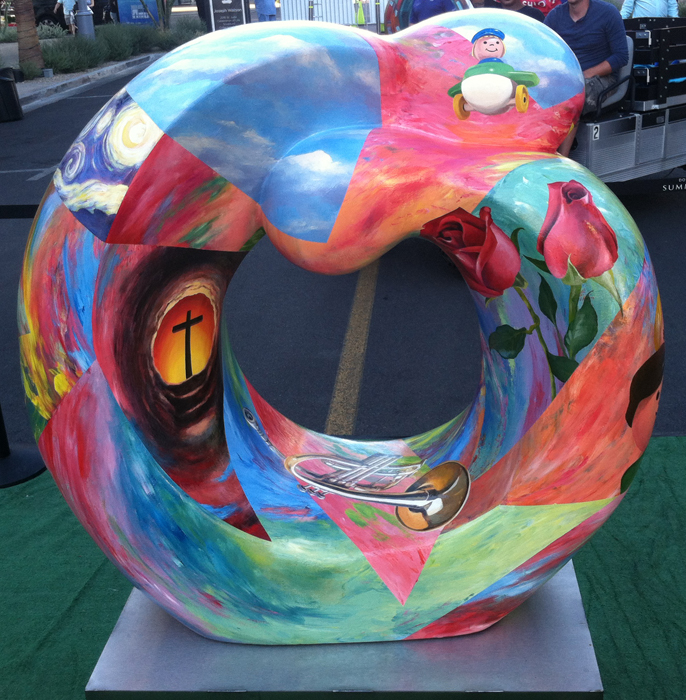 The trumpet that you see in the bottom of the piece is my 'tip of the hat' to Mr. Armstrong.
As always, there are some other elements, some personal, that I do not explain. I love leaving things up to the viewer to determine.
Below is my Artist Statement for What a Wonderful World:
Life is in bloom. Days come and go. People, though different, are the same in their love for one another. Children grow and learn. "Yes, I think to myself, What a Wonderful World".
 Let's keep our children growing and learning as we support St. Jude in their mission to eradicate childhood cancer.
 My inspiration for this piece comes from the song "What a Wonderful World" recorded by Louis Armstrong and written by Bob Thiele and George David Weiss.
Happy Creating!
This past Tuesday night my artwork and I were featured at Grinder's Pizza Lounge here in Las Vegas. It was a fun night of food, adult beverages, fellowship and painting. I hadn't done a mask painting in several months and decided that since all of the works featured that night were of masks, I would actually paint one as well. Here I am getting started on my painting for the night…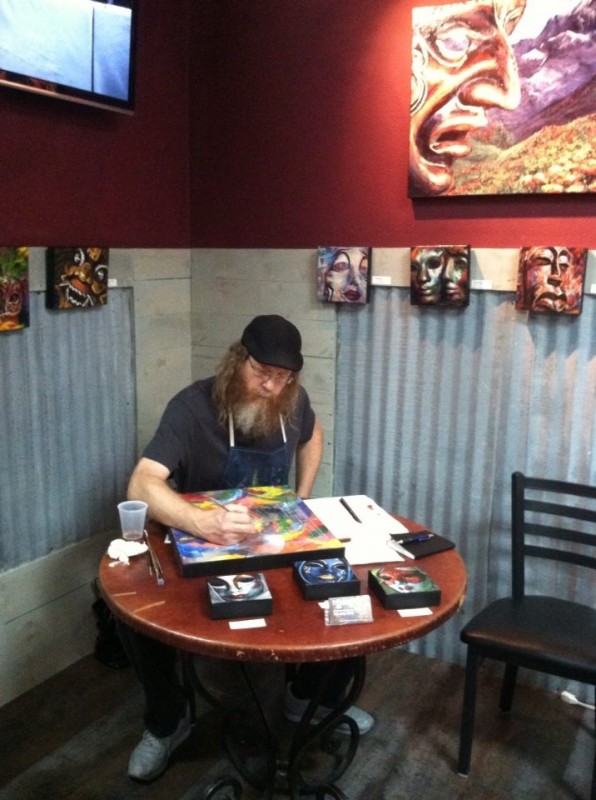 Of course, since I was at a pizza establishment I had to sample their wares. Below, I am proving that I can indeed do two things at once…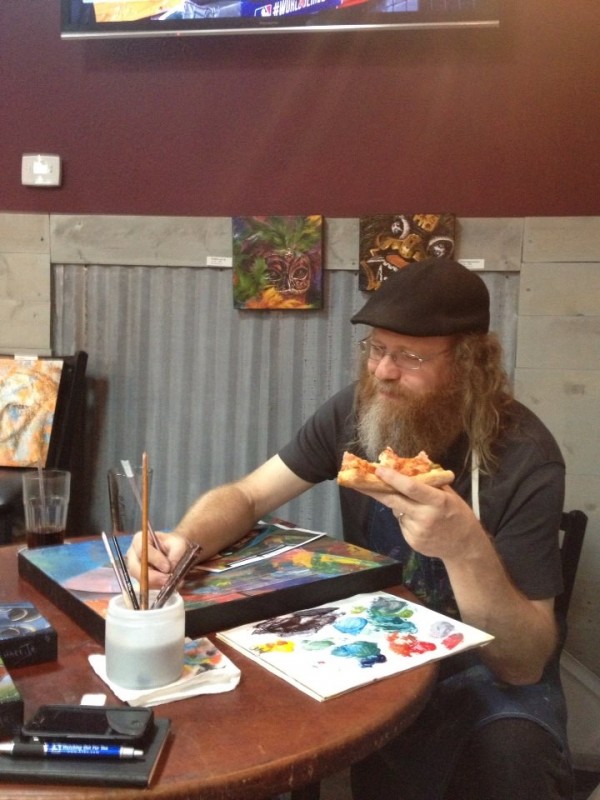 As the evening went along I made pretty good progress with the painting. I also ended up selling 3 of the paintings from my Eye Candy series, including Jelly Bean which my friend, Ashley (pictured below), bought. (FYI, I am donating 20% of all sales from Tuesday night to Cure 4 the Kids.)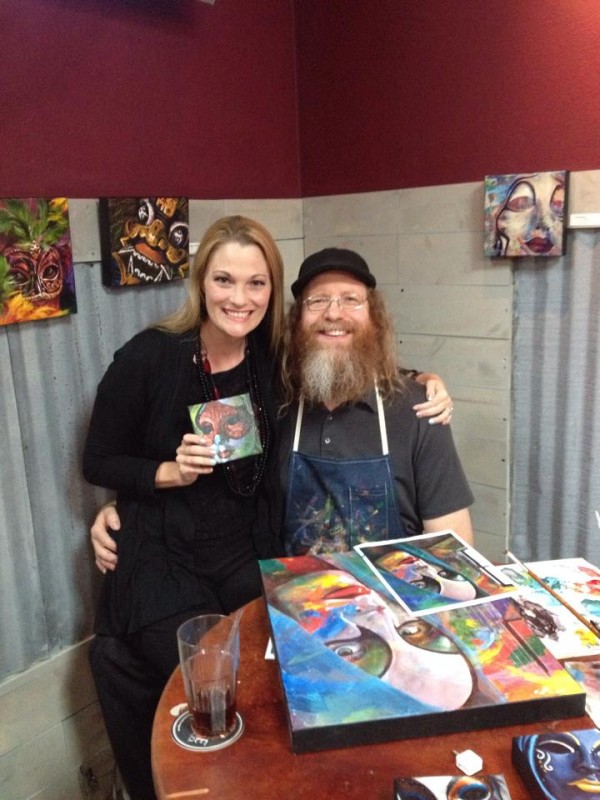 I was very delighted to have my wife there with me. We had several friends stop by and ended up making several new friends as well. By the end of the night the painting was about 2/3's of the way complete. Below, my wife and I share a laugh with our friend Erica towards the end of the evening…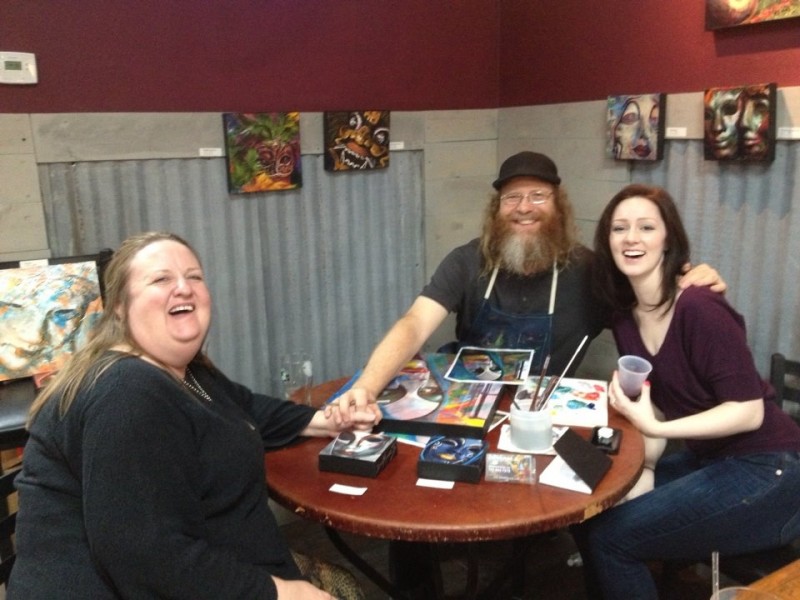 The rest of the week was quite busy with other art related adventures (tales for another day), so I wasn't able to finish the painting until last night. Without further ado, I present Let the Day Begin…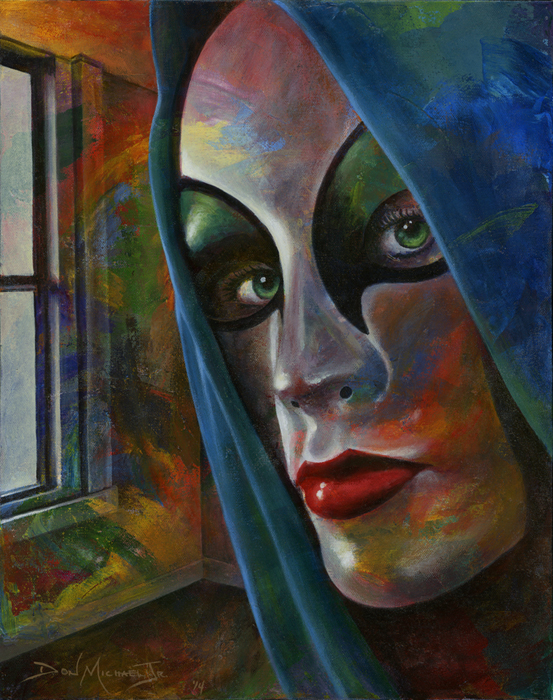 Let the Day Begin – 20″x16″ – Acrylic on canvas – Completed 10/24/14
Now it's time for me to head back into the studio. Until next time…
…HAPPY CREATING!!!
Last Sunday, October 5th, my family and I attended the auspicious and ever-entertaining Circus Couture charity event. Festivities for the evening included stunning aerial acts, amazing acrobatic performances, jaw-dropping fashion, gorgeous fine art, and a very lively live auction. (You can see more about what the event is about by clicking here.)
This was the 5th year of Circus Couture and this is the 5th year that I've donated a painting for them to auction off. The paintings I donated the first 4 years helped to garner between $2,500 and $3,000 – all of which goes towards the treatment of children dealing with cancer and other devastating diseases. It's an amazing feeling to know that the art I create can help generate that kind of money which I could not give to the charity otherwise.
Since I have been donating paintings to Circus Couture from the beginning they honored me this year as one of their featured artists. This meant that my painting was featured during the live auction part of the event. It also meant that I was interviewed on camera a few weeks before the event. The edited version of my interview was played just before my painting was auctioned. If you're interested in what I had to say, click on the image below…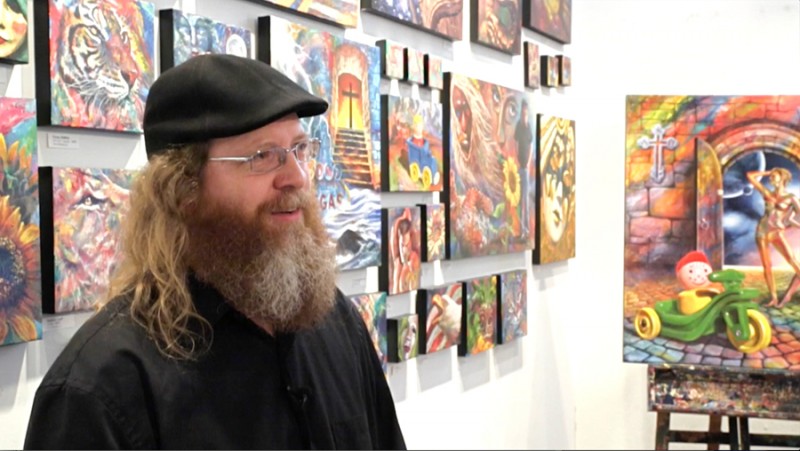 Don Talks About His Involvement with Circus Couture
Many of the children being treated at the Children's Specialty Center of Nevada were able to attend the event with their families. A couple of those families were sitting in the row in front of my family and me. It was really sweet that one of the young girls kept turning around and looking at me while the video was playing. She was in awe that I was up on the big monitor AND sitting right there behind her at the same time. 🙂
Once the video was finished the auctioneer took the stage and got busy. After a very exciting several minutes of bidding and clapping I was awestruck to hear that my painting had sold for $6,000!!! That was more than twice the amount that all the other paintings I had donated to Circus Couture over the years had sold for – COMBINED!!! I thank God and give Him the honor and glory. Wow!
Below is the painting which now resides in a gorgeous penthouse near the Las Vegas Strip. I hope the new owner enjoys it for years and is blessed beyond all measure for his generous donation to such a worthy cause.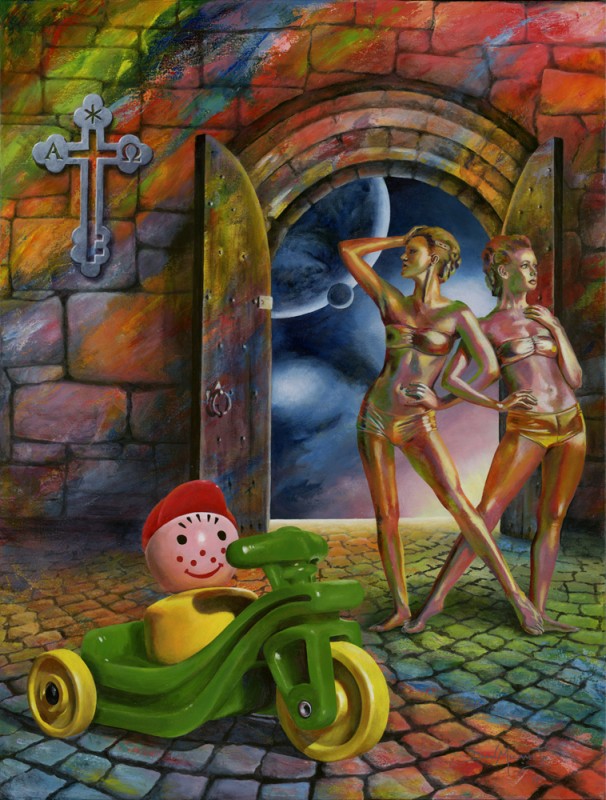 Unlocked – 40″x30″ – Acrylic on canvas
©2014, Don Michael, Jr.
To put a face to what Circus Couture is all about I want to end this post by introducing you to one of the mighty warriors being treated thru the Children's Specialty Center of Nevada and the Hemophilia Treatment Center. He came up to me and gave me a giant hug during intermission. He was so excited that I had been "on TV". His name is Sawyer and he is my hero. That 3-year-old body has so much love and kindness in his soul and my life is eternal changed by having met him and his loving family. God Bless them, each and every one.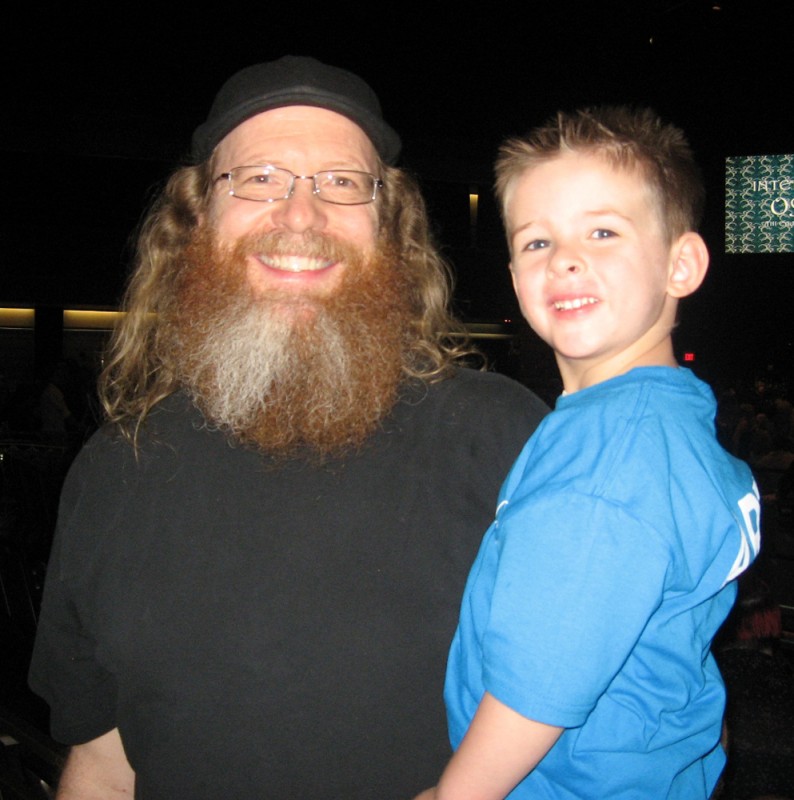 Don and Sawyer
To find out how you can help these children check out the Cure 4 the Kids website. Explore the site and see what they are up to. It's amazing!
I love this thing I do, and I'm proud that there are ways that it can impact others' lives. Wow!
Happy Creating!
Most of this week has been spent preparing for this weekend's Arts, Eats & Beats arts festival which will be held at Village Square here in Las Vegas. I will be one of 15 artists who will be featuring our work there on both Saturday and Sunday from 11am – 5pm. Village Square is at the intersection of Sahara and Ft. Apache.
During all this prep I was still able to get a couple of design projects finished up as well as this new sunflower painting…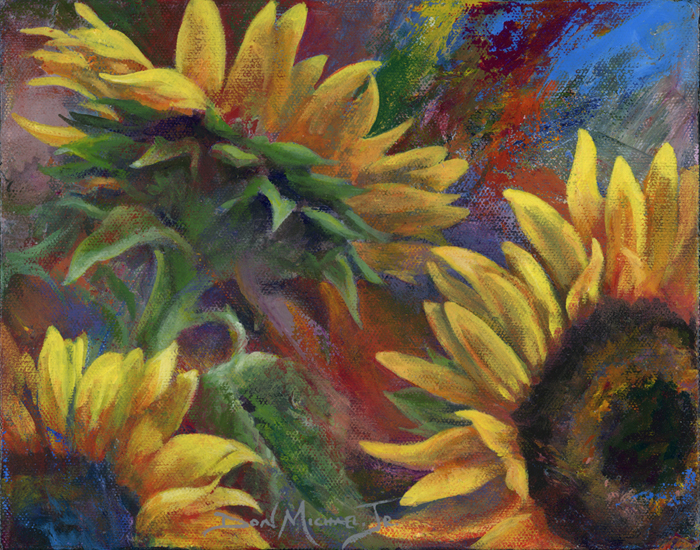 The Way You Do – 8″x10″ – Acrylic on canvas – Completed 3/27/14
©2014, Don Michael, Jr.
This painting will be one of several new ones I will be exhibiting this weekend at Arts, Eats & Beats.
Here is the official poster for the event…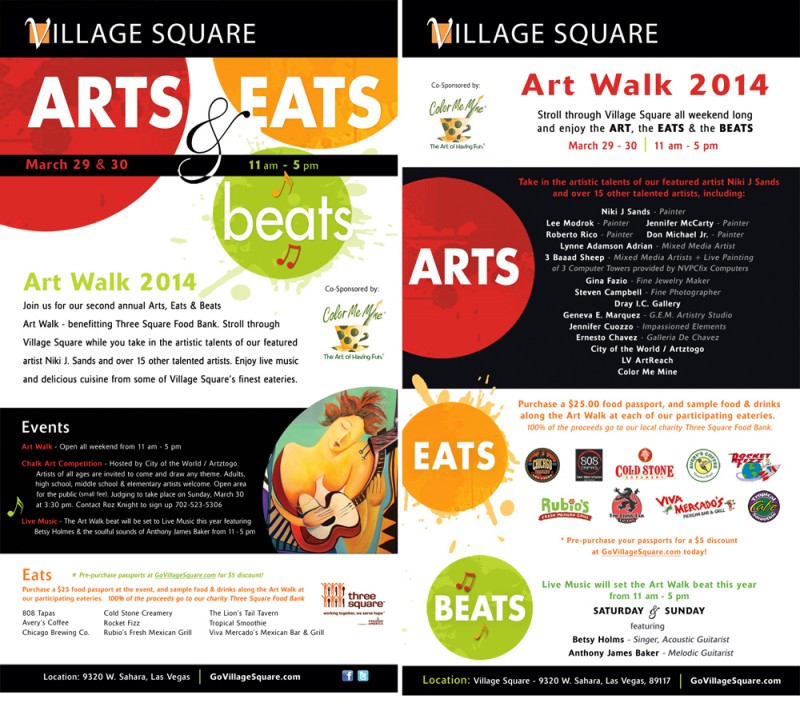 I hope to see you there.
Happy Creating!
I'm very proud to announce that the very first Ginormous Heart I painted for the St. Jude Las Vegas Chapter has found a permanent home at the JW Marriott Resort and Spa here in Las Vegas. Ever since I completed this heart in 2011 it has traveled extensively around the Las Vegas with several other hearts painted by local artists to help bring awareness to the work the St. Jude Children's Research Hospital is doing for our children. The heart, which I titled Heartstrings, is now on permanent display just outside the Spa Tower of the JW Marriott.
Below is a photo of me being interviewed by the lovely Beth Fisher for KTNV Channel 13 while standing beside this heart. If you'd like to see the segment that Channel 13 put together which included my interview, be sure to click here.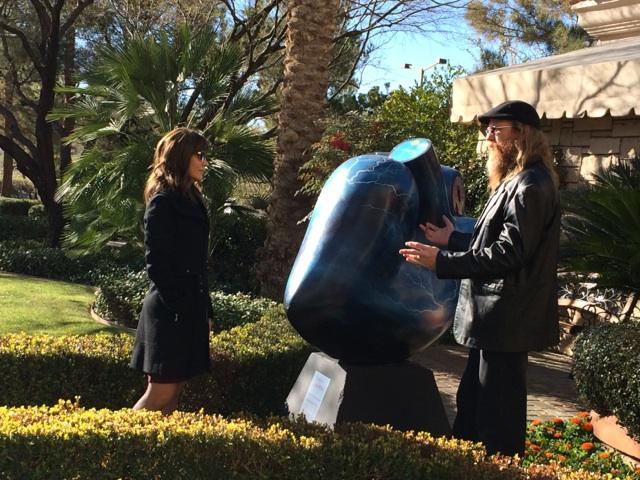 Beth Fisher interviewing Don Michael, Jr. for KTNV Channel 13
Through the rest of January there will be several other of the St. Jude Hearts on display throughout the JW Marriott Resort and The Rampart Casino campuses. In fact, the other two Ginormous Hearts that I painted in 2012 and 2013 are currently there. You can find out more info about this traveling collection by clicking here.
This year we are working with a very different sculpture for this wonderful awareness campaign for St. Jude. I will be posting more about that soon. Right now I'm still trying to figure out just what I'm going to paint. Stay tuned…
Happy Creating!
Last night was the 5th Annual Un-Masking the Mind charity auction. It was also the 5th year that I've created a mask for this event. What made this year different, for me anyway, was that I painted live and donated the finished painting to be auctioned off at the end of the night.
Not being one to follow status quo, I decided that I was going to paint at one of the guest tables in the middle of the room. Everyone got a kick out of the fact that I was audacious enough to paint at the same table where I and others were going to eat. I, however, thought this was a great idea, especially since it would allow me to enjoy the company of my lovely wife while I was working. It didn't take long at all for our table to fill up with other artists and friends which made for a very enjoyable evening, indeed.
Here I am hard at work about halfway thru the evening…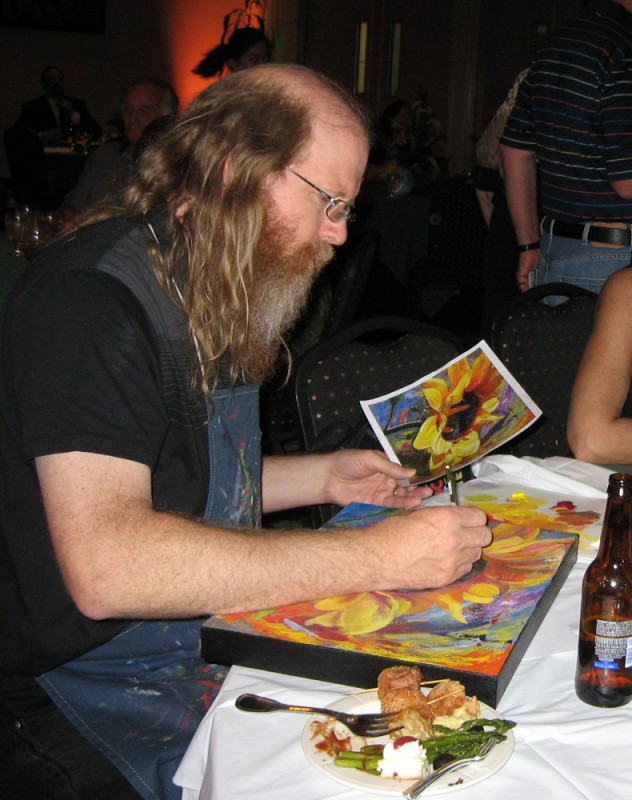 As the night progressed, I had several people come by to see what I was up to. It was a lot of fun to chat with everyone and to hear their input.
Meanwhile, there was still an auction going on. Around 40 masks, which had been created by local artists and celebrities, were being auctioned off to generate funds to purchase books and supplies for Innovations International Charter School of Nevada. The mask I created (which I wrote about here earlier this year) was autographed by my good friend, Carla Rea – a talented comedienne and radio personality for KKLZ here in Las Vegas. Later in the eventing, Carla and I were both happy to be photographed with the new owners of Behind the Smile. Here we are bracketing the new owners…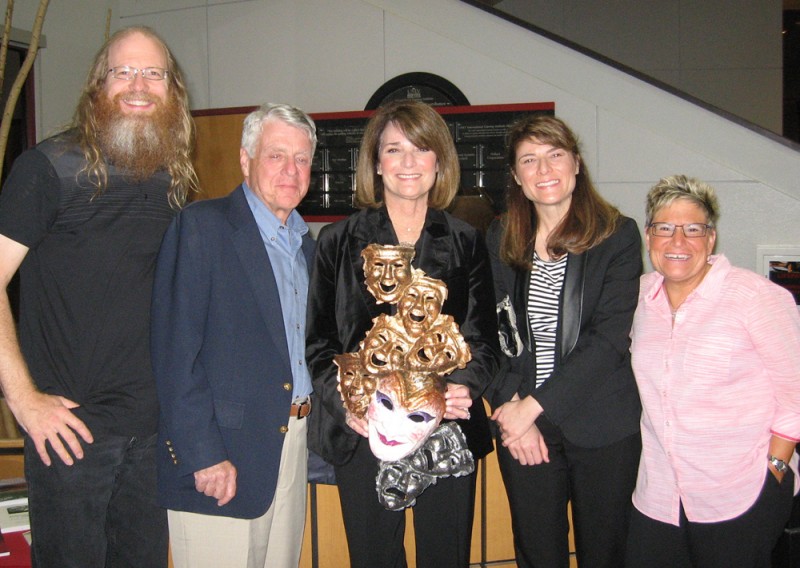 Behind the Smile surrounded by smiles
As I'm sure many of my long-time blogging friends know, it's hard for me to be around masks without finding at least one to add to my collection. Last night was no exception. I am now the proud owner of Blue Bruno, created by local artist Anya Peterson. Anya tells me that she modeled the mask after her pet dog, Bruno – hence the title, Blue Bruno. I told Anya that from now on I was going to call my new addition Bluno. She was quite happy with the idea – especially since her boyfriend has been calling it that ever since she finished creating it. Anyway, here we are celebrating this new addition to my collection…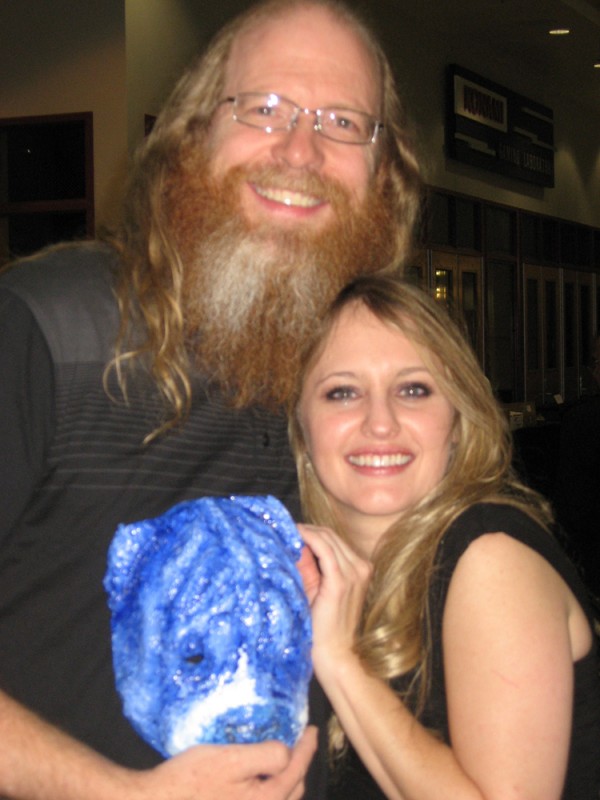 Don, Anya and Bluno
And here is Bluno in all his glory now hanging on my studio wall…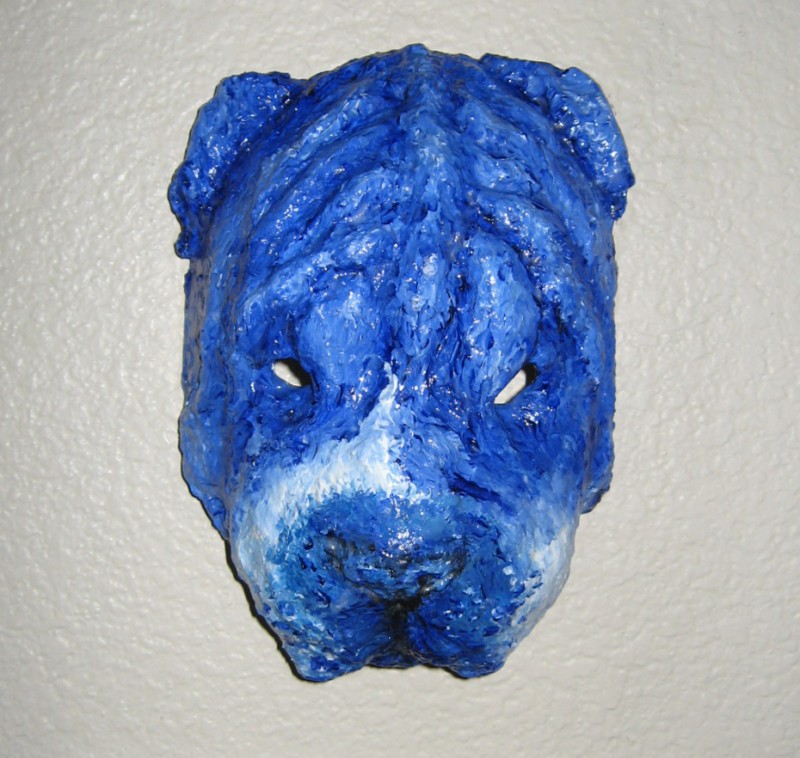 Bluno
In case you wondered, yes, I finished my painting. And, yes, it was auctioned off. Below is what I came up with. (The photo is a little fuzzy, but it was the best I could do at the event.) I donated the painting in memory of our son, Donald, from whom this sunflower series was inspired.
After the event I found out that my painting will be on permanent display in one of the main offices at Innovations International Charter School of Nevada. I couldn't be more pleased…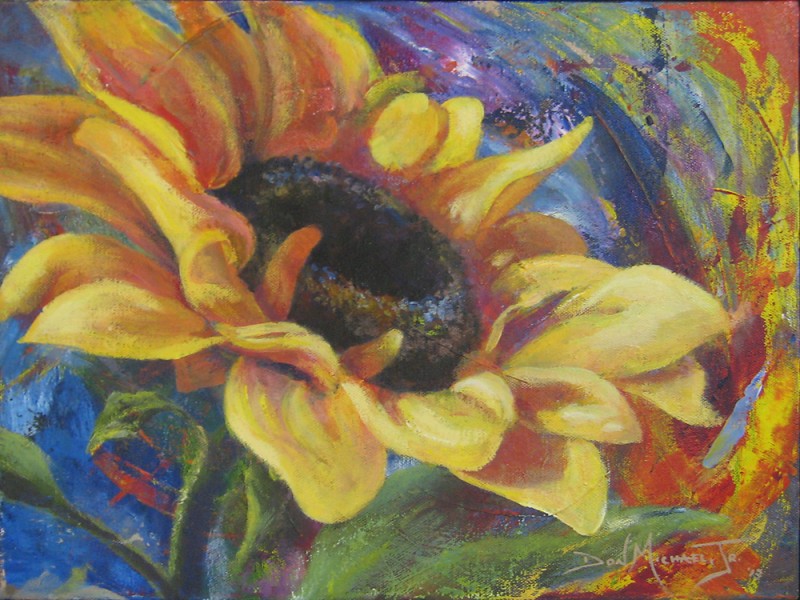 Life Anew – 12″x16″ – Acrylic on canvas – Completed 10/19/13
©2013, Don Michael, Jr.
At the same time I was painting, so was fellow Las Vegas Artist, Teresa Maharaj. I regret that I did not get a photo of her or her beautiful painting, which was also auctioned off. Here is her finished painting which I borrowed from her Facebook page.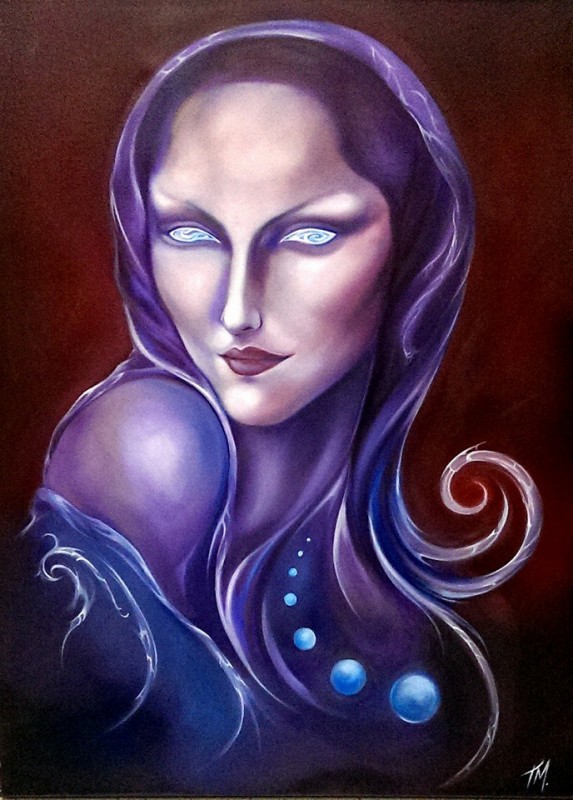 Let's End This Masquerade – Oil on canvas – by Teresa Maharaj
Great job, Teresa. She is beautiful!
All-in-all, last night was a wonderful evening involving good fellowship, good food, fine art and much love. Who could ask for anything more?
Happy Creating!
This past weekend I was invited to paint live at the Gina M Woodruff Gallery in Long Beach, California. So, I loaded up my family, my easel, some paints, a couple canvasses, and several recent paintings and headed west.
When we got there, Gina, the owner/curator of the gallery, suggested that we hang my animal OTUS paintings together on one wall. I was more than happy to oblige…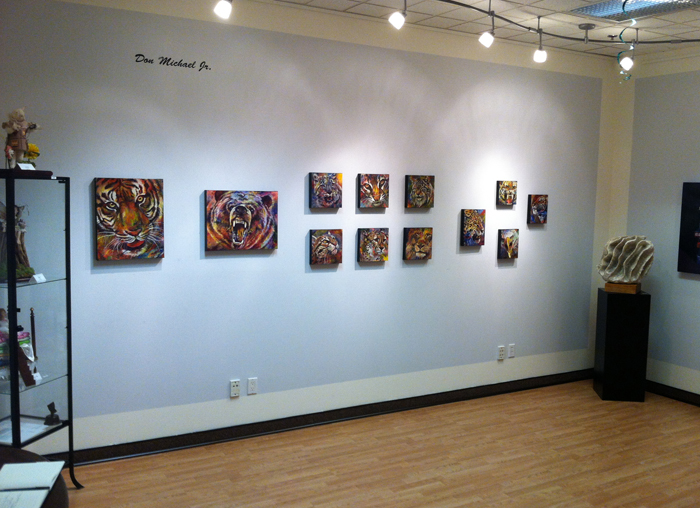 Don's Wall-o-Critters
On another wall we hung a few of my mask paintings…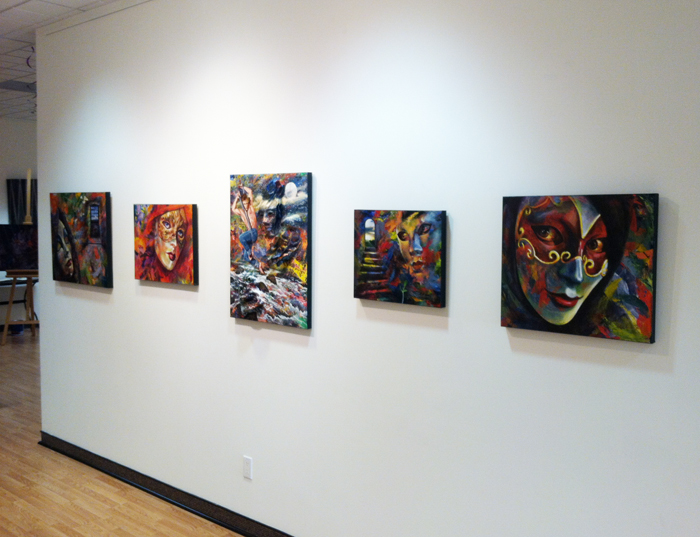 Don's Wall-o-Masks
Gina also laid out several of my Eye Candy mask paintings, along with a few of the masks I'd created to use as 'models' for my artwork, on 3 different tables. Here's one of those tables, which also included a few prints of my work…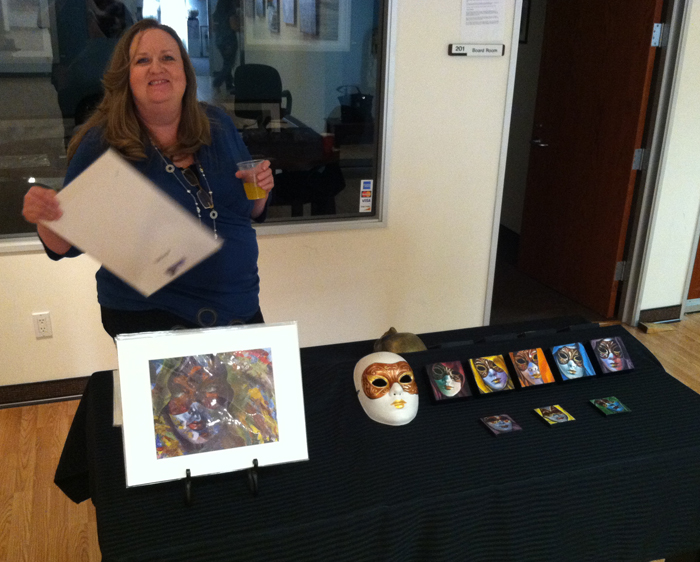 My Lovely Laura with some of my work
For the painting I created live, Gina requested I do an animal. Since wildcats have been my subject matter of choice lately, I decided to do a caracal. For those not familiar with this type of wildcat, it is found in Africa and parts of Asia and India. It's name comes from Turkish words meaning 'black ears'. Their most distinguishing characteristic would be the tufts of hair growing at the ends of their ears. Compositionally, I couldn't fit those tufts in, but that's why I carry an artistic license…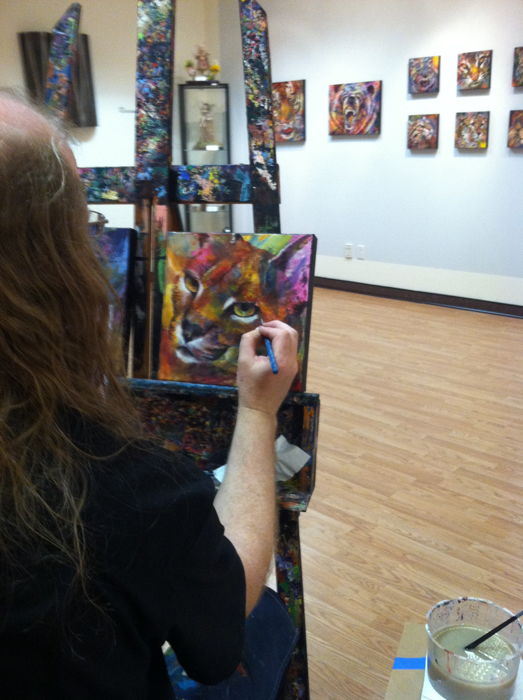 About an hour and a half into the painting
While I was painting, a young art student from one of the local colleges asked permission to sketch me. Never one to turn down an aspiring artist, I readily agreed. Once he got settled and started sketching me, another young artist came along and asked permission to sketch my sketcher sketching me. We both approved of that idea. My wife couldn't pass up this artful photo op…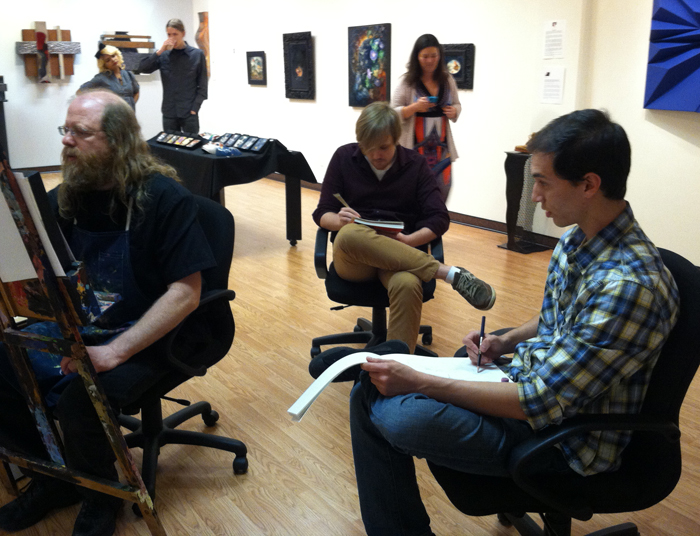 Jake Woodruff sketching Alex Balaban sketching me painting a caracal
Here's the drawing Alex did of me…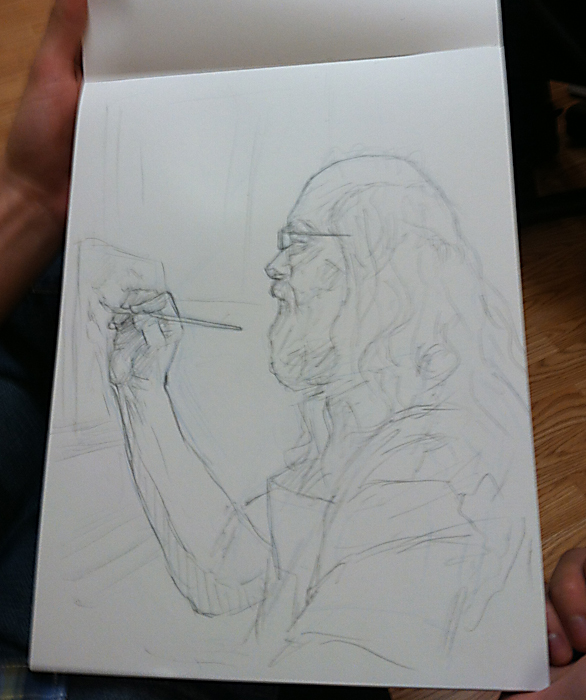 …here's the drawing Jake did of Alex…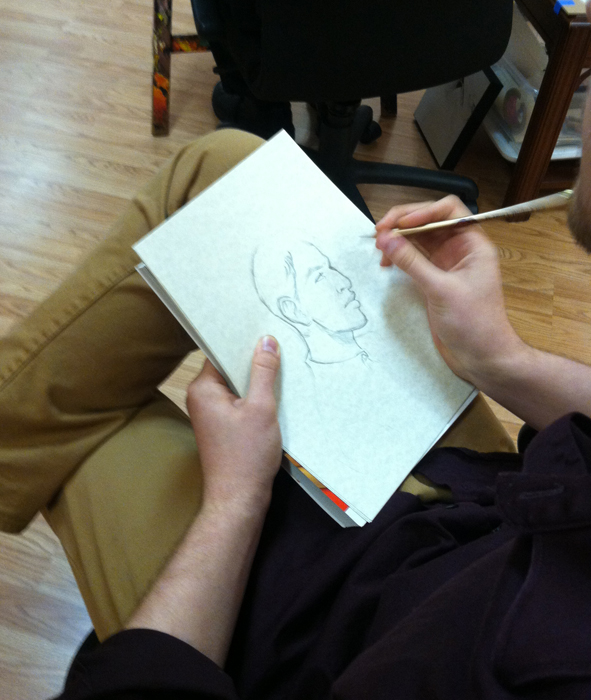 …and here's the painting I did of a caracal…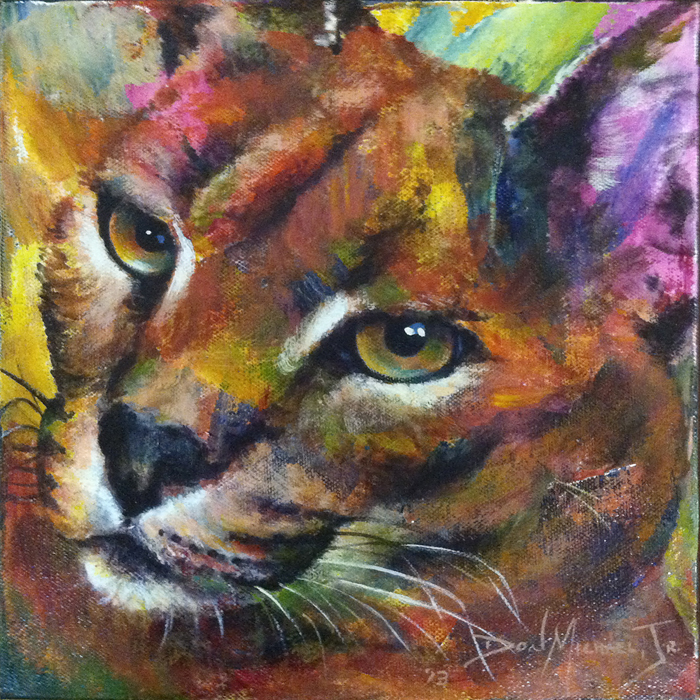 Gonna' Get It – 10″x10″ – Acrylic on canvas – Completed 3/23/13
©2013, Don Michael, Jr.
While all this art was being created, some other art was leaving the gallery. I'm happy to report that a few of my smaller paintings were sold – and I was commissioned to create a mask for one of the restaurants near the gallery. All-in-all, I'd call it a successful, art-filled night.
Now it's time to get back to my studio…
Happy Creating!
My latest Over the Under-Schmeerings (OTUS) painting started out as a demo from this past weekend's Live Painting Event at the Gina M Woodruff Gallery in Long Beach, CA. When they invited me out, the ladies of the Gallery asked that I create an OTUS style painting. I was more than happy to oblige…
Before I started for the night, I went ahead and sketched out my design atop my previously 'Schmeered' canvas. If you ignore the goofy guy in the photo below, you can see how far along I was about an hour into my demo. And, if you look really close, you can still see some of my reference lines…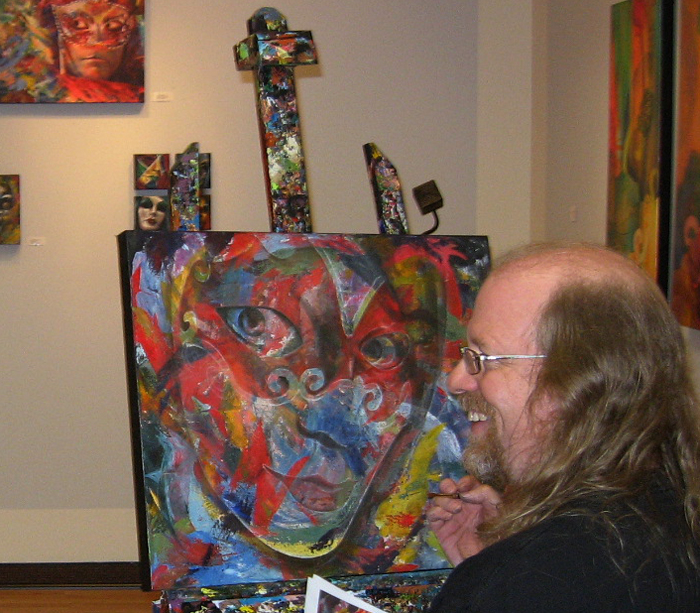 As the night continued I made pretty good progress. It was a lot of fun to paint while visiting with those who stopped by. As is usually the case, some of my favorite conversations came from the younger guys and gals. I had one 5 or 6 year old tell his Mom that he wanted to paint with a paper in his hand to look at like I did (more on that later). He's the blurry little guy in the photo below…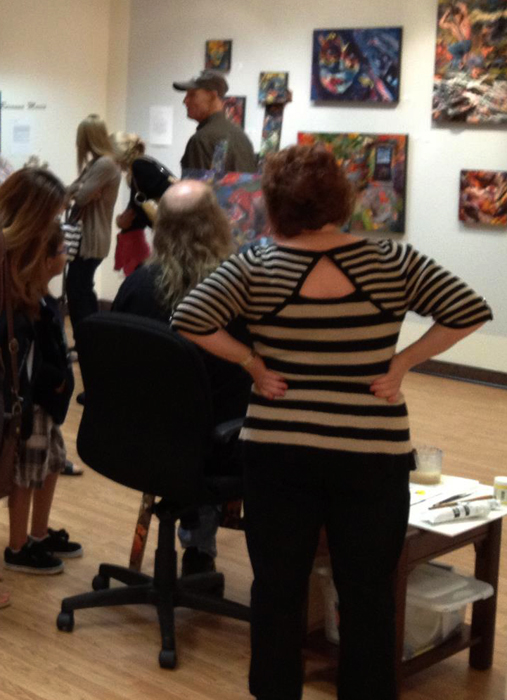 By the end of the night I was about 2/3's of the way finished with the painting. Here I am about to wrap it up for the night…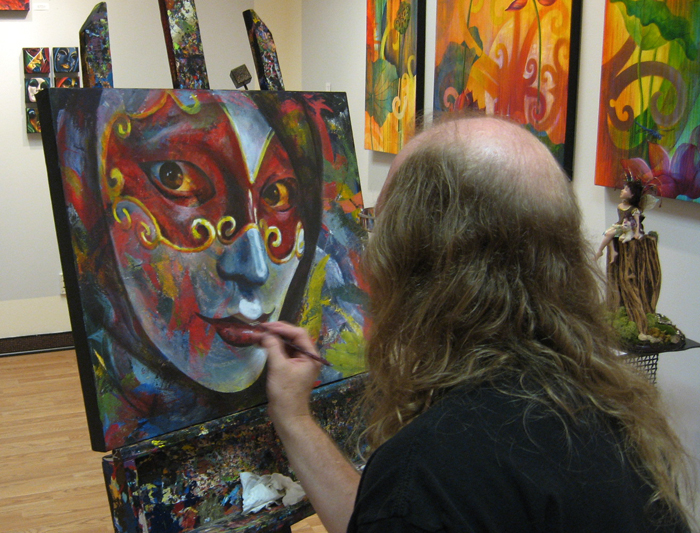 …and here's what the finished painting looks like after I got it home and spent a few more hours on it.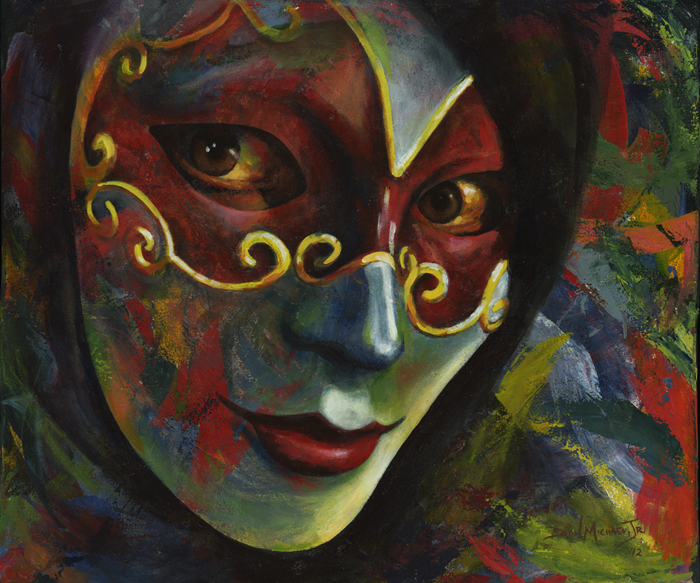 As Pretty Does – 20″x24″ – Acrylic on canvas – Completed 10/10/12
©2012, Don Michael, Jr.
For those new to my work, let me tell you a little more about my Over the Under-Schmeerings (OTUS) series. Each of the paintings in this series starts out as a blank canvas sitting by my easel as I paint. When mixing my paints for the painting that is currently on the easel I wipe the excess off my palette knife onto that extra canvas sitting by my easel. I've always hated to wipe that excess onto a rag because it seems like such a waste. At the end of a painting session, I then scrape all the excess paint off my palette and once again 'schmeer' it onto the extra canvas. By the time I finish the painting on the easel I have usually filled that extra canvas entirely with swipes and 'schmeers' of paint. I then take that 'schmeered up' canvas, which is pretty much a chaotic mess, and begin to incorporate imagery in an attempt to bring order to that chaos. In other words, I paint Over the Under-Schmeerings.
As an example, the 'schmeerings' which are the foundation of As Pretty Does started out looking like this…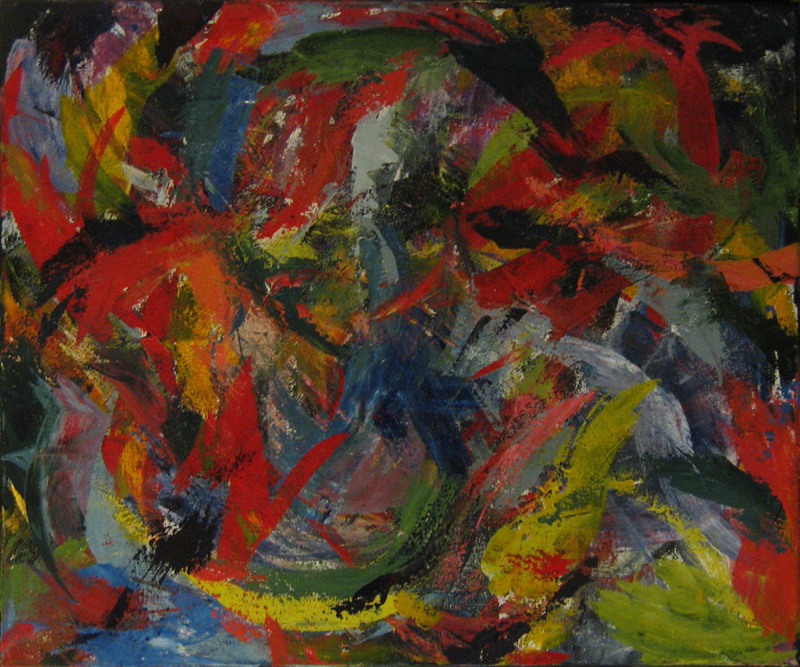 (Now I'm about to 'unmask' my process a little more than I ever have before.)
In reference to the "paper in my hands" that the little guy mentioned above, below is part of what I had printed out and was working from…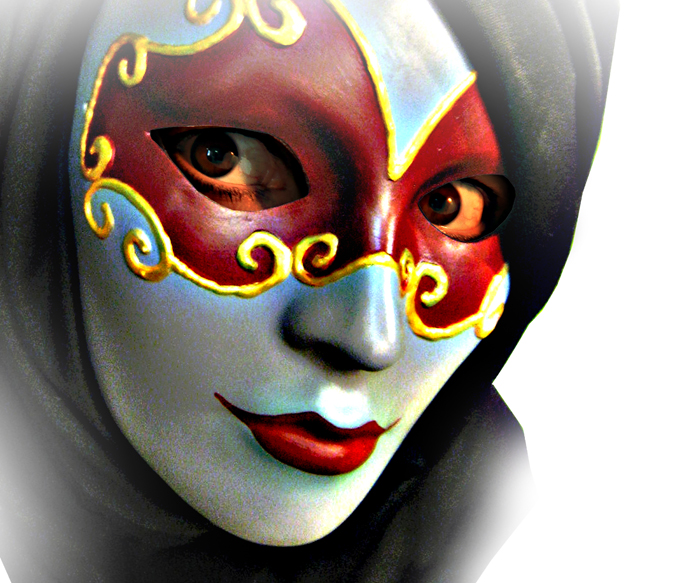 …which is a composite I created from a photo I took of one of my masks…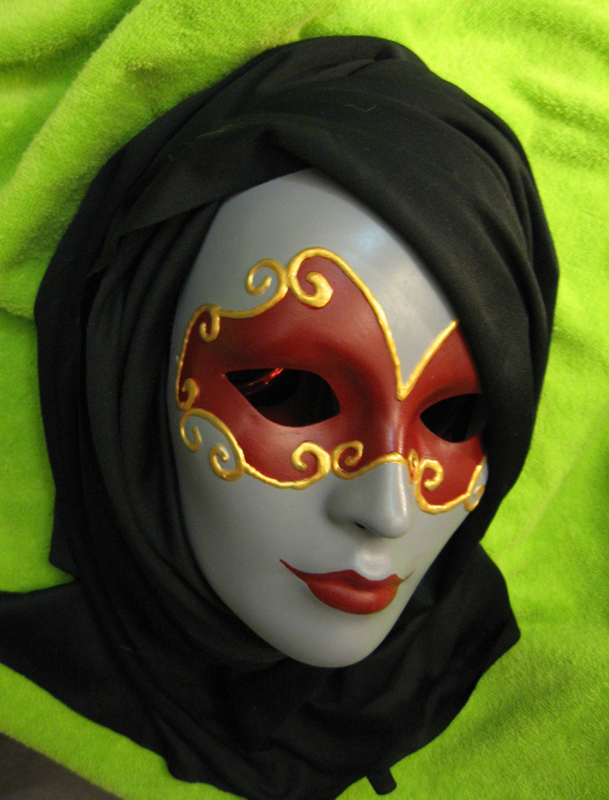 …and another photo that I had taken of a friend of mine behind a different mask…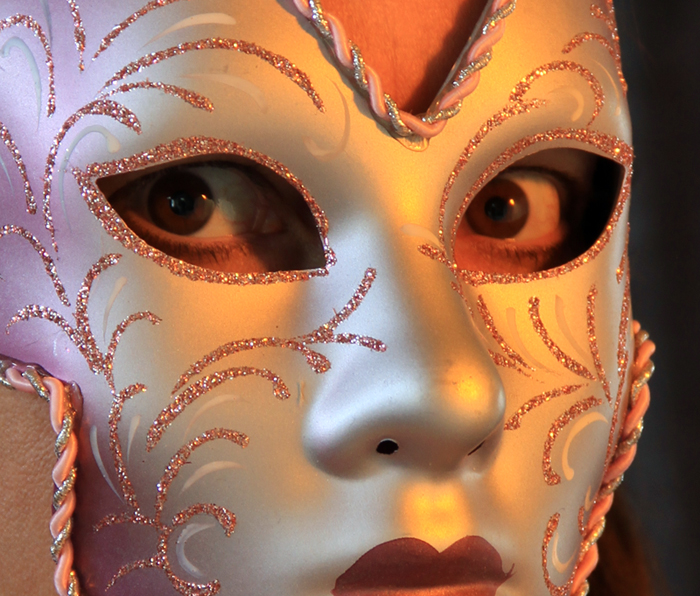 As I'm sure you must realize, there is a lot more to it than this. But, you must understand, I cannot share all my secrets!
Anyway, I hope I was able to clarify a bit about my OTUS series. I love the challenge of forcing order into the chaos. Add to that the duality of using masks as subject matter, and there are so many levels of interpretation that can arise from each of the pieces in this series.
Wow, I love this thing I do!!!
Ok, I think it's time to slide back behind my mask and head into the studio…
Happy Creating!
My painting titled, Synergy, is a finalist in the XenArt: The Energy of Art juried competition!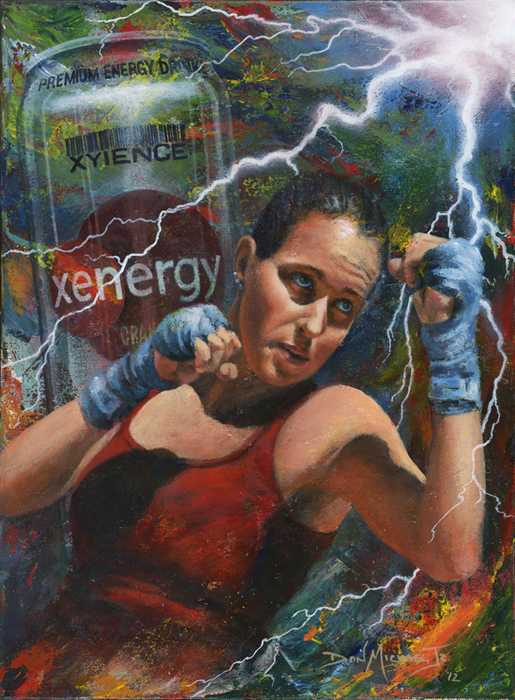 Synergy – 16″x12″ – Acrylic on canvas – Updated 8/12/12
Some of my regular readers may notice that this painting looks familiar. In early July I finished this painting, but decided after I wrote a post about it that I really wasn't entirely happy with it. So, I changed it – which is a very rare thing for me. When I finish a painting I almost never come back to it and change anything. If upon completion I decide I don't like something or feel I 'missed the mark' in any way shape or form, well then, I consider it a learning experience and move on. But, not this time…
In this case, I decided that since I was going to change it anyway, I might as well change it to include a Xenergy can and then submit it for consideration in the XenArt: The Energy of Art juried competition and art show. I'm happy I did…
Below is a side-by-side of what I had before and what it is now…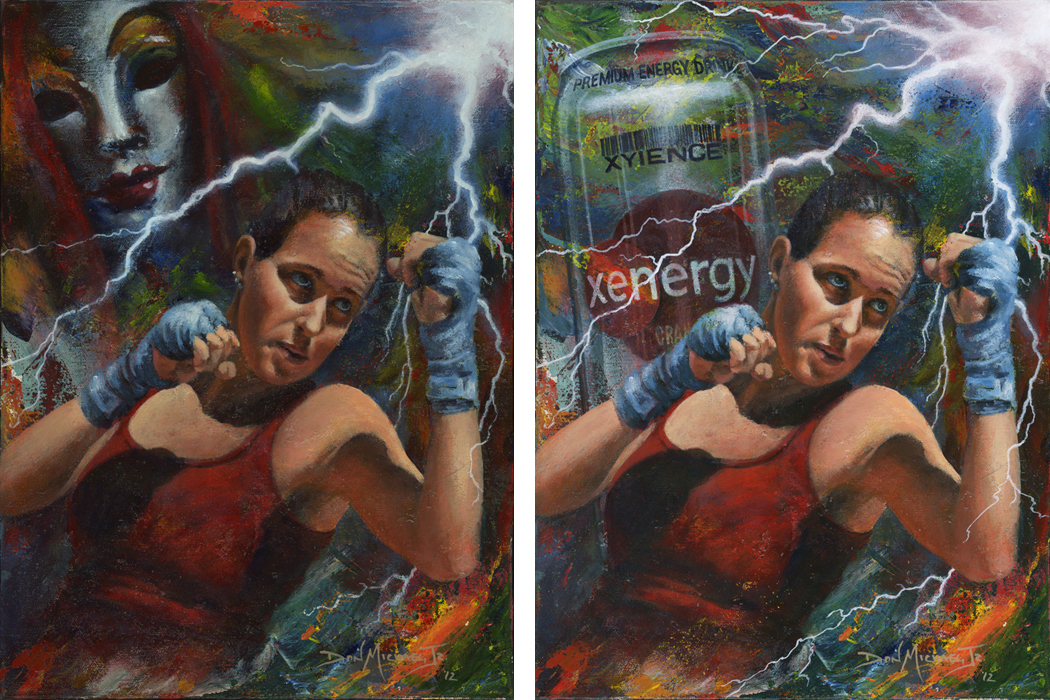 Synergy – before-and-after – ©2012, Don Michael, Jr.
If you would like to see the other finalists in the XenArt: The Energy of Art juried competition, just click here.
This Friday evening the winners will be announced during the gallery opening of the show. My fingers are crossed…
Happy Creating!
For the third year in a row I have honor of taking part in the wonderful charity event Circus Couture. This event combines the talents of aerialists, acrobats, fashion designers, musicians, dancers and fine artists to help generate monies that will be used to sponsor children in their treatment of cancers and bloodborn illnesses. My small part in each of these events has been to donate one of my paintings to be auctioned off during the event. Below is this year's painting…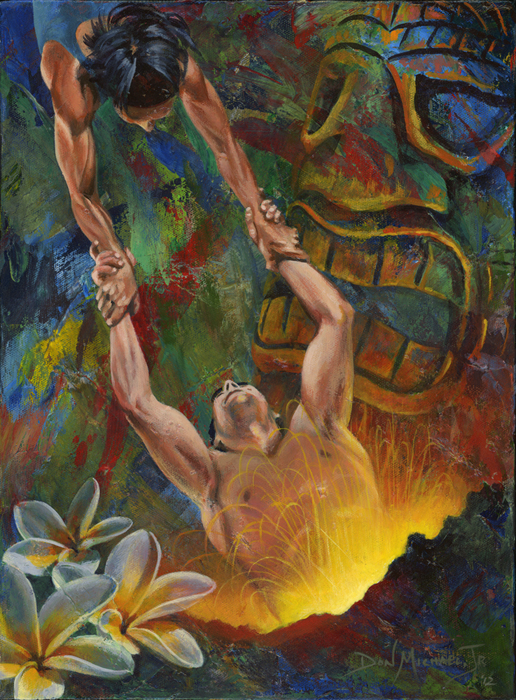 Esprit de Corps – 16″x12″ – Acrylic on canvas – Completed 8/18/12
©2012, Don Michael, Jr.
Before I even started this painting I gave a lot of thought to the ideals I wanted to convey. First of all, I wanted to 'tip-my-hat' to the wonderful performers who donate of their time and talents to this wonderful event. Secondly, I wanted to convey the idea that we all need each other to make it in this world. Other key words for me as I was designing this were: trust, exhilaration, fear, desire, collaboration and passion. I hope my ideals convey. More importantly, I hope my painting is able to generate significant monies to help our local children in their fight to beat cancer.
If you would like to find out more about this year's event be sure to click on this link: http://www.circus-couture.com/event.htm
Happy Creating!
Next Page >>