Tonight (Saturday) I will be enjoying art and fellowship at the Grand Opening of the Gina M. Woodruff Gallery in Long Beach, California (where 5 of my paintings will be residing for the next 3 months). I look forward to making several new artist friends while enjoying their fabulous art. Since I'll be 'out of pocket' for the next few days I thought I'd share two of my latest creations…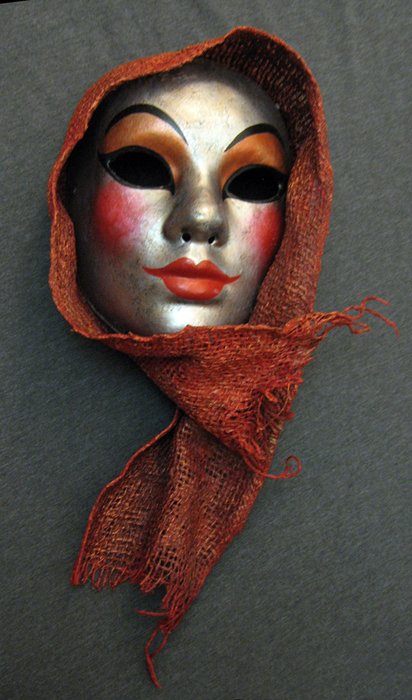 Zephyr – Acrylic, Burlap & Acrylic Medium on Paper Mache' Mask – Completed 5/13/12
©2012, Don Michael, Jr.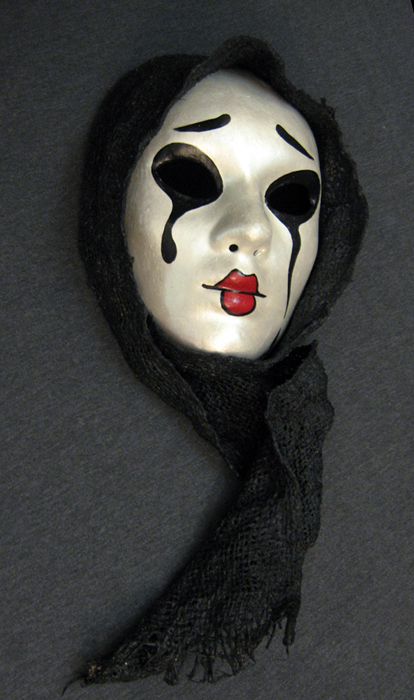 Nebulous – Acrylic, Burlap & Acrylic Medium on Paper Mache' Mask – Completed 5/12/12
©2012, Don Michael, Jr.
Zephyr and Nebulous are both going to be donated to the Innovations International Charter School of Nevada to be auctioned off in October at this year's UnMasking the Mind charity auction and gala. Any proceeds from their sale will be applied towards books and supplies for the school. I'm proud to say that this will be my 4th year of involvement with this event.
The drapery around both Zephyr and Nebulous was created using burlap and acrylic medium. It was a lot of fun experimenting with this new material (for me). I wouldn't be surprised if it appears in other works in the future.
Have a great weekend…
Happy Creating!
Where does that doorway lead? What waits on the other side? Is she going through it? Has she already been through it? Does she even know it's there?
Only Heaven Knows…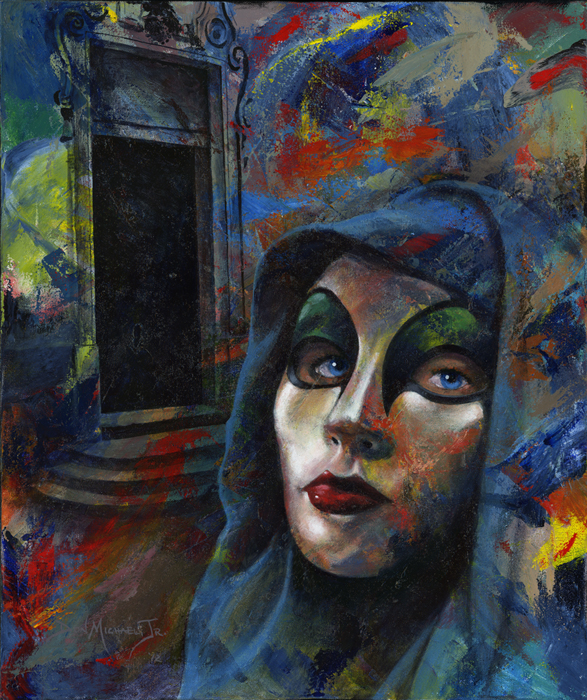 Heaven Knows – 24″x20″ – Acrylic on canvas – Completed 5/15/12
©2012, Don Michael, Jr.
I started painting this Over the Under-Schmeerings (OTUS) painting this past Saturday at the St. Judes "Affair of the Heart" Gala in the Four Seasons Hotel in Las Vegas. I was one of three artists invited to paint live during the meet-and-greet section of the event. It was a wonderful event and I wish I had remembered my camera so I could share. Regrettably, my lovely wife and I realized as we were pulling into valet that we had left my camera sitting on my computer desk at home. A lot of good it did us there! Thankfully, my good friend, Niki Sands, was kind enough to take a couple photos of me at work. As you can see, I at least remembered all the items necessary to create a painting: Canvas – check; Paint – check; Easel – check; Palette – check; Brushes – check; Palette knife – check; Bowl for water – check; Ice cold beverage – check…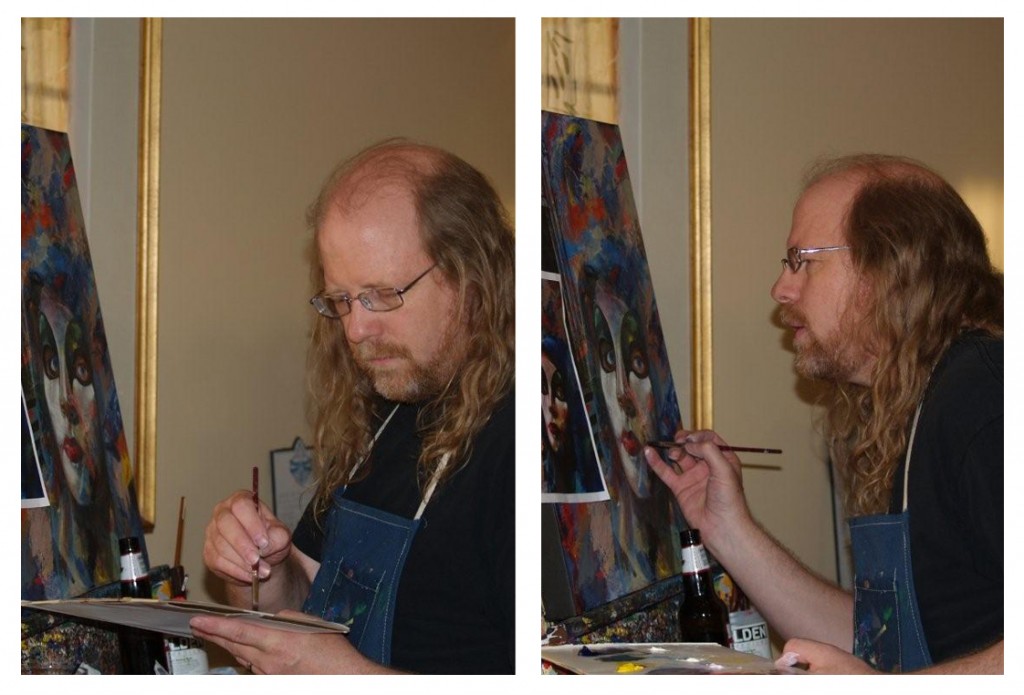 Man-at-Work
Thanks for the photos, Niki!
I found out recently that the Ginormous Heart I painted for this event was sponsored by Wells Fargo. My understanding is that the sponsorship of these hearts starts at $20,000! What a wonderful feeling to know that a creation of mine was able to generate this type of money for such a worthy cause!!!
I'll close this post by sharing the sweet little plaque that I was given for taking part in this wonderful event. I couldn't be prouder! Bless you, St. Jude!!!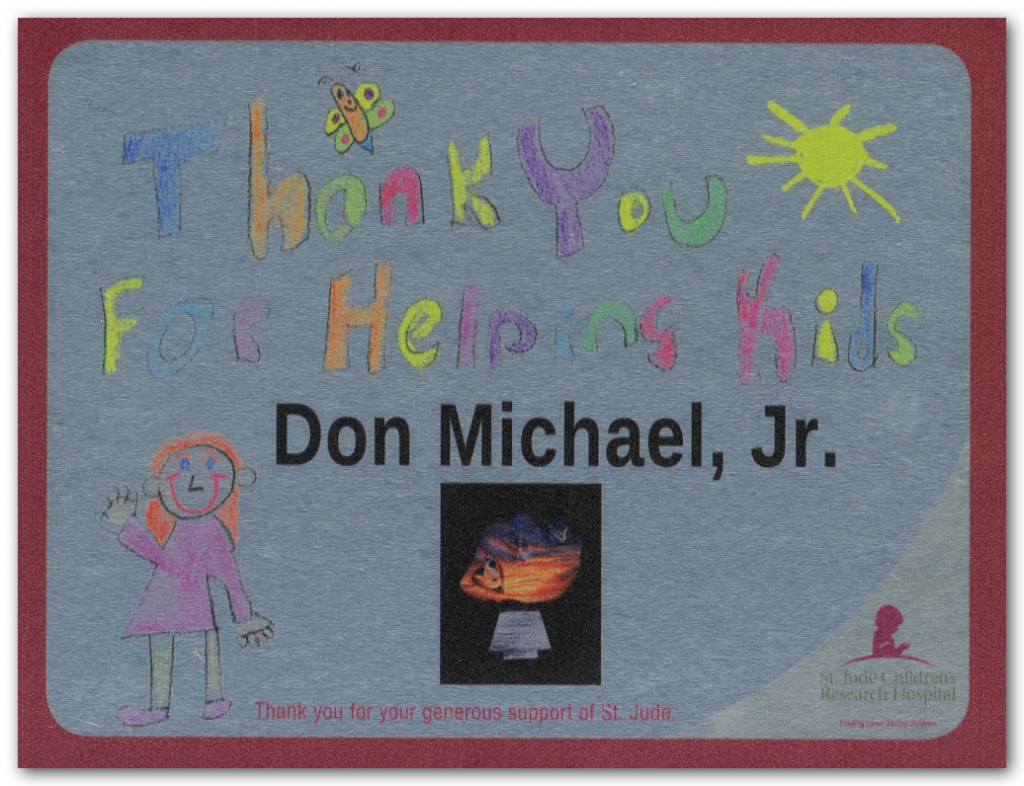 'Thank you' Plaque
Now it's back to the studio… Happy Creating!
I've not had new work of late that I could share. However, there's still a lot going on in and around my studio. Currently, I'm working on some new masks, a couple of which will be donated to this year's UnMasking the Mind charity auction coming up in October. Here's what the main table in my studio looks like right now…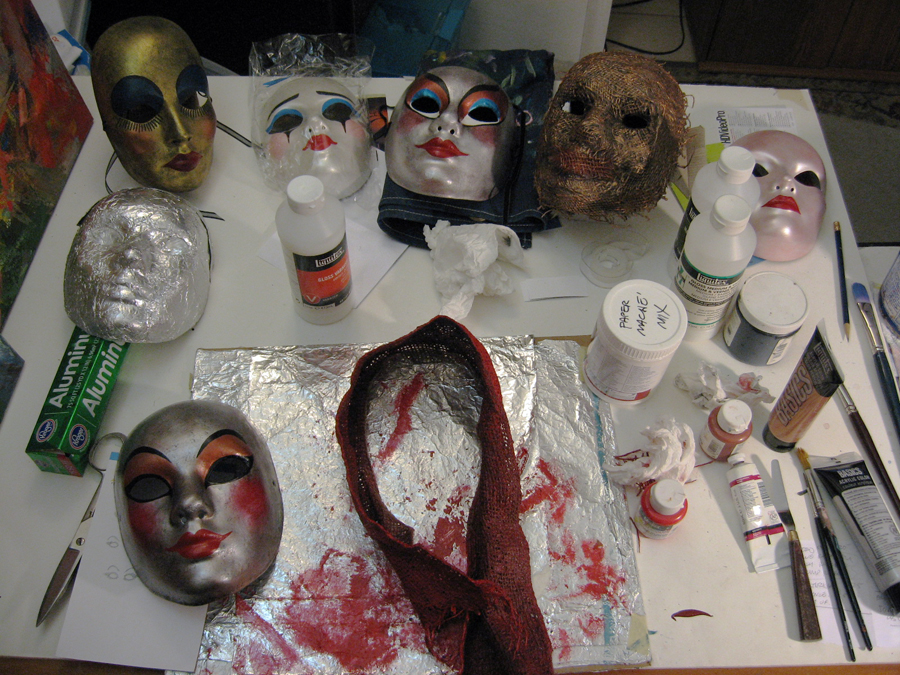 Don's Studio 5/6/12
Creating these masks is always a fun adventure. I try to do something entirely different each time. One of the materials I'm experimenting with this year is burlap. More on that when everything is complete… but, for now just know that I'm having some fun!
This Saturday is the long-awaited St. Jude's Affair of the Heart Gala and Charity Auction at the Four Seasons in Las Vegas. (There are still a few tickets available. For more info click here.) The ginormous heart that I painted for the event will be there, as will I – with brush in hand. I have been invited to paint live during the early part of the evening. As you may imagine, I'm honored and excited!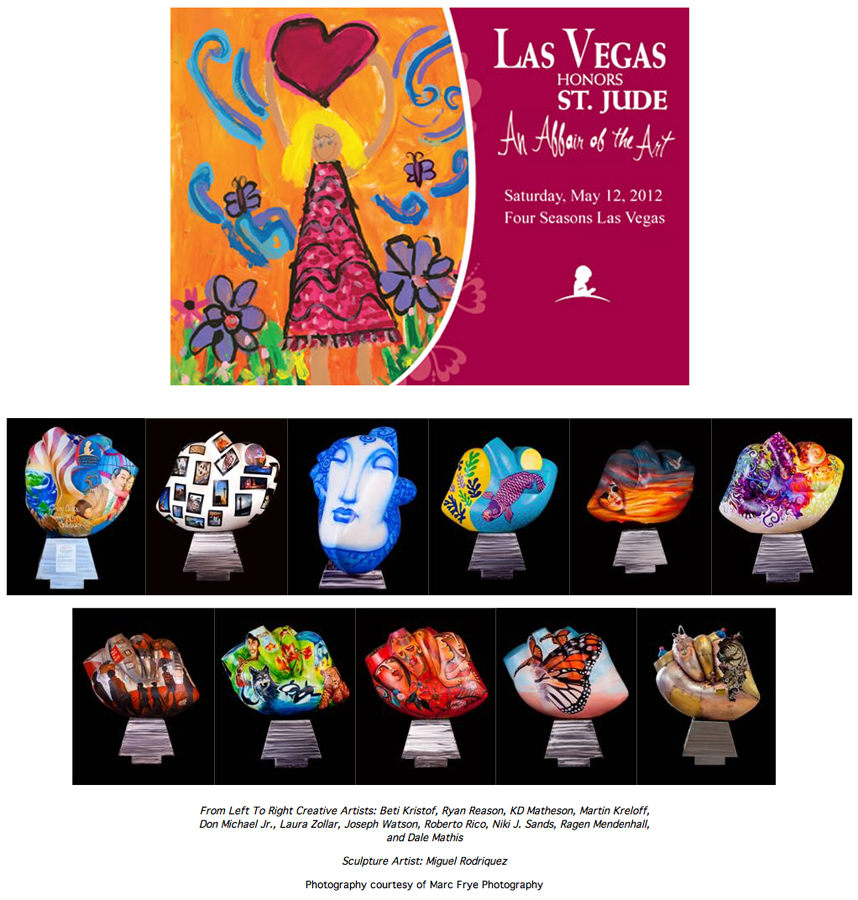 An Affair of the Heart 2012 – Invitation and Hearts
Then, next weekend five of my paintings will be a part of the Grand Opening of the Gina M. Woodruff Gallery in Long Beach, CA. I plan to attend the night of Saturday, May 19th. Any of my friends who will be in the Los Angeles area are invited to come out and see some great art while meeting the artists.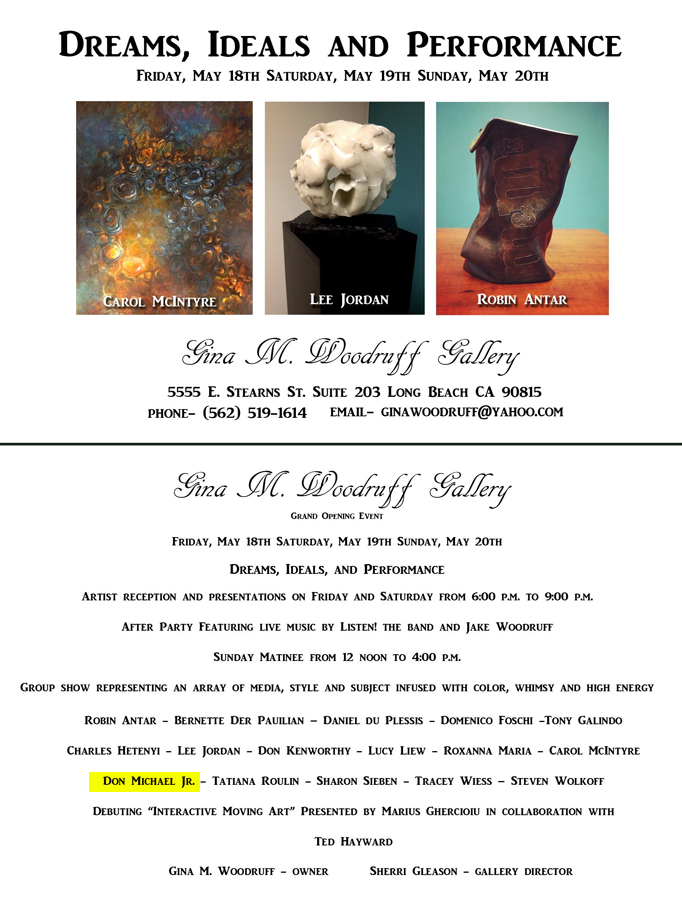 Gina M. Woodruff Gallery – Invitation and Artist List
Sometime in the next couple weeks I'll finally be able to announce a new book release with a cover that I created. I'm really looking forward to this one since it's really a change of pace for me. You'll soon see what I mean…
Until then, Happy Creating!
Fine art, design, music, food, drink and demonstrations all came together this past Thursday night here in Las Vegas. ThinkArt! put together a great event for the Marriott SpringHill Suites which included a juried art exhibit, a logo contest and a couple of demonstrations. And, guess what… yours truly was involved in all three!
When we first got to the event my wife and I had to go check out the painting I did last year of Mr. Bill Marriott that was purchased by the SpringHill Suites. It was our first time to get to see it in its permanent location…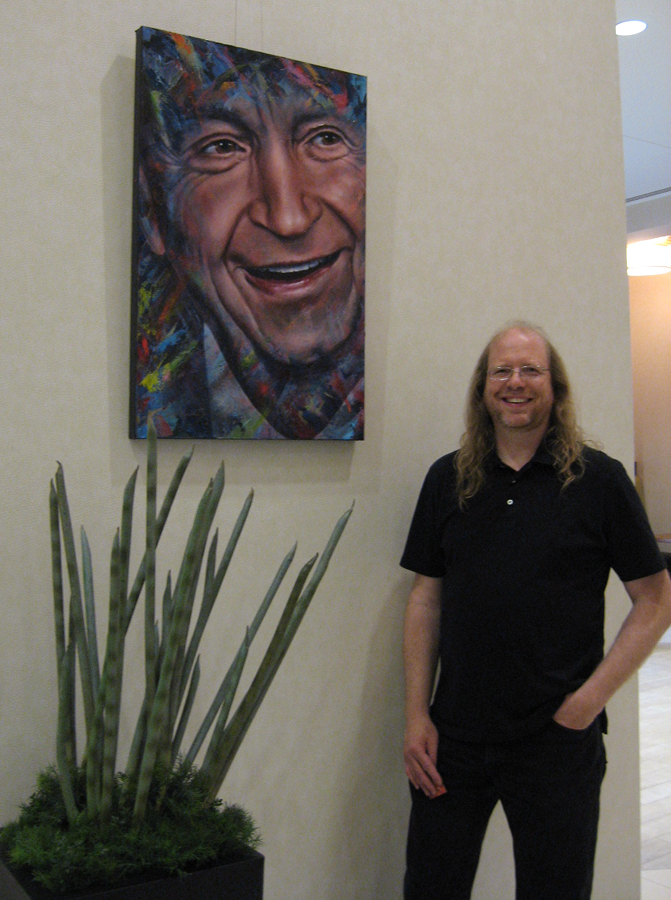 Don with Warm Regards in the lobby of the SpringHill Suites
The night kicked off with some great music provided by youngsters from the Las Vegas Academy high school. They did a wonderful job and kept a beautiful sound flowing all evening…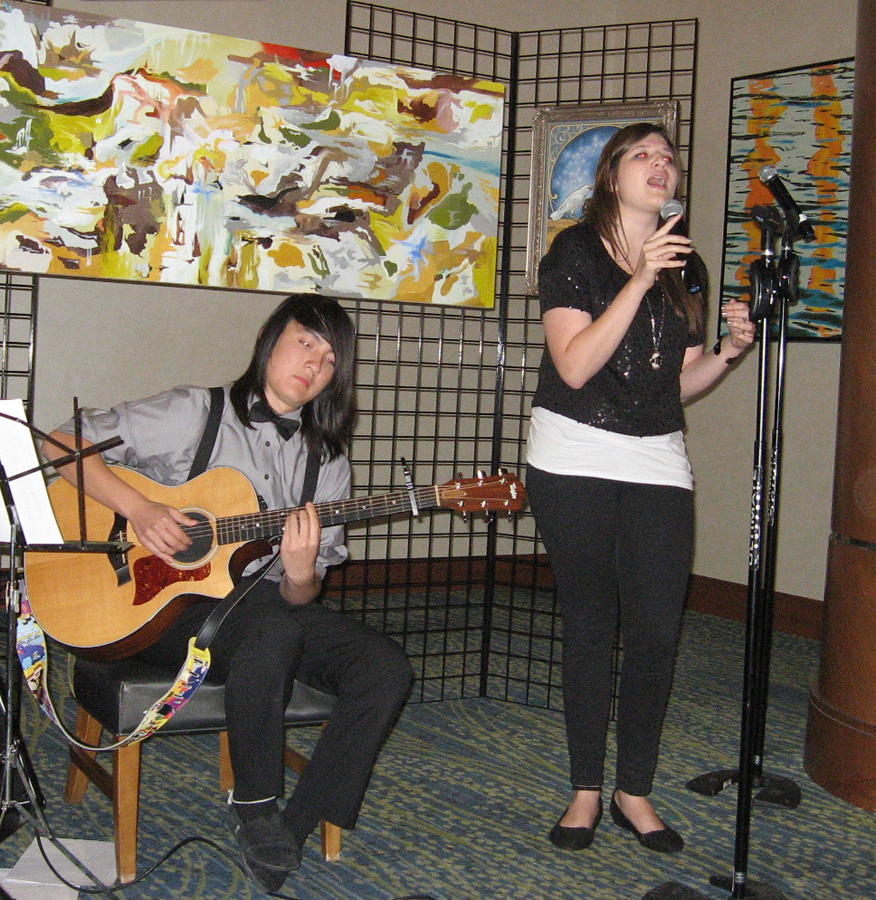 Teenagers with Amazing Talent
Then it was time for the first demo. Las Vegas artist, Steve Talbott, demonstrated how he created his stained glass masterpieces. Here he is showing the pattern he created and was working from for one of the pieces in his Humpty Dumpty series…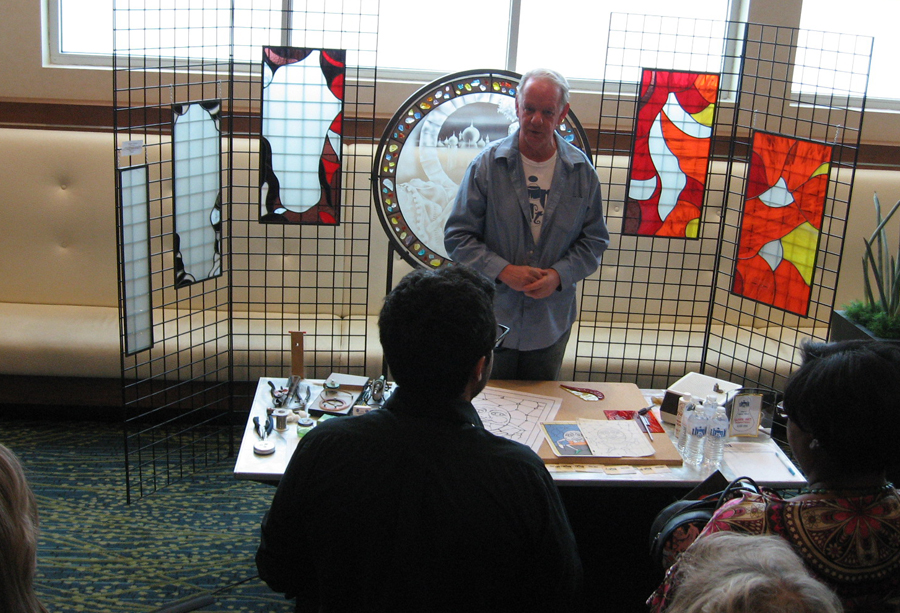 Steve Talbott with work and designs
Steve then showed us how he cut, ground and soldered his glass pieces together.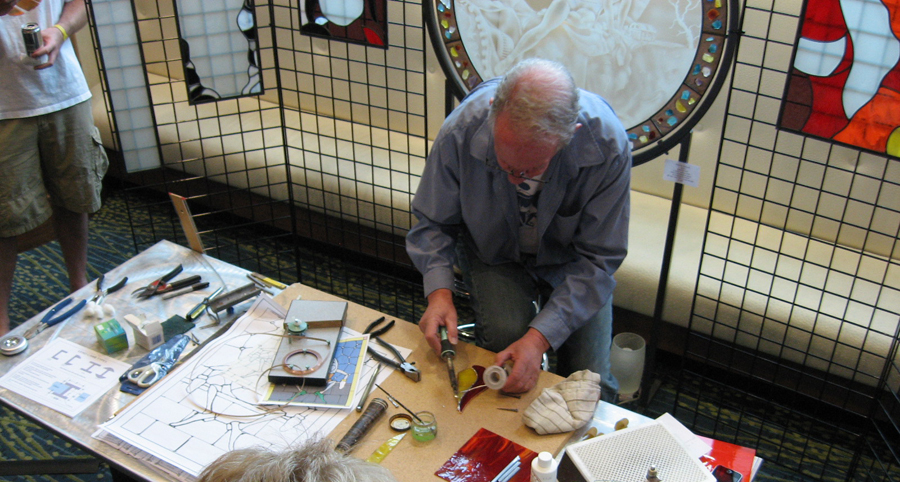 Steve soldering
Here are a few of the pieces in his Humpty Dumpty series which were on display…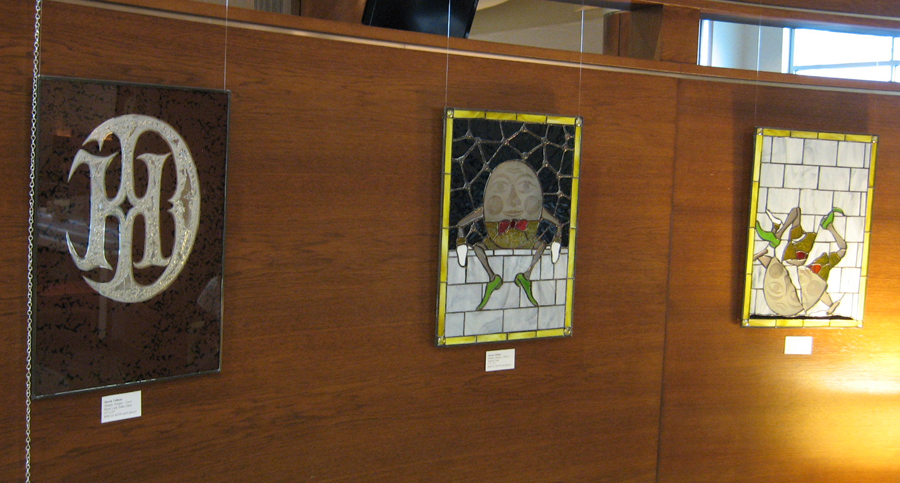 Humpty Dumpty series by Steve Talbott
Then it was time for the unveiling of the new logo for Palette's Gallery and Bistro.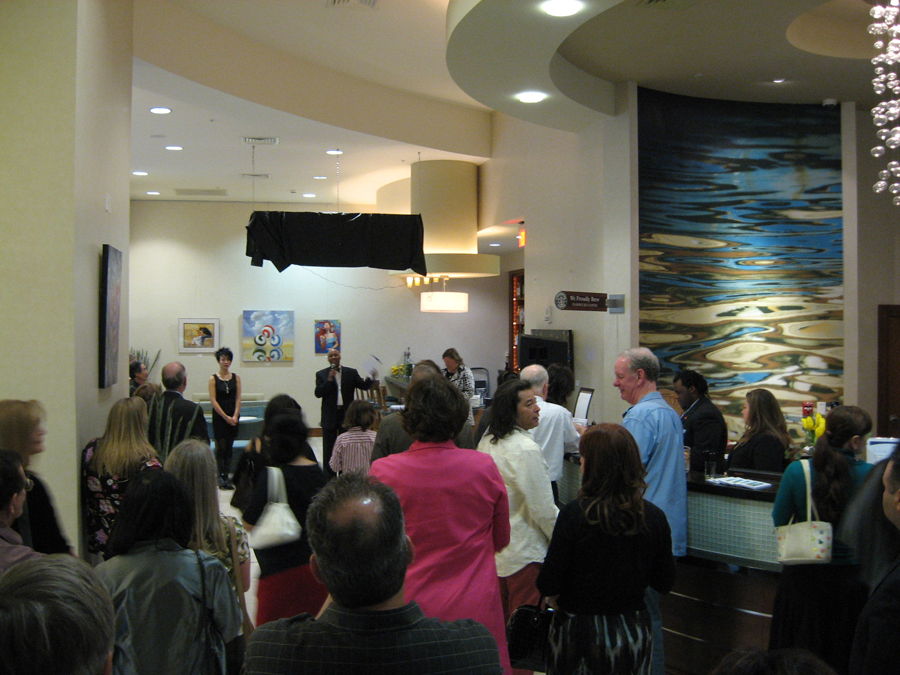 Unveiling Ceremony
Several local artists had contributed designs for this, including me. None of us knew who's design had been chosen until this moment. Here's the one they chose…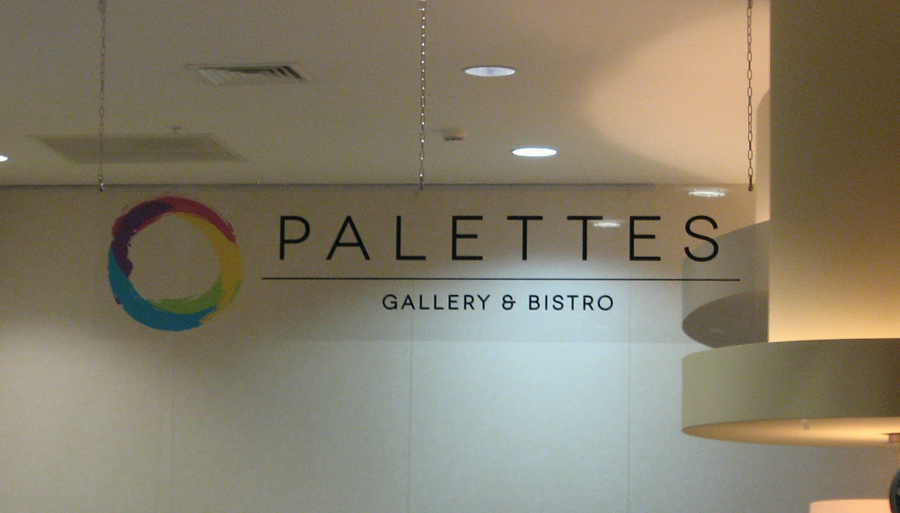 Palettes Gallery & Bistro logo – created by Daniel Rhees
Congratulations to Daniel Rhees for his wonderful design! (To see the other entries click here. Mine is #17)
Once the design was revealed it was time for the next demo to begin. That demo happened to be featuring me! Here I am ready to begin…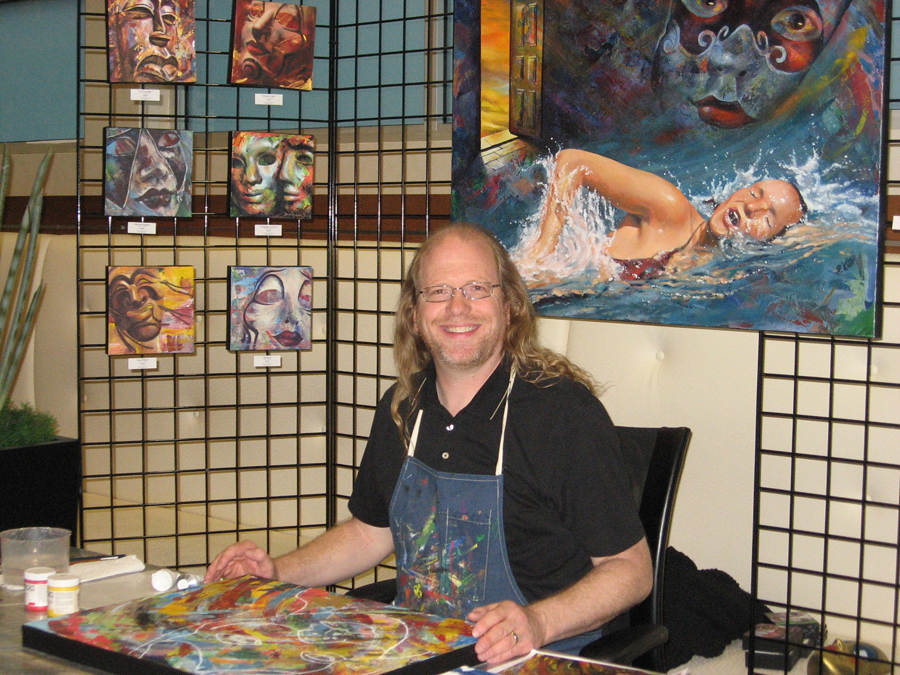 Prepped, Ready and a Bit Nervous
I had been asked to demo my Over the Under-Schmeerings style of painting. As you can see I had several of the pieces in this series arranged behind me to reference as I was working. Below I am hard at work with both my brush and my mouth…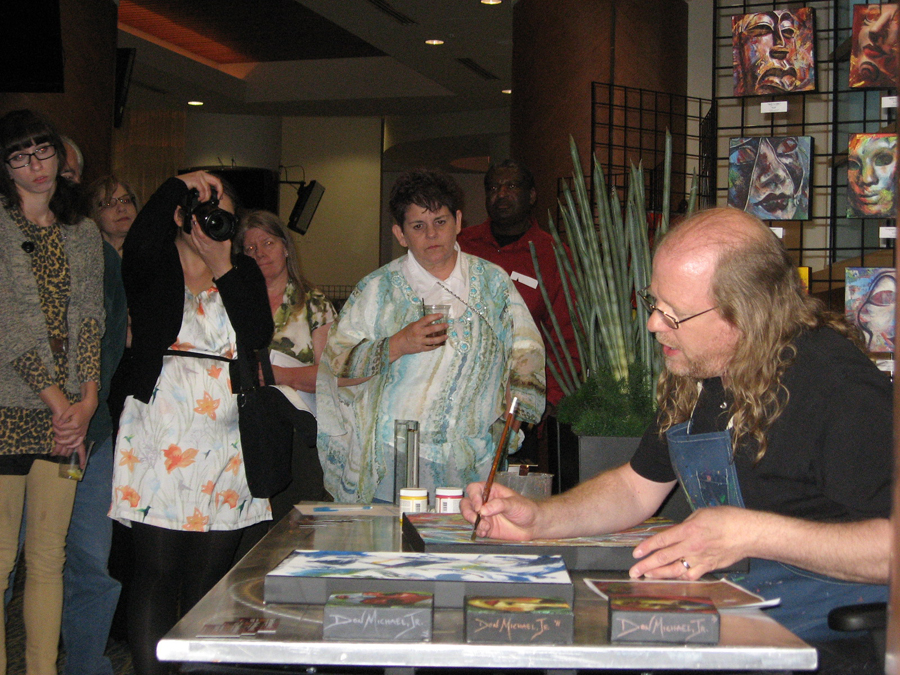 Artist at Work
Here's another shot as I was finishing up my 20 minutes (they actually encouraged me to go long, so I took 30). You can see my mouth still hasn't stop, but neither had my brush…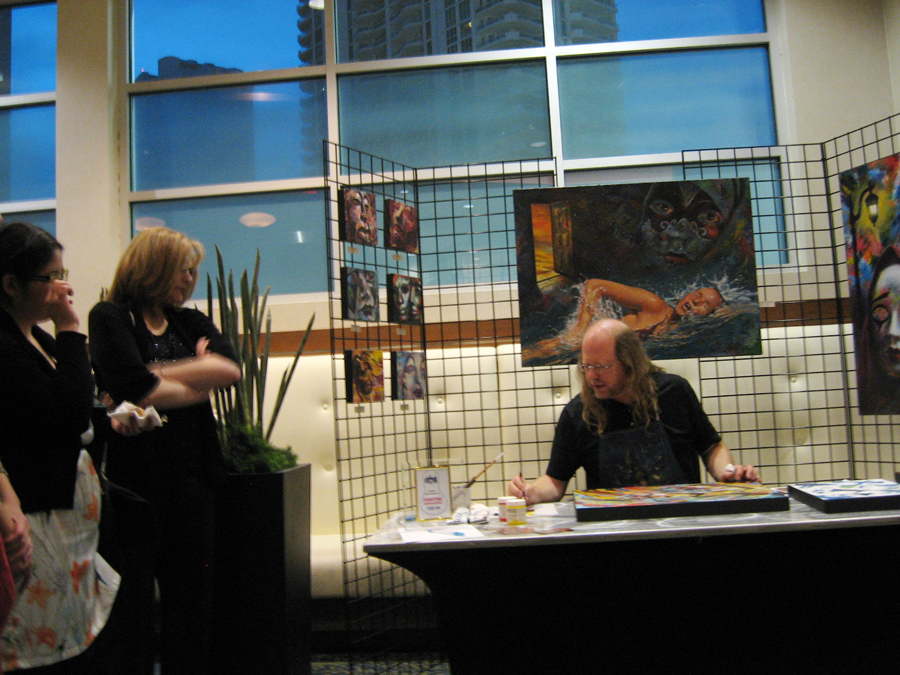 Time's Almost Up
At this point the evening was coming to a close. All-in-all it was a wonderful night of art. Thank you ThinkArt! for making it happen.
I still have a little ways to go before I can call the painting finished, but I hope to be able to show you the final results in the next couple of days. For now, I think I'll go to my easel and get busy on a totally different project I have in the works.
Happy Creating!
Tomorrow night, April 12th, will be a very artfully busy night for me…
The Palettes Gallery and Bistro is hosting an event to unveil their new logo. Several Las Vegas artists, including yours truly, submitted logo designs for consideration. We will find out at the event who's logo was chosen.
To go along with the event there is a juried art exhibition. I have the honor of having two paintings juried in.
Finally, as an added bonus, I have the wonderful opportunity to demonstrate my Over the Under-Schmeerings style of painting at this event.
Below is the program…
This event is at the Marriott SpringHill Suites on Paradise Road in Las Vegas.
For those wondering, yes, I had a WONDERFUL Spring Break. It's hard to believe it's over already. Now it's time for me to get back to work…
Happy Creating!
As I mentioned in my previous post, I had a lot going on this weekend. To start with, it was First Friday in Downtown Las Vegas where artists from all around the area would be displaying their wares – including yours truly.
The event starts at 6pm, but I needed to get there a couple hours early so I could set up. With two of my newest paintings being a little large, I decided to redo the wall almost entirely. Here's what it looked like when I finished with 15 minutes to spare…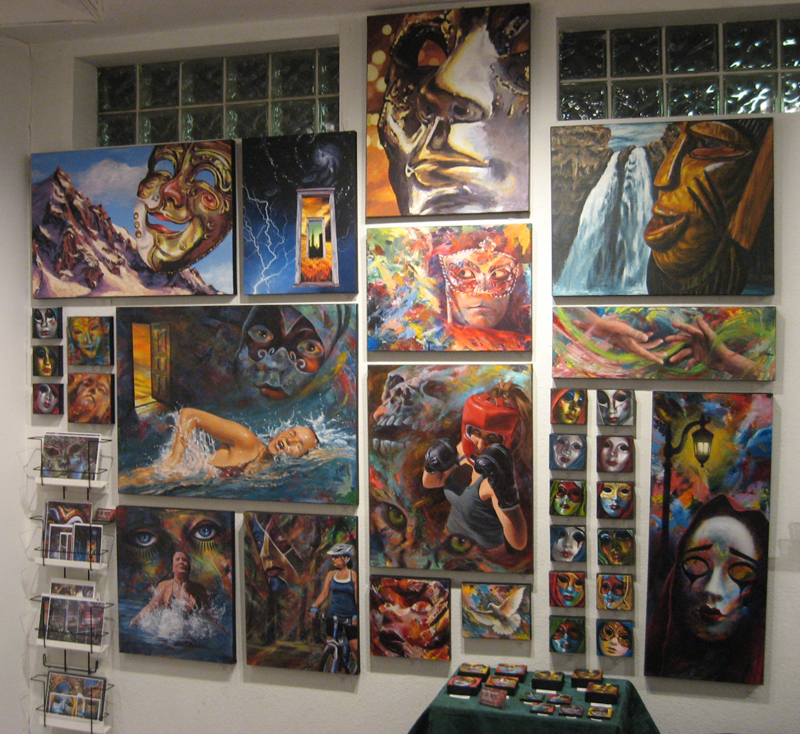 Don's Wall for February's First Friday
Here's a close-up showing that my friend, Melissa, is starting to take over my wall (she's in three of the paintings)…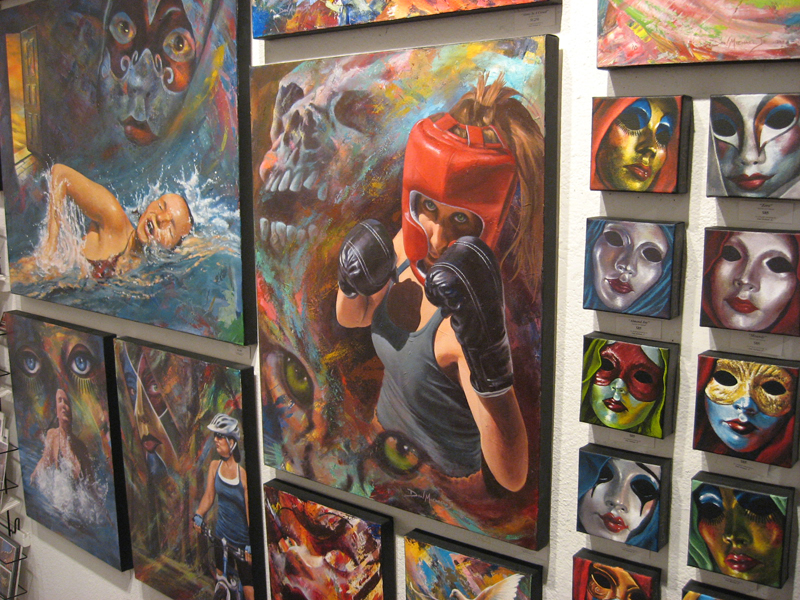 Killer Instinct and friends
The night started out pretty slow but began picking up after 8pm – as seems to be the norm. One of my Eye Candy: Skittle paintings (Strawberry) was purchased by a man visiting from New Orleans. He said it made him think of his wife who was still at home and he wanted to buy it for her. Another of my paintings, Take Heart, was purchased by my friends Tami and Angelo. What's funny is that as soon as I wrote sold on its tag a lady came over and wanted to purchase it. Luckily, I had a print of it on hand and she didn't leave totally disappointed.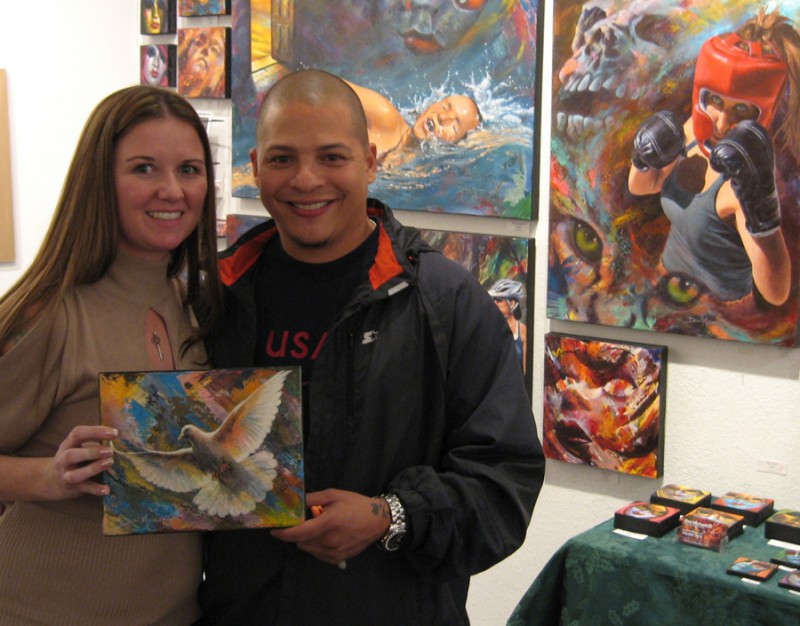 Tami and Angelo with their new painting
All in all, it was a pretty good night…
Then, on Saturday it was time to teach my next Acrylic Painting Workshop at the Michael's store in North Las Vegas. I had two students show up this week, one of which had never painted before. They both did really well, as you will see in the following photos…
Here they are after we had been painting for about 40 minutes. You can see that everything is pretty well blocked in and its time to start adding some color…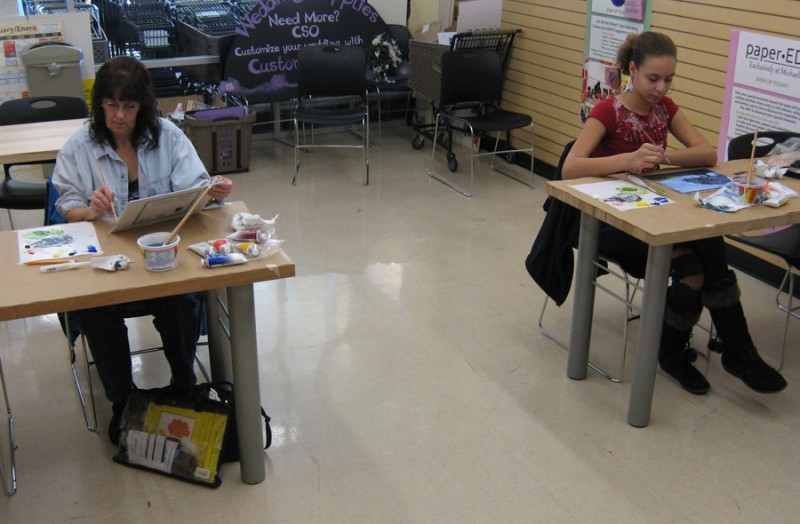 I realized as I was preparing for this class that I had never had a photo taken of me while I was teaching. So, during a pause, I asked one of the students to take a shot of me at work…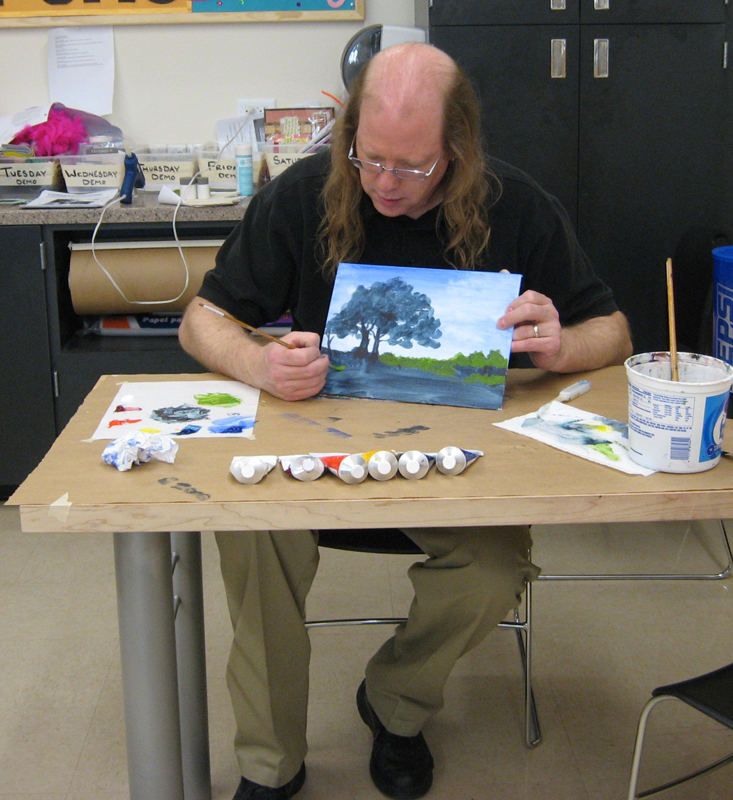 I hate having my back to the class, so I've learned how to paint upside down and backwards to make it easier for the class to follow along. In the photo above you can see that we have started laying in the greens of meadow.
A short time later, one of the Michael's associates came in and interrupted my class – which seems to happen quite often. I told her that if she was going to interrupt my flow, I was going to interrupt hers by making her take a photo of the whole class in action. She kindly obliged…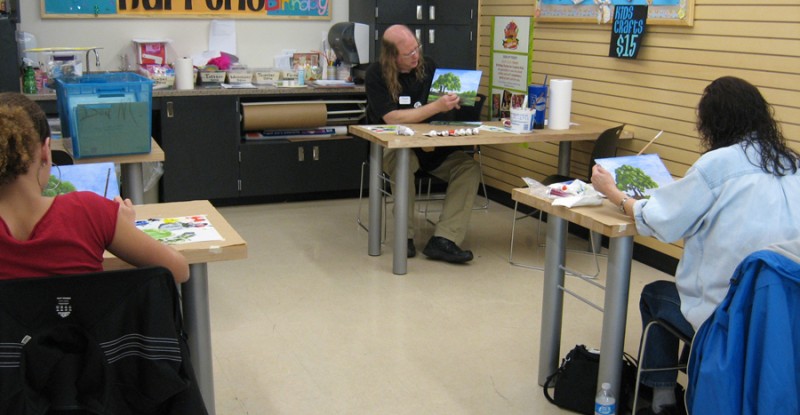 Both ladies did so well today. I couldn't be prouder. Here they are with their finished paintings…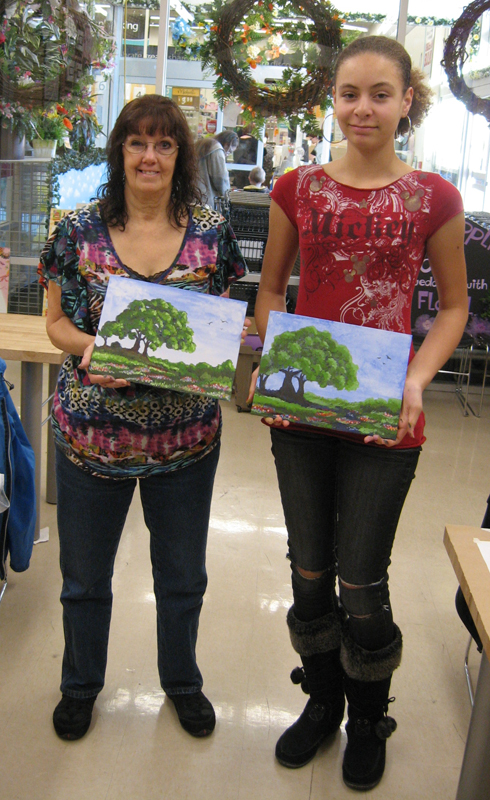 The young lady on the right (who is only 13) had never painted before. Her mother was so excited with how well she did that she plans to join us in a future class. Cool, huh?
Now it's time for me to head back into my studio and get busy. Even though I painted in class today, it's not the same as painting for myself.
Happy Creating!
Tonight was demo night for me over at the Michael's Arts and Crafts store where I teach classes. It was a nice respite to get out of the studio for a few hours. Even though I was still painting, a change of scenery is always nice. I just wish the music they have playing over their intercom was as great as the music that blares out of my i-tunes. Oh well, the things we'll suffer for our art…
Anyway, back to the business at hand…
The little palette knife painting below is what I started on during my demo – and then finished once I got home…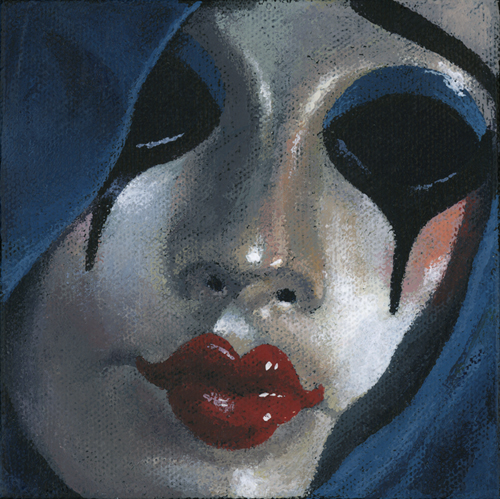 Cherry Sour – 5″x5″ – Acrylic on canvas – Completed 1/17/12
©2012, Don Michael, Jr.
When I sat down at my computer to write this post I checked my email first – as is usual – and found a cool little video had been posted to my facebook page. The video features Niki J. Sands, who is spearheading the collection of Las Vegas artists painting the Ginormous Hearts for our chapter of St. Jude's Medical Research Center. If you click on the heart below (painted by Niki) you'll be able to see the lovely Niki at work and talking about this wonderful event. You'll also see that she snuck yours truly into the video, as well as most of the other participating artists. Great job, Niki!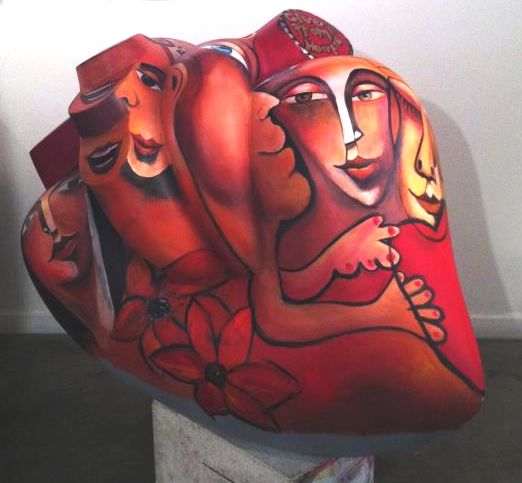 Niki J. Sands' Ginormous Heart for St. Jude
I'm getting really excited about the progress I made today on my heart. I've still got a ways to go, though, so I'd better get back to work…
Happy Creating!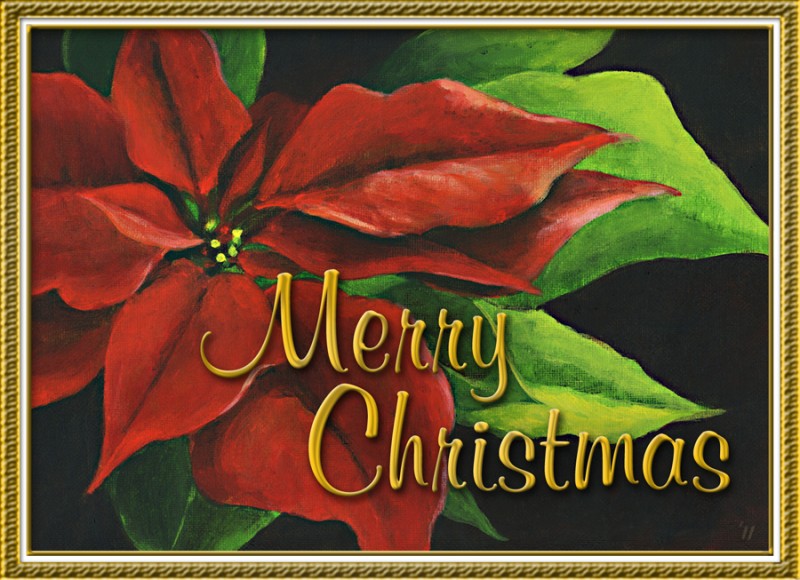 Merry Christmas 2011 – Acrylic on canvas, modified in Adobe Photoshop
©2011, Don Michael, Jr.
I cannot believe that Christmas weekend has already arrived! Here we are at the end of another year and it feels like it just started. Wow!
I want to thank all of my friends out there in our blogosphere for staying with me through the crazy ride of 2011. It's been an interesting year… an exciting year… a scary year… and a year filled with many blessings and miracles. My wife and I have dubbed 2011 our "Year of New Beginnings" and look forward to the blessings that await us in 2012.
We wish you all the Merriest of Christmases and may 2012 be your best year EVER!
Happy Creating!
The family and I started this weekend with a BANG, and it never let up from there. On Friday night, my sons and I took their Mom to see her favorite rock band of all time – RUSH. I must say that Laura's enthusiasm for this band has rubbed off on all three of us guys and we are prone to concur with her assessment of them being the best rock band, EVER. This marks the 8th time I've seen RUSH with Laura, and the 3rd with our boys. After 37 years of touring together, you wouldn't blame RUSH if they took it a little easy when they hit the stage. But, alas, they are not ones to rest on their laurels. These 3 men are still some of the best musicians in Rock-n-Roll and can still put on a show that will blow your mind.
Here we are on our way out to the car. I inserted a little press photo of RUSH for your viewing pleasure…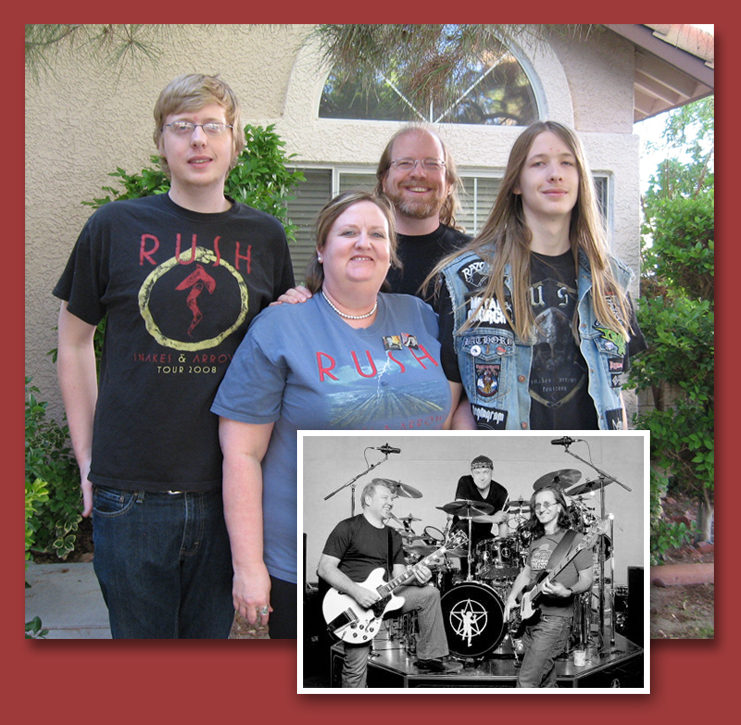 Laura and her 6 Favorite Men
Saturday I was a little slow getting around. I think it had something to do with jumping up and down for almost 3 straight hours the night before, but I can't be sure. Anyway, I got myself together enough to head over to the new Michael's store to teach my first Acrylic Workshop there from 1-3pm. We had a great class with 4 new students and one who has been to a few of my other workshops. Everyone did a wonderful job and left with finished works of art. Regrettably, my camera was still sitting on my desk at home, so I have no visual proof of this, so you're just going to have to trust me this time.
Sunday morning I remembered to take my camera to the demo I was doing at the Grand Opening of this same Michael's. However, it sat right in the tub with my supplies and didn't do me a dang bit of good since I forgot to put it to use. For this demo I was placed in the classroom with all the other Workshop instructors doing their demos. Although we all had a great time visiting together, most of the customers didn't make it in to see us. I think they were either a) a little intimidated to walk into a busy classroom, or b) too worried about putting all their great coupons to use. Maybe it was both…
Sunday evening I took my lovely daughter to the Circus Couture event to which I had donated one of my paintings. I had told her ahead of time that I would need her to remind me to grab the camera. Thankfully, she did not let me down. In fact, she even took the first photo of the night…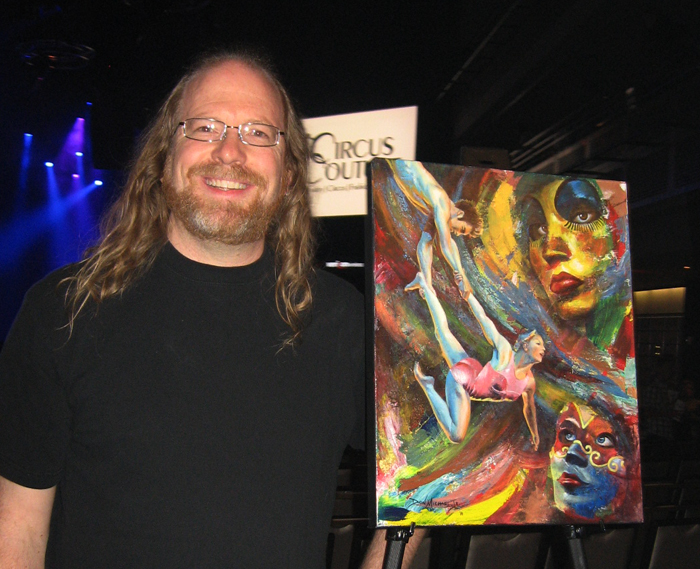 Don with his donated painting Dare to Believe
… and then co-starred in the second photo of the night.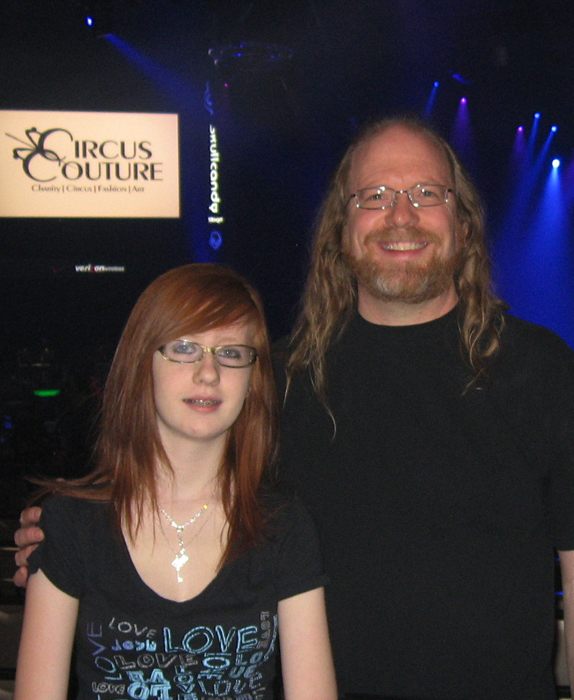 Christina and Don at Circus Couture
You can see the lights and large monitor on the stage behind us. Upon that stage there was a live auction of 6 works of art, with mine included. If my math was correct, those 6 works generated nearly $4,000. That's money that will go directly to help sponsor children receiving treatment for cancer in our local hospitals, as will all of the proceeds from this wonderful event.
Also, upon that stage, several performers wowed us with amazing feats of strength and agility mixed with outstanding fashion. My shots of the event are mostly fuzzy, but here is one of the whole group on stage making their final bow.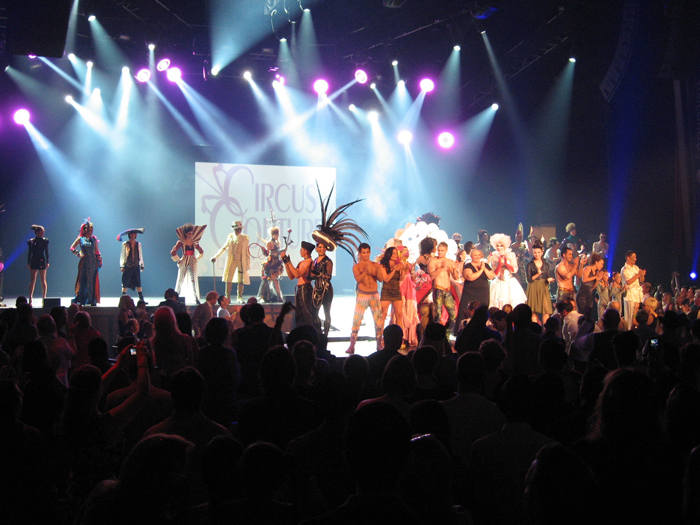 Circus Couture Performers
I wanted to include a couple of the less-fuzzy shots of the performers in action and asked Christina which were her favorite acts. She chose these two.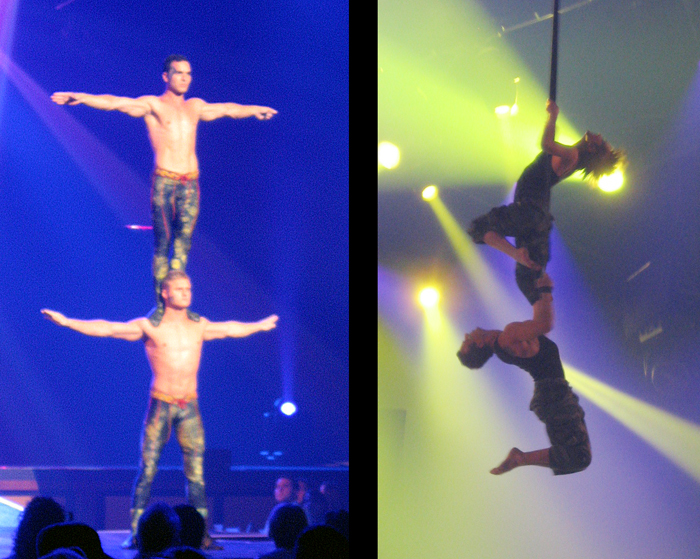 Circus Couture Performers in Action
To paraphrase our conversation, Christina told me she was amazed at the strength of the two men and awed by the grace and beauty of the aerial couple. I am in total agreement with her assessment.
Another cool thing about the Circus Couture event is the fact that there are so many of the performers in attendance from the different acrobatic, aerobatic and aqua-batic shows around town. I struck up a conversation with a couple of lovely ladies who were sitting by Christina and me and found out that they were performers for the show Le Reve. As we were talking I also found out that these ladies had represented the Netherlands in the past two Olympics as a duet team in synchronized swimming. Only in Vegas…
Thankfully, Monday will be a day for Don. I plan to sleep in, followed by a return to the studio. It's time to get some work/play done for me…
Happy Creating!
I mentioned in my previous post that my friend, CJ Boisvert, and I have a few collaborative efforts in the works. Well, this time it does not involve a finished painting, but instead involves a video of finished paintings. Allow me to elaborate…
This past Friday morning CJ came with me as I reworked my wall of paintings at the Arts Factory for the First Friday festivities. She set up her trusty camera to create a time-lapse of me at work. A lot of editing and a little music later CJ had compacted my 2 hours of hard physical labor into 48 seconds of fun. Click on the photo below and you'll see what I mean. I hope you enjoy…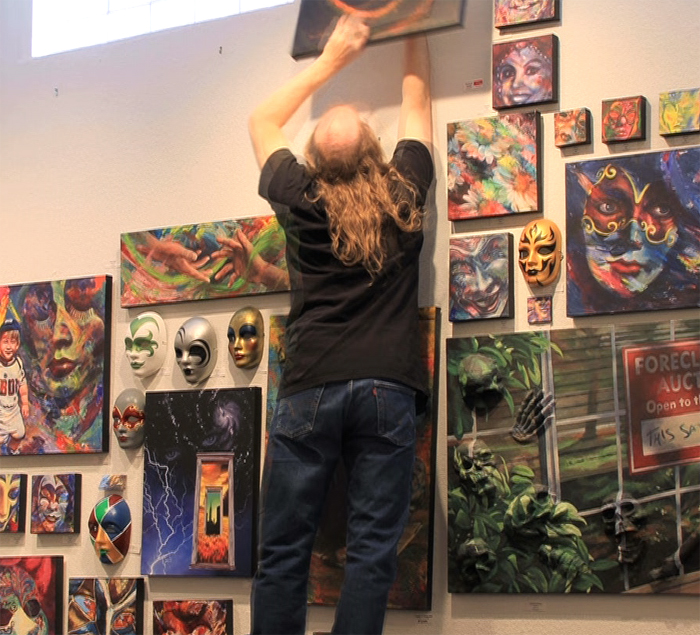 Hanging the Show – Arts Factory – 6-3-11
OK, fun time is over. It's time to get back to the easel…
Oh, wait, that's fun, too!
Happy Creating!
<< Previous Page - Next Page >>