With the completion of this latest palette knife painting I bring my Eye Candy: Razzles series to a close. All five flavors of Razzles are now represented, so it's time to either move forward with more regular Eye Candy paintings, or come up with a new sub-series. For now, though, I think I'll just bask in the joy of having finished another painting.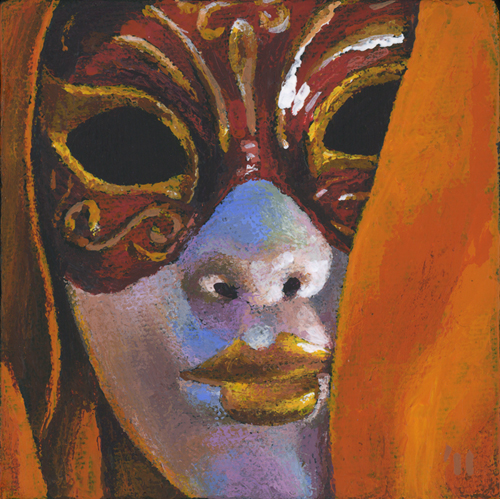 Orange Razzle – 4″x4″ – Acrylic on canvas – Completed 10-2-11
©2011, Don Michael, Jr.
On an entirely different note, my wife and I spent this past Friday night in our new capacity as roadies for the thrash metal band Arsenik, which happens to feature our son, Eric, as bassist. Thankfully, my favorite photographer was on hand and she did a great job documenting this event…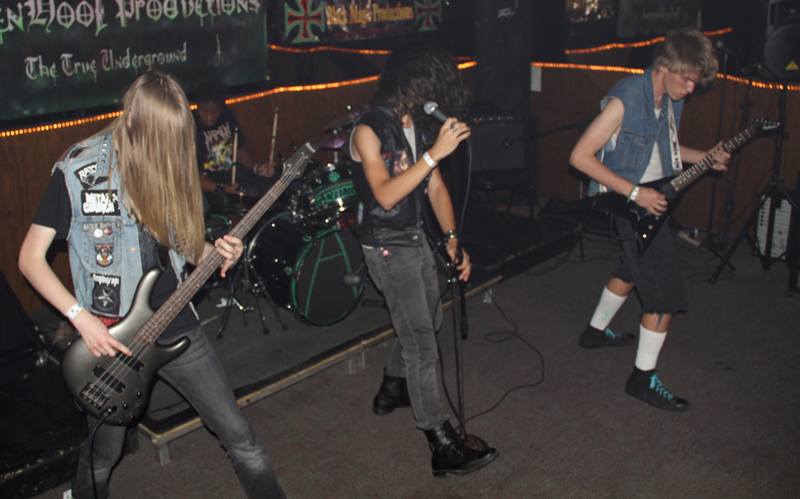 Arsenik in concert – 9-30-11
Of course, proud Papa must also include a close-up of his boy…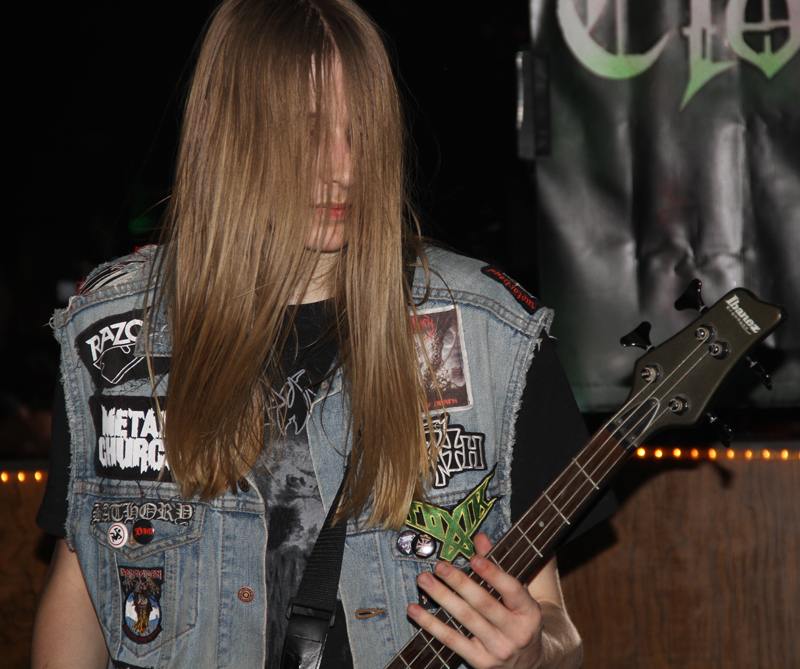 Eric Michael, bassist for Arsenik
Photos courtesy of Alley Zoom Productions
It was only Arsenik's 2nd gig but you'd have never known it. They really blew the roof off. Great job, guys!
I think I've bragged long enough. It's time to get back to the studio…
Happy Creating!
Ugh! Even though I have two kids attending public school and my wife working for the local elementary school, I am the one to catch the first bad cold of the season. Thankfully, I had already finished my latest Eye Candy: Razzles painting, because now I can go back to bed and try to sleep off this cold.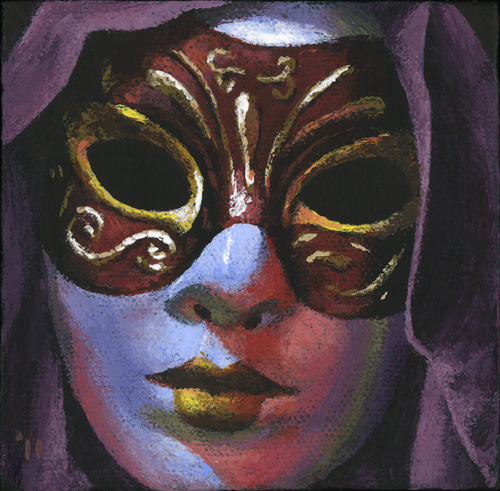 Grape Razzle – 4″x4″ – Acrylic on canvas – Completed 9-20-11
Hopefully, I'll feel a lot better by the time I pick the kids up from school this afternoon since I have some work I want to get done in my studio.
Happy Creating!
This little palette knife painting includes a couple of colors I had not used together in a painting before, Diarylide Yellow and Quinacridone Magenta. I really like how well those colors worked together and I think I'll be using them together again soon. As is usually the case, I only used 4 colors in my palette. In this one's case the other two colors were Ultramarine Blue and Titanium White.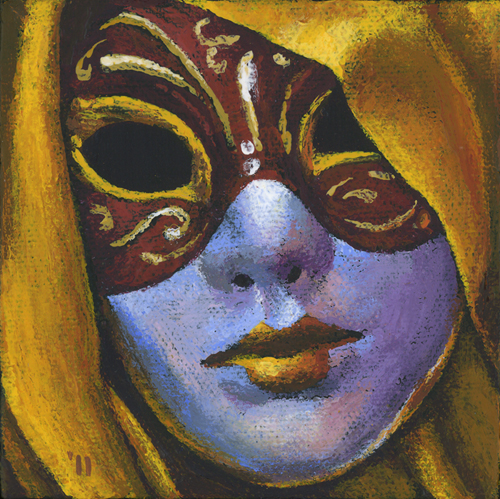 Lemon Razzle – 4″x4″ – Acrylic on canvas – Completed 9-18-11
Lemon Razzle is the third in my Eye Candy: Razzles series and I think she's my favorite, so far. Now, this could be because she's my most current painting – I do have a tendency to think of my most recent works as "some of my best, ever". I guess I'll let time decide… For now I'll just revel in the joy of completion.
These little Eye Candy paintings are really a lot of fun to create. I find them to be a wonderful respite from the larger, more intense paintings that I'm working on at the same time. I'm guaranteed 3-4 hours of 'escape' when I'm working on thes little treats, and I love it.
Happy Creating!
Today was a very busy and productive day in the Don Michael, Jr. studio. I started the day packing up and shipping out my painting Look at Us Now which has been juried into the Mask exhibition at the Target Gallery in Alexandria, VA. (If you're in the Alexandria area during the month of October be sure to go by and see my painting and the other 26 works that were juried into this event. I wish I could go see it myself, but alas I must live vicariously through any of my friends who may be able to make it…)
Then, after a delightful lunch with my good buddy, CJ, I headed down to the Donna Beam Fine Arts Gallery on the UNLV campus to take part in a critique which involved one of my paintings. I'm not able to reveal the painting yet because it is going to be a part of a major event coming up in just a couple weeks. (I'll be sure to share more info on it as soon as I can.) The critique went very well and it was quite inspiring to see everyone else's work. I just LOVE art!
This evening I got everything ready for the Acrylic Workshop I'll be teaching at Michael's tomorrow. This week's lesson plan is a landscape I created featuring one of our local mountains. I originally painted it over a year ago (you can see it below with it's messy palette) but had hesitated to teach it until I experimented with simplifying it a bit more. We'll see how it goes tomorrow…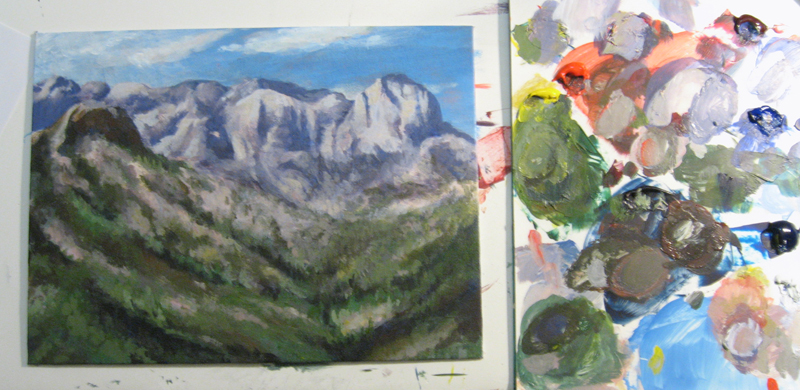 Mt. Charleston – 9″x12″ – Acrylic on canvas board – Completed 8-21-10
You might think that after all that I'd have been ready to call it a good art day. But, being a glutton for punishment, I decided to get in front of my easel for a while. (After all, that's where all the real fun is.) I'm excited to say that tonight I worked on three totally different pieces, and even finished one of them, which you can see below.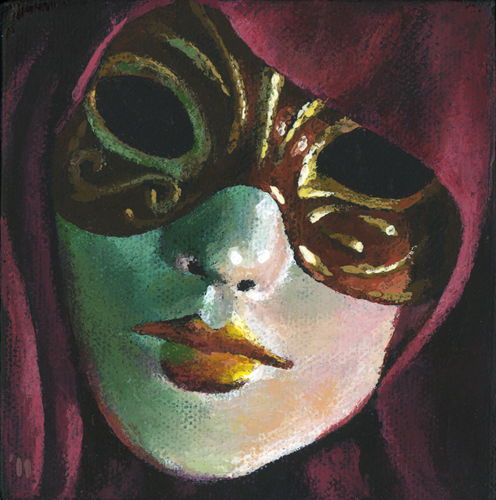 Raspberry Razzle – 4″x4″ – Acrylic on canvas – Completed 9-16-11
Now I can call it a GREAT ART DAY! I think it's time for a little beauty sleep, so I'd better go turn in for the night. I bet my class will appreciate that tomorrow.
Happy Creating!
A new sub-series has arisen from my Eye Candy series of mask paintings. Please welcome the first member…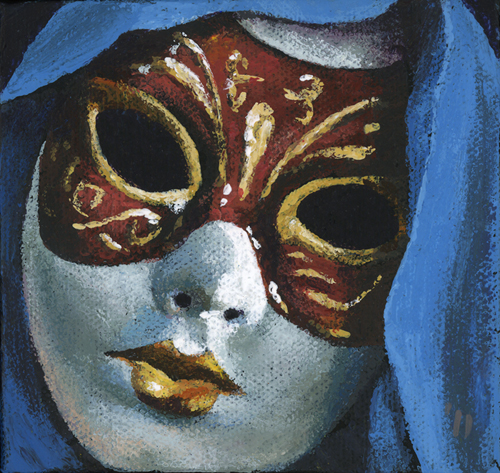 Blueberry Razzle – 4″x4″ – Acrylic on canvas – Completed 9-10-11
For this sub-series, titled Eye Candy: Razzles, I am once again using only my palette knife to create the images. This time, however, I am using small 4″x4″ canvasses instead of the itty-bitty 3″ canvasses I used for the Eye Candy: Skittles series. I hope you enjoy…
Happy Creating!