In May of 2011 I picked up my palette knife and started what was to become the Eye Candy series. My original intent was to do a few paintings of masks I had created using only a palette knife. No Eye Candy canvas was larger than 5″x5″ and a few even went as small as 3″x3″. Titling the completed works after different candies was not a part of my original plan, but luckily, the first one I painted made me think of the word "Butterscotch". After that, it was a matter of deciding which candy each of the completed paintings reminded me of. Here is that first Eye Candy painting…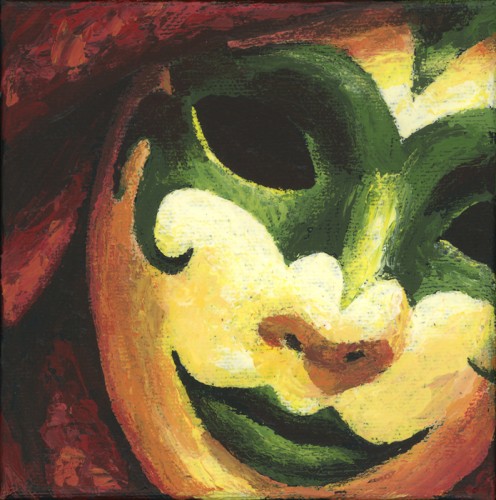 Butterscotch – 5″x5″ – Acrylic on canvas – ©2011, Don Michael, Jr.
When I completed the fourth in this series, Tootsie Pop, my online blogging friend Celeste Bergin commented simple, "Eye Candy", and the title of the series was created. Thank you, Celeste.
Less than two months after I started this series our son, Donald, was diagnosed with malignant melanoma. These Eye Candy paintings became a source of distraction and escape for me during that stressful month of July 2011 during which Donald went into surgery and emerged with what we were told was a clean bill of health.
Over the next couple of years I continued to create new additions to this series, even going so far as to create some smaller sub series, like Eye Candy Starbursts and Eye Candy Skittles. Here is one of the Eye Candy Skittles, which were only 3″x3″ in size…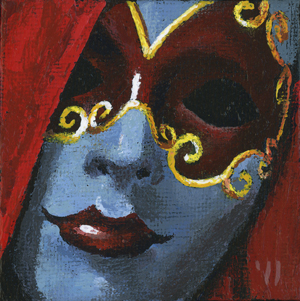 Strawberry Skittle – 3″x3″ – Acrylic on canvas – ©2011, Don Michael, Jr.
Earlier this year I was beginning to feel that the series may be coming to a close, but I just wasn't ready yet. So, periodically I would create another. In early July, I even experimented with using only a brush on one instead of a palette knife. I wanted to try at least one that way to decide whether I was quicker with the blade or with the brush. I decided it was pretty even time-wise, but I had more fun with the knife. Here is the finished piece…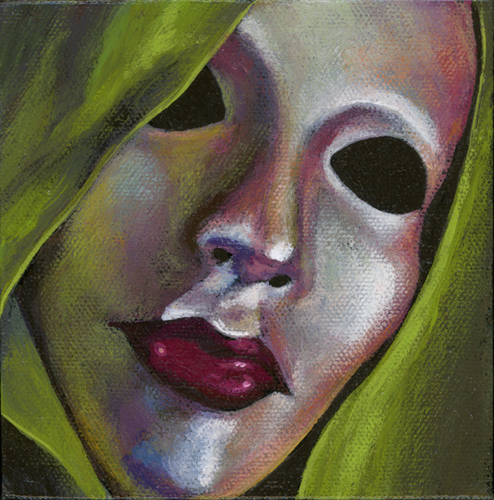 Abba Zaba – 5″x5″ – Acrylic on canvas – ©2013, Don Michael, Jr.
Just two weeks after I finished this painting we suddenly lost our son, Donald, to a brain tumor which was associated with the malignant melanoma that we had been told he was clear of. I say suddenly, because one day he mentioned a bad headache and two weeks later he was gone. Needless to say, our family is still in shock, but is daily getting closer to our new sense of normal.
Now that a little time has passed and I've been able to get my creative bearings I have come to the decision that I will create no more Eye Candy paintings. Abba Zaba is officially the last in the series.
On a lighter note, three of my Eye Candy paintings sold this weekend at the Art in the Park fine art festival in Boulder City, NV including one of my favorites…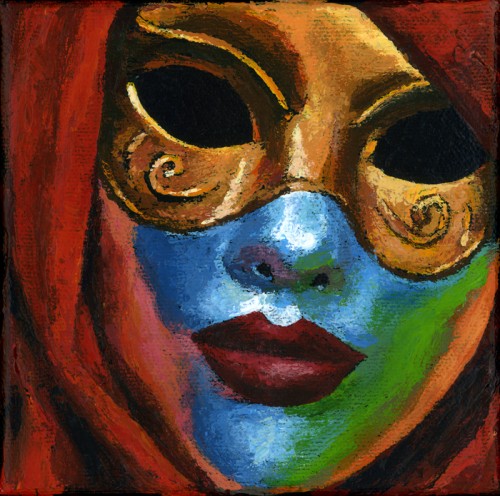 Atomic Fireball – 5″x5″ – Acrylic on canvas – ©2011, Don Michael, Jr.
The weather was beautiful and a lot of people came out to enjoy the art, the crafts, the food and the fun. I believe there was even a lot of Christmas shopping going on all around me. Here I am with my booth all set up and ready for the crowds this past Saturday morning…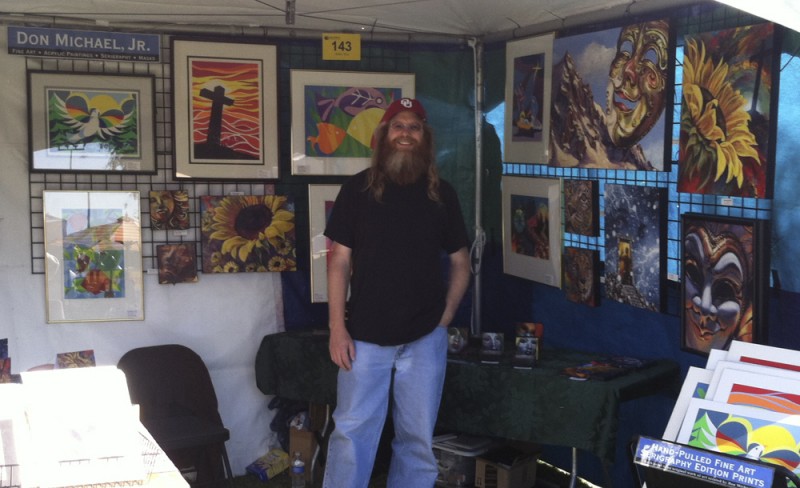 Don and a sampling of his artwork 10/5/13
Well, it's time to get back to the studio where I have a couple major commission projects in the works. Hopefully, I will be able to share about them soon.
Happy Creating!
When I started on this Eye Candy painting last night I decided that I was going to use a brush for the first time in this series. Prior to this, every one of my Eye Candies have been painted entirely with a palette knife. But, after 2+ years of the same technique I was ready for a change of pace. Here's what I came up with…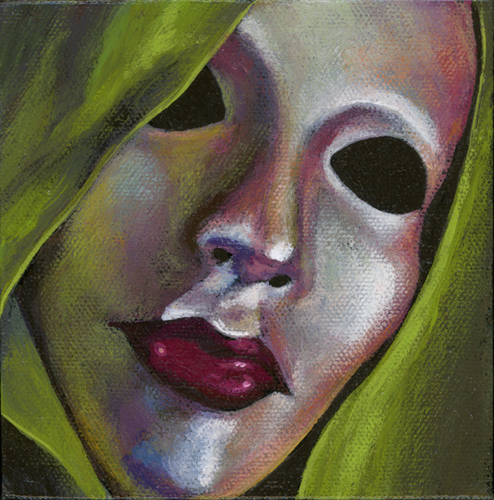 Abba Zaba – 5″x5″ – Acrylic on canvas – Completed 7/9/13
©2013, Don Michael, Jr.
I have never tried the candy called Abba Zaba. But, when I saw the name a while back I liked it and knew it would end up as an Eye Candy title eventually. And, now it has…
Happy Creating!
It had been nearly a year since I last painted a new piece for my Eye Candy series of mask paintings. It had been exactly that same amount of time since I did a painting using only my palette knife. So, I decided this weekend that it was time to exercise my palette knife skills and in the process created this…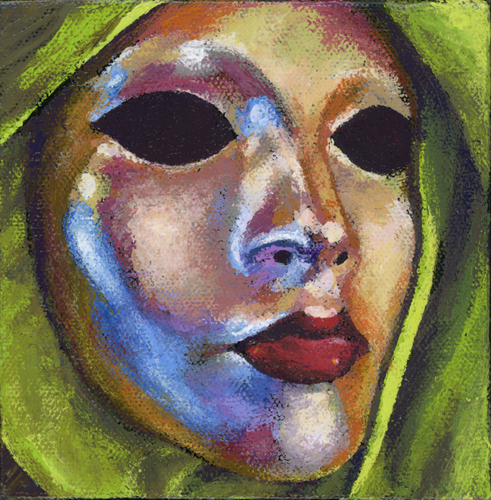 Dragée – 5″x5″ – Acrylic on canvas – Completed 6/23/13
©2013, Don Michael, Jr.
I honestly thought I was done with this series last year. But, I started missing the experience of designing and then painting these little paintings. They're a really good study in working with color – in fact, I tried out a new color for this one: Cobalt Titanate Green. They're also a good way for me to keep up my palette knife skills – and I could tell it had been a while. I probably spent about 3 hours more working on this than I had spent on any one of those painted in 2012.
The metallic shine of this painting made me think of those little silver round cake decorations that I had seen on wedding cakes as a child. So, I did an online search to find out what they are called and found both the title of this painting AND a new word to add to my dictionary – Dragée (pronounced draw-zhay´).
Now it's time for me to get back to my studio where a giant mass of paper mache' is starting to form into some semblance of a new mask creation.
Happy Creating!
When I named my latest Eye Candy palette knife painting I didn't realize that I was misspelling it. Once I did a little research, I discovered my mistake, but it was too late. I had already written its title on the back of the canvas. Oh well, maybe no one will notice that I added a space where it doesn't belong…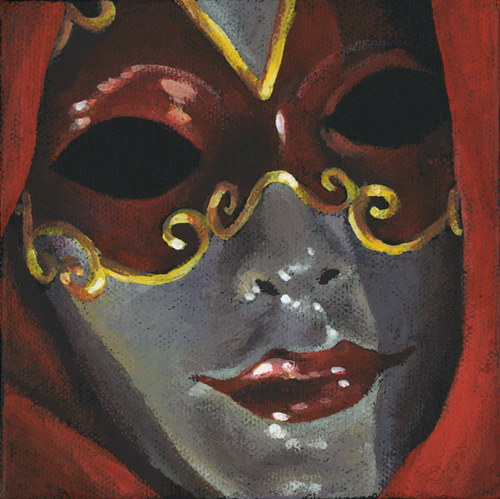 Jaw Breaker – 5″x5″ – Acrylic on canvas – Completed 7/31/12
©2012, Don Michael, Jr.
My little research venture taught me that jawbreakers – called gobstoppers in Great Britain – have been around for over a century. In America, the Ferrara Pan company has been making jawbreakers under the brand name Jaw Busters since 1919. Ferrara Pan also makes my favorite jawbreaker of all time called the Atomic Fireball, which I represented in paint last year and wrote about here.
Now that I've shared a little confectionary love, I think I'll retire to my studio for a while…
Happy Creating!
Once I finished this little palette knife painting and gave it a good look I realized that it had to be named after something crisp, fresh and cool. The first candy flavor that came to mind was spearmint. That wasn't quite cool enough for me, though, so I decided to name it after the Life Savers candy of that flavor…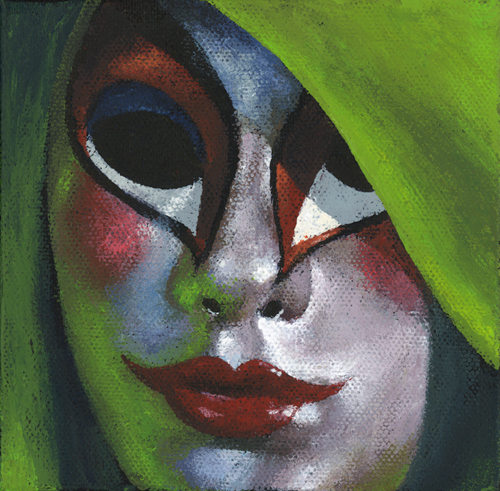 Spear-O-Mint – 5″x5″ – Acrylic on canvas – Completed 7/12/12
©2012, Don Michael, Jr.
I didn't realize until I was documenting this latest Eye Candy painting that it has the distinction of being the 300th painting in my mask series! I cannot believe I've done that many paintings, much less of the same subject matter.
On a historic note, the first painting I ever created which included masks was finished in September of 2002. That painting has never been seen outside of my household. In honor of today's milestone I think I will dust it off and finally share it.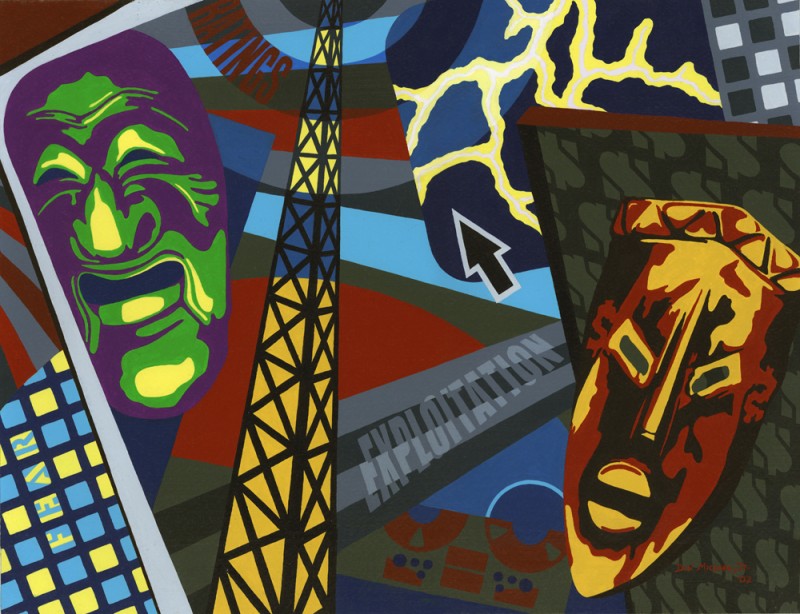 News at Eleven – 13″x 17″ – Acrylic on Arches W/C Paper – Completed 9/18/02
©2002, Don Michael, Jr.
Creating News at Eleven helped me stay sane at a tumultuous time in my life. I worked through a lot of angst during its creative process. (On a personal note, it was the first real painting I had done at the time in over 7 years.) News at Eleven is such a personal statement that I chose to keep it under wraps until now. People who have followed my work for a while may remember that I've always said Incongruous was my first mask painting. I even wrote about it here in one of my earliest posts. Maybe I should abridge that statement to be, Incongruous was the first mask painting that I was willing to share…
…well, I guess all that really matters is I've sure done a lot of paintings of masks. I've had so much fun in the process that I don't see any reason right now to end the streak. So, I think I'll head to the studio and work on the next one.
Happy Creating!
During my senior year of high school I fell in love with the Life Savers flavor called Cinn-O-Mon. For the next couple of years there was always a roll to be found in my pocket, my car, or my dorm room. Then, in 1981 this wonderful love affair came to an abrupt end. I couldn't find them anymore. No store was carrying them. With a sadness in my heart I moved on with life even though I couldn't understand why this wonderful little treat had deserted me. Now I know that the Life Savers brand had been bought out at the time by Nabisco and they eliminated several of the old flavors to make the company more profitable. Bastards!
Well, now at least the name will live on…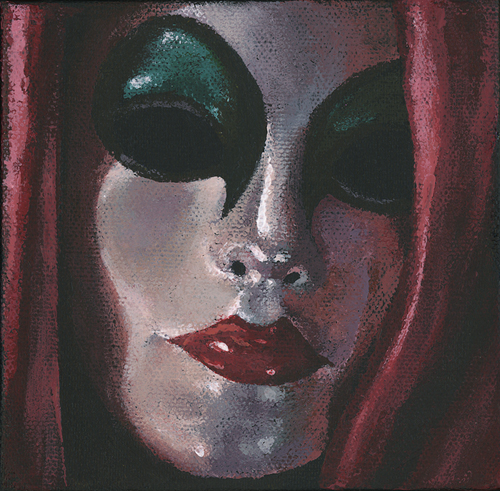 Cinn-O-Mon – 5″x5″ – Acrylic on canvas – Completed 6-21-12
In other news, this past week has been quite busy. We had family in town to help us celebrate the graduation of our son, Eric. On Wednesday, nearly 600 students and their families gathered to honor their achievement.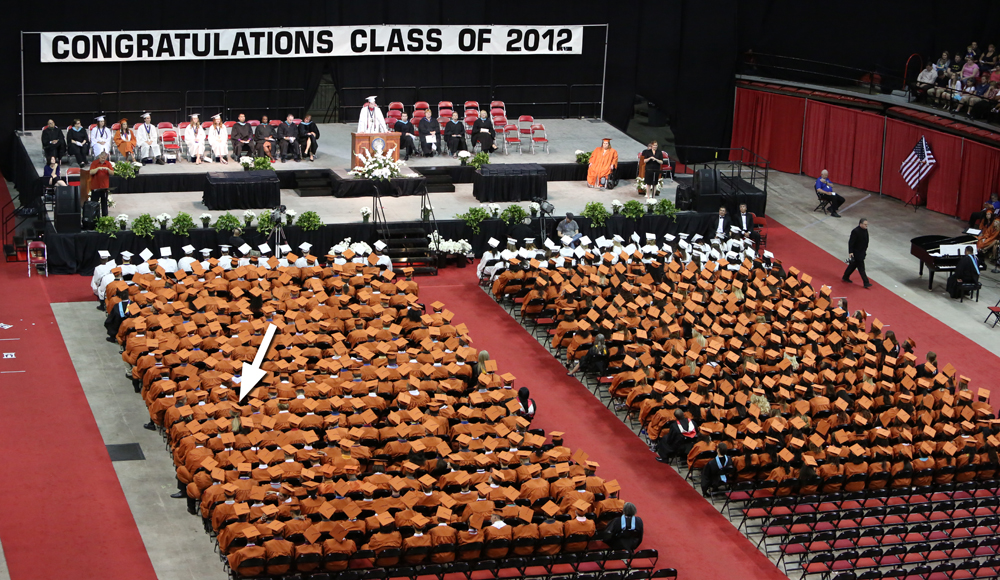 The 2012 graduating class from Legacy High School (arrow points to our son)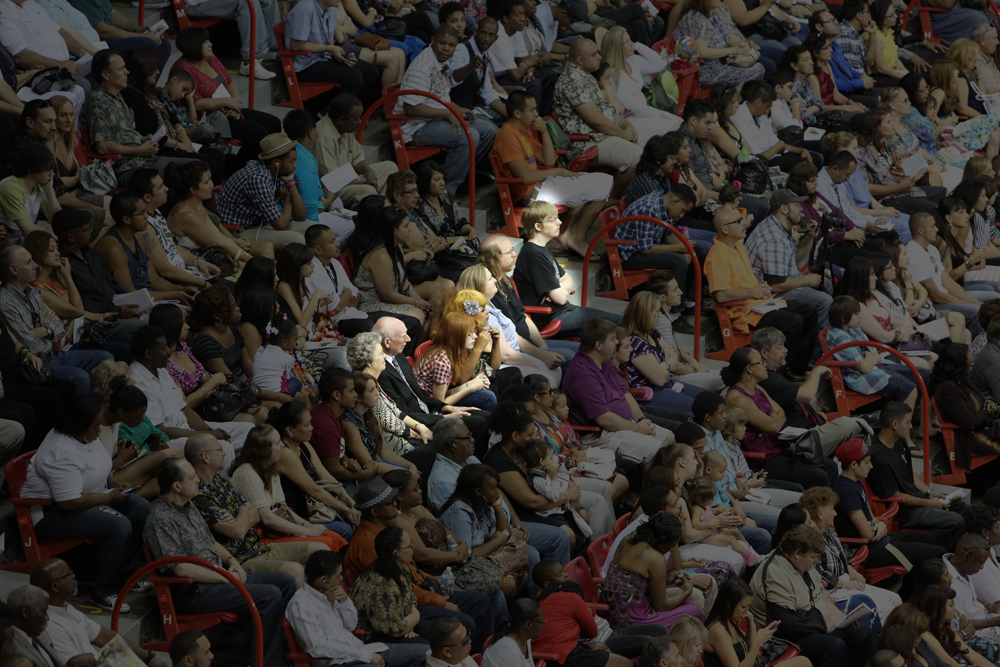 The family of graduate Eric Tyler Michael (from left: Grandma, Grandpa, Sister, Girl Friend, Mom, Dad, Brother)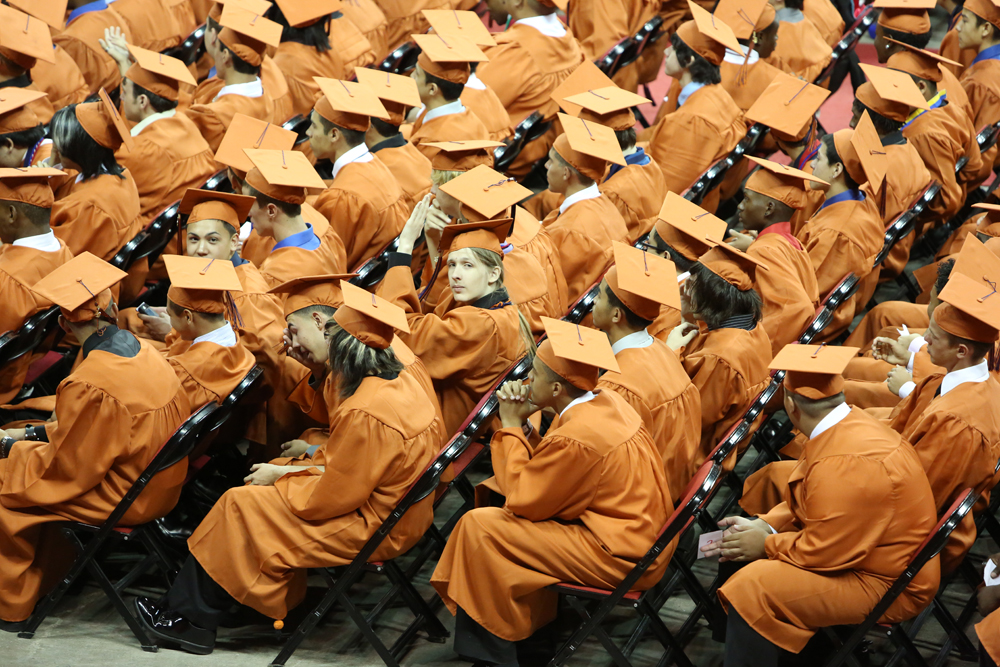 Our graduate finally sees his family in the crowd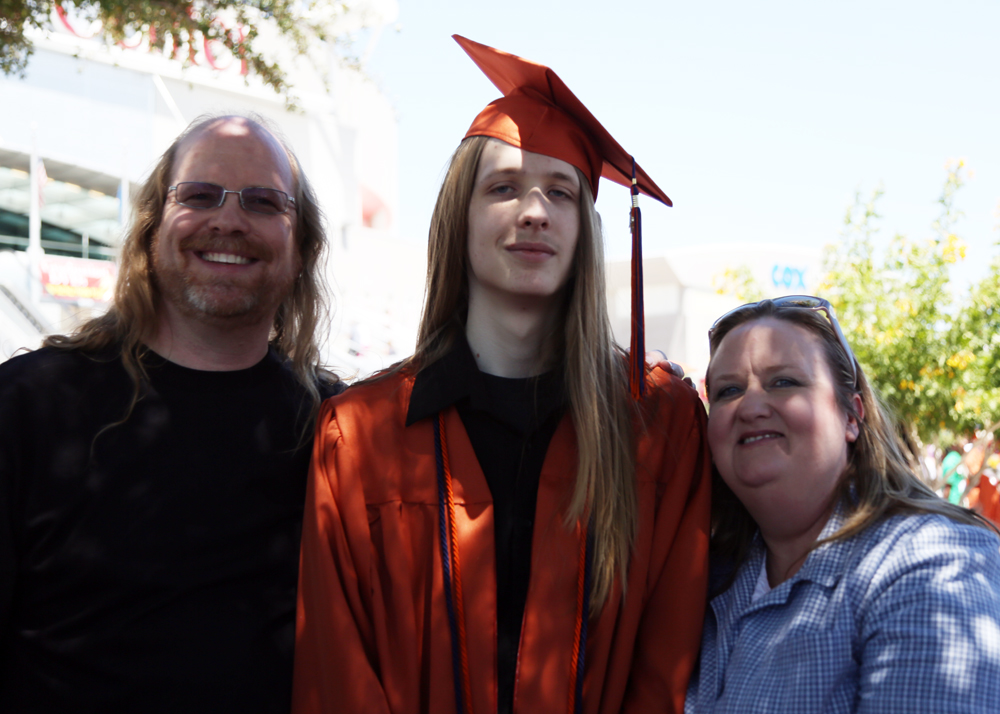 The Graduate and his proud parents
My wife and I could not be prouder of this young man. He graduated with a weighted GPA of 3.8 and will be attending UNLV in the fall to begin working towards his dream of becoming a forensics investigator. God Bless you, son!
Our thanks go out to our good friend, CJ, for the wonderful photos!
Now it's time for me to prepare for today's Acrylic Painting Workshop at Michael's. Today's lesson plan will be a seascape. If I can't be at the beach, at least I can paint it…
Happy Creating!
One of the cool things about using candy names for my Eye Candy series is how some of the names are so much fun to say. For this latest palette knife painting I chose the name Lollie. Go ahead say it. It's fun, isn't it? Now, don't you just want to keep saying, "Lollie, lollie, lollie…"?
I do.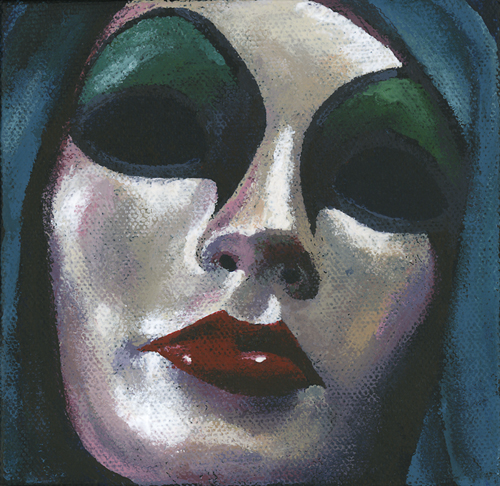 Lollie – 5″x5″ – Acrylic on canvas – Completed 5/29/12
Now I'm going to sing my little Lollie Song all the way back to the studio.
Happy Creating!
Last night I finished a new Eye Candy painting. It's hard to believe that it's been over a month since I did one. Where has May gone?!?!?!?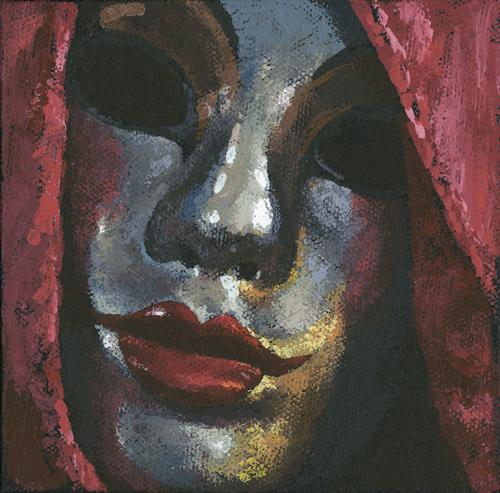 Truffle – 5″x5″ – Acrylic on canvas – Completed 5/27/12
©2012, Don Michael, Jr.
As I was preparing to post about this new painting I accidently clicked on a post from my archives which happened to be from exactly three years ago. The painting that I saw there made me decide to look at what I'd done around the same time each year for the past 9 years. I found it to be a great exercise and thought I'd share the results. Here they are in chronological order… (All are acrylic on canvas)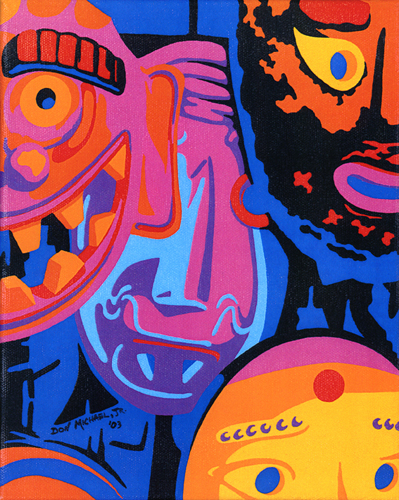 Introspective – 10″x8″ – ©2003, Don Michael, Jr.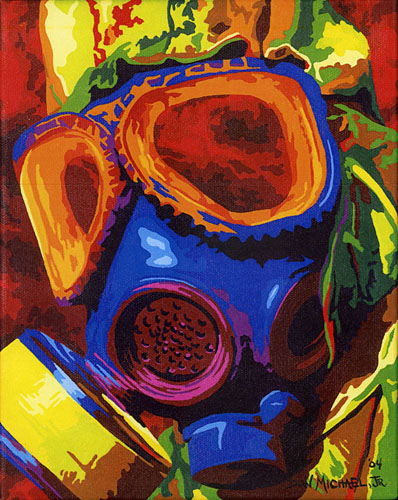 Insanity – 10″x8″ – ©2004, Don Michael, Jr.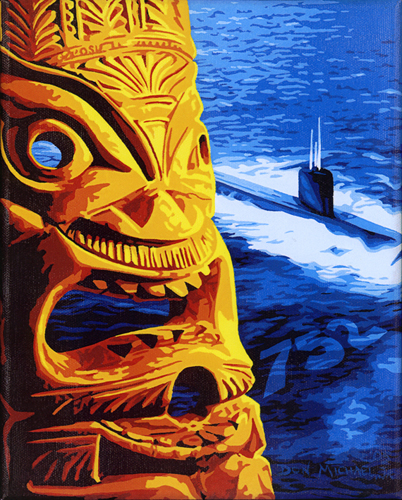 Inspiration – 10″x8″ – ©2005, Don Michael, Jr.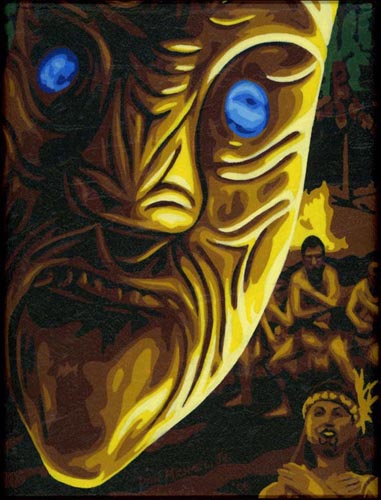 Manaakitanga – 10″x8″ – ©2006, Don Michael, Jr.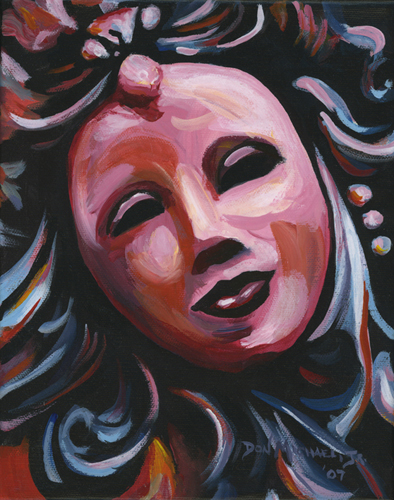 Aphrodite – 10″x8″ – ©2007, Don Michael, Jr.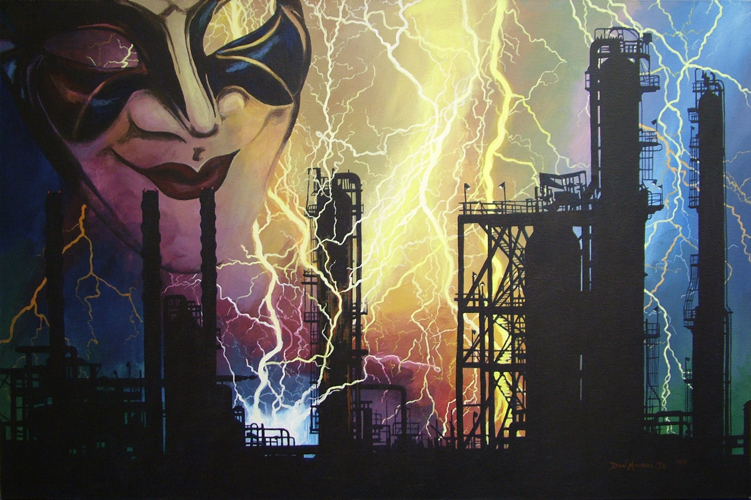 Poetic Justice – 24″x36″ – ©2008, Don Michael, Jr.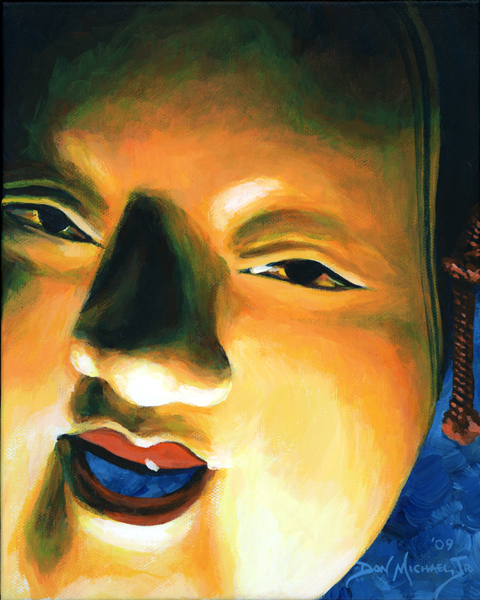 Ghost Stories – 10″x8″ – ©2009, Don Michael, Jr.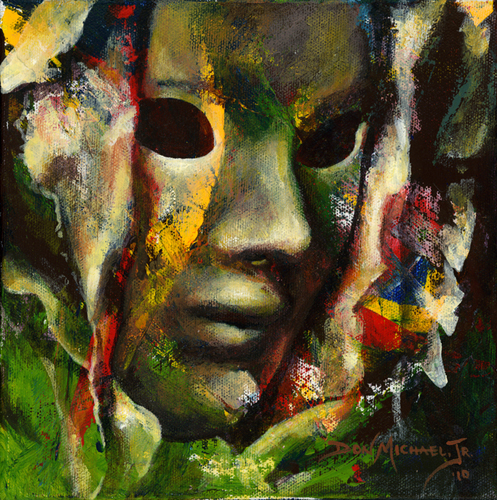 Discovery – 8″x8″ – ©2010, Don Michael, Jr.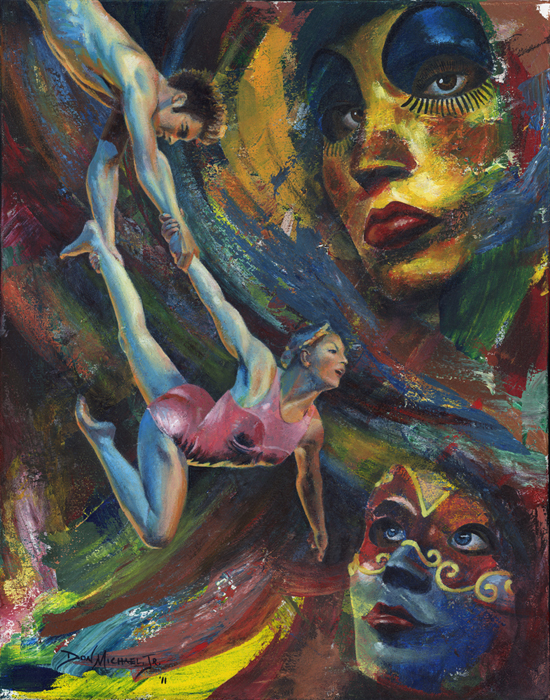 Dare To Believe – 20″x16″ – ©2011, Don Michael, Jr.
It's a lot of fun to look back. I see my willingness to explore new ideas. I see some 'ah ha' moments that informed later works. And, I see the growth that has occurred as I've explored this mask theme.
It's really interesting that each one of these paintings can take me back to events that were going on in my life, as well as emotions I was dealing with at the time. Hmmmm…. I've just realized that my paintings are the perfect diary for me – and, I'm the only person who holds the key.
A side-effect of this exercise is that now I'm especially ready to get back to the studio and get busy…
Happy Creating!
Here's the latest addition to my Eye Candy series of palette knife paintings.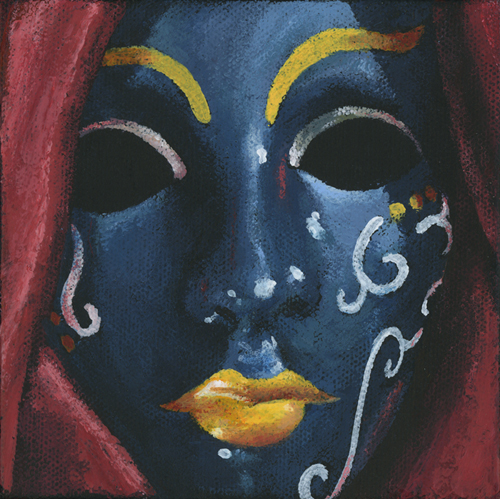 Cracker Jack – 5″x5″ – Acrylic on canvas – Completed 4/24/12
©2012, Don Michael, Jr.
Having this much fun is probably illegal, but I just can't stop myself!
Happy Creating!
Wow, time can sure get away from you in a hurry! One minute I decide to take a little time off to enjoy Spring Break with my family and the next it's almost a month later. Ah, but it's mostly been a good month. We travelled to Oklahoma to visit family and friends – putting over 2,600 miles on my Tahoe in 8 days. We had perfect weather and even better visits. Those 8 days went by way to quickly, but we got a lot done in them.
The only negative to our trip was that I came home with a horrible cold that ended up lasting a full two weeks. To add insult to injury, a couple days after we got home I tweaked my back, effectively slowing me down considerably for a while. As you may imagine, that was no fun at all – (cough, ouch, sneeze, ouch…). Well, I can finally move around without groaning and breathe without sniffing. Thank God!
As I've implied on recent postings, I've still been quite busy during this time. There are two book covers coming out in the next couple of months. There have been several video shoots that will result in commercials in the near future. There have been demos. There have been gallery negotiations. And, there was even a convention thrown into the mix…
Now that I'm finally back to something similar to a normal schedule I decided it was time for a new piece of Eye Candy. Here's what my palette knife and I came up with…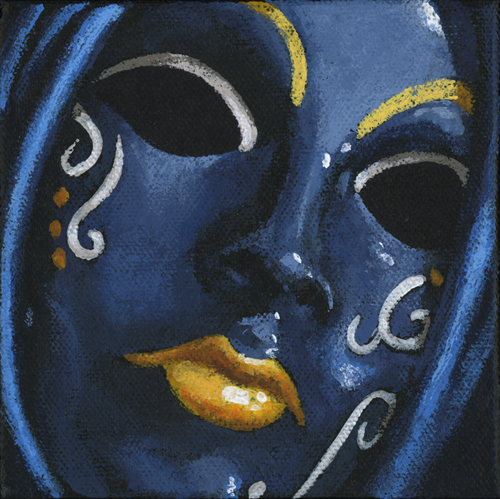 Pez – 5″x5″ – Acrylic on canvas – Completed 4/22/12
©2012, Don Michael, Jr.
The mask in Pez is one that I created about a year ago, but have avoided painting for fear of all the blue. Her name is Francis and I think she's a beauty – just a difficult beauty.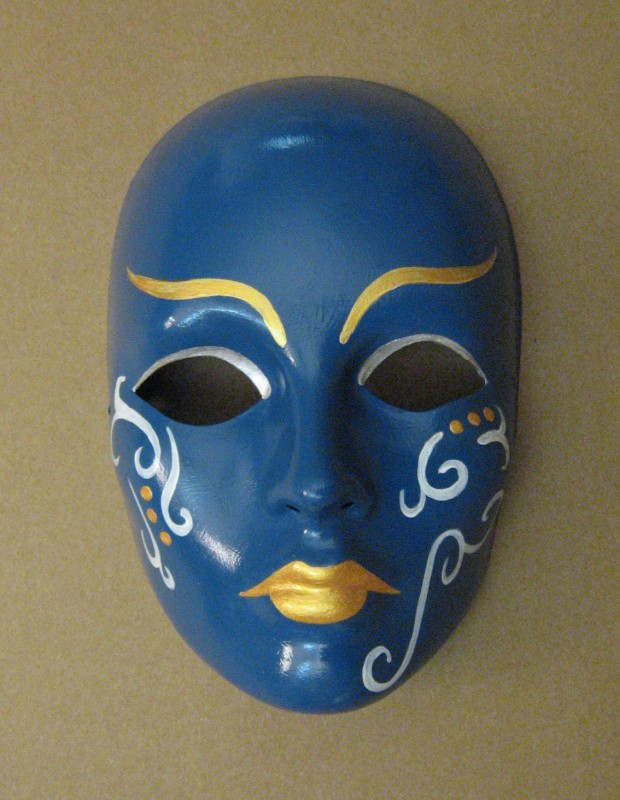 Francis – ©2011, Don Michael, Jr.
One last thing. If any of my blog readers happen to have Facebook accounts I would sure appreciate it if they would click on the photo below and then click "Like" on it in Facebook. There were 12 ginormous hearts painted for the St. Jude's Affair of the Heart Gala. The 5 hearts with the most "Likes" will be featured at the Gala. It would be cool if mine were one of those five…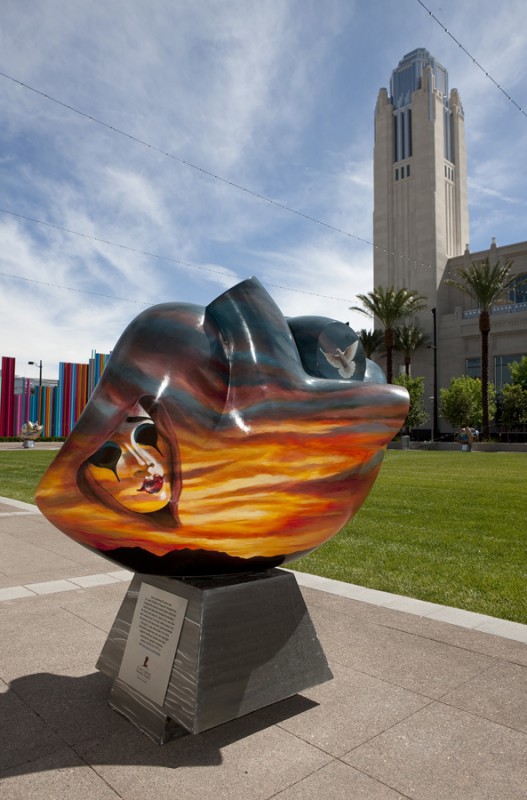 Hope – Photo Credit: Geri Kodey
OK, I've bored everyone enough for now. I should probably get back to work…
Happy Creating!
Next Page >>