I did a demo at Michael's today and decided to do another itty-bitty palette knife painting. It's amazing how quickly those 3 hour demos go when you're doing something you enjoy. I find that it's getting easier and easier with each demo to paint AND talk to the customers who stop by to see what I'm doing. Hopefully, a couple of the customers I spoke with today will be taking one of my upcoming workshops. After all, that's why I'm there. Anyway, here's the painting I did today…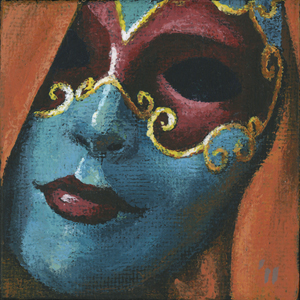 Orange Skittle – 3″x3″ – Acrylic on canvas – Completed 8-16-11
©2011, Don Michael, Jr.
I am 3/5's of the way through the Eye Candy: Skittles Series – that is if I only do the regular flavored ones. My kids told me that there are other "exotic" flavors out there, so I went looking. Sure enough, there are also Tropical, Wild Berry, Crazy Cores, Sour, Fizzl'd Fruits, and Blenders flavors – to name a few. We'll just have to see about all those other flavors. For now I'll stick to what I know.
Happy Creating!
My sub-series, Eye Candy: Skittles, has a new itty-bitty member…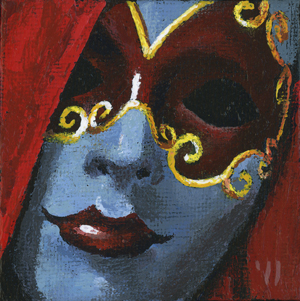 Strawberry Skittle – 3″x3″ – Acrylic on canvas – Completed 8-11-11
©2011, Don Michael, Jr.
Once again I used only a palette knife to create this painting.
Yes, it was fun.
Yes, my eyes are a little buggy now.
I think I'll go work on something a little larger now.
Happy Creating!
Yesterday I alluded to a possible 'sub-series' in my ongoing Eye Candy Series of palette knife paintings. Today I took the idea from concept to fruition.
My daughter has been trying to get me to use the name Skittles for quite a while, but I had resisted since it never seemed to fit with any of my paintings. During one late night painting session earlier this week I suddenly knew what to do with the name Skittles. I would create a sub-series using my itty-bitty 3″x3″ canvasses and title them with each of the Skittles flavors. So, here is the first…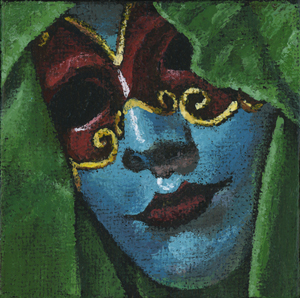 Lime Skittle – 3″x3″ – Acrylic on canvas – Completed 8-4-11
©2011, Don Michael, Jr.
Prior to Lime Skittle all of the Eye Candy paintings had been on 5″x5″ canvasses. I'd been wanting to try painting one of them on an itty-bitty canvas, but felt I needed a 'reason' before moving forward. Now I have it…
Yes, this entire painting was done with my trusty palette knife. Yes, I'm a glutton for punishment. Most importantly, yes, it was fun.
Happy Creating!