This little palette knife painting is the last installation in my Eye Candy: Spree series…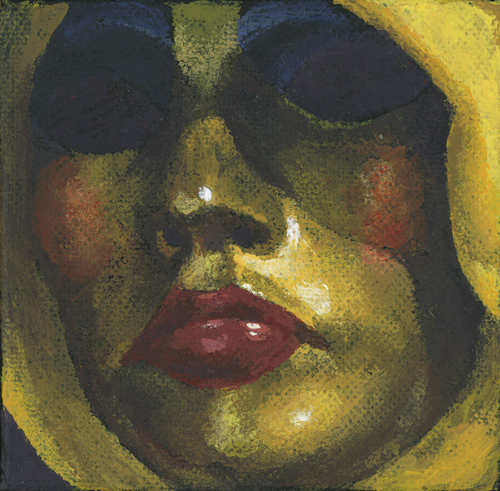 Lemon Spree – 4″x4″ – Acrylic on canvas – Completed 2/28/12
©2012, Don Michael, Jr.
I thought that it would be a fun exercise to look at all five paintings in the series together in one grouping. Even though the same mask was used as the model in each, it's really interesting to me how the differences in color, shadow pattern and angle seem to give each painting a unique personality.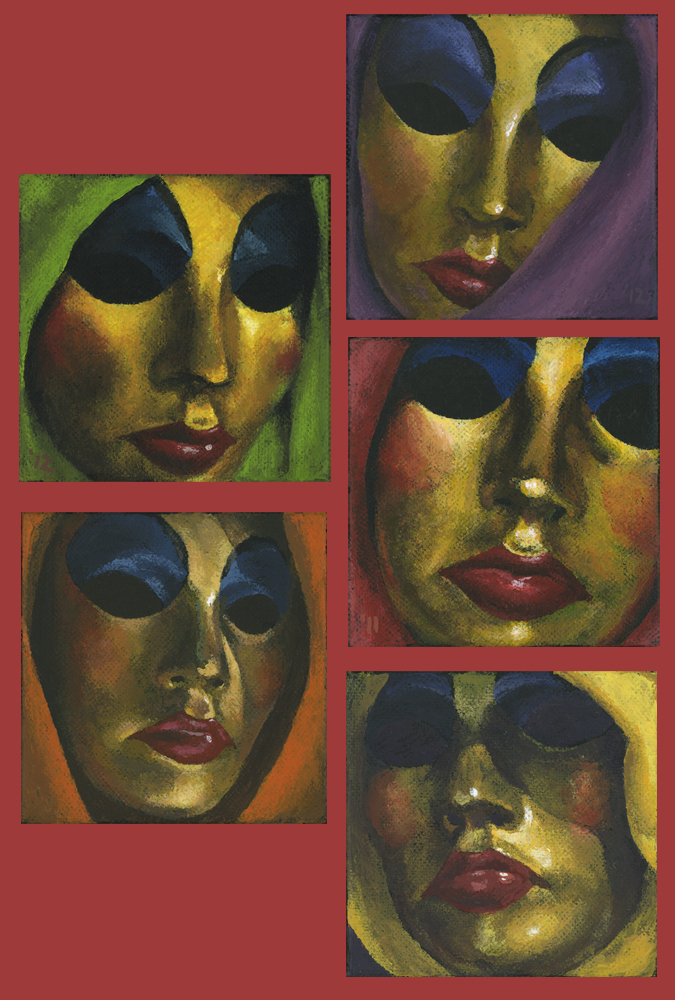 The Eye Candy: Spree Family Photo – Clockwise from upper left: Lime, Grape, Cherry, Lemon, Orange
If anyone is interested, all the paintings in this series are available at $60 each. Each is painted on 4″x4″ gallery-wrapped canvas with the edges painted black. All are signed on the right edge. Should someone wish to purchase the entire series I'm willing to offer a special discount. Just drop me an email at: don@donmichaeljr.com.
Speaking of painting sales, I'd like to share a photo sent to me by my online artist friend Robin Samiljan. Last year she added my mask Swirls to her collection. Now she has added Heath. (Thanks, Robin!) I think they go quite well together on her wall. Don't you?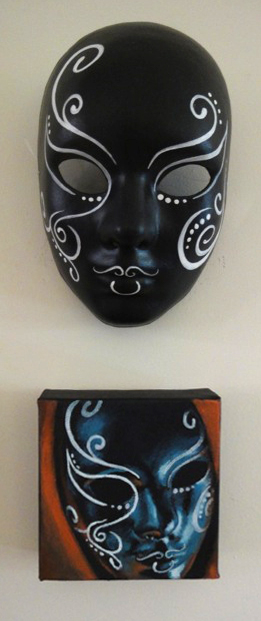 Swirls & Heath hanging out together in New England
As I've mentioned before, I'm in the middle of a couple freelance graphic projects. They are coming along nicely, but since I still have a lot to do I'd better get back to it…
Happy Creating!
With this painting I am now 4/5's of the way through my Eye Candy: Spree sub-series…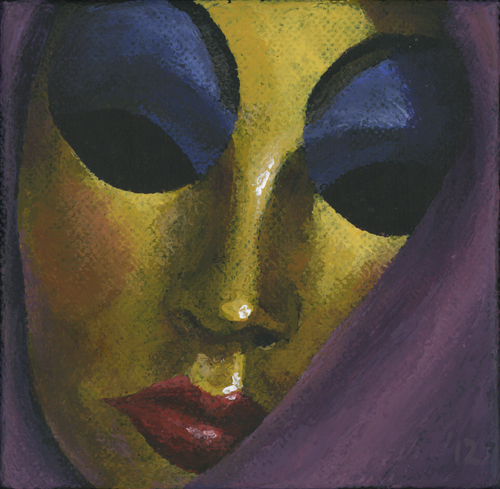 Grape Spree – 4″x4″ – Acrylic on canvas – Completed 2/9/12
©2012, Don Michael, Jr.
Recently, I commented that I was wondering if my Eye Candy series had about run its course. Upon further consideration, I don't necessarily think it's the series that I'm tired of as much as it may be the mask I'm using as the model in this sub-series. Her name is Nelli and I have now used her in a total of 12 paintings with one more on the way. Don't get me wrong, I still love that mask. In fact, it's one of my favorites. (I wrote about creating it here.) I just feel that it may be time to take her out of the 'model' rotation for a while.
Hmmm… Maybe it's time to create a new mask from which to model…
Speaking of creating masks, today I committed to creating 2 masks this year to be auctioned off at the 4th Annual Un-Masking the Mind charity auction. (Here is a post from one of the previous auctions.) My mind is already starting to percolate with ideas. Oh, boy!
Happy Creating!
This little palette knife painting is the 3rd in my Eye Candy: Spree series. It represents what was my 3rd favorite of that candy-from-my-youth. When I would get to the Orange Spree in the pack my internal response was, "Phew, at least it wasn't the lemon or lime ones!", which wasn't quite the same joy I felt when I got to the cherry or the grape ones.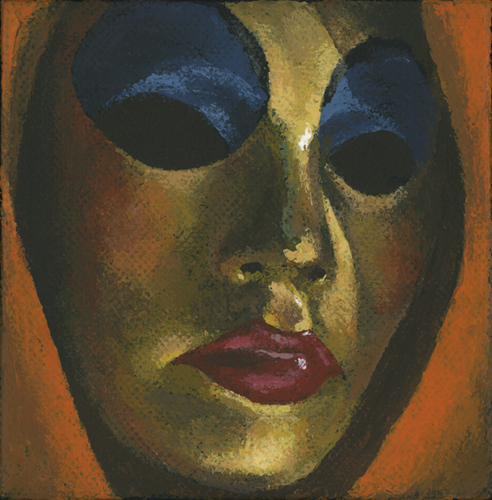 Orange Spree – 4″x4″ – Acrylic on canvas – Completed 2/1/12
©2012, Don Michael, Jr.
Interestingly enough, I had a similar type of feeling upon finishing this painting. I'm happy enough with it, but I don't have the same excitement that I've enjoyed upon completing so many of the other Eye Candies. I wonder if the series has about run its course, or if I'm just being mopey. Only time will tell…
In other news, I am getting everything ready for the upcoming downtown art event, First Friday. I will be switching out over half of the paintings on my wall and will be previewing several of my latest works. If you live in the Vegas area, be sure to come down to the Arts District this Friday from 6-10pm. I'm in Blue Sky Gallery downstairs in the Arts Factory. Swing by and say "Hi".
Saturday I will be teaching a Landscape lesson plan in my Acrylic Painting Class at the Michael's Arts $ Crafts store in North Las Vegas. Come by and spend two hours of fun painting time with me. You'll walk out with a finished painting and the joy of knowing you created it. It only costs $25, plus supplies. I hope to see you there…
Happy Creating!
Late last year I started a new Eye Candy: Sprees series of palette knife paintings. I don't really think it counts as a series, though, until you have more than one created. So, now I can officially call it a series…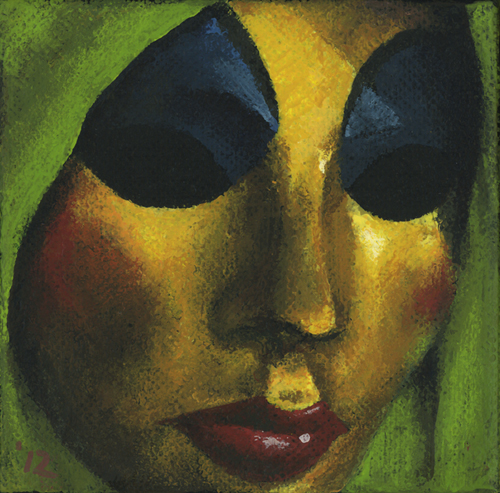 Lime Spree – 4″x4″ – Acrylic on canvas – Completed 1/26/12
©2012, Don Michael, Jr.
Saturday is going to be a crazy-busy-art-day around my household. First I need to switch out a couple paintings at the Arts Factory in Las Vegas (10am). Then, I need to drop off a couple paintings which will be in an upcoming show at the SpringHill Suites in Las Vegas (10:30am). Then, I'll be taking my daughter to the Las Vegas Arts Academy where she will be auditioning to get into their visual arts program (11:30am). That will take a couple hours since she'll be interviewed, show her portfolio and then have to do a 30 minute still-life drawing. As soon as she's finished we'll need to head home quickly where I'll have to grab my stuff and head off to Michael's to teach my Acrylic Painting Workshop (3pm). There's never a dull moment around here, that's for sure…
Happy Creating!
As a high school freshman in White Deer, Texas I discovered the tangy and delicious Spree candies. The first time I ever saw that multi-colored foil-like roll of candies in the vending machine I decided it was worth the risk of a quarter to see just what they were about. Wow, was I glad I tried them. Like their slogan says, "It's a kick in the mouth"! For the rest of that school year there was usually a roll of Sprees in my pocket.
With the memory of these tangy treats in my mind I started on a new sub-series of palette knife paintings that I'm calling my Eye Candy: Sprees. Here is the first in the series…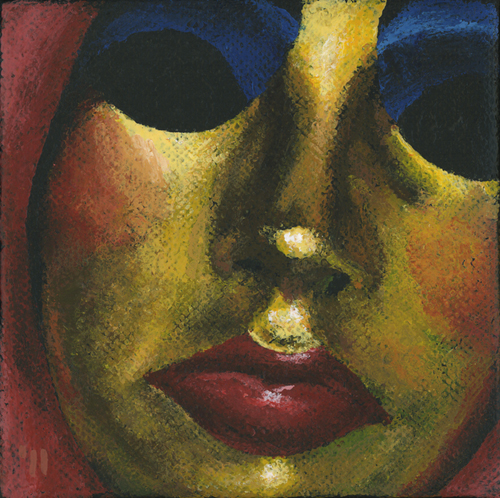 Cherry Spree – 4″x4″ – Acrylic on canvas – Completed 12/6/11
©2011, Don Michael, Jr.
As for other studio news, I'm getting really close to finishing the Over the Under-Schmeerings painting that I teased last week. I can't wait to be able to share it with everyone soon. Also, the concept for my Ginormous heart for St. Jude is starting to come together for me and I hope to be moving forward with it by early next week. Meanwhile, there's plenty going on to keep me out of trouble…
Happy Creating!