My Eye Candy: Starbursts sub-series is now complete…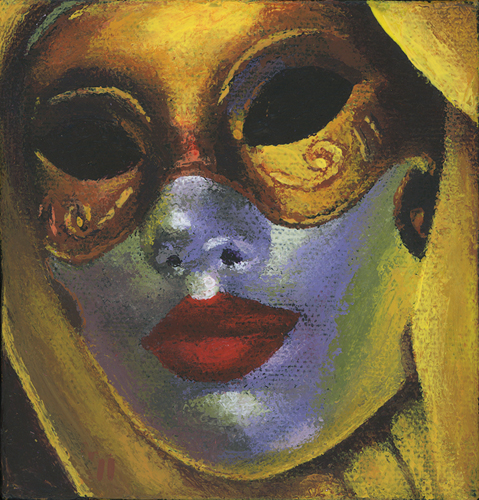 Lemon Starburst – 4″x4″ – Acrylic on canvas – Completed 10/27/11
©2011, Don Michael, Jr.
It's funny how each painting experience can be SO different. Last week when I painted Orange Starburst it was too easy. It almost seemed to paint itself. This week when I painted Lemon Starburst I had to fight it every stroke of the way. It was like it didn't want to be painted. Because it was such a fight I was pretty hard on myself as to whether I even liked the final results. Thankfully, once I put it into context with the other 3 in the series I started feeling better about it. You can see the four of them lined up together here…
Ok, I think I'll go get some rest now so I can start tomorrow fresh.
Happy Creating!
Tonight I was finally able to work with some paint for the first time this week. Thank goodness I had to do a demo at Michael's tonight which forced me to get my paints out. Here's what I came up with…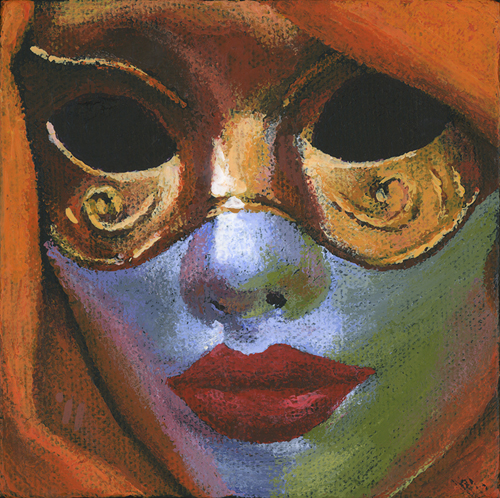 Orange Starburst – 4″x4″ – Acrylic on canvas – Completed 10/20/11
©2011, Don Michael, Jr.
It's not that I haven't been creative, it's just that I haven't taken the chance to slow down and paint. A big part of my focus this week has been on the creation of a logo for a local business. This local business is a part of a large international corporation and they are conducting a logo design contest. So, even though I'm not getting paid for the design outright, there's a chance at a pretty good prize, and it could bring some new eyeballs to my graphic design abilities. Plus, it gave me a chance to flex my design muscles… Like the old saying goes, "If you don't use it, you'll lose it." (Hopefully, I'll be able to share my design with you in the very near future.)
Tuesday night I had the opportunity to hang out with several artists and other creative sorts as we prepared to kick off the next St. Jude's "Affair of the Heart". You may remember the two hearts I did last year which helped to bring attention and money to the St. Jude's cause. One was GINORMOUS and the other was a more manageable tabletop size. (Here are their two links: Heartstrings & Repertory.) Along with 13 other artists I was invited to do another ginormous heart – and I can hardly wait to get started. Over the next few months I'll be keeping everyone updated as we artists start putting paint to these wonderful sculptures. For now, here's a photo of several of the artists committed to taking part this year… (Photo courtesy of Niki J Sands.)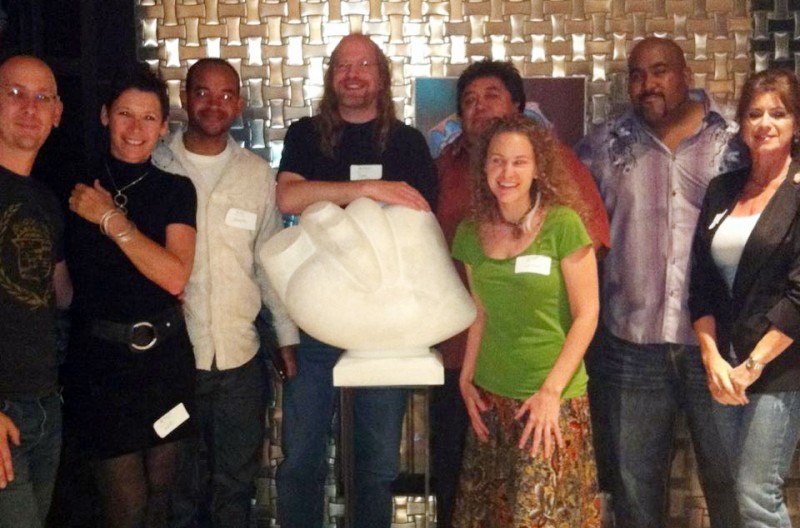 Las Vegas Artists – Ryan Reason, Niki J Sands, Joseph Watson, Don Michael, Jr., Roberto Rico, Ragen Mendenhall, Dale Mathis & Beti Kristof
Wednesday morning was spent switching some of my paintings out at Luca's Cafe & Deli. Needless to say, I had to stay and enjoy some of Alberto's cooking and was blessed to have 3 old friends join me. Art, food and friends… can't beat it!
Now that I've finally gotten my hands into some paint I feel the need to keep on. So, I'm heading back to the studio for another blast of fun.
Happy Creating!
It seems that the 3 hour demos that I do at Michael's are just enough time for me to complete an entire Eye Candy painting. At least that has been true for the last two…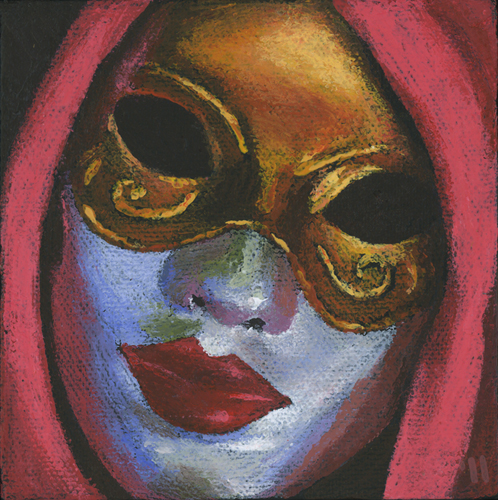 Strawberry Starburst – 4″x4″ – Acrylic on canvas – 10-13-11
All I had to do to complete Strawberry Starburst tonight when I got home was to sign the side, date it, and then apply the varnish.
Now I can get back to the biggie on the easel. I'm really getting excited about it and hope to be able to reveal it in the next 48 hours. Until then…
…Happy Creating!
Well, my friends, at the risk of burning everyone out on my Eye Candy series of palette knife paintings, I present to you the first in the next sub-series – Eye Candy: Starbursts…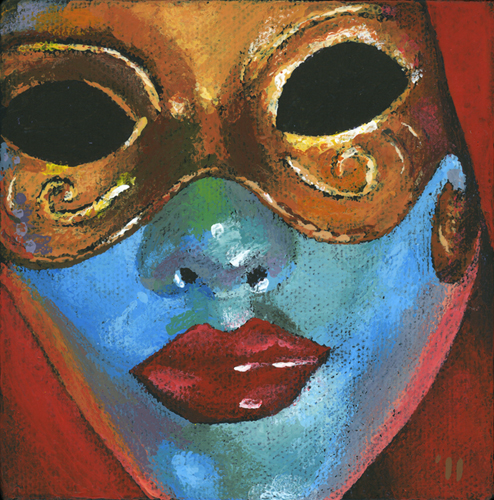 Cherry Starburst – 4″x4″ – Acrylic on canvas – Completed 10-4-11
©2011, Don Michael, Jr.
In case you were wondering, these aren't the only things getting my attention in the studio. While I'm having fun with these little confectionary treats I'm also working on some larger canvasses. In fact, I am currently working on what will be my largest Over the Under-Schmeerings painting to date. Below you can see it in progress. To give a sense of scale I also included both Cherry Starburst and my trusty palette knife…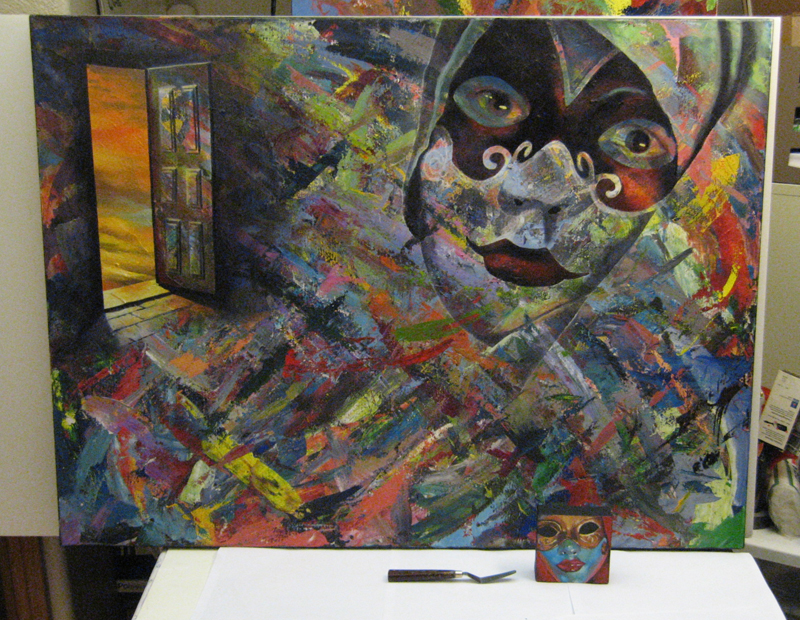 Work in Progress
Oh yeah, if you ever wondered whether or not my studio was a relaxing place to hang out, just look below. I don't know that I've ever seen a cat sleeping any more deeply than Franzie is here. It was funny to watch him wake up a little while later. He had been so sound asleep that he looked over at me with the most confused look on his face and gave a 'what the heck is going on' "Meow".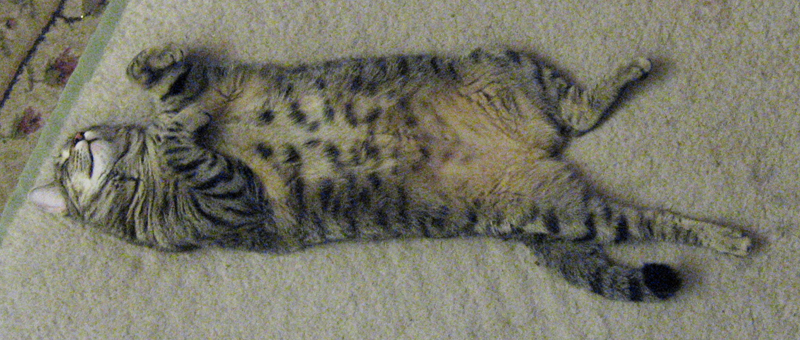 Franz Marc catching some winks
Speaking of hanging out in my studio, I'd better get back in there…
Happy Creating!