I spent almost every bit of my creative energy on the St. Jude sculpture during the month of February. (I'll post more on that soon.) What this did was put me behind on a few of my design projects AND caused me to not paint anything for myself. So, I remedied the painting part of that dilemma last night…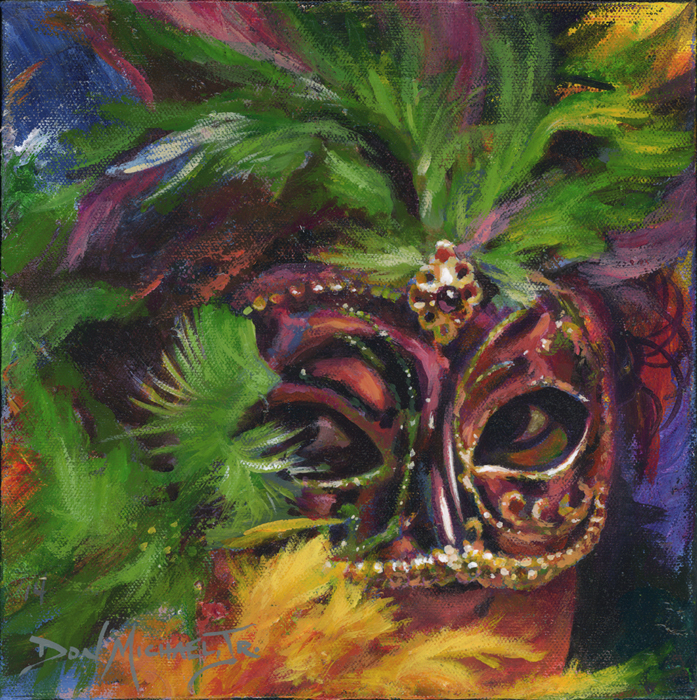 Feathered Up – 10″x10″ – Acrylic on canvas – Completed 2/25/14
©2014, Don Michael, Jr.
The inspiration for this painting came from my Facebook friend, Tracy Friberg. She recently posted a 'selfie' of herself getting ready for Mardi Gras. I loved the photo and requested permission to use it in one of my Over the Under-Schmeering paintings. Tracy graciously concurred. Thank you, Tracy!
Below is Tracy's photo. You can see that I did not stray far from her original image. I love the richness of the colors in her photo. Beautiful shot, Tracy!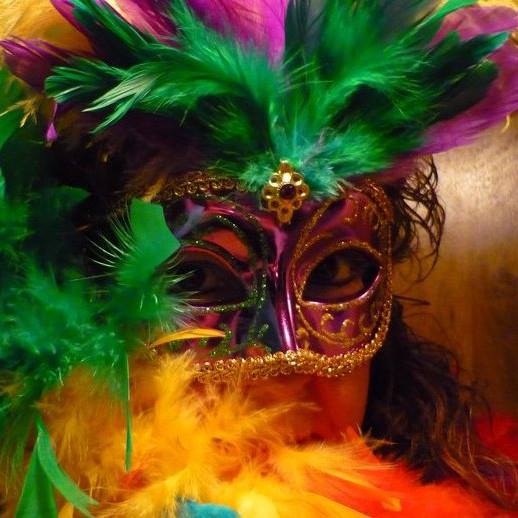 Mardi Gras photo by Tracy Friberg
Now it's time for me to get caught up on some of those design projects.
Happy Creating!
It's hard to believe another year is already coming to a close. Time just keeps marching on.
Below is my last painting for 2013. It's a quasi-self-portrait using a favorite from my mask collection.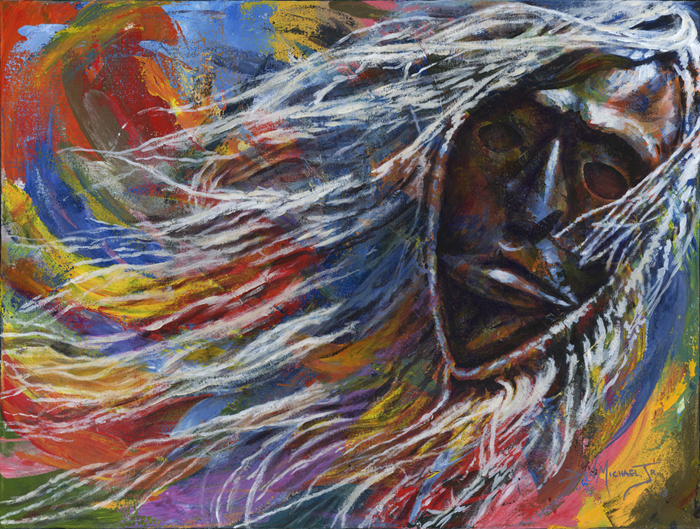 Wind Chill – 18″x24″ – Acrylic on canvas – Completed 12/28/13
©2013, Don Michael, Jr.
I wish all of my blogging friends a Happy New Year! Here's hoping 2014 is a good one.
Happy Creating in 2014!
Lately, most of my creative/studio time has been tied up in freelance design work. As much as I enjoy the design work, painting is my true passion. So, to maintain my creative sanity I make sure to set aside some time to paint at least a few hours each week. This is what came from my painting sessions this week…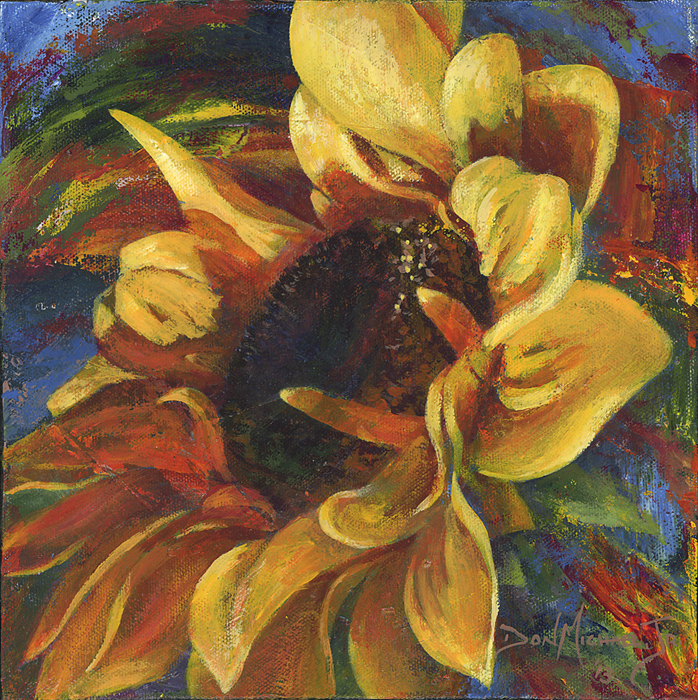 Sun Burst – 10″x10″ – Acrylic on canvas – Completed 12/11/13
©2013, Don Michael, Jr.
Usually by now there would be some kind of seasonal type work coming out of my studio. This year is different, though. So, for now, I'll continue to work on my Sunflower Series.
John 3:16 – For God so loved the world that He gave His only begotten Son that whosoever believeth in Him should not perish, but have everlasting life.
Happy Creating!
For the Fourth year in a row I am donating a painting to Circus Couture where it will be auctioned off. As with each year, all funds raised will be donated to the St. Baldrick's Foundation who in turn writes a grant directly to The Children's Center for Cancer and Blood Diseases of Las Vegas. I consider it an honor to be able to take part in this event which features top circus performers and dancers from shows on the Las Vegas strip, fine art from local professional artists, and the finest high fashion and runway models. You can find out more about the event and their mission by going to the Circus Couture professional page on Facebook. While you're there be sure to give them a LIKE.
For this year's painting I wanted to 'tip my hat' to the wonderful Cirque du Soleil performers, many of whom donate their time and talents to Circus Couture. My friend, Julia Parrot, who is a wonderful artist and a former Cirque performer, gave me permission to use a frame from a video she created using some of the performers from the Cirque du Soleil show, KA. You can see her video here. It's really cool, so be sure to check it out.
Here is the painting I came up with…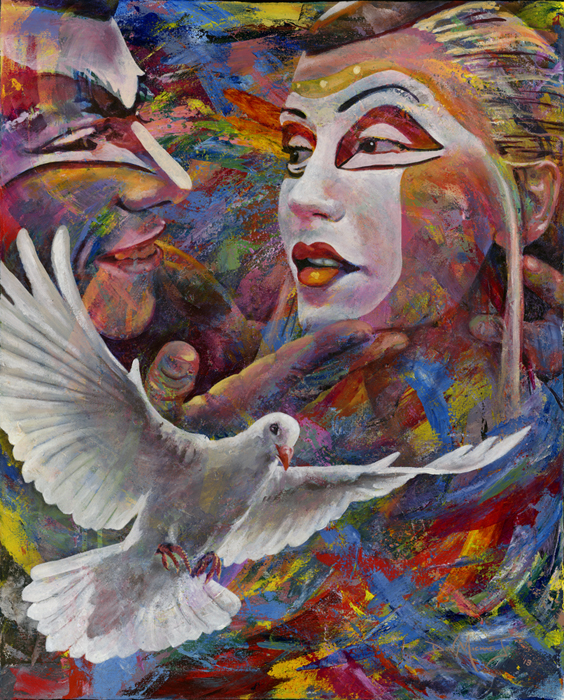 On the Wings of a Dream – 30″x24″ – Acrylic on canvas – Completed 11/4/13
©2013, Don Michael, Jr.
Something very special to me about this painting is that the lovely lady pictured is a major driving force behind Circus Couture. I tip my hat to you, Erica, and thank you for all that you do for our children here in Las Vegas. God Bless You!
As I was finishing up this painting the song Beautiful Stranger by Rebecca St. James came on Pandora. The lyrics for that song really touched me and I feel they fit well with what Circus Couture stands for. I hope you enjoy…
Do you see me?
The questions in her eyes
Do you relate to the pain I can't disguise?
Oh, look beyond what you see
The outside is not all there is
Won't You tell me now when did I see
You in need of water?
Oh, and tell me now, when did I see You
Hungry on the street?
God, I hear You calling out to me
In the voices of the least of these
Calling me to reach beyond my world
To the beautiful stranger, beautiful stranger
He does not look like everyone else
Does not fit in anywhere I know
You ask me to be Your hands
And show him now that he is loved
Won't You tell me now when did I see
You in need of water?
Oh, and tell me now, when did I see You
Hungry on the street?
God, I hear You calling out to me
In the voices of the least of these
Calling me to reach beyond my world
There's beauty that lies deep within
Waiting to be discovered
God help me see what You see
The diamond in the stone
You in need of water
Tell me now, when did I see You
Hungry on the street?
God, I hear You calling out to me
In the voices of the least of these
Calling me to reach beyond my world
To the beautiful stranger, beautiful stranger
God, I hear You calling out to me
In the voices of the least of these
Calling me to reach beyond my world
To the beautiful stranger, beautiful stranger
Happy Creating!
It had been nearly a year since I last painted a new piece for my Eye Candy series of mask paintings. It had been exactly that same amount of time since I did a painting using only my palette knife. So, I decided this weekend that it was time to exercise my palette knife skills and in the process created this…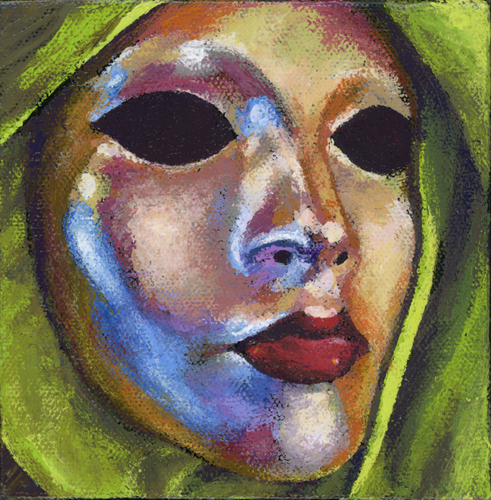 Dragée – 5″x5″ – Acrylic on canvas – Completed 6/23/13
©2013, Don Michael, Jr.
I honestly thought I was done with this series last year. But, I started missing the experience of designing and then painting these little paintings. They're a really good study in working with color – in fact, I tried out a new color for this one: Cobalt Titanate Green. They're also a good way for me to keep up my palette knife skills – and I could tell it had been a while. I probably spent about 3 hours more working on this than I had spent on any one of those painted in 2012.
The metallic shine of this painting made me think of those little silver round cake decorations that I had seen on wedding cakes as a child. So, I did an online search to find out what they are called and found both the title of this painting AND a new word to add to my dictionary – Dragée (pronounced draw-zhay´).
Now it's time for me to get back to my studio where a giant mass of paper mache' is starting to form into some semblance of a new mask creation.
Happy Creating!
It has been a long time since I've posted here on my blog – a month and a half to be exact. Not only has it been a busy time with projects, but I'd found myself drifting away from the blogosphere of late – often just posting my latest works onto Facebook and leaving it at that. However, last night I was thinking about my blog and what it means to me and remembered that I originally started this blog as more of a 'journal/art diary' to chart my progress as an artist than with any other intent in mind. So, with that in mind, I set to typing…
In May I only finished two paintings – one which will be released soon as a book cover, and the other I'll talk about shortly. Also in May I: 1) created a logo for a company – as well as their business cards, stationery and a newsletter; 2) attended the "Affair of the Art" Gala where the giant heart that I painted for St. Jude was auctioned off along with the others, 3) took my daughter to the Andy Warhol exhibit which is going on at the Bellagio Fine Art Gallery; 4) attended to the ThinkArt! Spring juried exhibition – where two of my works had been juried in; 5) attended an art fair where my painting Threshold was purchased; 6) was involved in the set up, art direction and props for the film shoot which will become a short film later this year; and 7) put several of my smaller paintings into a local gallery – which has helped two of them find new homes. (There are stories and photos to illustrate most of these events on my Artist page on Facebook.)
The painting that I finished in late May is one that I'm really excited about. It started out like this…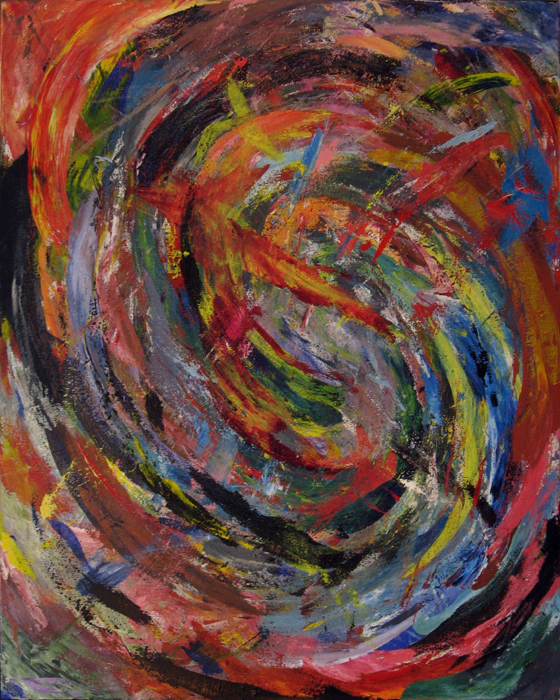 I then sketched in a couple of the elements in my composition and started painting…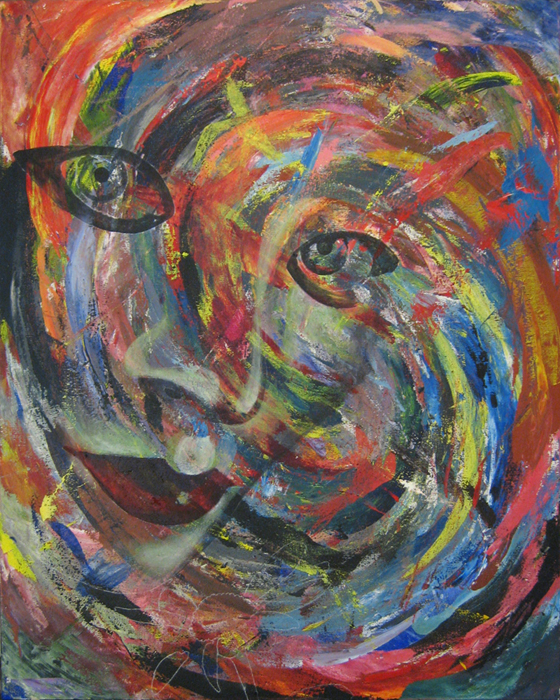 The next day of painting involved tweaking the mask and eyes a bit and then painting in the daisy. That daisy is a very important part of the story I want to tell with the completed painting…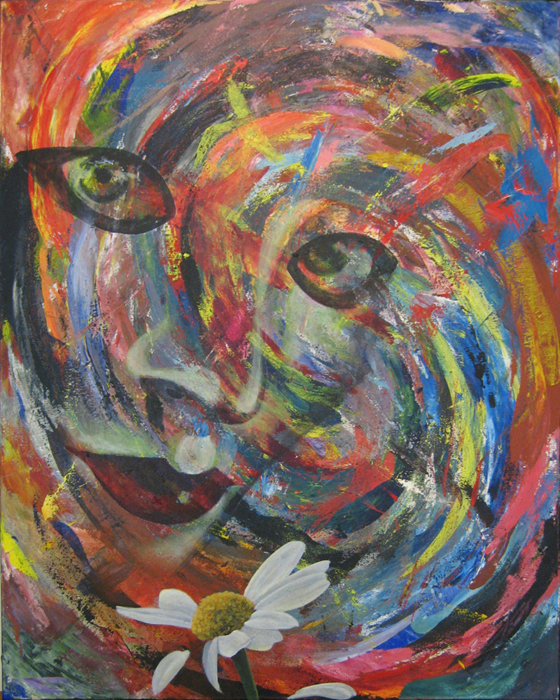 After taking almost a week off from the painting I was finally able to start painting in the main character of this composition…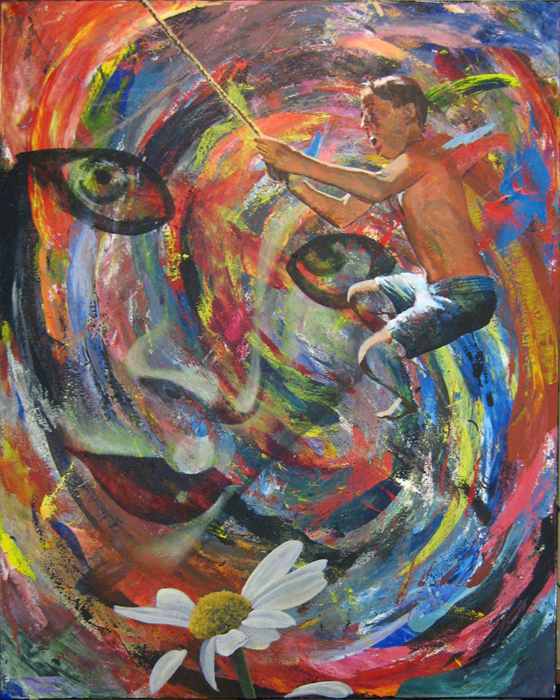 The young man swinging into the composition is our nephew, Brett. This comes from a photo my wife took almost two decades ago of Brett swinging out over a VERY frigid spring-fed watering hole found in the countryside around Rush Springs, OK. Here is that photo reference…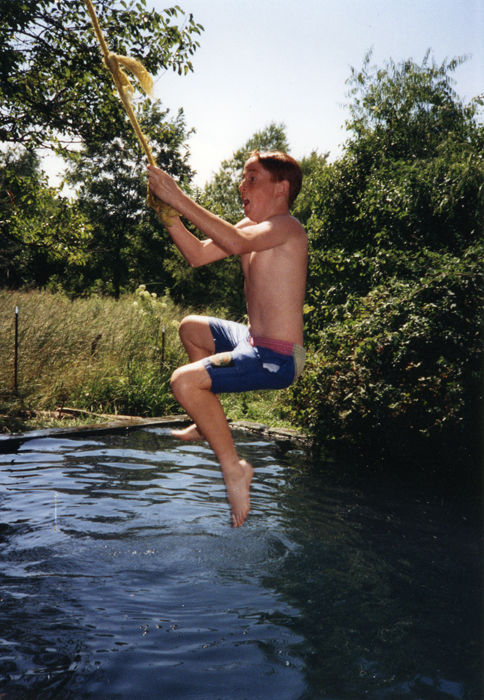 Now, back to the painting… The next day I continued to work on the image of Brett, while pushing the mask back a little more into the background…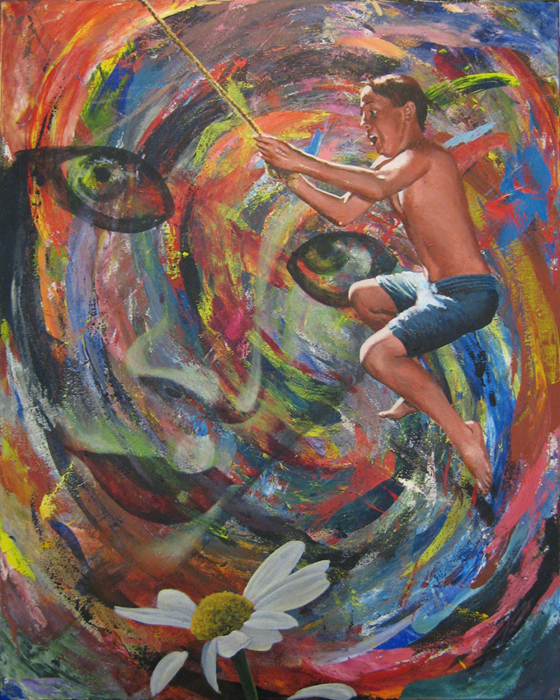 …but, I still wasn't satisfied with how the composition was coming together. So, I waited a few days and digested what I had done already and finally came up with a game plan to get what I wanted. This specifically involved pushing the mask and eyes back even further into the background. It also involved controlling some of the 'schmeerings' of color on the canvas which I thought were competing with the imagery in the composition. It took two more painting sessions to finally get to the finished product I had envisioned, at which point I finally signed it, clear-coated it and titled it…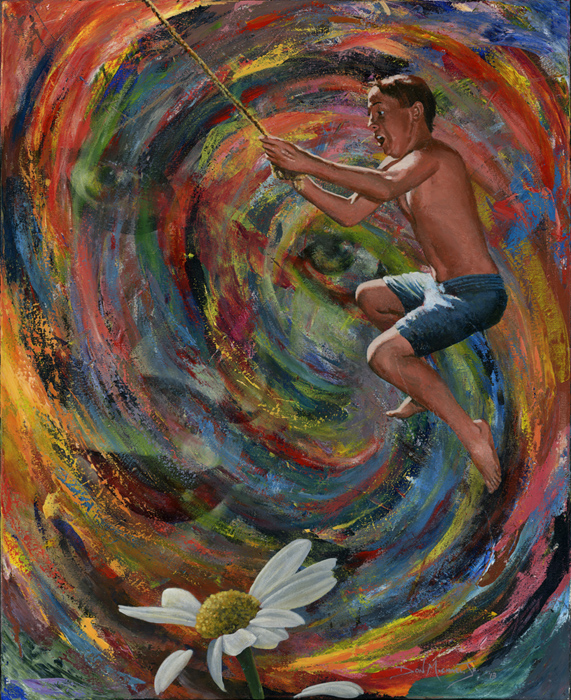 Crush – 30″x24″ – Acrylic on canvas – Completed 5/28/13
©2013, Don Michael, Jr.
I don't plan on being so long between posts again. Like I said above, this is my art journal/diary and I use it often to reference and research my earlier works. Gaps in the timeline and in the product are just not acceptable to me.
Happy Creating!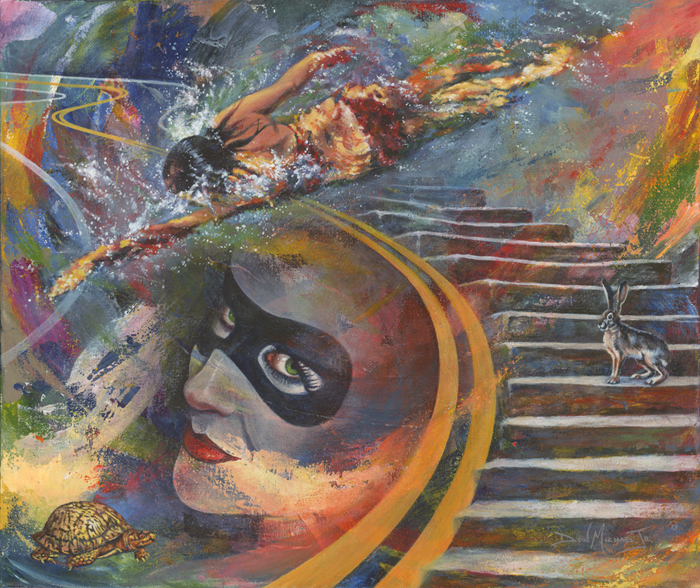 Wherewithal – 20″x24″ – Acrylic on canvas – Completed 4/16/13
©2013, Don Michael, Jr.
This is one of those paintings that I'll let speak for itself. I will say though that it was a LOT of fun to create – and upon its completion I can hardly wait to start on the next one.
But, that will have to wait a few days… Currently, I'm in the middle of creating new artwork for a book cover. Not only that, but tomorrow will be spent setting up, displaying and then breaking down an art exhibit at the SpringHill Suites Las Vegas North (about which you can read more about here). I will be displaying four of my paintings mixed in with the artwork of a few other Las Vegas area artists.
For now, I will revel in the joy of finishing a new work – but only for a few minutes. It's late and I'm tired…
I leave you with this detail: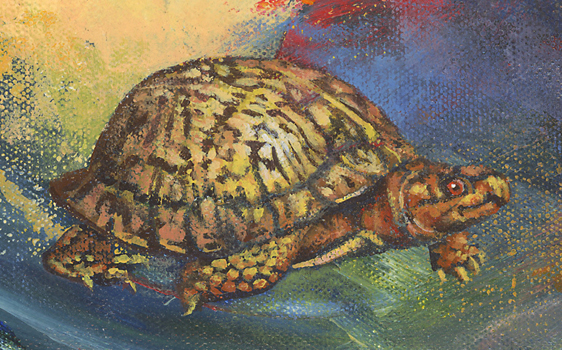 Wherewithal – Detail
Happy Creating!
Wow! When I sat down to create this post I realized that it has been one month since my last post. I think this may be the longest I've gone without posting something new since I started blogging nearly 5 years ago.
Not only did we have the holidays to contend with, but I'm also in the middle of 3 major graphic design freelance gigs. All of this really cut into my painting time. Thankfully, I also have a project that required me to paint, so I at least got a little time on the easel. That time on the easel led to this…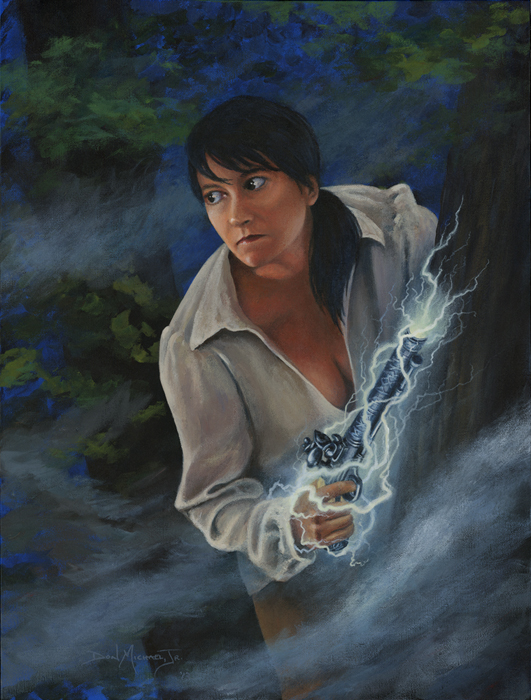 The Witch Hunts – 24″x18″ – Acrylic on canvas – Completed 1/8/13
©2013, Don Michael, Jr.
As I'm sure my longtime blogging friends will already infer, this painting will be a part of something else in the very near future. I will share that something else in due time.
Now it's time for me to get back to those design projects… oh yeah, and to paint on this year's Ginormous St. Jude Heart.
Happy Creating!
Nearly twenty months ago I wrote about dealing with a bit of an artistic existential crisis. In that same post I also introduced the beginnings of a 3D piece that I was working on. Since then I started and then stopped work on that 3D piece several times. I changed directions many times and even re-gessoed it once. I just couldn't get a sense of where I really wanted to take it – until a couple weeks ago. Here's what I finally came up with…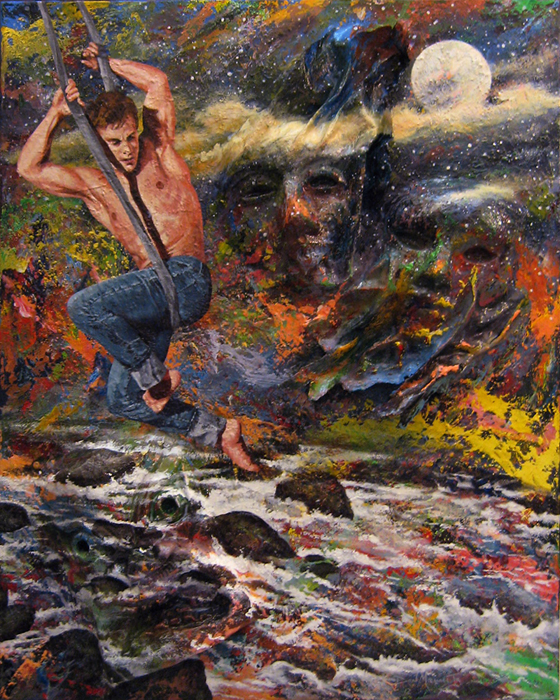 Of Things to Come – 30″x24″x3″ – Acrylic and Paper Mache' on Canvas – Completed 10/4/12
©2012, Don Michael, Jr.
I finished Of Things to Come just in time to take it with me to the Gina M Woodruff Gallery in Long Beach, CA where I was scheduled to be their featured artist for the weekend. We had a Meet & Greet on Friday and a Live Painting Event on Saturday. It was a great weekend of art and fellowship. Below are a few photos from the two nights…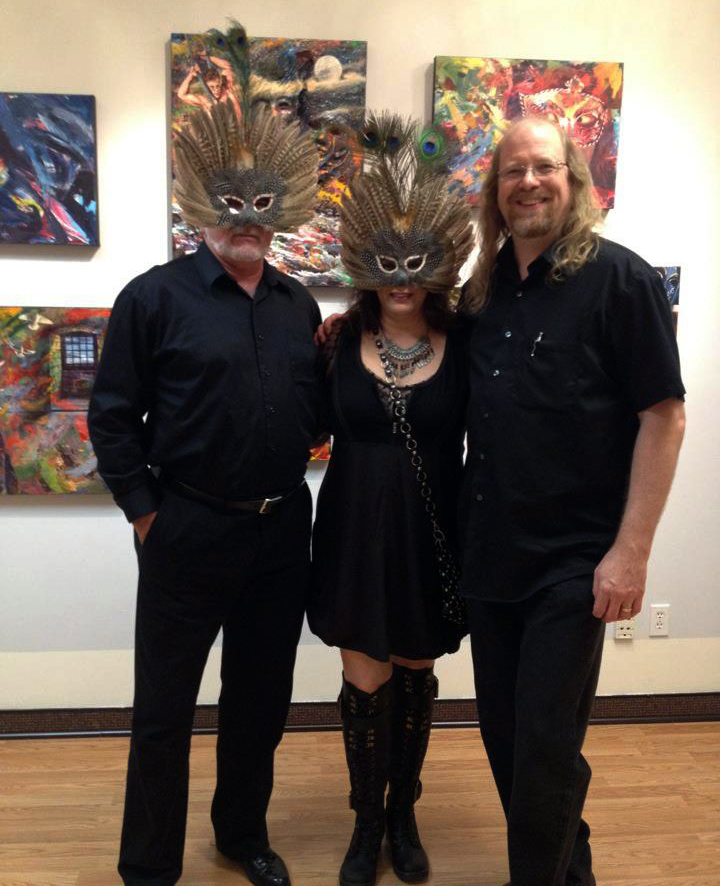 On Friday there were several people who came by wearing masks, which I found quite thrilling. They are part of a club called Masquerade Meetup from the Long Beach area. They seemed to really enjoy my work.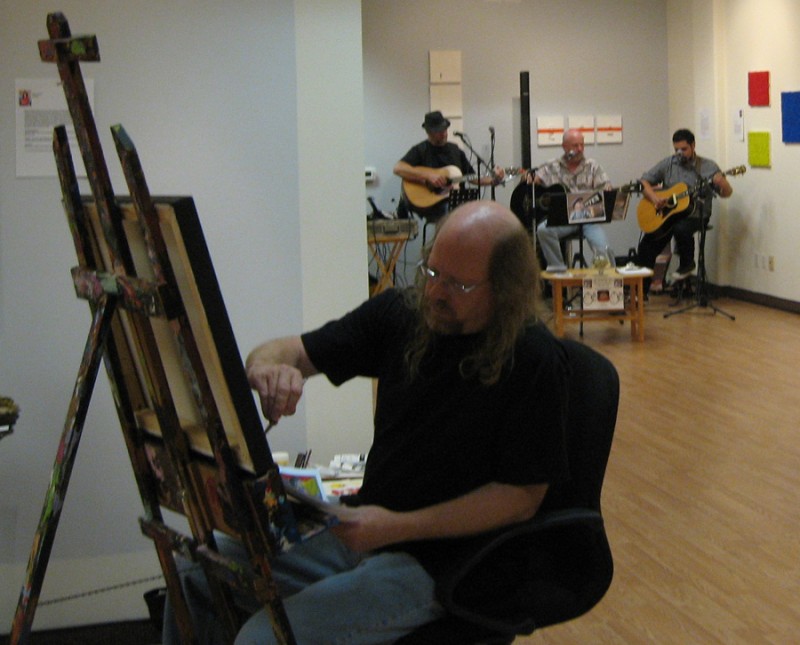 As I painted on Saturday night I enjoyed the sweet music of Listen TheBand. They regaled us with timeless classics – and quite beautifully, I might add.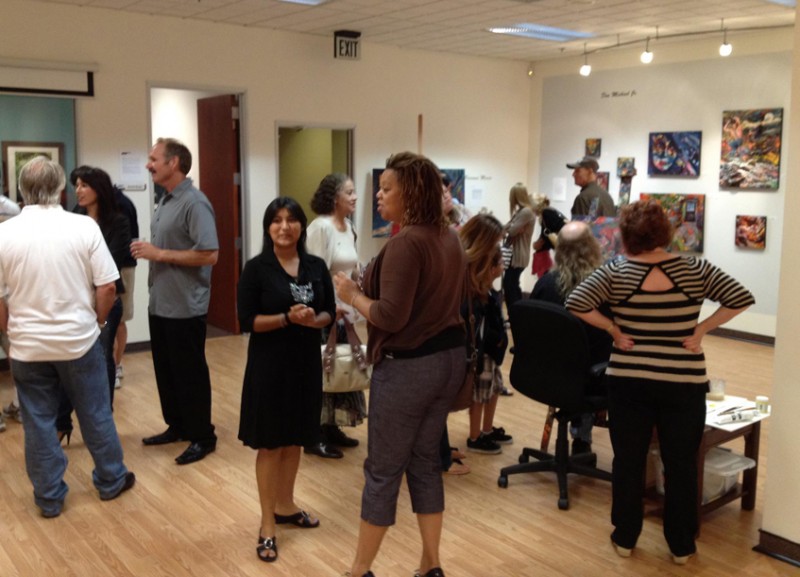 Both nights we had a pretty nice turnout. Here you can see me painting with a bit of an audience gathered around. That young man just to my left was really enthralled. His mom told me later that he wants to paint the way I do someday. I couldn't be more proud.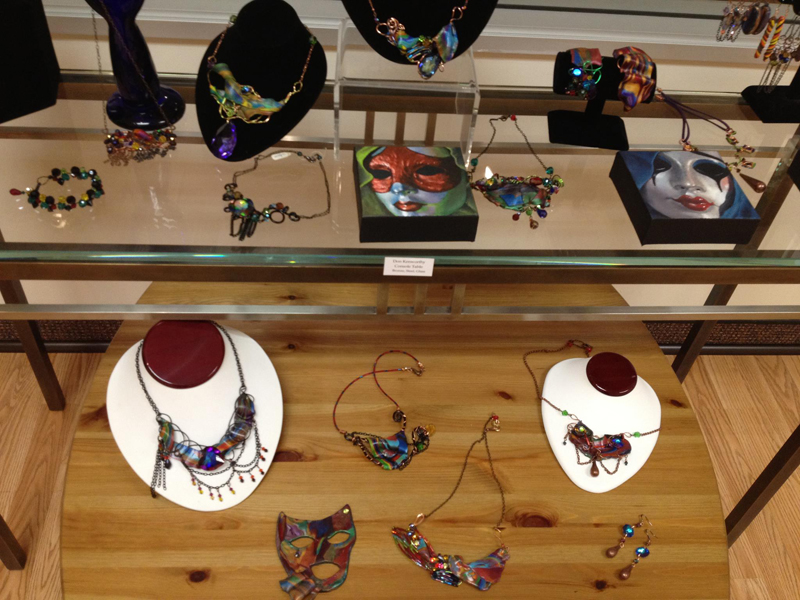 Speaking of things that make me proud… Fellow artist, Sherri Gleason, enjoyed my Over the Under-Schmeerings style of painting so much that she has started a series of jewelry pieces inspired by my work. How sweet is that!?!?
As for Of Things to Come, this is one of those paintings that you have to see in person to get a true sense of it. A photo just can't do it true justice. So, if you're in the Long Beach area, be sure to swing by to check it out. For those that cannot make it to the gallery, here is a photo of the 3D elements before the paint was added…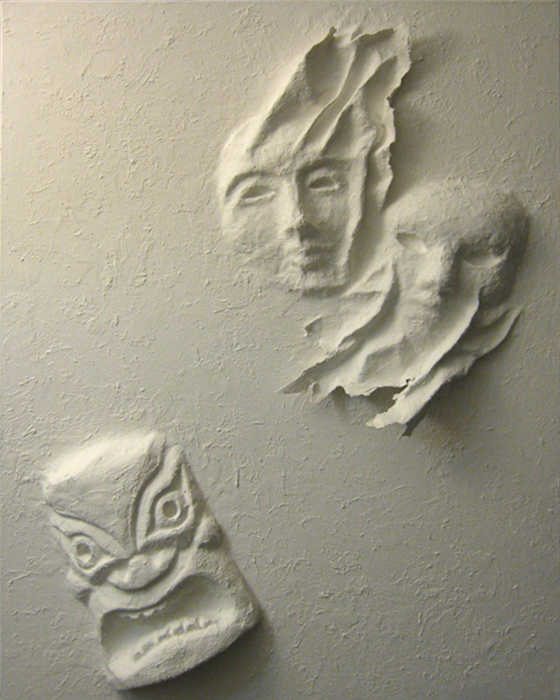 It was a long strange trip getting to the finished painting, but I feel it was worth it in the long run. Now I have that experience behind me from which to grow as I move into my next paintings.
Happy Creating!
For the third year in a row I have honor of taking part in the wonderful charity event Circus Couture. This event combines the talents of aerialists, acrobats, fashion designers, musicians, dancers and fine artists to help generate monies that will be used to sponsor children in their treatment of cancers and bloodborn illnesses. My small part in each of these events has been to donate one of my paintings to be auctioned off during the event. Below is this year's painting…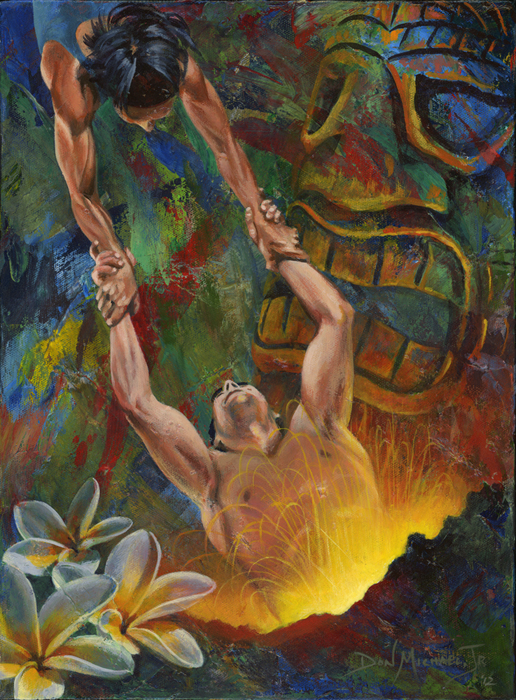 Esprit de Corps – 16″x12″ – Acrylic on canvas – Completed 8/18/12
©2012, Don Michael, Jr.
Before I even started this painting I gave a lot of thought to the ideals I wanted to convey. First of all, I wanted to 'tip-my-hat' to the wonderful performers who donate of their time and talents to this wonderful event. Secondly, I wanted to convey the idea that we all need each other to make it in this world. Other key words for me as I was designing this were: trust, exhilaration, fear, desire, collaboration and passion. I hope my ideals convey. More importantly, I hope my painting is able to generate significant monies to help our local children in their fight to beat cancer.
If you would like to find out more about this year's event be sure to click on this link: http://www.circus-couture.com/event.htm
Happy Creating!
Next Page >>