Usually after I do a "heavy" painting I take time out to do something fun and light. So, not wanting to stray from a system that works, I did just that. This mask is from Hawaii – picked up by my brother, Duane ,while he was stationed at Pearl Harbor. The "bling" around it are leis picked up by my son Eric last year on his return from camping under the stars in Hawaii (Man! I never got to camp in Hawaii when I was in Boy Scouts!). The mask and leis hang together on the dining room wall in our home and have been daring me to paint them for several months. I finally accepted that dare.
I went back to the palette knife in applying the paint. No brushwork was introduced until I signed it. I explored a color range I've not used in a while, keeping it earthy while warming it up with some light reds and oranges. As I look around my studio I realize I've never had this much "pink" in any of my mask paintings. I guess I subconsciously felt the need to explore my feminine side… Uh oh, I need football season to start soon…
As I look at this "lady" I can't help but think she's all dressed up with "Nowhere to Go". Hope you enjoy…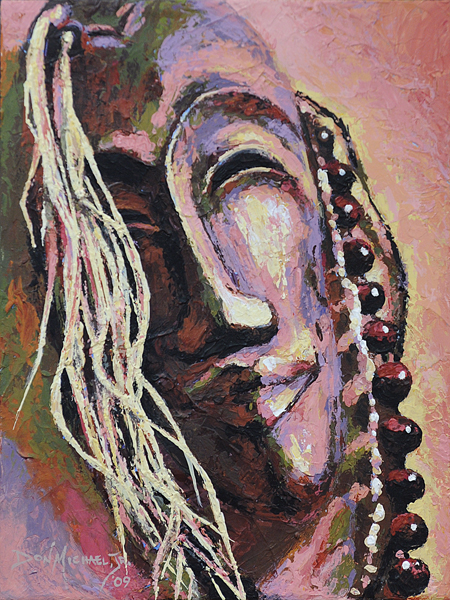 Nowhere to Go – 16″x12″ – Acrylic on Canvas – Completed 7-26-09
©2009, Don Michael, Jr.
This painting is dedicated to the memory of my Grandmother, Edith Lillian Creech Michael. No single person had a bigger impact on who I am today. She was truly the lighthouse in the midst of the storm that was my young life. I am eternally grateful that God chose to put me in a position to spend quality time with her during my formative years. Without that bit of "Providence" I'm not sure I would be around today.
The 'mask' portrayed in this painting is actually the ceramic head of the doll my Grandmother played with as a child. My aunt recently sent me photos of this doll's head thinking I may want to use it in one of my paintings. Boy, was she right! As soon as I saw the photos my mind began working on what the composition would be. I wanted to somehow reference my relationship with Granny while paying tribute to her memory. The creation of this painting was bittersweet in that the whole time I was focussing on this wonderful woman and what she meant to me I was missing her tremendously. Granny has been gone 14 years now, but rarely a day goes by that I don't think of her. Thank you, Aunt Betty…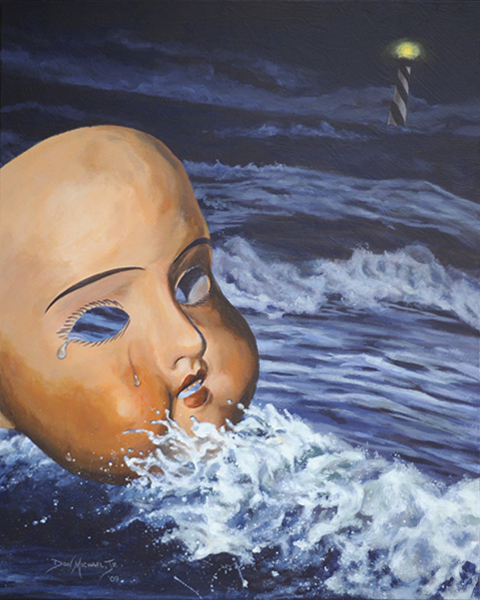 Providence – 30″x24″ – Acrylic on canvas – Completed 7-19-09
©2009, Don Michael, Jr.
I decided it was time to paint with no preconceived ideas or concepts. I just wanted to have some fun while experimenting with color and texture. So, that's exactly what I did with this painting. I textured my canvas with modeling paste, many crazy colors and a palette knife. After creating this bed of chaos I laid in my darks with the palette knife followed by many hours of scrubbing and blotting in color with my bristle brushes. My color palette consisted of Liquitex's Mars Yellow, Phthalocyanine Blue, Pyrelene Red, Brilliant Purple and Titanium White. The subject matter is from Bogata, Colombia.
As always, when I paint I'm listening to good music from pretty much any genre (except Country & Western – sorry C/W fans, I came of age in Oklahoma during Urban Cowboy days – way too much of a good thing!). On this painting I listened to some Stan Getz, some ABBA, some Van Halen, some Buckcherry and some Audioslave to name a few. As I was listening to Audioslave the line "Ready to begin" in the chorus of "Show Me How to Live" jumped out at me and I knew I had the title for this one. What does that mean? Well, you tell me…  BTW, this is the second painting I've titled after a line from Audioslave's music. I must really like Chris Cornell's writing.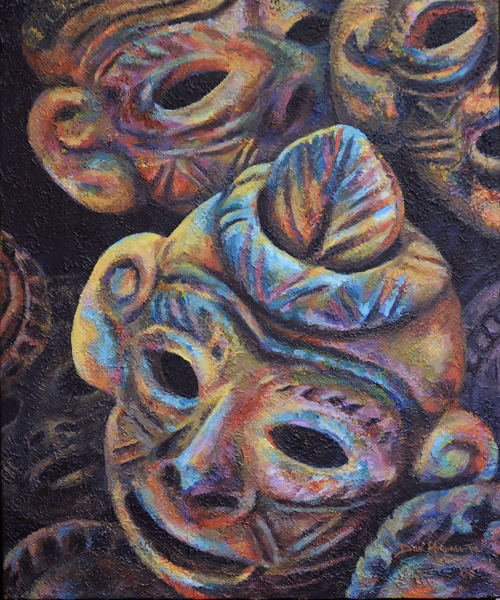 Ready to Begin – 24″x20″ – Acrylic on canvas – Completed 7-12-09
©2009, Don Michael, Jr.
I've been in a reflective mood of late and cannot believe how quickly time has flown by. My oldest child, seemingly born just a couple weeks ago, can now legally have a beer with his dad. My middle child is learning to drive and my 'baby girl' is heading to Jr. High. I was recently looking for a particular family photo and in the process of the search ended up spending HOURS looking at photos of my little ones – when they were actually little. Needless to say I felt quite nostalgic and a bit melancholy by the time I found the photo I was looking for…
These melancholy thoughts were still on my mind as I designed my latest painting. This mask has hair that flows forward from its face which gives it a sense of movement. I wanted to emphasize this movement and thought of a river or stream flowing by. Once I started adding the water element it was feeling too calm – nowhere near the emotion I was going for – and I felt it needed more energy. So, I decided I needed a wave crashing over. Once I incorporated the wave with the mask I knew I was onto something and thus "Destiny" was born. This looks like I feel… Life keeps pushing me forward, washing over me and keeping me moving towards whatever lies ahead.  That's not a bad thing. It's just the way it is – although it would be nice if it would slow down a bit.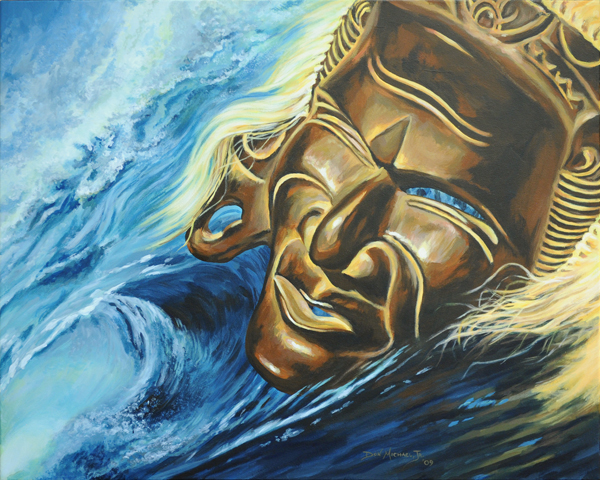 Destiny – 24″x30″ – Acrylic on Canvas – Completed 7/5/09
©2009, Don Michael, Jr.
Walking from the nice air-conditioning of your home or business into the desert heat will make you think the flesh is melting off your face. As soon as you open the door you get hit with a blast of heat that is reminiscent of opening an oven door. Add a breeze to the mix and it's like you've been hit by a blast from a furnace.
Absolutely none of the above was going thru my mind as I painted "Summer Breeze". I just wanted to have some fun with color and chose this mask for no particular reason. For my color scheme I decided to use the analogous yellow, yellow-green, green, blue-green for the first time in years. This was coming across a bit too 'cool', so I added yellow-orange to warm things up. To me these colors helped to make this hideous Halloween mask a little friendlier.
I wanted the name for this to be fairly innocuous, with no political, sociological or psychological undertones. So, after many hours of writing down and then eliminating names "Summer Breeze" came to mind and I decided that was about as harmless a name as I'd find.  An interesting side note: Some of you may have already noticed that I'd used this mask as a model a few months ago and titled it "Sweet Tooth". Once I posted "Summer Breeze" on my website I realized they are now side by side – since my gallery is alphabetical. Somehow that just seems right…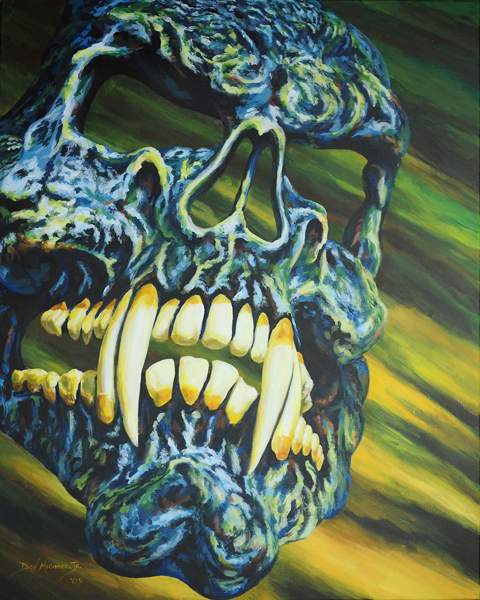 Summer Breeze – 30″x24″ – Acrylic on Canvas – Completed 6-27-09
©2009, Don Michael, Jr.
My Greek gods and goddesses series has been in need of a Poseidon, but I was waiting for the right mask to come along. Recently I came upon a door knocker that had a stylized little bronze mask incorporated into its design. After experimenting with several designs, it finally registered to me that this could be my Poseidon. Since in Greek mythology Poseidon always ran hot and cold, I wanted his image to reflect this in my color choices. So, one side of his face reflects red light and the other blue. To balance this I decided on a triad color scheme and used lower intensity yellow in the background. I like how all the elements in this composition push your eyes to his stern yet pouty lip, which reflects the way I've always interpreted his temperament.
I started "Poseidon" using only my palette knife, but about half way thru decided to start using a brush to accentuate some of the details. I also used the brush to smooth out the strokes in the background, giving it a softer, blurrier look which helped to push it back – especially behind the eyes.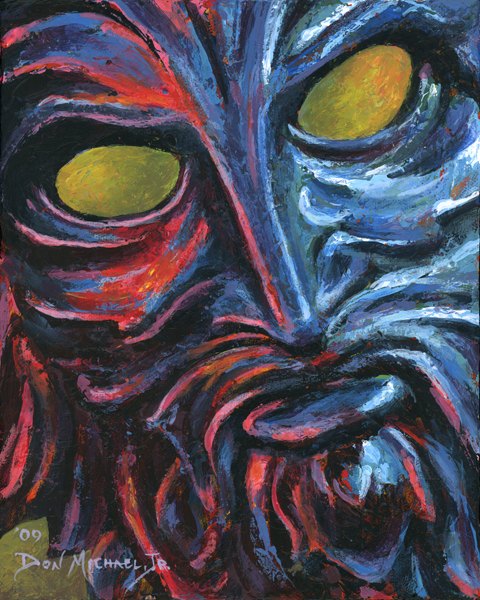 Poseidon – 10″x8″ – Acrylic on Canvas – Completed 6-21-09
©2009, Don Michael, Jr.
After lighting this one from below with an intense light source, I wanted to create a 'reason' for this light. What better than a cloudy sky with the sun trying to explode thru? I then flipped the sky and made it appear that the mask was above the sky and looking down, giving the mask an almost supernatural feel.
My son, Eric, picked up on that supernatural feeling and wanted me to call this one Alpha and Omega. But, my wife, Laura, did not want me to (in her words), "put a face on God". Her take on it was more hollywood, or someone on a stage in the limelight. So I settled on a title that I felt was a perfect compromise and yet has a really cool abstract nature to it.
An interesting side note: I see this painting as happy and friendly, but my daughter, Christina (10), says "this one is scary and evil" (thankfully, no nightmares…). I absolutely LOVE how everyone takes something different from each of my paintings. It's like these masks each have a life of their own and speak to each person in a totally unique way.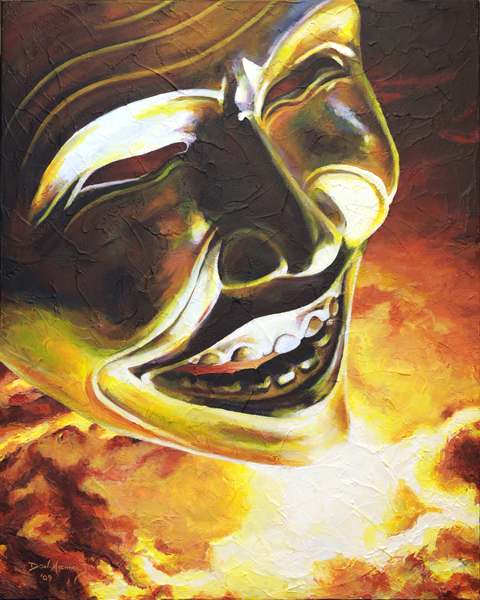 Curtain Call – 30″x24″ – Acrylic on Canvas – Completed 6-13-09
©2009, Don Michael, Jr.
"We're not in Kansas anymore" is what my wife, Laura, said as soon as she saw the early stages of my most recent painting. Without realizing it she had given me my title. Of course, I didn't tell her what it would be until it was finished.
I had been working on the concept for this painting for a while, but had not come upon the right mask until I got an email recently from my online art buddy, Renuka Pillai. She had just been to the Fowler Museum at UCLA and taken several shots of masks they have on display there. Thankfully, she thought of me and passed her photos along. This one jumped out at me and I knew immediately I had found the mask to finish this composition. I'm not sure what country this mask comes from originally and would welcome anyone's insight.
As you can see, I've once again opened up the dialogue about man's impact on our environment. It's just a little statement about cause and effect… Didn't Newton say something about for every action there being an equal and opposite reaction? Just sayin'…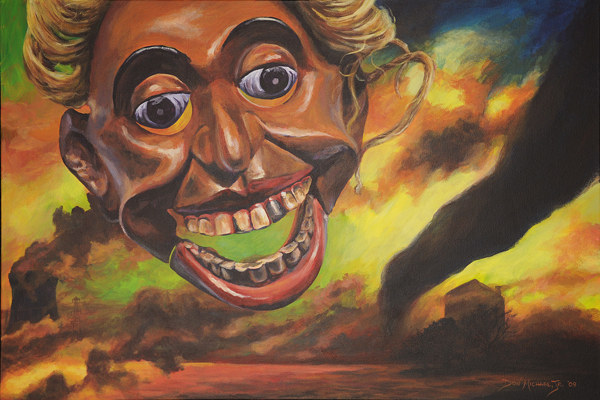 Over the Rainbow – 24″x36″ – Acrylic on Canvas – Completed 6-3-09
©2009, Don Michael, Jr.
Remember when you were a kid out camping with your buddies and/or your family how it never failed…someone would decide they needed to tell some ghost stories? They would begin each story in a soft whisper that made everyone lean in to hear. There was something about the flicker of the flames reflected on the storyteller's face that lent a creedence to the far out and scary stories they would tell. A good storyteller would always build the story to a point where any sudden noise – even just a knot popping in the campfire would cause everyone to jump out of their skins. Of course, then sleep was totally out of the question…
These good times came to mind as I painted "Ghost Stories". The mask used in this painting is of a very small Geisha mask that my brother, Duane, picked up for me while on shore leave in Japan back in the mid '90's. I had started several compositions with her over the past couple years but it wasn't until I lit her strongly from below that anything ever gelled for me. Of course, I had to take liberties with her color scheme, but would you expect anything less? Also, for the first time in several months I used only a brush with which to paint. The palette knife never touched this one's surface. I hope you enjoy…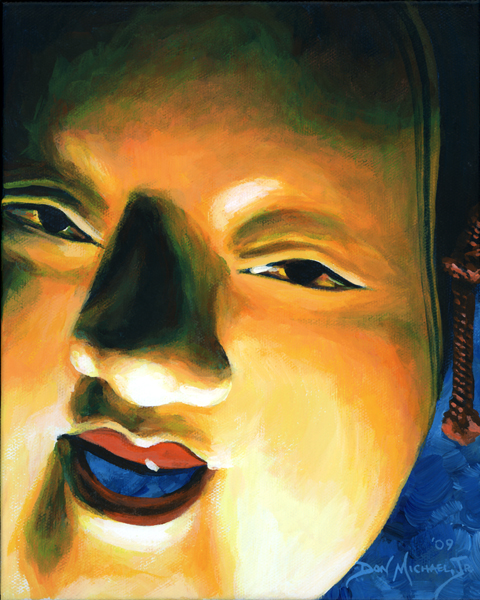 Ghost Stories – 10″x8″ – Acrylic on Canvas – Completed 5-24-09
©2009, Don Michael, Jr.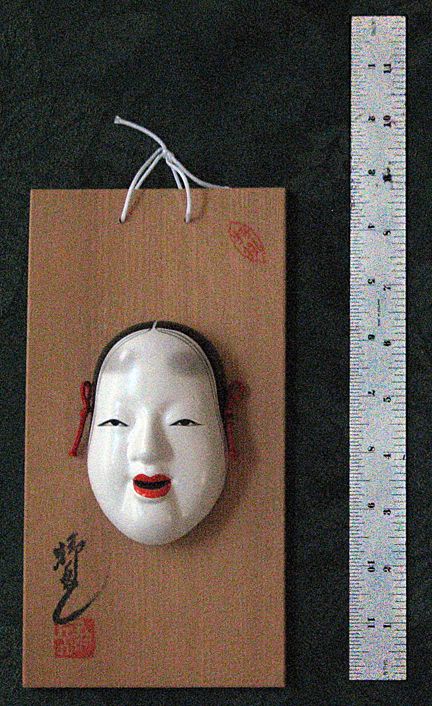 For those interested, here is the original Geisha mask next to a 12″ ruler.
Recently my brother, David, emailed me some photos of masks he had seen at a flea market. One of them was a creepy 'china doll' mask with a blue gem teardrop. Once I cropped in tight on the photo the creepy factor was replaced by an innocent childlike look. Immediately I started to ponder what would make this 'child' so sad. Then I realized that poor child was coming up in a troublesome time and would be inheriting quite a mess. Next thing I knew I had the world aflame…To engage the viewer in this dialogue I decided to include eyes for the first time in one of my mask paintings. I'm really excited with how those eyes draw you into the composition. I'd love to hear your thoughts…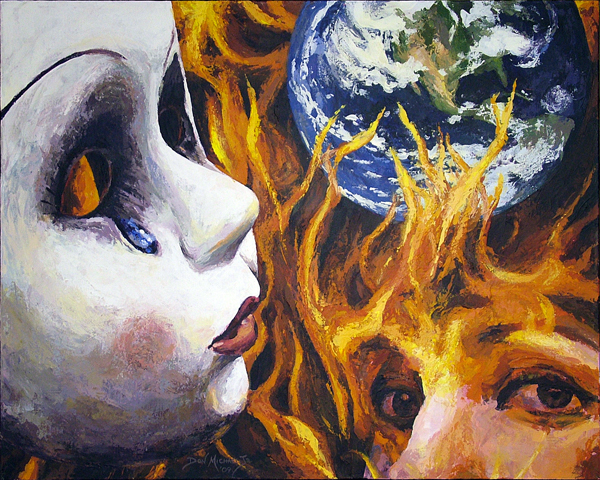 Birthright – 24″x30″ – Acrylic on Canvas – Completed 5-18-09
©2009, Don Michael, Jr.
<< Previous Page - Next Page >>