Earlier this summer I had the opportunity to work on the graphics package for a wonderful journaling tool.
Now, I'm pleased to share that DavidRM Software has announced the release of The Journal 6. This is a convenient, flexible and secure way to satisfy your journaling or writing needs. To learn more about it, click here…
The fun thing about a project like this is that I get to create and then put together a giant 'graphics puzzle'. We want all the pieces to look like they belong together, whether its the online elements, the dvd elements, or the print elements. To start with, we refined and updated their logo.

The Journal Logo – ©2012, DavidRM Software
Then, it was time to come up with the color palette and figure out what design elements we wanted to employ. Below is what we came up with.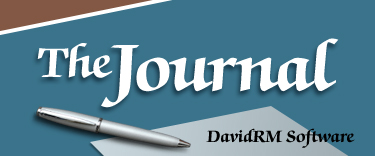 The Journal Graphic Element – ©2012, DavidRM Software
 Then it was time to come up with the DVD case. Be sure to click on the image below to see both the front and back of the case. Also, notice how we included the version of the software in the design.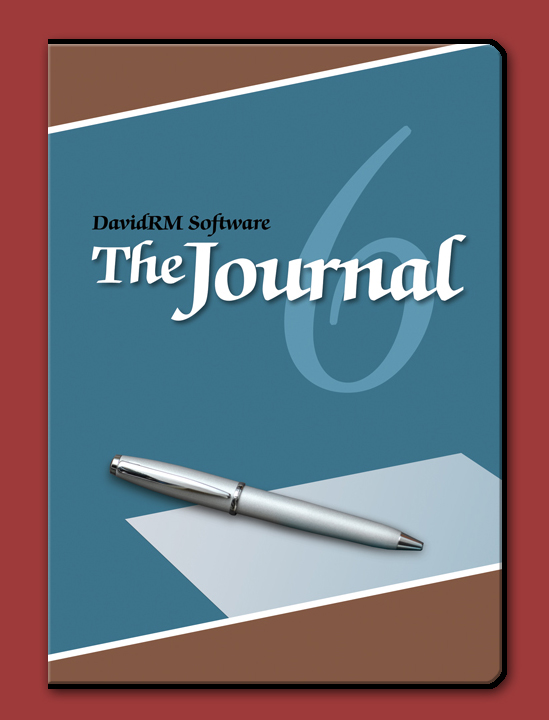 The Journal DVD Case Artwork – ©2012, DavidRM Software
Of course, then we had to make a cool label for the DVD itself.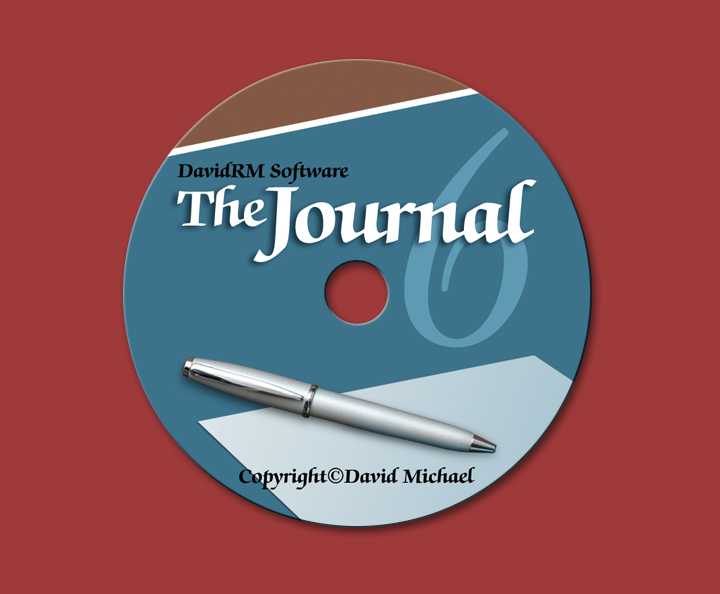 The Journal DVD Label – ©2012, DavidRM Software
There are several more elements that went with this project, but, I think you get the idea. I absolutely LOVE these type of design projects. I hope to find some more soon.
If you're interested in downloading The Journal 6, you can find it here.
Happy Creating!
Last night I finished a new Eye Candy painting. It's hard to believe that it's been over a month since I did one. Where has May gone?!?!?!?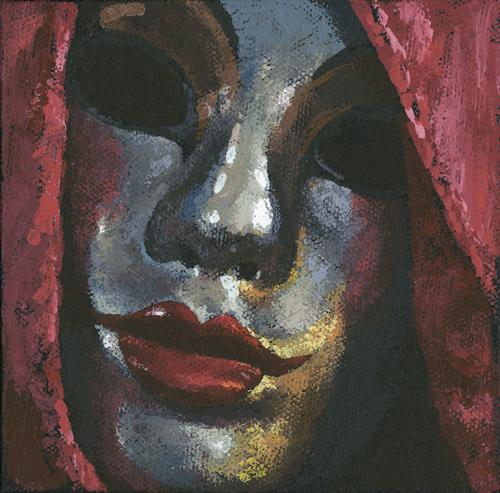 Truffle – 5″x5″ – Acrylic on canvas – Completed 5/27/12
©2012, Don Michael, Jr.
As I was preparing to post about this new painting I accidently clicked on a post from my archives which happened to be from exactly three years ago. The painting that I saw there made me decide to look at what I'd done around the same time each year for the past 9 years. I found it to be a great exercise and thought I'd share the results. Here they are in chronological order… (All are acrylic on canvas)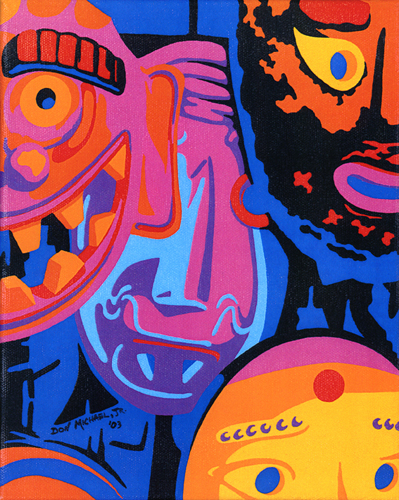 Introspective – 10″x8″ – ©2003, Don Michael, Jr.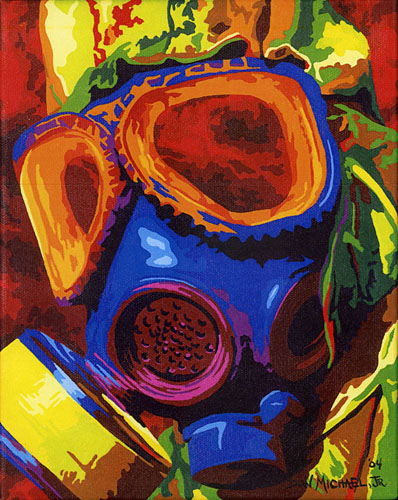 Insanity – 10″x8″ – ©2004, Don Michael, Jr.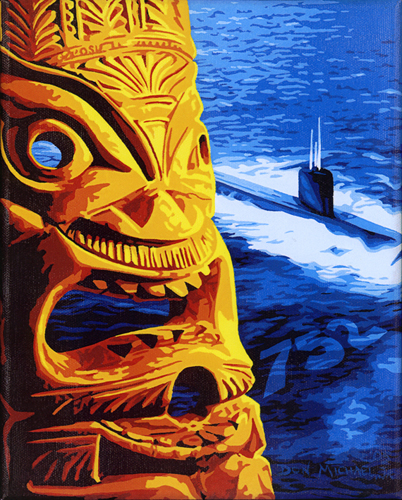 Inspiration – 10″x8″ – ©2005, Don Michael, Jr.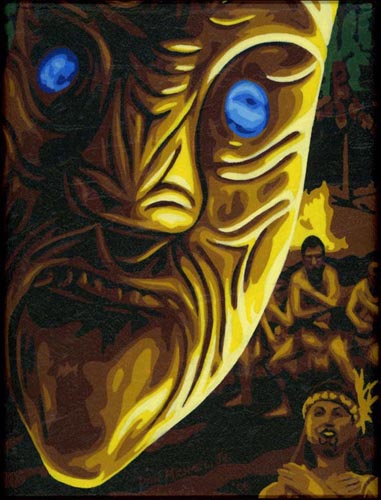 Manaakitanga – 10″x8″ – ©2006, Don Michael, Jr.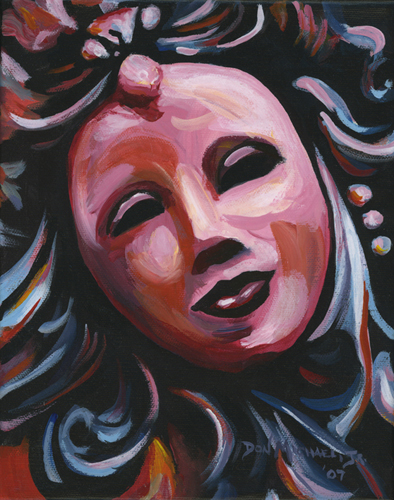 Aphrodite – 10″x8″ – ©2007, Don Michael, Jr.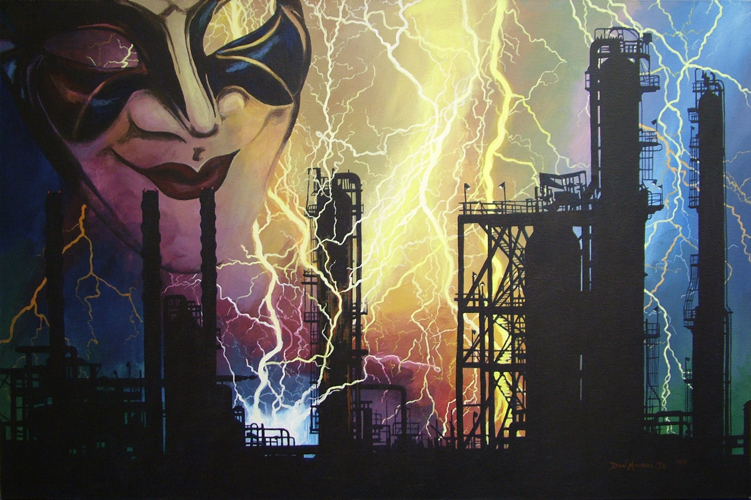 Poetic Justice – 24″x36″ – ©2008, Don Michael, Jr.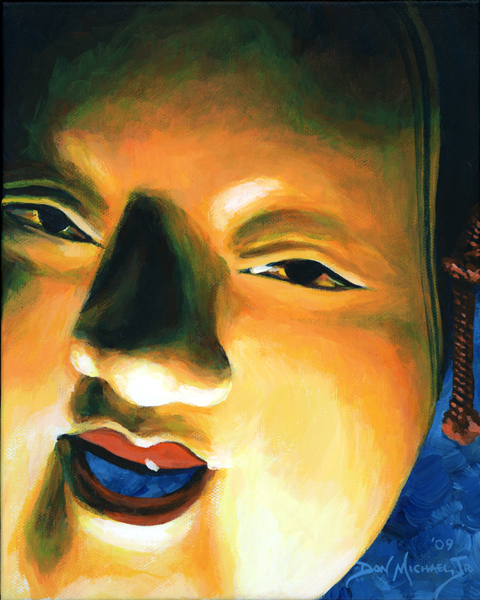 Ghost Stories – 10″x8″ – ©2009, Don Michael, Jr.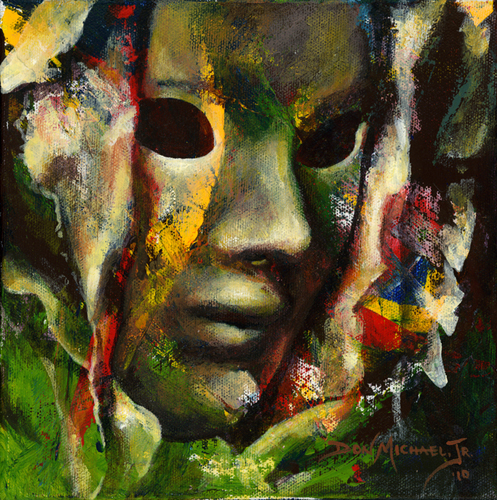 Discovery – 8″x8″ – ©2010, Don Michael, Jr.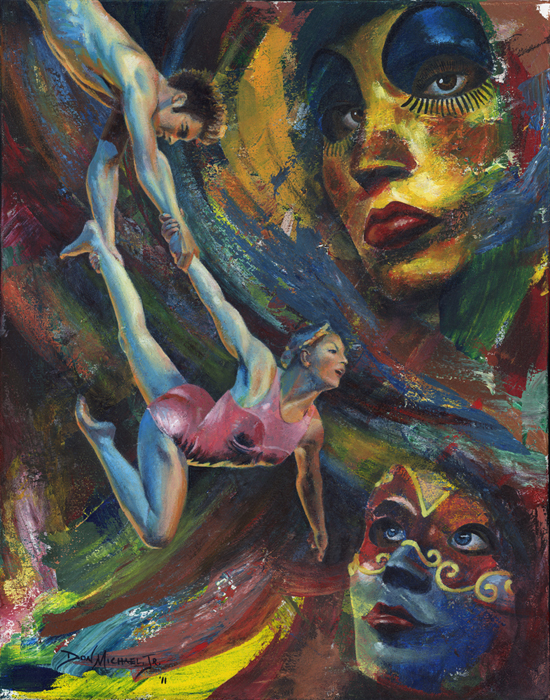 Dare To Believe – 20″x16″ – ©2011, Don Michael, Jr.
It's a lot of fun to look back. I see my willingness to explore new ideas. I see some 'ah ha' moments that informed later works. And, I see the growth that has occurred as I've explored this mask theme.
It's really interesting that each one of these paintings can take me back to events that were going on in my life, as well as emotions I was dealing with at the time. Hmmmm…. I've just realized that my paintings are the perfect diary for me – and, I'm the only person who holds the key.
A side-effect of this exercise is that now I'm especially ready to get back to the studio and get busy…
Happy Creating!
Wow, time can sure get away from you in a hurry! One minute I decide to take a little time off to enjoy Spring Break with my family and the next it's almost a month later. Ah, but it's mostly been a good month. We travelled to Oklahoma to visit family and friends – putting over 2,600 miles on my Tahoe in 8 days. We had perfect weather and even better visits. Those 8 days went by way to quickly, but we got a lot done in them.
The only negative to our trip was that I came home with a horrible cold that ended up lasting a full two weeks. To add insult to injury, a couple days after we got home I tweaked my back, effectively slowing me down considerably for a while. As you may imagine, that was no fun at all – (cough, ouch, sneeze, ouch…). Well, I can finally move around without groaning and breathe without sniffing. Thank God!
As I've implied on recent postings, I've still been quite busy during this time. There are two book covers coming out in the next couple of months. There have been several video shoots that will result in commercials in the near future. There have been demos. There have been gallery negotiations. And, there was even a convention thrown into the mix…
Now that I'm finally back to something similar to a normal schedule I decided it was time for a new piece of Eye Candy. Here's what my palette knife and I came up with…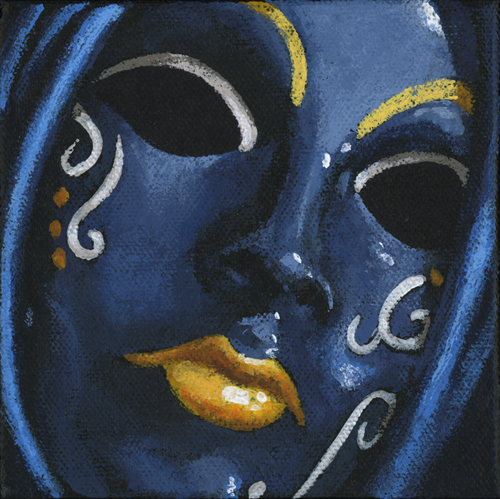 Pez – 5″x5″ – Acrylic on canvas – Completed 4/22/12
©2012, Don Michael, Jr.
The mask in Pez is one that I created about a year ago, but have avoided painting for fear of all the blue. Her name is Francis and I think she's a beauty – just a difficult beauty.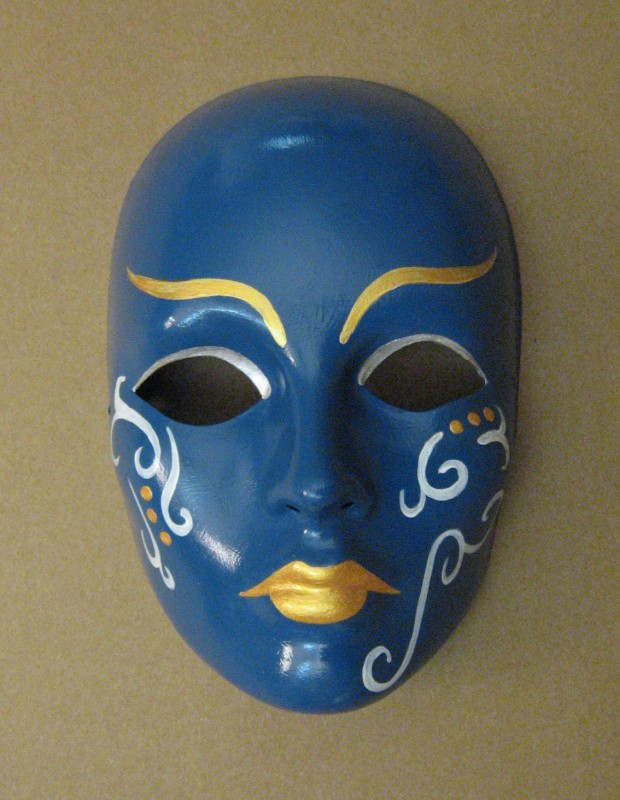 Francis – ©2011, Don Michael, Jr.
One last thing. If any of my blog readers happen to have Facebook accounts I would sure appreciate it if they would click on the photo below and then click "Like" on it in Facebook. There were 12 ginormous hearts painted for the St. Jude's Affair of the Heart Gala. The 5 hearts with the most "Likes" will be featured at the Gala. It would be cool if mine were one of those five…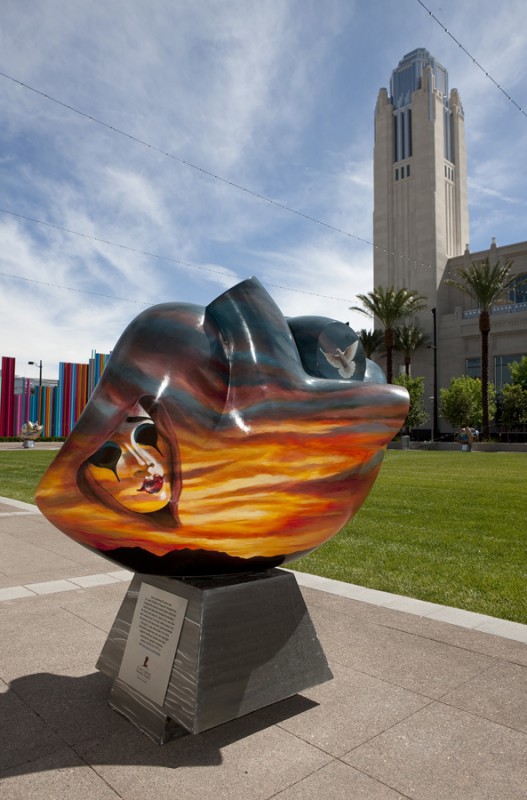 Hope – Photo Credit: Geri Kodey
OK, I've bored everyone enough for now. I should probably get back to work…
Happy Creating!
This little palette knife painting is the last installation in my Eye Candy: Spree series…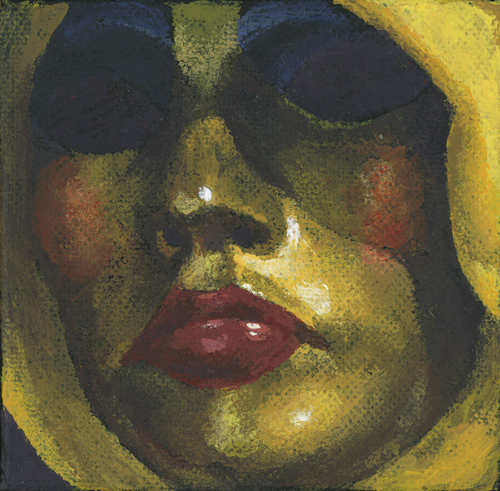 Lemon Spree – 4″x4″ – Acrylic on canvas – Completed 2/28/12
©2012, Don Michael, Jr.
I thought that it would be a fun exercise to look at all five paintings in the series together in one grouping. Even though the same mask was used as the model in each, it's really interesting to me how the differences in color, shadow pattern and angle seem to give each painting a unique personality.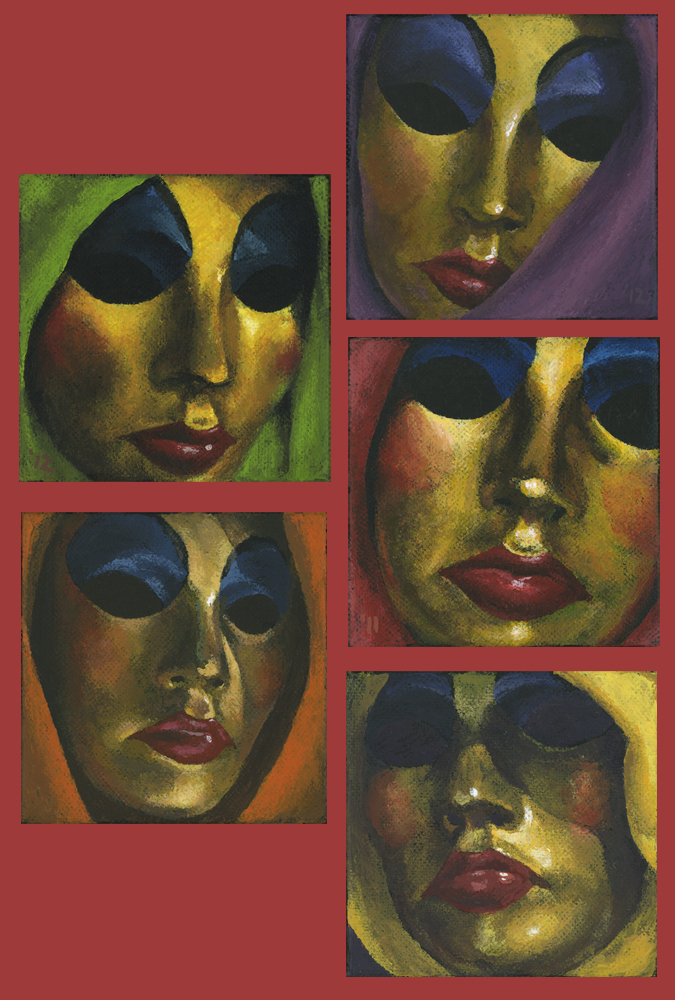 The Eye Candy: Spree Family Photo – Clockwise from upper left: Lime, Grape, Cherry, Lemon, Orange
If anyone is interested, all the paintings in this series are available at $60 each. Each is painted on 4″x4″ gallery-wrapped canvas with the edges painted black. All are signed on the right edge. Should someone wish to purchase the entire series I'm willing to offer a special discount. Just drop me an email at: don@donmichaeljr.com.
Speaking of painting sales, I'd like to share a photo sent to me by my online artist friend Robin Samiljan. Last year she added my mask Swirls to her collection. Now she has added Heath. (Thanks, Robin!) I think they go quite well together on her wall. Don't you?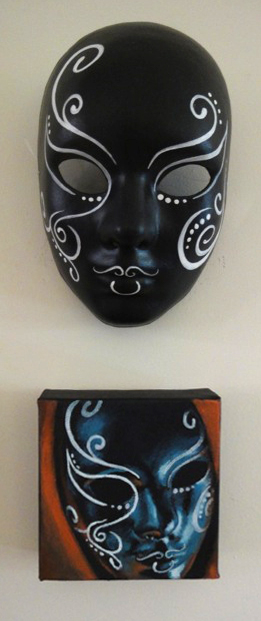 Swirls & Heath hanging out together in New England
As I've mentioned before, I'm in the middle of a couple freelance graphic projects. They are coming along nicely, but since I still have a lot to do I'd better get back to it…
Happy Creating!
This has been an artfully busy week which has kept me from spending much time online. I'm sure many of my blogging friends have probably noticed my absence and I apologize. I went online for a little while tonight to try to get caught up and realized just how unsociable I've actually been. Oopsy! Needless to say, I am still not caught up.
Art-wise, I am in the midst of two graphic design commissions which I hope to be able to share by the end of March. I also continue to prepare lesson plans for my Acrylic Workshops while doing demos to promote them. For those interested, this Saturday from 2-4pm we will be painting a landscape featuring elements from our local Red Rock Canyon.
Even in the midst of all this busy-ness I still made sure I had plenty of studio time. That is a MUST for me. It keeps me sane – and is so much fun. Here's the result of this "me" time…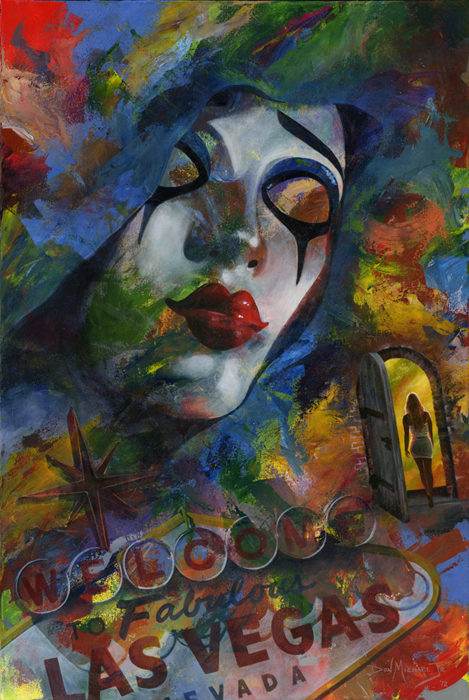 Threshold – 36″x24″ – Acrylic on canvas – Completed 2/16/12
©2012, Don Michael, Jr.
Some paintings happen so effortlessly that it almost seems like magic. The first two-thirds of this Over the Under-Schmeerings (OTUS) painting was like that. But then everything came to a screeching halt when I realized that the remainder of my original concept was just not going to work. It was too safe and too boring. It was nice enough, but it just didn't mean anything to me. So, after a couple days of contemplation I came up with something completely different. Something which tells a story… but a story with a twist… a story that must be finished by the viewer. In other words, my kind of painting…
Here's a closer look at that final element…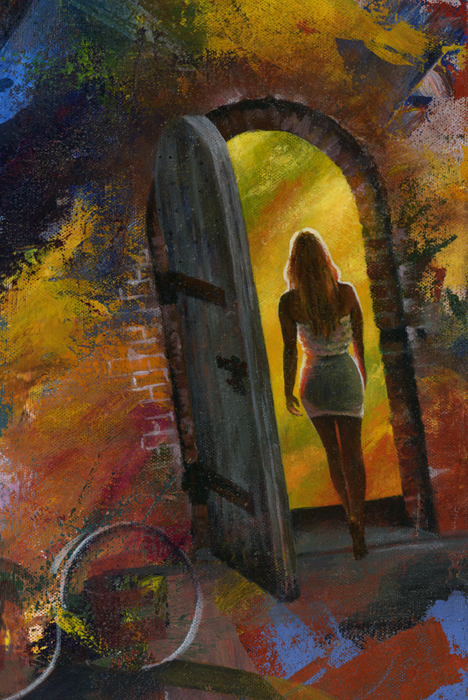 Threshold – detail – approximately 12.25″x8.25″
©2012, Don Michael, Jr.
Now it's time for me to get back to those other projects…
Happy Creating!
I have finished the Ginormous Heart for St. Jude! Finally!
I still lack applying the final protective varnish, but I plan to wait until later in the week before I do that. For now I'll show you the completed sides…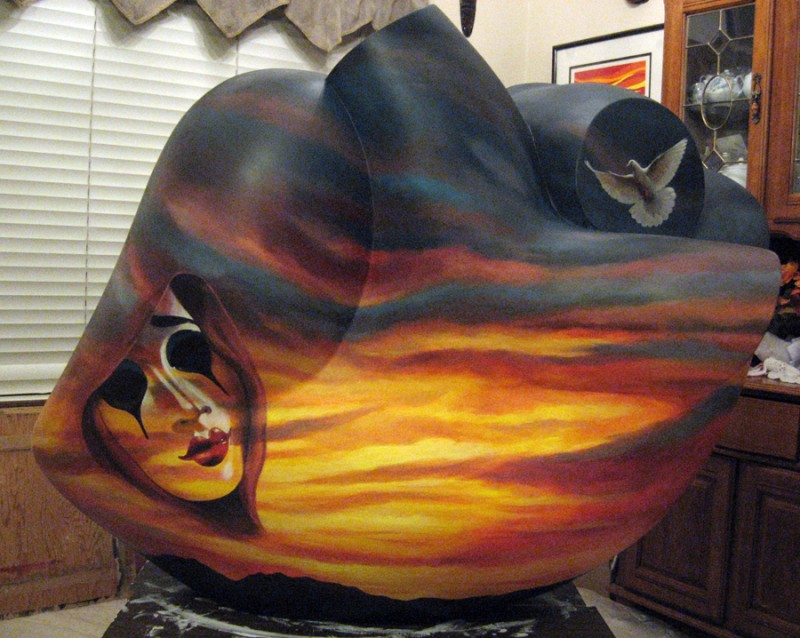 Daylight Dawning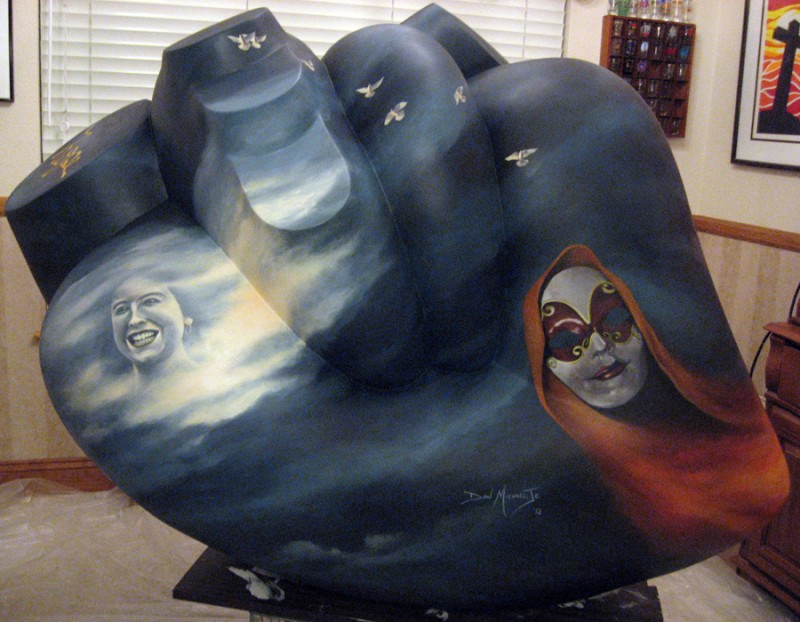 Soaring Spirit
…and the "Hope" title ribbon…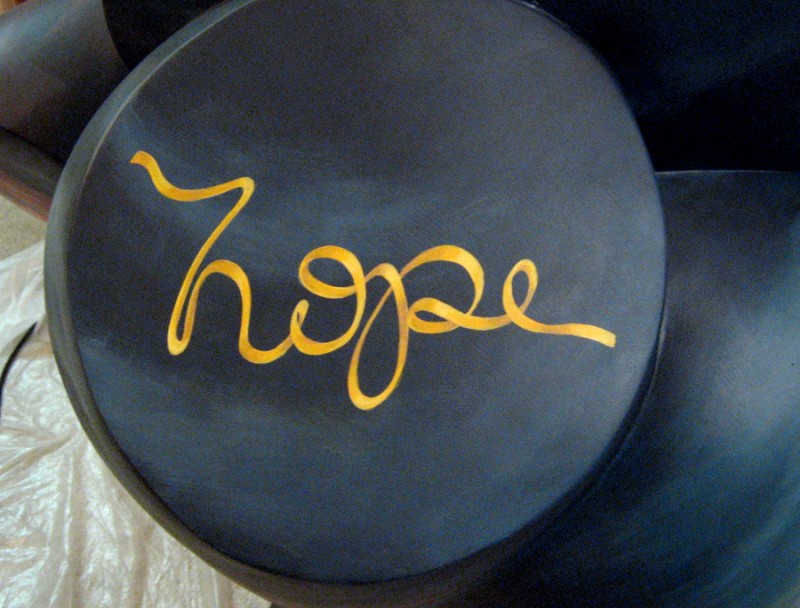 Hope
Another fun creative challenge for this project was coming up with the Artist's Statement for the heart using less than 500 characters. Any of my friends can tell you that I am NOT a man of few words, so that was a really excruciating exercise. Here is what I came up with:
In our darkest hours the hope of a new day sustains us. The rising sun is an affirmation of that hope. We find joy in watching the darkness give up its grasp to the morning light.
Hope is defined as desire with expectation. I hope any who read this will find the desire in their heart to give of their talents, time and treasures to help others.
I dedicate this heart to my son, Donald, who is a cancer survivor, and in memory of my cousin, Melodi Michael Thrift, who lost her battle with cancer as I was painting this heart.
I plan to take the rest of the night off now to decompress. I may even take most of tomorrow off – at least until it's time to go do my Tuesday demo at Michael's. Until then…
…Happy Creating!
Sometimes an idea takes a while to develop, and then suddenly, inspiration! It's as if the answers come to you out of the blue…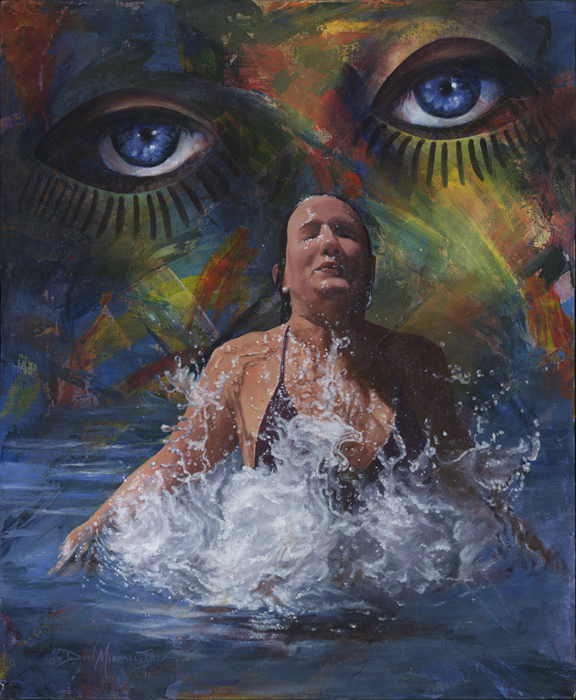 Out of the Blue – 24″x20″ – Acrylic on canvas – Completed 12/8/11
©2011, Don Michael, Jr.
This latest Over the Under-Schmeerings painting was a really fun challenge. I'd been wanting to use the photos that my good friend CJ took of the lovely Melissa jumping out of the water ever since our photo shoot this past summer. I just had to wait for the right moment and the right inspiration. (Thanks, Melissa, for allowing me to use your visage once again. Thanks, CJ, for taking the great photos for me to work from.)
It's been a while since I've taken the time to document the progress of one of my paintings. With Out of the Blue I finally remembered to keep my camera nearby so I could do so. Please indulge me as I share the progression…
Below is the Under-Schmeered canvas that came about while I was painting the Ginormous Heart for St. Jude this past Spring. You can see that it is quite a mess of crazy strokes and colors…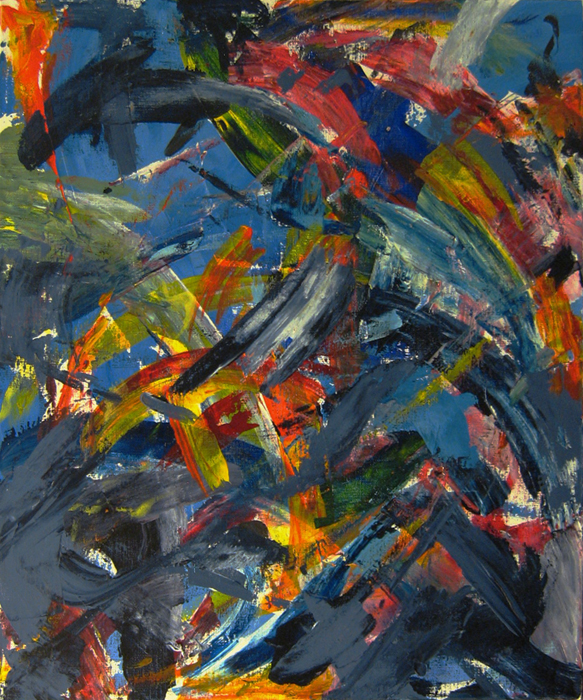 To start the painting I thought it would be best to paint in the eyeholes of the mask and the eyes staring through them first. (It's been fun having these eyes staring out at me in my studio for the past couple weeks.)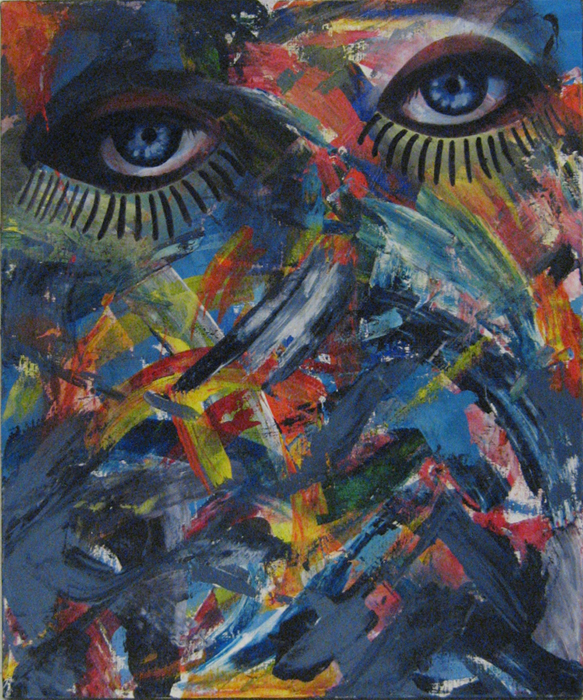 After allowing fear and trepidation to creep into my psyche it took me a few days to get around to it, but I finally started painting in the figure…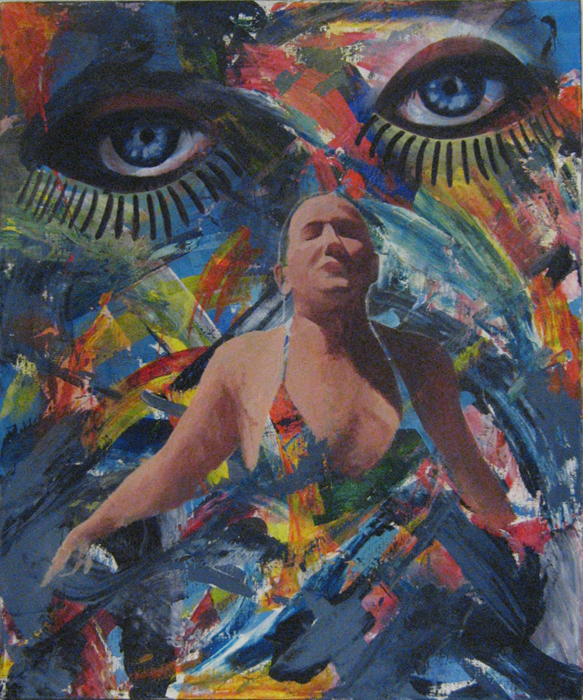 After a good night's rest I looked at what I had done and really started getting excited about where the painting was going. At this point it was time to finish blocking in the figure and then bring in the shapes of the splashes…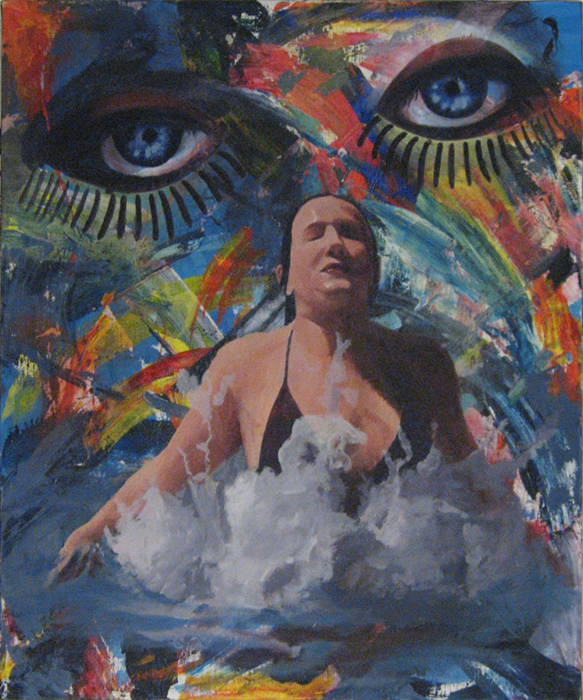 With the shapes of the splashes blocked in, it was then time to layer in the shadows across the figure…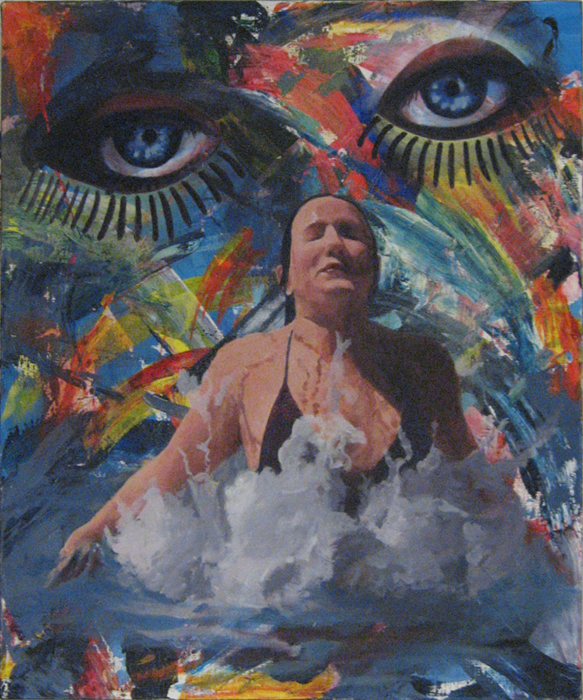 …followed by hours and hours of layering in the gradually brightening splashes.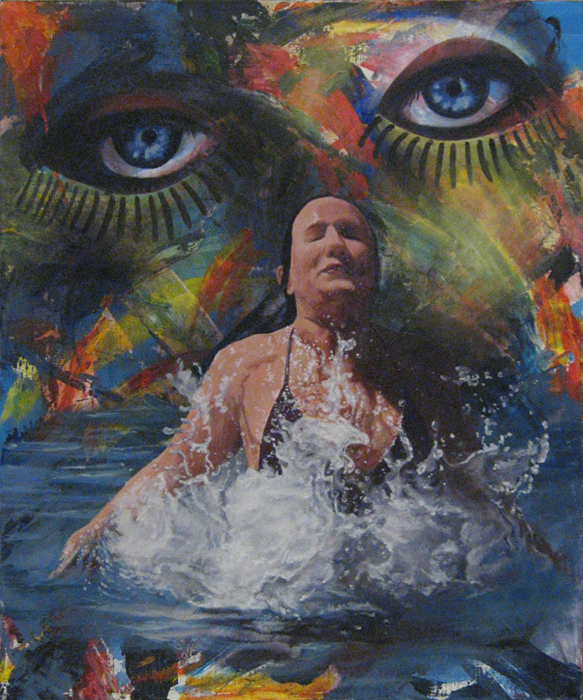 At this point I was fairly satisfied with what was happening with both the figure and the water. Now I just wanted to push the background back a bit to make the emerging figure really stand out. I also did a little fine tuning around the eyes. Here again is the final result…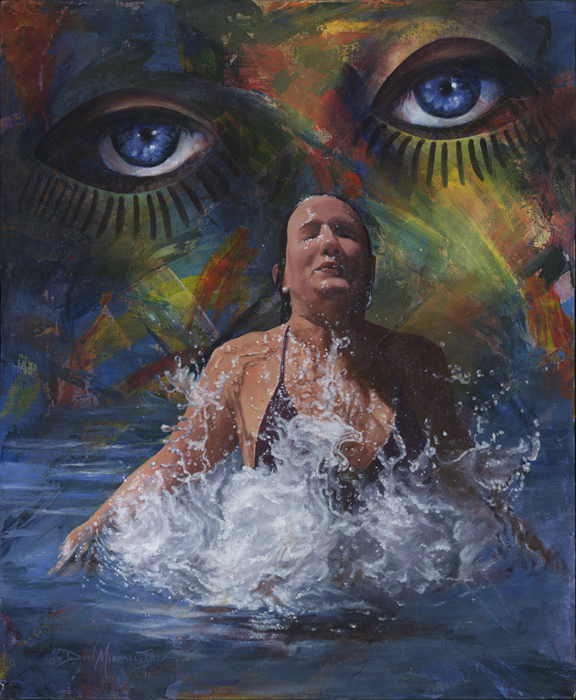 All images ©2011, Don Michael, Jr.
Wow, is this thing I do fun! I'm ready to go do some more…
Happy Creating!
As a high school freshman in White Deer, Texas I discovered the tangy and delicious Spree candies. The first time I ever saw that multi-colored foil-like roll of candies in the vending machine I decided it was worth the risk of a quarter to see just what they were about. Wow, was I glad I tried them. Like their slogan says, "It's a kick in the mouth"! For the rest of that school year there was usually a roll of Sprees in my pocket.
With the memory of these tangy treats in my mind I started on a new sub-series of palette knife paintings that I'm calling my Eye Candy: Sprees. Here is the first in the series…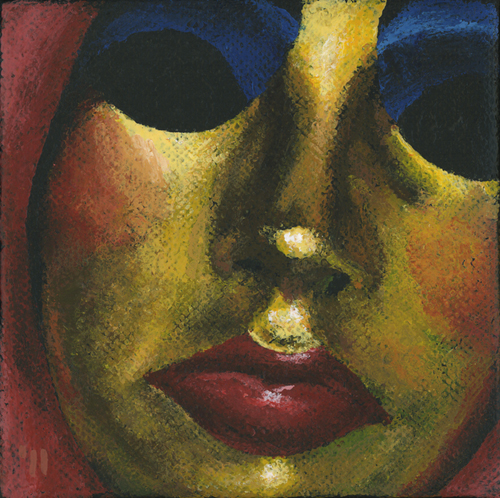 Cherry Spree – 4″x4″ – Acrylic on canvas – Completed 12/6/11
©2011, Don Michael, Jr.
As for other studio news, I'm getting really close to finishing the Over the Under-Schmeerings painting that I teased last week. I can't wait to be able to share it with everyone soon. Also, the concept for my Ginormous heart for St. Jude is starting to come together for me and I hope to be moving forward with it by early next week. Meanwhile, there's plenty going on to keep me out of trouble…
Happy Creating!
When I was in 7th grade I found out about a delicious candy treat known as Now & Laters, which are individually wrapped taffy squares that come in several flavors. We were living in a rural part of North Carolina at the time and the only place I knew to get them was at a little store called Creech's Grocery which was across the street from our junior high. Of course, we were not allowed to go off campus during the school hours, but with such delectable treats just a few quick steps away rules were broken by yours truly and a few of his buddies. We would pool our moneys and rotate who was going to sneak across. I don't remember if anyone else got caught, but luckily I never was – especially since sure retribution would have been awaiting me at home should my malfeasance have ever been discovered. Ah, the risks we'll take for a few moments of gustatory bliss…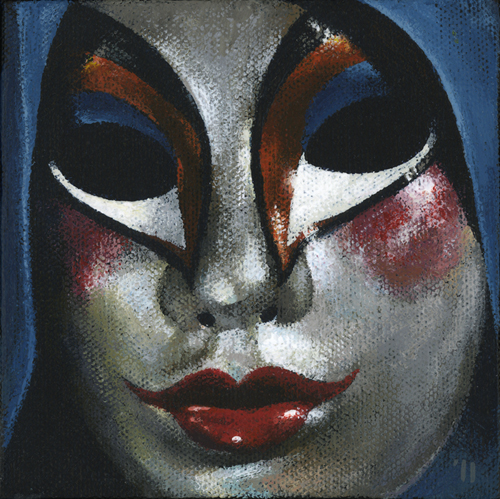 Now & Later – 5″x5″ – Acrylic on canvas – Completed 11/29/11
©2011, Don Michael, Jr.
This little palette knife painting is the 42nd in my Eye Candy series and once again features my mask Rika as the model. I started on this one during my demo at Michael's Arts and Crafts store last night and completed it once I got home.
Meanwhile, I am in the middle of my next Over the Under-Schmeerings (OTUS) painting which can be seen in its infancy below. You can also see the beginnings of another schmeered canvas standing behind it.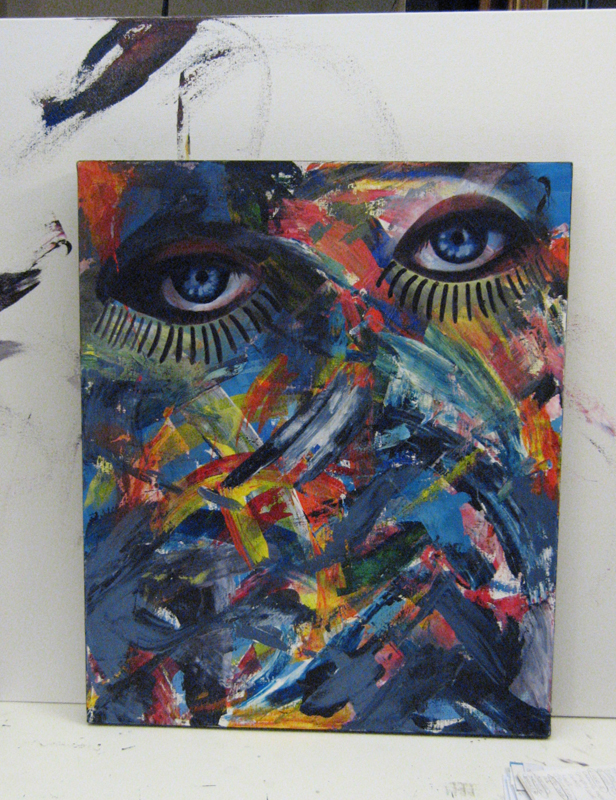 Currently in Don's Studio
I'm excited with how those eyes seem to be looking from behind all the schmeerings. There's a long way to go with the painting, but it's always a good feeling to start off on the right foot.
In other Don Studio news, the Ginormous Heart still remains a frightening white. As much as I look forward to starting on it, I am still resolving my concept and am having a little trouble doing so. Oh, the fear of the unknown can be so petrifying! Meanwhile, my Studio Supervisor has found a way to keep me from forgetting it's waiting for my attention…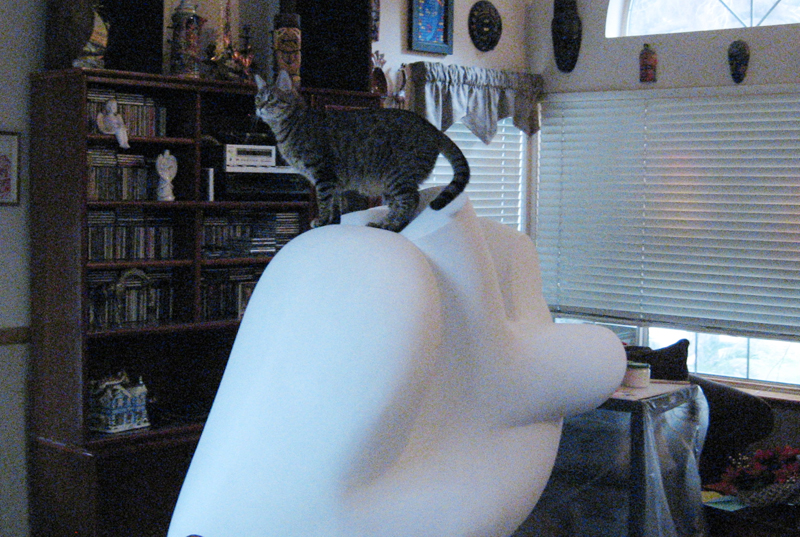 Franz Marc thinks that he is King of the Heart
I expect to have some color on the heart by the end of the upcoming weekend. But, before then it's already time to prepare for First Friday again. (What happened to November?!?!?!) So, the next two days will be spent primarily in preparation, with Friday being all about set-up, exhibit, and break-down. Then, Saturday I'll be teaching my next painting class at Michael's from 2-4pm, followed closely with watching my beloved Oklahoma Sooners playing our in-state rivals Oklahoma State for the Big XII football crown.
I need just a few more hours in my days…
Happy Creating!
During life's journey it's wise to pause at intervals and take note of your surroundings. While reflecting on where you'd like to go, it's a good idea to reference it against where you've been. It helps to keep everything in Perspective…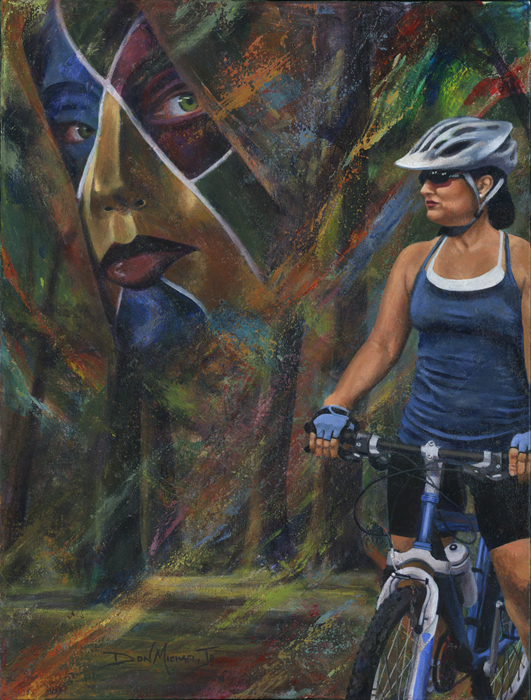 Perspective – 24″x18″ – Acrylic on canvas – Completed 11/14/11
©2011, Don Michael, Jr.
I have sure been having some fun with this Over the Under-Schmeerings (OTUS) series. Each one of these is an entirely new challenge which I find a little intimidating at first – at least until I get started. Then, once I see the images start to 'arise' from the chaos of the schmeerings there is an excitement that rises within my psyche that completely consumes me until I reach the point at which I finally feel free to sign my name to the finished piece. Once I sign the piece and apply the final varnish I am FINISHED with it and I no longer look at it with the same passion. Instead, I begin to look at it with an eye to how I can do the next one differently – or better. (Uh, oh, I sound like a lascivious prick – pursuing, conquering, and then leaving to look for the next thrill.) How's that for Perspective?
About this specific painting: The mask is one that I created called, Lenny. This is only the second time it has made it to canvas. The lovely lady on the bike is my good friend, Kristine. I can't thank her enough for allowing my favorite photographer, CJ, and me to put her 'through the ringer' one morning early this past summer. I'll bet she put at least five miles on her bike that morning as we kept saying, "Just one more pass". And then, what do I do? I use the shot of her resting for a moment between runs. I know, I'm not very nice…
Thanks, Kristine!
Hey, what's that I hear? I think my next Over the Under-Schmeering (OTUS) is calling. The lascivious prick must return to the studio…
Oh, but wait! First I have a demo to do this evening at the Michael's Arts & Crafts store on North Fifth in North Las Vegas. I'll be there from 4-7pm. Come by and see me if you're in the area. Then it's back to my studio where the Ginormous St. Jude's heart will be delivered tonight. OK, maybe then I can get back to my lascivious activities…
Happy Creating!
<< Previous Page - Next Page >>