On April 3, 2009, Three Square, an organization in Las Vegas dedicated to ending hunger in Southern Nevada, is having its annual DISH fundraising event. This event features some of the top chefs and entertainers from Las Vegas. As part of this fundraiser Three Square is featuring Signature Dish which is an annual juried art exhibition of local artists, celebrity chefs and top entertainers who have been invited to present their artwork on dinner plates which will then be auctioned off. I feel honored that I was invited to take part in this year's Signature Dish. You can see more info on this event by clicking here: Three Square Dish Event.
This year's theme for Signature Dish is "Passionately persuing a hunger free community". Since my focus has been masks for several years I chose to include one in my submission. The mask featured on my plate is of a Roman copy of a Greek drama mask. I wanted to illustrate hunger and thought the best way would be to imply a hot burning feeling behind the mouth, which obviously then shows behind the eyes as well. The burning in the eyes made me think of John Steinbeck's line in The Grapes of Wrath which goes, "In the eyes of the hungry there is a growing wrath". I feel this is a very relevant statement regarding both hunger and what is going on in our country on so many levels right now.
The plates will be judged on February 26th and then be on display March 5 – 31 at the BeauxArts Gallery in the Arts Factory here in Las Vegas. They will then be auctioned at the DISH event on April 3rd.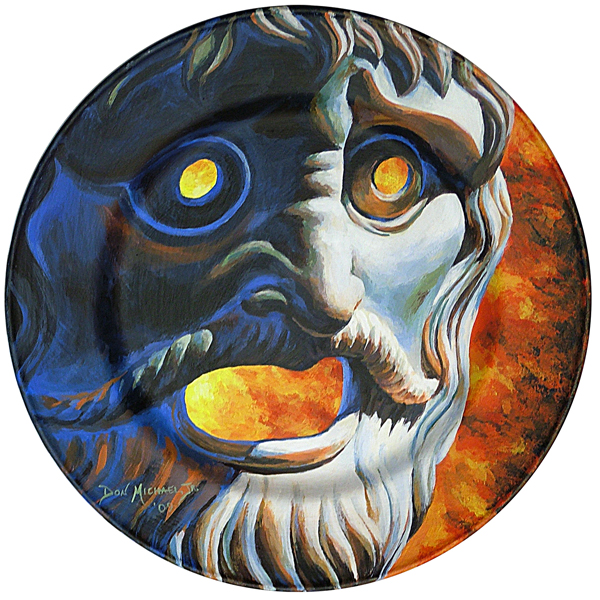 Hunger Pangs – 12″ Diameter – Acrylic on Ceramic Plate – Completed 2-15-09
©2009, Don Michael, Jr.
"So, How's the Water?" It's a question all of us have heard at some time in our life when we get into the pool, stream, lake or ocean first. Is the water too cold? Is the water too warm? Should I join you? Well, I suggest we ask this same question of the water we drink, cook with, bathe in, and water our plants with. Is it safe? Is there enough of it? So, how's the water?
This painting features what I call an alien skull mask. It's not quite the shape of a human skull, made out of very reflective, transluscent plastic. I hope the symbolism of putting it against a sunset over water is obvious even without the title.
Once again I started this piece using my palette knife and a natural sponge, but found myself going to a brush much sooner than on the past two. The plasticity of the mask demanded it.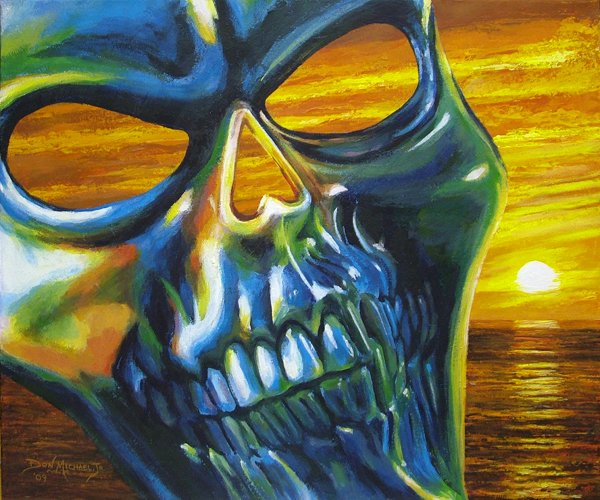 So, How's the Water? – 20″x24″ – Acrylic on Canvas – Completed 2-8-09
©2009, Don Michael, Jr.
Recently I delivered two of my paintings to the Contemporary Arts Coalition Gallery here in Las Vegas as submissions into their 20th Annual Juried Art Show. The two paintings were "To Know Me" and "Silence Gives Consent". A week later, I received an email telling me their regrets that my work was not chosen and I needed to come pick them up. With a heavy heart I headed down there this past Monday. When I got to the gallery I noticed that "Silence Gives Consent" was hanging on the wall and thought that rather odd – since it was rejected. I told the curator I was there to pick up my work and she asked which ones were mine. I told her one of them was hanging on the wall, at which point she said "Well, that means it was accepted into the show". Imagine my delight and confusion… When I told her about my email she said that she had made a couple mistakes with the email and luckily mine was for 'the good'. Apparently she had emailed one guy that he was accepted and when he came to pick up his other submission realized both were not accepted. OUCH!
With all that said, I am proud to say that "Silence Gives Consent" will be hanging in the CAC 20th Annual Juried Show from 2/5/09 thru the end of March. I'm really proud of this piece and what I was trying to say with it (I wrote about it here: http://www.donmichaeljr.com/blog/2008/08/22/a-rose/).  I had tried – unsuccessfully until now – to get it hanging in a juried show. Several jury fees later I can now say that perserverance does pay off.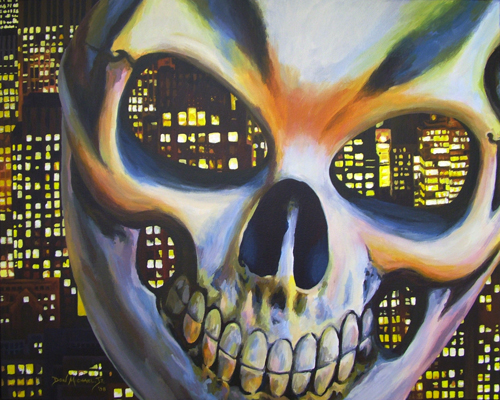 Silence Gives Consent – 24″x30″ – ©2008, Don Michael, Jr., is hanging at the Contemporary Arts Coalition Gallery inside the Arts Factory at Charleston and Main in Las Vegas, Feb. 5th thru March 28th, 2009.
We all need a place where we can get away from it all. A place where we feel safe. A place where only good things happen. A place where we can rejuvenate. A place of peace. A place we call "Sanctuary". Lately, that place for me is in my studio, late at night, when I'm on a roll. My mind is free. My spirit is free. The noise of the world cannot get thru. There are no worries, there are no fears, there is no doubt, there is no sorrow – there is only peace. If only I could bottle it…
"Sanctuary" is of a mask sent to me by a friend while he was on shore-leave in Jebel Ali, a port town near Dubai in the United Arab Emirates. It is another one of my favorites to paint – this being its 5th time to appear on canvas. Recently I had painted a waterfall from above in "Where's the Easy Button" and decided I wanted to try one from below. I have always loved hanging out in the pool below a falls on a hot summer day. The coolness in the air, the constant roar of the falls, the refreshingly brisk water – totally Eden-esk. I wanted to convey the sense of "getting away from it all" and thought this represented that feeling quite well.
Once again, I used a palette knife and natural sponge to create texture in laying in the foundation, followed up by laying in the bulk of my composition using a palette knife, and finished with a paintbrush to draw out the details. The natural progression mentioned in my previous post continues…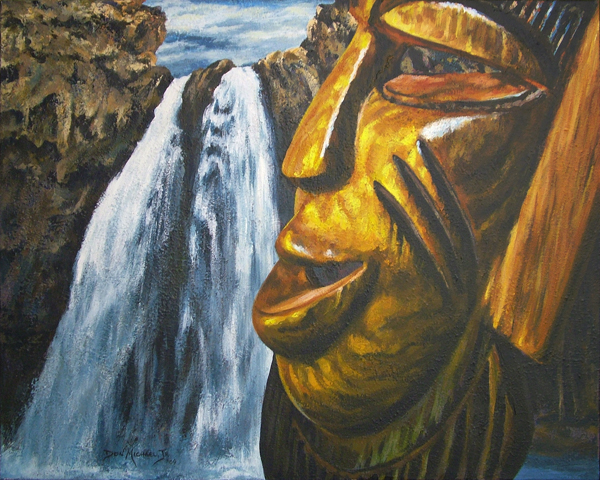 Sanctuary – 24″x30″ – Acrylic on Canvas – Completed 1-31-09
©2009, Don Michael, Jr.
One of the darker sides to living in Las Vegas is seeing the number of people who have succumbed to their inner demons. Addiction is something that gets its teeth into people and they find themselves spiralling out of control. As I was painting my most current piece this was the train of thought that I found myself on. As ominous looking as the subject matter of this painting is, I really didn't want the title to end up too dark, so I started thinking about all the addictions people can have besides the obvious biggies. To me an addiction is defined not only by its control over the person but the impact it can have on their health, their finances and their family. Besides the obvious addictions to alcohol, drugs, tobacco, gambling and porn, you can be addicted to food, TV, tanning, candy, soda… you name it, you can become addicted to it. So, I went to the thesaurus and something that popped out to me was the slang term "Sweet Tooth". I knew immediately I had found the perfect title. So far, everyone who has heard the title of this one gives a little chuckle, as I hope you will.
This painting is of my son Eric's Halloween mask from this past year. He loves the scary skull stuff, as you'd expect from most 14-15 year old boys. I really layered the paint on with my palette knife and then used a natural sponge to create mega-texture. After using my palette knife to bring out the majority of the mask's features I picked up a paint brush for the first time in a while and got busy with the details. I love how the earlier textures affected the flow of the paint coming from my brush. I had mentioned in my previous post that I was starting to really miss using a brush, and I think this is the natural progression. We'll see…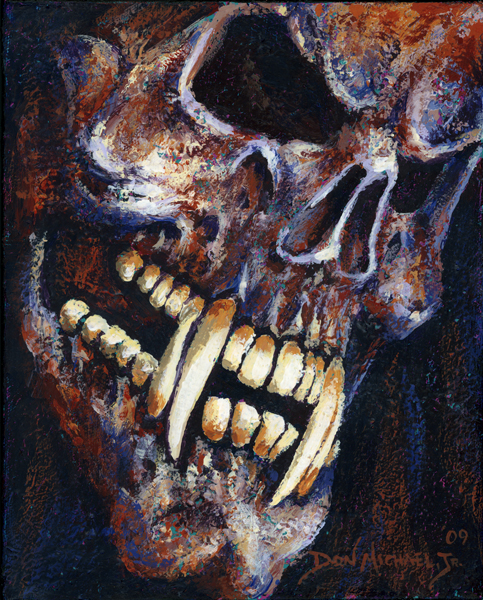 Sweet Tooth – 10″x8″ – Acrylic on Canvas – Completed 1-24-09
©2009, Don Michael, Jr.
For my latest painting I didn't want to say anything heavy. I realized I've been dwelling too much on all the negativity in the air of late. So, I just painted. It was time to mentally, emotionally and physically take a "Breath of Fresh Air". So, I did…
To me, there is nothing that compares to the smell of leaves as they are just starting to fall from the trees in Autumn. What makes the smell seem even sweeter is the crispness of the air. I can almost feel it in my nostrils as I type this.
With this painting I further explored the use of the palette knife. It's almost like I'm sculpting a painting. I glob and dab and smear and layer the paint onto the canvas. Then I scratch and push and wipe the paint that's on the canvas. It is really a lot of fun. An interesting thing occurred to me as I was wrapping up this painting – I'm starting to miss using a brush. So, who knows what's next? I know I don't…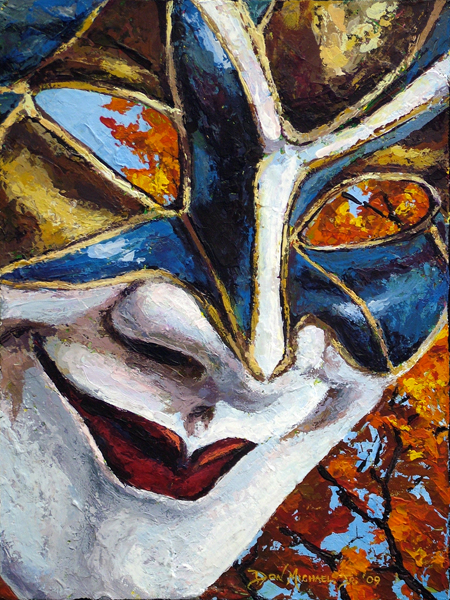 Breath of Fresh Air – 16″x12″ – Acrylic on Canvas – Completed 1-19-09
©2009, Don Michael, Jr.
The currents of life continually push me towards the precipice. I'm still fighting those currents, but sometimes I feel my toes kicking out over thin air. Maybe I can start gaining some ground soon… Boy, am I tired, though…
"Precious Time" is a painting from a photo of a Venetian mask sent to me by one of my Artscuttlebutt.com pals, Painter Patty. I had never painted anything with this much rich and vibrant red in it. What a challenge that ended up being. To keep the red rich while creating the nuances of value was one of the hardest painting exercises I had put myself thru in quite a while. I loved the challenge, though, because without it I'd get bored…and where is the fun in that?
BTW, This painting was done entirely with a palette knife. I am sure having some fun with that tool.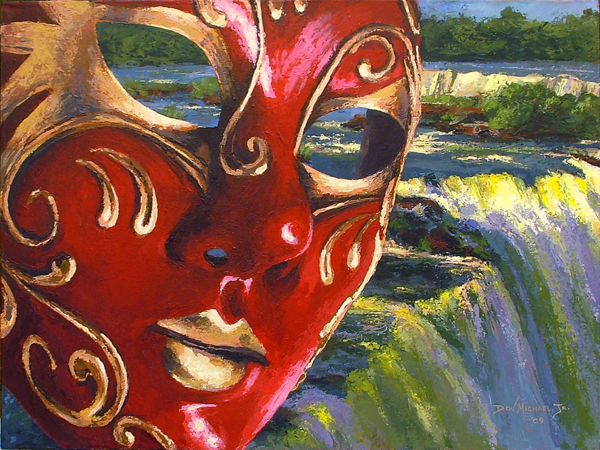 Precious Time – 18″x24″ – Acrylic on Canvas – Completed 1-13-09
©2009, Don Michael, Jr.
For the past month-and-a-half my painting "Afterglow" has been hanging in Palatine, Illinois in the "Life's Unique Journey '08" juried exhibition of the Northwest Cultural Council. I'm proud to say it received an Honorable Mention!!! I'd like to thank the juror, Theresa J. Parker, for including me in the exhibition and awarding me this honor.
You can see "Afterglow" and the other winners on the Northwest Cultural Council's website. The direct link is:  http://www.northwestculturalcouncil.org/concerts.html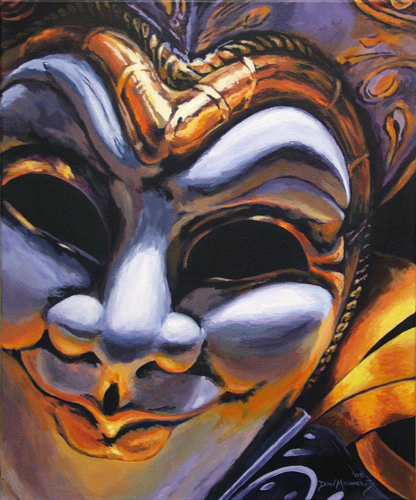 Afterglow – 20″x16″ – Acrylic on Canvas – Painted 6-7-08
©2008, Don Michael, Jr.
Sometimes you just have to laugh to keep from crying. Of course, then hysteria is probably just a giggle away…
This is of a Korean "old man" mask that I picked up at Disney's Epcot Center several years ago. I've painted "him" several times now, and anticipate painting him again in the future. I love his sharp angles and the expressive nature of the carving. On this painting I decided it was time to explore the triad color scheme using secondary colors, which I hadn't done in a while. I chose a combination of colors that was new to me. My palette consisted of Phthalocyanine Blue, Yellow Oxide, Titanium White and Permanent Magenta from Windsor & Newton. Using the Magenta as my red made it very difficult to mix to my darkest colors. I wasn't sure at first if I was satisfied with the final results…but, I find it's growing on me.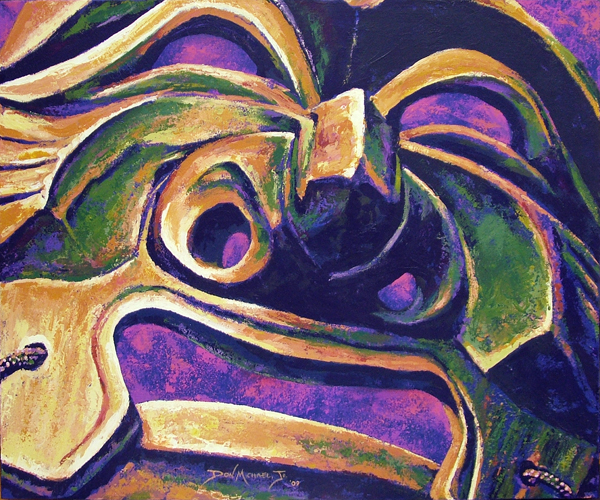 No Laughing Matter – 20″x24″ – Acrylic on Canvas – Completed 1-5-09
©2009, Don Michael, Jr.
I have always enjoyed contrast. Whether it be color, or value, or subject matter, I like to put things together that at first seem like they don't belong together- but when viewed more closely draw us in. I placed a Venetian half-mask on a Hawaiian Tiki mask for my most recent painting and had a blast coming up with a composition that relayed a story for them. I liked the idea of something ugly trying to hide itself behind a veneer of beauty. I chose a background of deep space with many stars to symbolize both those who are already enjoying stardom and those who are enjoying a meteoric rise in popularity or power. As I painted this piece I reflected on how everyone tries to hide who they really are, usually as a defense mechanism. But, then I had to creep myself out by thinking of the term "Cult of Personality" and what that phrase really means.
As people ascend to power or popularity they do everything they can to distract us from who they really are. They put up a smoke screen to keep us blind to their real intentions or their real personality. If we get too close to figuring out who these people really are they put every media at their disposal into action to distract us with propaganda and misdirection. We see it in so many arenas: politics, the movie industry, the music industry, religious leaders, corporate leaders, the list goes on… If we were to get behind the veneer of beauty, celebrity, self-righteousness, and contrived back-stories in those we adulate I'm afraid we would not like what we see. And then we would have to question our allegiance and devotion to these individuals….  Now you can see why this thought creeped me out.
What's an artist to do? A painting that started out as a fun exercise developed into something with deep and dark connotations. Oh well, so be it…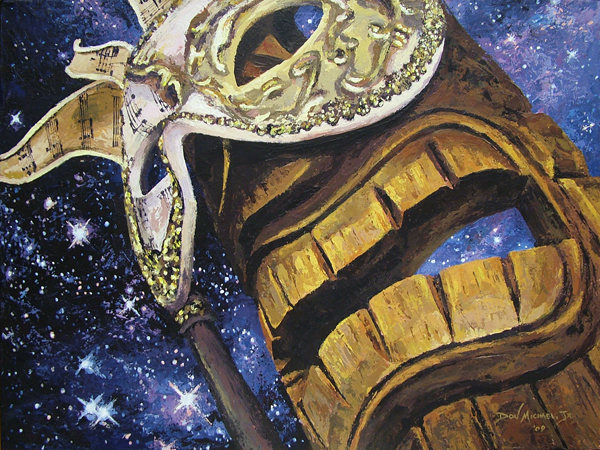 Cult of Personality – 24″x18″ – Acrylic on Canvas – Completed 1-1-09
©2009, Don Michael, Jr.
<< Previous Page - Next Page >>