Twenty-six years ago, my wife and I were excited to be expecting our first child. Below is the Christmas card I created that year to share with family and friends which celebrated our good news…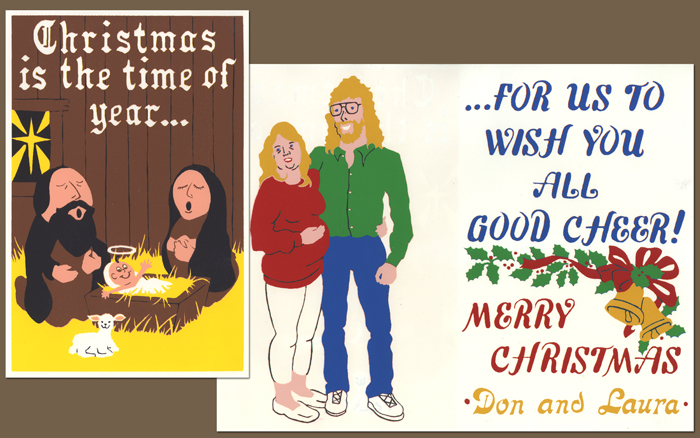 Family Christmas Card 1987 – Hand-pulled silkscreen on archival paper
Of course, the next year our precious boy had to be features significantly in the Family Christmas Card…
Family Christmas Card 1988 – Hand-pulled Silkscreen on Archival Paper
For nearly every year after, the Family Christmas Card featured something about our family. The Christmas after our second child arrived found me experimenting with a more graphical style. Of course, I still had to feature our boys on that year's card…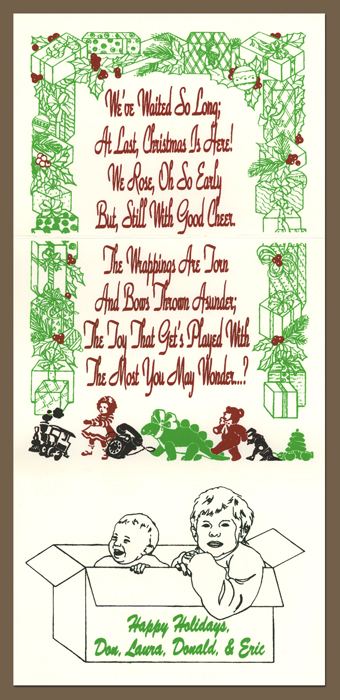 Family Christmas Card 1994 – Hand-pulled Silkscreen on Archival Paper
When those boys' little sister was born, there was no doubt that she would show up in that year's Family Christmas Card. At this point, I was beginning to experiment with Photoshop as my primary tool for creating the cards. This is what I came up with…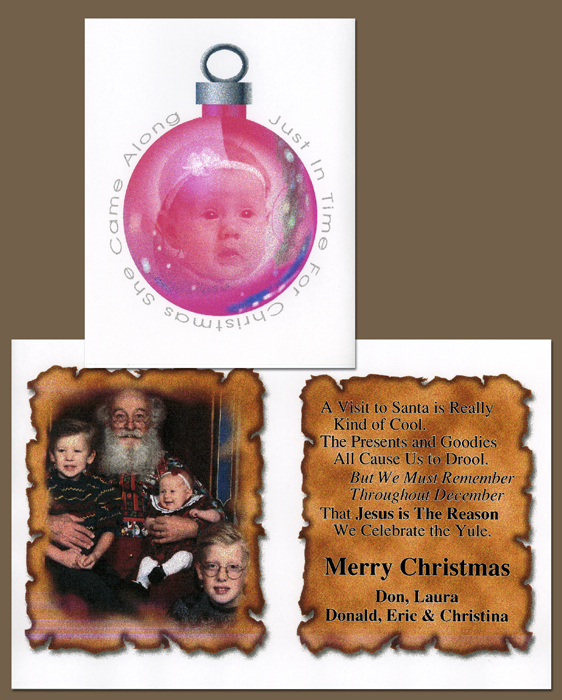 Family Christmas Card 1998 – Inkjet Print on Bright White Paper
Through this yearly tradition I have shared the love of our family, while keeping everyone up-to-date on things going on in our lives. During the past twenty-eight years I have created a Family Card each Christmas – until now.
As many of my blogging friends know, we lost our oldest son earlier this year. I cannot find it in me to create a card of celebration while my heart continues to ache so much with our loss. However, I will not allow the pain to overshadow what Christmas is really all about.
Christmas celebrates that momentous day when God became man in the form of His son, Jesus Christ. Because of God's grace we now have the opportunity to spend eternity with Him. All we have to do is believe that Jesus died for our sins and then arose from the grave three days later. When we accept Jesus Christ as our personal savior, we are given the greatest gift ever, God's Grace. The Bible tells us the whole story, but Jesus summed everything up beautifully in John 3:16, where He tells us, "For God so loved the world, that He gave His only begotten Son, that whosever believes in Him should not perish, but have eternal life."
Happy Creating!
23 years ago I was inspired to create a series of silkscreen editions by my then 2 year-old son. Any time music would play, which was constantly in our home, he would break into dance. This is one of the pieces that came out of that series…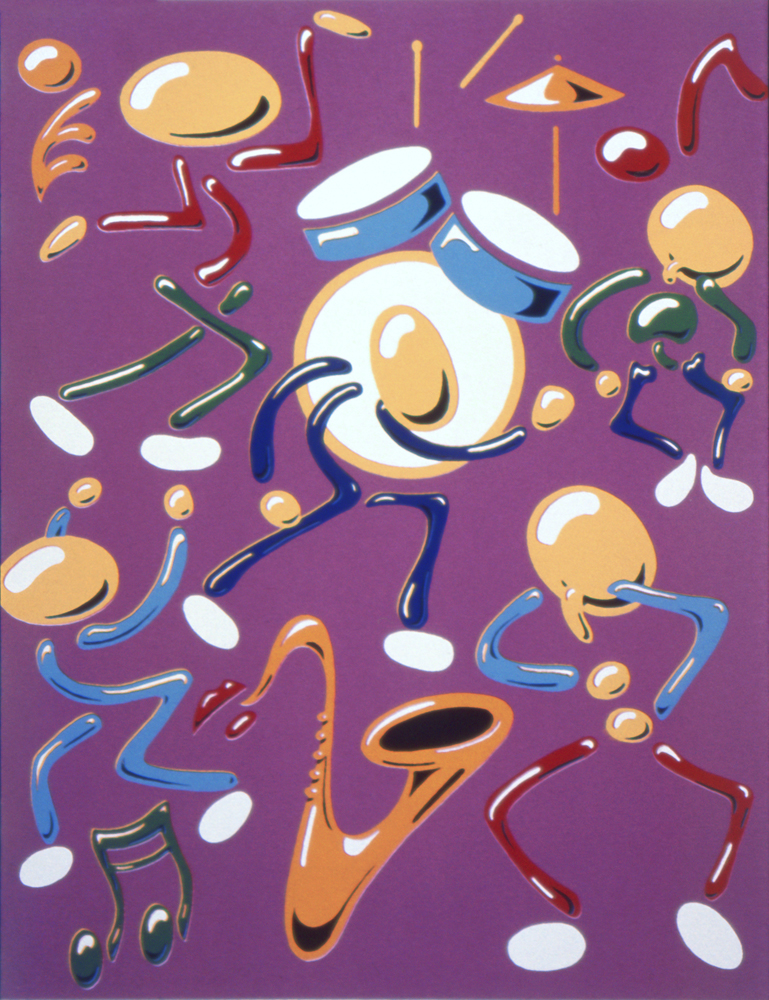 The Boy Loves to Dance – Serigraphy (Silkscreen) on Paper – 14.5″x12″ – Completed 4/90
©1990, Don Michael, Jr.
On July 18, 2013 at 4:35pm that same son's spirit left this world and is now dancing in the presence of our Heavenly Father. My family and I miss him tremendously, but we know he's in a better place and is no longer in pain.
His loss came upon us suddenly and we are still reeling. He was a big, strong, vibrant young man who lit up whatever room he walked into. He had a gregarious nature that drew everyone who met him into his orbit with smiles and laughter. Regrettably, melanoma, when it enters into a person's body, is an insidious beast that takes no prisoners. In our son's case by the time it revealed itself it was already too late.
We will miss you, Donald, for the rest of our lives.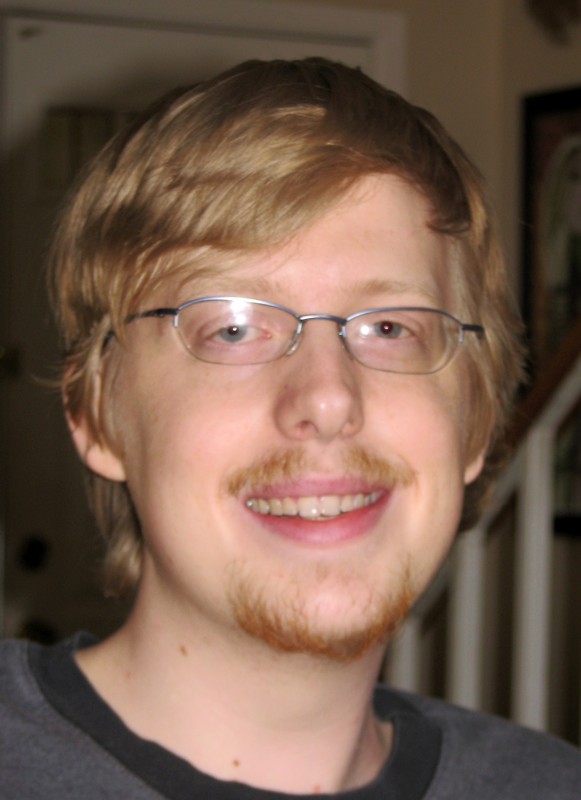 Donald Lee Michael III          1/23/1988 – 7/18/2013
Soon I hope to be able to return to my studio. As I'm sure you can imagine, I am currently in a state of shock and mourning which is really impacting my creative flow.
God Bless you all. I think I'm going to go hug Donald's mother, brother and sister now…
Once I finished this little palette knife painting and gave it a good look I realized that it had to be named after something crisp, fresh and cool. The first candy flavor that came to mind was spearmint. That wasn't quite cool enough for me, though, so I decided to name it after the Life Savers candy of that flavor…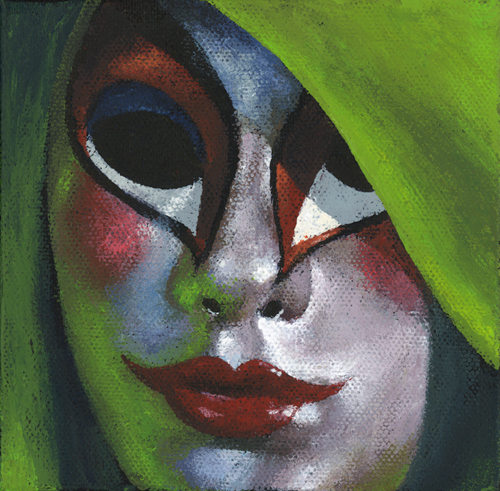 Spear-O-Mint – 5″x5″ – Acrylic on canvas – Completed 7/12/12
©2012, Don Michael, Jr.
I didn't realize until I was documenting this latest Eye Candy painting that it has the distinction of being the 300th painting in my mask series! I cannot believe I've done that many paintings, much less of the same subject matter.
On a historic note, the first painting I ever created which included masks was finished in September of 2002. That painting has never been seen outside of my household. In honor of today's milestone I think I will dust it off and finally share it.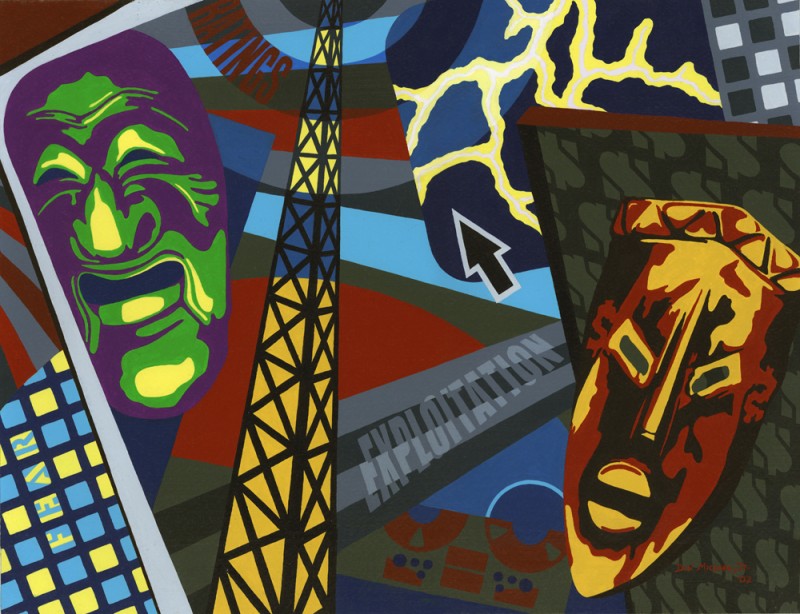 News at Eleven – 13″x 17″ – Acrylic on Arches W/C Paper – Completed 9/18/02
©2002, Don Michael, Jr.
Creating News at Eleven helped me stay sane at a tumultuous time in my life. I worked through a lot of angst during its creative process. (On a personal note, it was the first real painting I had done at the time in over 7 years.) News at Eleven is such a personal statement that I chose to keep it under wraps until now. People who have followed my work for a while may remember that I've always said Incongruous was my first mask painting. I even wrote about it here in one of my earliest posts. Maybe I should abridge that statement to be, Incongruous was the first mask painting that I was willing to share…
…well, I guess all that really matters is I've sure done a lot of paintings of masks. I've had so much fun in the process that I don't see any reason right now to end the streak. So, I think I'll head to the studio and work on the next one.
Happy Creating!
Last night I finished a new Eye Candy painting. It's hard to believe that it's been over a month since I did one. Where has May gone?!?!?!?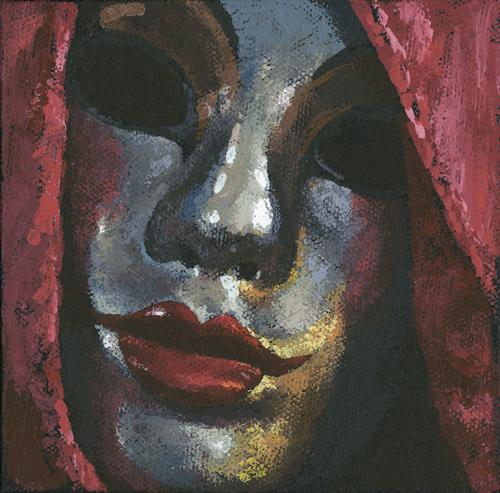 Truffle – 5″x5″ – Acrylic on canvas – Completed 5/27/12
©2012, Don Michael, Jr.
As I was preparing to post about this new painting I accidently clicked on a post from my archives which happened to be from exactly three years ago. The painting that I saw there made me decide to look at what I'd done around the same time each year for the past 9 years. I found it to be a great exercise and thought I'd share the results. Here they are in chronological order… (All are acrylic on canvas)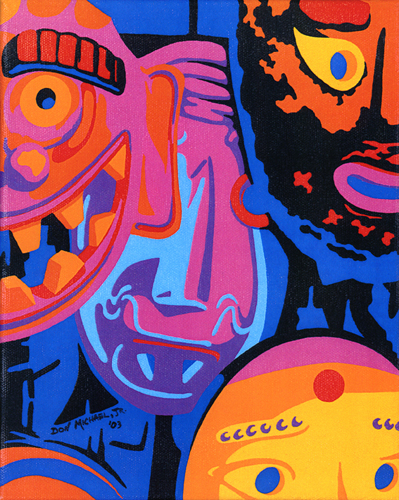 Introspective – 10″x8″ – ©2003, Don Michael, Jr.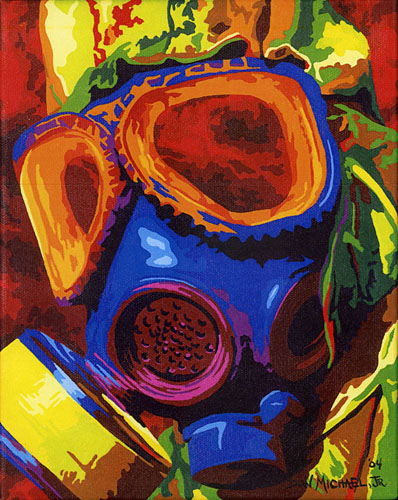 Insanity – 10″x8″ – ©2004, Don Michael, Jr.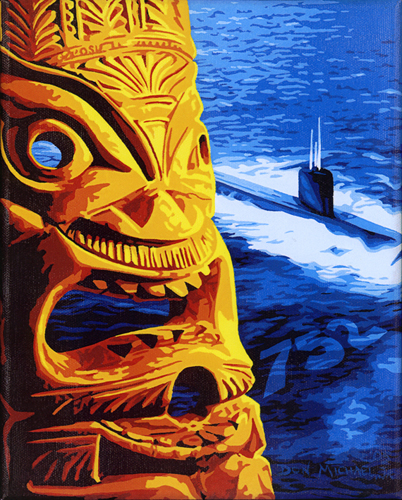 Inspiration – 10″x8″ – ©2005, Don Michael, Jr.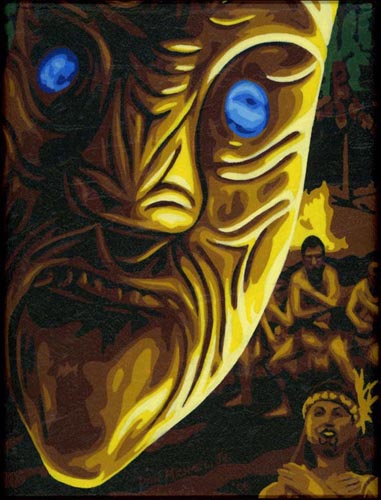 Manaakitanga – 10″x8″ – ©2006, Don Michael, Jr.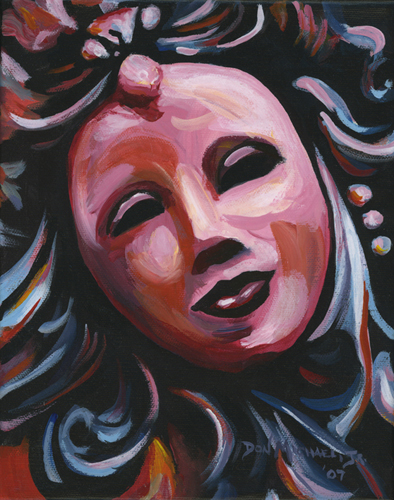 Aphrodite – 10″x8″ – ©2007, Don Michael, Jr.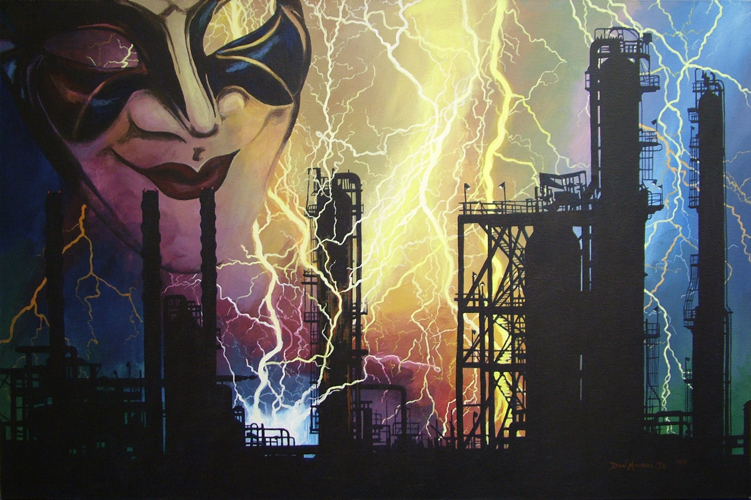 Poetic Justice – 24″x36″ – ©2008, Don Michael, Jr.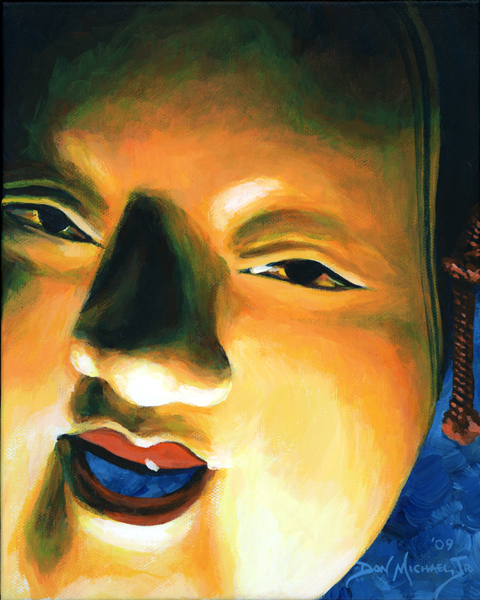 Ghost Stories – 10″x8″ – ©2009, Don Michael, Jr.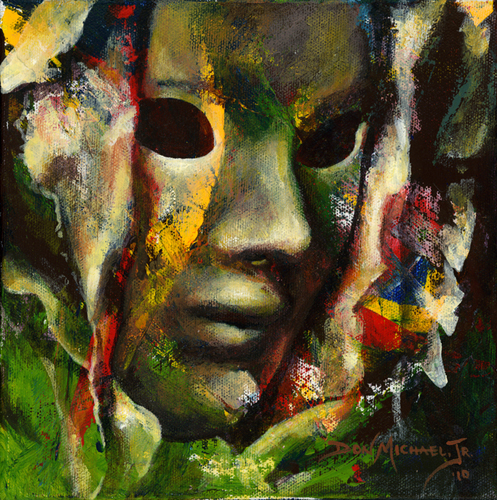 Discovery – 8″x8″ – ©2010, Don Michael, Jr.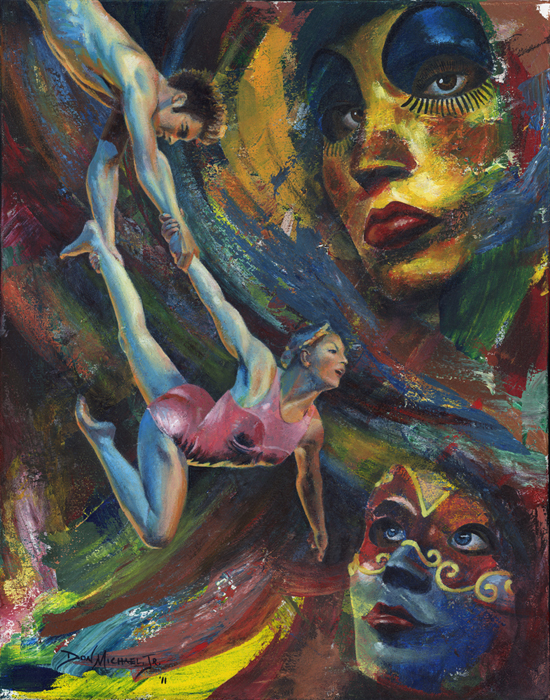 Dare To Believe – 20″x16″ – ©2011, Don Michael, Jr.
It's a lot of fun to look back. I see my willingness to explore new ideas. I see some 'ah ha' moments that informed later works. And, I see the growth that has occurred as I've explored this mask theme.
It's really interesting that each one of these paintings can take me back to events that were going on in my life, as well as emotions I was dealing with at the time. Hmmmm…. I've just realized that my paintings are the perfect diary for me – and, I'm the only person who holds the key.
A side-effect of this exercise is that now I'm especially ready to get back to the studio and get busy…
Happy Creating!
I'm in a computer hating mood right about now. For the second time in just over a year the hard drive in my Mac has died. So, I've snuck into my son's room and logged onto his computer to let all my blogging friends know that I'm not avoiding you, I'm just totally incommunicado right now do to circumstances beyond my control.
Since it's impossible to access any of my files, I think I'll share a painting I did over 2 decades ago of a humpback calf with a title that is quite relevant on several levels for me right now…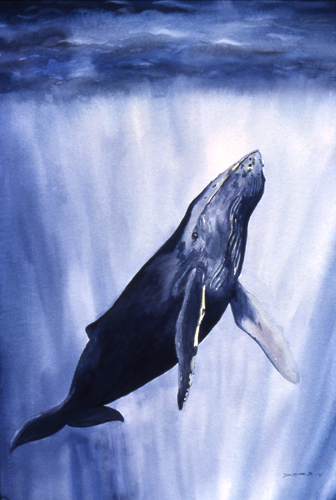 What Will the Future Bring – 29″x22″ – Watercolor on hot press paper
As for what's going on in my studio, I'll have a few images to share once my Mac is running again and I can scan them. So far, I've finished two more Eye Candy: Skittles pieces and I'm about 80% finished with a large Over the Under-Schmeerings piece. I'm also about to start painting on a large 3D piece that has been sitting patiently awaiting my attention for months.
Tomorrow I'll be teaching an acrylic workshop at Michael's from 2-4pm. If you're in the Las Vegas area, feel free to stop by and have some painting fun with me and the rest of the class.
That's it for now. I have no idea how long it will be before I can log back on, but know that I'll be thinking of you all.
Happy Creating!
Many of my blogging friends may have noticed my absence during most of the month of July. Even though I continued checking out what everyone was up to in the art world, I was unable to socialize. I was still creating, but it was only work that allowed me to go to a 'happy' place during the creative process. I thank God that I had started on my Eye Candy series during the month of May, for I would not have known what to do with myself in July. I also thank God that I had demos and classes to teach at Michael's which gave me blocks of time for total distraction.
On July 7th our oldest son, Donald (23), was diagnosed with malignant melanoma. For the first time as a dad I was faced with a situation for which I felt completely helpless. My boy had the "C" word! That same little boy I had immortalized in a serigraphy edition 21 years before was suddenly having to face his own mortality.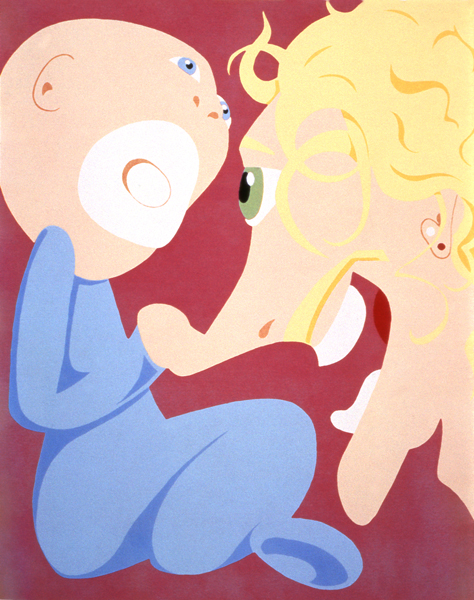 Daddy Bonding – 14″x12″ – Serigraphy edition on paper – Completed Jan. 1990
©1990, Don Michael, Jr.
After my wife and I had a good cry together we got busy. The first thing we did was pray. Then we asked others to pray with us. We believe those prayers started the healing process in our son. Those prayers also found us favor with the right resources. Even though our son has no insurance he found himself under the care of the perfect surgeon. With a little juggling of finances Donald was getting a PET Scan just 8 days after his diagnosis. Our prayers were once again answered in that the PET Scan results came back negative.
Even though the PET Scan results were negative, there was still the need for surgery to remove the area around the original biopsy area and the draining lymph node(s). With more creative juggling of finances, and my wife's diligent work on the phones, we were able to get Donald into surgery less than 3 weeks after his diagnosis.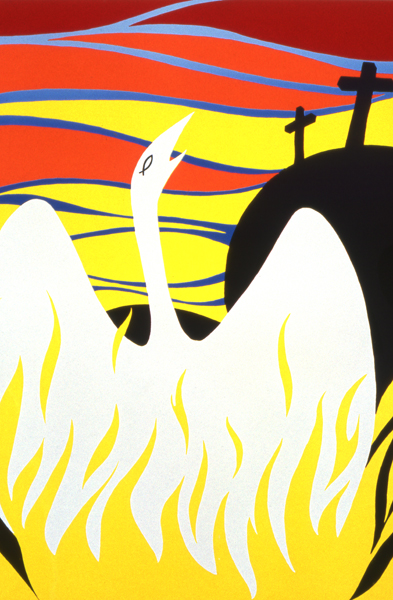 Resurrection – 16″x13″ – Serigraphy edition on paper – Completed Nov. 1992
©1992, Don Michael, Jr.
Today Donald went in to have his stitches removed and to get the lab results back from the surgery. We thank God that we can report that the melanoma is gone and the lymph nodes checked out clean!!! The relief that Donald, my wife, and I felt upon hearing this news was a palpable presence in the room. You could see the tension draining out of our bodies. I anticipate some deep sleeping going on tonight.
God is good!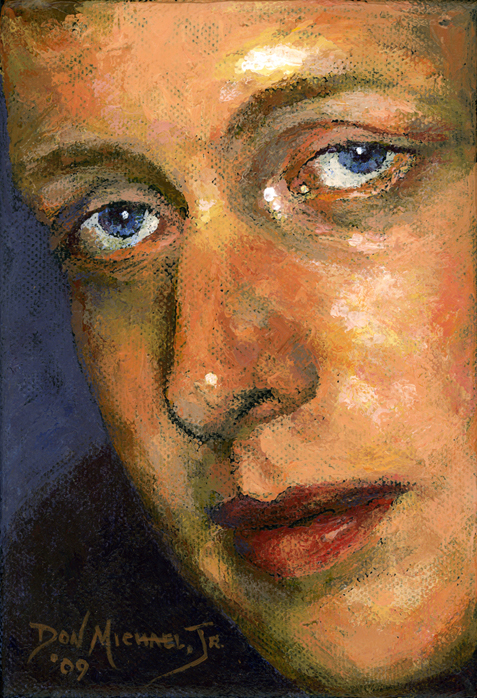 D3 – 7″x5″ – Acrylic on canvas – Completed Dec. 2009
Now I need to go blow my nose and then it's time to head back to the studio.
Happy Creating!
The David Michael Production Mill continues to churn out stories – which means I continue to churn out covers for them. Here is our latest collaborative effort…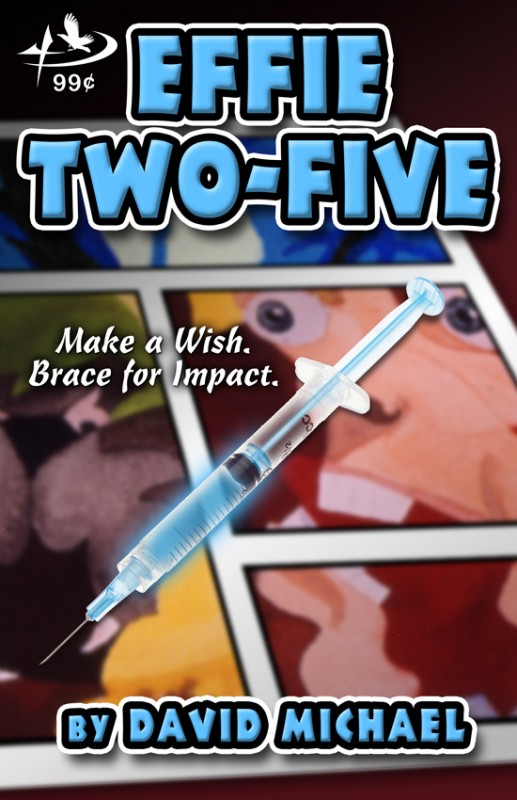 Effie Two-Five – Written by David Michael – Cover Art by Don Michael, Jr.
©2011, David Michael
Here's what David wrote about this one: "Make a wish. Brace for impact. Find a vein and take a hit of the new–and highly illegal–wonder drug with the street name "Effie Two-Five", and your dreams will come true. You can be faster. Stronger. Anything you want to be–even a porno superhero. But be careful. Effie two-five has a serious learning curve. And you should have a lot of munchies handy. (8300 word short story)."
This was a fun cover to come up with. David wanted a comic book background, and since we have no rights to any comic book images I had to come up with something of my own. So, after banging my head against the wall for a while I had the epiphany to use one of my old works. I started going through my files and once I saw this one from 1986 I knew I had my 'comic book'…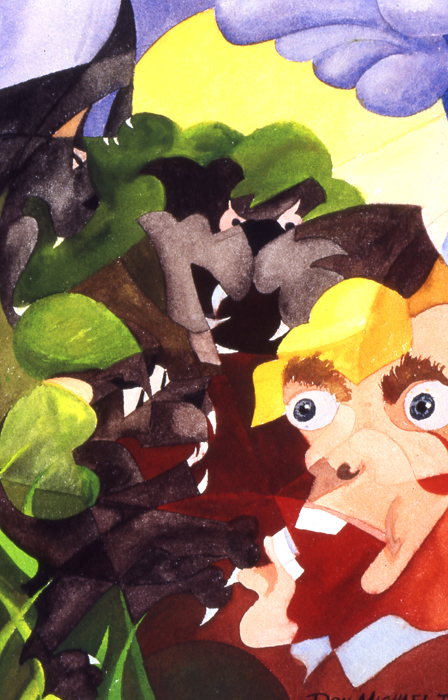 Bad Moon Rising – 14″x10.5″ – Watercolor – ©1986, Don Michael, Jr.
I just can't keep my paintings out of his covers…
Speaking of paintings, I got one calling my name… So, it's back to the studio.
Happy Creating!
As I continue experimenting with painting and decorating my own masks to be used for future subject matter I decided it was time to go totally black and white with one of them. There is still a little more work that I'll put into this one, but I'm really excited about how it's coming along.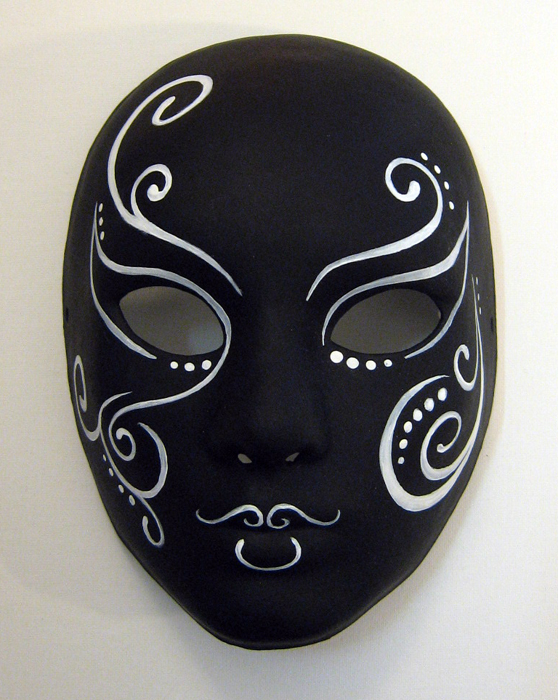 ©2011, Don Michael, Jr.
As I was working on this mask, I started thinking about how much I've always enjoyed working with strong black & white designs. This was really evident back in my college days when I worked with relief printing. I created several editions over the years, but they are all in storage right now. Thankfully, I have some old slides of one series I did. Even though the slides clip a little of their compositions, I thought I'd share them anyway…
In the Fall of 1993 I decided to create a series of editions inspired from the Bible. I wanted the imagery to be as intense as the contrast between the black & white. I started with the scripture from I Peter 5:8 which reads, "Be wary, be vigilant; because your adversary the devil, as a roaring lion, walketh about, seeking whom he may devour." (KJV)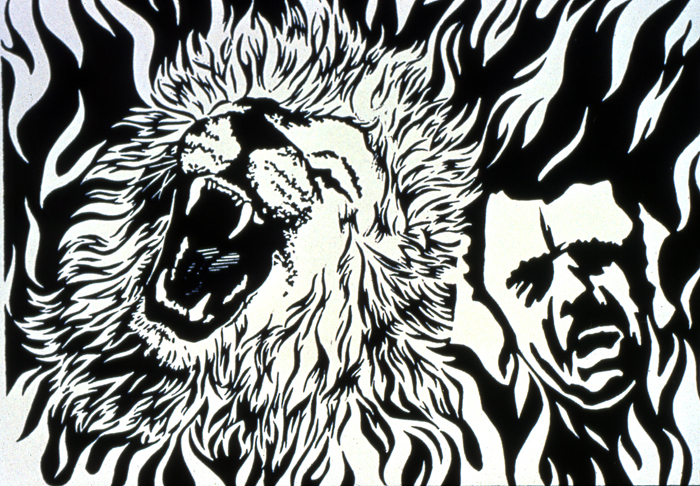 Your Adversary As a Roaring Lion – Relief Print Edition on Paper
©1993, Don Michael, Jr.
I liked the intensity of the final product, but was a bit disappointed with my transitions from the mane to flames and how they related to the man. I addressed those issues in the next edition which also was based on that same scripture.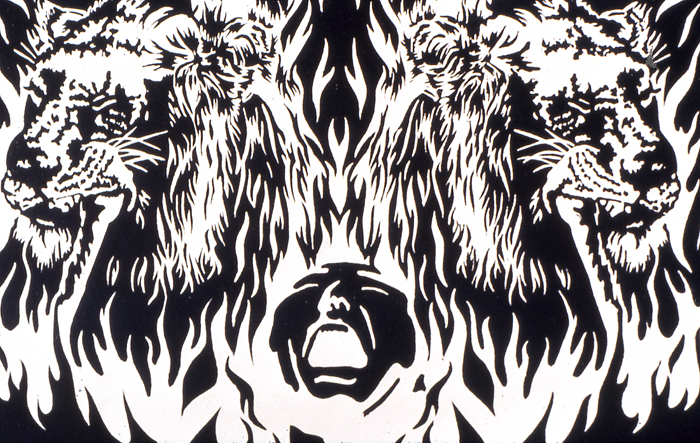 Your Adversary Seeking to Devour – Relief Print Edition on Paper
©1993, Don Michael,  Jr.
Being an eternal optimist, and a strong believer in grace, I decided I wanted to end the series on a positive note. For this one I went to Daniel 6:22 which reads in part, "My God hath sent His angel, and hath shut the lions' mouths that they may not hurt me…'". (KJV)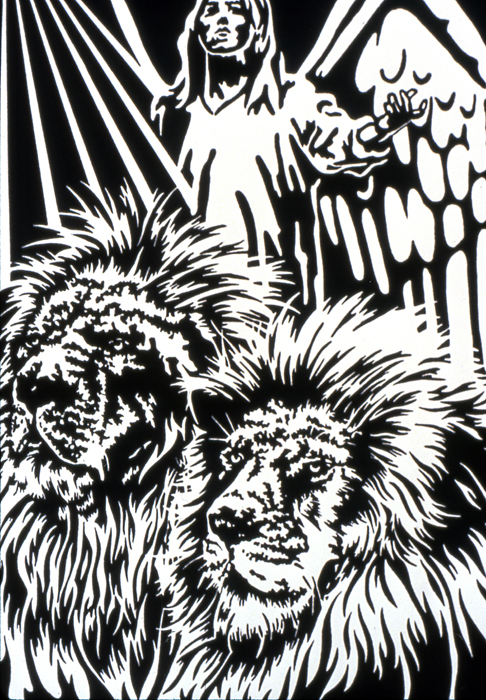 The Lord Sent His Angel to Shut the Lions' Mouths – Relief Edition on Paper
©1993, Don Michael, Jr.
(This print suffers the most from the cropping of the slide. There is almost 1/4″ of composition missing on the top and left side.)
During my years as a graphic designer and art director in television I continued to use this strong visual element in everything I did. Every single logo that I created started out in black & white. Every time I started working on a new graphics package I would create the basic elements in black & white first. I always felt that if it could work as a black & white design it would work once color was added. Sometimes it was difficult to add color once my design was ready but people paid good money for their color TV's…
OK, my little tangent is over now. It's time for me to get some colors squeezed out onto a palette and start globbing and schmeering them onto a canvas. But, first I'm going to have to step over this mess…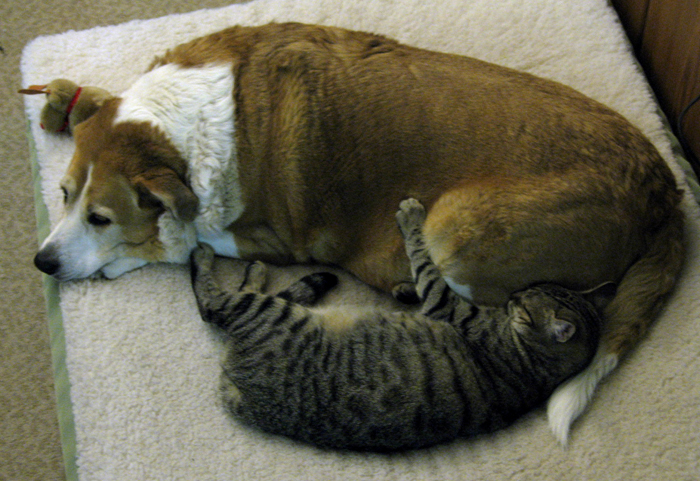 Lucy (9 years old) & Franz Marc (8 months old) in Don's studio
Happy Creating!
As I type this we are crossing into the very last day of the Year of the Don. Before I start preparing my goals for what will begin year two of the Decade of the Don I thought I'd evaluate the past 364 days. I established two goals for 2010. Goal 1 was to complete 100 paintings, and Goal 2 was to receive more Acceptance Letters than Rejection Letters from juried exhibitions. Anything else that occurred for the year was to be considered icing…
As I looked at my records for the year I first thought, "Oh crap, I'm 17 paintings shy of my goal!". Then I realized that I had completed a few more creative projects that can be fit into this goal. Here's what I accomplished:
68 Mask Paintings (2D & 3D)
15 Paintings with other subject matter
7 Masks
12 Paintings for lesson plans for workshops
Add to this the Graphic Design work which included 6 Book Covers, a Webpage, Postcards, Business Cards, Invitations – among other projects – I can safely say that I achieved Goal 1.
I knew that Goal 2 was going to be a huge hurdle since jury-ing is so subjective. And I'm sad to report that it was a hurdle I did not clear. This past year I received 11 Rejection letters and 9 Acceptance letters. I almost got 50% – which is much better than I achieved last year. So, even though I did not achieve Goal 2, I can still call it a win. Thankfully, several of the works that made it into shows received special recognition – which is a really nice icing for the cake.
Now it's time for me to come up with my goals for 2011. Yikes! Right now, though, I want to get back to the easel and finish my last painting for 2010…
I'll leave you with a watercolor I painted back in 1991. The title seems to fit my current train of thought…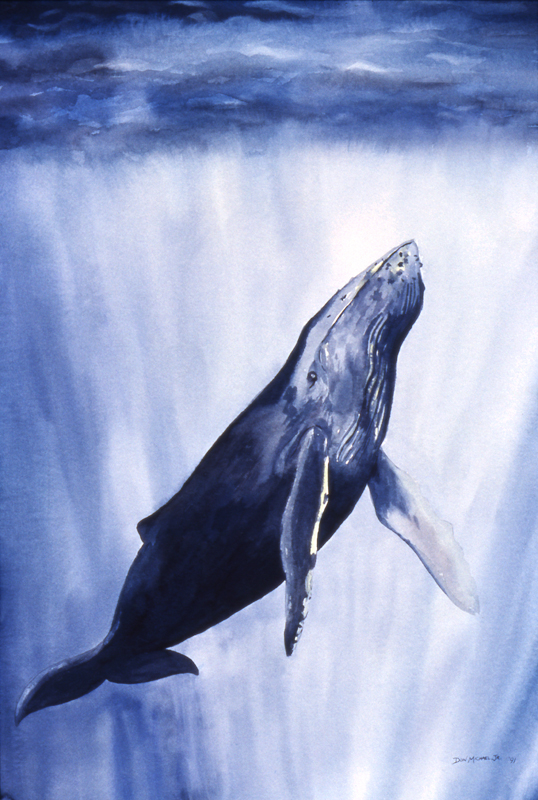 What Will the Future Bring? – 29″x21.5″ – Watercolor on Hotpress Paper – Completed Dec. 1991
©1991, Don Michael, Jr.
Happy Creating!
For the first time since late August I've been involved in some graphic design/animation/editing and it feels better than I thought it would. The last several months of my tenure as an Art Director in television did a job on my creative psyche (just check out my paintings Job Security, Glass Half Full and A Fine Mess to see what I mean) and I thought I was ready to put that all completely behind me. Now I know that it will never be completely out of my life. It flows through my bloodstream almost as strongly as the painting and other organic creative mediums do…
So, for the first time I have put a few of my graphic creations up on my website. You can check them out here. It was fun to revisit many of these projects as I prepared them for placing on the website.
Also, my good friend, CJ, and I have put together some montages of my Art Directing/Animating/Graphic Design work from my life in television. The first is a 'whiz-bang' reel of animations I created and implemented over the years. The second is a montage of promotional and commercial work I art directed, designed and animated for. (We are still working on a third piece which will feature the opens and animations I created for newscasts.) Regrettably, a lot of my work did not survive my rapid exit from television, including a few of my favorites. But, I think I still have a pretty good representation of what I did/do.
I would like to thank my friends, CJ, Peggy and Sandi for helping stir back into life the joy of working within the graphics world once again. (Careful ladies, I may be cussing you later… :-P)
With all this said, nothing is creatively more important to me than my painting. I anticipate this may always be the way of it. We'll see…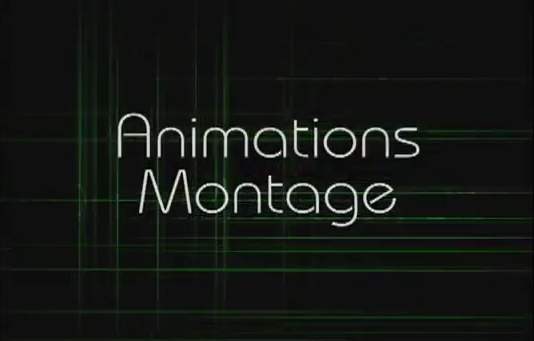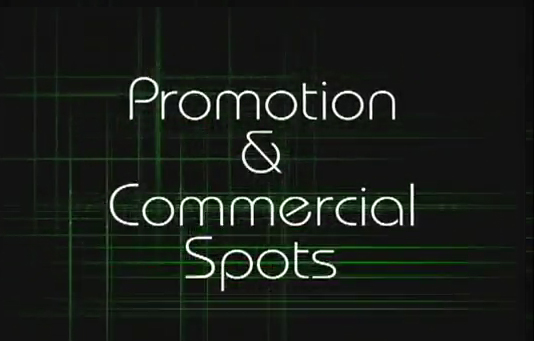 ©1996-2010, Don Michael, Jr.
Next Page >>