As I mentioned in my previous post, I had a lot going on this weekend. To start with, it was First Friday in Downtown Las Vegas where artists from all around the area would be displaying their wares – including yours truly.
The event starts at 6pm, but I needed to get there a couple hours early so I could set up. With two of my newest paintings being a little large, I decided to redo the wall almost entirely. Here's what it looked like when I finished with 15 minutes to spare…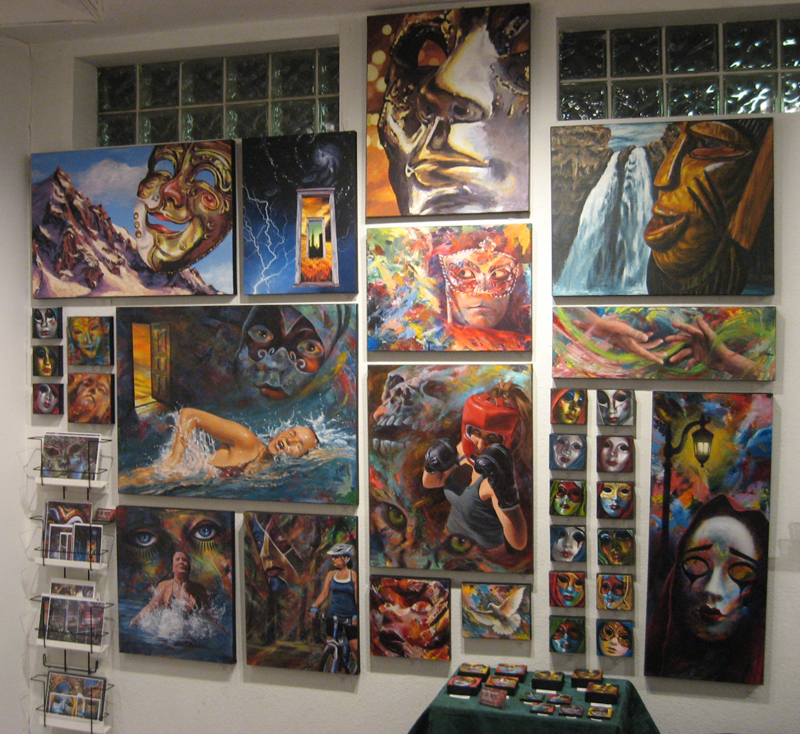 Don's Wall for February's First Friday
Here's a close-up showing that my friend, Melissa, is starting to take over my wall (she's in three of the paintings)…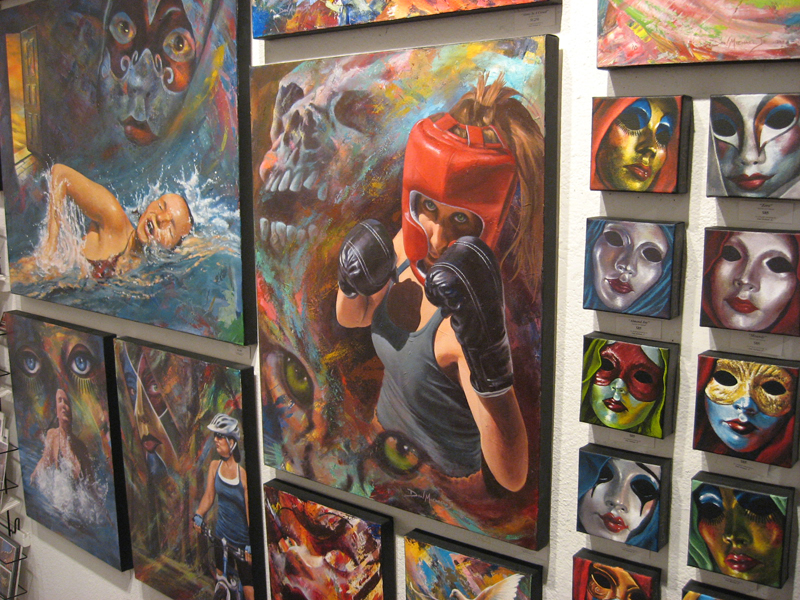 Killer Instinct and friends
The night started out pretty slow but began picking up after 8pm – as seems to be the norm. One of my Eye Candy: Skittle paintings (Strawberry) was purchased by a man visiting from New Orleans. He said it made him think of his wife who was still at home and he wanted to buy it for her. Another of my paintings, Take Heart, was purchased by my friends Tami and Angelo. What's funny is that as soon as I wrote sold on its tag a lady came over and wanted to purchase it. Luckily, I had a print of it on hand and she didn't leave totally disappointed.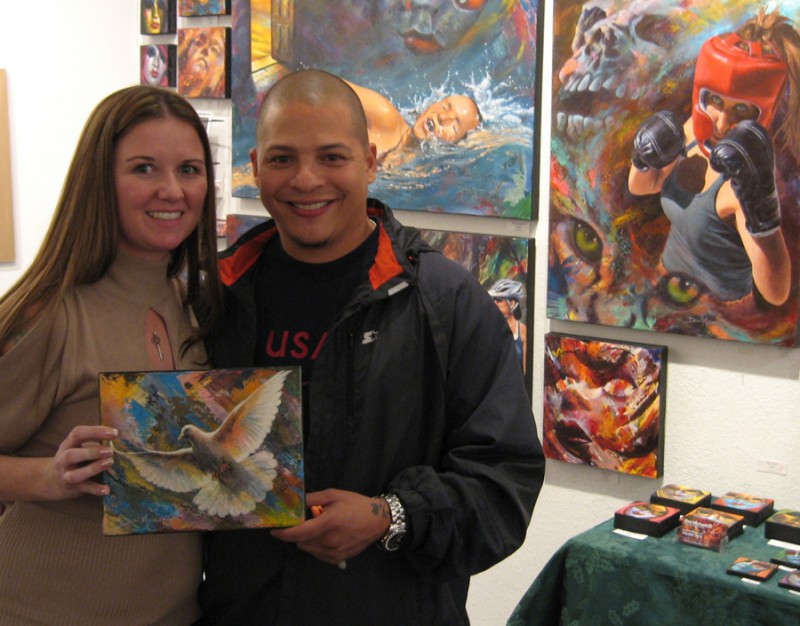 Tami and Angelo with their new painting
All in all, it was a pretty good night…
Then, on Saturday it was time to teach my next Acrylic Painting Workshop at the Michael's store in North Las Vegas. I had two students show up this week, one of which had never painted before. They both did really well, as you will see in the following photos…
Here they are after we had been painting for about 40 minutes. You can see that everything is pretty well blocked in and its time to start adding some color…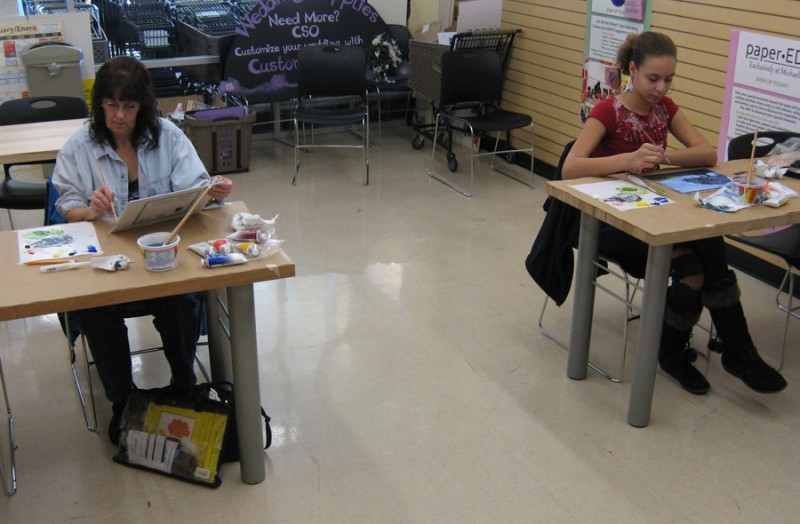 I realized as I was preparing for this class that I had never had a photo taken of me while I was teaching. So, during a pause, I asked one of the students to take a shot of me at work…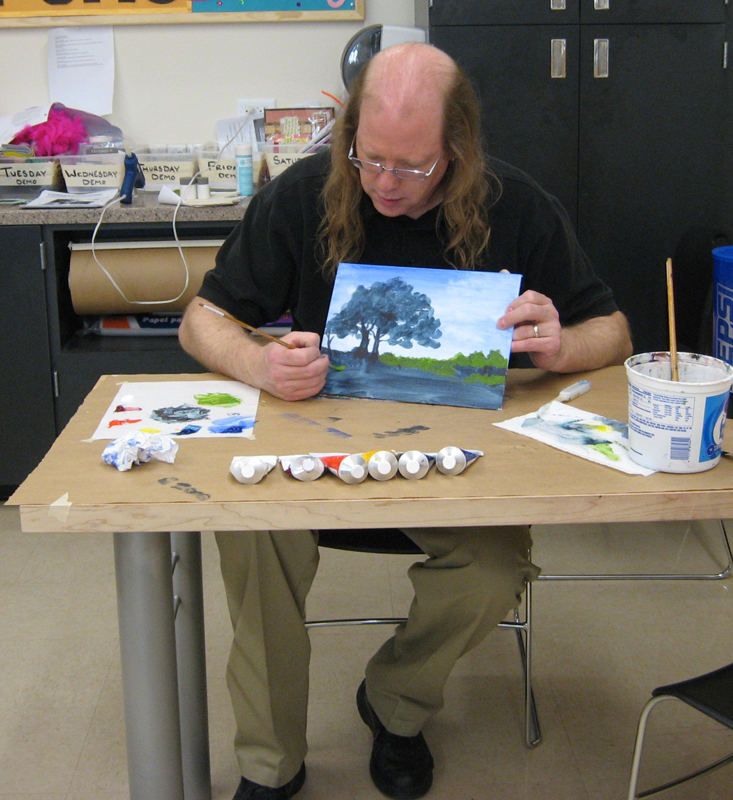 I hate having my back to the class, so I've learned how to paint upside down and backwards to make it easier for the class to follow along. In the photo above you can see that we have started laying in the greens of meadow.
A short time later, one of the Michael's associates came in and interrupted my class – which seems to happen quite often. I told her that if she was going to interrupt my flow, I was going to interrupt hers by making her take a photo of the whole class in action. She kindly obliged…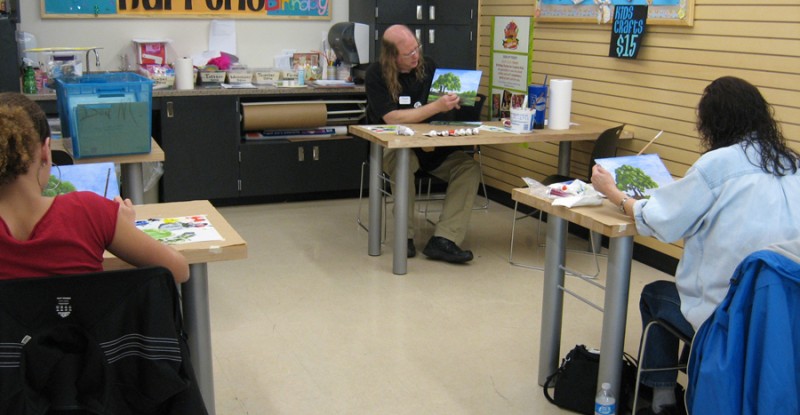 Both ladies did so well today. I couldn't be prouder. Here they are with their finished paintings…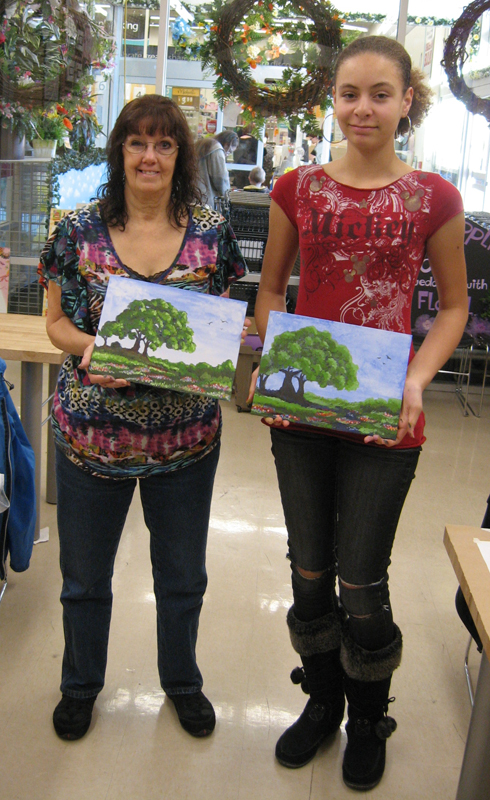 The young lady on the right (who is only 13) had never painted before. Her mother was so excited with how well she did that she plans to join us in a future class. Cool, huh?
Now it's time for me to head back into my studio and get busy. Even though I painted in class today, it's not the same as painting for myself.
Happy Creating!
Last Thursday I started on an Eye Candy painting during my demo at the Michael's in North Las Vegas. I wasn't able to work on it again until Monday because of having so many irons in the fire. One of those irons was the Acrylic Workshop that I had scheduled for this past Saturday at that very same Michael's. Below you can see my class getting ready to get started…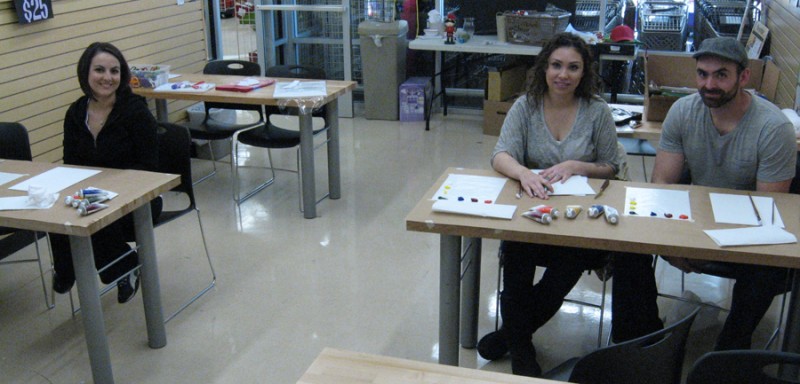 Of course, I forgot to use my camera during most of the stages of painting, but at least I remembered to get a shot towards the end while they're all still hard at work…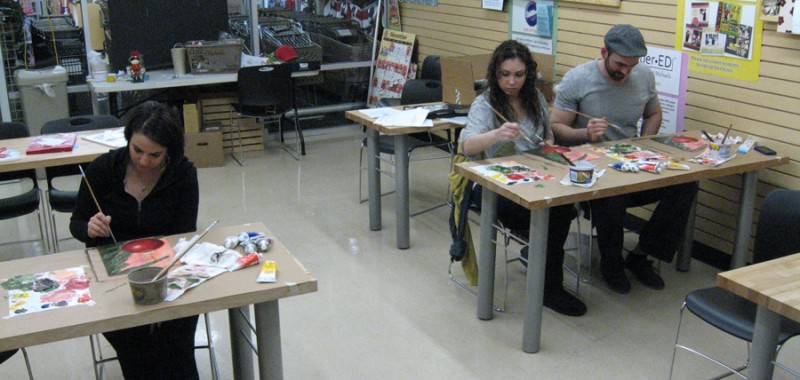 And, thankfully I remembered to get a shot of them with their finished paintings…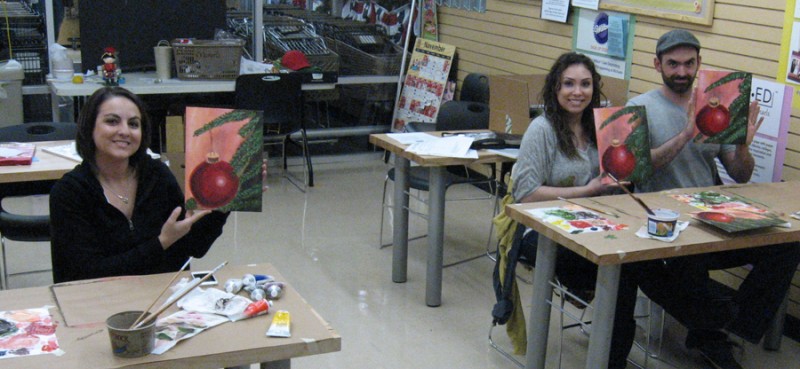 Thanks, Ashley, Elle and Joe for being such good sports. You all did a GREAT job with your paintings!
The rest of my weekend was spent with several non-art type projects that kept me from the studio. However, on Monday, once I got the family all off to school and work, I was finally able to settle back into the studio and get some painting done. I completed the aforementioned Eye Candy painting which you can see below. It is named after one of my favorite candy bars, the Zero bar, which is the only thing that I will allow to pass my lips that has peanuts in it. (In case you haven't figured it out yet, I HATE peanuts – and especially peanut butter. Bleck!!! But in the case of the Zero bar the almond flavoring masks that grotesque peanut flavor pretty well.)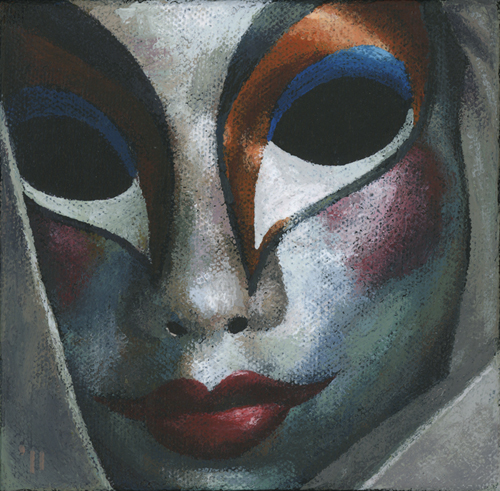 Zero – 5″x5″ – Acrylic on canvas – Completed 12/12/11
©2011, Don Michael, Jr.
Then, tonight (Tuesday) I gave another demo at Michael's and came away with the following almost completely done. I just had a few minutes of work left on it when I got back to my studio…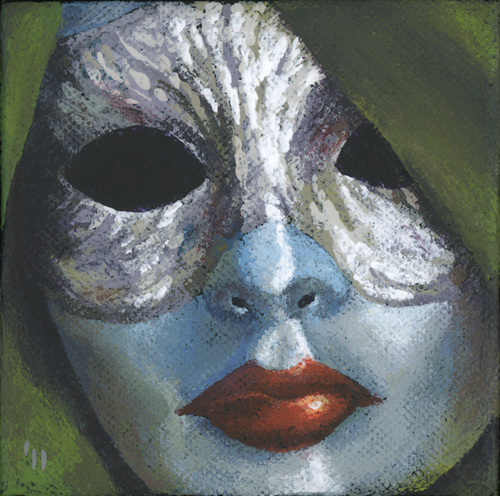 Apple Zotz – 4″x4″ – Acrylic on canvas – Completed 12/13/11
©2011, Don Michael, Jr.
This is the first in what will be my new Eye Candy sub-series, Eye Candy: Zotz. I've never tried Zotz candy, but I do like their name. There will be 6 Zotz paintings before the sub-series is complete.
Tomorrow (Wednesday) I'm going to be working on something totally none-art for most of the day and will probably be wiped out by tomorrow evening. But, I hope to still find a little time to do a bit of painting. We'll see…
Happy Creating!
As the holidays approach – way too quickly – I wanted to create a lesson plan for this Saturday's Acrylic Painting Workshop that would have a seasonal feel to it. Since I had already scheduled the subject matter for Saturday's class as Floral, I thought it would be quite appropriate to paint the flower most commonly associated with the Christmas season, the poinsettia. So, for my painting demo at Michael's tonight I created just such a lesson plan.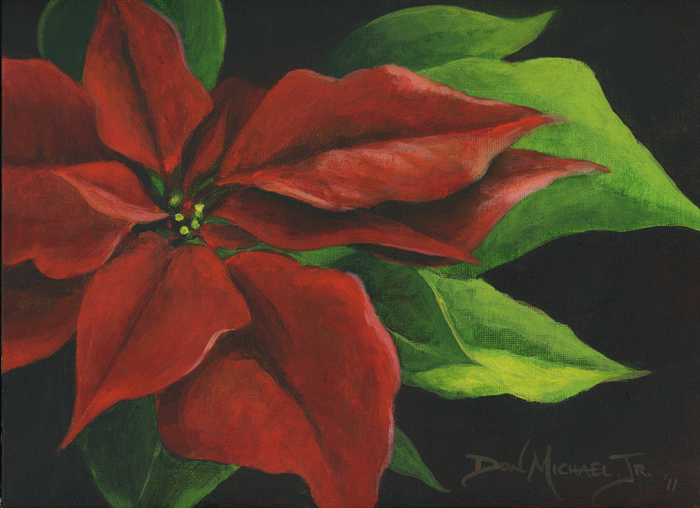 Under the Mistletoe – 9″x12″ – Acrylic on canvas – Created 11-8-11
©2011, Don Michael, Jr.
I think that if you look at the finished painting long enough you will see that it is titled quite appropriately. Once you see why, you'll never not see it. 😛 (I have my wife to thank for being the first to point it out to me. Like I said, now I can't un-see it!)
I look forward to trying this lesson plan out on this Saturday's victims… oops, I mean students. You're welcome to come join us. We'll be painting from 2-4pm at the Michael's on North Fifth in North Las Vegas. It's only $25, plus supplies, and you'll walk out with a finished painting in just two hours!
Back on the home front, I am in the middle of my next major Over the Under-Schmeerings (OTUS) painting. I still have quite a way to go, but I thought I'd share where I'm at so far. It's always exciting when the images start appearing from within the chaos of the Under-Schmeerings…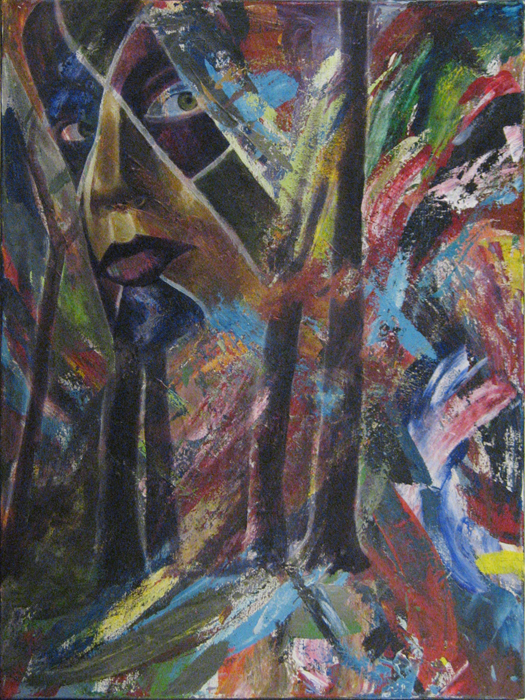 Work in Progress
Now I think I'll go get back at it…
Happy Creating!
Tonight it was time for a demo at Michaels to advertise the Acrylic Painting Workshop I'll be teaching this Saturday from 2-4pm. I have scheduled a still life for Saturday's lesson, but had yet to create the lesson plan. Since I hadn't thrown myself any curve balls lately I decided I'd create a new lesson plan during the demo. Ah, the thrill of coming up with something new while the public is milling about…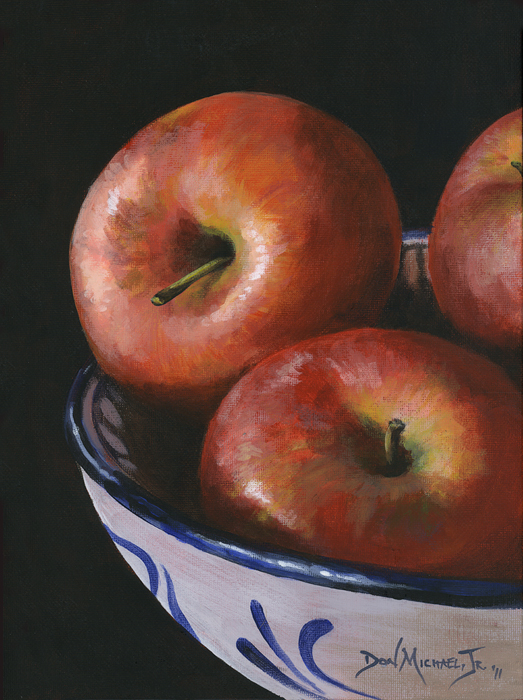 Ripe 'n Ready – 12″x9″ – Acrylic on canvas board – Completed 11-3-11
©2011, Don Michael, Jr.
One exciting part of this challenge was that I was painting apples with no true red in my palette. The Grumbacher guidelines for a Still Life Lesson Plan is to use their colors Ultramarine Blue, Cadmium Red Light, Cadmium Yellow Medium, Burnt Sienna, Raw Umber and Titanium White. To make the 'red' I had to use a mixture of the cadmium red light and the ultramarine blue, creating a muddy red-purple. Then, a few strategically placed blobs of green were introduced to help to convince the eye that there is more red in this painting than there really is. Ooooh, this stuff is fun!!!
Now it's time for me to get geared up for First Friday, which will be going on tomorrow night from 6-10pm. I'm really excited that I'll be displaying Aspire and Endure in public for the first time, and even more excited that my model plans on coming by to see it in person for the first time. I anticipate a fun night…
Happy Creating!
As I mentioned in my last post, I was a little concerned with how well I'd be able to teach the lesson plan I'd created for today's acrylic painting workshop. I was worried that the mountain scene I'd chosen could possibly be too complex to simplify into a 2 hour painting class with beginner painters. To add to my anxiety today, three of my students were first-timers and two of those had never even painted before.
Before the class started I asked all of them if they'd mind if I took before and after photos. I even warned them that I'd be blogging about the class. Thankfully, they were all fine with this and as you can see below, they were still all smiles. Oh, if they'd only known…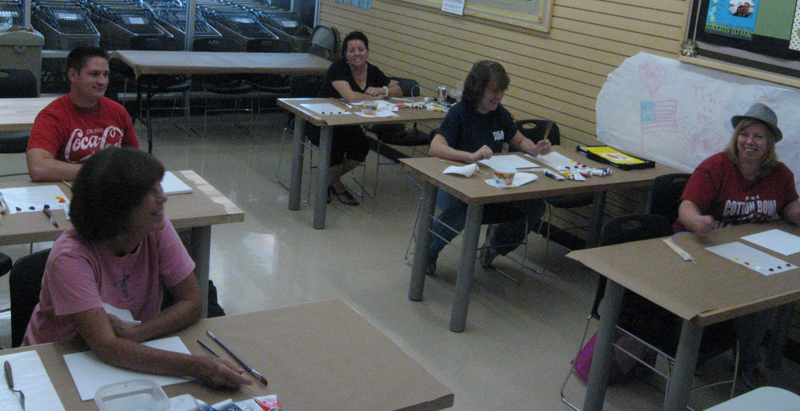 Ready to begin
About halfway through the class I realized that we were all stressing a bit about our paintings. I let them all know that EVERY painting I've ever done has a period of time that I absolutely hate it. (I've heard other artists call this the "awkward period" of the painting, but I think they're being too nice.) I think that helped to relax everyone a bit and we were able to push forward – and a few of them were even still smiling!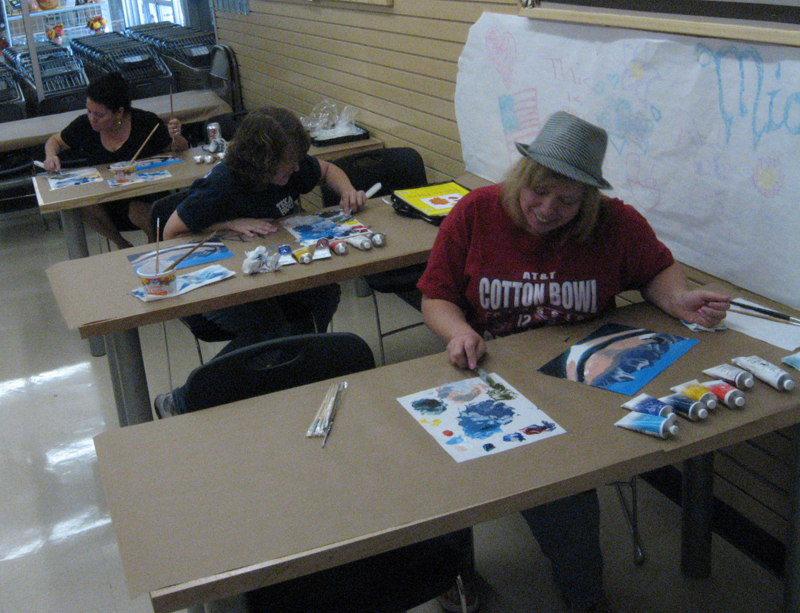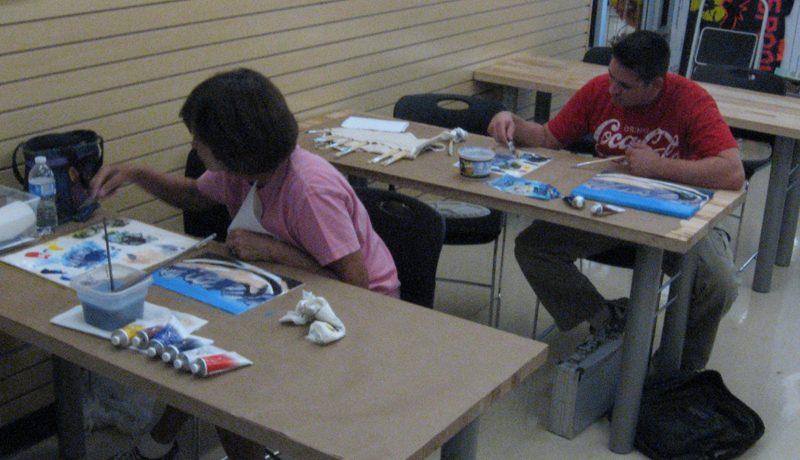 Halfway
I've noticed that near the end of each class everyone seems to hate their own paintings, but love everyone else's. So, I'll walk around and pick up each person's painting to show to the rest of the class. Invariably, everyone let's that person know how much better they think their painting is compared to their own. It seems to encourage everyone to realize that maybe they were still just too close to the painting they just finished. In today's case, this little exercise helped everyone relax enough to let me take a photo of them with their finished paintings…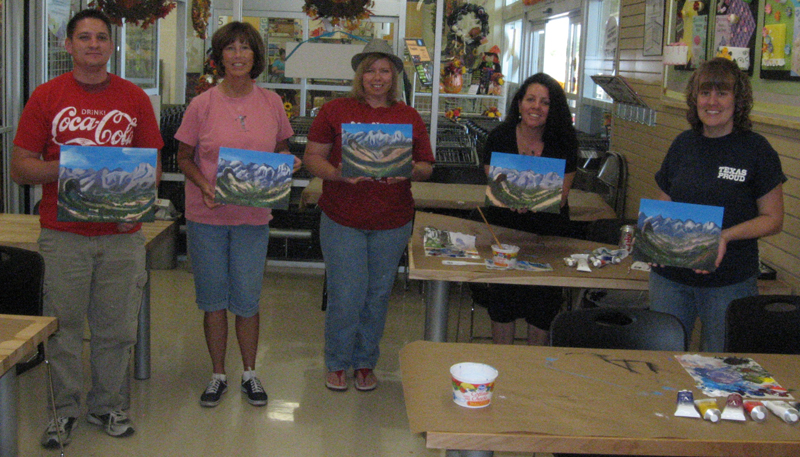 Finished
…and I think they ALL did an EXCELLENT job. (Being their proud instructor, I could possibly be a little biased, but I don't think so.)
Apparently, I must not have done too bad a job today, because all of them plan to come to future classes – and one of them has already signed up for next week.
Now I think I'll head to my studio and see if I can't create something I absolutely hate for a few minutes…
Happy Creating!
For today's demo at Michael's I decided to paint something totally unrelated to one of the lesson plans. I chose instead to do a study of lightning in preparation for a major project I am about to embark upon.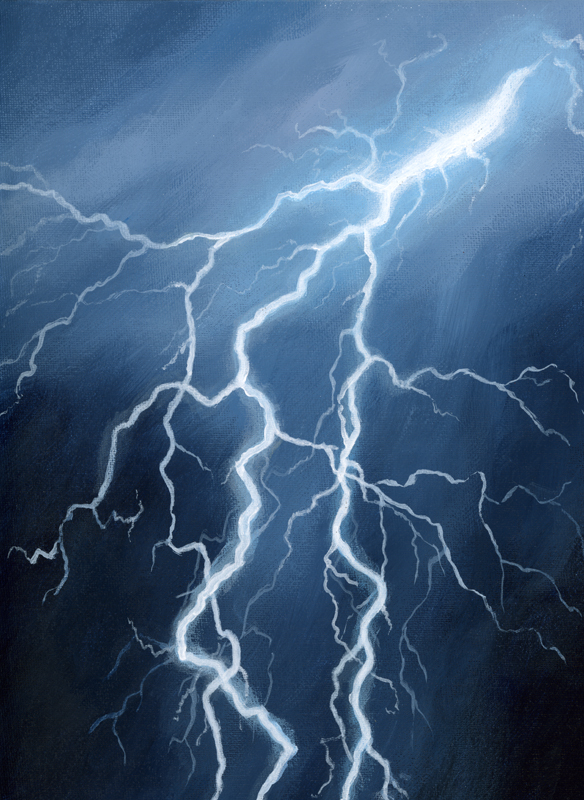 Lightning Study Demo – 12″x9″ – Acrylic on canvas board – 6-22-11
I've painted a lot of lightning lately. And, it's hard to imagine, but the painting I'm preparing to undertake will have more electricity running through it than anything I've done to date, even more than my ginormous Heartstrings.
My demo was quite well received and I ended up with at least one, and maybe three, new students for upcoming workshops. I also ended up with two new acrylic enthusiasts, one of which can be seen taking a break from working on our collaborative 'schmeerings' piece.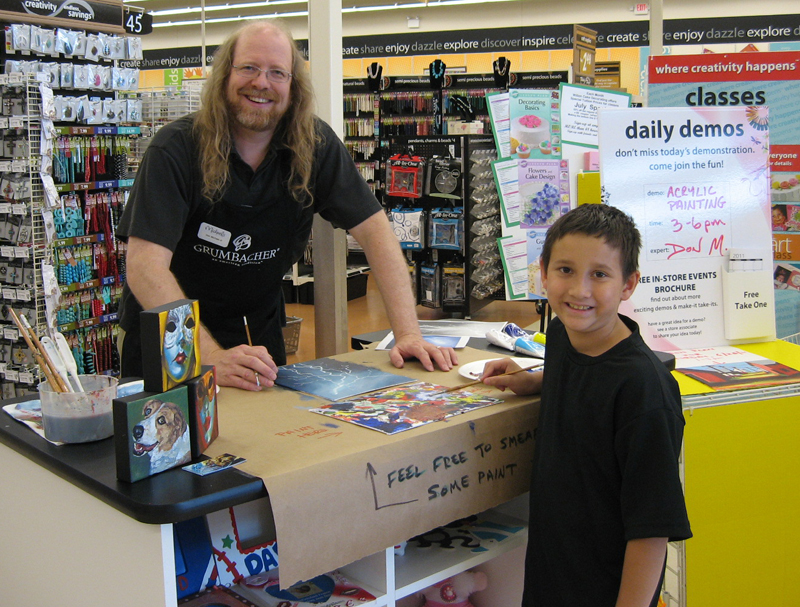 Don and Wendell having fun with acrylics
While Wendell was busy painting, his parents were buying him a nice new beginner's set of Grumbacher paints and some canvas panels. He could hardly wait to get home to try them out.
The next time I step into Michael's it will be to teach this Saturday's Acrylic Workshop from 1-3pm. If you live anywhere near Las Vegas and have the time, come on out. It's only $25 plus supplies. For that $25 you will get two hours of instruction and will walk out with a finished painting that you did all yourself.
Until then, I'll be spending a lot of time in my studio, especially since the alternative puts me outside into 100+ temps. Summer in Vegas is upon us…
Happy Creating!
Today I did my second of three demos for the week at the new Michael's Arts and Crafts store in North Las Vegas. Here I am taking a small break to pose for the camera…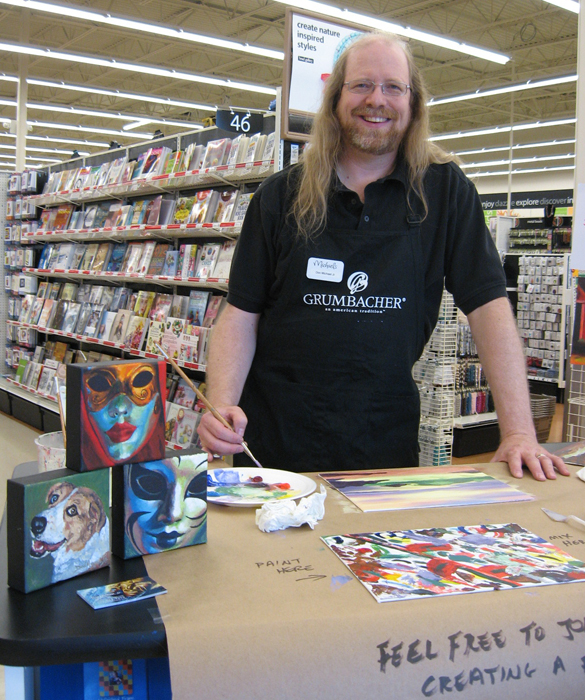 Don Takes a Photo Break
… and here I am chatting with a couple of aspiring artists.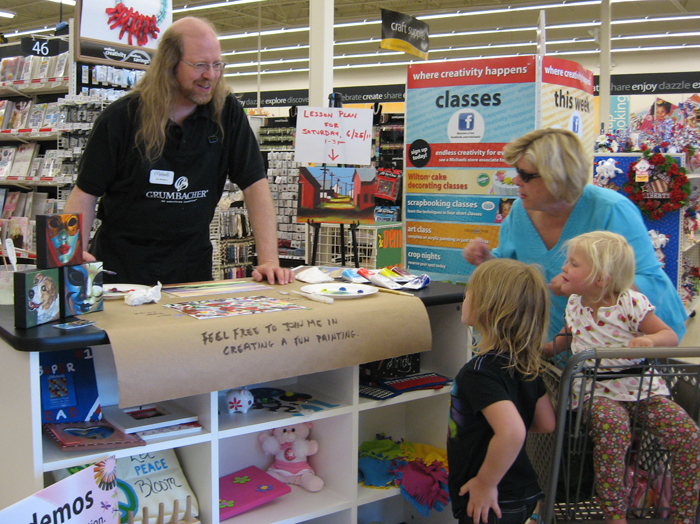 Don is Such a Hit with the Ladies
For today's demo I recreated one of the Grumbacher Lesson Plans for a Seascape. This lesson plan was put together by Chris Cozine, a Michael's Instructor in Washington. Here's what I came up with based on Chris' instructions…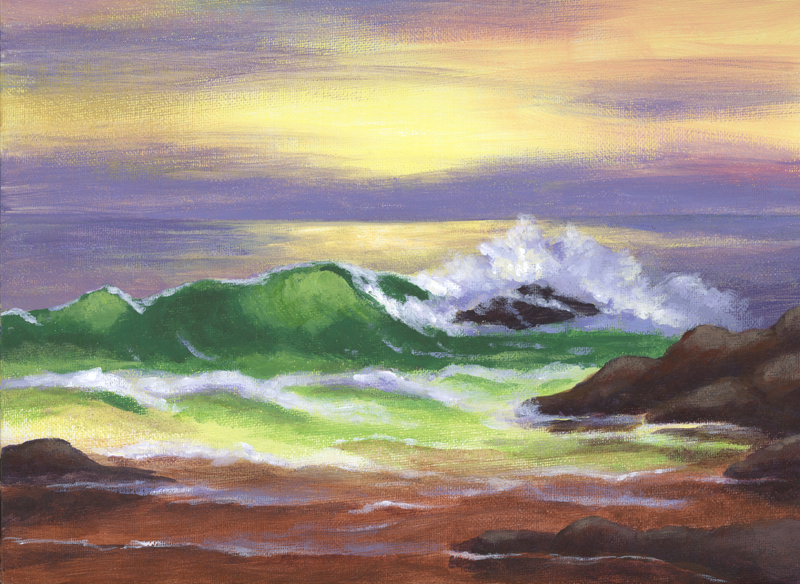 "Classic Wave" Seascape Demo – 9″x12″ – 6-20-11
As for what's going on in my studio, there's plenty – but very little to share right now. I'm in the middle of a painting which will become a book cover in the near future. I also have a few "Eye Candy" pieces in the works, but nothing close to finished yet. The only thing I've finished of late is another mask to be used for reference material for future paintings.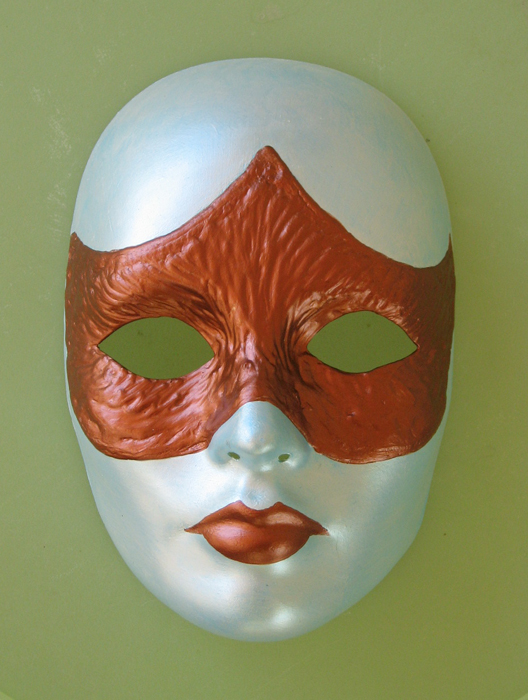 Kerri – Acrylic on Primed Plastic Mask – Completed 6-18-11
©2011, Don Michael, Jr.
There's a story behind her name, as is usually the case. While I was putting the finishing touches on her I was also watching the Semi-Finals of the Ladies Beach Volleyball World Championships which were going on in Rome. My favorite team, consisting of Misty May-Treanor and Kerri Walsh, happened to be playing. The hard part was choosing whose name would grace my latest creation. I went with the tall blonde…
Now it's time to get back into the studio and see if I can't get some work done.
Happy Creating!
Today was the 'Soft' Opening of a new Michael's Arts and Crafts store in North Las Vegas. It's actually the same Michael's that I've been teaching Acrylic Workshops for, but it's moved to a new location and a brand new facility – and, oh is it nice! The classroom is much larger with a lot more table space. I look forward to putting it to use soon.
Anyway, my Father's Day afternoon was spent at this new Michael's demonstrating one of the  Grumbacher Acrylic Workshop lesson plans in an attempt to drum up some new students. One of the cool things I've discovered with this program is that I get the opportunity to work within styles that I may not have tried otherwise. For example, the lesson plan that I worked from today was created by artist Russell Black, who is one of the instructors for a Michael's store in Utah. Based on his instructions, this is what I came up with today…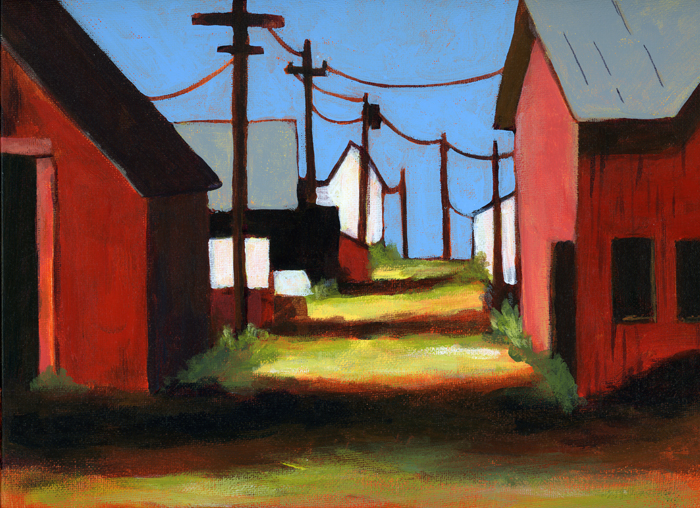 Grumbacher Landscape Lesson Plan Demo – 9″x12″ – 6-19-11
As I was painting, several customers expressed interest in the classes and I even had one new student sign up for this Saturday's Acrylic Workshop (6/25 from 1-3pm). She was excited to hear that the lesson plan for Saturday's class will be the one that I was demoing.
When I set up to paint today I also laid out some extra paint on a separate palette and an extra canvas. I invited customers to "help me create a fun painting". I only had a couple of young takers today, but oh were they fun. One young lady painted with me for about 15 minutes while her dad and sister were shopping. She's going to be a 6th grader in the fall. She really likes to draw, but doesn't "know how to paint too good yet". (Her words.) I think she did GREAT. It was fun to watch her 'freestyle' her strokes and colors around my 'schmeerings'. Here's our collaborative effort…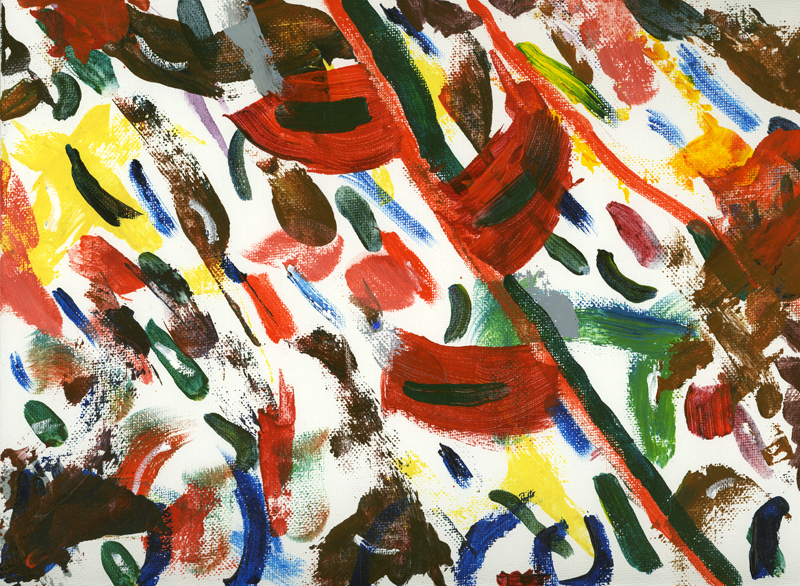 Demo Schmeerings – 9″x12″ – 6-19-11
Being a glutton for punishment, I'll be back at Michael's tomorrow (6/20) demoing from 3-6pm and Wednesday (6/22) from 3-6pm. Then I will be back next Sunday (6/26) to demo at the official Grand Opening from 10am- 1pm.
Now I've just got to figure out what I'll be painting on those days. The only thing I'm sure of is I'll be using Grumbacher paints and brushes. Other than that, the sky's the limit…
Happy Creating…
This is my first opportunity to sit and type a post in over a week. I wish I could say I've been too busy, but in all honesty it was the total opposite. On Easter Morning I leaned over to pour water into our animals' water dish and suddenly felt like someone had put a taser to my lower back. Needless to say, the rest of Easter was spent hobbling around and gingerly sitting when I had to and mostly laying around when I could. Then, Monday morning it was all I could do to walk out to my car to take our daughter to school. From the time I got home from that little odyssey until Thursday evening I had little choice but to stare at the ceiling over my bed. Thankfully I had a good book to help pass the time  – "Traveling Music" by Neil Peart, and I watched a few good movies on TCM. On Thursday night I told my wife that I'd had enough of laying around and I was going to try to 'break loose the rust' on Friday – which was really important to me since I had an Acrylic Workshop scheduled for Saturday afternoon. Thankfully, I was able to get around fairly well all day and even ran a few errands. Later Friday night I was finally able to paint for the first time in over a week, even if it was just my lesson plan for Saturday. Here's what I came up with…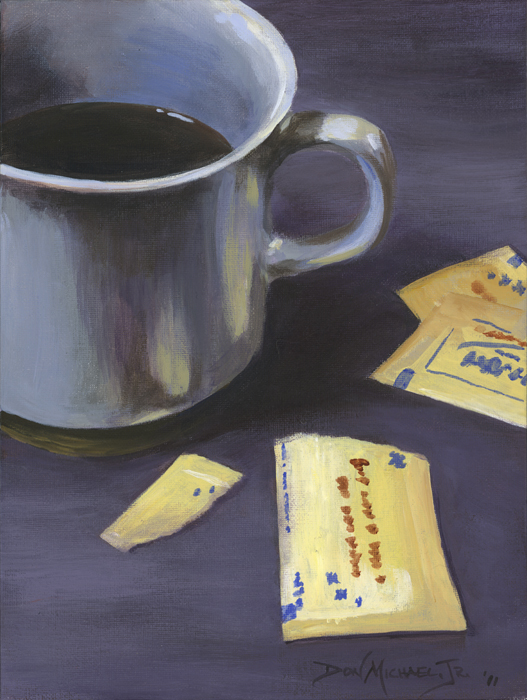 Sweet Deal – 12″x9″ – Acrylic on Canvas Board – Completed 4-29-11
©2011, Don Michael, Jr.
One of the biggest challenges with these workshops is I have to present a lesson plan that gives the student the opportunity to walk out of the class after the allotted two hours with a completed painting. To make sure this is doable, I find I must spend no more than an hour-and-a-half creating the painting for the lesson. I'll admit that I barely made my self-imposed deadline on this one…
When Saturday morning came I was very tentative as I got up, hoping that the rust hadn't reattached itself to my back over night. Thankfully, there wasn't much more than the usual creaks, cracks and moans of getting up any other morning. So, I slowly worked my way through the day as I geared up for the class at 2pm. I'm glad I was able to make it, because I was greeted by three great students ready to get busy. Here they are, hard at work…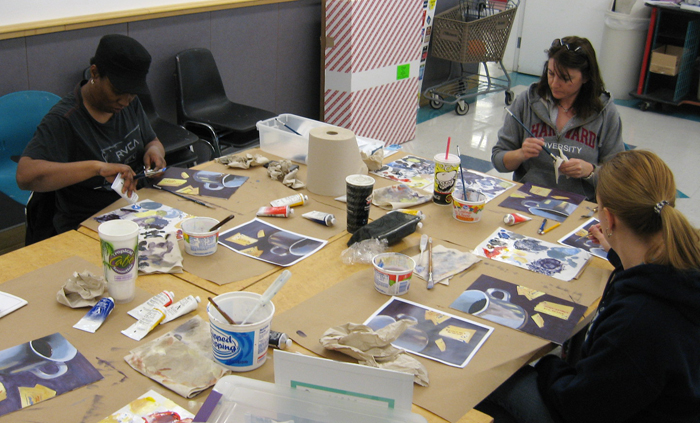 Jevaunda, CJ and Kim
All three ladies walked out with great looking canvasses that I hope they're proud of – I know I am. Anyway, we really had a good time painting together with some good-natured ribbing going on the whole time. One poor student was actually accused by the others of being the teacher's pet – just because she had the wherewithal to actually listen to me. Thanks for paying attention, Kim, you get a gold star…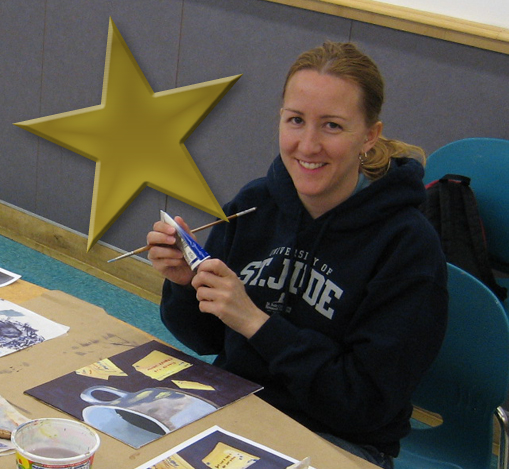 As I was preparing this photo I finally noticed Kim's shirt. Perfect! She deserves two stars.
Now it's time to go rest this old body. I want to paint tomorrow. I made it all the way through April without painting a single thing for myself, and I will not start May off the same way…
Happy Creating!
All Photos ©2011, Don Michael, Jr.
I'm in the final stages of a painting I've been working on for over a week. It's a work that will be put to further use at a later date, but for now I thought I'd tease just a little of it to whet your appetite.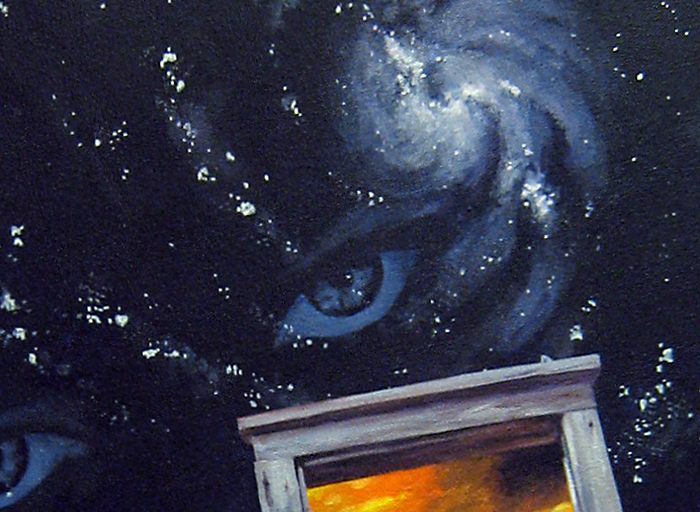 ©2011, Don Michael, Jr.
This is about 8.5″x11″ of  what will be a 24″x18″ painting. There's still a little work to go before calling it finished, but I'm really pleased with how it's coming along. This will be the last you'll hear of this piece until sometime in March…
I should finish sometime tonight, after which I'll need to start focussing on my lesson plan for this Saturday's Acrylic Workshop. I'll be teaching how to paint a seascape. Last week my class and I painted a sunset over Red Rock together. In two hours each member of my class was able to leave with a finished painting they could call their own. Below, you can see them hard at work on their masterpieces.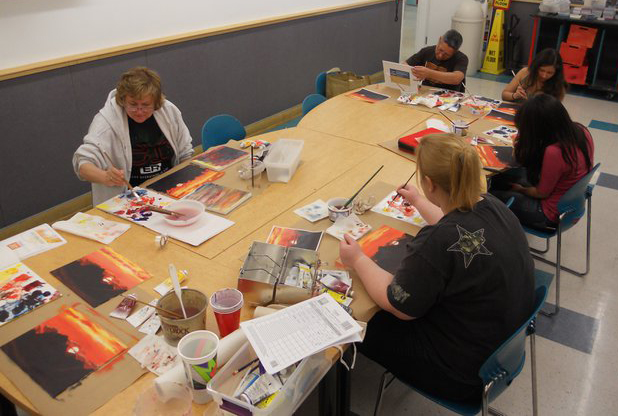 ©2011, Don Michael, Jr.
And, then it will be time to start prepping for next week's First Friday art show in downtown Las Vegas. I'm hoping to catch a few winks of sleep somewhere in the midst of all this, but we'll have to see…
Happy Creating!
Next Page >>