Recently I was approached to create a painting that "includes a waterfall and a cross like your St. Jude sculpture". The lady commissioning the piece had accepted Jesus Christ as her personal savior a little over a year ago and wanted me to create a piece representing that new birth. We hammered ideas around and I came up with the idea of having the waterfall flowing from the cross. When talking with the client she had mentioned that she had gotten a tattoo of a butterfly to represent rebirth upon accepting Christ. I think that is an excellent symbol for rebirth and wanted to include it in the painting. We then decided to include two butterflies – one inviting the other to follow it to the cross.
Stylistically, we decided that I would use my Over the Under-Schmeerings style. In the process of the painting I found that I needed to use my palette knife to create a gritty, bold and raw energy in the sky, the cross and the waterfall. I then finished up by getting very specific and detailed in painting the butterflies. I love the juxtaposition of the  very realistic elements against the expressionistic background – all in a surreal environment. Oh, how I love this thing I do!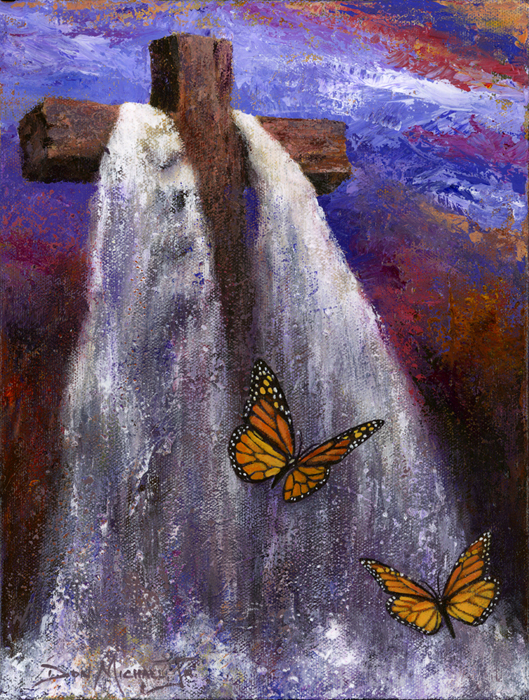 Rebirth (John 4:14) – 12″x9″ – acrylic on canvas – Completed 5/12/14
©2014, Don Michael, Jr.
The verse referenced in the title of the painting, John 4:14, has Jesus saying, "But whoever drinks the water I give them will never thirst. Indeed, the water I give them will become in them a spring of water welling up to eternal life."
How refreshing! How enriching! How sustaining! Praise God.
Happy Creating!
It had been nearly a year since I last painted a new piece for my Eye Candy series of mask paintings. It had been exactly that same amount of time since I did a painting using only my palette knife. So, I decided this weekend that it was time to exercise my palette knife skills and in the process created this…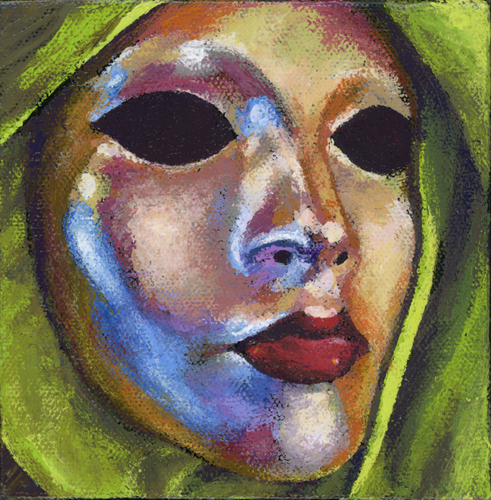 Dragée – 5″x5″ – Acrylic on canvas – Completed 6/23/13
©2013, Don Michael, Jr.
I honestly thought I was done with this series last year. But, I started missing the experience of designing and then painting these little paintings. They're a really good study in working with color – in fact, I tried out a new color for this one: Cobalt Titanate Green. They're also a good way for me to keep up my palette knife skills – and I could tell it had been a while. I probably spent about 3 hours more working on this than I had spent on any one of those painted in 2012.
The metallic shine of this painting made me think of those little silver round cake decorations that I had seen on wedding cakes as a child. So, I did an online search to find out what they are called and found both the title of this painting AND a new word to add to my dictionary – Dragée (pronounced draw-zhay´).
Now it's time for me to get back to my studio where a giant mass of paper mache' is starting to form into some semblance of a new mask creation.
Happy Creating!
Last night when it was time to head for my Tuesday Night Demo at Michael's I suddenly realized that I was totally unprepared. With several irons in the fire I'd allowed the day get away from me. (I know, that's no excuse…) Anyway, in a fit of panic I reached into a stack of previously rejected designs and pulled out one that I'd come up with about 5 or 6 years ago. I still didn't care too much for the composition so I cut it down to a much smaller size. What was originally an 8″x10″ design was now fitted for a 4″x4″ canvas. I then rushed out of the house with the design, my paints and my trusty palette knife – making it to Michael's just in time. Here's what I did over the next 3 hours…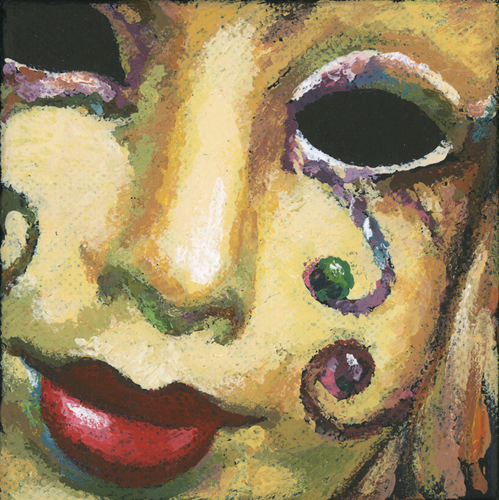 Bo Peep – 4″x4″ – Acrylic on canvas – Completed 3/6/12
©2012, Don Michael, Jr.
I almost named this painting "Peeps" in honor of those squishy, sugary, obnoxious confections that we are inundated with every year about this time. But, then I realized that the painting is too different from the other members of my Eye Candy series in too many ways for me to make it a part of that family. The biggest difference and the deciding factor in this internal argument was that the model for this painting is not of my own creation. As soon as I came to that conclusion the name Bo Peep popped into my head. I stopped right there. It was perfect.
Happy Creating!
As a high school freshman in White Deer, Texas I discovered the tangy and delicious Spree candies. The first time I ever saw that multi-colored foil-like roll of candies in the vending machine I decided it was worth the risk of a quarter to see just what they were about. Wow, was I glad I tried them. Like their slogan says, "It's a kick in the mouth"! For the rest of that school year there was usually a roll of Sprees in my pocket.
With the memory of these tangy treats in my mind I started on a new sub-series of palette knife paintings that I'm calling my Eye Candy: Sprees. Here is the first in the series…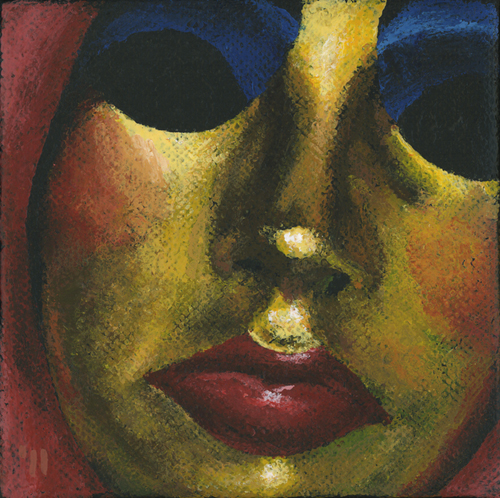 Cherry Spree – 4″x4″ – Acrylic on canvas – Completed 12/6/11
©2011, Don Michael, Jr.
As for other studio news, I'm getting really close to finishing the Over the Under-Schmeerings painting that I teased last week. I can't wait to be able to share it with everyone soon. Also, the concept for my Ginormous heart for St. Jude is starting to come together for me and I hope to be moving forward with it by early next week. Meanwhile, there's plenty going on to keep me out of trouble…
Happy Creating!
Well, my friends, at the risk of burning everyone out on my Eye Candy series of palette knife paintings, I present to you the first in the next sub-series – Eye Candy: Starbursts…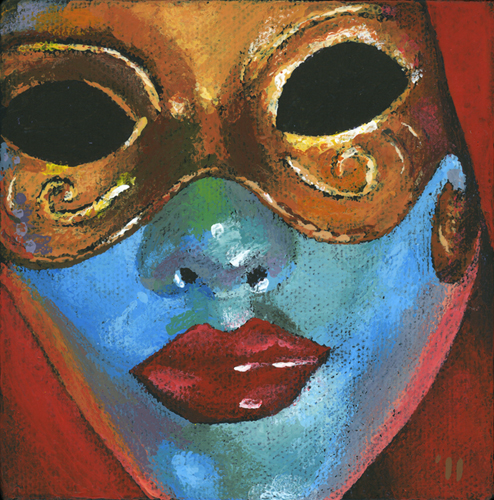 Cherry Starburst – 4″x4″ – Acrylic on canvas – Completed 10-4-11
©2011, Don Michael, Jr.
In case you were wondering, these aren't the only things getting my attention in the studio. While I'm having fun with these little confectionary treats I'm also working on some larger canvasses. In fact, I am currently working on what will be my largest Over the Under-Schmeerings painting to date. Below you can see it in progress. To give a sense of scale I also included both Cherry Starburst and my trusty palette knife…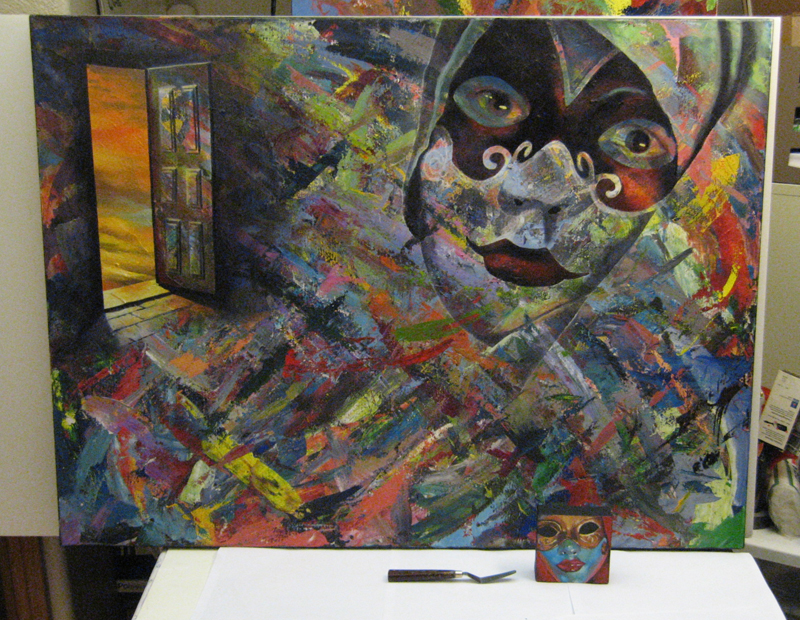 Work in Progress
Oh yeah, if you ever wondered whether or not my studio was a relaxing place to hang out, just look below. I don't know that I've ever seen a cat sleeping any more deeply than Franzie is here. It was funny to watch him wake up a little while later. He had been so sound asleep that he looked over at me with the most confused look on his face and gave a 'what the heck is going on' "Meow".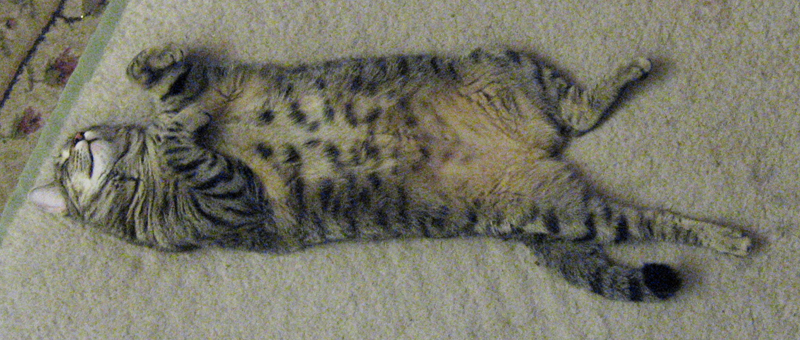 Franz Marc catching some winks
Speaking of hanging out in my studio, I'd better get back in there…
Happy Creating!
With the completion of this latest palette knife painting I bring my Eye Candy: Razzles series to a close. All five flavors of Razzles are now represented, so it's time to either move forward with more regular Eye Candy paintings, or come up with a new sub-series. For now, though, I think I'll just bask in the joy of having finished another painting.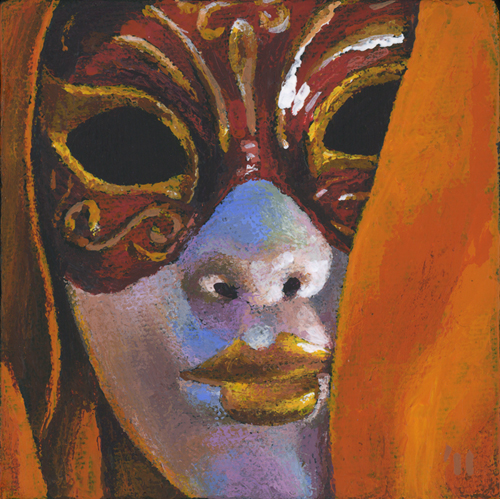 Orange Razzle – 4″x4″ – Acrylic on canvas – Completed 10-2-11
©2011, Don Michael, Jr.
On an entirely different note, my wife and I spent this past Friday night in our new capacity as roadies for the thrash metal band Arsenik, which happens to feature our son, Eric, as bassist. Thankfully, my favorite photographer was on hand and she did a great job documenting this event…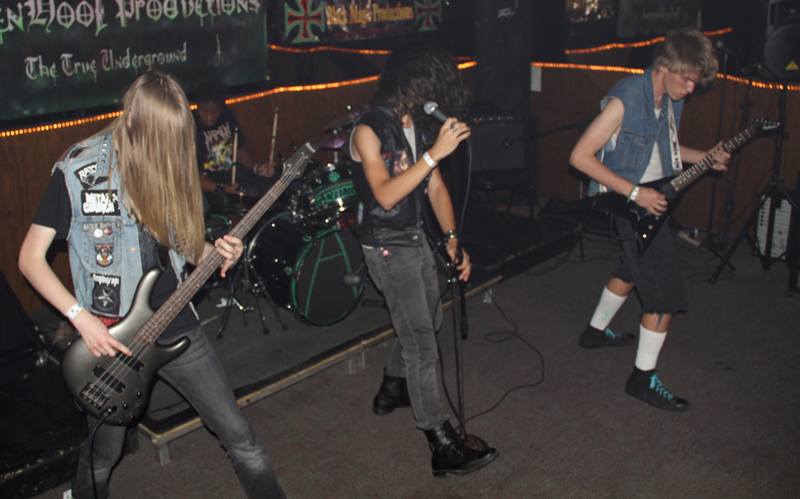 Arsenik in concert – 9-30-11
Of course, proud Papa must also include a close-up of his boy…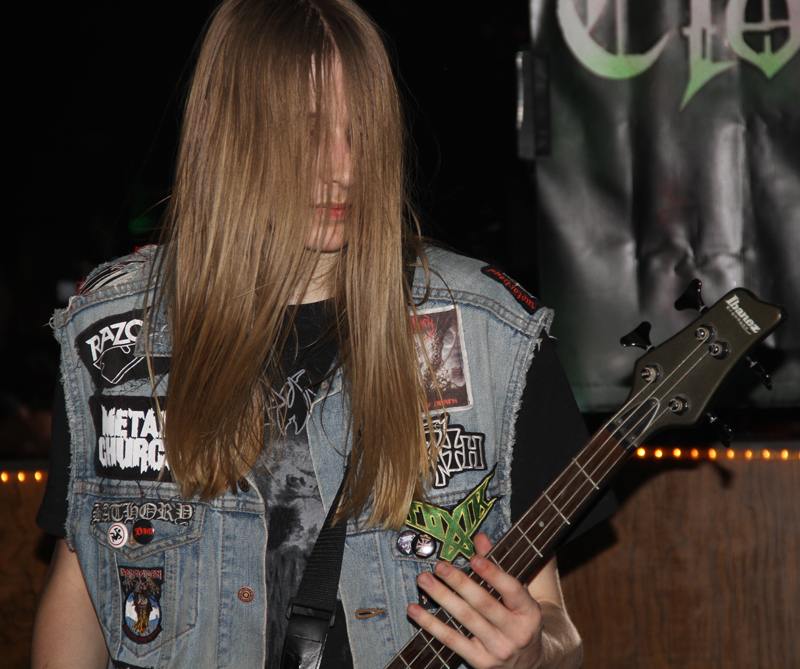 Eric Michael, bassist for Arsenik
Photos courtesy of Alley Zoom Productions
It was only Arsenik's 2nd gig but you'd have never known it. They really blew the roof off. Great job, guys!
I think I've bragged long enough. It's time to get back to the studio…
Happy Creating!
I did a demo at Michael's today and decided to do another itty-bitty palette knife painting. It's amazing how quickly those 3 hour demos go when you're doing something you enjoy. I find that it's getting easier and easier with each demo to paint AND talk to the customers who stop by to see what I'm doing. Hopefully, a couple of the customers I spoke with today will be taking one of my upcoming workshops. After all, that's why I'm there. Anyway, here's the painting I did today…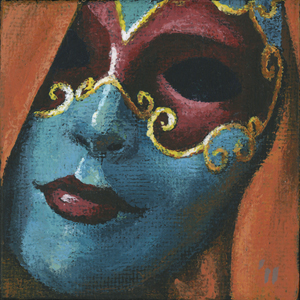 Orange Skittle – 3″x3″ – Acrylic on canvas – Completed 8-16-11
©2011, Don Michael, Jr.
I am 3/5's of the way through the Eye Candy: Skittles Series – that is if I only do the regular flavored ones. My kids told me that there are other "exotic" flavors out there, so I went looking. Sure enough, there are also Tropical, Wild Berry, Crazy Cores, Sour, Fizzl'd Fruits, and Blenders flavors – to name a few. We'll just have to see about all those other flavors. For now I'll stick to what I know.
Happy Creating!
I had never heard of Mint Julep candies until I started doing some research for my Eye Candy series. They are mint flavored taffee chews made by Necco, which sound mighty tasty. Since they have such a cool name, I put them on my list of possible titles…
Today I can scratch that name off my list.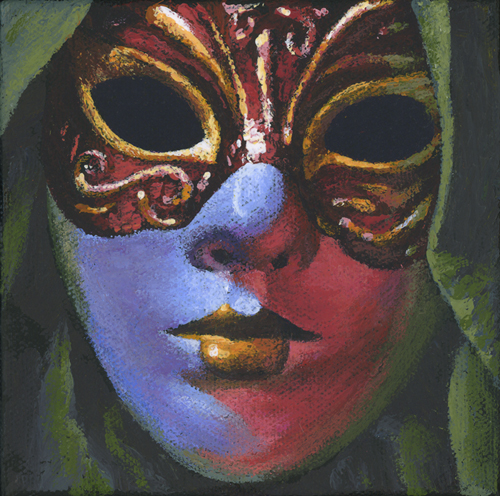 Mint Julep – 5″x5″ – Acrylic on canvas – Completed 8-14-11
©2011, Don Michael, Jr.
OK, I should really get some other work done. But these Eye Candy pieces are just too much fun…
Happy Creating!
My sub-series, Eye Candy: Skittles, has a new itty-bitty member…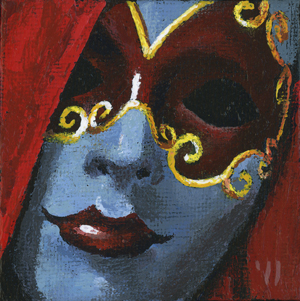 Strawberry Skittle – 3″x3″ – Acrylic on canvas – Completed 8-11-11
©2011, Don Michael, Jr.
Once again I used only a palette knife to create this painting.
Yes, it was fun.
Yes, my eyes are a little buggy now.
I think I'll go work on something a little larger now.
Happy Creating!
As I was finishing this latest addition to my Eye Candy Series the name Licorice Twist came to my mind – and stuck there. So, I went with it…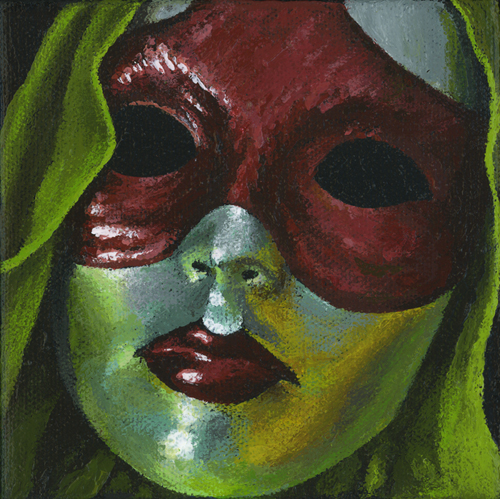 Licorice Twist – 5″x5″ – Acrylic on canvas – Completed 8-8-11
I did not use the color blue in this painting at all. I challenged myself to use only Phthalo Green (Yellow Shade), Diarylide Yellow, Burgundy (a Liquitex color blend of Burnt Umber and Napthol Red), and Titanium White. Any blue that your eye is tricking you into seeing is actually a blend of the green, red and white. After that, it's all about the juxtaposition of the 'blue' mix with the other colors. Fun stuff, huh?
Happy Creating!
Next Page >>