Yesterday I alluded to a possible 'sub-series' in my ongoing Eye Candy Series of palette knife paintings. Today I took the idea from concept to fruition.
My daughter has been trying to get me to use the name Skittles for quite a while, but I had resisted since it never seemed to fit with any of my paintings. During one late night painting session earlier this week I suddenly knew what to do with the name Skittles. I would create a sub-series using my itty-bitty 3″x3″ canvasses and title them with each of the Skittles flavors. So, here is the first…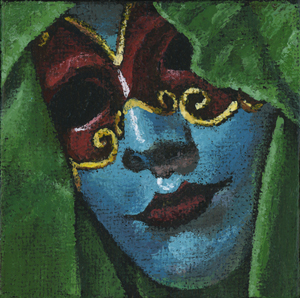 Lime Skittle – 3″x3″ – Acrylic on canvas – Completed 8-4-11
©2011, Don Michael, Jr.
Prior to Lime Skittle all of the Eye Candy paintings had been on 5″x5″ canvasses. I'd been wanting to try painting one of them on an itty-bitty canvas, but felt I needed a 'reason' before moving forward. Now I have it…
Yes, this entire painting was done with my trusty palette knife. Yes, I'm a glutton for punishment. Most importantly, yes, it was fun.
Happy Creating!
I was never much of a fan of SweeTart candies until the mid-70's when a pack of Chewy SweeTarts suddenly appeared in the candy machine at my high school. Back then, there were three silver-dollar-sized candies in each pack – one each of grape, cherry, and lemon flavors. Something about combining that sweet, yet sour, flavoring with a chewy texture was exactly what I needed. So, for the next year (until we moved from that school district) that became my candy of choice.
Any time I had a little change burning a hole in my pocket I would treat myself to a pack. Since having extra change was a rare occurrence, I made sure to make the most out of each opportunity I had to enjoy these chewy morsels. I would always eat the lemon flavored one first – because it was my least favorite and I wanted to get it out of the way. Then, it was a toss-up as to whether the grape or cherry would come next. I preferred the grape flavored one the most and would try to save it for last, but sometimes I just couldn't help myself and had to go ahead and eat it second. Either way, I tried to make them last as long as I could. Alas, I rarely made it to the end of the day…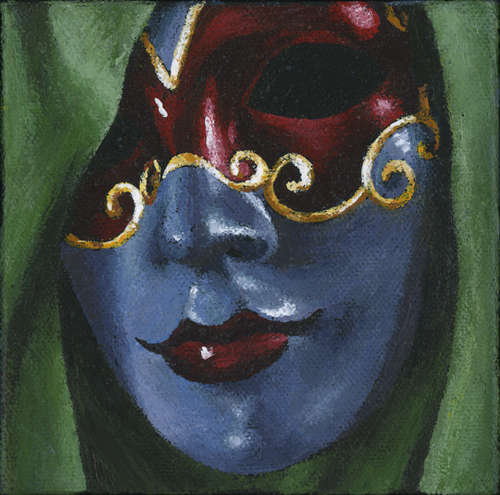 SweeTart – 5″x5″ – Acrylic on canvas – Completed 8-3-11
©2011, Don Michael, Jr.
This little Eye Candy Series of palette knife paintings has continued to grow quickly, with no end in sight. Last night I even had an epiphany of a possible sub-series. I'm making notes…
Happy Creating!
During my first three years of grade school we lived in an itty-bitty town in Maine, not far from Rockland. Right next to the school I attended was a little store that we kids were told not to visit during school hours. Inside that little store I had discovered a treat that totally rocked my world, and I could buy two of them with a penny!!! With such a temptation just a few short steps away, I found myself frequently breaking that aforementioned rule. What was this sweet temptation that called my name incessantly and caused me to risk life and limb if I were ever caught sneaking away to purchase it? It was a jawbreaker candy that was so hot that you had to constantly pull it out of your mouth and breathe in the cool air. That deliciously hot outer shell would stain your lips and your fingers the brightest of reds, but oh, it was worth it…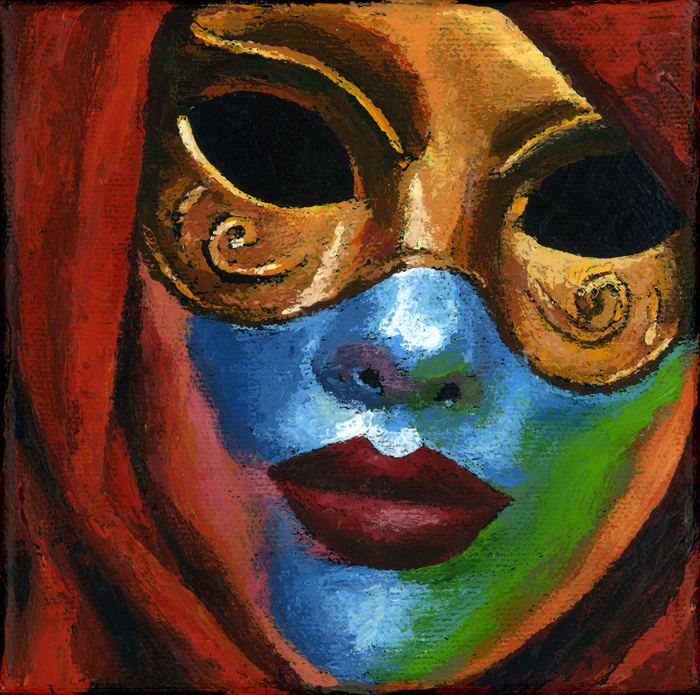 Atomic Fireball – 5″x5″ – Acrylic on canvas – Completed 6-1-11
©2011, Don Michael, Jr.
When we moved away from Maine I was not able to find those insanely hot treats in the small town of North Carolina that we moved to. As the years went by I discovered other confections to enjoy, but none ever had the same effect on me as those delicious orbs of fire.
Let's fast-forward almost 20 years… My young bride and I went to investigate a Sam's Wholesale Club that had just opened near our small town in Oklahoma. She decided we needed to see what kind of candy they stocked and we were both amazed at that long aisle of sweet temptation. As we strolled along I happened to look up on the top shelf and did a double-take. There, in a large square plastic jar, was something that took me back to my childhood.  I almost felt naughty as I took that jar off the shelf and placed it in our cart. I was half expecting to hear someone yell out, "What are you doing over here during school hours?!?!", and was quite relieved when it didn't happen.
Anyway, I couldn't wait to get checked out so I could tear into that jar and get me one of those individually wrapped red beauties. I'll admit to being a bit nervous that they would not be as good as I remembered, but am happy to report that I was not let down. I shared the pleasures of this delicacy with my young bride and by the time we got home we both had the brightest red lips and bright red stains on our thumbs and forefingers. Oh, they hurt so good…
Well, telling this little story has my mouth watering. Thankfully, I have a stash nearby. I think I'll go turn my lips red…
Happy Creating!
This latest palette knife painting in my Eye Candy series was a required piece in that the candy it represents is my wife's favorite. Needless to say, there was much scrutiny and a bit of input in the creative process. Thankfully, she gave it a smile and a nod upon completion. Whew! Mission accomplished…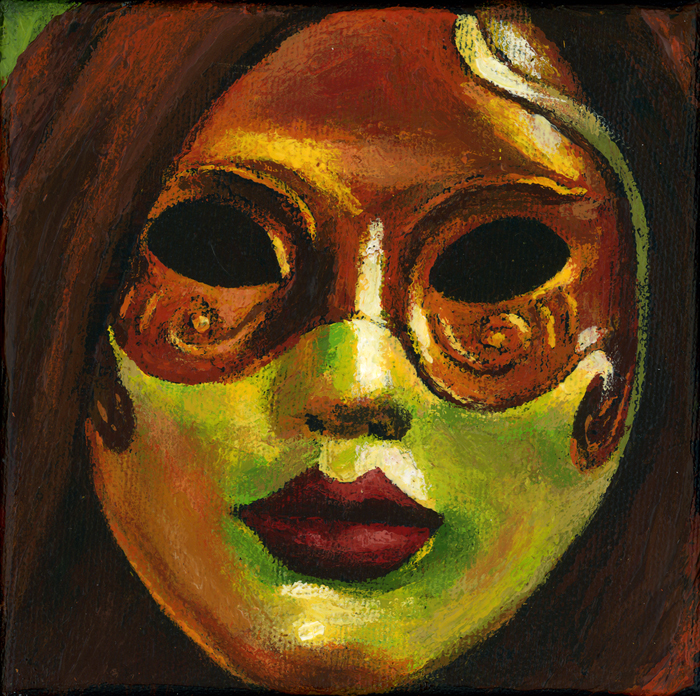 Root Beer Barrel – 5″x5″ – Acrylic on canvas – Completed 5-30-11
Alas, more sweets await…
Happy Creating!
I recently started a series of small palette knife paintings which are named after some of my favorite confectionary treats. Thanks to my great online friend and artist extraordinaire, Celeste Bergin, I now have a title for this series – Eye Candy.
Now, what would a series about candy be without a tip-of-the-hat to the mother of all jawbreakers, the gobstopper? And how can one in good conscience not use the name we all learned from Charlie and the Chocolate Factory, which was later marketed by the Nestle company?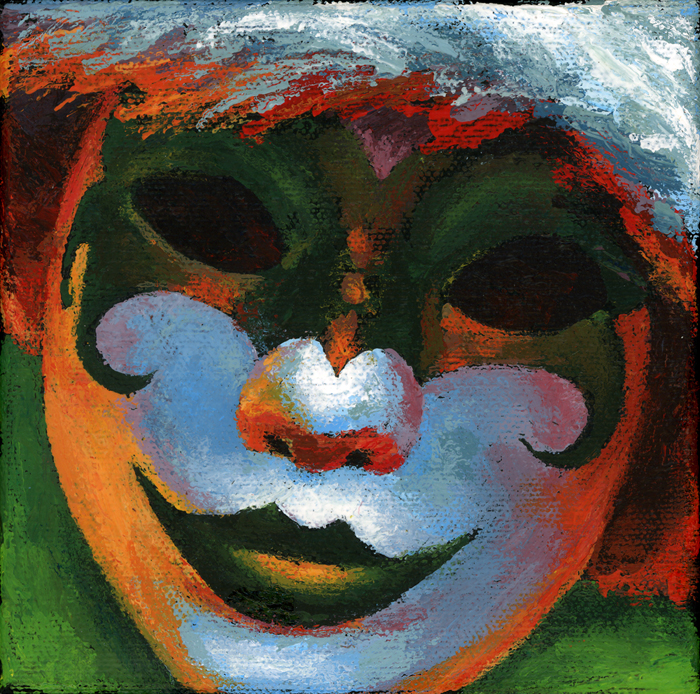 Everlasting Gobstopper – 5″x5″ – Acrylic on canvas – Completed 5-25-11
©2011, Don Michael, Jr.
Now it's time to take off my artist hat and put on my Proud Papa hat.
My 12-year-old daughter, Christina, came home today with a beautiful painting that she did earlier this month and its Honorable Mention ribbon from a school-wide art exhibit. I was greatly surprised when she got into the car after school today and was carrying this beauty with her. I knew she had been doing some great artwork of late, but was totally floored when I saw this…

Ducks at Sunset – 6″x18″ – Acrylic on canvas – Artist: Christina Michael
Just look at that sky!
I told her that what took this from being a good painting to being a great painting was the addition of the ducks on the ground. She told me that they represent the babies who haven't learned to fly yet, and that the smaller ducks flying are the ones who are just now learning… I had to smile. My baby is learning to fly.
I'm still smiling.
Now it's back to the studio…
Happy Creating!
I am having such a blast with these little palette knife paintings. It won't be long and I'll have to come up with some clever name for the series. Until then please enjoy this latest tasty treat…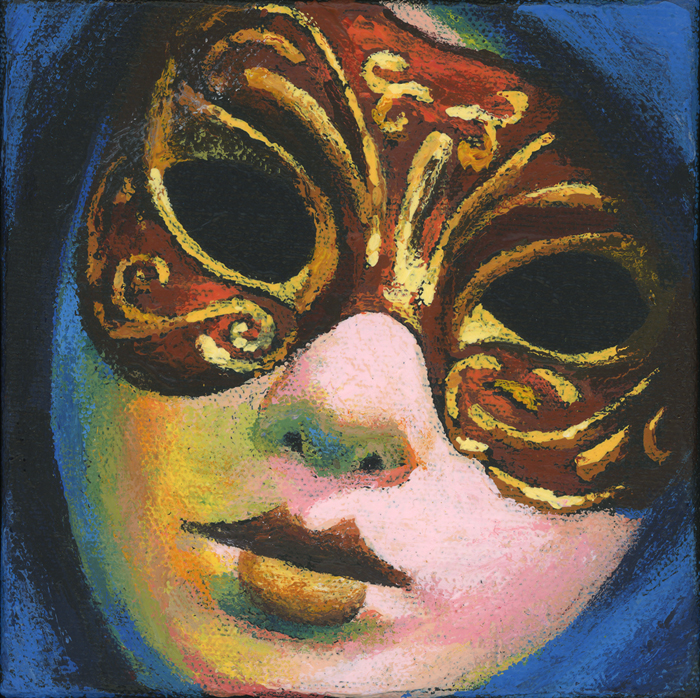 Tootsie Pop – 5″x5″ – Acrylic on canvas – Completed 5-16-11
©2011, Don Michael, Jr.
Happy Creating!
As I was finishing this painting my son Eric came into my studio and we started going over which candy it most reminded us of. We tossed around several ideas and he even went to the computer to look up some names based on cinnamon and cherry. As he was surfing the net I asked him, "What are those strawberry candies called?". His immediate response was, "Oh, that's perfect! I love those things !". We've always just called them 'those strawberry candies', and upon further investigation discovered that's exactly what they're named. A few minutes later when my daughter Christina entered the studio I told her what we were thinking about and her response was pretty much the same as her brother's. At that point there was no doubt what this painting's name would become…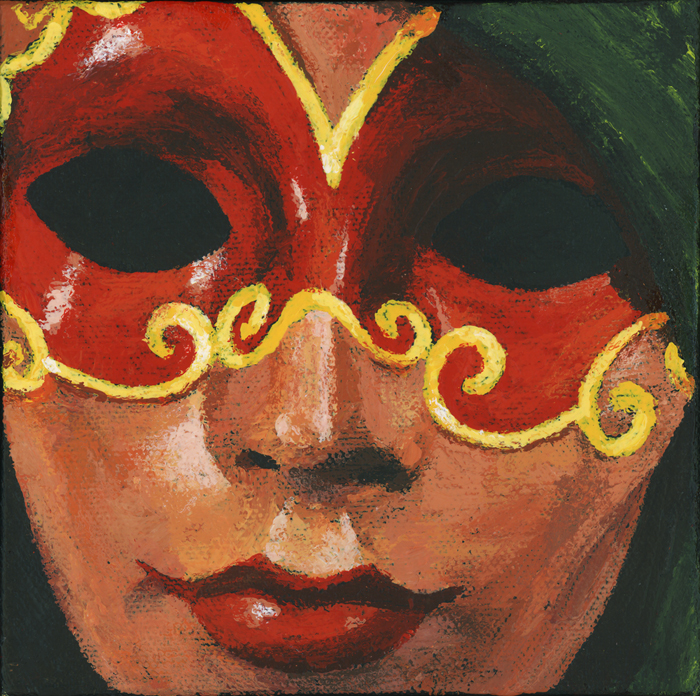 Strawberry – 5″x5″ – Acrylic on canvas – Completed 5-13-11
©2011, Don Michael, Jr.
Uh oh… My sweet tooth has been whetted. I'd better get back to the studio for some more delectable treats.
Happy Creating!
After titling my last palette knife painting a couple days ago I decided I was on the way to a new series. Here is number two in that series…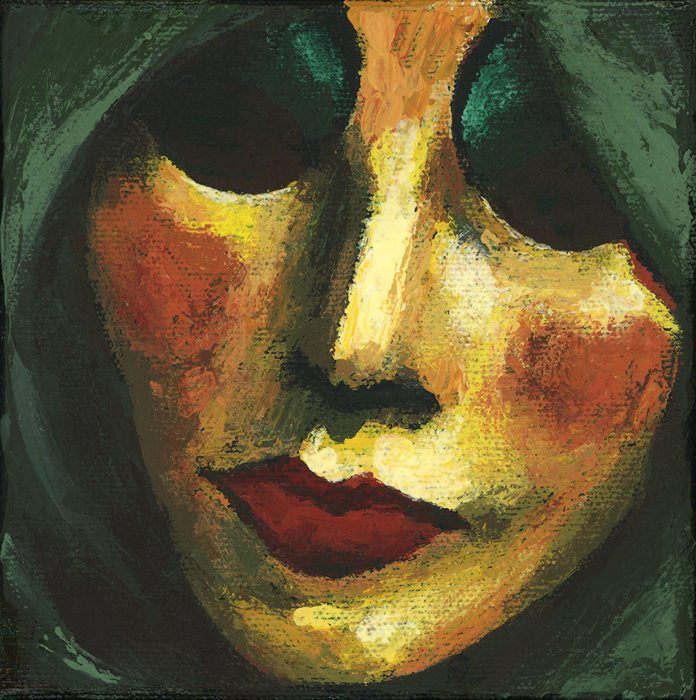 Lemon Drop – 5″x5″ – Acrylic on canvas – Completed 5-12-11
©2011, Don Michael, Jr.
I've made a list of some of my favorite hard candies to be used as future titles. I'd love to add any favorites you may have to that list…
Meanwhile…
Happy Creating…
It was time to stretch the old palette knife muscles again…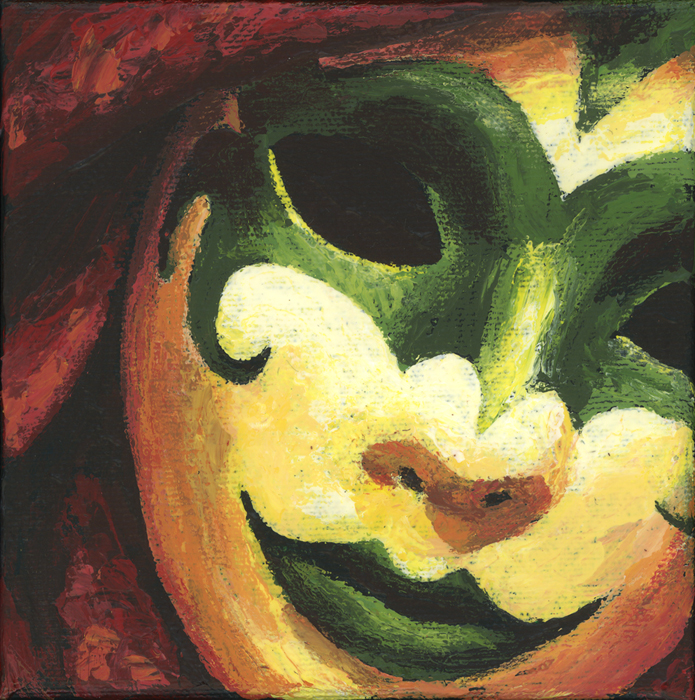 Butterscotch – 5″x5″ – Acrylic on canvas – Completed 5-10-11
©2011, Don Michael, Jr.
This little canvas was painted entirely with my trusty palette knife. Since I left no clear space for a signature I was forced to sign and date it on its side.

As you can see, I had gessoed the entire canvas black before starting. I love that stuff…
I think I'll go play some more.
Happy Creating!
Here's a little composition I came up with centered around one of the masks I created recently.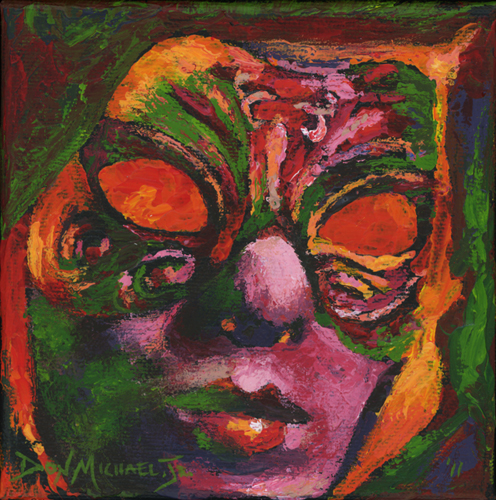 Moxie – 5″x5″ – Acrylic on canvas – Completed 2-26-11
©2011, Don Michael, Jr.
As you can see in the photo of her model below, I took a few liberties with her coloring. That's one of the things that makes this thing I do so much fun.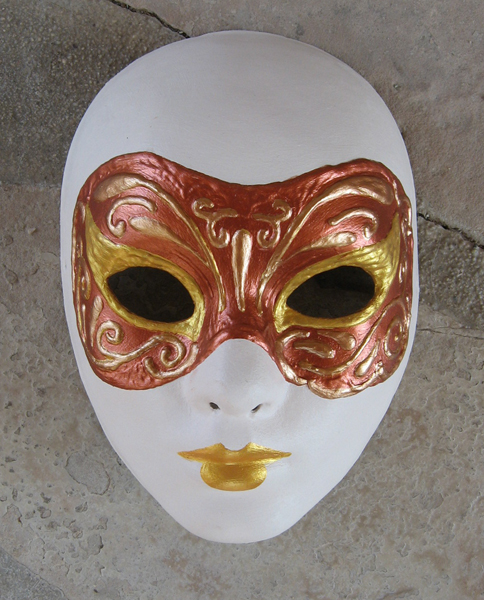 Coquette
Both the painting, Moxie, and the mask, Coquette, will be on display at the Arts Factory next week for First Friday. Come on out to see them and swap a few lies with their artist.
Speaking of First Friday, I've got a lot of work to do between now and then to get ready, so I guess I'd better get started…
Happy Creating!
<< Previous Page - Next Page >>