This past Saturday I had the opportunity to paint live in Downtown Summerlin for the St. Jude Children's Research Hospital Las Vegas Chapter.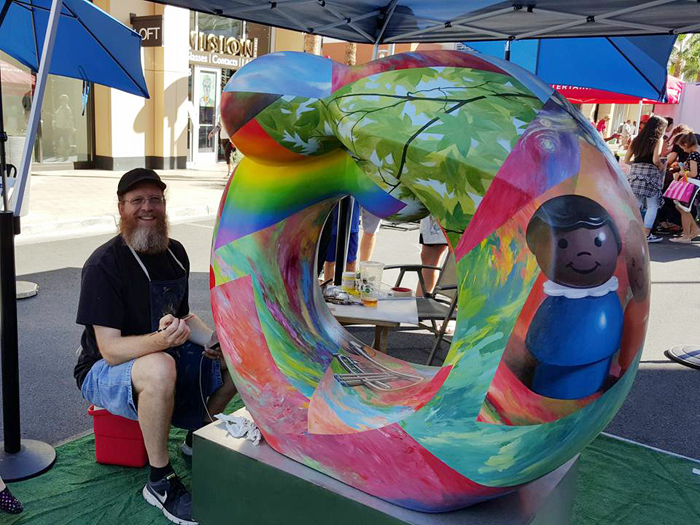 I was painting on a sculpture created by Las Vegas artist Dorit Schwartz. I am one of ten artists painting casts of this sculpture for the 2015-16 installment of Celebration of Life. Our intention is to bring awareness to and donations towards the outstanding work St. Jude is doing in the fight against childhood cancer.
Here is a photo of the sculptor with this painter…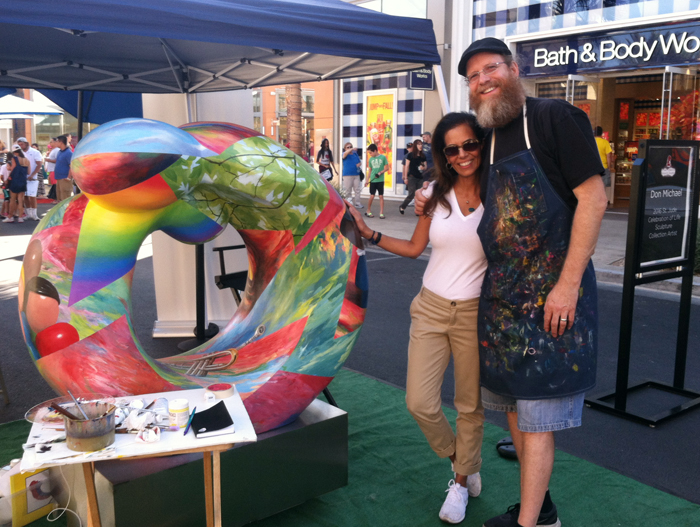 St. Jude Artists Dorit Schwartz and Don Michael, Jr.
…and, below is a photo of fellow artist, Joseph Watson, striking a pose as he takes a pause from painting on his sculpture. I love what he has going on with his and can't wait to see his finished piece!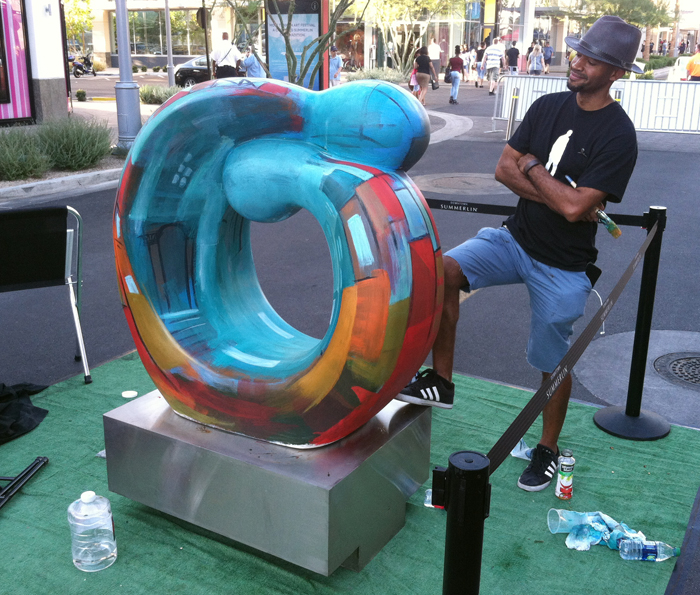 St. Jude Artist Joseph Watson
This is the fifth large sculpture I have painted for St. Jude. The other four still reside in various locations around Las Vegas and continue to do their job of bringing awareness for St. Jude. Here is a montage of those previous four…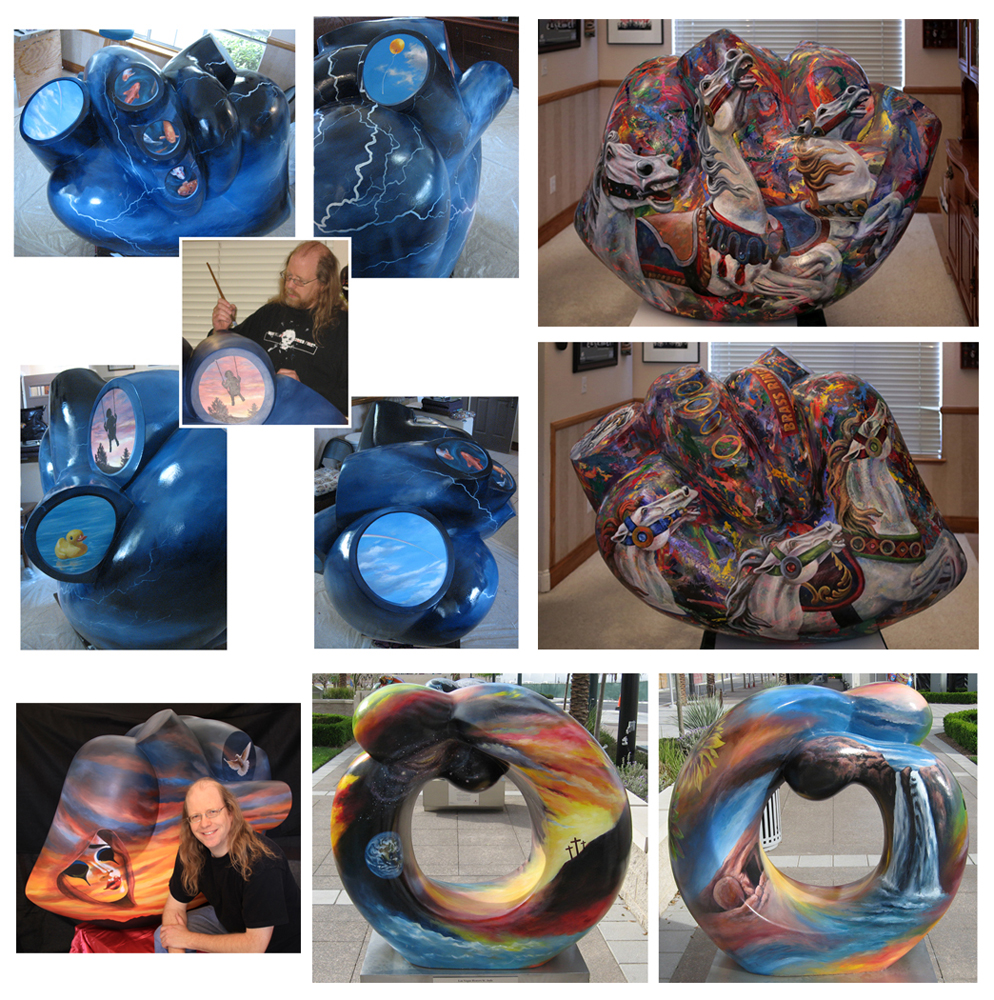 Clockwise from top: Heartstrings, Brass Rings, Miracle, Hope
For this year's installment I used the song What a Wonderful World, made famous by Louis Armstrong, and written by Bob Thiele and George David Weiss, as my inspiration. Using the lyrics, here's how it played out…
I see trees of green…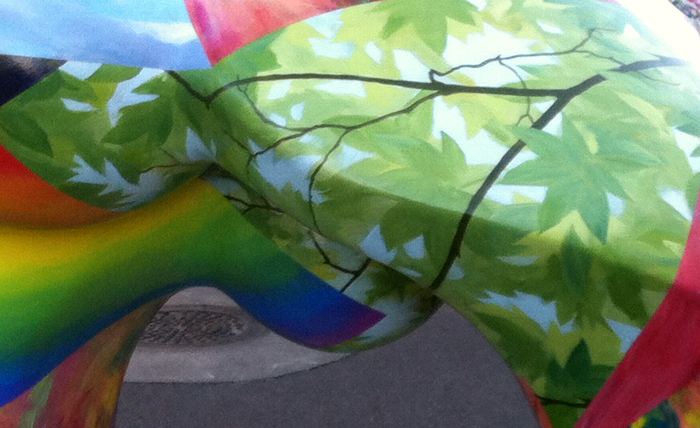 …red roses, too,
I see them bloom, for me and you
And I think to myself
What a wonderful world…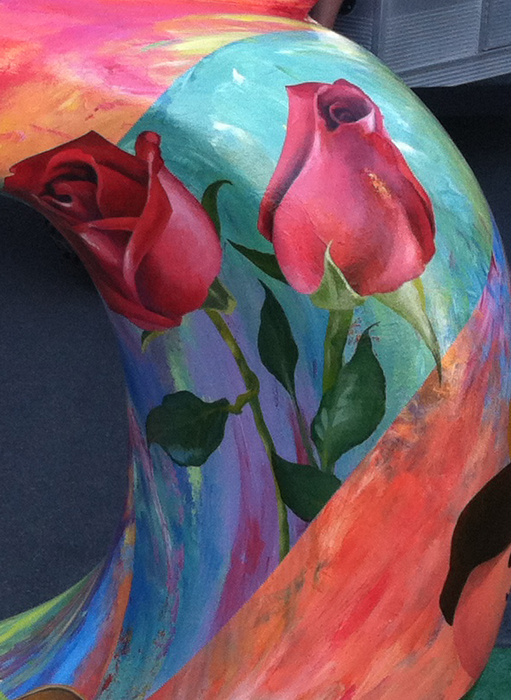 I see skies of blue, and clouds of white…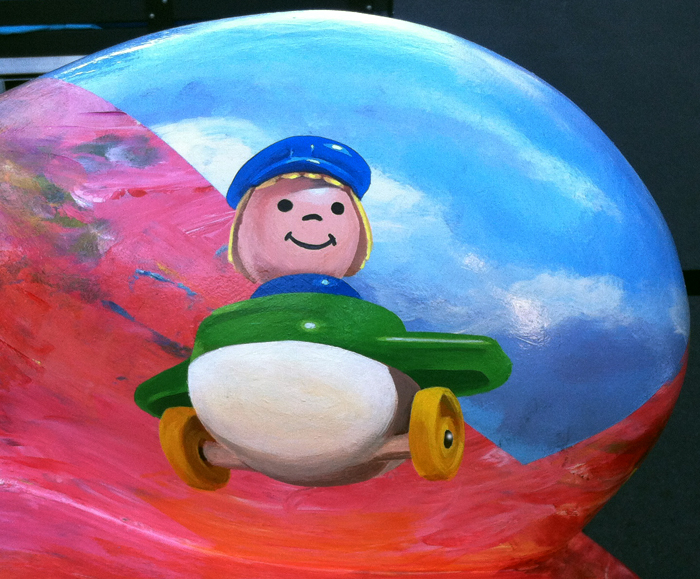 The bright blessed day…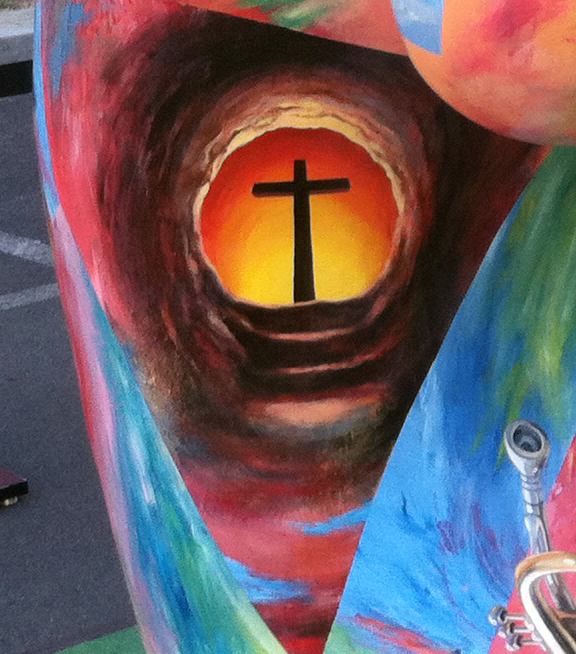 …the dark sacred night
And I think to myself
What a wonderful world…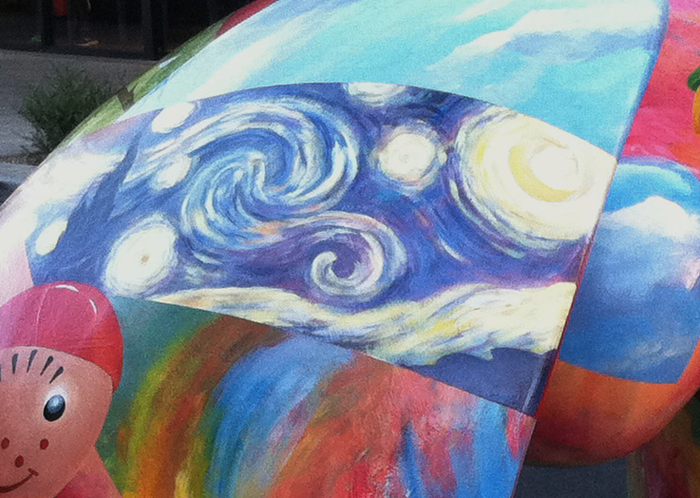 The colors of the rainbow, so pretty in the sky,
Are also on the faces of people going by…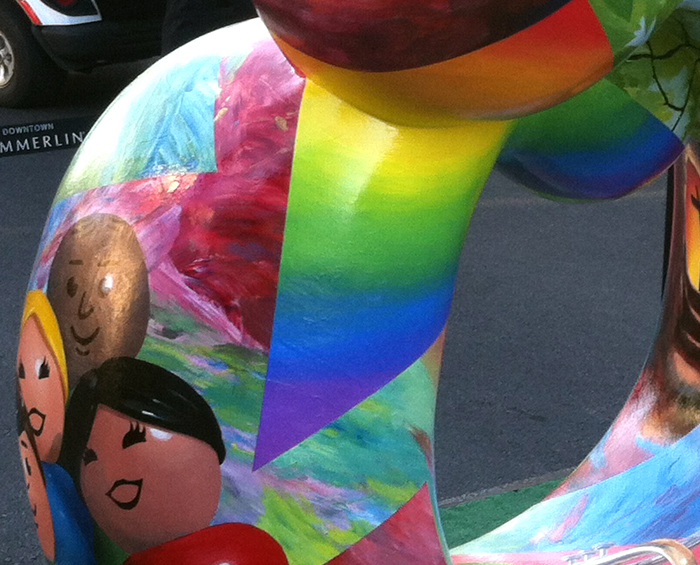 I see friends shaking hands, sayin', "How do you do?"
They're really sayin', "I love you."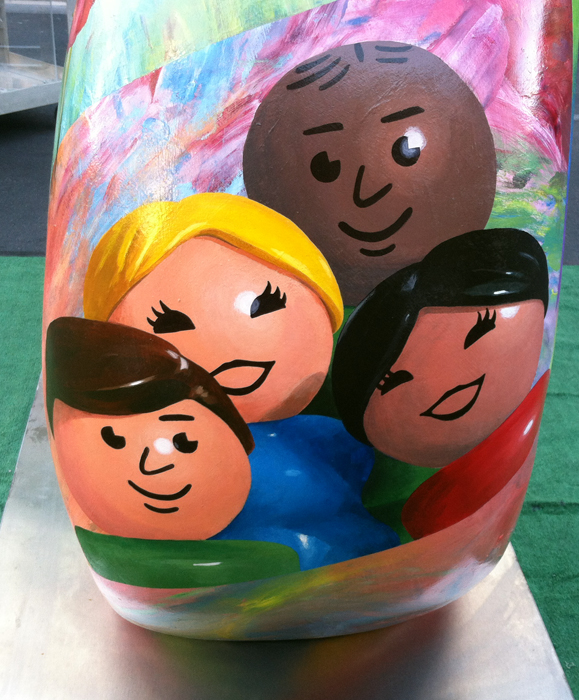 I hear babies cryin'. I watch them grow.
They'll learn much more than I'll ever know…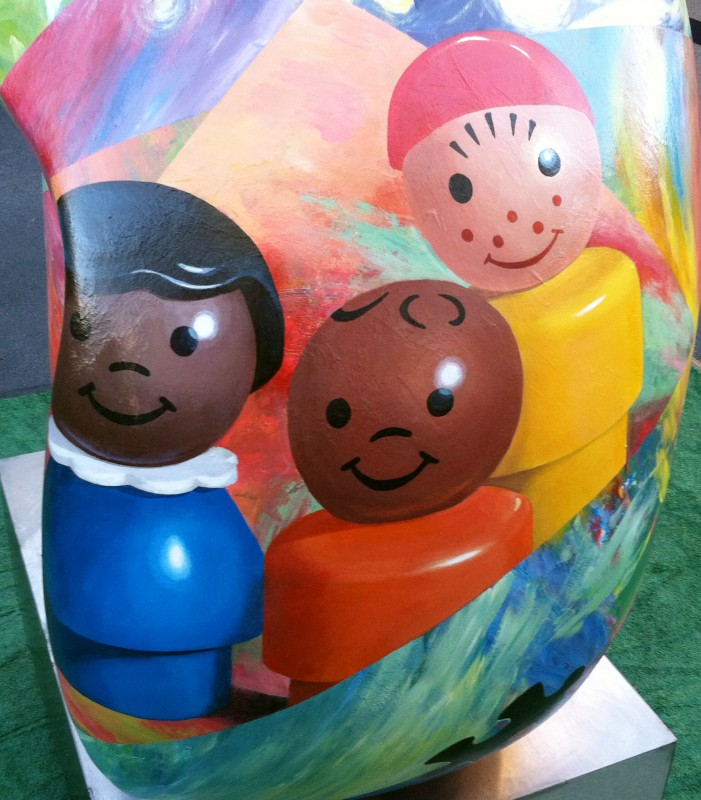 And I think to myself
What a wonderful world...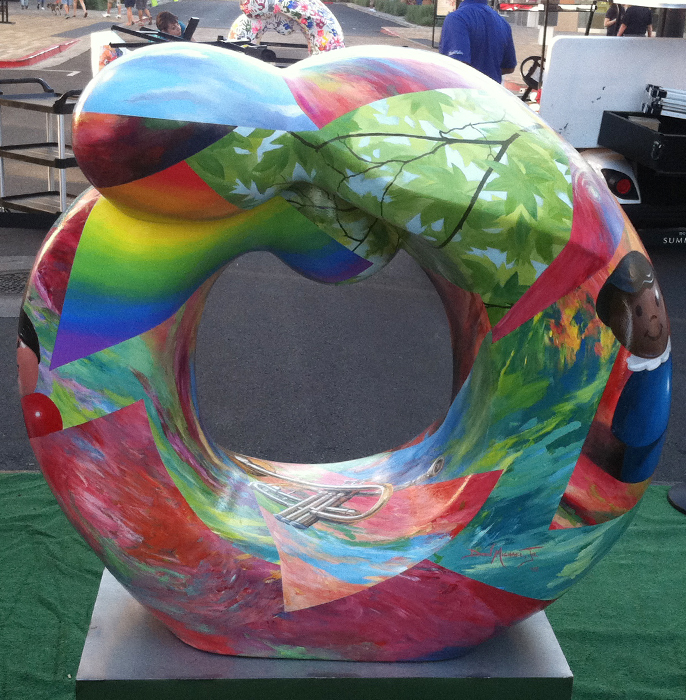 Yes, I think to myself
What a wonderful world.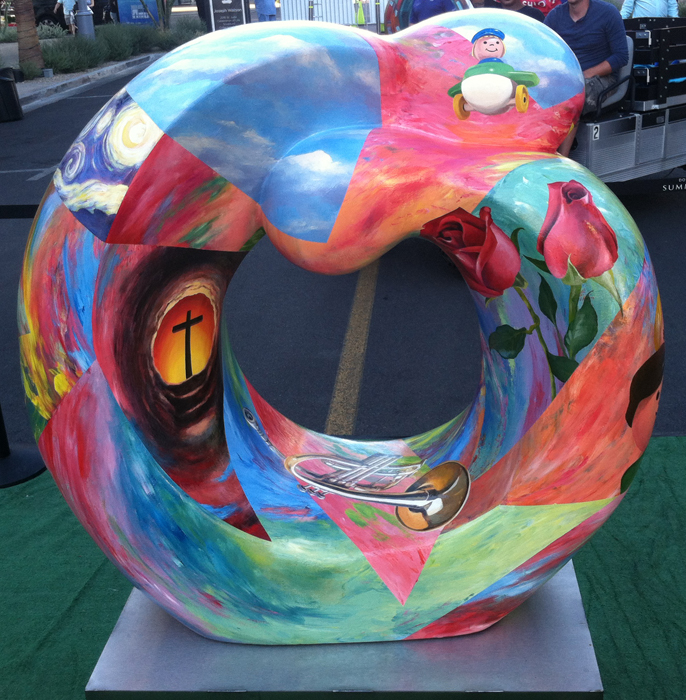 The trumpet that you see in the bottom of the piece is my 'tip of the hat' to Mr. Armstrong.
As always, there are some other elements, some personal, that I do not explain. I love leaving things up to the viewer to determine.
Below is my Artist Statement for What a Wonderful World:
Life is in bloom. Days come and go. People, though different, are the same in their love for one another. Children grow and learn. "Yes, I think to myself, What a Wonderful World".
 Let's keep our children growing and learning as we support St. Jude in their mission to eradicate childhood cancer.
 My inspiration for this piece comes from the song "What a Wonderful World" recorded by Louis Armstrong and written by Bob Thiele and George David Weiss.
Happy Creating!
Today I had the honor of being interviewed by our local NBC affiliate regarding the sculpture I painted in 2014 for the Las Vegas Chapter of St. Jude. If you click on the photo below it will take you to that interview…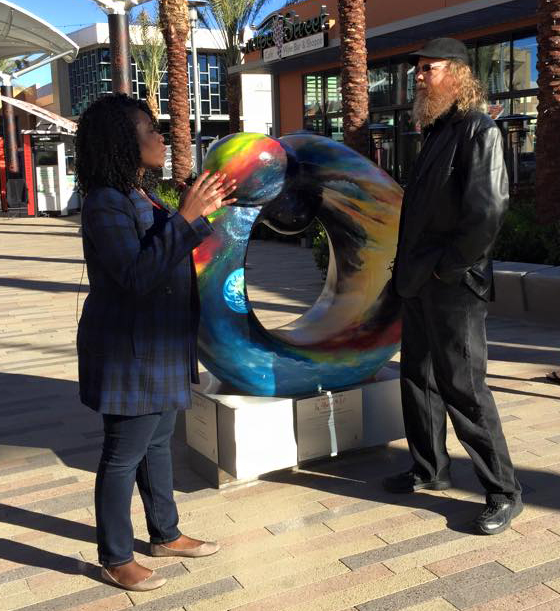 Venise Toussaint interviews Don Michael, Jr. about Miracle
(Photo credit: Dorit Schwartz)
The design for this sculpture was created by Las Vegas sculptor Dorit Schwartz – and, an amazing piece it is! The one I painted, Miracle, as well as the other 9 painted last year are currently on display at Downtown Summerlin. If you are in the Las Vegas area be sure to go check them out. They will be there until April 20, 2015.
Happy Creating!
This past Thursday the St. Jude Local Las Vegas Chapter presented the 2014 Celebration of Life Sculpture Exhibit which is currently on display in the Symphony Park at the Smith Center here in Las Vegas. This collection of 10 sculptures designed by sculptor Dorit Schwartz and painted by several Las Vegas based artists, including yours truly, are designed to bring awareness to and help generate funding for the St. Jude Children's Research Hospital.
Here I am with the sculpture that I painted, which I titled Miracle…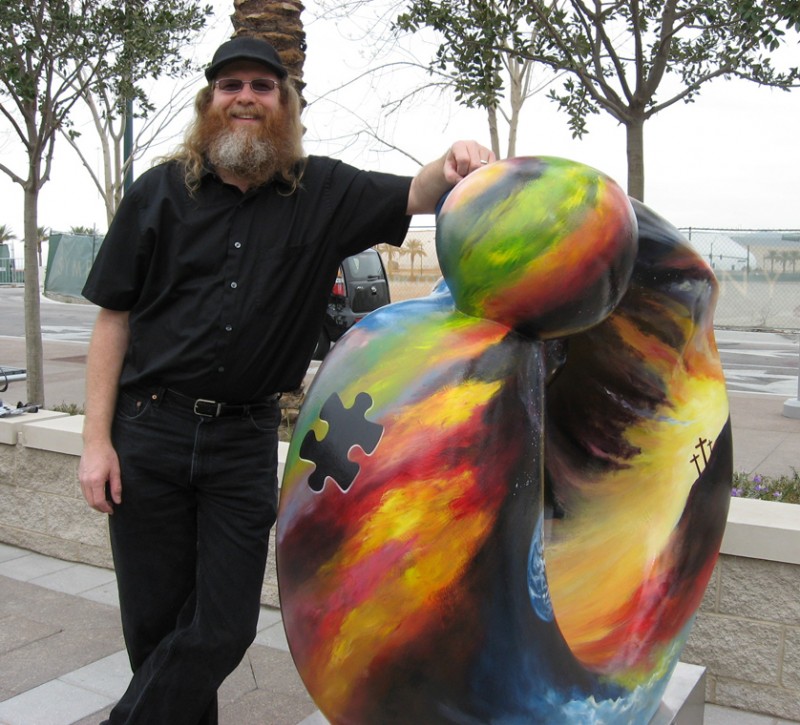 Don with Miracle
Before I even started painting this year's sculpture I knew Miracle would be its title. Miracle is a word that resonates with my family. Even though we didn't get the miracle that we prayed for this past July, we know that God is still doing a work in our lives. We hold close the words from Romans 8:28 "And we know that all things work together for good to them that love God, to them who are the called according to His purpose."
Because of all the intense emotions flowing through and over me as I created Miracle I knew I had to keep my Artist's Statement short and to the point.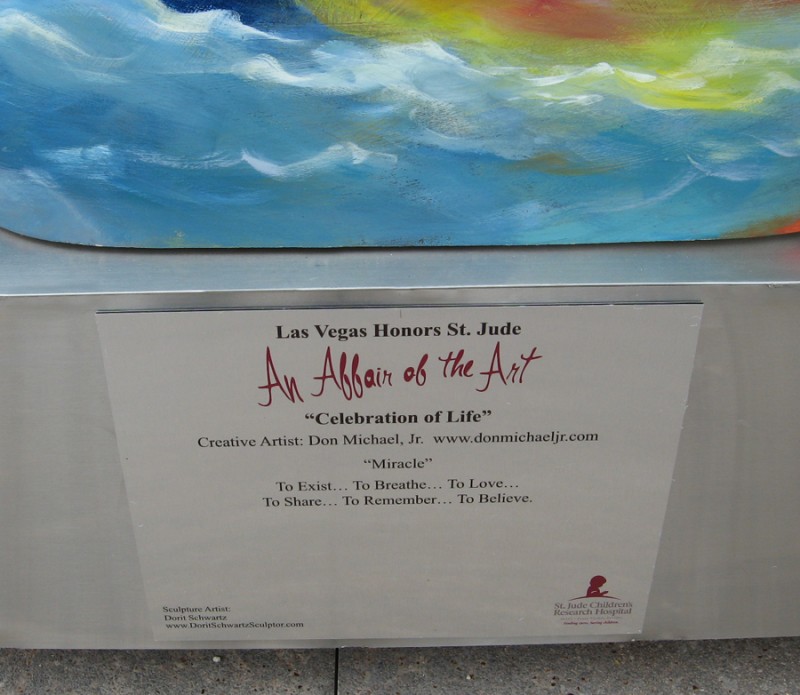 "To Exist… To Breathe… To Love… To Share… To Remember… To Believe."
This is by far the most personal piece of art that I've created in a long time. In it I have expressed my faith, I have acknowledged my family, and I have acknowledged my grief. With that all said, I wanted to express all of these in a positive and uplifting way. I wanted to make sure that my artwork in no way conflicted with my desire to bring a positive message to the families who are coming to St. Jude with a hope for healing and life after cancer. I pray for the day when the cure rate for cancer is 100% and no family has to go through what ours has ever again.
Below are more photos of the different parts of Miracle. Some were taken outside and some were taken while still in my dining room, so their quality varies.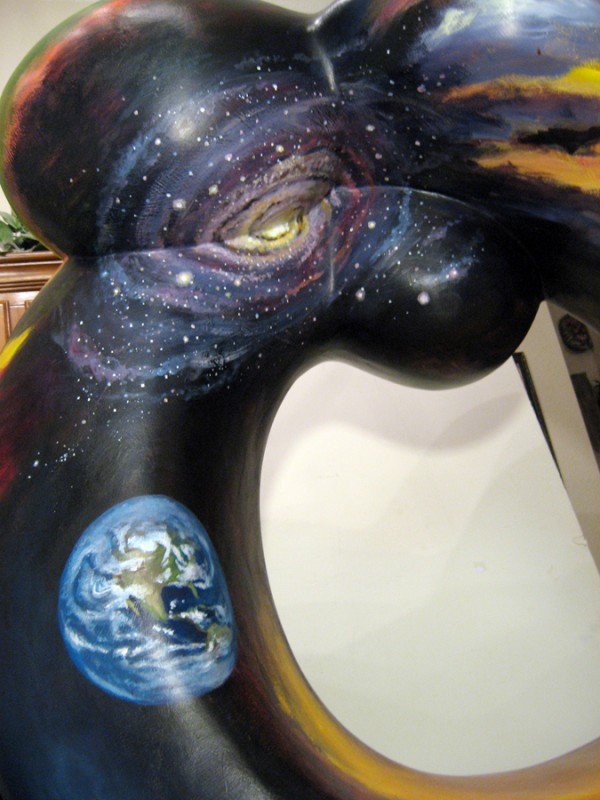 In the Beginning God Created the Heavens and the Earth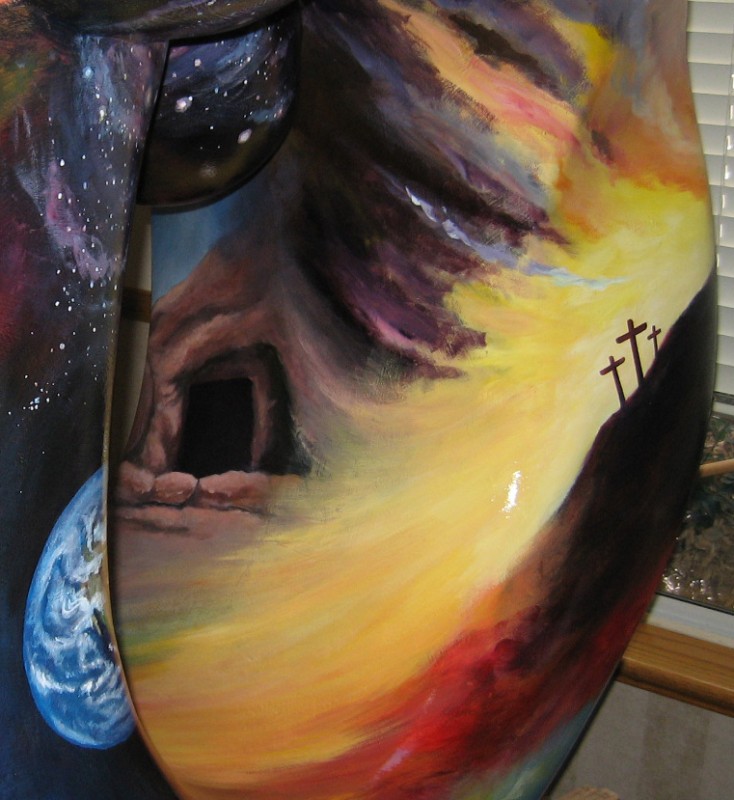 The Crosses and the Empty Tomb represent God's Grace – Death is Nothing to Fear for Those Who Believe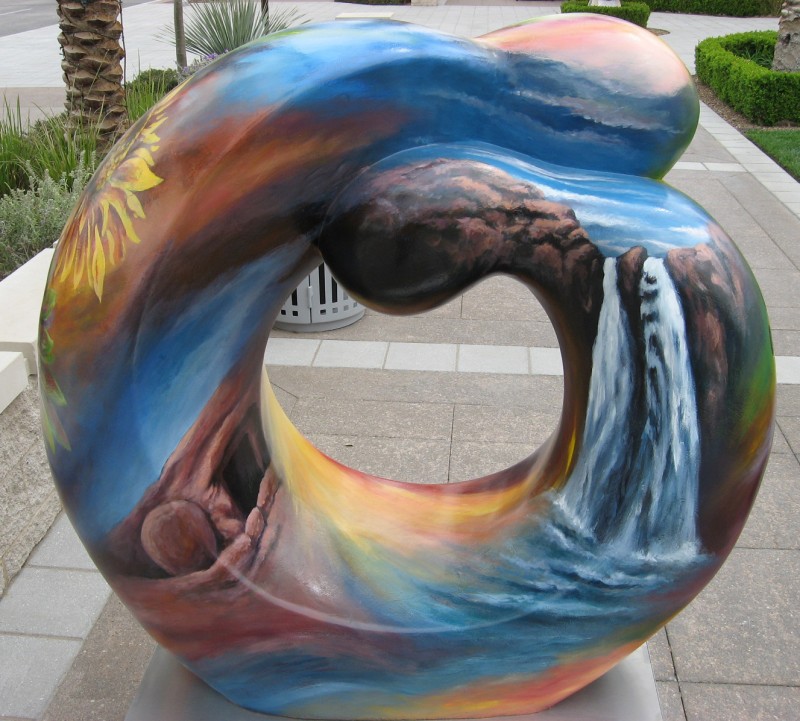 "He that believeth on me, as the scripture hath said, out of his belly shall flow rivers of living water." John 7:38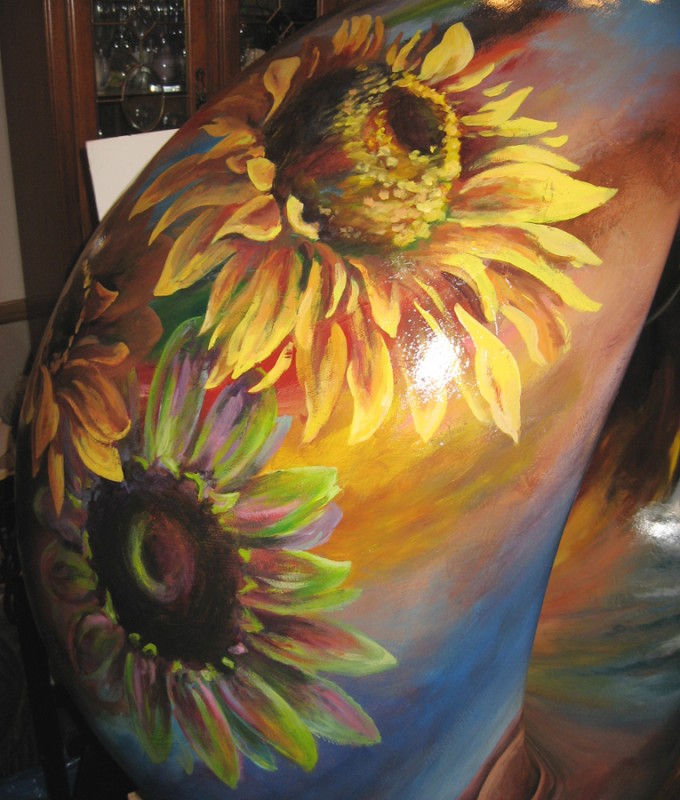 Sunflowers Memorialize Our Son, Donald, the Oldest of Three
As many of my long-time blogging friends know, no art project can leave my studio until it meets with the final approval of my studio cat, Franz Marc. I smile every time I see this photo.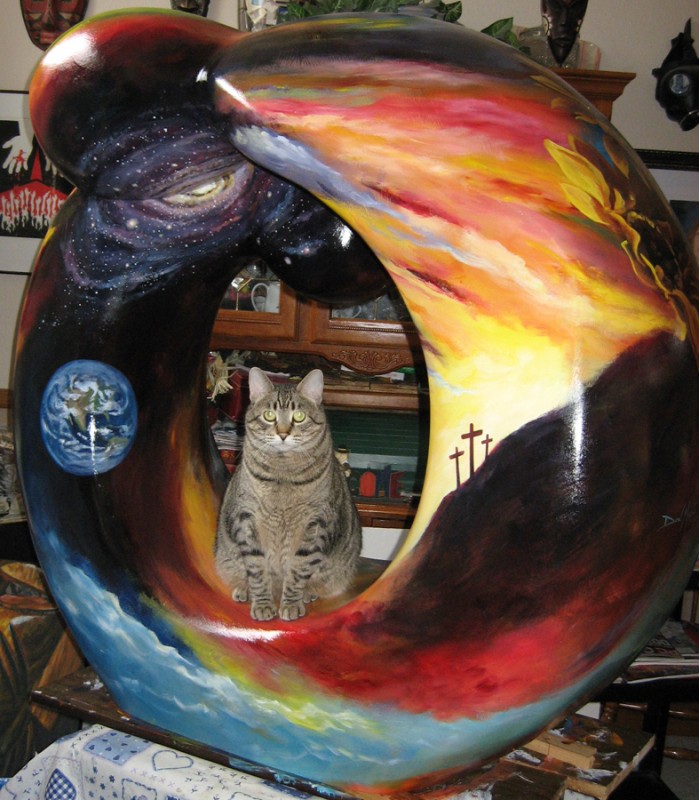 Franzie Approved
I'm sure you've noticed that there are a few elements upon which I have not elaborated. I'm a strong advocate of always leaving a touch of mystery to my work – let people have a chance to find their own meaning…
-A Final Note: The event was blessed with decent media coverage and my photo even ended up in the Las Vegas newspaper. On top of that, a few other photos of me and Miracle ended up on their website. I couldn't be more proud. Check it out here: http://www.reviewjournal.com/life/photos-reflection-love
Happy Creating!
Once again I have the honor of being invited to participate in An Affair of the Heart for the Las Vegas Chapter of the St. Jude Children's Research Hospital. I'm proud to say that this is my third year to paint one of these Ginormous Hearts, which are then used to generate awareness of and money for the work St. Jude is doing in the fight against cancer in children.
The successes St. Jude has achieved during its 51 years of existence are phenomenal. For example, in 1962 the five-year survival rate of a child diagnosed with acute lymphoblastic leukemia was a paltry 4%. That survival rate is now up to 94%, which is just outstanding!!! (FYI, you can see more survival rates here. Check it out, you'll be amazed.) As wonderful as this is, there is still a lot of work to do, and that's what I wanted my concept for this year's heart to reflect. Let's keep reaching for even more success with even more young lives saved.
My artist statement for this year's heart is:
"The Carousel is a place where hopes and dreams abound. Those magnificent steeds of fiberglass, wood and steel take us to places of wonder where the cares of life are forgotten. But wait… It gets even better. There's the brass ring! A goal. A hope. A gift.

Thank you, St. Jude, for helping to give our children the hope and the gift of life after cancer.

Keep reaching for those brass rings!"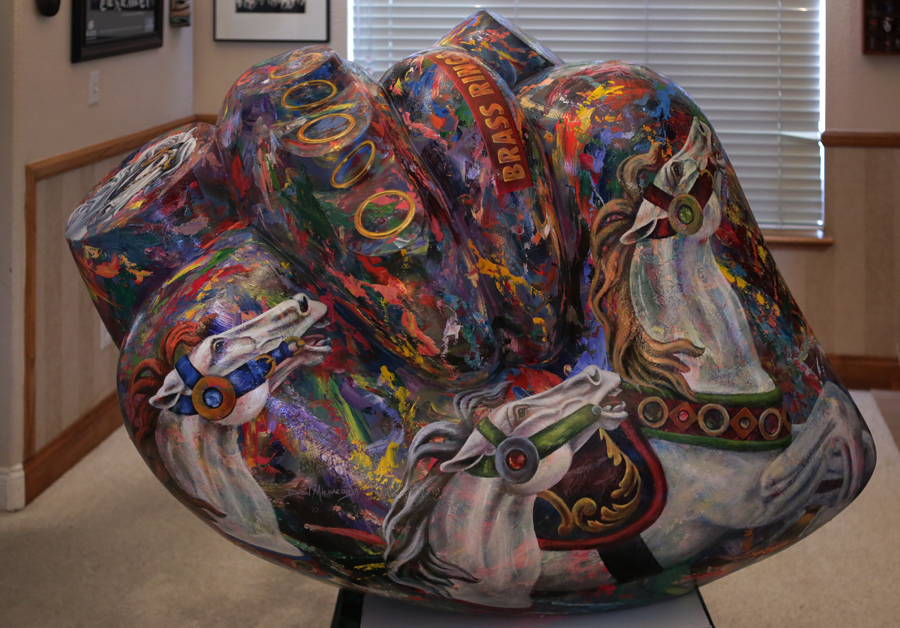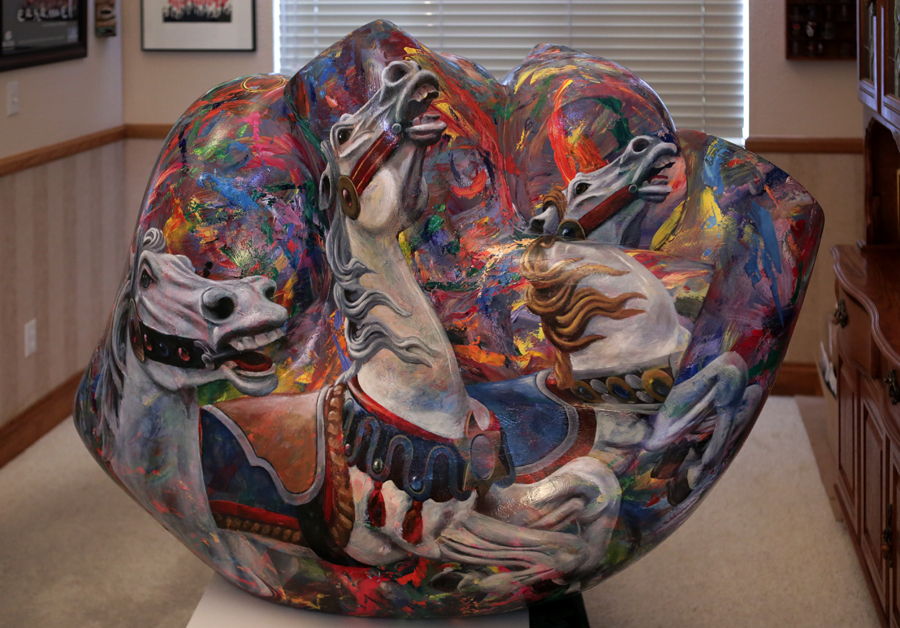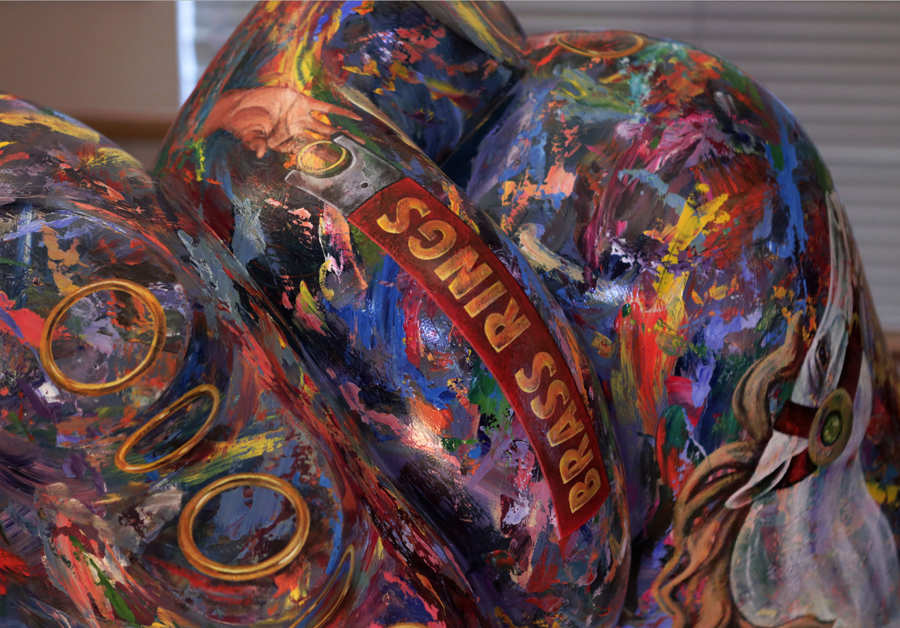 Brass Rings – Acrylic on fiberglass heart – Completed 2/8/13
There are a few people that I want to acknowledge and thank. First of all, I want to thank my wife and children for allowing me to, once again, take up the dining room for the duration of this project. I also thank them for their wonderful support and insightful input. I'd like to thank my good friend, CJ, for once again taking some fabulous photos of my work. And, finally, I'd like to thank my good friend and outstanding Las Vegas Artist, Niki J. Sands, for: 1) including me in this blessed project, and 2) challenging me to "knock her socks off" with this year's attempt. I'll be checking her feet when I see her at the unveiling later this month.
I now leave you with one more photo – one of a tired, but very satisfied artist…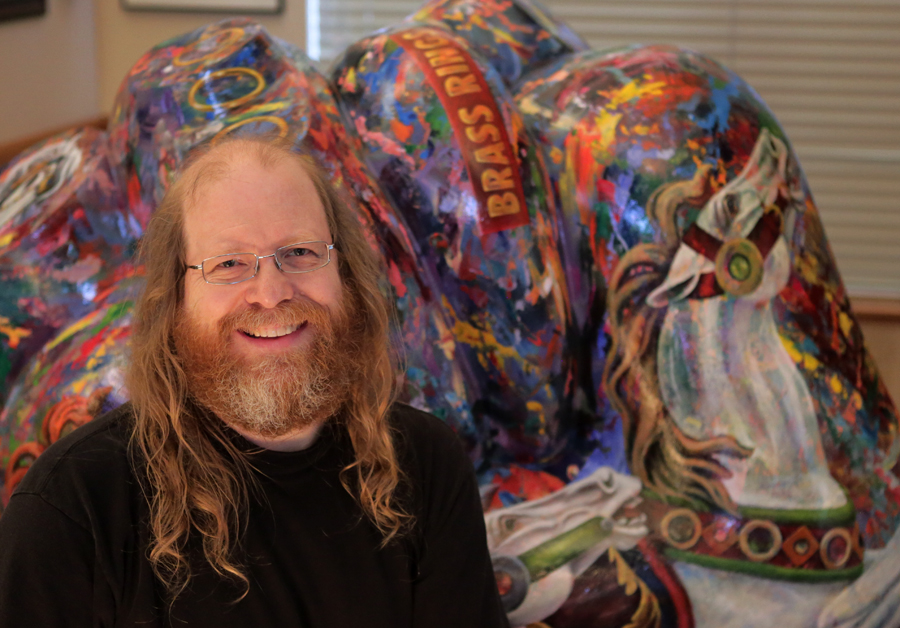 Happy Creating!
I'm excited to be able to finally unveil one of the graphic projects I've alluded to over the past couple months. My brother, David Michael, has just released his latest novel. Here is the book cover I created for him…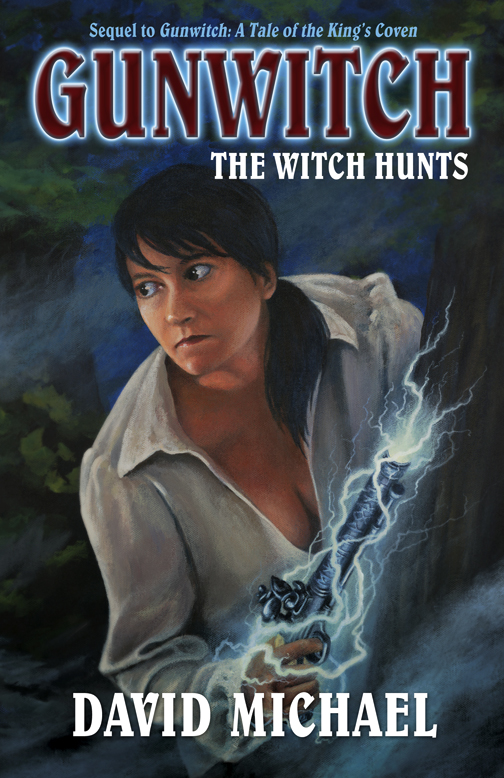 Gunwitch: The Witch Hunts – Acrylic Painting and Photoshop
©2013, David Michael
Be sure to click on the image above. That way you'll get to see the entire cover, including the spine and the back. To find out more about the book and/or to purchase it, click here.
In the midst of all my design projects I'm still finding time to paint. I haven't finished anything lately, but that's because I'm in the middle of painting another Ginormous Heart to help raise awareness and money for the Las Vegas Chapter of the St. Jude Children's Research Hospital. This is the 3rd year that I've had the honor of taking part in this wonderful program. This is a detail of where I wrapped up painting last night…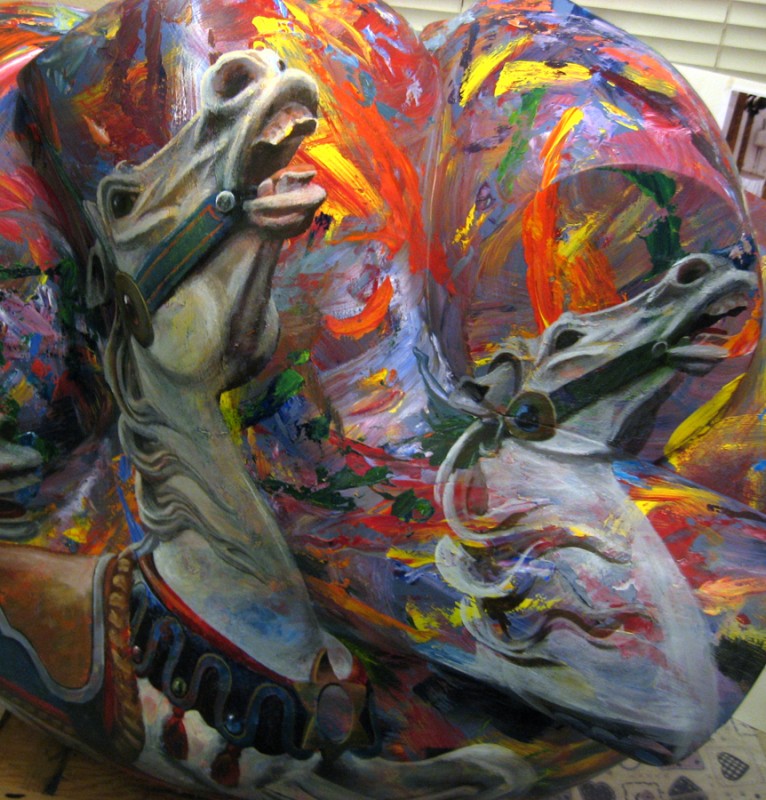 St. Jude Heart – In Progress – Detail from 1/28/13
I still have a long way to go on this. It's a major undertaking, but it's for a great cause.
Happy Creating!
I was recently walking across the University of Las Vegas campus and saw something totally unexpected. There, sitting in a beautiful location, was the ginormous heart, Hope, that I painted for St. Jude's Affair of the Heart. I got a new surprise today when I was told that my heart and two others were featured on the UNLV website. You can click on the photo below to follow the link…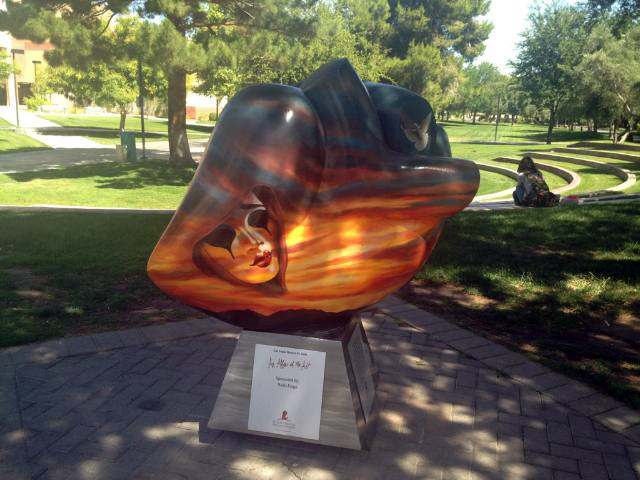 "Hope" on UNLV Campus – iPhoto courtesy: Geri Kodey
How cool is that?!?!
Speaking of ginormous hearts, Heartstrings,  the one I painted last year, continues to make the rounds here in Las Vegas. I had two different people mention to me last week at First Friday that they had seen it outside of the Whole Foods store in Henderson, a city just south of Las Vegas. It's very rewarding to know that the word about St. Jude's continues to be spread by these works of art.
In other news, I've been on a mini-hiatus from painting the past few weeks as I work on several graphic design projects. One of those projects should be released in the next couple weeks, at which point I'll be able to share more. I also have something very exciting in the works that could lead to bigger and better things. Fingers are crossed…
Happy Creating!
Wow, time can sure get away from you in a hurry! One minute I decide to take a little time off to enjoy Spring Break with my family and the next it's almost a month later. Ah, but it's mostly been a good month. We travelled to Oklahoma to visit family and friends – putting over 2,600 miles on my Tahoe in 8 days. We had perfect weather and even better visits. Those 8 days went by way to quickly, but we got a lot done in them.
The only negative to our trip was that I came home with a horrible cold that ended up lasting a full two weeks. To add insult to injury, a couple days after we got home I tweaked my back, effectively slowing me down considerably for a while. As you may imagine, that was no fun at all – (cough, ouch, sneeze, ouch…). Well, I can finally move around without groaning and breathe without sniffing. Thank God!
As I've implied on recent postings, I've still been quite busy during this time. There are two book covers coming out in the next couple of months. There have been several video shoots that will result in commercials in the near future. There have been demos. There have been gallery negotiations. And, there was even a convention thrown into the mix…
Now that I'm finally back to something similar to a normal schedule I decided it was time for a new piece of Eye Candy. Here's what my palette knife and I came up with…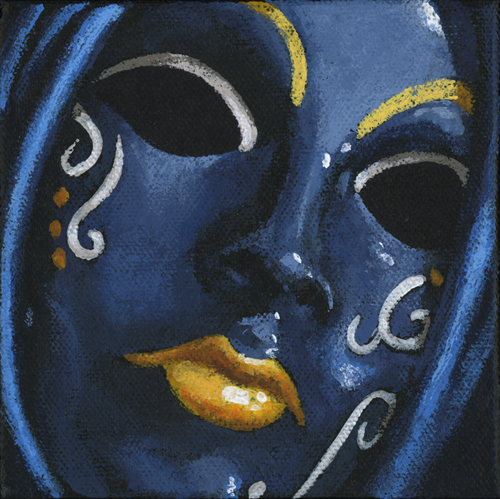 Pez – 5″x5″ – Acrylic on canvas – Completed 4/22/12
©2012, Don Michael, Jr.
The mask in Pez is one that I created about a year ago, but have avoided painting for fear of all the blue. Her name is Francis and I think she's a beauty – just a difficult beauty.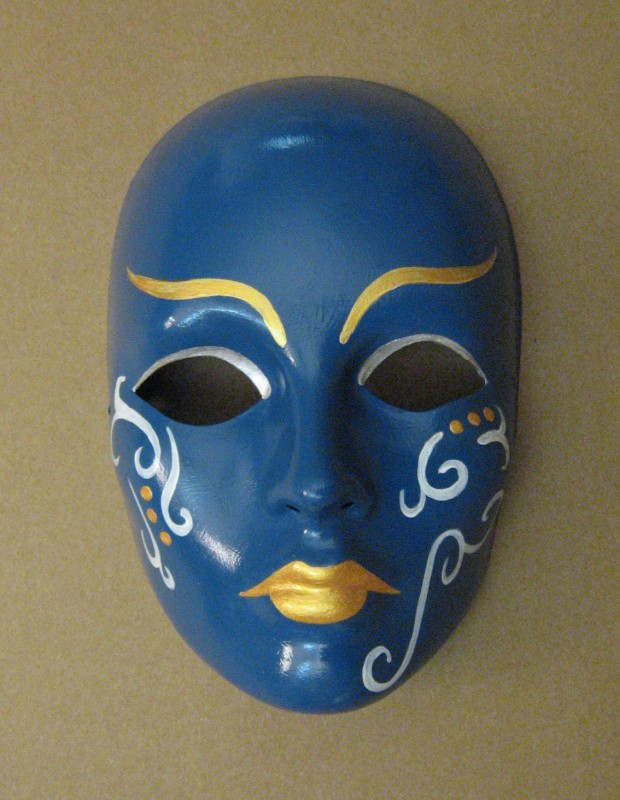 Francis – ©2011, Don Michael, Jr.
One last thing. If any of my blog readers happen to have Facebook accounts I would sure appreciate it if they would click on the photo below and then click "Like" on it in Facebook. There were 12 ginormous hearts painted for the St. Jude's Affair of the Heart Gala. The 5 hearts with the most "Likes" will be featured at the Gala. It would be cool if mine were one of those five…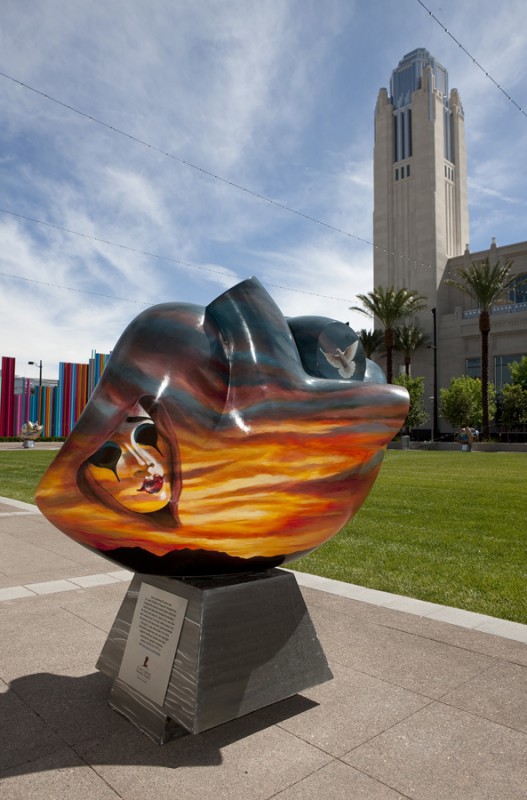 Hope – Photo Credit: Geri Kodey
OK, I've bored everyone enough for now. I should probably get back to work…
Happy Creating!
Today I went down to our beautiful new performing arts center – simply called The Smith Center – to do some last minute touchups on the ginormous heart I painted for the Las Vegas St. Jude chapter.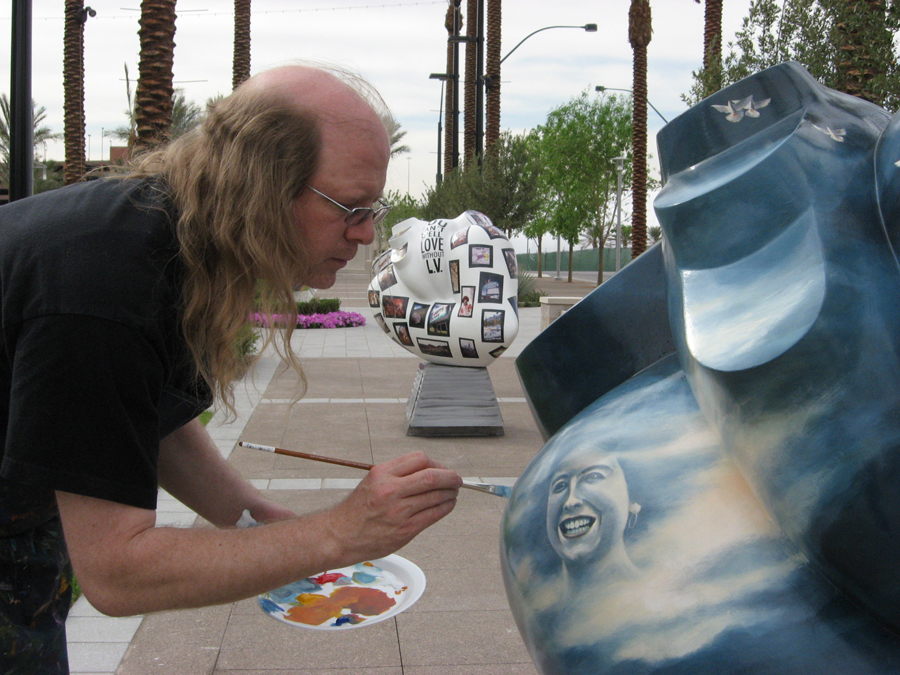 Tomorrow there will be a huge VIP event at The Smith Center to kick off this year's St. Jude "An Affair of the Heart" fund-raising campaign. All of this year's hearts have been gathered together and put on display in the beautiful 'yard'. Here you can see half of the set…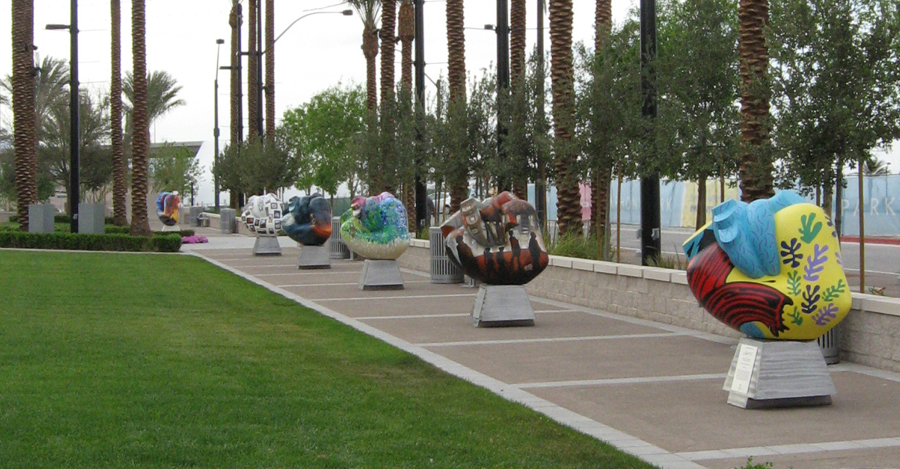 …and here you can see most of the rest.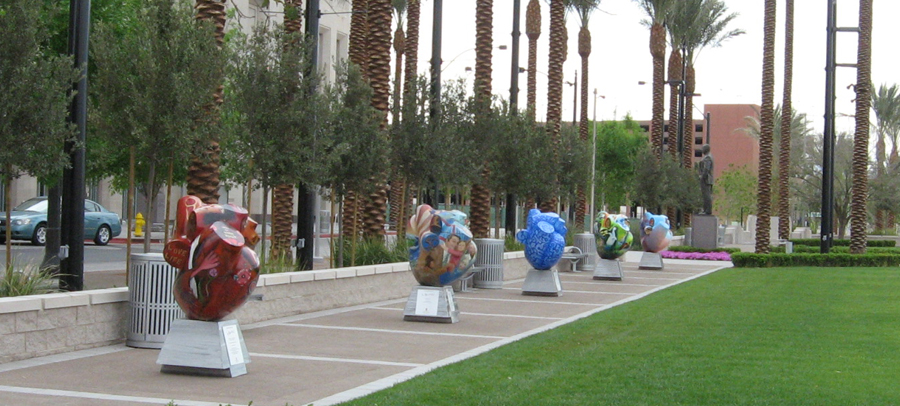 There are a couple more, but they were not quite ready for display. I hope to get more photos tomorrow while at the event.
For now, I'll leave you with this last photo of me posing with Hope in front of the Carillon Bell Tower. While my wife and I were there we got to hear those beautiful bells sound the hour. It had been a while since we'd heard bells like that and both of us probably looked pretty silly with the giant grins that invaded our faces. So be it…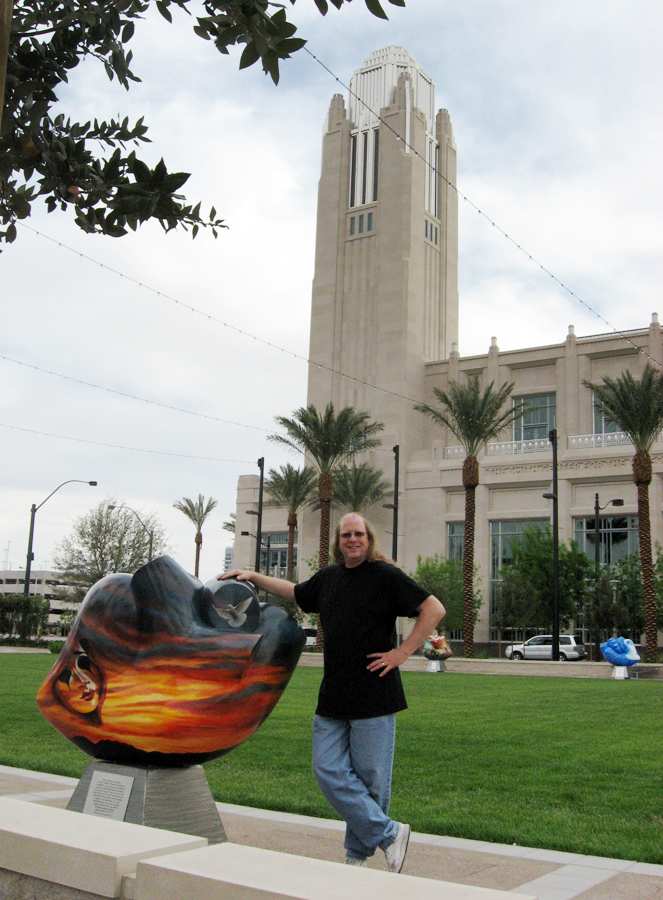 This will probably be my last post for a couple weeks. It's time for me and the family to enjoy a little Spring Break.
Meanwhile…
Happy Creating!
Tuesday evening I had absolutely nothing ready for my demo at Michael's. Since I had no time to prepare, and since I had quite enjoyed the experience of painting the dove on my ginormous heart for St. Jude's, I decided to do it again – except this time I chose to do it as one of my Over the Under-Schmeering (OTUS) paintings. Luckily, I had an 8″x10″ 'pre-schmeered' canvas ready to go, because I had done the unthinkable and waited until the last minute to grab my stuff and run for the door.
This was the first time I worked on one of my OTUS paintings in public. It was a bit of a strange experience, because people didn't seem to 'get' what I was doing until I was almost finished. I think it was too 'abstract', especially in the early stages, for the regular Michael's customers and associates. We'll have to see if I decide to do another publicly in the future.
Anyway, here is what I came up with…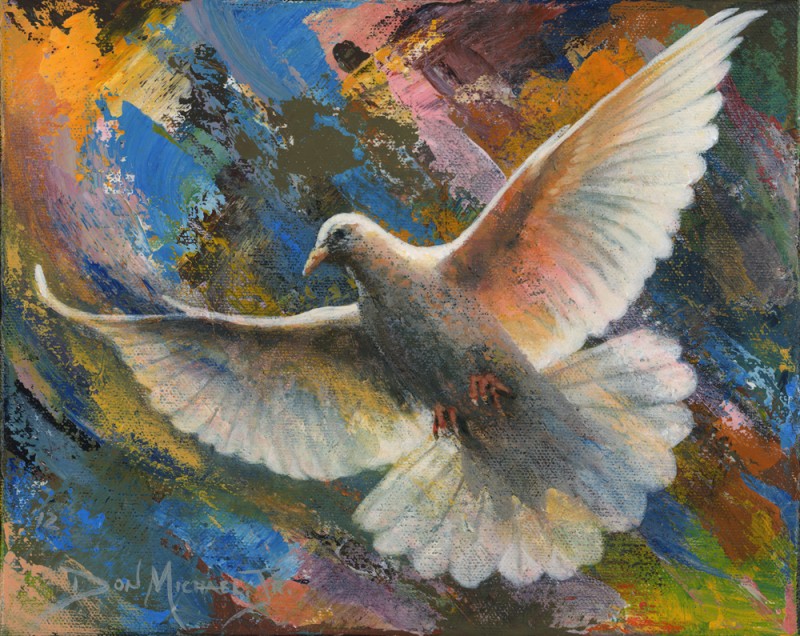 Take Heart – 8″x10″ – Acrylic on canvas – Completed 1/24/12
©2012, Don Michael, Jr.
When I got home from the demo and checked the comments on my blog I found that my friend, Nicki Ault, had asked me to show a closer shot of the dove I painted on Hope, my ginormous heart. So, I thought it would be fun to show both the OTUS version and the heart version in the same post…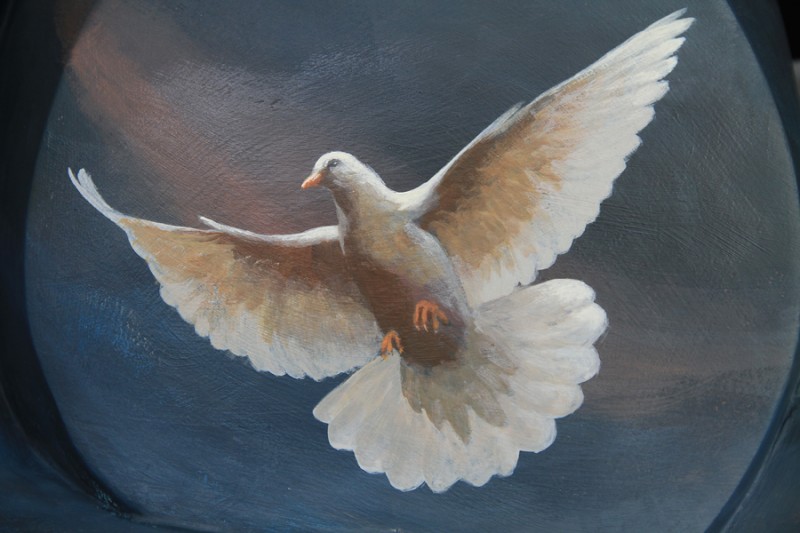 Hope –  dove detail – ©2012, Don Michael, Jr.
Most of my day today was spent with my good friend, CJ Boisvert, taking lots of photos of Hope from several different directions and angles. (The dove detail is one of those photos.) While shooting we decided that we needed to get me in front of the heart for the purposes of documentation and perspective. Now you can get an idea of the size of the heart…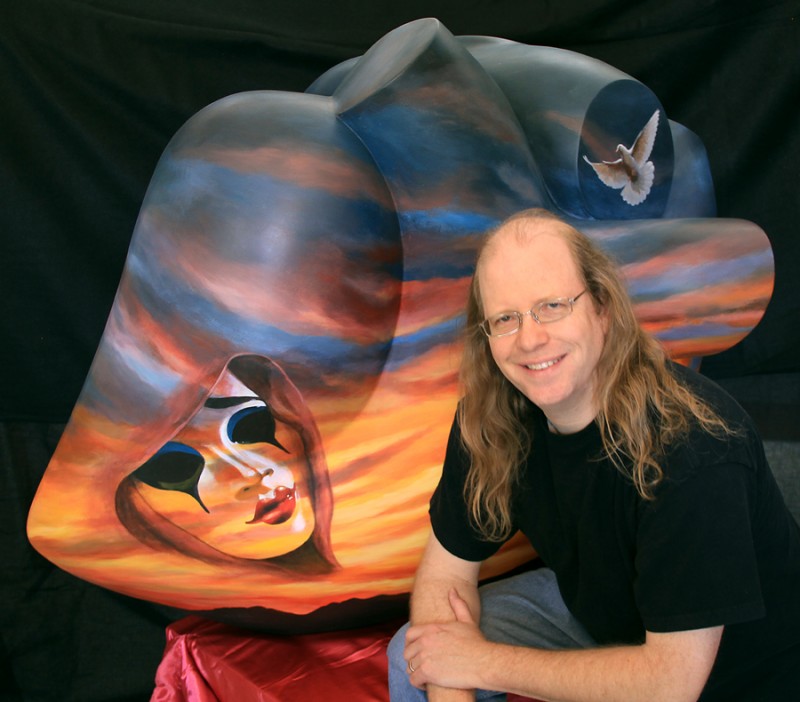 Hope and the artist – ©2012, Don Michael, Jr.
Thanks for the great photos, CJ.
Tomorrow will be spent applying the final varnish. I'm not looking forward to the fumes, but I can't wait to see how the varnish will make this thing 'pop' even more. Oh, this stuff is fun!
Happy Creating!
I have finished the Ginormous Heart for St. Jude! Finally!
I still lack applying the final protective varnish, but I plan to wait until later in the week before I do that. For now I'll show you the completed sides…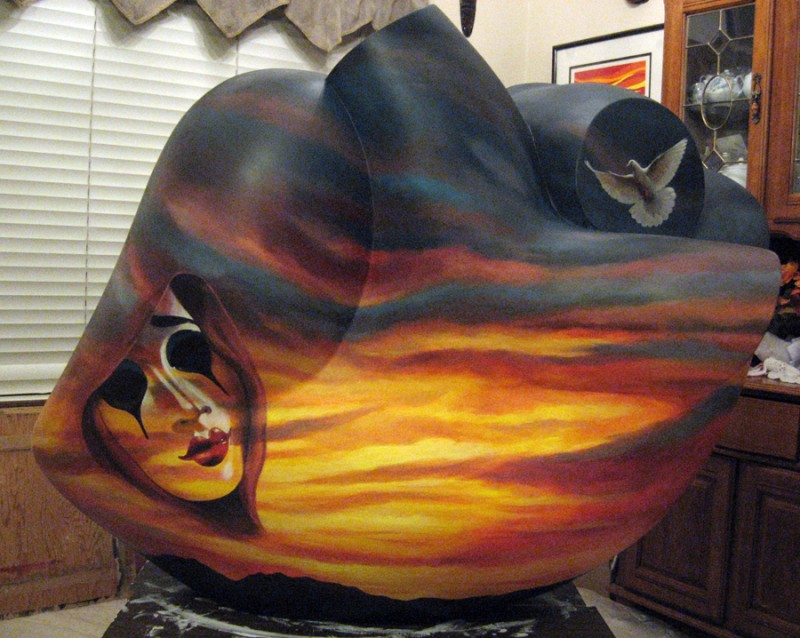 Daylight Dawning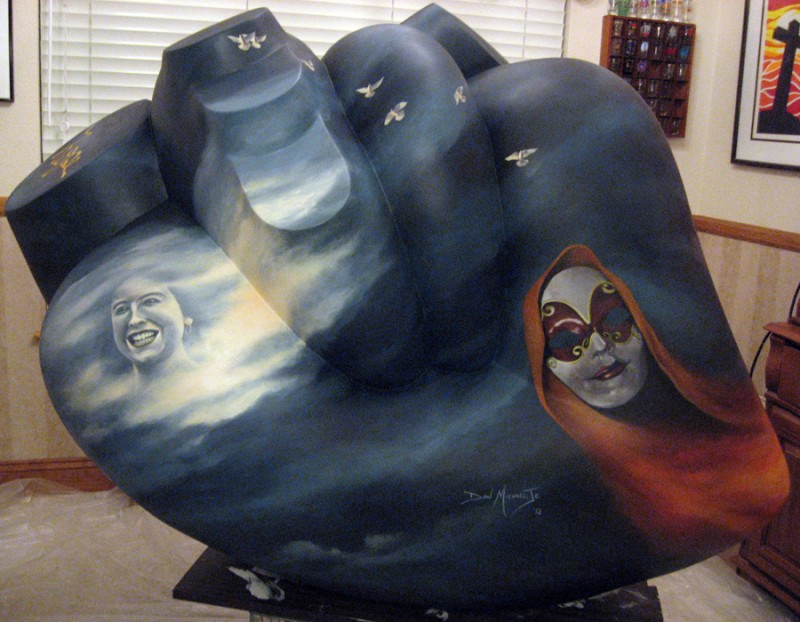 Soaring Spirit
…and the "Hope" title ribbon…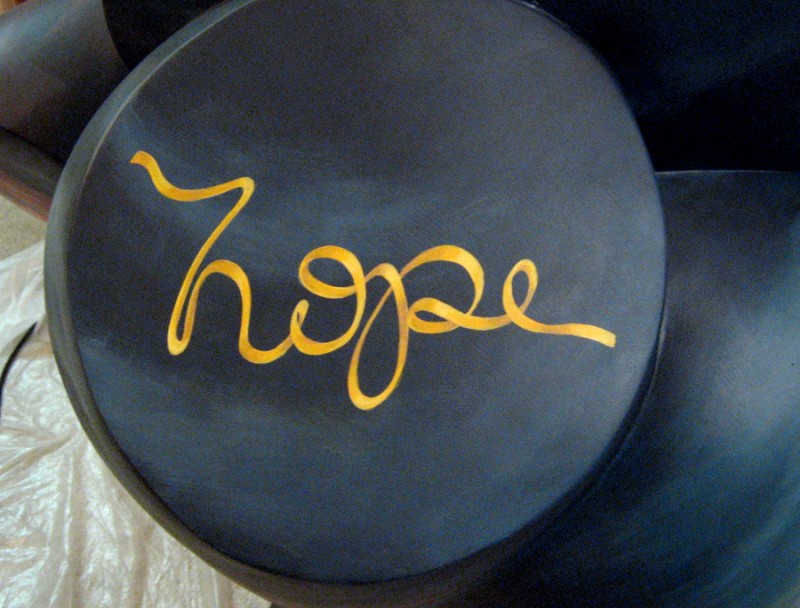 Hope
Another fun creative challenge for this project was coming up with the Artist's Statement for the heart using less than 500 characters. Any of my friends can tell you that I am NOT a man of few words, so that was a really excruciating exercise. Here is what I came up with:
In our darkest hours the hope of a new day sustains us. The rising sun is an affirmation of that hope. We find joy in watching the darkness give up its grasp to the morning light.
Hope is defined as desire with expectation. I hope any who read this will find the desire in their heart to give of their talents, time and treasures to help others.
I dedicate this heart to my son, Donald, who is a cancer survivor, and in memory of my cousin, Melodi Michael Thrift, who lost her battle with cancer as I was painting this heart.
I plan to take the rest of the night off now to decompress. I may even take most of tomorrow off – at least until it's time to go do my Tuesday demo at Michael's. Until then…
…Happy Creating!
Next Page >>