I'm in the home stretch of my Ginormous Heart marathon. I hope to have it finished by Monday. We'll see…
Meanwhile, this is where it was yesterday when I called it quits for the day: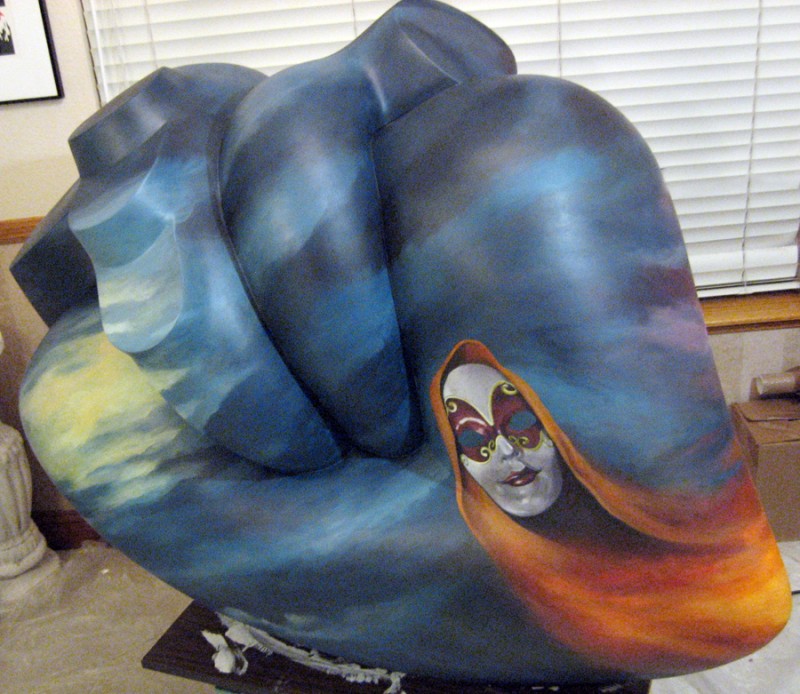 Ginormous Heart is Progress
I did quite a bit more on it today, but I've decided that I will not be showing anymore updates until the final unveiling.
Today was also my demo day at Michael's. I used it as an opportunity to work on the last of my Eye Candy: Zotz mini-series.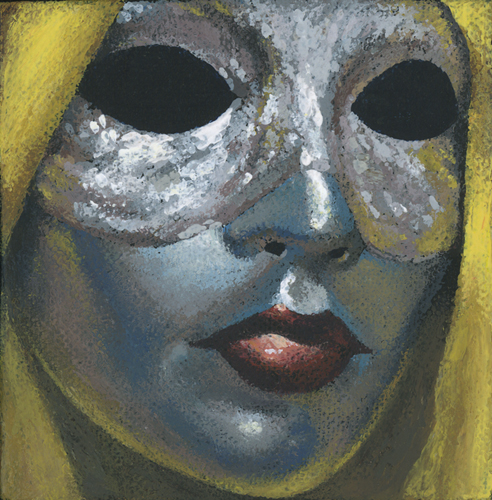 Lemon Zotz – 4″x4″ – Acrylic on canvas – Completed 1/19/12
©2012, Don Michael, Jr.
I really fought this one, and totally hated it while I was working on it. After giving it a few hours and looking at it again I've now decided it is the best one in the series. Go figure…
Now I think I'll call it a day. Tomorrow will be a new day made just for painting. I can't wait…
Happy Creating!
Tonight was demo night for me over at the Michael's Arts and Crafts store where I teach classes. It was a nice respite to get out of the studio for a few hours. Even though I was still painting, a change of scenery is always nice. I just wish the music they have playing over their intercom was as great as the music that blares out of my i-tunes. Oh well, the things we'll suffer for our art…
Anyway, back to the business at hand…
The little palette knife painting below is what I started on during my demo – and then finished once I got home…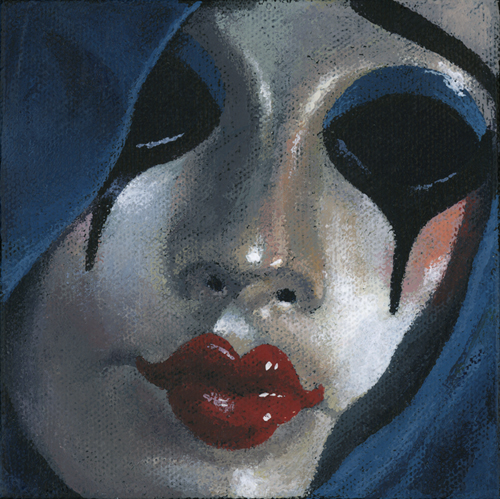 Cherry Sour – 5″x5″ – Acrylic on canvas – Completed 1/17/12
©2012, Don Michael, Jr.
When I sat down at my computer to write this post I checked my email first – as is usual – and found a cool little video had been posted to my facebook page. The video features Niki J. Sands, who is spearheading the collection of Las Vegas artists painting the Ginormous Hearts for our chapter of St. Jude's Medical Research Center. If you click on the heart below (painted by Niki) you'll be able to see the lovely Niki at work and talking about this wonderful event. You'll also see that she snuck yours truly into the video, as well as most of the other participating artists. Great job, Niki!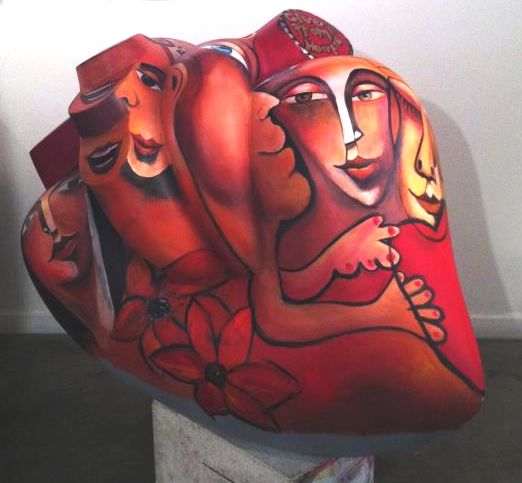 Niki J. Sands' Ginormous Heart for St. Jude
I'm getting really excited about the progress I made today on my heart. I've still got a ways to go, though, so I'd better get back to work…
Happy Creating!
I finally have paint covering the entire Ginormous Heart I've been working on for St. Jude. A couple of days ago I posted where I was at on one side. Today I'm posting the other side…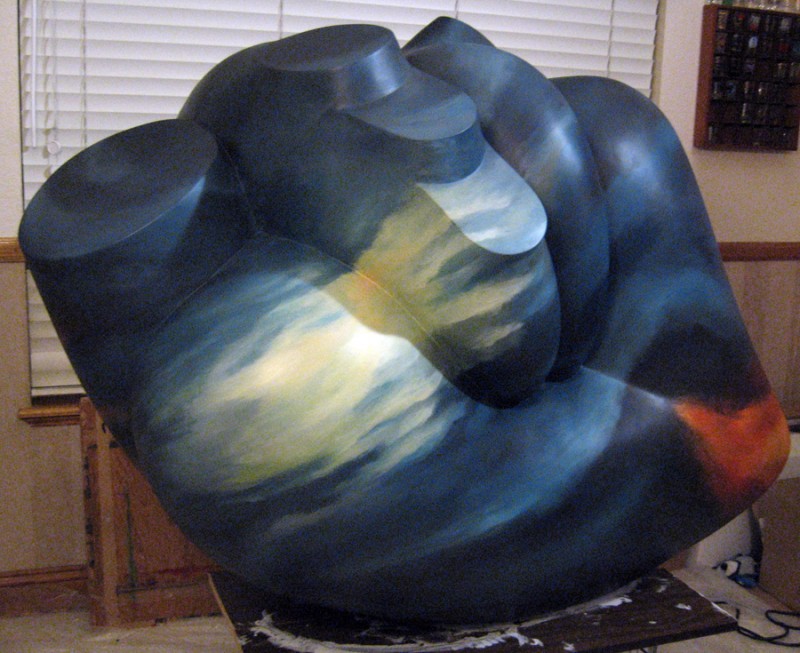 The Other Side – for now
I still have quite a way to go before I can call it finished. But, I will admit that it is very much a relief that there is paint covering the entire heart now. So far, I have gone through 3 full tubes of paint and will probably finish up at least 2 more before I'm done. It's all for a great cause, though.
In between sessions with the Ginormous Heart I am also working on another Over the Under-Schmeerings (OTUS) painting. This is what I've got done so far…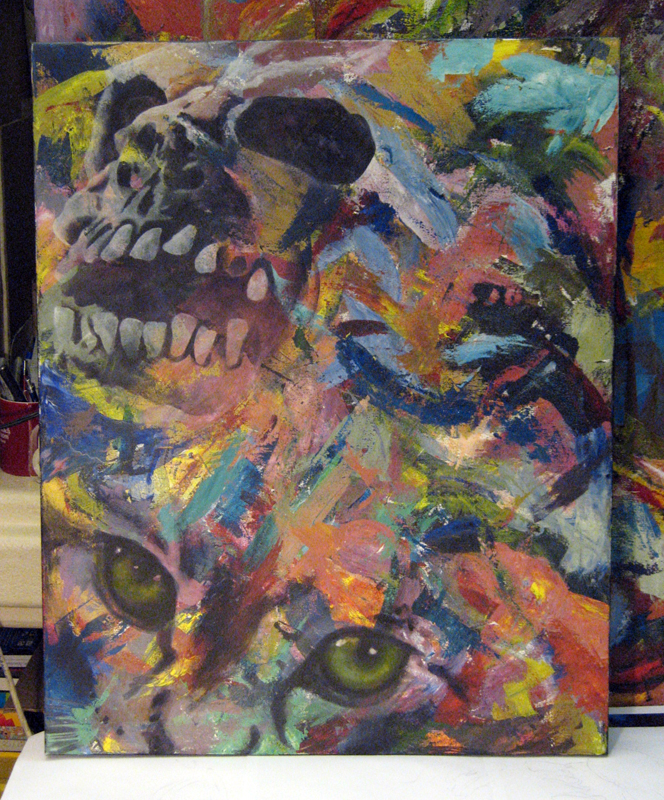 OTUS in the Works
And, now that I've caught everyone up on what I'm up to, I think I'll call it a day. I can't wait to see both of these projects with fresh eyes in the morning.
Happy Creating!
As promised a couple days ago, I added a little something to my Ginormous Heart to give it that "Don Michael, Jr. was here" look…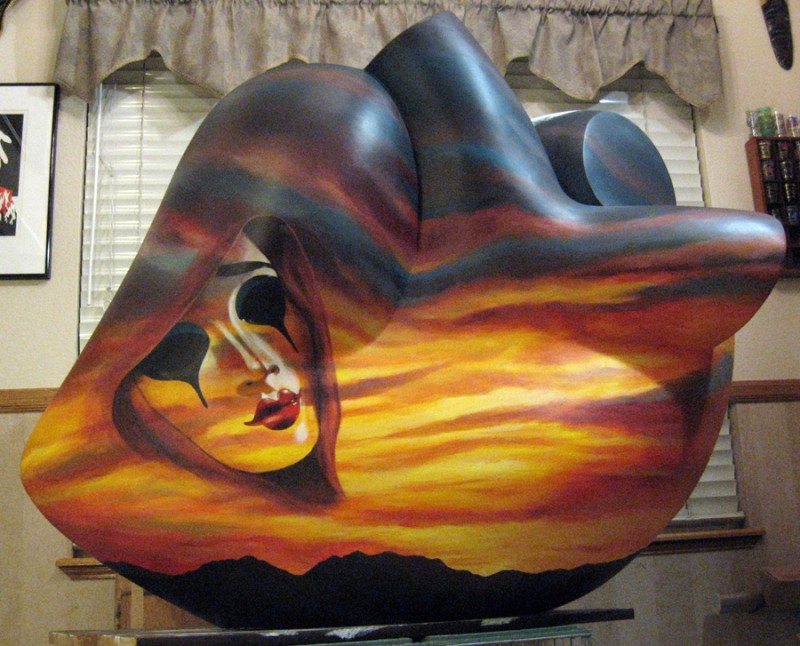 Ginormous Heart for St. Jude
I'm calling this side of the heart 95% done – which basically means that the entire heart is only 47.5% done. So, I still have a long way to go before I can have this ginormity ready for delivery. I have a whole two weeks left to get it done in, so I should probably get busy.
But, first…
In between sessions with the heart I worked on a new piece of Eye Candy. Here's what my trusty palette knife whipped out for me…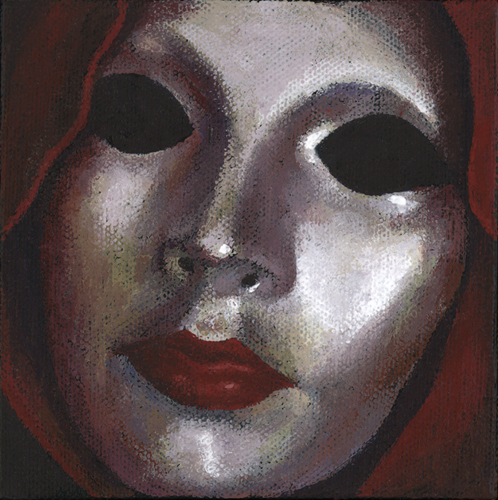 Mounds – 5″x5″ – Acrylic on canvas – Completed 1/12/12
©2012, Don Michael, Jr.
For my first painting of 2012 I completed Almond Joy. As soon as my wife heard the title she said, "Now you're going to need a Mounds as well." I knew right away she was right (there's a first time for everything) and I started planning. Here they are together…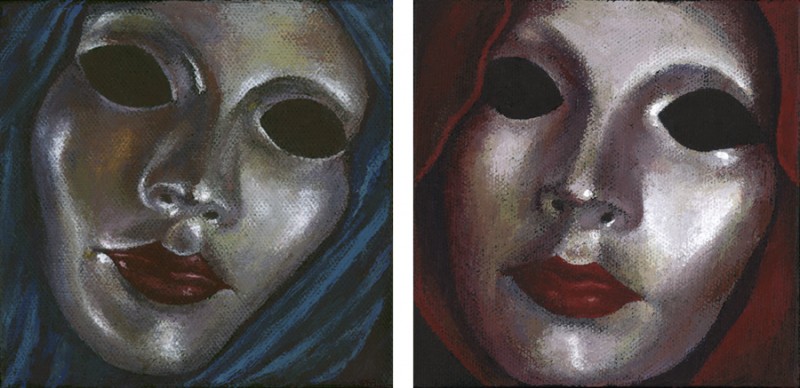 Almond Joy & Mounds
©2012, Don Michael, Jr.
I worked on Mounds while I was doing my demo last night at Michael's. One of the associates came by to watch me for a few minutes and asked me if I had a title ready for the painting yet. When I told her yes, and what it was she said, "You know that Mounds is the female of the pair, right?". I had to smile as I remembered the punchline to that joke from when I was a child. Crass playground humor obviously doesn't go out of style…
Happy Creating!
As I revealed last week, I have finally been adding paint to the Ginormous Heart that I'm painting to help generate attention and much needed funding for our local chapter of St. Jude's medical research facilities. You can see below that I am past the halfway point on this side of the heart…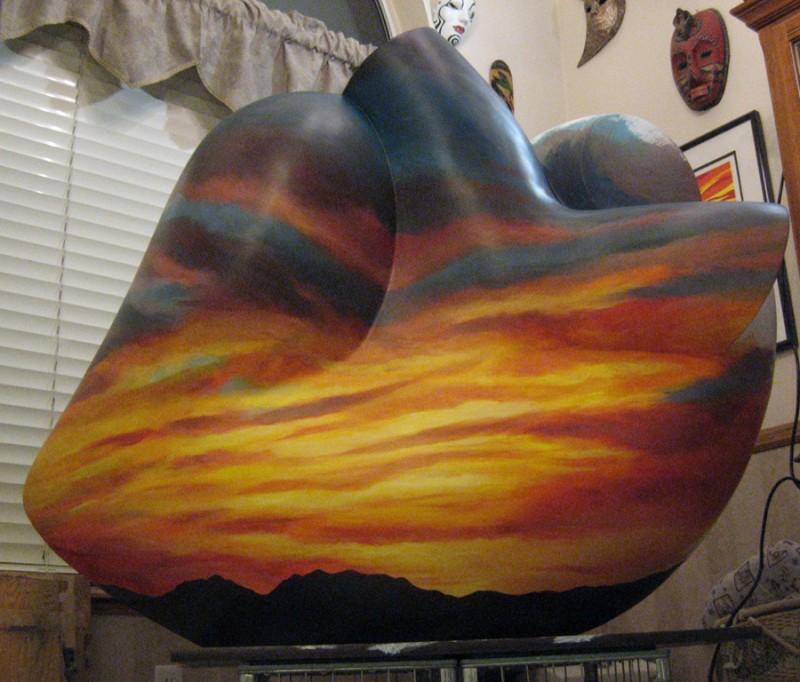 In order to paint the mountains on the bottom of the heart I had to lay it down for a while. There was no way for me to paint that area very comfortably without doing so. You can get a sense of the slope of the heart to its base in the photo below…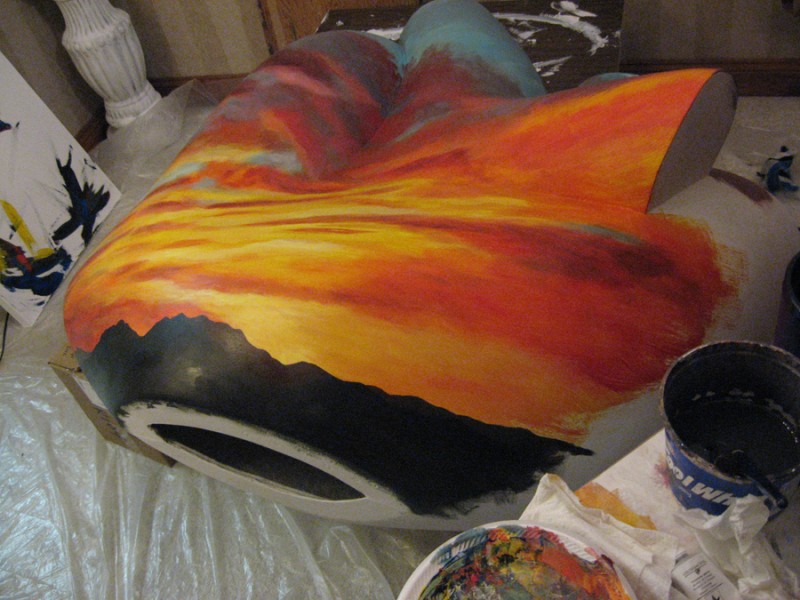 As soon as the heart was turned on its side and the hole in the bottom was revealed, my constant studio companion decided it was time to do some spelunking. Somehow, I was not surprised…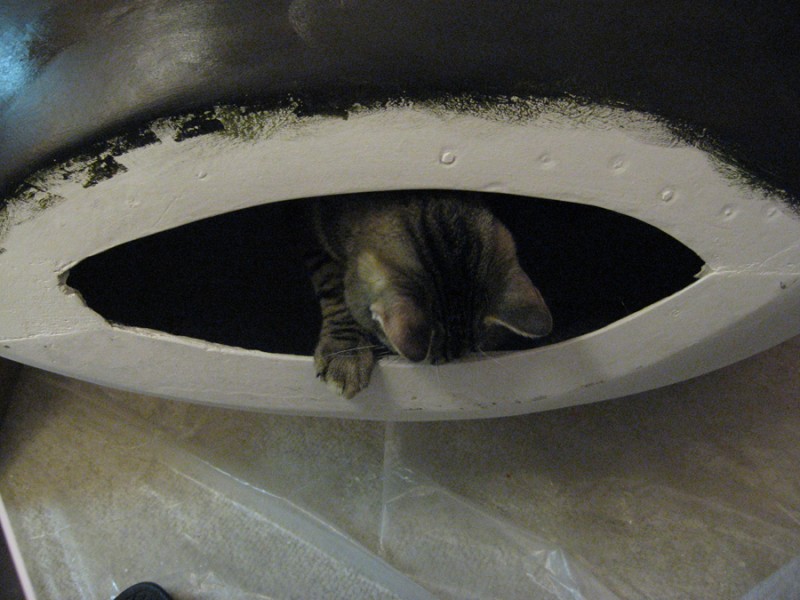 Now that the sunrise is almost finished on this side of the heart, it is time for me to add a little something extra to give it that "Don Michael, Jr. was here" look and feel. I'm really excited, and a bit nervous – but, that's a big part of what makes this thing I do so much fun!
Happy Creating!
I always like for my first painting of the year to include some other 'firsts'. It's a tradition I started two years ago and is now as important a part of my New Year celebration as black-eyed peas. The firsts for this little Eye Candy painting are: a new mask (this is the first time I have painted from this mask I created) and a new palette (I have never used this combination of paints together before – Cerulean Blue Deep, Pyrrole Red Dark, Cadmium Yellow Dark and Titanium White). All-in-all, I'm quite pleased with the results…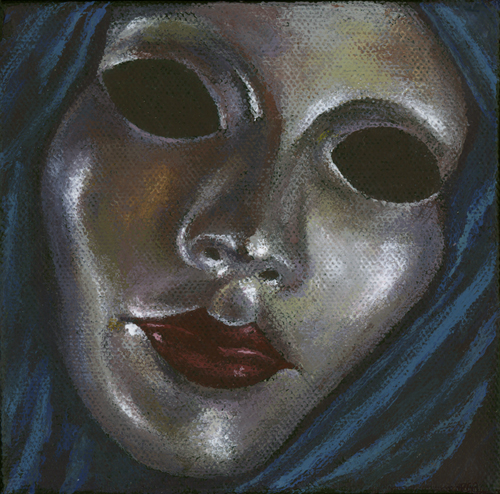 Almond Joy – 5″x5″ – Acrylic on canvas – Completed 1/2/12
2012, Don Michael, Jr.
Now I've just got to get used to typing and writing 2012. So far, so good…
For those wondering, yes I am working on my Ginormous Heart for St. Judes. It's been a slow process and I've allowed the holidays to make it even slower. I know that's no excuse, but it's the only one I have, so I'm going with it. Anyway, here's what I've got done so far…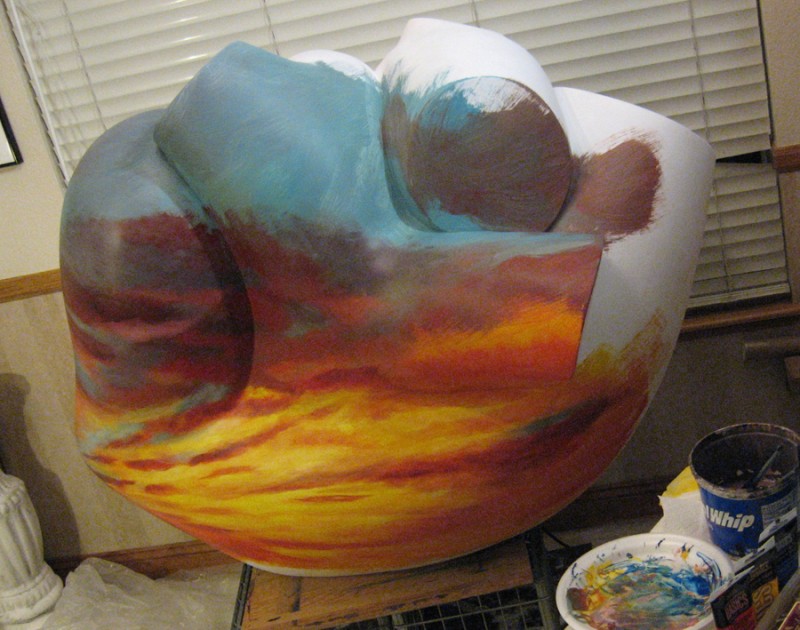 St. Judes Heart shows a little progress
Now that everyone's schedule is pretty much back to normal around my house I can't use them as an excuse anymore. So, I guess I'd better get back to work…
Happy Creating!
My latest Eye Candy palette knife painting is a bit of a departure from the previous paintings in the series. It's the first time that I've not used a square canvas. Another first for this one is that my new mask Rika is featured for the first time.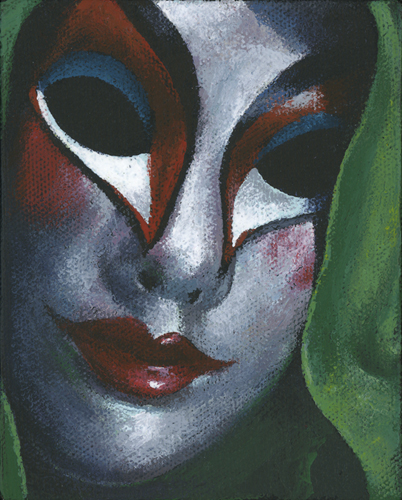 Candy Cane – 5″x4″ – Acrylic on canvas – Completed 11/22/11
©2011, Don Michael, Jr.
As you can see from the colors used and from the title, I'm beginning to get into the holiday spirit. This year our holidays started a little early when I celebrated one of those birthdays that ends in an 'aught' this past Saturday. It was an evening of family, friends, intoxicating beverages and penny-ante-poker. All-in-all a great birthday! Below you can see me preparing to blow out my candles. Beside me is my lovely daughter who treated herself to a new hat for my birthday. She's always so thoughtful…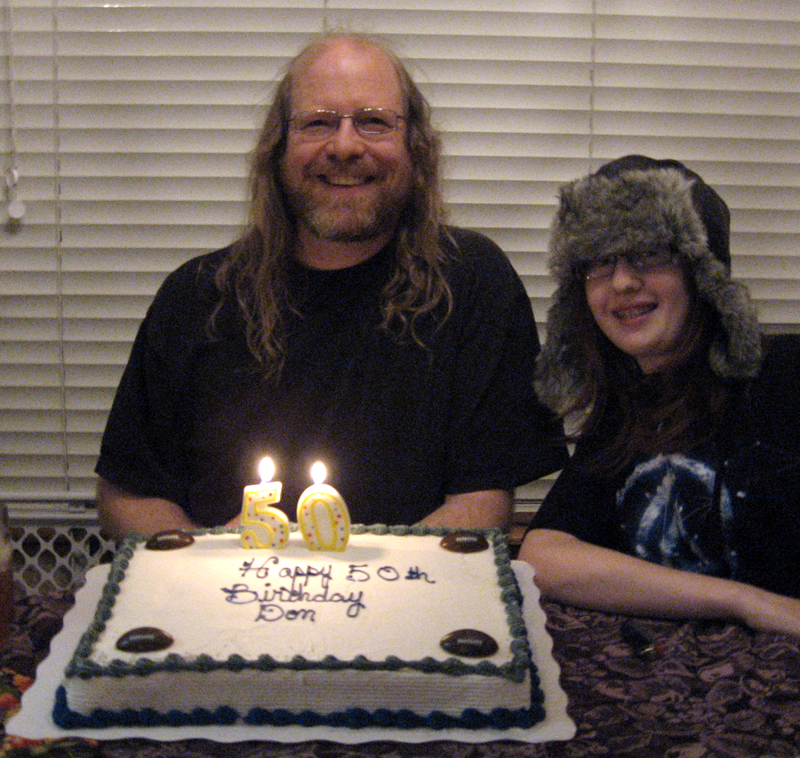 Don and Christina fittingly dressed in black
By the way, what is 50 supposed to feel like? Everyone with a smaller number seems to think this is really old (especially that little brat beside me in the photo above). If it is really old, why do I still have to wait 5 more years before I can get a senior discount anywhere? And, how can someone that feels like they're in their mid-20's really be old no matter what the number of their birthday?
OK, I've got it out of my system now…
On another note, I have started gessoing the Ginormous Heart which is residing in our living room for the duration. I must thank my wife and family for being so tolerant of my artistic needs and whims. I found out from my buddy Celeste that this would not be allowed in her living room. She'd make me paint it out in the cold garage. Thanks for nothing, Celeste! 😛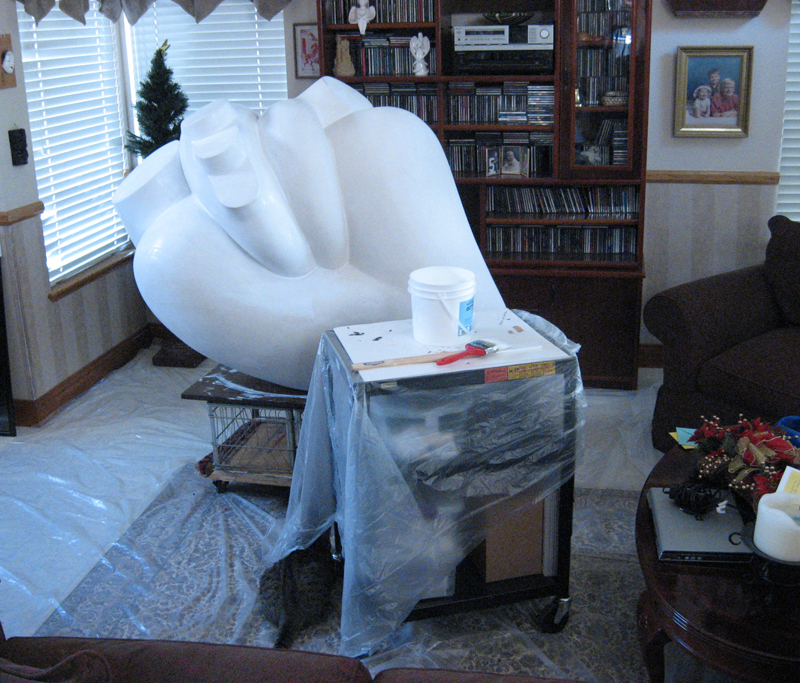 St. Jude Heart awaiting another coat of gesso
I just noticed that my supervisor was lurking beside the cart while I was shooting this photo. He's never far from the action…
Speaking of action, I'd better get back to it.
Happy Creating!
The long awaited "Affair of the Heart" St. Jude Charity Gala came and went this past Saturday night. It was a beautiful event which raised many ten's of thousands of dollars to help their worthy cause in the fight against childhood cancers. On their invitation they promised an "evening of gourmet dining, unique live and silent auctions, breath-taking art, entertainment, performances, and so much more". I'd say they more than lived up to that billing.
The evening began with a wonderful little 'festival' with live music being performed by students from one of the local high schools, with several of my artist friends painting live, with hors d'oevres and wine, with the silent auction, and with much fellowship. Below you can see my good friend, Niki Sands, painting while one of our local students is setting the beat…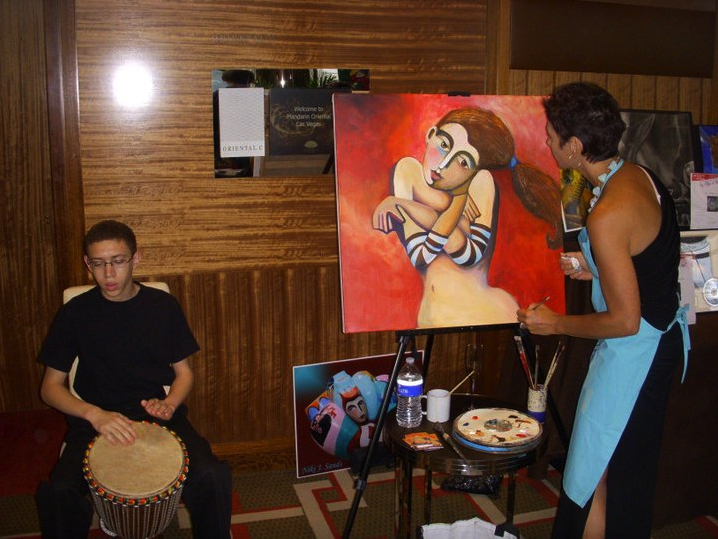 Here you can see a view of the hallway from the heart I painted titled Repertory. This was early in the evening, as there is still room to walk around at this point…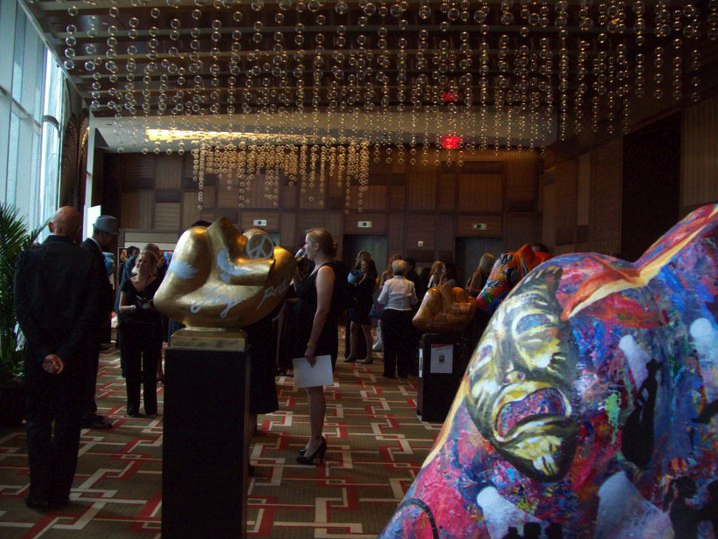 For the next hour-and-a-half there was much mingling and fellowship. Here are a couple photos to prove it…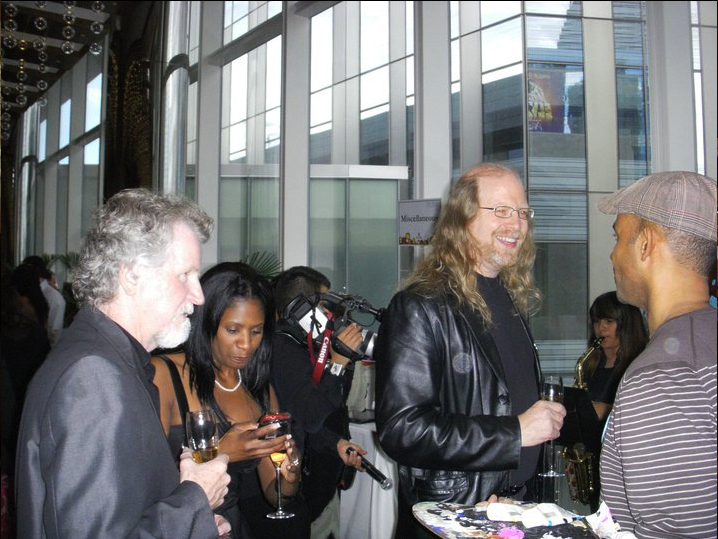 Artists KD Matheson, Don Michael, Jr., and Joseph Watson, with Joe's lovely wife Tamara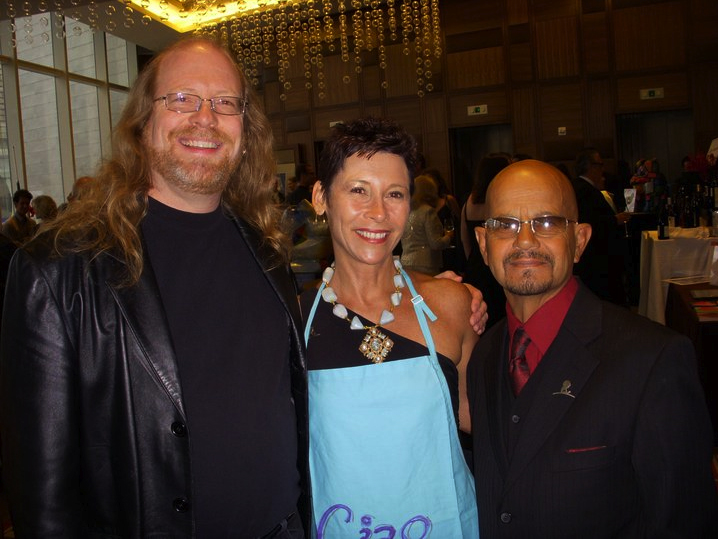 Artists Don Michael, Jr., Niki J. Sands, and Alex P. Huerta
Then it was time to go into the banquet hall for the main event. While we were being fed we also enjoyed two hours of entertainment mixed in with many of the success stories of children and their families who have been impacted by St. Jude's mission. I have no good photos from this part of the event, but at least here is one of the artist's table as we were first sitting down to eat. (Thank you, Niki and Alex, for all of these photos from the event.)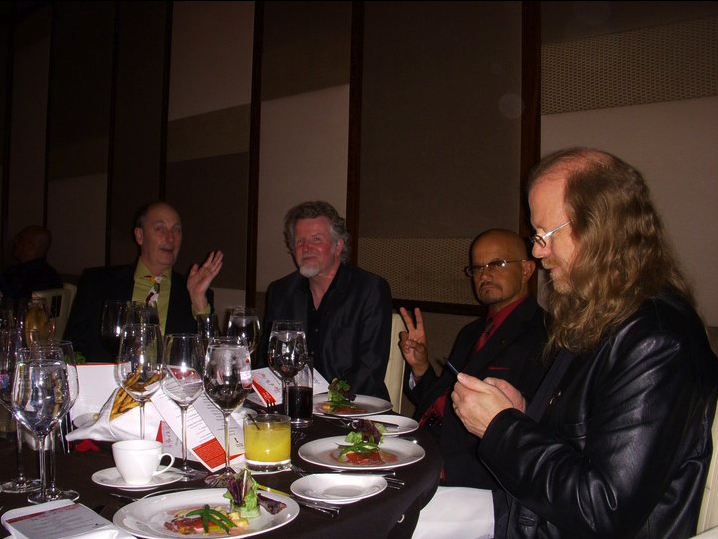 Artists Brian Swanson, KD Matheson, Alex P. Huerta and Don Michael, Jr.
At the end of the evening there was a live auction which was very exciting in that it generated nearly $100,000. Two of the Ginormous Hearts painted by my artist friends were purchased for $20,000 each and another for $12,000! Due to time constraints those were the only three of the large hearts made available for the event. Among many other items they also auctioned off two of the smaller hearts, including Repertory, which garnered $1,500 for the charity. I could not be prouder.
I feel so honored to have been a part of this wonderful event and look forward to taking part again. It's wonderful to see a community so dedicated to helping improve the quality of our children's lives.
On an entirely different note, my little studio buddy, Franz Marc, turns one year old today.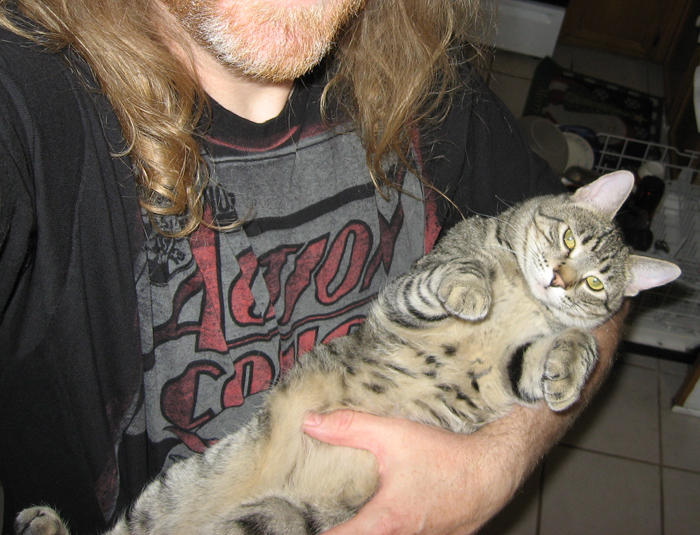 Franz Marc on his birthday
Some of you may remember his arrival via this photo which I posted last July. I think he may have grown a bit…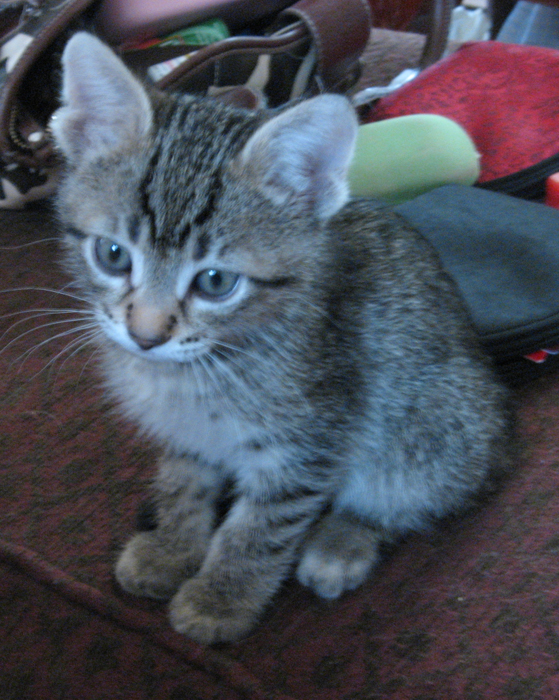 Franz Marc at 6 weeks old
Well, I have more projects in the works which I look forward to sharing in the future. But for now I'd better get back into the studio…
Happy Creating!
After many weeks of diligent work, I can finally call my little heart finished. I do not think I have EVER had a more difficult time finding resolution for a piece that I was working on. I basically painted myself into the proverbial corner early on in the project and then had to spend the next several weeks painting myself out of it.
For those not familiar with this project, this heart is cast from a sculpture created by Las Vegas artist, Miguel Rodreguez for our local chapter of St. Jude Children's Hospital. Several local artists, including yours truly, painted our interpretations of "Inside the Heart of a Child" to be displayed throughout Las Vegas to generate interest in the wonderful work being done by St. Jude. You can see the ginormous heart I painted here.
Being a sucker for punishment, and – more importantly – strongly supporting what St. Jude is doing, I agreed to paint another heart which will be autographed by celebrities and then auctioned at the upcoming fund-raising gala. Thankfully, this heart was much smaller than the first one I did, but as I was to soon find out, smaller isn't necessarily easier. When I was asked to paint this one, they requested that I include a version of the comedy/drama masks on one side and some type of musical imagery for the other since they are planning to have actors and musicians autographing the finished heart. Thus began my odyssey. Here's what I finally came up with, which I titled Repertory…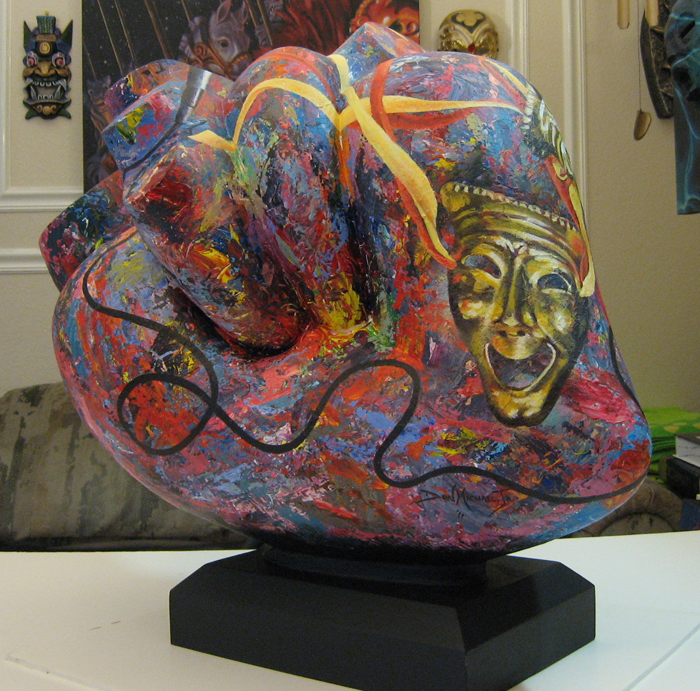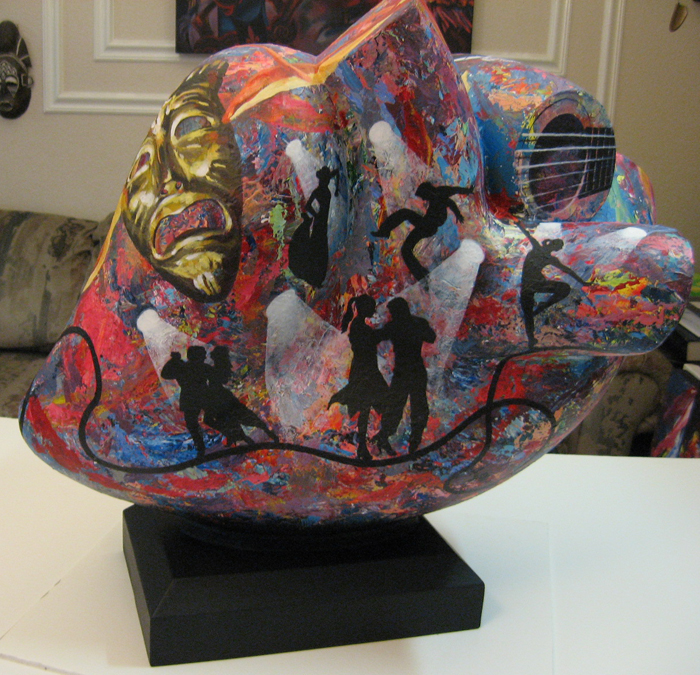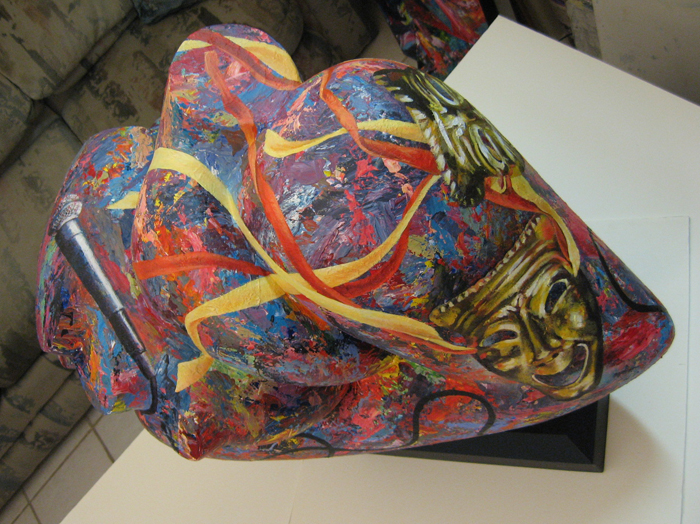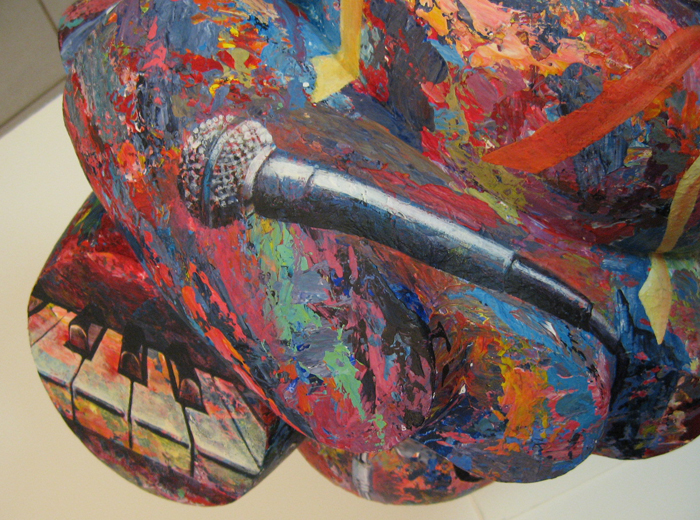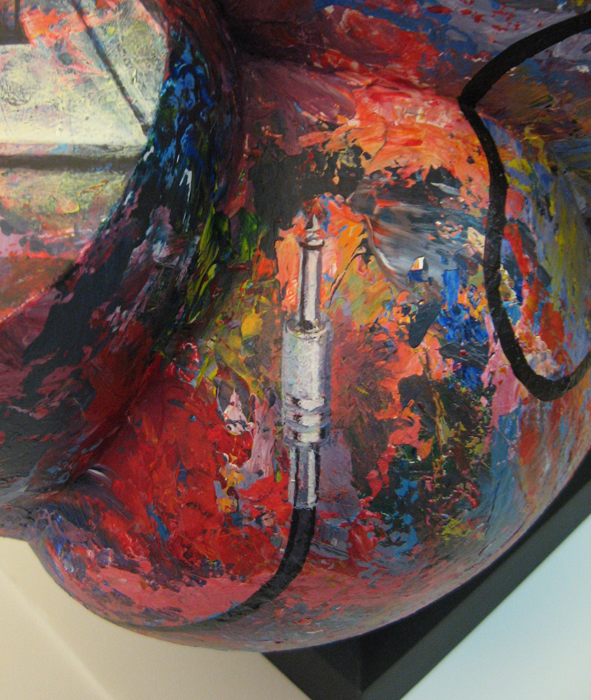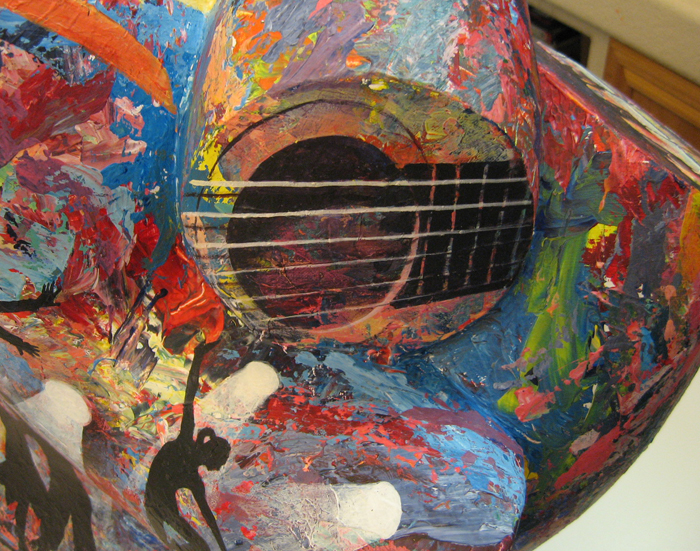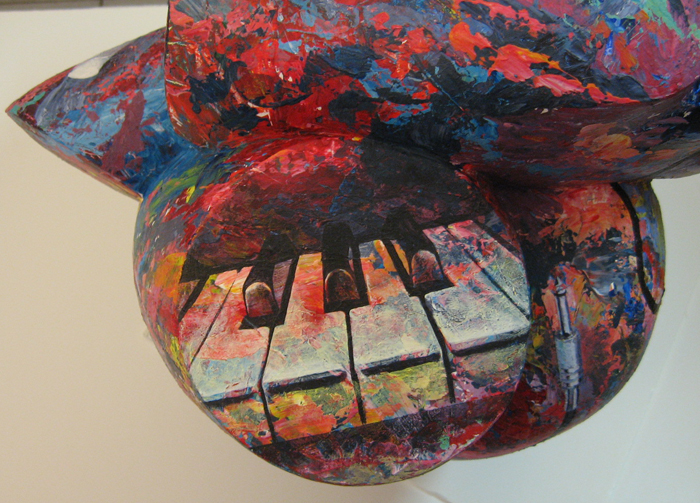 All images ©2011, Don Michael, Jr.
Now I'm going to open a beer…
…or two.
Happy Creating!
My brother David continues to churn out some great short stories and I continue to create some book covers for him. In the month of March he released 6 new ebooks – two of which I've already spoken of – Curtain Call and Door to the Sky. These other four were once again inspired by paintings I had done of masks. David asked me to use their respective images in the designs for the covers and I was more than glad to oblige. The fun challenge is to create a viable and attractive cover around paintings that were not designed with a book cover in mind. I'm fairly pleased with how they all turned out.
Below are the covers for this latest batch. If you click on the images you will see larger versions of the covers. If you click on the title below their images you will be taken to their respective sales sights where David has written a brief blurb about them.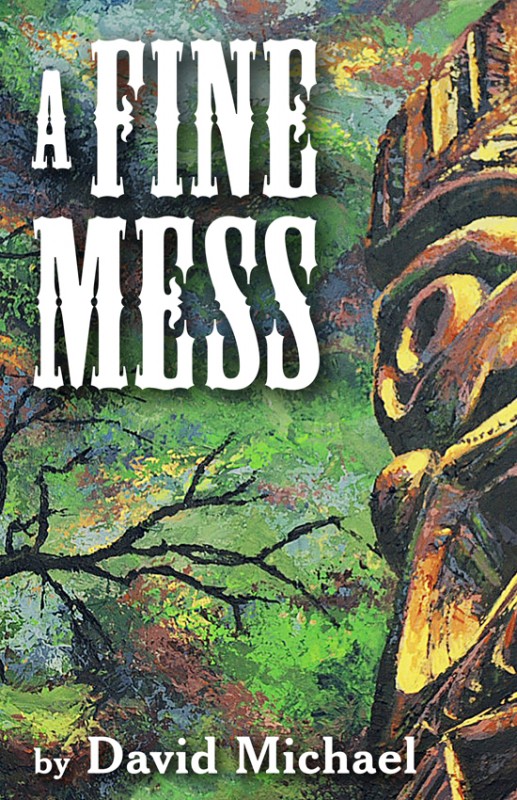 A Fine Mess – ©2011, David Michael and Don Michael, Jr.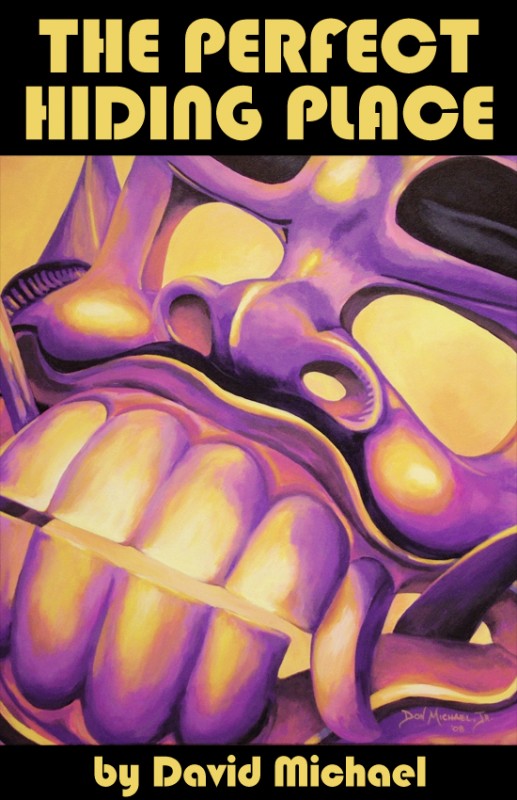 The Perfect Hiding Place – ©2011, David Michael and Don Michael, Jr.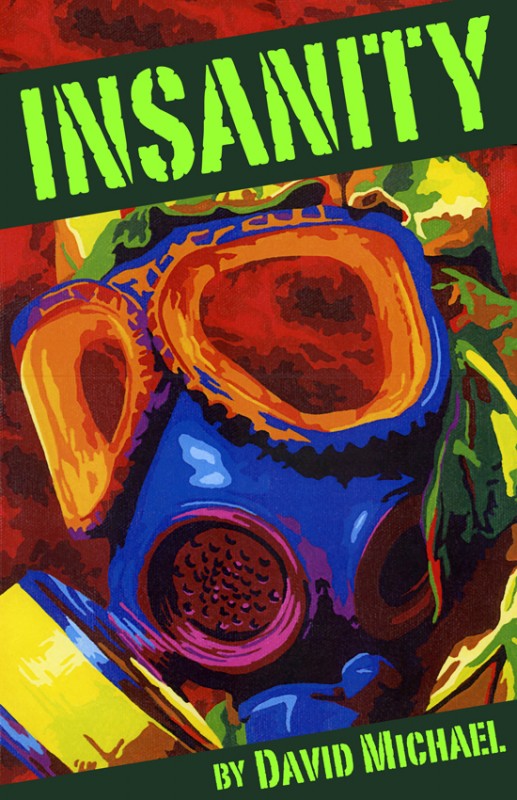 Insanity – ©2011, David Michael and Don Michael, Jr.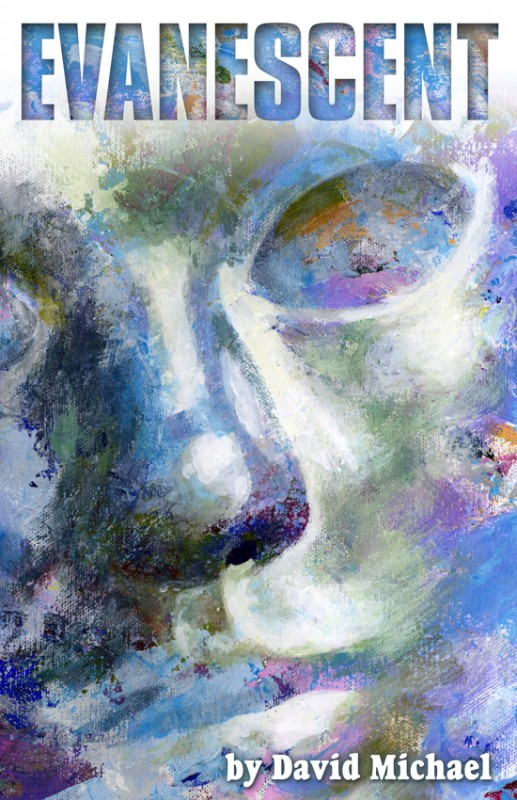 Evanescent – ©2011, David Michael and Don Michael, Jr.
I just found out that there will be two more coming in April, so I guess there is no rest for the weary…
But, first I've got another heart to paint. I agreed to paint a smaller one which will be autographed by celebrities and auctioned at the St. Jude Affair of the Heart Charity Gala in late May. Thankfully, it's much smaller than the ginormity I finished last week. Here it is in its formative stage. You can see I'm taking a very different approach with this one. Or am I?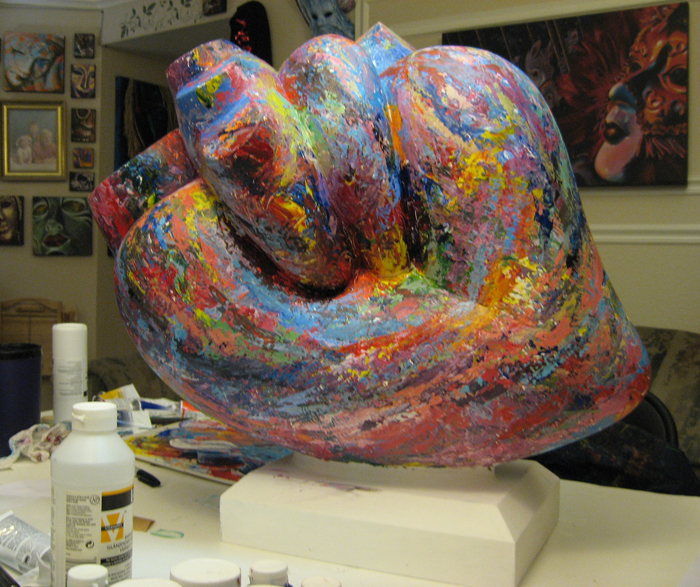 St. Jude's Little Heart
Happy Creating!
<< Previous Page - Next Page >>