Today was the Preview of the Hearts, which was a media event to begin the promotion of the St. Jude – An Affair of the Heart Gala which will be held on May 21st. Several ginormous hearts painted by local artists were on display for the first time. It was a great chance for us all to mingle and get to know each other while admiring each others' work. I finally got to meet the sculptor, Miguel Rodreguez, who created this ginormous heart, and had the opportunity to congratulate him on a job well done. There was a little presentation given and the MC for the May event was introduced. Imagine my delight when the guy standing beside me walked to the front to take the mic and I realized it was Rich Little. Needless to say, he had us all in stitches with a couple of fun impersonations.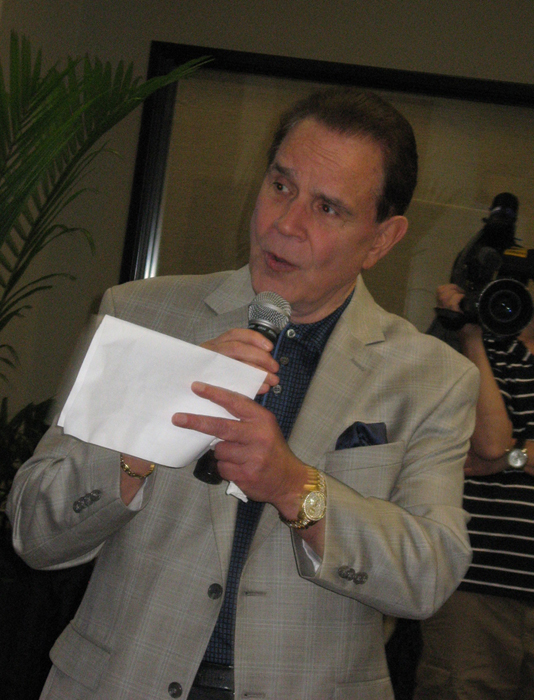 While we were enjoying the festivities, my good friend, CJ Boisvert, of AlleyZoom Productions was out in the lobby taking some photos of my ginormous heart, which I've titled Heartstrings. (Thank you, CJ!)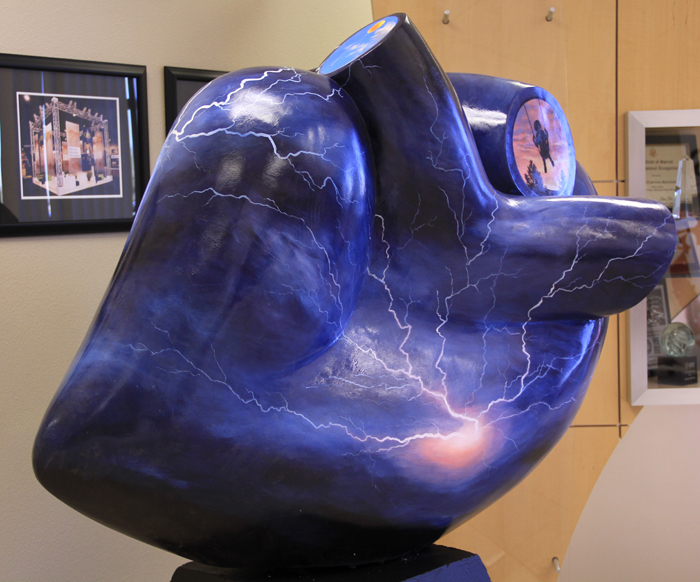 HeartStrings – Front View
CJ wasn't able to get a good back view of the sculpture because of its placement by the wall. So, here is a shot I took before I put the clear coat on it while it was still sitting in my living room. (You can see how different the color is between these photos. The one above is under fluorescent lights, the one below was shot under incandescent lights.)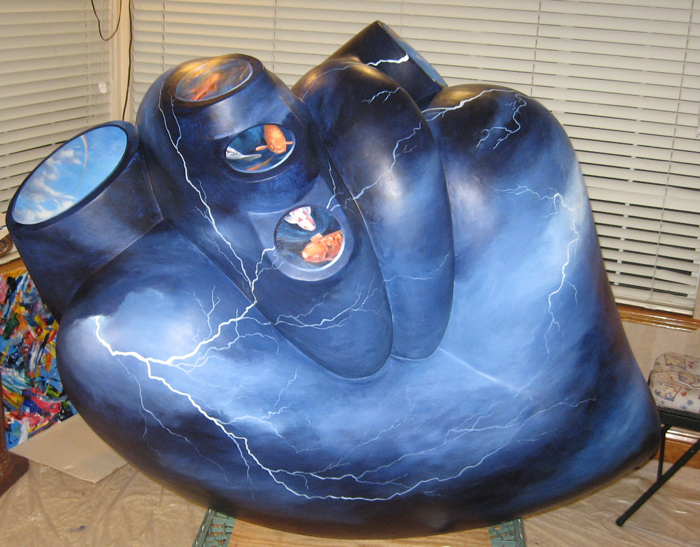 Heartstrings – Back View
As you can see, I wrapped this heart in lightning. To me, this storm represents the hardships life can throw our way. Obviously, if a child is dealing with St. Jude Children's Research Hospital they are going through some difficult times. One thing I've observed with children is that no matter how dire their situation, there are certain qualities that they continue to exude. Below are the symbols I chose to illustrate these qualities: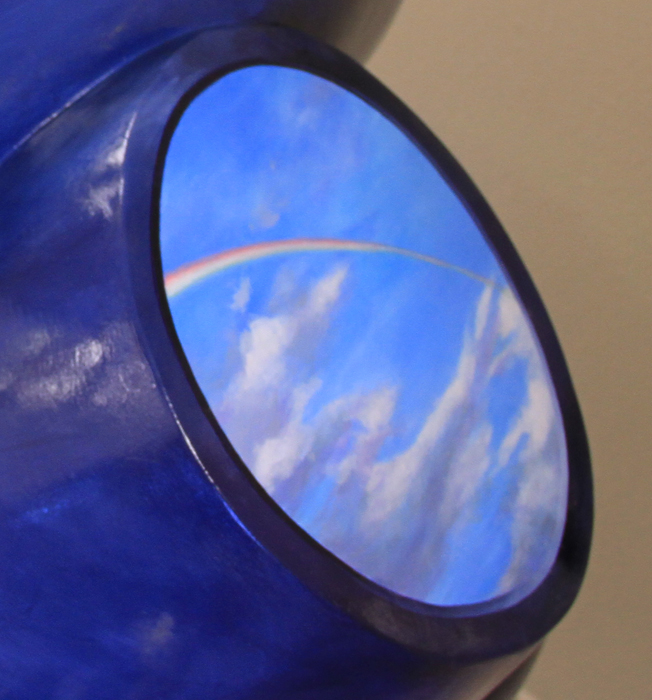 Rainbow = Hope
Rubber Duck = Innocence
Koi = Love and Friendship
Swing = Joy, Exhilaration, Full of Life
Balloon = Infinite Potential
After the presentation I was asked by one of the photographers if I would be willing to talk about my interpretation. CJ made sure to document this as well…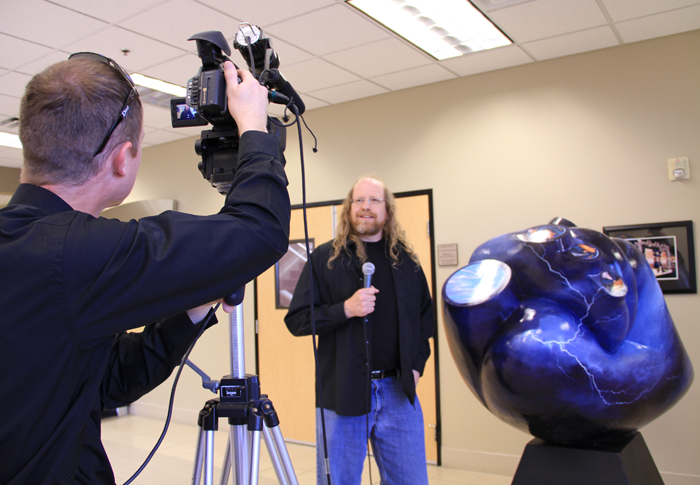 Don Yammering On…
On a final note, one of the local TV stations sent out a photographer to document the event. I'm not sure if my work made it onto the 6pm newscast or not, but it's cool to know that it could have…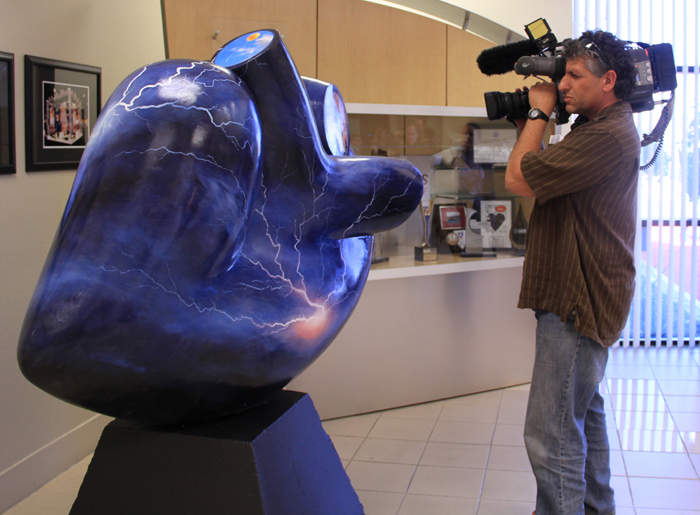 Now I'm exhausted. I think I'll sleep in today…
Happy Creating!
At 1:10 this morning (March 31) my supervisor gave my ginormous heart one last inspection and called it complete.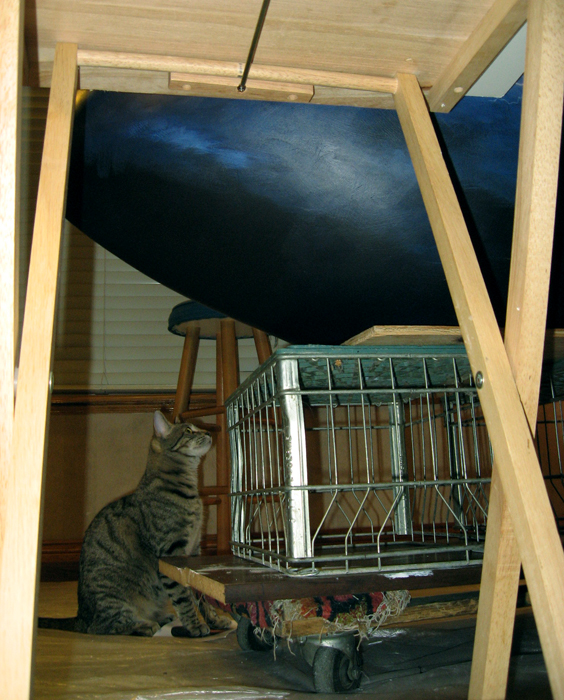 Final Inspection 3-31-11
Whew! I could have not been any more relieved. In just 12 days I had taken this ginormous heart from a blank fiberglass form to a completed work of art (at least that's what I'm calling it). All that was left to do was apply the UV protective clear coat, which I did this morning after dropping my daughter off at school. Then this afternoon a large delivery truck came by my house and absconded with the completed ginormity. I'll admit to being a bit sad to see it go…
Tomorrow at 1pm we will be seeing all of the completed ginormous hearts in one place for the first, and possibly last, time. I'm really excited to see what the other artists have done with their hearts. I hope to have lots of photos to share…
As I was typing this update the title for my heart finally came to mind. It will hereby be known as Heartstrings, which according to my New World Dictionary means deepest feelings or affections. I think it fits and I look forward to sharing the completed piece in its entirety soon. Until then I'll leave you with one last tease: (Sorry, but the color isn't quite right.)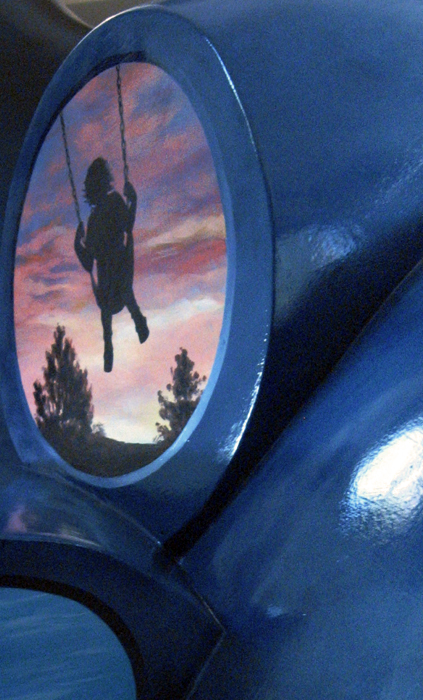 Heartstrings – Detail – Completed 3-31-11
©2011, Don Michael, Jr.
Have a great weekend.
Happy Creating!
My friend, PAMO, told me that she thought the heart I'm working on for the St. Jude's Charity event is "Ginormous". I'm inclined to agree with her. I'm already halfway through my second 90ml tubes of Ultramarine Blue, Phthalocyanine Blue and Cadmium Red Light. I'm also using Napthol Crimson, Cadmium Yellow Medium and Titanium White, but they're holding up pretty well, so far.
I still have quite a way to go to get it finished, but have very little time left. The truck will be by on Thursday afternoon to take it away. I'm confident that I'll finish in time, but know that there will be little else going on in my life until the moment it leaves through my front door. Then, Friday will be spent at the "Preview of the Hearts" kickoff event which will feature celebrities, local media and supporters. After that I will be heading downtown to take part in this month's First Friday Art Exhibit…
Needless to say, I have been spending very little time in our blogging community since the 'ginormous' heart arrived in my driveway early last week. I'm still around, and I'm still following along. I just haven't taken the time to comment much. Hopefully, my schedule will get back to normal sometime soon.
Until then, I leave you with this little tease from my 'ginormous' heart…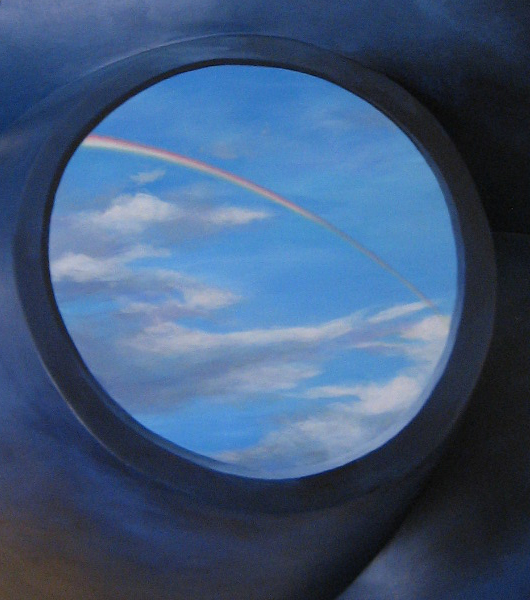 Ginormous Heart Detail – ©2011, Don  Michael, Jr.
Happy Creating!
With so much going on around me the past few days it's been a challenge to get to my easel. Thankfully, I've been able to sneak in a few minutes each day, though, and have finally completed my latest Over the Under-Schmeerings piece.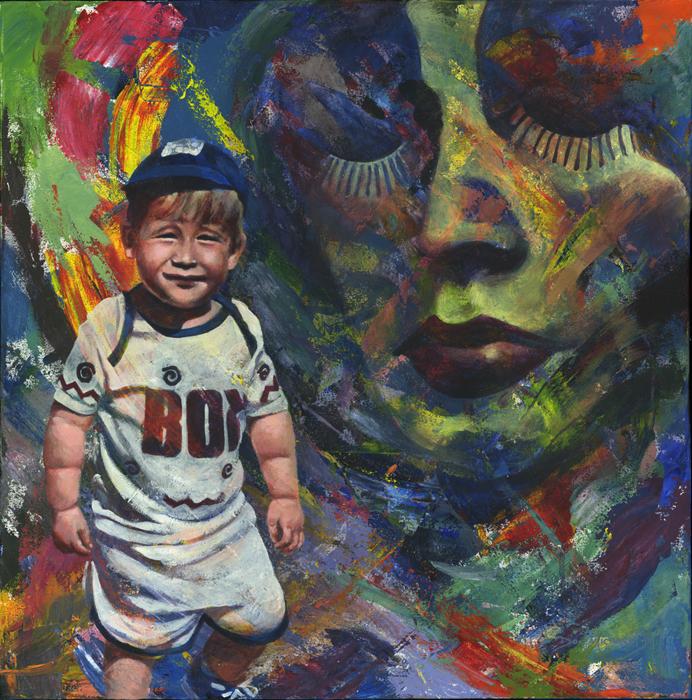 Formative – 24″x24″ – Acrylic on canvas – Completed 3-25-11
©2011, Don Michael, Jr.
This one involves a couple of firsts. 1) it's the largest OTUS (hey, cool acronym!) that I've done so far, and 2) It's the first OTUS with both a mask and other imagery. The Under-Schmeered canvas for this one was created during the painting of Door to the Sky, Lenny, and one of my Acrylic Workshop projects. Below is the before/after…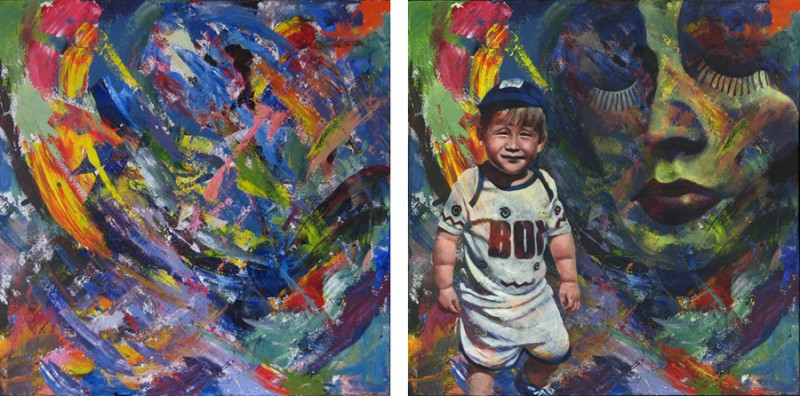 ©2011, Don Michael, Jr.
The mask featured in Formative is Nelli, which I created specifically for the purpose of painting someday. I've got a feeling we'll be seeing more of her in future works…
Speaking of formative projects, I am finally able to start adding paint to my HUGE heart for the St. Jude's charity project that I mentioned in my previous two posts. I had it out in my garage to work on and had the first coat of gesso on it when the temperatures decided to drop and hover around the mid 60's (F) by day and into the 40's at night. I love the temps, but was concerned about the adhesive qualities of the gesso and paint to such a cool surface. So, my wife was kind enough to allow me to move the project into our living room (with a drop cloth, of course). After 3 coats of gesso, my son and I flipped it over and I started painting my base color.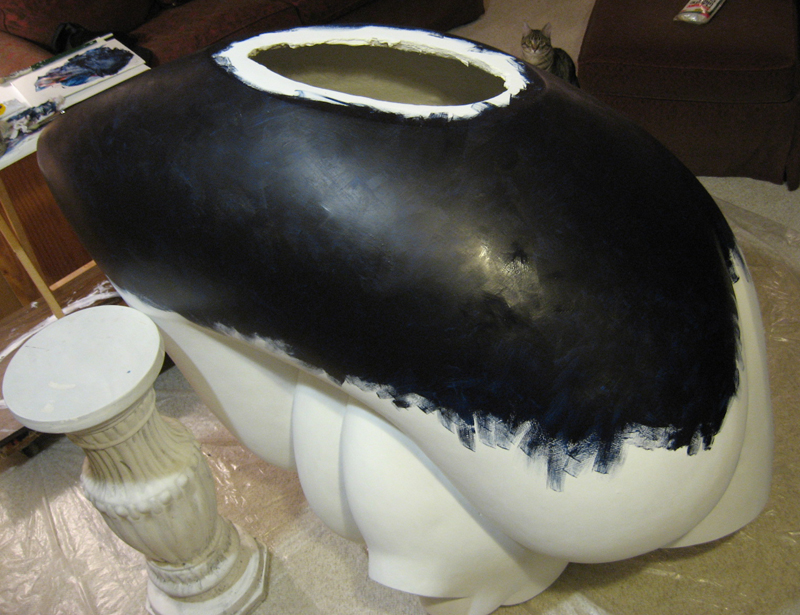 (You may notice that my supervisor is keeping an eye on things.)
That day after my son got home from school it was time to flip it back over and get ready to move forward with the rest of my concept for it. As you can see, it looks like I've barely painted any of it, but I've already used more than half of four different 90ml tubes of paint. Thank goodness a sponsor is helping with supplies.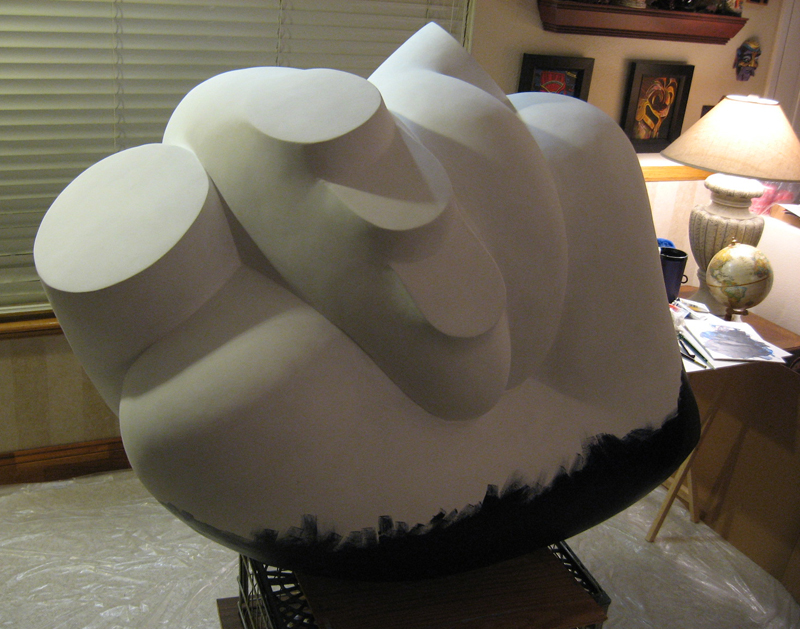 Just look at all of that surface I have to cover! This is when the rush of excitement and trepidation kicks in…
Happy Creating!
Well, the animation that I alluded to in my previous post is finally completed. In all fairness, I should probably call it more of a fete of editing than animating, but either way, I'm extremely excited with how it turned out. Click on the image below and you'll be able to see it on YouTube.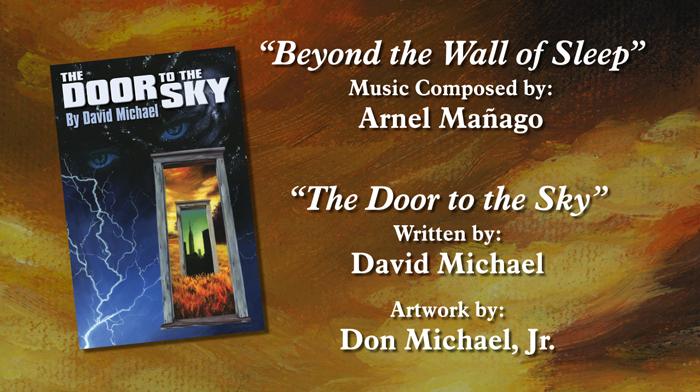 ©2011, Don Michael, Jr.
I would like to thank Arnel Mañago for providing his music, and my brother David for providing his words. They and the artwork for the  book cover all fit together perfectly. As for the artwork, I'd like to point out that every element in the video came from the painting and the book cover that I created for The Door to the Sky – except the words which I quoted from the book…
On a completely different note, the giant heart that I mentioned in my previous post is now sitting in my garage with its first coat of gesso drying. I was very pleased to find that it was a bit smaller than I had been led to believe – but it still ain't little, as you can see below.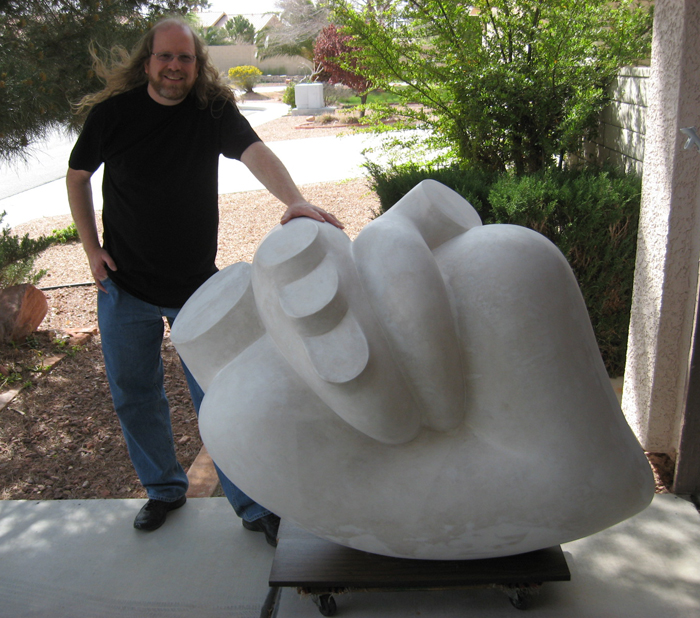 ©2011, Don Michael, Jr.
Now I just gotta' figure out what I'm going to paint on it…
Happy Creating!
<< Previous Page