Most of this week has been spent preparing for this weekend's Arts, Eats & Beats arts festival which will be held at Village Square here in Las Vegas. I will be one of 15 artists who will be featuring our work there on both Saturday and Sunday from 11am – 5pm. Village Square is at the intersection of Sahara and Ft. Apache.
During all this prep I was still able to get a couple of design projects finished up as well as this new sunflower painting…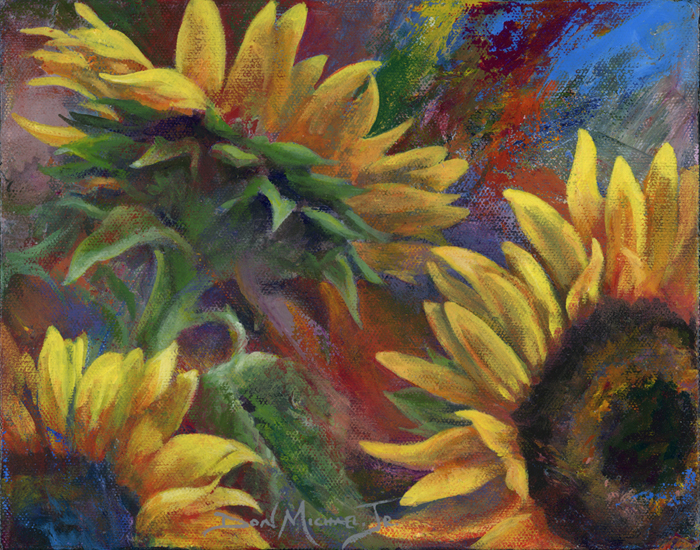 The Way You Do – 8″x10″ – Acrylic on canvas – Completed 3/27/14
©2014, Don Michael, Jr.
This painting will be one of several new ones I will be exhibiting this weekend at Arts, Eats & Beats.
Here is the official poster for the event…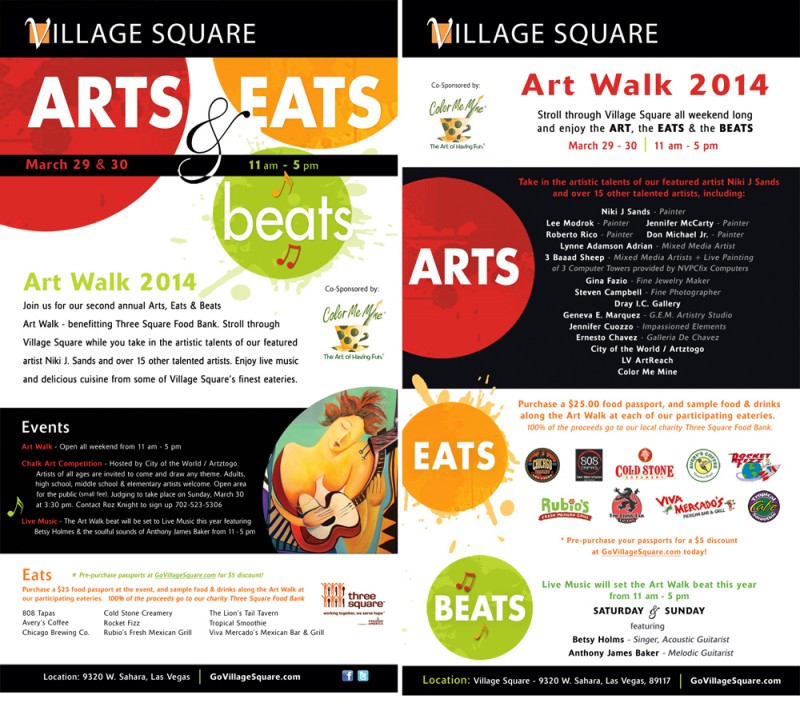 I hope to see you there.
Happy Creating!
I have three kids. You'd think that coming from the same folks and growing up in the same household they'd be very similar… Nope, the opposite is true. Each child has definitely been One of a Kind…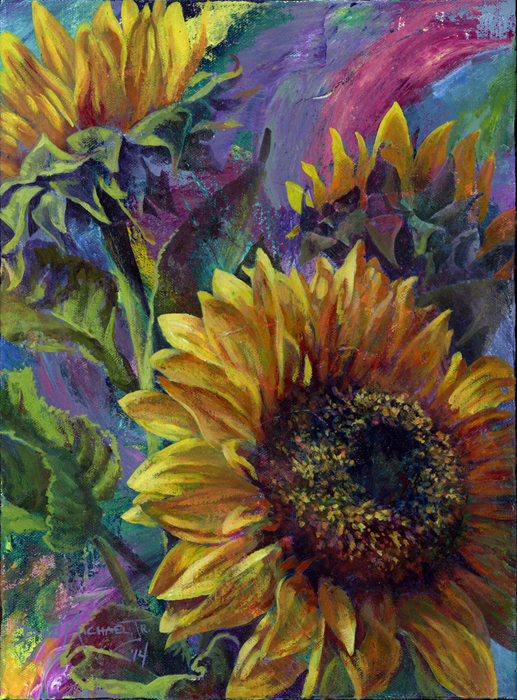 One of a Kind – 16″x12″ – Acrylic on canvas – Completed 3/13/14
Happy Creating!
I just added the dozenth painting to my Sunflower series. I wish I could say more about each of the paintings in this series, but for now my comfort level just won't allow it…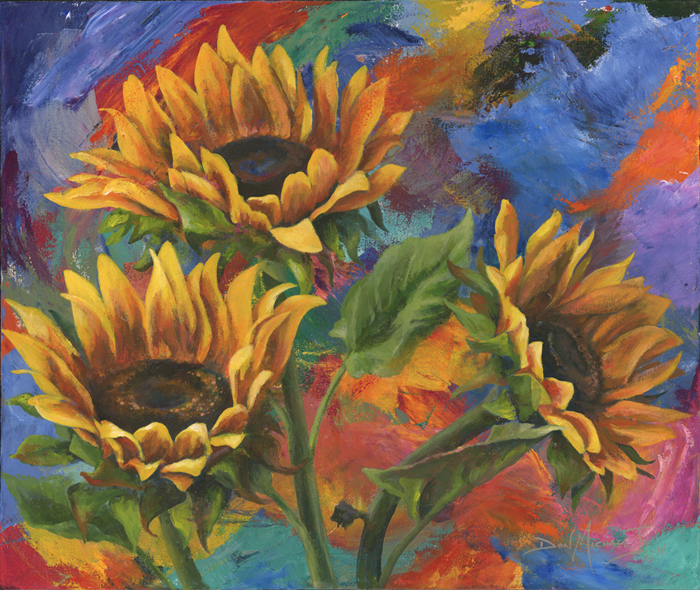 Soliloquy – 20″x24″ – Acrylic on canvas – Completed 3/4/14
©2014, Don Michael, Jr.
I will say thank God for these Sunflower paintings. They are helping me to work through a lot as the healing process continues…
Happy Creating!
The promise of hope, joy and peace are wonderfully illustrated when a storm cloud breaks apart and the sun shines thru. Here is my attempt to symbolize that feeling in paint…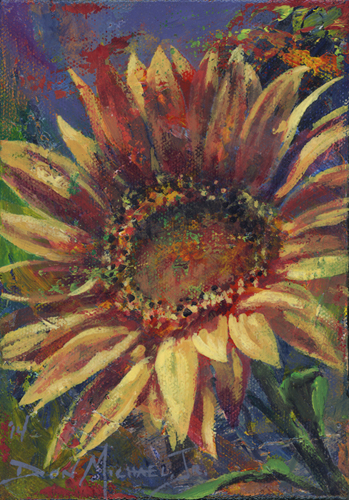 Thru the Storm – 7″x5″ – Acrylic on canvas – Completed 1/27/14
©2014, Don Michael, Jr.
Happy Creating!
Getting back into the studio in this new year has really been a challenge for me. Oh, the excuses abound, but that is all they are – excuses. The fact is, I've just not felt like it, and I honored that feeling… Until this past weekend.
So, without further ado, I present my first painting of 2014…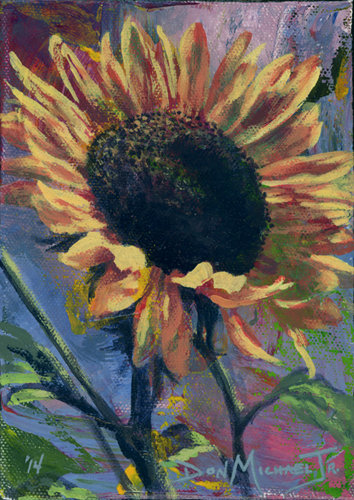 Nearness of You – 7″x5″ – Acrylic on canvas – Completed 1/19/14
©2014, Don Michael, Jr.
This is the 11th painting in the Sunflower series. As I've mentioned before, this series is my way of memorializing our oldest son. This past weekend marked the 6 month anniversary of his death. This upcoming Thursday, January 23rd, he would have turned 26 years old. Needless to say, he is always very much on our minds and in our hearts – hence the title of this painting.
We miss you Donald.
In the Sermon on the Mount Jesus tells us, "Blessed are they that mourn: for they shall be comforted." (Matt. 5:4) We receive that comfort, and thank God for it. In an answer to the many prayers sent up by so many wonderful people on our behalf, Jesus has provided us with the strength and the peace to go on with our lives. And, this is why I can still say with all sincerity…
Happy Creating!
My Dad, Don Michael, Sr., has written Devotional Prompts. My brother, David Michael, has organized them into book form and published them. Yours truly created the cover. Talk about keeping it in the family…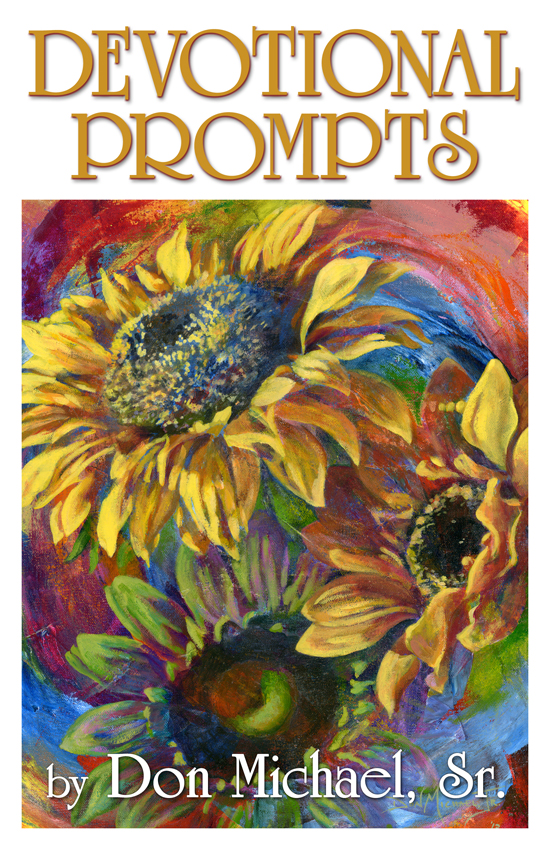 Devotional Prompts – Written by Don Michael, Sr.
©2013, Four Crows Publishing
When David asked me to create the cover for this, I was truly delighted. I immediately thought of my Sunflower Series of paintings, which coincidently, David suggested using as well. 🙂 The painting I chose for the cover is Spiritual Growth, which fits on so many levels.
Book Description (from Amazon): The purpose of the Devotional Prompts is to help you with your personal devotional time, your everyday private worship. Each prompt presents a tenet of faith or personal discovery for you to consider, and includes a call to action. Going beyond passive reading and acceptance, Devotional Prompts encourage you to write out what's in your heart, to see the wisdom of God you have glimpsed in your own life, and to highlight those areas in your life where you need to grow.
I enjoy the process of reading thru these Devotional Prompts, and think you will too. The book is available here. Check it out.
Happy Creating.
I continue my Sunflower Series memorializing our oldest son, Donald, who left this world abruptly this past summer.
As I continue to deal with all of the emotions associated with this painful loss, I turn to God daily in prayer, meditation and the reading of His word. I thank God for His Holy Spirit that comforts me, for without Him I'm not sure how I could go on. But, go on I must. And, not only must I go on, but I know that God wants me to rise above and flourish. It's Time to Blossom.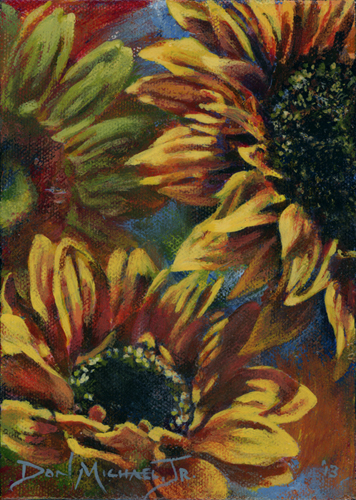 Time to Blossom – 7″x5″ – Acrylic on canvas – Completed 11/25/13
©2013, Don Michael, Jr.
2 Corinthians 1:3-5(NIV); Praise be to the God and Father of our Lord Jesus Christ, the Father of compassion and the God of all comfort, who comforts us in all our troubles, so that we can comfort those in any trouble with the comfort we ourselves receive from God. For just as we share abundantly in the sufferings of Christ, so also our comfort abounds through Christ.
Happy Creating!
I love how some paintings just seem to name themselves. I had barely started painting this one and its title came to mind. Once I shared my thoughts with my family they confirmed that I was on the right track…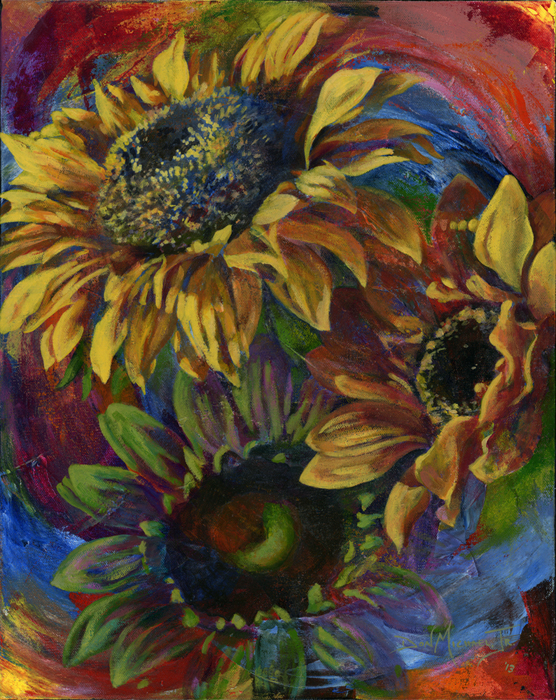 Spiritual Growth – 20″x16″ – Acrylic on canvas – Completed 11/16/13
©2013, Don Michael, Jr.
John 8:12 – When Jesus spoke again to the people, he said, "I am the light of the world. Whoever follows me will never walk in darkness, but will have the light of life."
Happy Creating!
Last night was the 5th Annual Un-Masking the Mind charity auction. It was also the 5th year that I've created a mask for this event. What made this year different, for me anyway, was that I painted live and donated the finished painting to be auctioned off at the end of the night.
Not being one to follow status quo, I decided that I was going to paint at one of the guest tables in the middle of the room. Everyone got a kick out of the fact that I was audacious enough to paint at the same table where I and others were going to eat. I, however, thought this was a great idea, especially since it would allow me to enjoy the company of my lovely wife while I was working. It didn't take long at all for our table to fill up with other artists and friends which made for a very enjoyable evening, indeed.
Here I am hard at work about halfway thru the evening…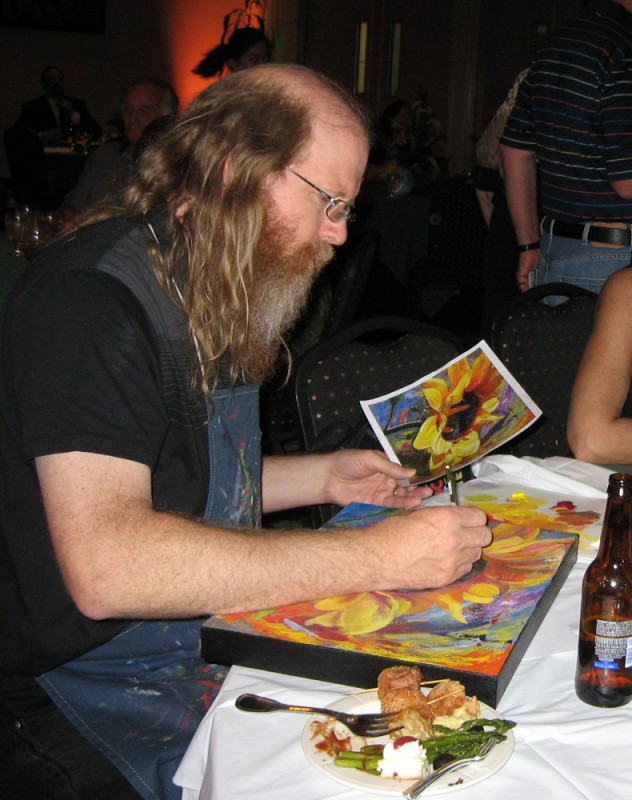 As the night progressed, I had several people come by to see what I was up to. It was a lot of fun to chat with everyone and to hear their input.
Meanwhile, there was still an auction going on. Around 40 masks, which had been created by local artists and celebrities, were being auctioned off to generate funds to purchase books and supplies for Innovations International Charter School of Nevada. The mask I created (which I wrote about here earlier this year) was autographed by my good friend, Carla Rea – a talented comedienne and radio personality for KKLZ here in Las Vegas. Later in the eventing, Carla and I were both happy to be photographed with the new owners of Behind the Smile. Here we are bracketing the new owners…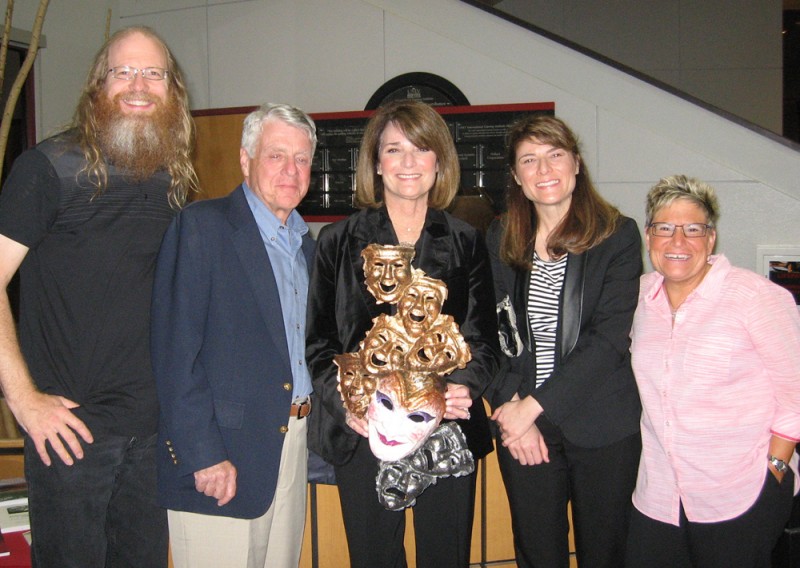 Behind the Smile surrounded by smiles
As I'm sure many of my long-time blogging friends know, it's hard for me to be around masks without finding at least one to add to my collection. Last night was no exception. I am now the proud owner of Blue Bruno, created by local artist Anya Peterson. Anya tells me that she modeled the mask after her pet dog, Bruno – hence the title, Blue Bruno. I told Anya that from now on I was going to call my new addition Bluno. She was quite happy with the idea – especially since her boyfriend has been calling it that ever since she finished creating it. Anyway, here we are celebrating this new addition to my collection…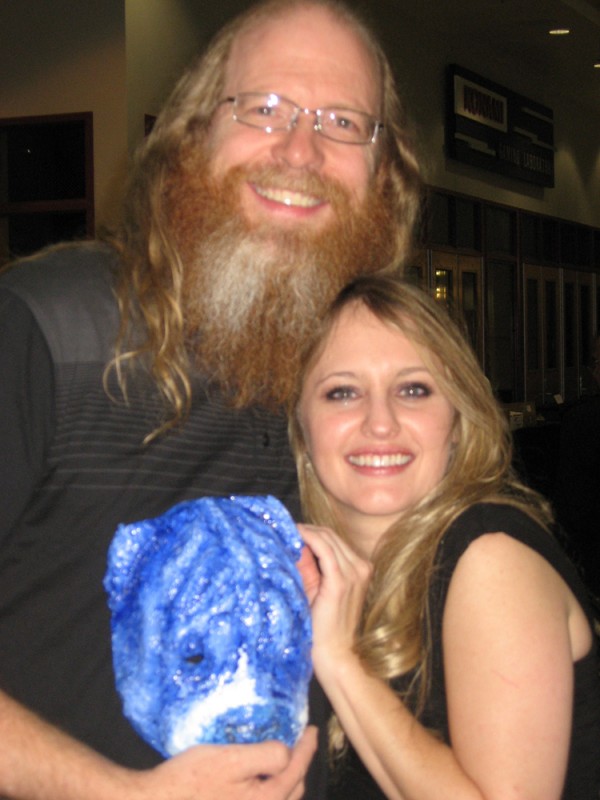 Don, Anya and Bluno
And here is Bluno in all his glory now hanging on my studio wall…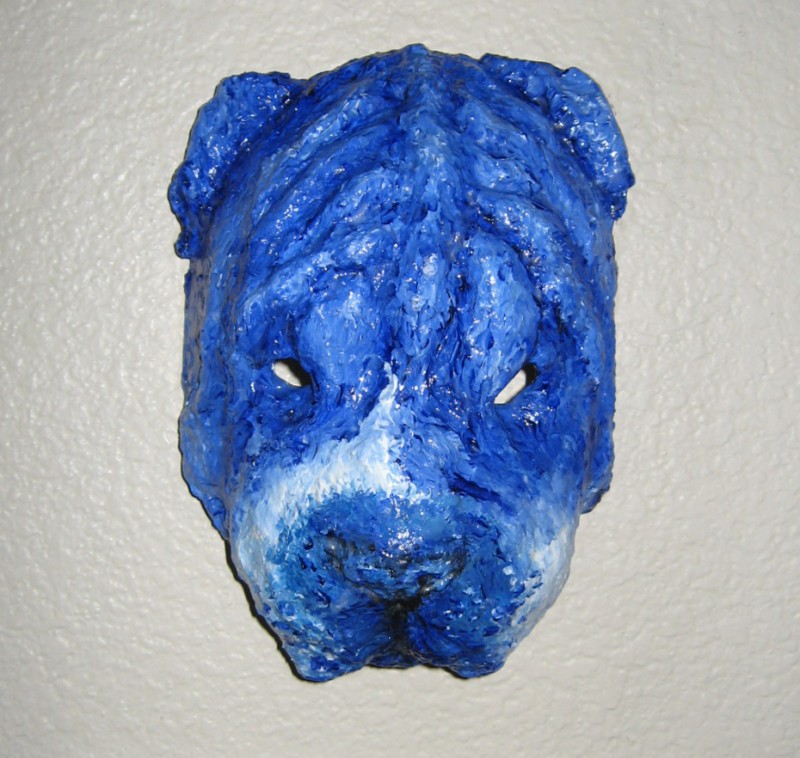 Bluno
In case you wondered, yes, I finished my painting. And, yes, it was auctioned off. Below is what I came up with. (The photo is a little fuzzy, but it was the best I could do at the event.) I donated the painting in memory of our son, Donald, from whom this sunflower series was inspired.
After the event I found out that my painting will be on permanent display in one of the main offices at Innovations International Charter School of Nevada. I couldn't be more pleased…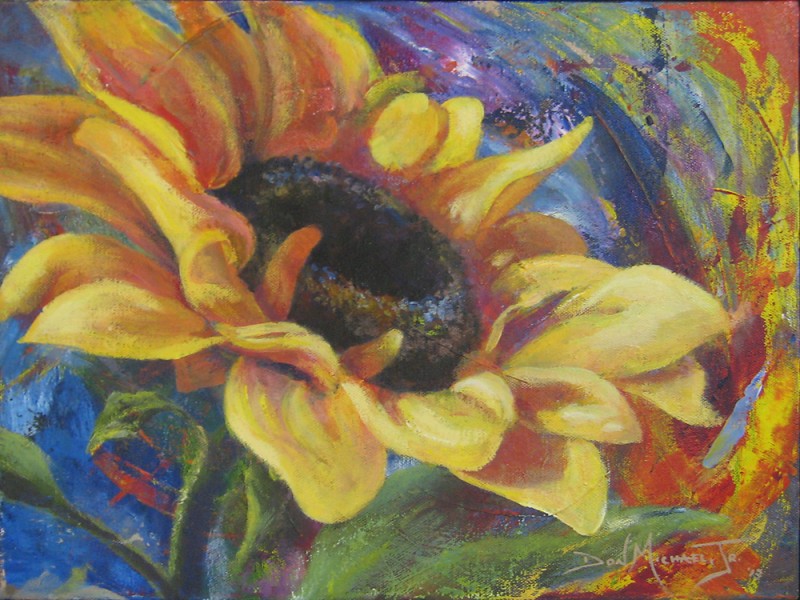 Life Anew – 12″x16″ – Acrylic on canvas – Completed 10/19/13
©2013, Don Michael, Jr.
At the same time I was painting, so was fellow Las Vegas Artist, Teresa Maharaj. I regret that I did not get a photo of her or her beautiful painting, which was also auctioned off. Here is her finished painting which I borrowed from her Facebook page.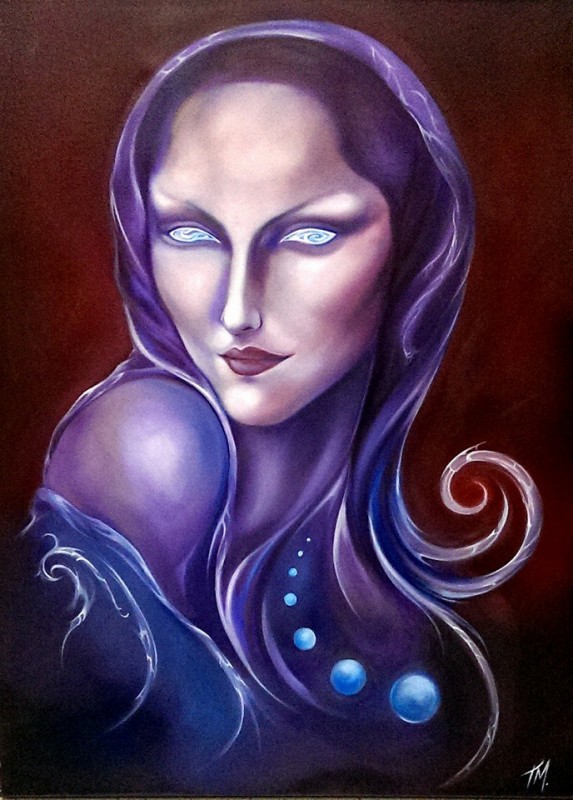 Let's End This Masquerade – Oil on canvas – by Teresa Maharaj
Great job, Teresa. She is beautiful!
All-in-all, last night was a wonderful evening involving good fellowship, good food, fine art and much love. Who could ask for anything more?
Happy Creating!
Things have gotten quite busy around my studio as the month of September has progressed. There are several design projects in the works, as well as a couple of art shows coming up to prepare for – all of which have kept me away from my easel. But, I was finally able to squeeze in a few hours over the past week to create a new addition to my Sunflower series…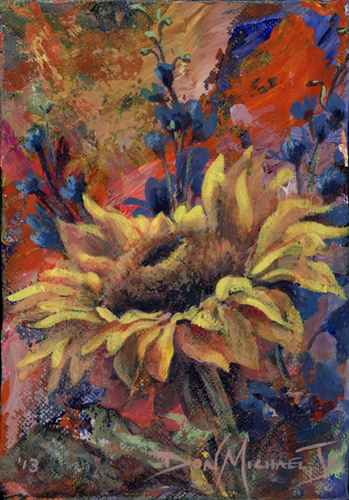 Ever Upward – 7″x5″ – Acrylic on canvas – Completed 9/18/13
©2013, Don Michael, Jr.
At First Friday on October 4th I will have several of my paintings on display at the Blue Sky Yoga Gallery and Jana's RedRoom, both which reside in the Arts Factory here in Las Vegas. The following two days, October 5th & 6th, I will be showing at the "Art in the Park" fine arts and craft festival in Boulder City, NV. Also, I have several pieces on display at the Gina M. Woodruff Gallery in Long Beach, CA.
If you're ever in the Las Vegas area or the Long Beach area be sure to swing by and see my work.
Happy Creating!
Next Page >>