My blogging friend, Celeste, just sidetracked me from my easel for the past two hours. She posted a cool self-portrait she did using an online program called The Scribbler by Zefrank and I had no choice but go try it out for myself. Wow, did I have some fun. Below is the 'self-portrait' I created per Celeste's suggestion.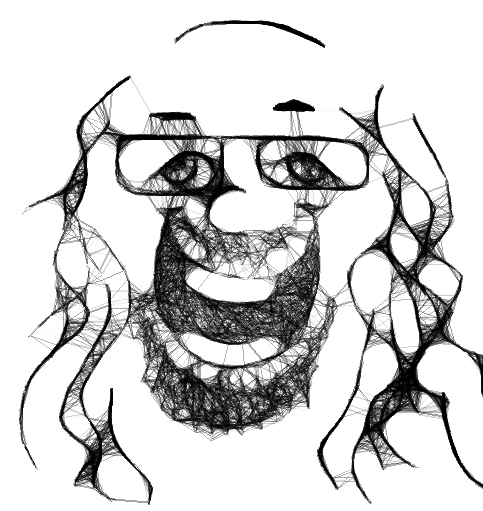 A Happily Distracted Don – Electronic sketch collaboration with The Scribbler – Created 9-13-10
Thanks for the distraction Celeste. I think I'll go paint now…
…with a smile on my face.
Happy Creating!
May 17, 1985 fell on a Friday night. On that Friday night, 25 years ago this weekend, my best friend and I became partners for life. It was the best thing that had ever happened to me and is only equalled by the births of the three children we share together. My life did not really start until that wonderful evening. I thank God for putting Laura into my life.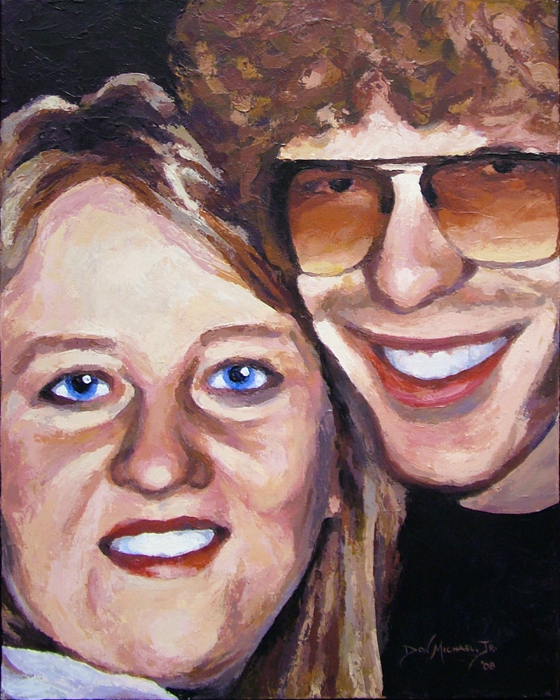 You're My Best Friend – 20×16 – Acrylic on canvas – ©2008, Don Michael, Jr.
This painting was a Christmas gift to Laura in 2008. I originally wrote about its creation here.
I hope everyone has a great weekend. I know I will…
I've had a few people who visited my www.artscuttlebutt.com/don_in_vegas homepage wonder, "who is the man behind the mask?".
Above is my profile image for Artscuttlebutt.com. At the time I set up my profile this was the most current of my paintings. It is a detail of  "Anywhere the Wind Blows", which is still one of my favorites.
 I just figured my masks were prettier than me so I chose one of them to represent me. But, for those who are curious, I am the one on the right in the photo below…