I was recently approached by one of the ladies in my church to create a painting for her to give to her husband on his first Father's Day. Her husband is a good friend and is also one of the pastors in our church. I love that he has a HUGE heart for families – especially children. He had recently seen a painting titled, Love Over Time, by artist Hannah Jordan, and had fallen in love with it. To him it represented everything he wanted to be for his young son, and he's even been using it for the masthead on his Facebook page. Below is that painting…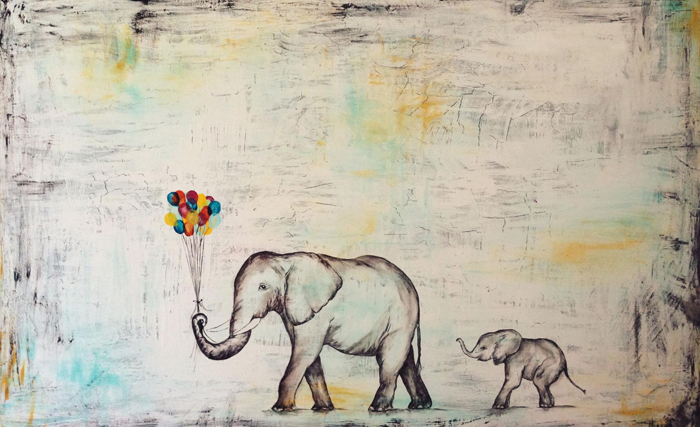 Love Over Time – by Artist Hannah Jordan
My client wanted me to create a painting very similar to Love Over Time for her gift to her husband, but in my style. You may think that this would make the process of creating my painting easier in that the concept was already fairly complete. However, this actually made the process quite difficult because I never want to copy another artist's work outright.
Knowing my friend's favorite colors I made sure that they were prevalent throughout the 'schmeerings' in the background. As for the elephants, I wanted the child to be copying Dad's stride, but opposite. As anyone with children knows, young minds are a sponge, and they try to emulate what they see mom and dad doing. The results are often not quite right, but are almost always adorable. I also wanted to show the energy of the young guy trying to keep up with Dad by having his tail bouncing behind him while Dad's tail is gently swaying. Below is what I came up with…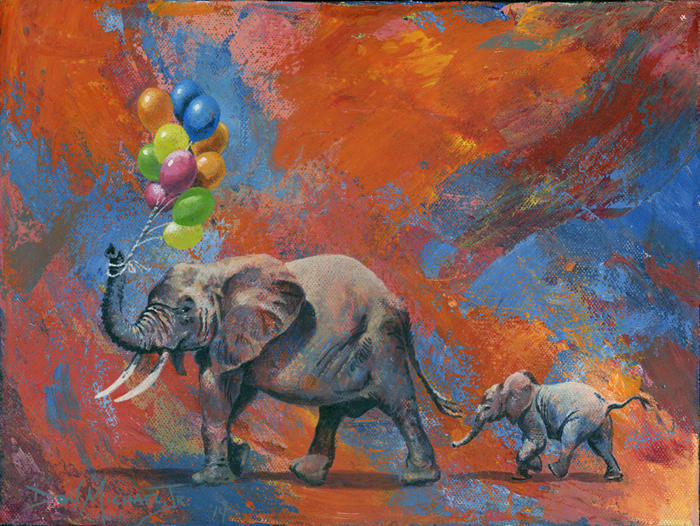 Lead By Example – 9″x12″ – Acrylic on canvas – Completed 5/21/14
©2014, Don Michael, Jr.
So, you may ask, why am I posting about this Father's Day gift two weeks before Father's Day? Funny you should ask… Some people just can't wait to share the gifts they have for their loved ones. So, this beautiful young family already has this painting hanging in their home. 🙂 Thank you, Martha, for letting me be a part of this fun gift… and, Happy early Father's Day, Jeremy!
To every one else I say…
Happy Creating!
If someone had told me just two years ago that I would one day be painting animal portraits I'd have laughed out loud. Not because I don't like animals, mind you, but because the idea had just not crossed my radar – at all.  Well, the laugh would have been on me, because I just completed my 4th dog portrait… And, I'm having fun doing it.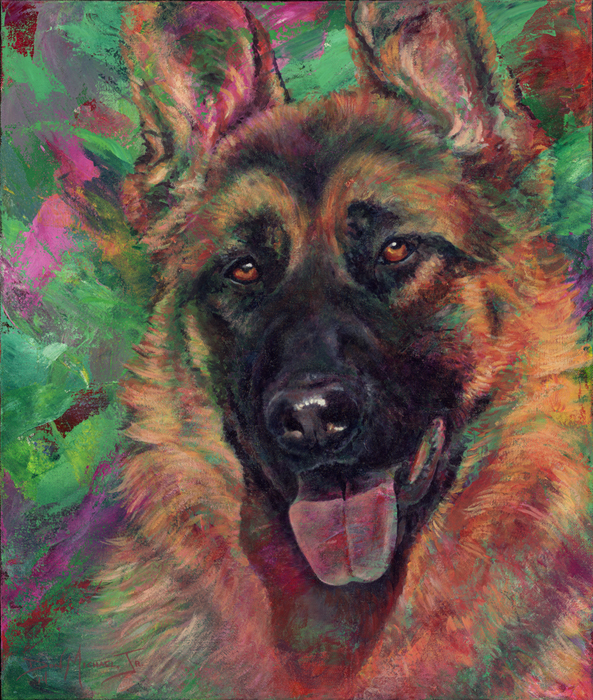 WindRidge's Love – 24″x20″ – Acrylic on canvas – Completed 5/31/14
©2014, Don Michael, Jr.
It is really a fun challenge to make these animal portraits work within the confines of the Over the Under-Schmeerings (OTUS) style of painting that I created a few years ago. Creating the illusion of the real colors of the animal while keeping many of the extraneous colors from the under-schmeerings is a very fun exercise. And, each animal has brought its own unique challenge to the process. Oh, how I love this thing I do!
I would like to thank WindRidge German Shepherds (www.windridgek9.com) for giving me such latitude in creating this portrait. Also, thanks for allowing me to post the daily progress of the painting process on Facebook. I had a lot of fun with it, and I'm really proud of how it turned out.
For those interested, here is how the painting progressed on a daily basis…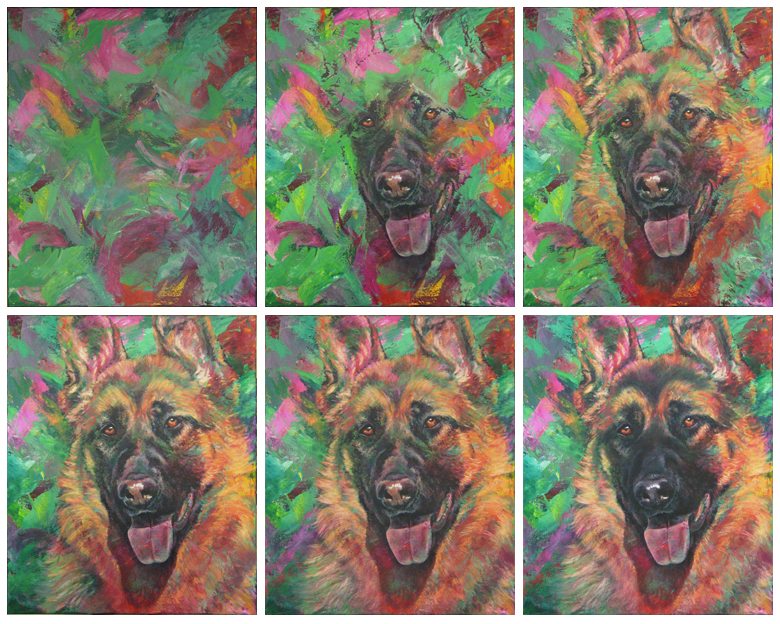 Happy Creating!
Recently I was approached to create a painting that "includes a waterfall and a cross like your St. Jude sculpture". The lady commissioning the piece had accepted Jesus Christ as her personal savior a little over a year ago and wanted me to create a piece representing that new birth. We hammered ideas around and I came up with the idea of having the waterfall flowing from the cross. When talking with the client she had mentioned that she had gotten a tattoo of a butterfly to represent rebirth upon accepting Christ. I think that is an excellent symbol for rebirth and wanted to include it in the painting. We then decided to include two butterflies – one inviting the other to follow it to the cross.
Stylistically, we decided that I would use my Over the Under-Schmeerings style. In the process of the painting I found that I needed to use my palette knife to create a gritty, bold and raw energy in the sky, the cross and the waterfall. I then finished up by getting very specific and detailed in painting the butterflies. I love the juxtaposition of the  very realistic elements against the expressionistic background – all in a surreal environment. Oh, how I love this thing I do!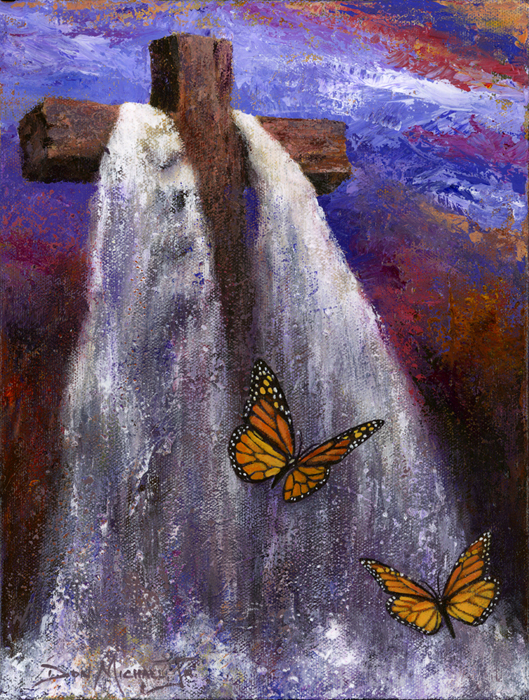 Rebirth (John 4:14) – 12″x9″ – acrylic on canvas – Completed 5/12/14
©2014, Don Michael, Jr.
The verse referenced in the title of the painting, John 4:14, has Jesus saying, "But whoever drinks the water I give them will never thirst. Indeed, the water I give them will become in them a spring of water welling up to eternal life."
How refreshing! How enriching! How sustaining! Praise God.
Happy Creating!
The first half of this year has involved a lot of intense reflection for me – on many levels. So, as I have a tendency to do, I took my reflections to the canvas. The following auto-biographical self-portrait is what I came up with…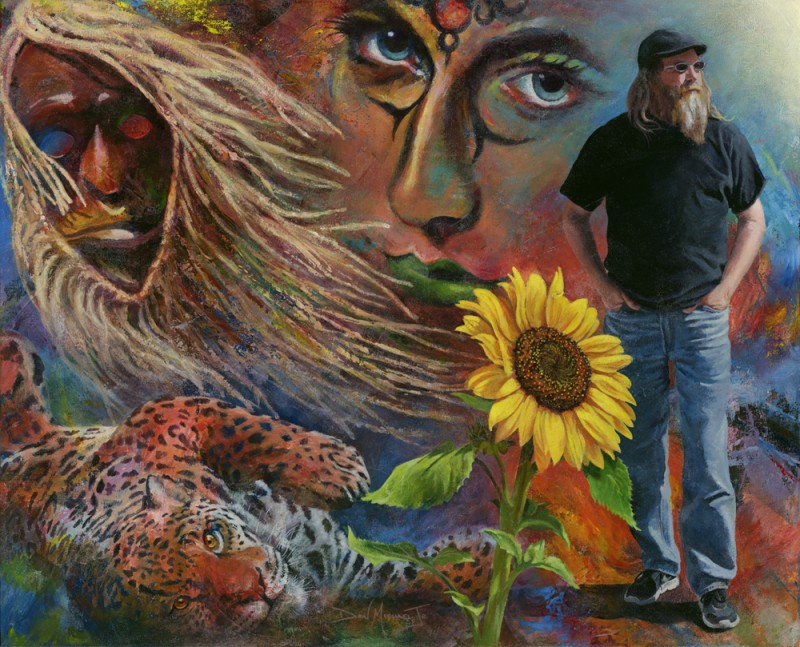 The Artist Pauses to Reflect and Consider – 24″x30″ – Acrylic on canvas
Completed 5/3/14 – ©2014, Don Michael, Jr.
The working title for this one was, "The Artist Pauses as he reflects upon where he's been and considers where he would like to go next"… I know, very wordy – and for me, a little too descriptive. Even with me 'stripping' it down it is still the longest title I have ever assigned to a painting. Anything less just didn't work.
The lovely eyes that are looking over the Artist's shoulder belong to a local talent extraordinaire, Nickole Muse. I met her this past December at the Circus Couture Charity Event. She is one of the few women in life that I have had to physically look up to – of course, the 4′ long stilts probably added to that effect. 🙂 Being a giant kid at heart, I took full advantage of the chance to give the lovely lady a low-body-hug. Thankfully, she didn't slap me down or hit me over the head with that lamp she was carrying…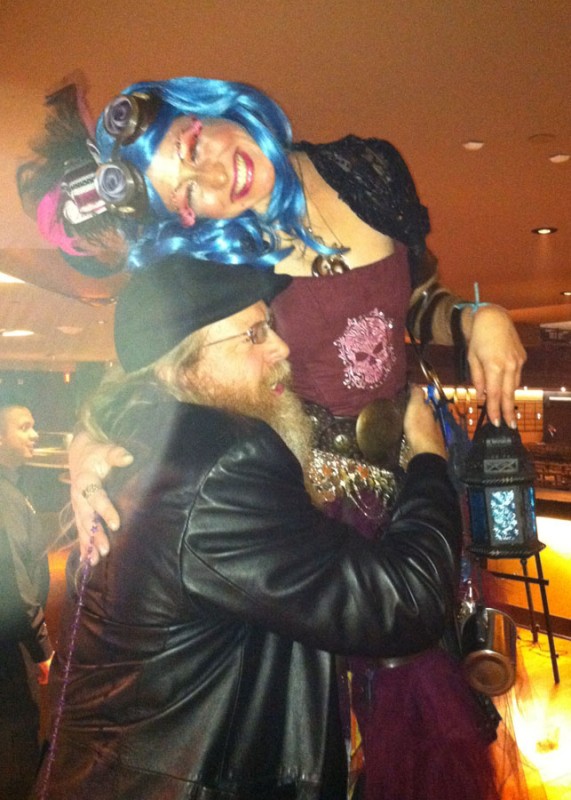 Don hugs the Magnificent Nickole Muse
Anyway… Nickole and I became Facebook friends and I've been admiring her many escapades in costume and performance for the past several months. One day, when going thru some of her photos I found one that felt to me like it belonged in one of my paintings. Those eyes!!! Both Nickole, and the photographer, Robert Lopez, were gracious enough to give me permission to use it, and so I did… Thank you, Nickole and Robert.
Now, you may ask, what has this Artist decided to do next after his extended period of reflection and consideration? Why, paint more, of course!
Happy Creating!
Last week I set myself the challenge of reinterpreting the faces on playing cards using my Over the Under-Schmeerings style. I started with a King…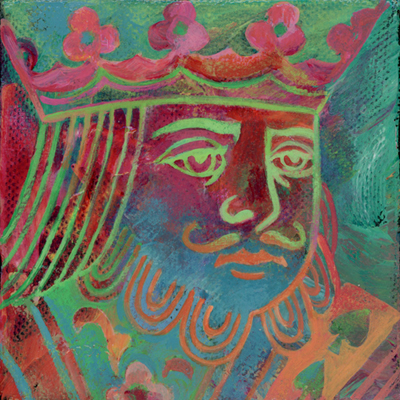 Sword King – 4″x4″ – Acrylic on canvas – Completed 4/11/14
©2014, Don Michael, Jr.
Then I painted a Queen…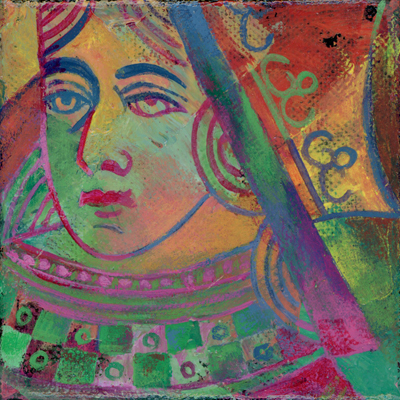 Lady of Hearts – 4″x4″ – Acrylic on canvas – Completed 4/12/14
©2014, Don Michael, Jr.
…and then, to finish up the family, I painted a Jack.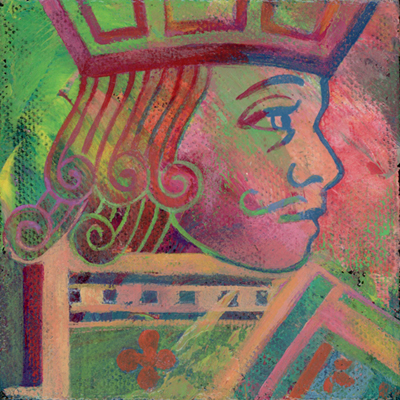 Knave of Spade – 4″x4″ – Acrylic on canvas – Completed 4/13/14
©2014, Don Michael, Jr.
My wife and daughter were both unsure of where I was going with this at first… until I had a couple completed. Now they can see what I'm up to. My daughter mentioned that she prefers seeing them together as a set as opposed to individually. So, I arranged them in order of ascending rank just for her.
Suddenly, a story started to unfold before me. I think the King had better pay more attention to his lady. Hopefully, it's just harmless flirtation, but Jack better be careful…

Dysfunctional Family?
This was a fun detour. Who knows? I may revisit soon…
Happy Creating!
This painting that I just completed is an expression of my love for the city I live in… No matter the situation, there is hope to be found in the grace freely given by my savior, Jesus Christ. He carried our every sin and shame to the cross upon which He died. Thankfully, He did not stay dead. He arose and conquered death. Now I don't have to fear it.
He stood in my place.
He stood in your place.
He stands between us and the judgment we deserve.
All you have to do is take that small step to accept His free Gift Called Grace.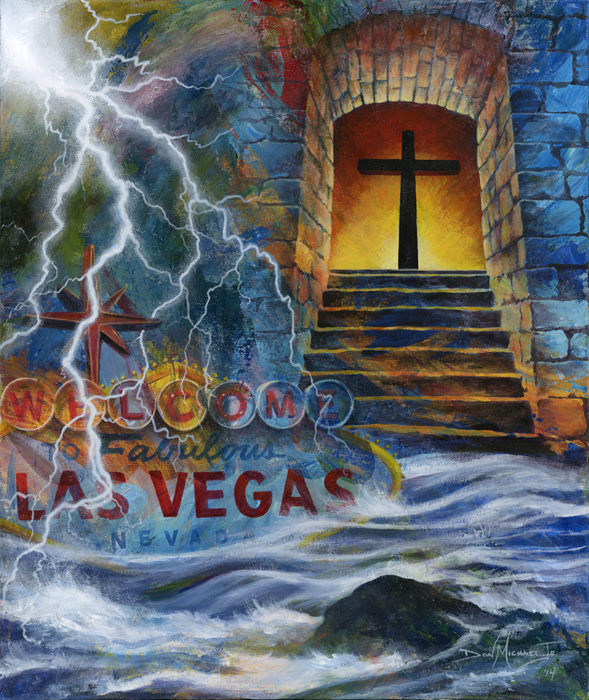 The Gift Called Grace – 24″x20″ – Acrylic on canvas – Completed 4/7/14
©2014, Don Michael, Jr.
The following lyrics are from the song A Friend Called Grace by Phillips, Craig & Dean. It was a source of inspiration for this painting. I hope you find it as beautiful and comforting as I do…
Tears dripped off of her crimson face
She covered her head tryin' to hide her shame
Caught and condemned, now she can't get away
Just a pawn in the hands of a Pharisee game
The noise and the rage of the frenzied grew
As they struggled for the power in an ageless fued
And as she softly cried, they again reviewed
The obvious fate of this ill-repute
Then a voice of love ended all debate
His words of hope sent the crowd away
The hand that flung the stars in space
Lifted her face and she heard Him say
Let Me introduce you to a friend called Grace
Doesn't care about your past or your many mistakes
He'll cover your sins in a warm embrace
Let me introduce you to a friend
A friend called Grace
The courtroom croud grew quiet and still
As the white-robed judge called Truth appeared
And the ring of the gavel brought a fierce debate
As the players of eternity decided my fate
In the light of Truth all could clearly see
The facts made the trial mere formality
And my accusers stood with baited breath
Confident conviction would end in death
But from the blood-stained cross to the witness stand
Walked a man with hope in His nail-scarred hands
The words He spoke brought me sweet release
He whispered "I've a friend that you need to meet"
Let Me introduce you to a friend called Grace
Doesn't care about your past or your many mistakes
He'll cover your sins in a warm embrace
Let me introduce you to a friend
A friend called Grace
If you're tired of the guilt and the sleepless nights
And running from the shame of a wasted life
There's Someone standing with an open hand
Waiting there to give you a second chance
Let Me introduce you to a friend called Grace
Doesn't care about your past or your many mistakes
He'll cover your sins in a warm embrace
Let me introduce you to a friend
A friend called Grace
(You can also listen to this beautiful and inspirational song here.)
Happy Creating!
Most of this week has been spent preparing for this weekend's Arts, Eats & Beats arts festival which will be held at Village Square here in Las Vegas. I will be one of 15 artists who will be featuring our work there on both Saturday and Sunday from 11am – 5pm. Village Square is at the intersection of Sahara and Ft. Apache.
During all this prep I was still able to get a couple of design projects finished up as well as this new sunflower painting…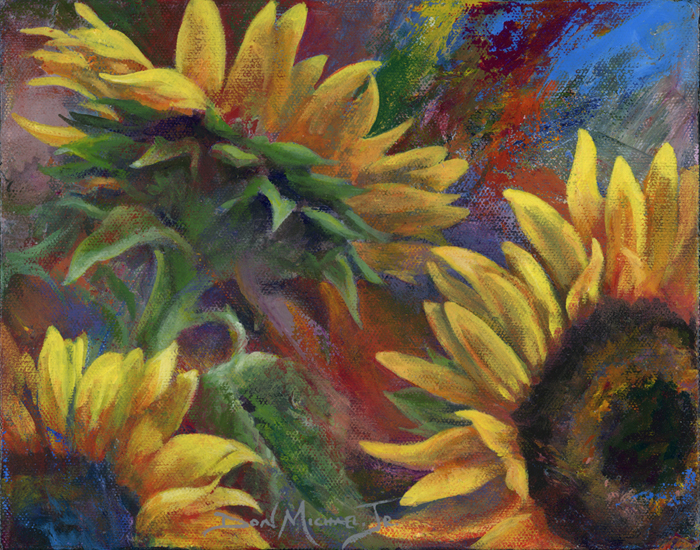 The Way You Do – 8″x10″ – Acrylic on canvas – Completed 3/27/14
©2014, Don Michael, Jr.
This painting will be one of several new ones I will be exhibiting this weekend at Arts, Eats & Beats.
Here is the official poster for the event…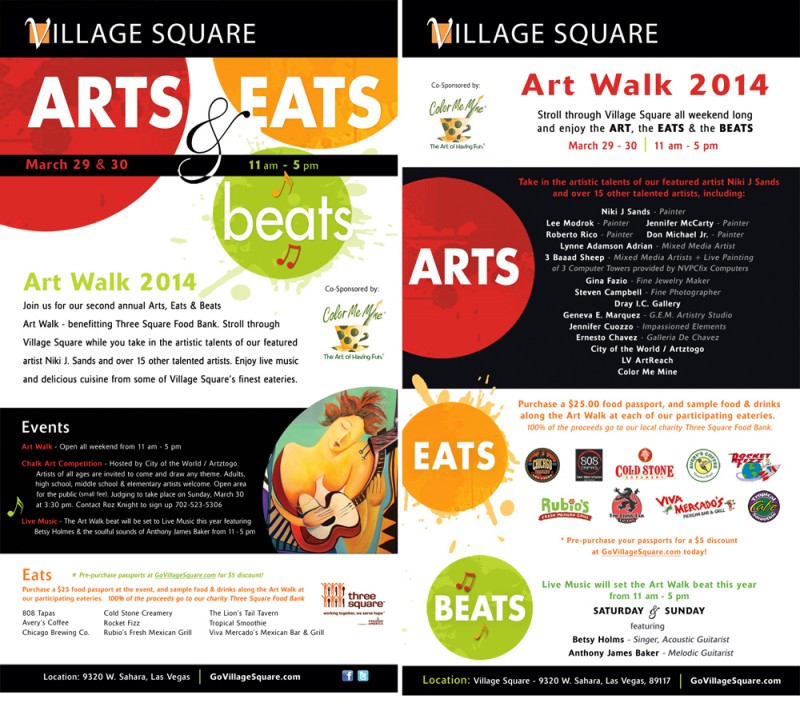 I hope to see you there.
Happy Creating!
Over the past year-and-a-half I have painted several different wildcats – including tigers, ocelots, leopards, cheetahs, and lions – among others. Recently someone asked me why I didn't paint domestic cats. To be quite honest, I just hadn't really thought about it… but, in the infamous words of Barney Stinson of tv's How I Met Your Mother, "Challenge accepted!"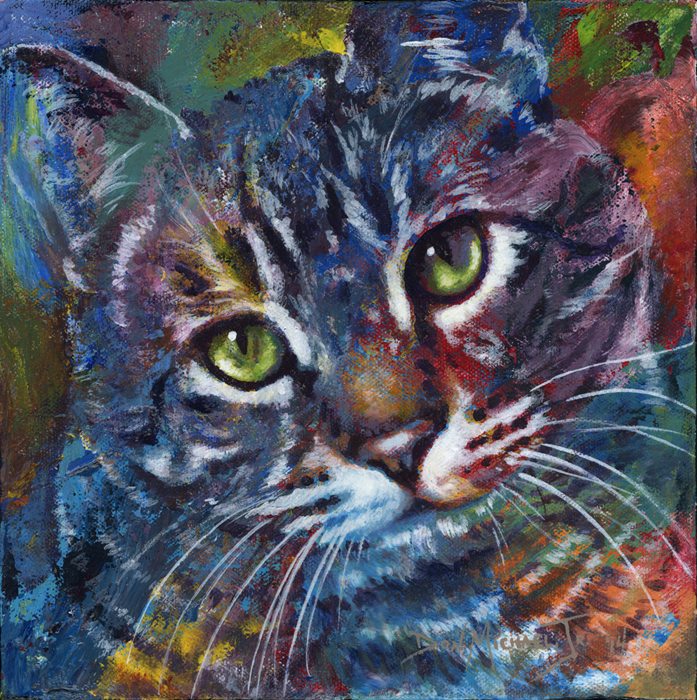 Irresistible – 10″x10″ – Acrylic on canvas – Completed 3/23/14
©2014, Don Michael, Jr.
The subject of this cat portrait is my very own Franz Marc, seen below enjoying his morning devotional. He has been my studio cat for nearly 4 years now and no project can be considered complete until it has received his stamp of approval. Thankfully, even this one passed…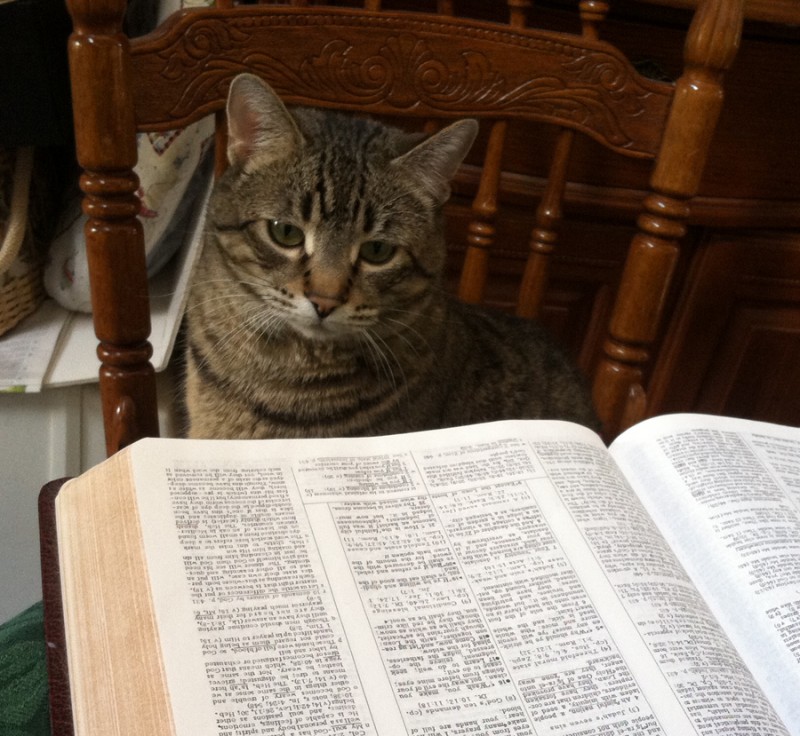 Happy Creating!
I have three kids. You'd think that coming from the same folks and growing up in the same household they'd be very similar… Nope, the opposite is true. Each child has definitely been One of a Kind…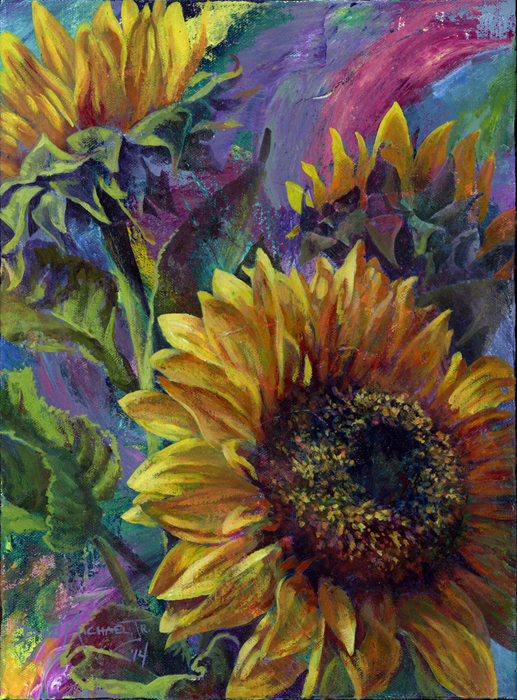 One of a Kind – 16″x12″ – Acrylic on canvas – Completed 3/13/14
Happy Creating!
This past Thursday the St. Jude Local Las Vegas Chapter presented the 2014 Celebration of Life Sculpture Exhibit which is currently on display in the Symphony Park at the Smith Center here in Las Vegas. This collection of 10 sculptures designed by sculptor Dorit Schwartz and painted by several Las Vegas based artists, including yours truly, are designed to bring awareness to and help generate funding for the St. Jude Children's Research Hospital.
Here I am with the sculpture that I painted, which I titled Miracle…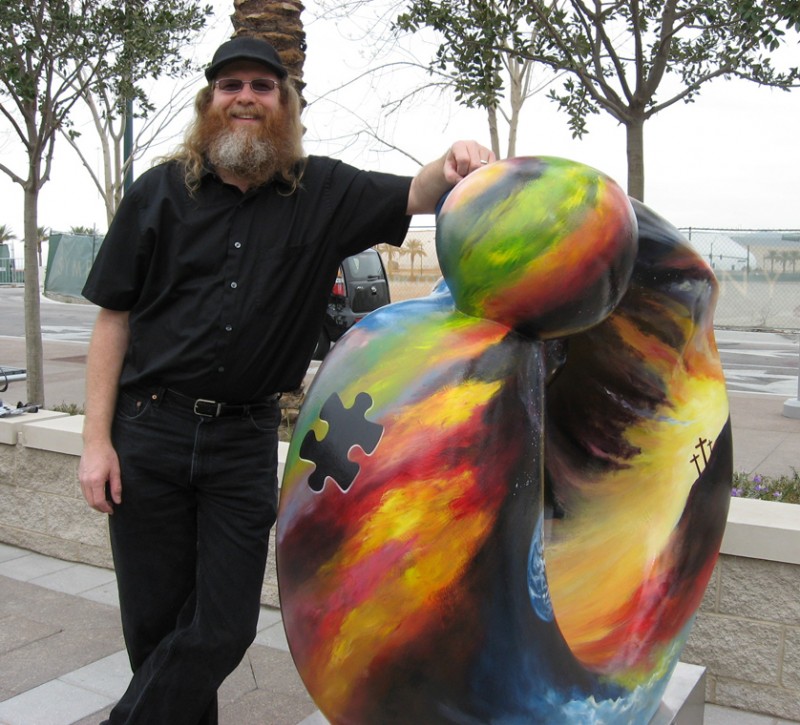 Don with Miracle
Before I even started painting this year's sculpture I knew Miracle would be its title. Miracle is a word that resonates with my family. Even though we didn't get the miracle that we prayed for this past July, we know that God is still doing a work in our lives. We hold close the words from Romans 8:28 "And we know that all things work together for good to them that love God, to them who are the called according to His purpose."
Because of all the intense emotions flowing through and over me as I created Miracle I knew I had to keep my Artist's Statement short and to the point.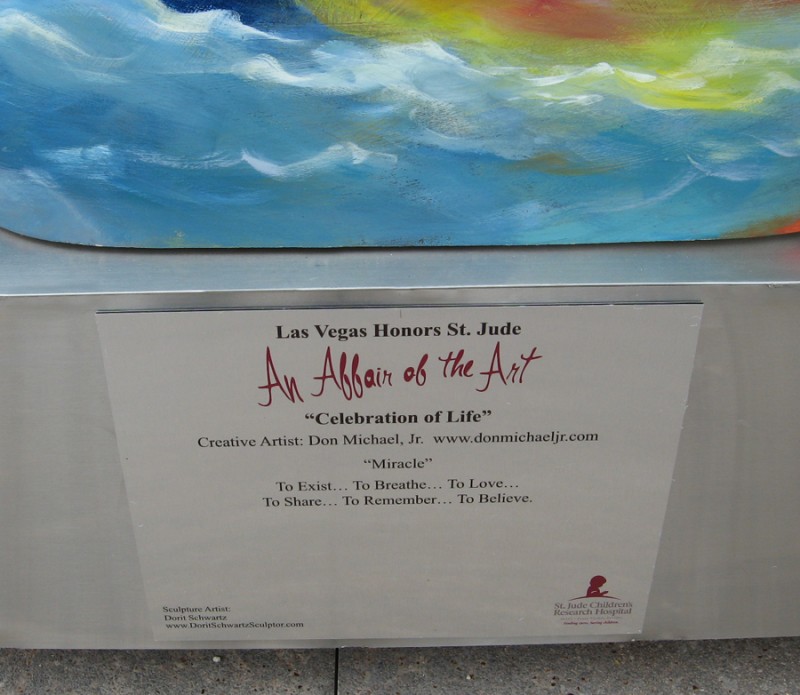 "To Exist… To Breathe… To Love… To Share… To Remember… To Believe."
This is by far the most personal piece of art that I've created in a long time. In it I have expressed my faith, I have acknowledged my family, and I have acknowledged my grief. With that all said, I wanted to express all of these in a positive and uplifting way. I wanted to make sure that my artwork in no way conflicted with my desire to bring a positive message to the families who are coming to St. Jude with a hope for healing and life after cancer. I pray for the day when the cure rate for cancer is 100% and no family has to go through what ours has ever again.
Below are more photos of the different parts of Miracle. Some were taken outside and some were taken while still in my dining room, so their quality varies.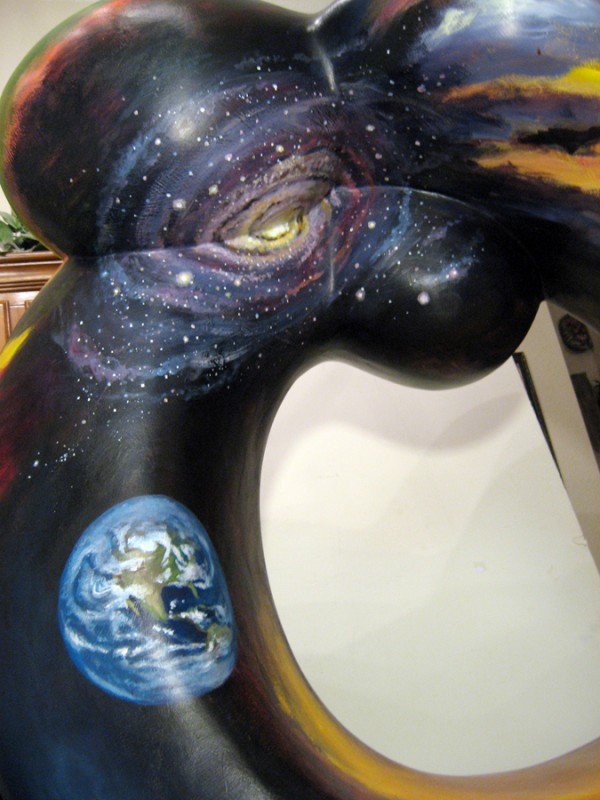 In the Beginning God Created the Heavens and the Earth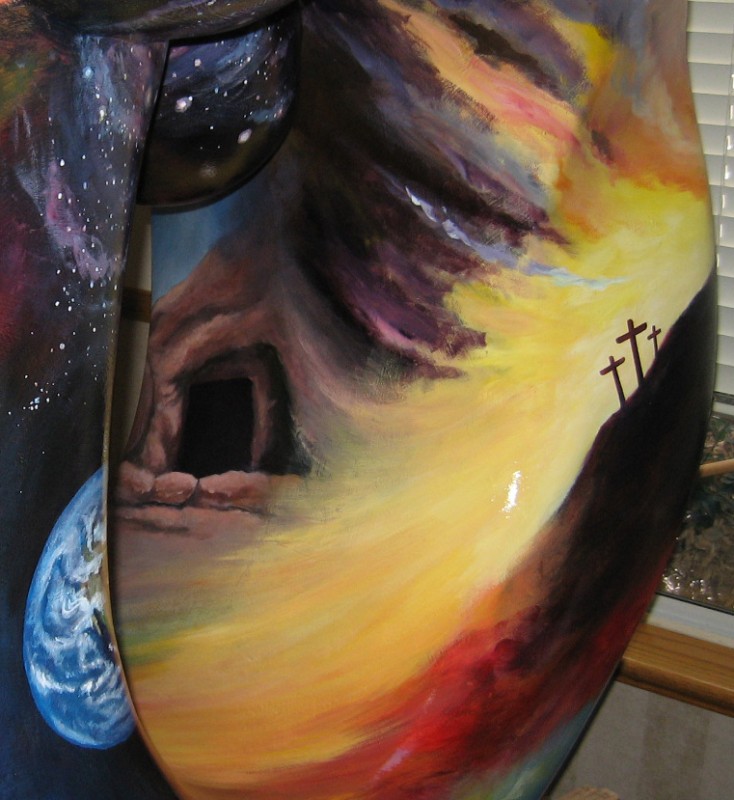 The Crosses and the Empty Tomb represent God's Grace – Death is Nothing to Fear for Those Who Believe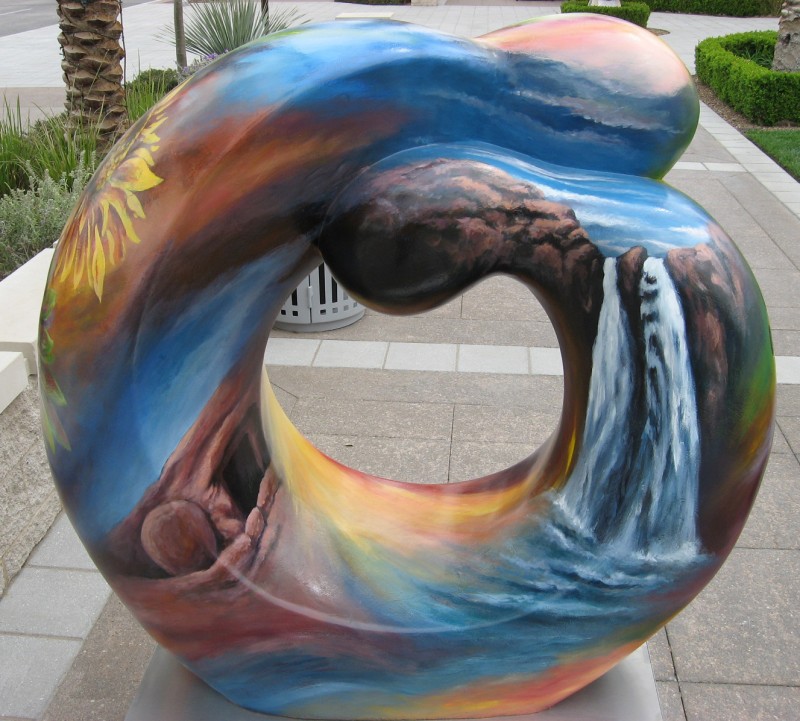 "He that believeth on me, as the scripture hath said, out of his belly shall flow rivers of living water." John 7:38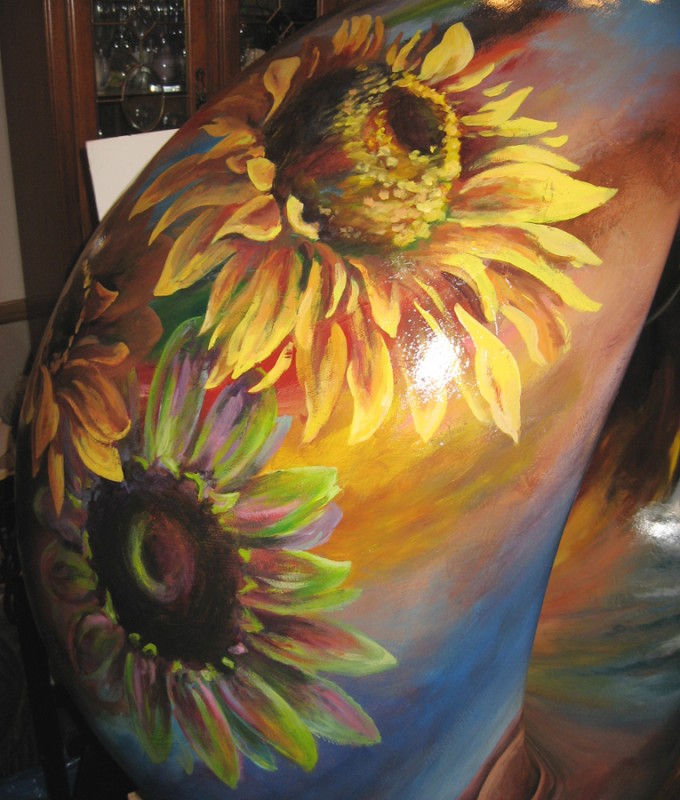 Sunflowers Memorialize Our Son, Donald, the Oldest of Three
As many of my long-time blogging friends know, no art project can leave my studio until it meets with the final approval of my studio cat, Franz Marc. I smile every time I see this photo.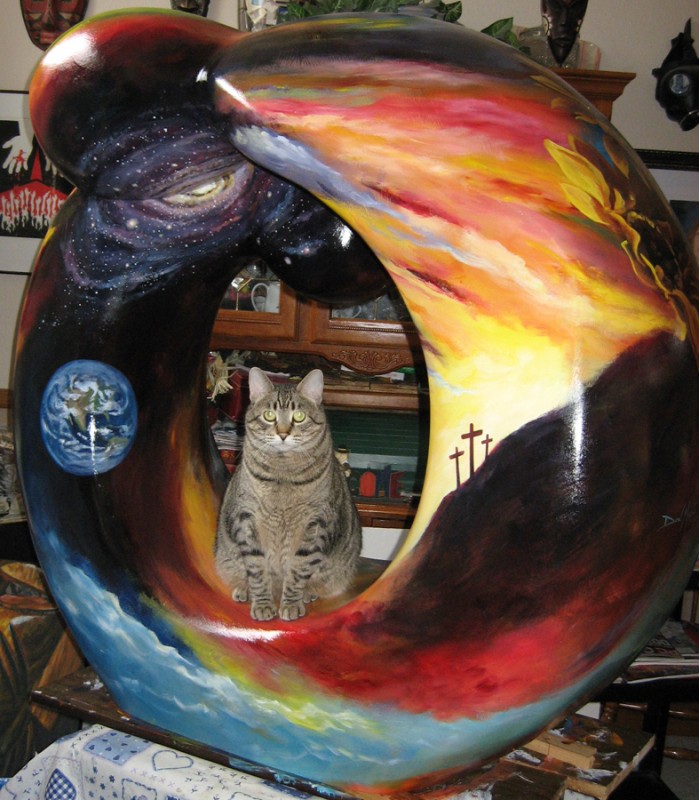 Franzie Approved
I'm sure you've noticed that there are a few elements upon which I have not elaborated. I'm a strong advocate of always leaving a touch of mystery to my work – let people have a chance to find their own meaning…
-A Final Note: The event was blessed with decent media coverage and my photo even ended up in the Las Vegas newspaper. On top of that, a few other photos of me and Miracle ended up on their website. I couldn't be more proud. Check it out here: http://www.reviewjournal.com/life/photos-reflection-love
Happy Creating!
<< Previous Page - Next Page >>