I just added the dozenth painting to my Sunflower series. I wish I could say more about each of the paintings in this series, but for now my comfort level just won't allow it…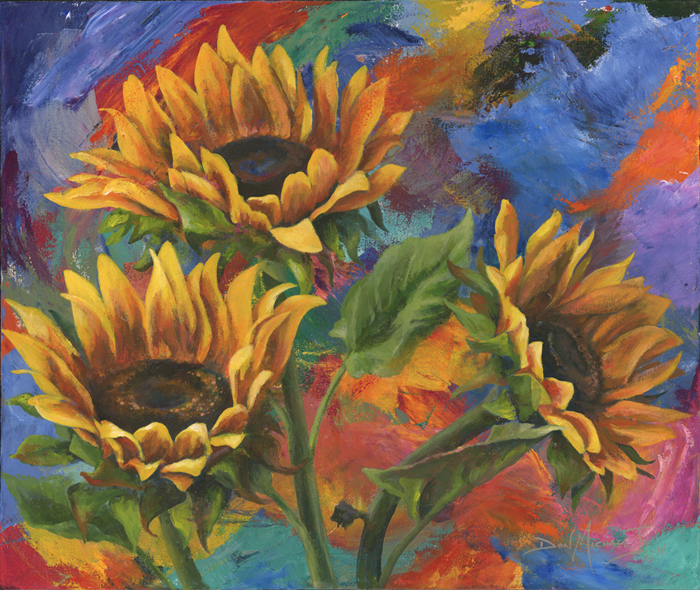 Soliloquy – 20″x24″ – Acrylic on canvas – Completed 3/4/14
©2014, Don Michael, Jr.
I will say thank God for these Sunflower paintings. They are helping me to work through a lot as the healing process continues…
Happy Creating!
I spent almost every bit of my creative energy on the St. Jude sculpture during the month of February. (I'll post more on that soon.) What this did was put me behind on a few of my design projects AND caused me to not paint anything for myself. So, I remedied the painting part of that dilemma last night…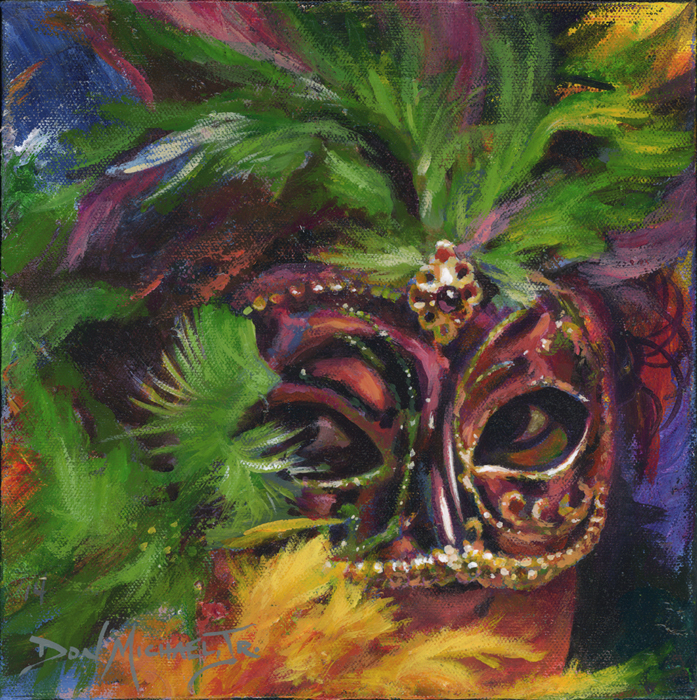 Feathered Up – 10″x10″ – Acrylic on canvas – Completed 2/25/14
©2014, Don Michael, Jr.
The inspiration for this painting came from my Facebook friend, Tracy Friberg. She recently posted a 'selfie' of herself getting ready for Mardi Gras. I loved the photo and requested permission to use it in one of my Over the Under-Schmeering paintings. Tracy graciously concurred. Thank you, Tracy!
Below is Tracy's photo. You can see that I did not stray far from her original image. I love the richness of the colors in her photo. Beautiful shot, Tracy!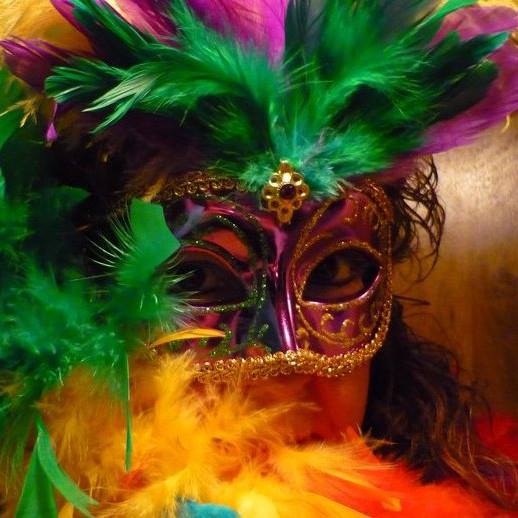 Mardi Gras photo by Tracy Friberg
Now it's time for me to get caught up on some of those design projects.
Happy Creating!
The promise of hope, joy and peace are wonderfully illustrated when a storm cloud breaks apart and the sun shines thru. Here is my attempt to symbolize that feeling in paint…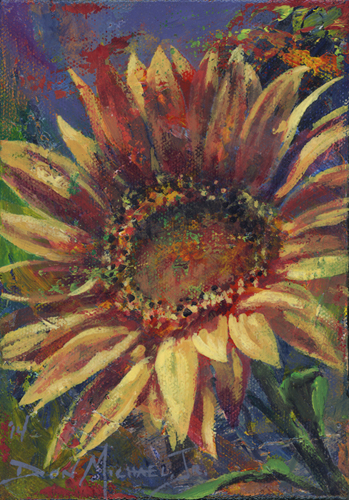 Thru the Storm – 7″x5″ – Acrylic on canvas – Completed 1/27/14
©2014, Don Michael, Jr.
Happy Creating!
Several people have asked me recently why there weren't more lions in my wildcat series. Being the introspective type, I took a long, hard look at both the series and my intentions – and I realized something… It's a lot easier to create portraits of cheetahs, leopards, ocelots and tigers because of the markings on their faces. Those markings give me a 'leg up' compositionally right from the start. In effect, I was taking the easy way out by primarily focussing on those spotted and striped felines. How cowardly of me…
So, I painted a lion…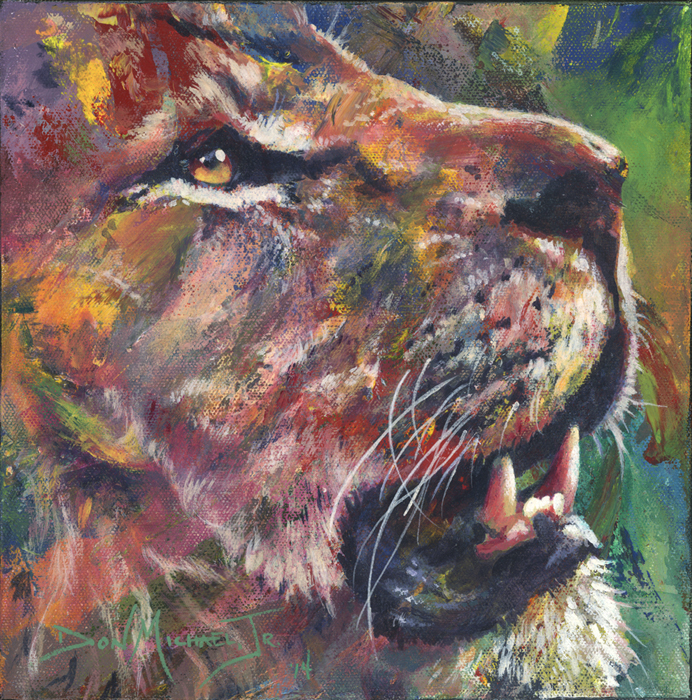 Higher Call – 10″x10″ – Acrylic on canvas – Completed 1/22/14
©2014, Don Michael, Jr.
Happy Creating!
Getting back into the studio in this new year has really been a challenge for me. Oh, the excuses abound, but that is all they are – excuses. The fact is, I've just not felt like it, and I honored that feeling… Until this past weekend.
So, without further ado, I present my first painting of 2014…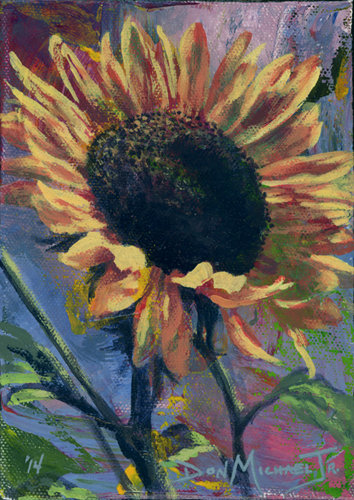 Nearness of You – 7″x5″ – Acrylic on canvas – Completed 1/19/14
©2014, Don Michael, Jr.
This is the 11th painting in the Sunflower series. As I've mentioned before, this series is my way of memorializing our oldest son. This past weekend marked the 6 month anniversary of his death. This upcoming Thursday, January 23rd, he would have turned 26 years old. Needless to say, he is always very much on our minds and in our hearts – hence the title of this painting.
We miss you Donald.
In the Sermon on the Mount Jesus tells us, "Blessed are they that mourn: for they shall be comforted." (Matt. 5:4) We receive that comfort, and thank God for it. In an answer to the many prayers sent up by so many wonderful people on our behalf, Jesus has provided us with the strength and the peace to go on with our lives. And, this is why I can still say with all sincerity…
Happy Creating!
I'm very proud to announce that the very first Ginormous Heart I painted for the St. Jude Las Vegas Chapter has found a permanent home at the JW Marriott Resort and Spa here in Las Vegas. Ever since I completed this heart in 2011 it has traveled extensively around the Las Vegas with several other hearts painted by local artists to help bring awareness to the work the St. Jude Children's Research Hospital is doing for our children. The heart, which I titled Heartstrings, is now on permanent display just outside the Spa Tower of the JW Marriott.
Below is a photo of me being interviewed by the lovely Beth Fisher for KTNV Channel 13 while standing beside this heart. If you'd like to see the segment that Channel 13 put together which included my interview, be sure to click here.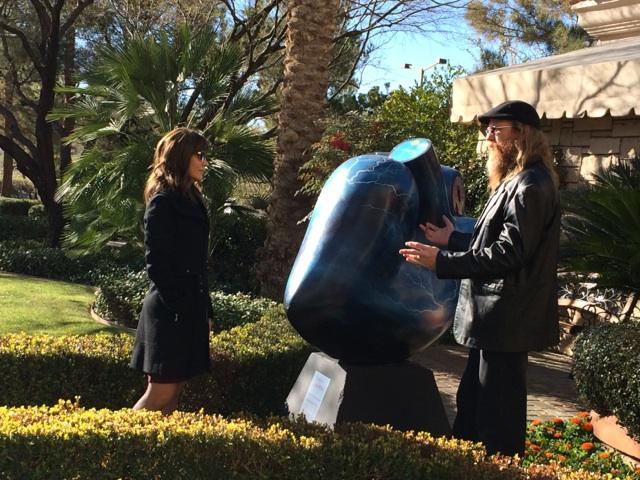 Beth Fisher interviewing Don Michael, Jr. for KTNV Channel 13
Through the rest of January there will be several other of the St. Jude Hearts on display throughout the JW Marriott Resort and The Rampart Casino campuses. In fact, the other two Ginormous Hearts that I painted in 2012 and 2013 are currently there. You can find out more info about this traveling collection by clicking here.
This year we are working with a very different sculpture for this wonderful awareness campaign for St. Jude. I will be posting more about that soon. Right now I'm still trying to figure out just what I'm going to paint. Stay tuned…
Happy Creating!
It's hard to believe another year is already coming to a close. Time just keeps marching on.
Below is my last painting for 2013. It's a quasi-self-portrait using a favorite from my mask collection.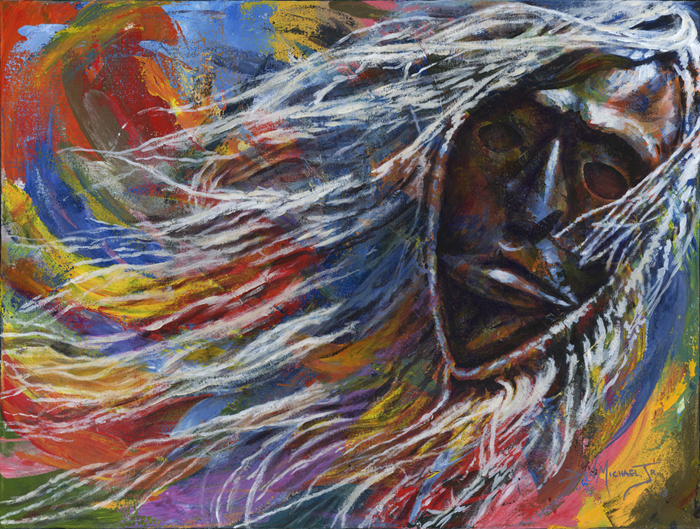 Wind Chill – 18″x24″ – Acrylic on canvas – Completed 12/28/13
©2013, Don Michael, Jr.
I wish all of my blogging friends a Happy New Year! Here's hoping 2014 is a good one.
Happy Creating in 2014!
Twenty-six years ago, my wife and I were excited to be expecting our first child. Below is the Christmas card I created that year to share with family and friends which celebrated our good news…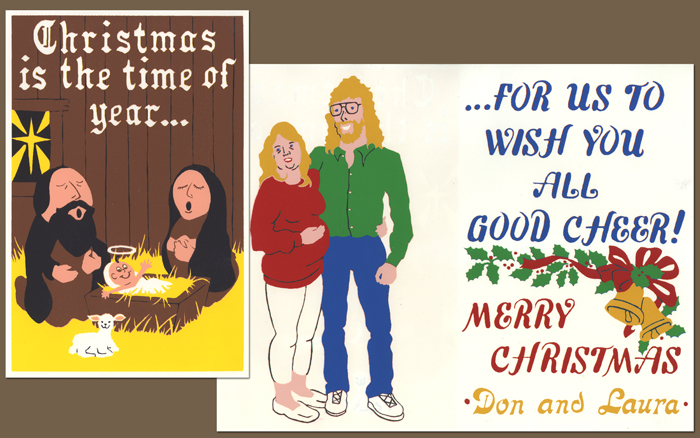 Family Christmas Card 1987 – Hand-pulled silkscreen on archival paper
Of course, the next year our precious boy had to be features significantly in the Family Christmas Card…
Family Christmas Card 1988 – Hand-pulled Silkscreen on Archival Paper
For nearly every year after, the Family Christmas Card featured something about our family. The Christmas after our second child arrived found me experimenting with a more graphical style. Of course, I still had to feature our boys on that year's card…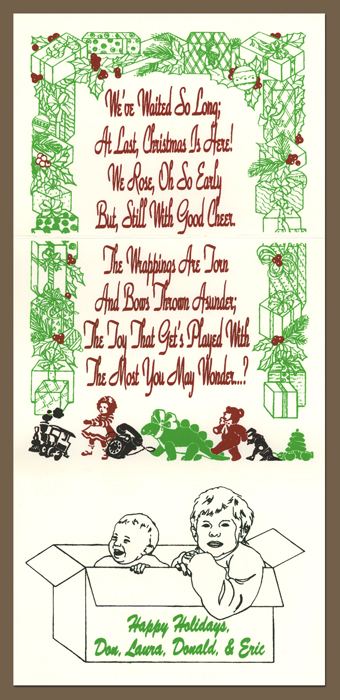 Family Christmas Card 1994 – Hand-pulled Silkscreen on Archival Paper
When those boys' little sister was born, there was no doubt that she would show up in that year's Family Christmas Card. At this point, I was beginning to experiment with Photoshop as my primary tool for creating the cards. This is what I came up with…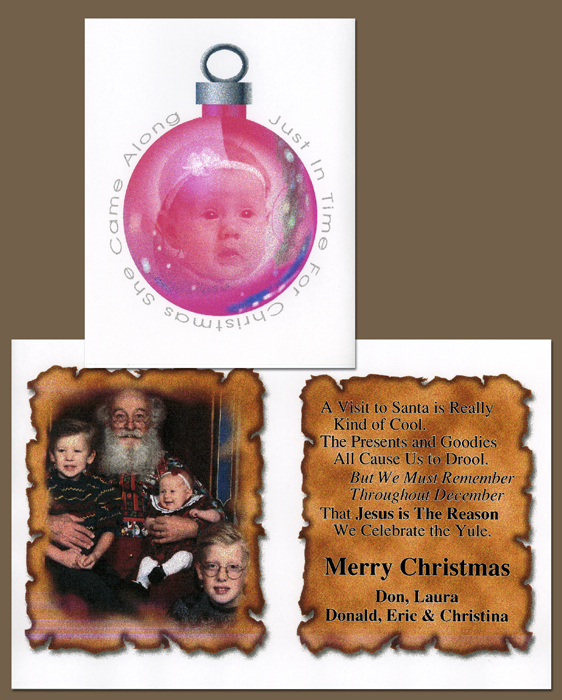 Family Christmas Card 1998 – Inkjet Print on Bright White Paper
Through this yearly tradition I have shared the love of our family, while keeping everyone up-to-date on things going on in our lives. During the past twenty-eight years I have created a Family Card each Christmas – until now.
As many of my blogging friends know, we lost our oldest son earlier this year. I cannot find it in me to create a card of celebration while my heart continues to ache so much with our loss. However, I will not allow the pain to overshadow what Christmas is really all about.
Christmas celebrates that momentous day when God became man in the form of His son, Jesus Christ. Because of God's grace we now have the opportunity to spend eternity with Him. All we have to do is believe that Jesus died for our sins and then arose from the grave three days later. When we accept Jesus Christ as our personal savior, we are given the greatest gift ever, God's Grace. The Bible tells us the whole story, but Jesus summed everything up beautifully in John 3:16, where He tells us, "For God so loved the world, that He gave His only begotten Son, that whosever believes in Him should not perish, but have eternal life."
Happy Creating!
Lately, most of my creative/studio time has been tied up in freelance design work. As much as I enjoy the design work, painting is my true passion. So, to maintain my creative sanity I make sure to set aside some time to paint at least a few hours each week. This is what came from my painting sessions this week…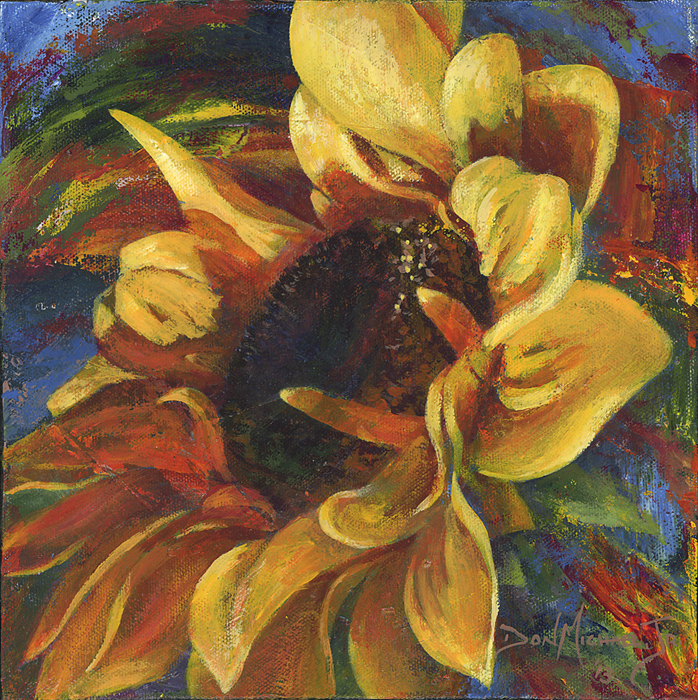 Sun Burst – 10″x10″ – Acrylic on canvas – Completed 12/11/13
©2013, Don Michael, Jr.
Usually by now there would be some kind of seasonal type work coming out of my studio. This year is different, though. So, for now, I'll continue to work on my Sunflower Series.
John 3:16 – For God so loved the world that He gave His only begotten Son that whosoever believeth in Him should not perish, but have everlasting life.
Happy Creating!
My Dad, Don Michael, Sr., has written Devotional Prompts. My brother, David Michael, has organized them into book form and published them. Yours truly created the cover. Talk about keeping it in the family…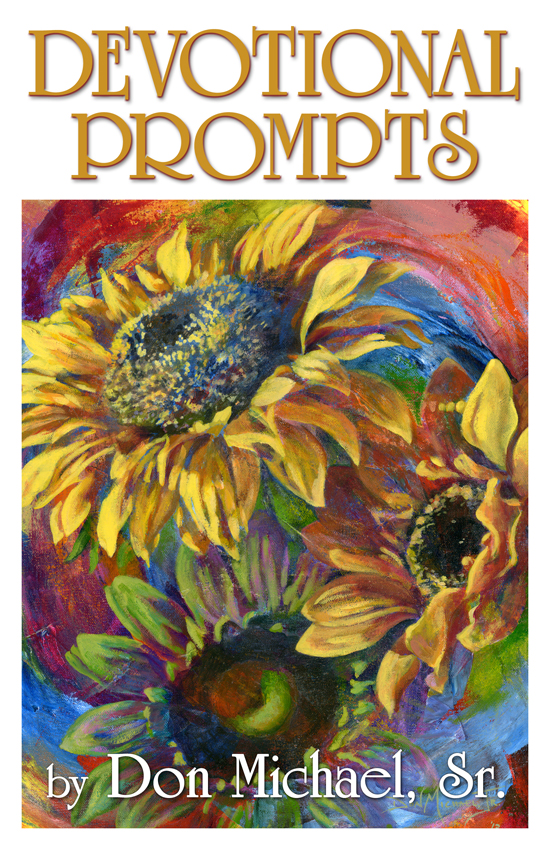 Devotional Prompts – Written by Don Michael, Sr.
©2013, Four Crows Publishing
When David asked me to create the cover for this, I was truly delighted. I immediately thought of my Sunflower Series of paintings, which coincidently, David suggested using as well. 🙂 The painting I chose for the cover is Spiritual Growth, which fits on so many levels.
Book Description (from Amazon): The purpose of the Devotional Prompts is to help you with your personal devotional time, your everyday private worship. Each prompt presents a tenet of faith or personal discovery for you to consider, and includes a call to action. Going beyond passive reading and acceptance, Devotional Prompts encourage you to write out what's in your heart, to see the wisdom of God you have glimpsed in your own life, and to highlight those areas in your life where you need to grow.
I enjoy the process of reading thru these Devotional Prompts, and think you will too. The book is available here. Check it out.
Happy Creating.
<< Previous Page - Next Page >>