This past Saturday I had the opportunity to paint live in Downtown Summerlin for the St. Jude Children's Research Hospital Las Vegas Chapter.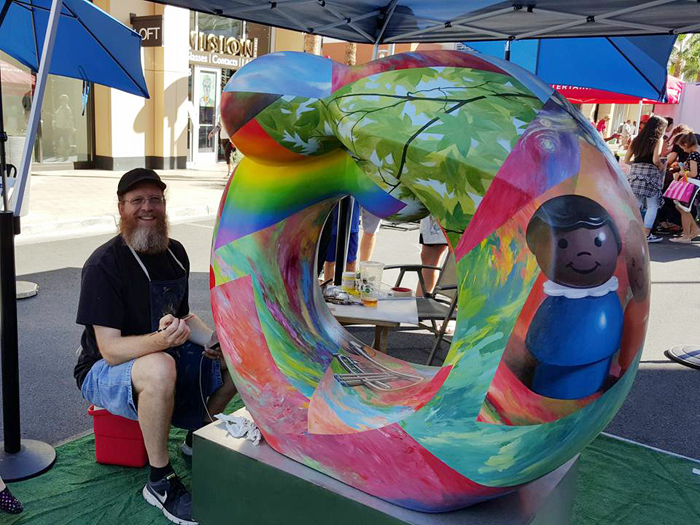 I was painting on a sculpture created by Las Vegas artist Dorit Schwartz. I am one of ten artists painting casts of this sculpture for the 2015-16 installment of Celebration of Life. Our intention is to bring awareness to and donations towards the outstanding work St. Jude is doing in the fight against childhood cancer.
Here is a photo of the sculptor with this painter…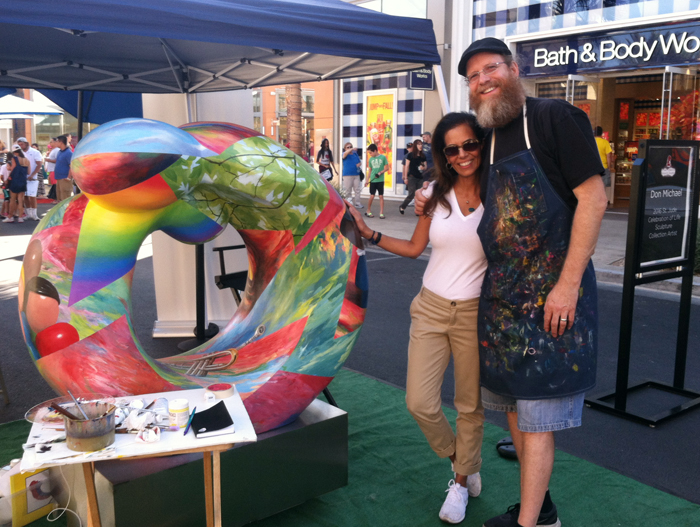 St. Jude Artists Dorit Schwartz and Don Michael, Jr.
…and, below is a photo of fellow artist, Joseph Watson, striking a pose as he takes a pause from painting on his sculpture. I love what he has going on with his and can't wait to see his finished piece!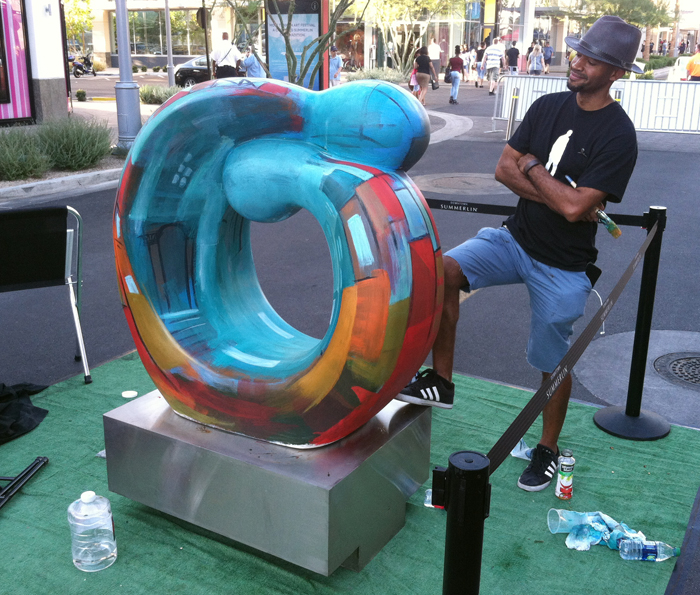 St. Jude Artist Joseph Watson
This is the fifth large sculpture I have painted for St. Jude. The other four still reside in various locations around Las Vegas and continue to do their job of bringing awareness for St. Jude. Here is a montage of those previous four…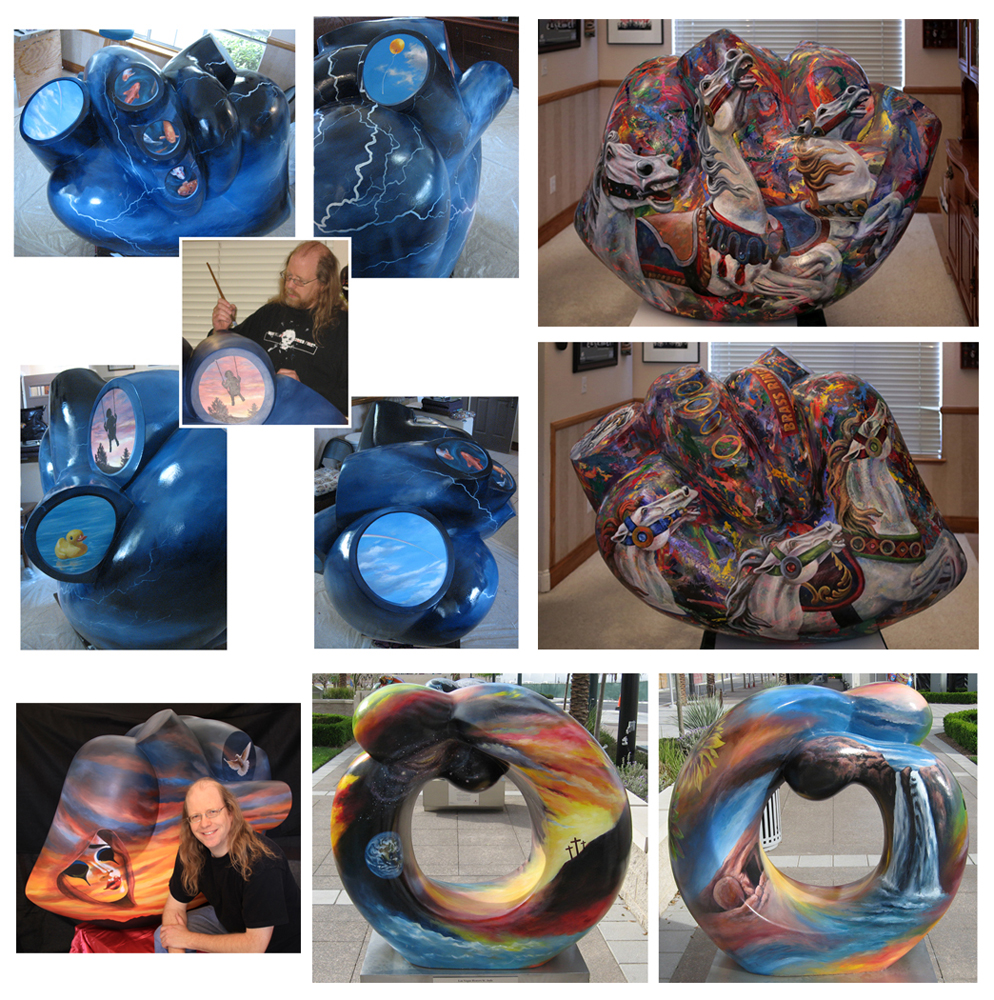 Clockwise from top: Heartstrings, Brass Rings, Miracle, Hope
For this year's installment I used the song What a Wonderful World, made famous by Louis Armstrong, and written by Bob Thiele and George David Weiss, as my inspiration. Using the lyrics, here's how it played out…
I see trees of green…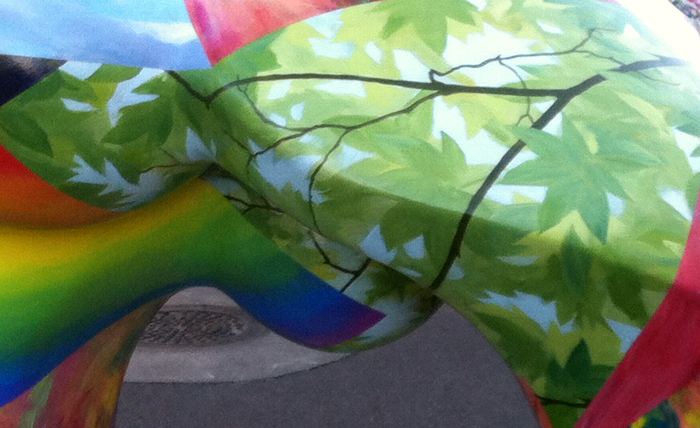 …red roses, too,
I see them bloom, for me and you
And I think to myself
What a wonderful world…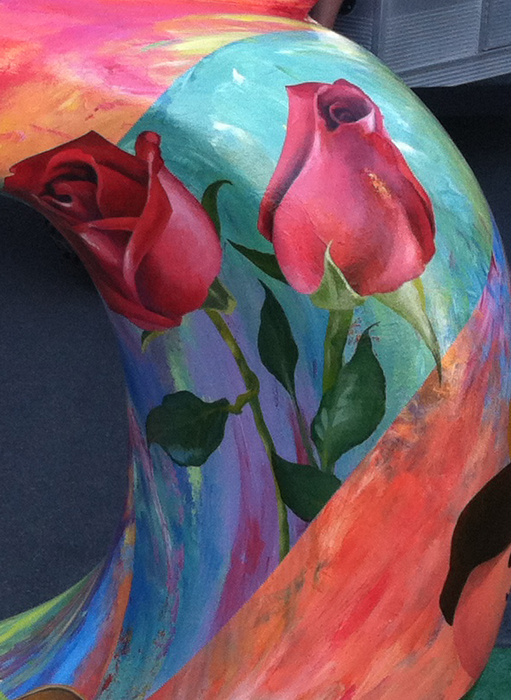 I see skies of blue, and clouds of white…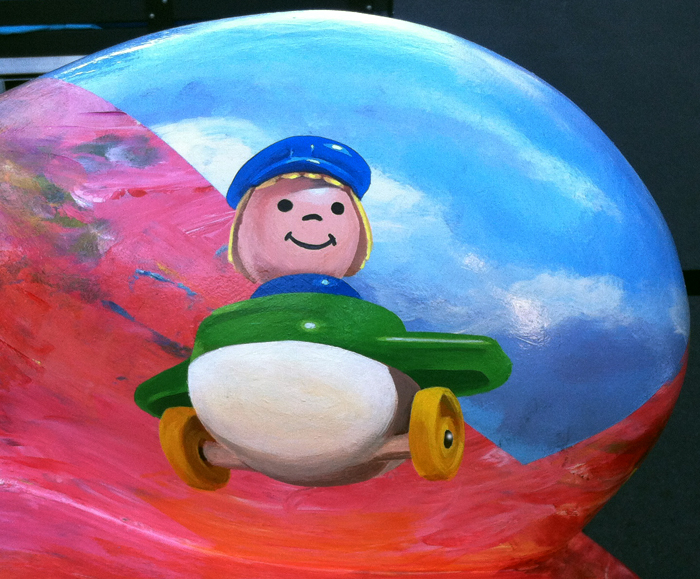 The bright blessed day…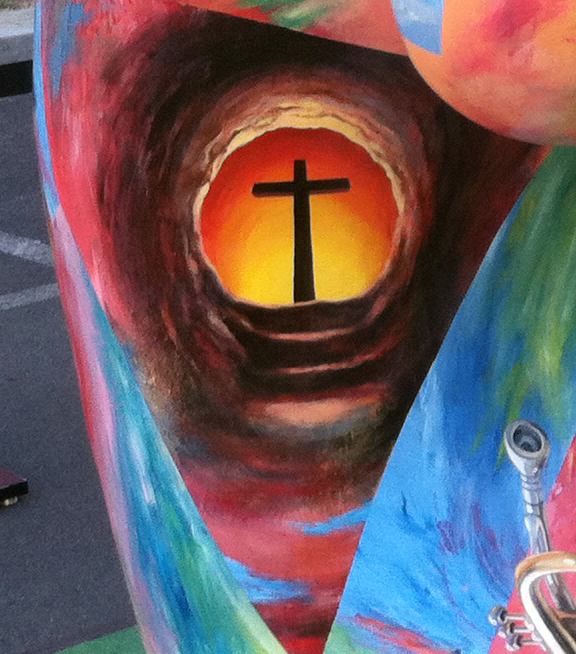 …the dark sacred night
And I think to myself
What a wonderful world…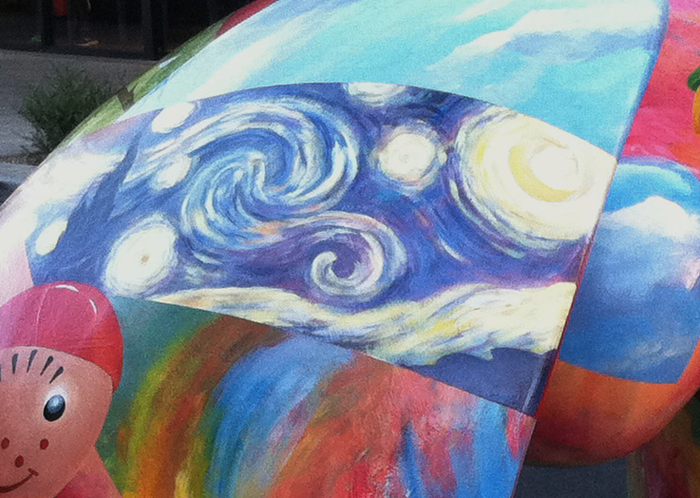 The colors of the rainbow, so pretty in the sky,
Are also on the faces of people going by…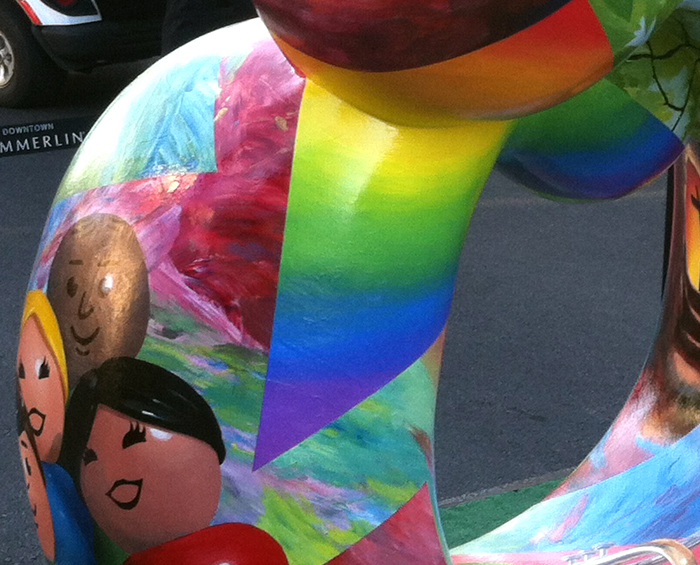 I see friends shaking hands, sayin', "How do you do?"
They're really sayin', "I love you."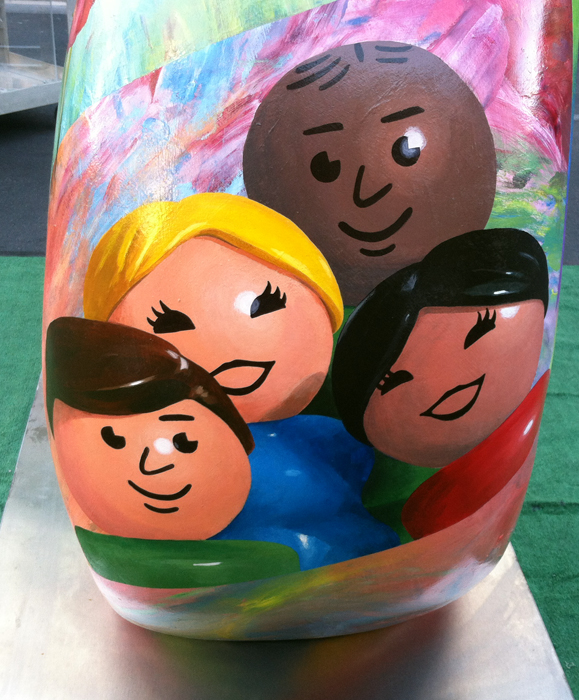 I hear babies cryin'. I watch them grow.
They'll learn much more than I'll ever know…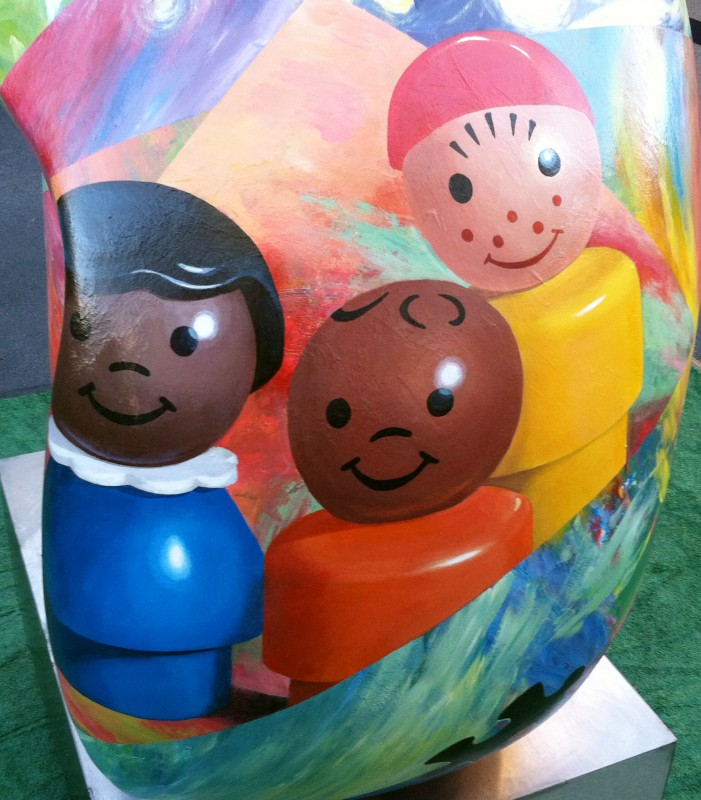 And I think to myself
What a wonderful world...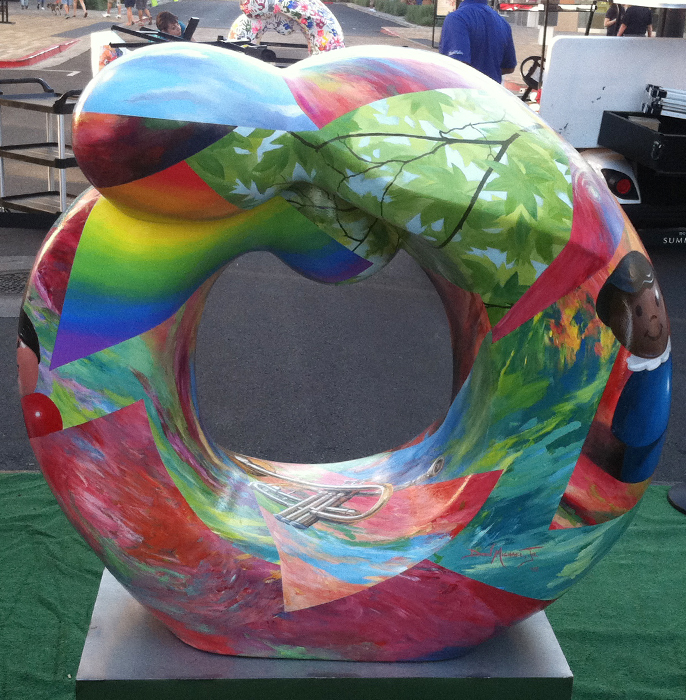 Yes, I think to myself
What a wonderful world.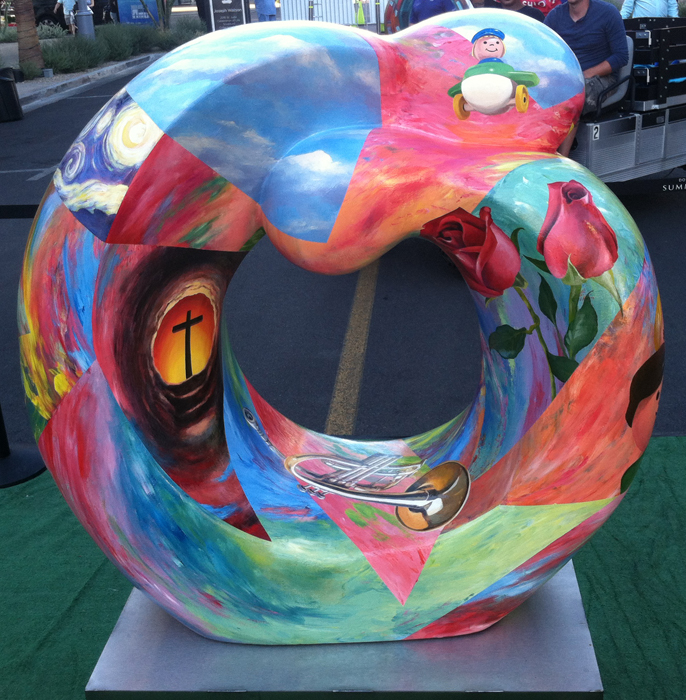 The trumpet that you see in the bottom of the piece is my 'tip of the hat' to Mr. Armstrong.
As always, there are some other elements, some personal, that I do not explain. I love leaving things up to the viewer to determine.
Below is my Artist Statement for What a Wonderful World:
Life is in bloom. Days come and go. People, though different, are the same in their love for one another. Children grow and learn. "Yes, I think to myself, What a Wonderful World".
 Let's keep our children growing and learning as we support St. Jude in their mission to eradicate childhood cancer.
 My inspiration for this piece comes from the song "What a Wonderful World" recorded by Louis Armstrong and written by Bob Thiele and George David Weiss.
Happy Creating!
This is my first blog post in a LONG time… But, it's for a good cause. On October 9th many aerialists, contortionists, musicians, gymnasts, fashion designers, models, entertainers and fine artists will come together for the wonderful event, Circus Couture 2015. All monies generated will be going to Cure 4 the Kids where it will be used towards the treatment of children suffering from serious medical afflictions. I am honored to say that this will be the 6th year that I will be donating a painting to be auctioned off at this event.
The theme of this year's event is "Twelve". In the words of the organizers:
There is strength in numbers…
A year of months, a jury's count, a clock's divided face.
The Zodiac, the steps to heal, it measures time and space.
TWELVE is our divider shown in
inches, hours, and grades, and dozens
are the ways that 12 has shaped the plans we've made.
Join us as we work to wind down the clock
on childhood cancer.
So, while meditating on those words I came up with this…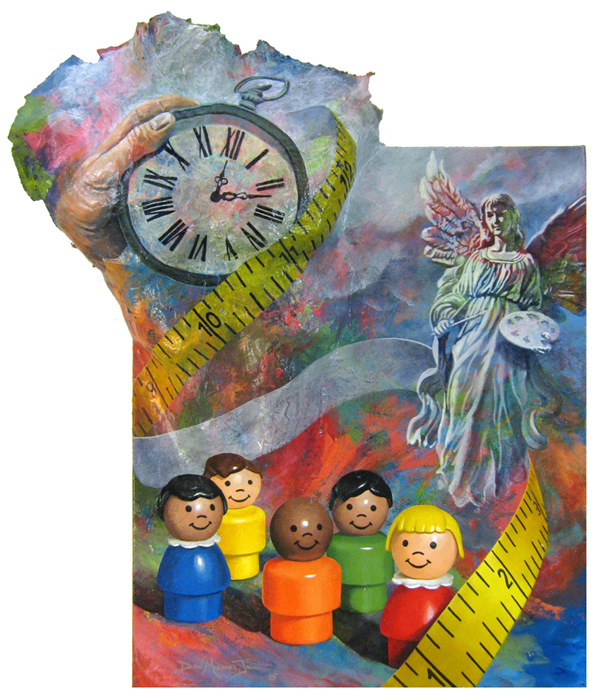 Precious Time – 28″x24″x5.5″ – Acrylic and Paper Maché on canvas – Completed 9/20/15
©2015, Don Michael, Jr.
Each of the elements have a special meaning to me. First of all the clock. You'll notice the time is set to 12:12 to tip my hat to the theme of the show. The tape measure is my nod to the fashion industry which is represented so beautifully and imaginatively each year. The 3D torso which is built into the canvas is my way of honoring the athletes, aerialists, gymnasts, models and contortionists who contribute such beautiful acts to the show. The angel represents all those who are doing their part for the kids and the palette and brushes she is holding are my tribute to the artists who create such beautiful works and donate them to the auction. And lastly, but most importantly, the toys. They represent the children that we are all contributing our time, talents and monies for. They are what this thing is all about.
To get a better idea of the torso which I built into the canvas, here is a photo of it just before I started to add paint.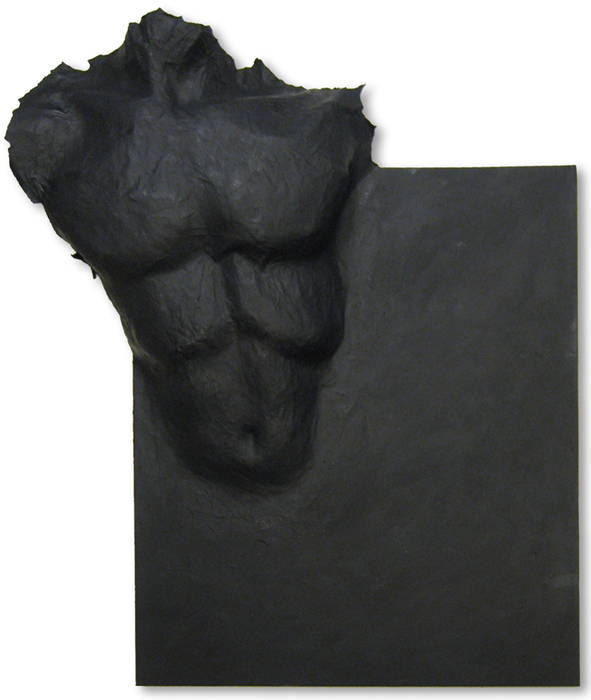 Black Gesso on 3D Canvas – Ready for paint
Please mark your calendars for October 9th. Here is a card to remind you…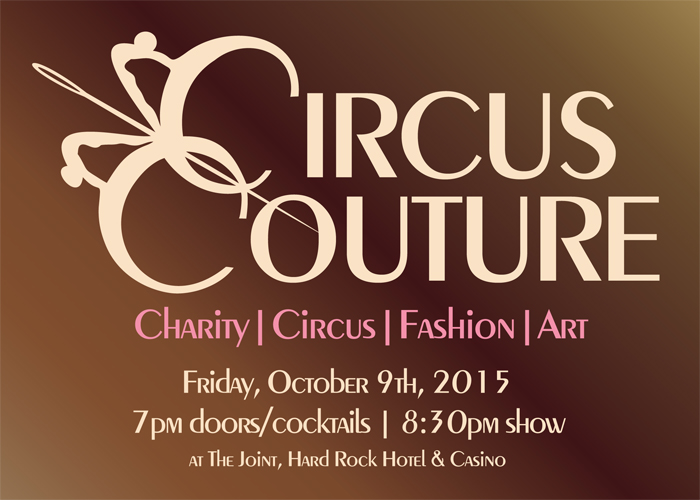 And, if you would like to learn more about Cure 4 the Kids – or to donate – please check out their website at: cure4thekids.org
Happy Creating!
Today I had the honor of being interviewed by our local NBC affiliate regarding the sculpture I painted in 2014 for the Las Vegas Chapter of St. Jude. If you click on the photo below it will take you to that interview…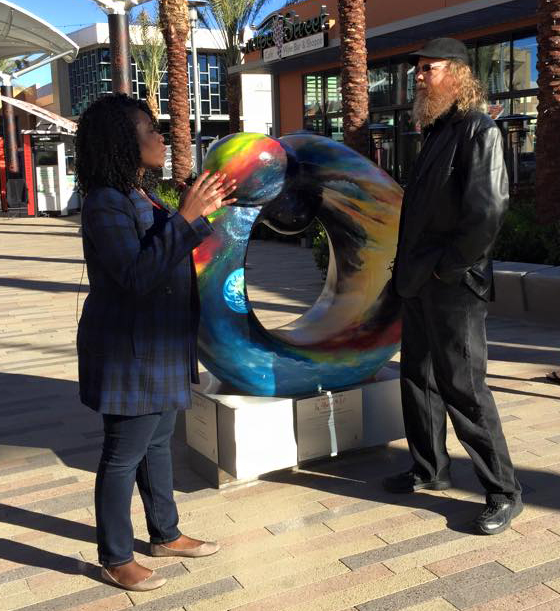 Venise Toussaint interviews Don Michael, Jr. about Miracle
(Photo credit: Dorit Schwartz)
The design for this sculpture was created by Las Vegas sculptor Dorit Schwartz – and, an amazing piece it is! The one I painted, Miracle, as well as the other 9 painted last year are currently on display at Downtown Summerlin. If you are in the Las Vegas area be sure to go check them out. They will be there until April 20, 2015.
Happy Creating!
I'm excited to announce that the book Underground Ring: Book 2, by M.M. Reid, has just been released! (You can find the Kindle edition here.) You may wonder what this has to do with me??? Well, let me enlighten you… I am proud to say that I designed and created the book cover for it.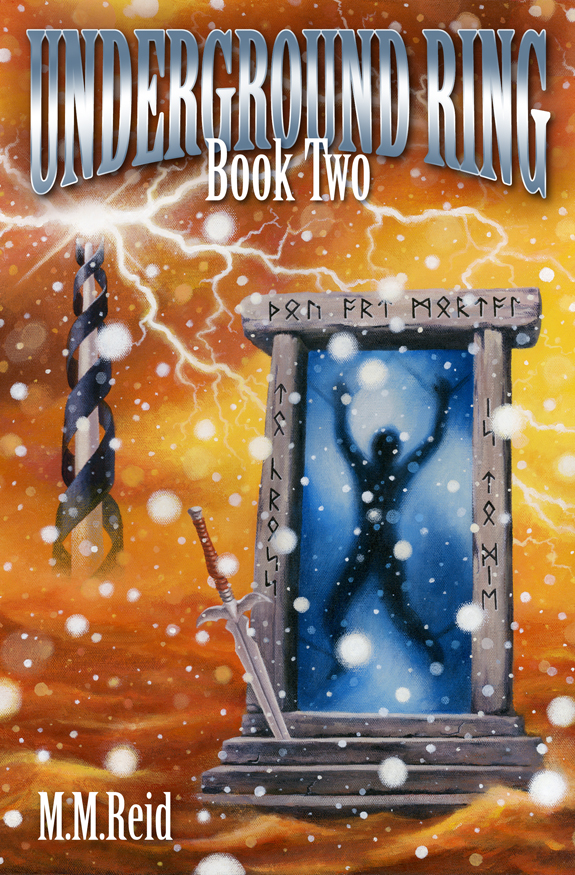 Underground Ring: Book Two – by M.M. Reid – Book cover by Don Michael, Jr.
As is my usual process when creating a book cover, I created a painting first. After completing the painting, I scan it and then create the cover in Photoshop. Below is the painting…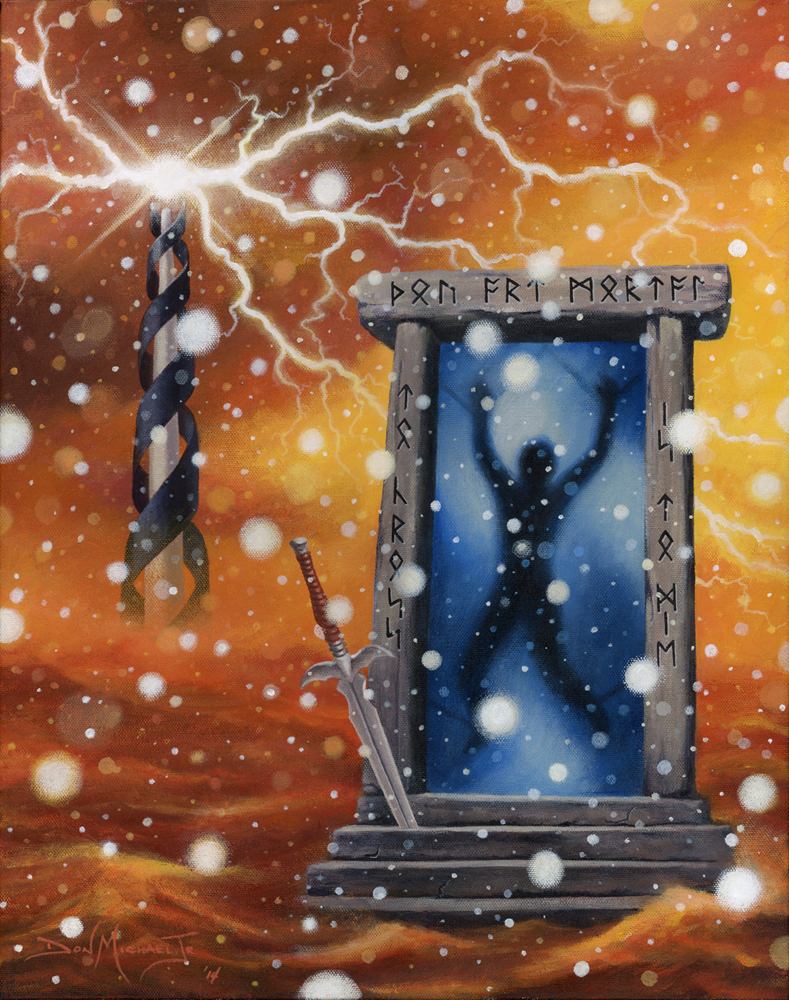 Illumination – 20″x16″ – Acrylic on canvas – Completed 11/22/14
©2014, Don Michael, Jr.
In case you are wondering, yes, I created the book cover for Underground Ring: Book 1 as well…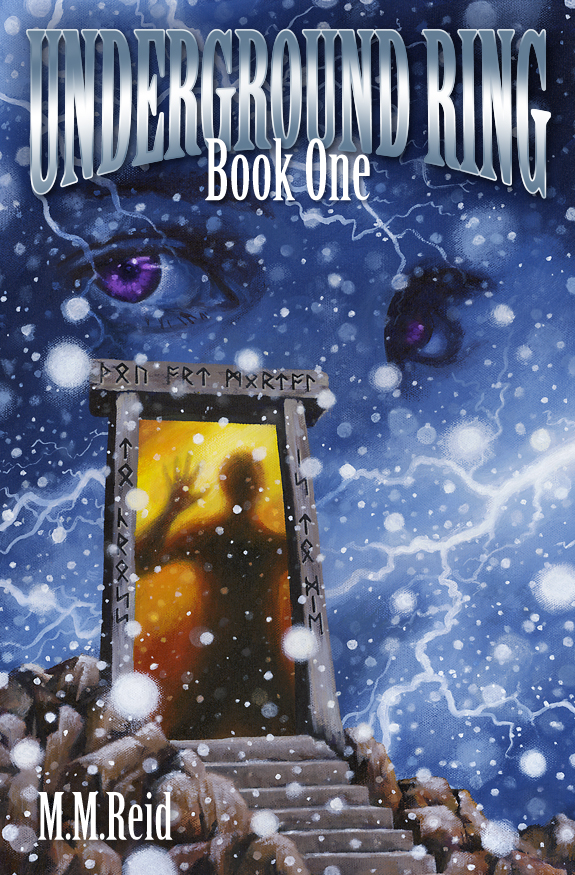 Underground Ring: Book One – by M.M. Reid – Cover Artwork by Don Michael, Jr.
It is also available on Amazon… Here.
And, below is the painting I created for Book One…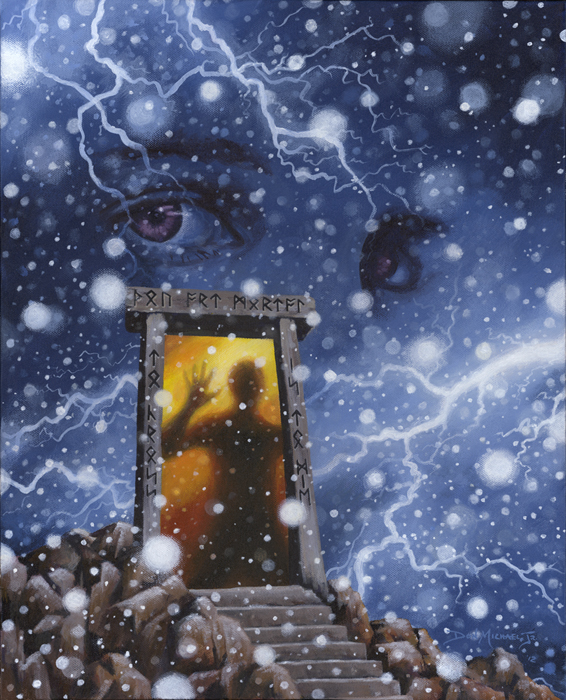 Precipice – 20″x16″ – Acrylic on canvas – ©2012, Don Michael, Jr.
It is a fun challenge to interpret the words of an author into one image to represent the book. I'm really excited with how both of these paintings, and then covers, turned out. Once you read the books I think you will see that they really captured the essence of their relative stories.
I love this thing I do!
Happy Creating!
It's hard to believe Christmas is already here! My, oh, my, 2014 has just flown by.
I hope you enjoy the Christmas card I created this year. Here is the eCard version…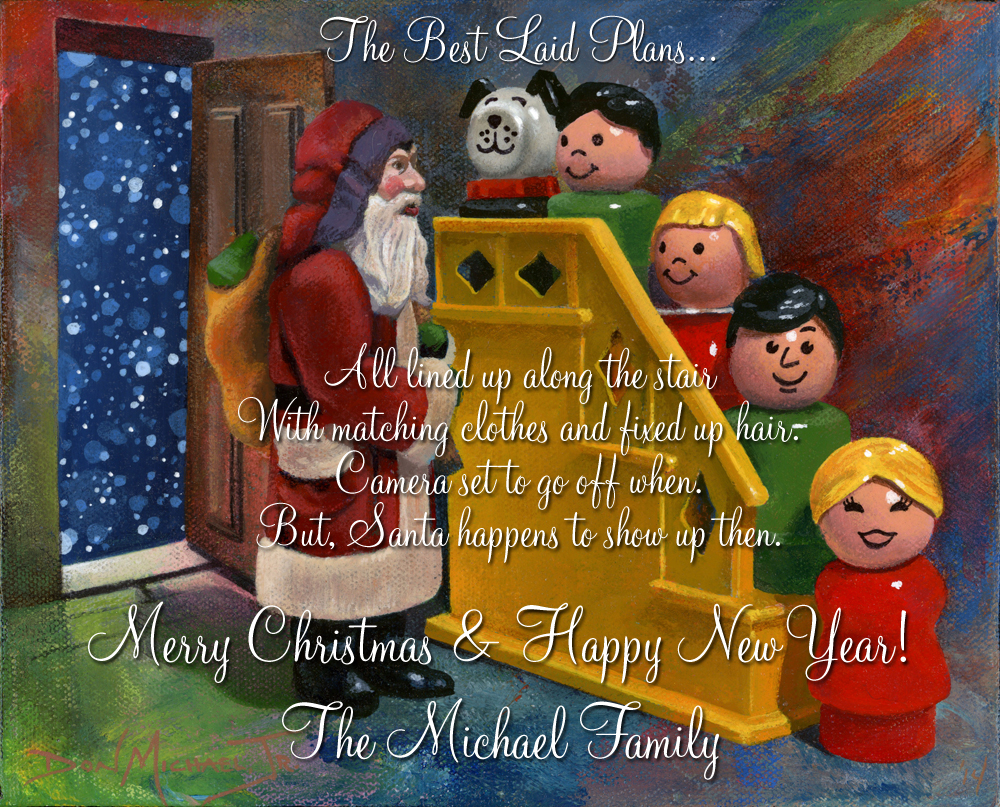 …and below is the printable version. Should you decide to print it, make sure to print it at actual size. Once you've printed it, fold it in half from left to right, and then again from top to bottom.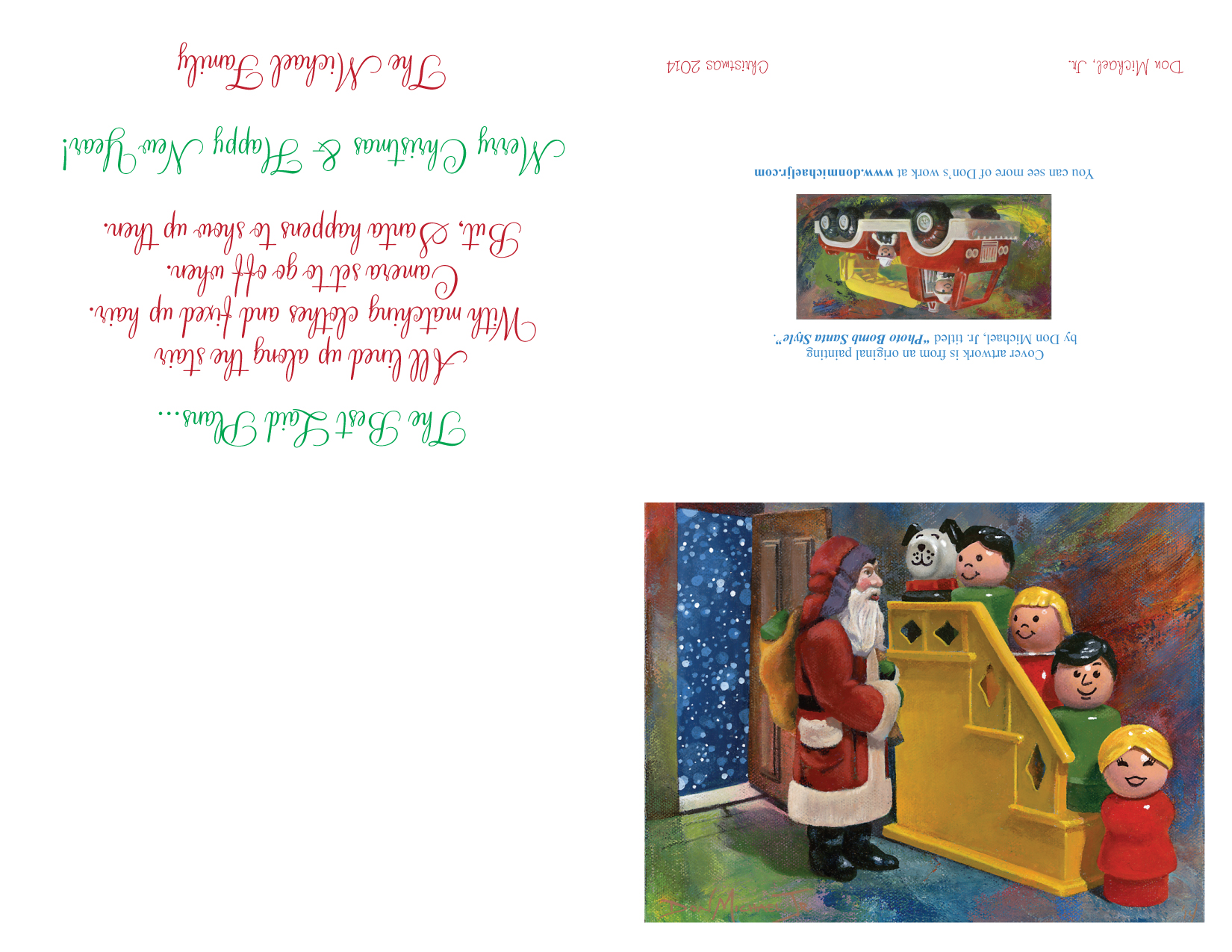 Usually, I would have printed this out and sent it out. Regrettably, circumstances beyond my control kept this from happening this year. Oh well, there is always next year.
Happy Creating!
This past Tuesday night my artwork and I were featured at Grinder's Pizza Lounge here in Las Vegas. It was a fun night of food, adult beverages, fellowship and painting. I hadn't done a mask painting in several months and decided that since all of the works featured that night were of masks, I would actually paint one as well. Here I am getting started on my painting for the night…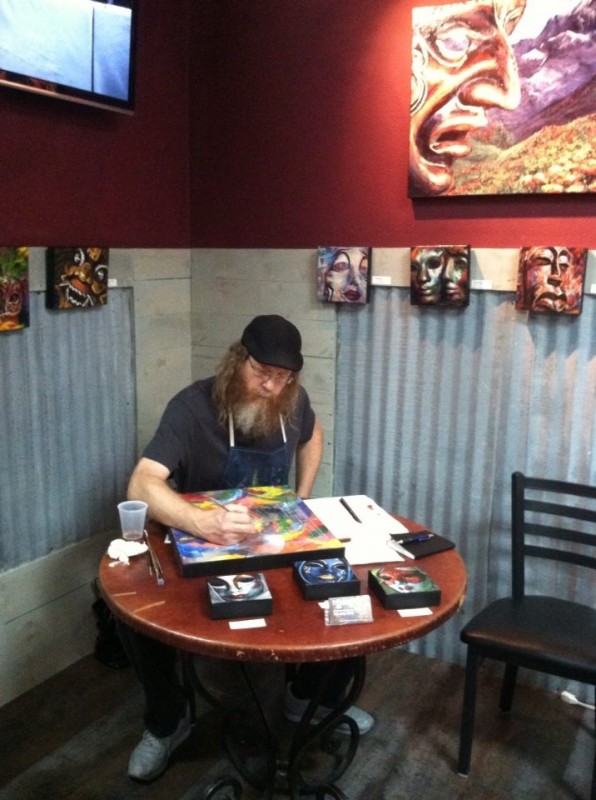 Of course, since I was at a pizza establishment I had to sample their wares. Below, I am proving that I can indeed do two things at once…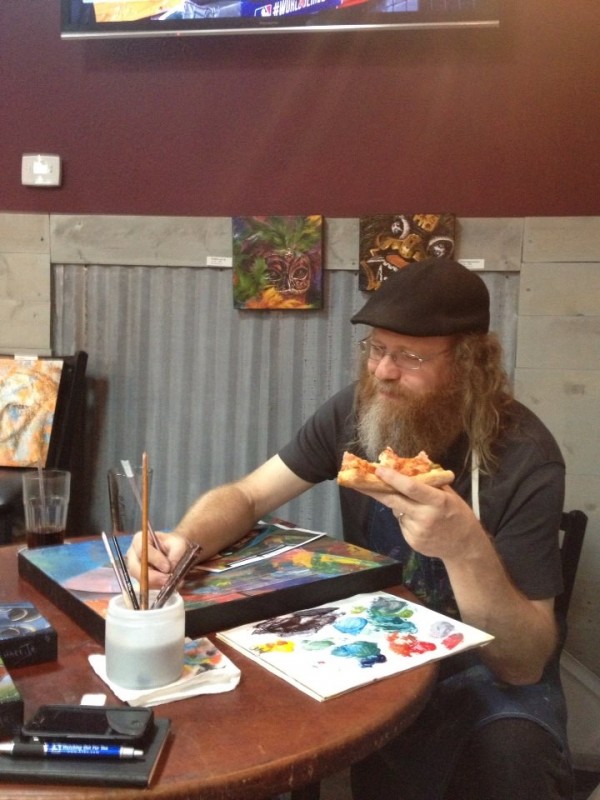 As the evening went along I made pretty good progress with the painting. I also ended up selling 3 of the paintings from my Eye Candy series, including Jelly Bean which my friend, Ashley (pictured below), bought. (FYI, I am donating 20% of all sales from Tuesday night to Cure 4 the Kids.)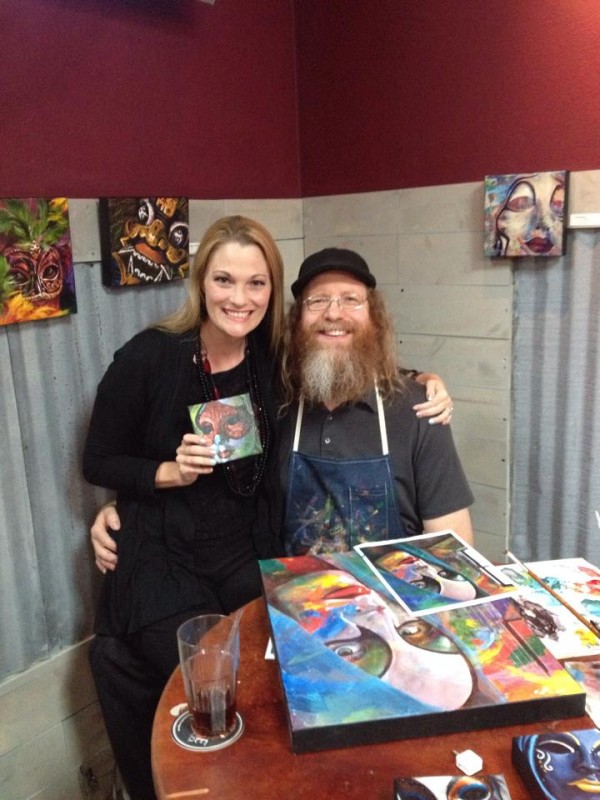 I was very delighted to have my wife there with me. We had several friends stop by and ended up making several new friends as well. By the end of the night the painting was about 2/3's of the way complete. Below, my wife and I share a laugh with our friend Erica towards the end of the evening…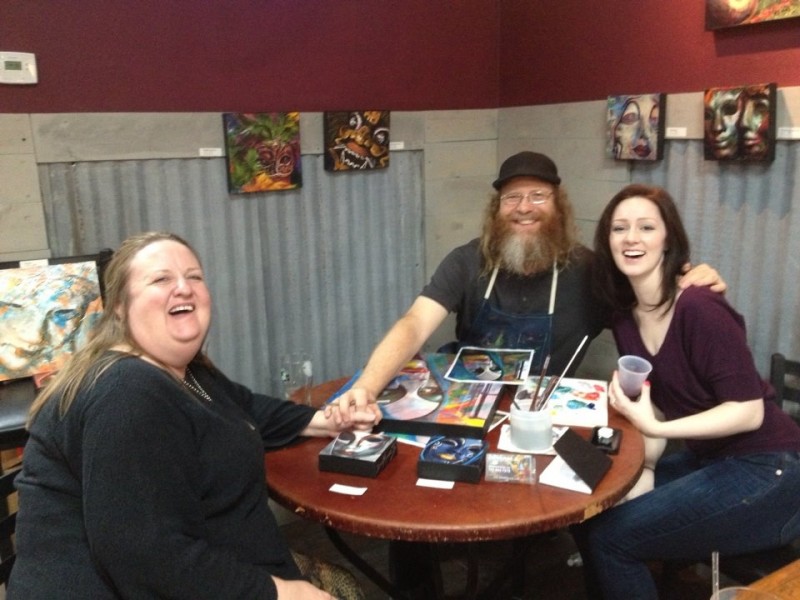 The rest of the week was quite busy with other art related adventures (tales for another day), so I wasn't able to finish the painting until last night. Without further ado, I present Let the Day Begin…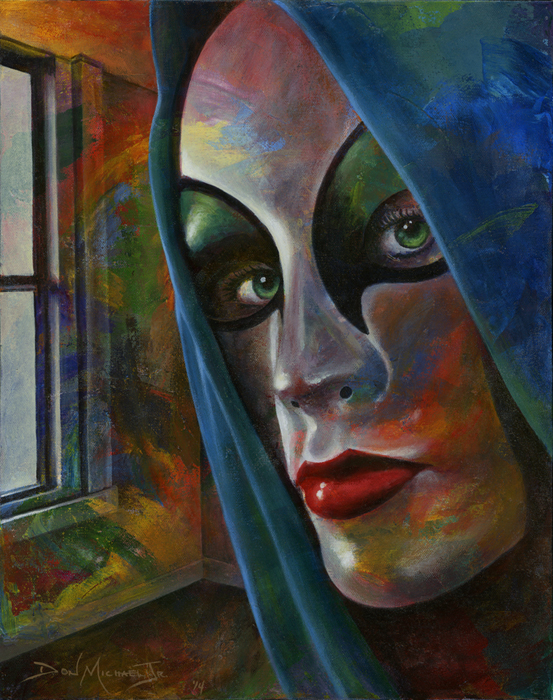 Let the Day Begin – 20″x16″ – Acrylic on canvas – Completed 10/24/14
Now it's time for me to head back into the studio. Until next time…
…HAPPY CREATING!!!
Last Sunday, October 5th, my family and I attended the auspicious and ever-entertaining Circus Couture charity event. Festivities for the evening included stunning aerial acts, amazing acrobatic performances, jaw-dropping fashion, gorgeous fine art, and a very lively live auction. (You can see more about what the event is about by clicking here.)
This was the 5th year of Circus Couture and this is the 5th year that I've donated a painting for them to auction off. The paintings I donated the first 4 years helped to garner between $2,500 and $3,000 – all of which goes towards the treatment of children dealing with cancer and other devastating diseases. It's an amazing feeling to know that the art I create can help generate that kind of money which I could not give to the charity otherwise.
Since I have been donating paintings to Circus Couture from the beginning they honored me this year as one of their featured artists. This meant that my painting was featured during the live auction part of the event. It also meant that I was interviewed on camera a few weeks before the event. The edited version of my interview was played just before my painting was auctioned. If you're interested in what I had to say, click on the image below…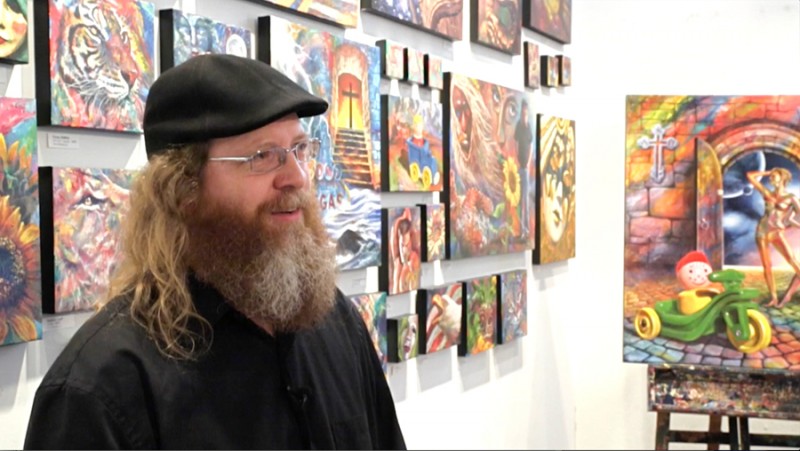 Don Talks About His Involvement with Circus Couture
Many of the children being treated at the Children's Specialty Center of Nevada were able to attend the event with their families. A couple of those families were sitting in the row in front of my family and me. It was really sweet that one of the young girls kept turning around and looking at me while the video was playing. She was in awe that I was up on the big monitor AND sitting right there behind her at the same time. 🙂
Once the video was finished the auctioneer took the stage and got busy. After a very exciting several minutes of bidding and clapping I was awestruck to hear that my painting had sold for $6,000!!! That was more than twice the amount that all the other paintings I had donated to Circus Couture over the years had sold for – COMBINED!!! I thank God and give Him the honor and glory. Wow!
Below is the painting which now resides in a gorgeous penthouse near the Las Vegas Strip. I hope the new owner enjoys it for years and is blessed beyond all measure for his generous donation to such a worthy cause.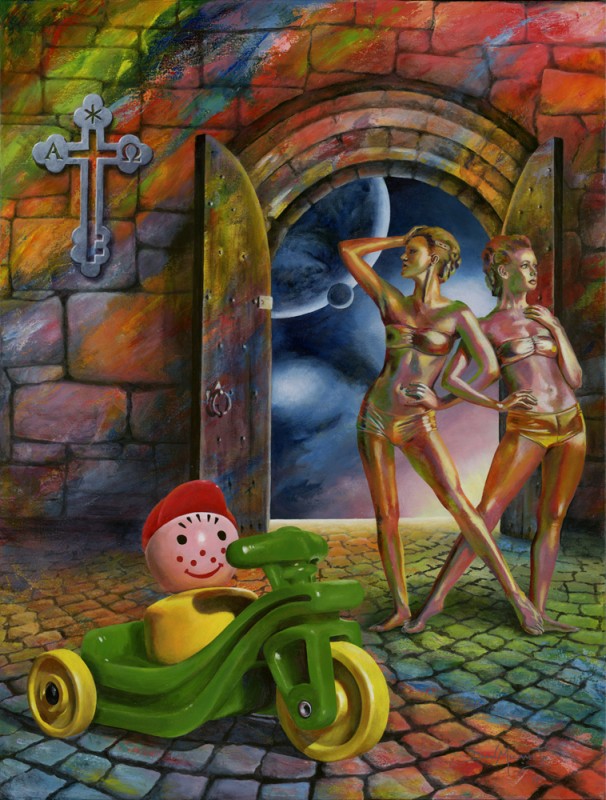 Unlocked – 40″x30″ – Acrylic on canvas
©2014, Don Michael, Jr.
To put a face to what Circus Couture is all about I want to end this post by introducing you to one of the mighty warriors being treated thru the Children's Specialty Center of Nevada and the Hemophilia Treatment Center. He came up to me and gave me a giant hug during intermission. He was so excited that I had been "on TV". His name is Sawyer and he is my hero. That 3-year-old body has so much love and kindness in his soul and my life is eternal changed by having met him and his loving family. God Bless them, each and every one.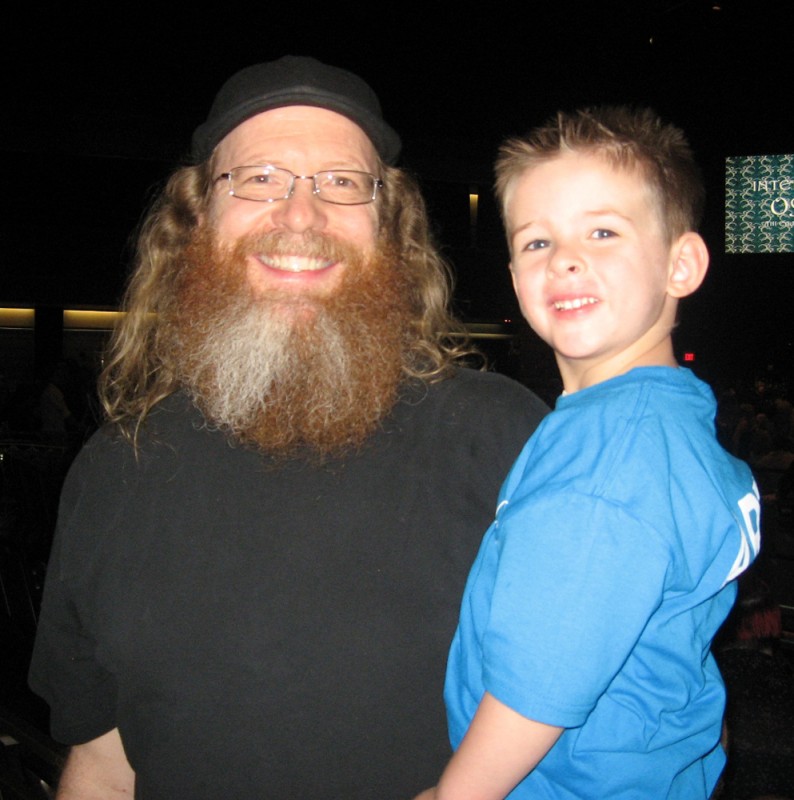 Don and Sawyer
To find out how you can help these children check out the Cure 4 the Kids website. Explore the site and see what they are up to. It's amazing!
I love this thing I do, and I'm proud that there are ways that it can impact others' lives. Wow!
Happy Creating!
I have had the good fortune to have access to some beautiful photos of some lovely athletes in action which were originally taken to be used in promotional materials for this year's Circus Couture event coming up on October 5th. (I wrote more about this year's event here.) The photos were all taken by the phenomenal photographer, Jerry Metellus. Both Jerry and the president/creative director of Circus Couture gave me permission to use these photos to paint from. So, I took them up on it… and… below is the third painting that has come from these photos…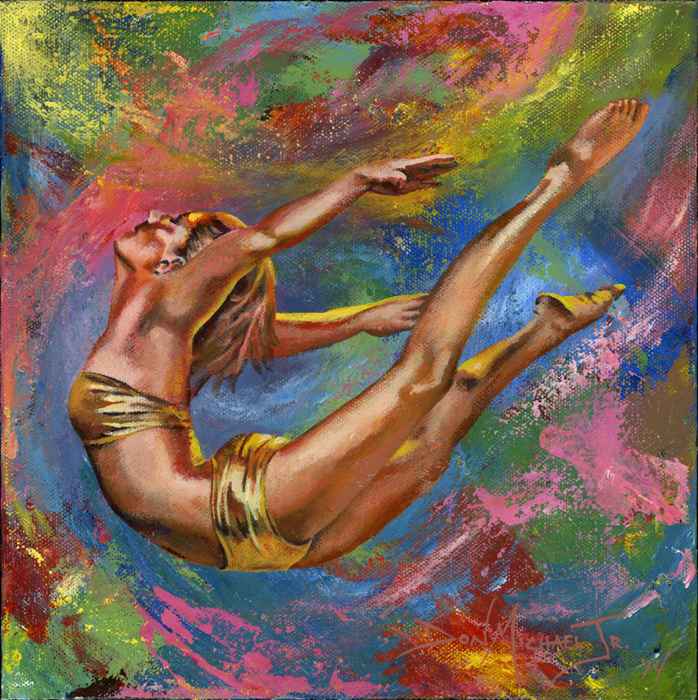 Exuberant – 10″x10″ – Acrylic on canvas – Completed 9/9/14
(The model featured in this painting is the KA performer Lindsay Kazandjian, who has generously donated her time and talent to this year's Circus Couture. I am honored that she approved of the painting… Phew!)
As I was painting Exuberant I started thinking about how much I enjoy painting these athletes and how the energy of their movements really play well with the energy of my Over the Under-Schmeerings (OTUS) style of painting. As tends to happen, those thoughts led to others… This time the train of thought took me back to the first time I ever attempted to include an athlete in action in one of my creations. Below is the result…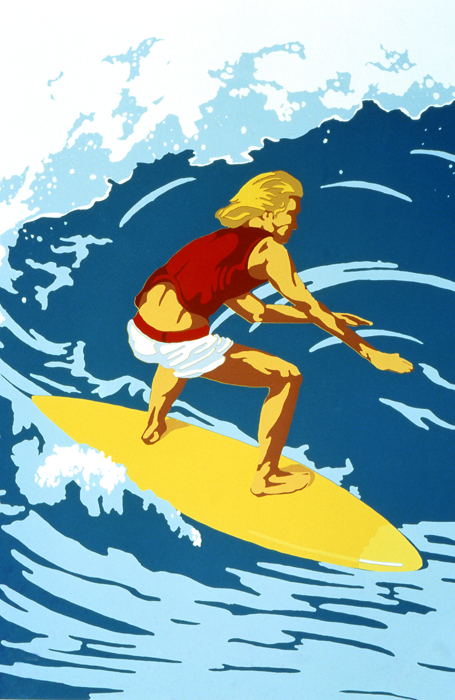 Bitchin' – 17″x14″ – Serigraphy(Silkscreen) – Created July 1983
At the time I had just discovered serigraphy(silkscreen) as a creative medium and was having a lot of fun experimenting with how it worked with different subject matter. I'm still happy with the way this composition came out. The energy of the moment comes thru nicely.
Seven years later I was pushing the boundaries on a totally different medium and once again turned to athletes in action. This time the medium was watercolor…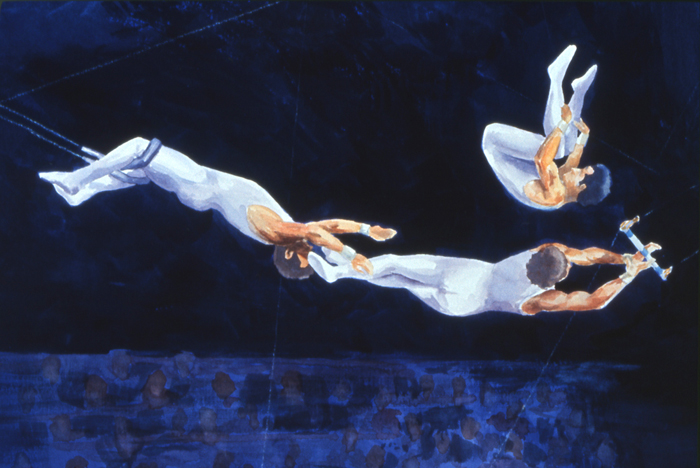 Exhilaration – 14″x21″ – Watercolor – Completed July 1990
I'm not as happy with the results of this one. The energy of the moment is not conveyed very well. It captures the 'moment in time' pretty well, but the true drama of the moment gets lost. I was so focussed on the medium that I didn't spend the time getting the composition right. Everything stops. Nothing keeps your eye moving.
Fast forward nearly two decades. My medium of choice had become acrylic paint. I had created a style of painting that I called Over the Under-Schmeerings (OTUS). My primary subject matter for over a decade had been masks. However, as I was preparing to create my second painting for Circus Couture I didn't want to only include masks. I wanted to reflect the craft of some of the performers donating their time to generate funding for research and treatment of pediatric cancer. So, I went back to the aerialists…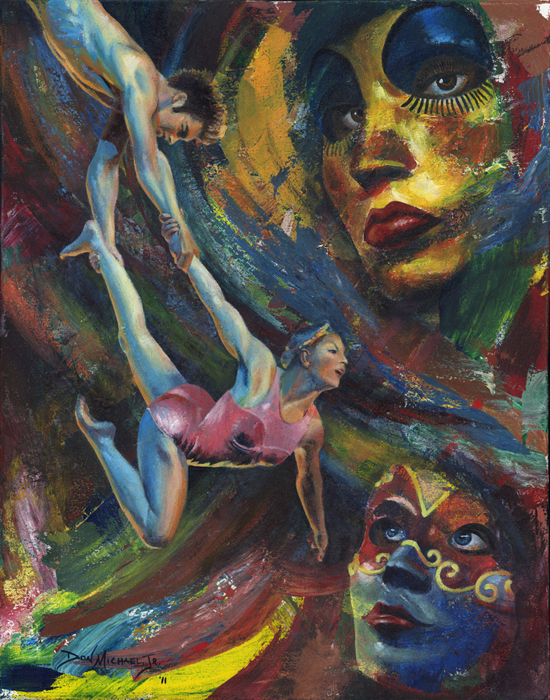 Dare to Believe – 20″x16″ – Acrylic on canvas – Completed May 2011
This time I knew I had gotten it right! I immediately fell in love with how the energy of my Under-Schmeerings worked with the energy of the athletes. The raw nature of the strokes in the schmeerings really helped to add drama to the motion of the performers. At that point, I knew that I would be doing more OTUS paintings involving people in motion.
I have. And, here are a few of them…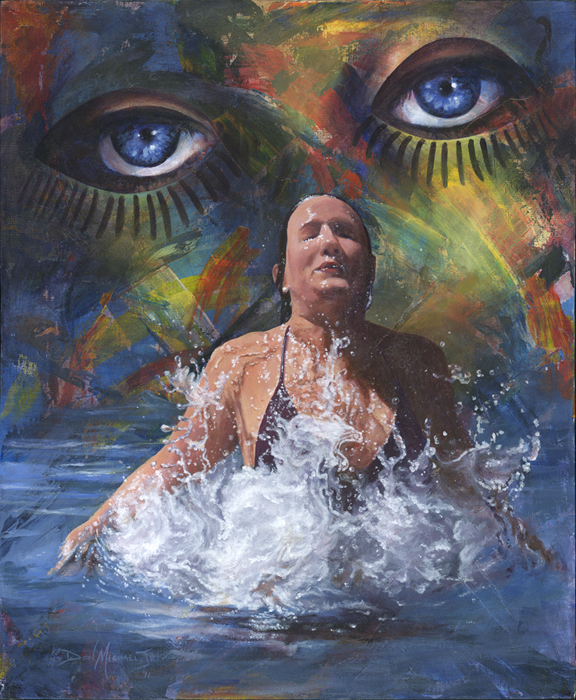 Out of the Blue – 24″x18″ – Acrylic on canvas – Completed 12/8/11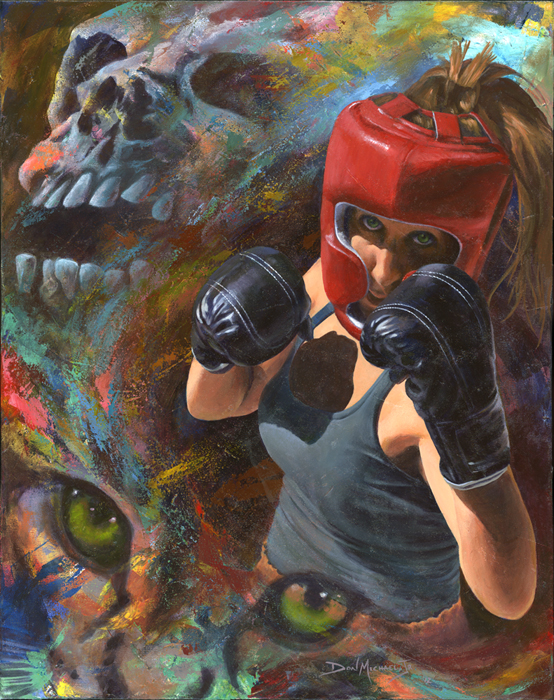 Killer Instinct – 30″x24″ – Acrylic on canvas – Completed 1/30/12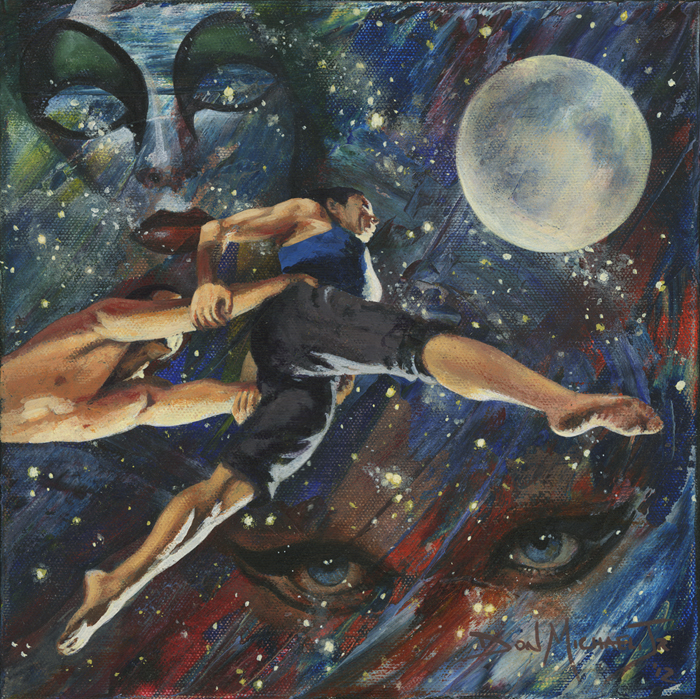 Leap of Faith – 10″x10″ – Acrylic on canvas – Completed 7/20/12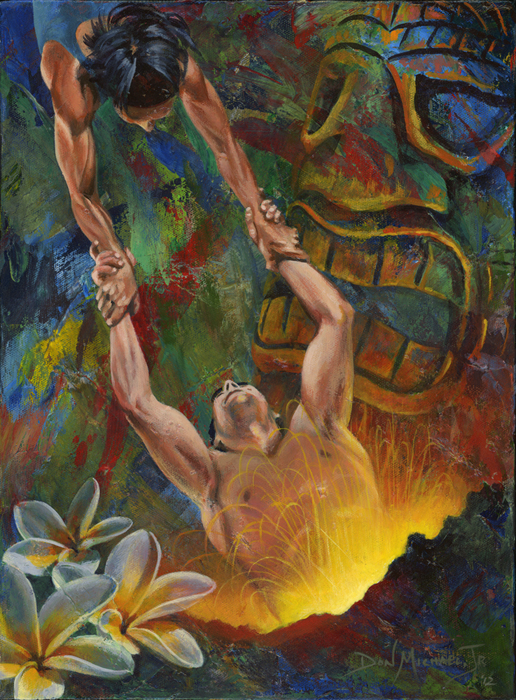 Esprit de Corps – 16″x12″ – Acrylic on canvas – Completed 8/18/12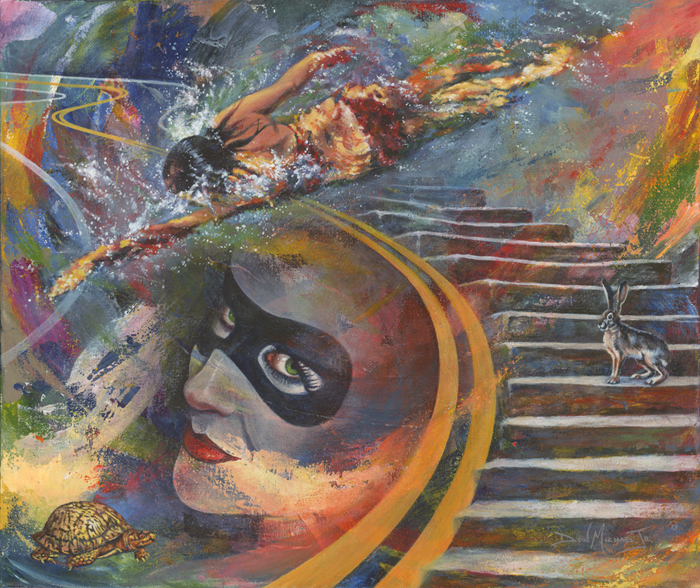 Wherewithal – 20″x24″ – Acrylic on canvas – 4/16/13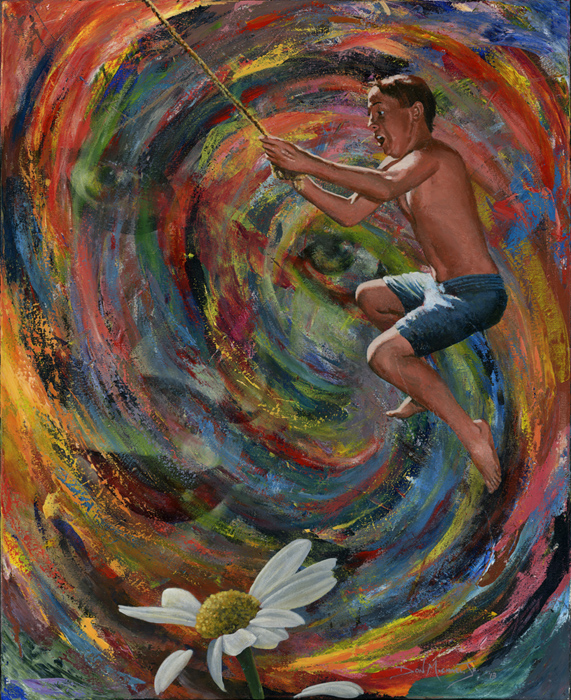 Crush – 30″x24″ – Acrylic on canvas – Completed 5/28/14
Happy Creating!
For the 5th year in a row I will be donating a painting to Circus Couture to help raise funds for pediatric cancer treatment and research. I'm really proud of the fact that I've donated a painting to this event every year since its inception. I believe strongly in what they do and I know that even my small part can make a difference in children's lives. I'm honored and humbled that the Circus Couture board has recognized the small part I've played over the past few years and has chosen me to be a featured artist this year during the live auction part of the event. Wow.
Each year Circus Couture chooses a theme around which the performances revolve. This year's theme is "Unlocked". As I prepared to create the painting to donate I meditated on the poem that they sent me titled, You Hold the Key to Your Own Cage:
A lock to keep it safe, a lock to make it hide
A lock protects the value of what we hold inside.
A key to find success, a key to open doors,
Keys perhaps to set us free toward all we hope and more.
Combining the words to this inspiring poem with my love for my family and my love for my savior, Jesus Christ, I came up with the following painting…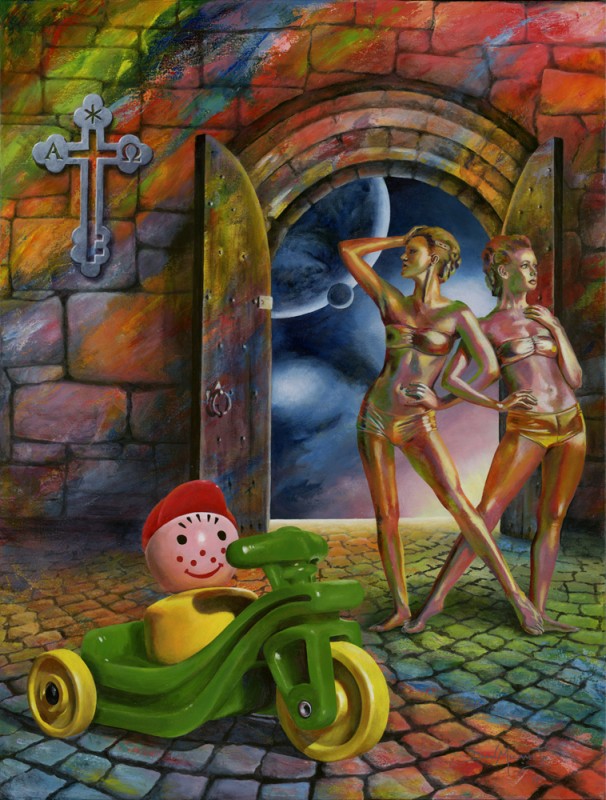 Unlocked – 40″x30″ – Acrylic on canvas – Completed 8/25/14
The lovely models in Unlocked are Lora Kelsey and Kat Day. They are both Las Vegas performers who have donated their time and skills to Circus Couture. The reference photo that I used of those lovely ladies was taken by the outstanding photographer Jerry Metellus who has also graciously donated his time and skills to this wonderful charity event. The photo of the ladies comes from a promotional piece for this year's Circus Couture event, which can be seen below…

I loved the reflective nature of the gold makeup on the models and thought they would work really well in this painting. I also LOVED the pose of the ladies with their interlocking arms while looking in two totally different directions. After getting permission from both the photographer and the Circus Couture president/artistic director, Erica Linz, I got busy. I tweaked their coloring quite a bit to give them an 'ethereal' look, and then I put them in front of the open doorway with the whole world on display behind them.
But, before I did any of this, I needed to experiment to decide how I wanted to incorporate them in one of my Over the Under-Schmeerings (OTUS) paintings. So, I painted this little study of the effervescent Erica Linz from the same photo… (You may notice that Erica is the performer doing the backflip just to the left of center in the photo above.)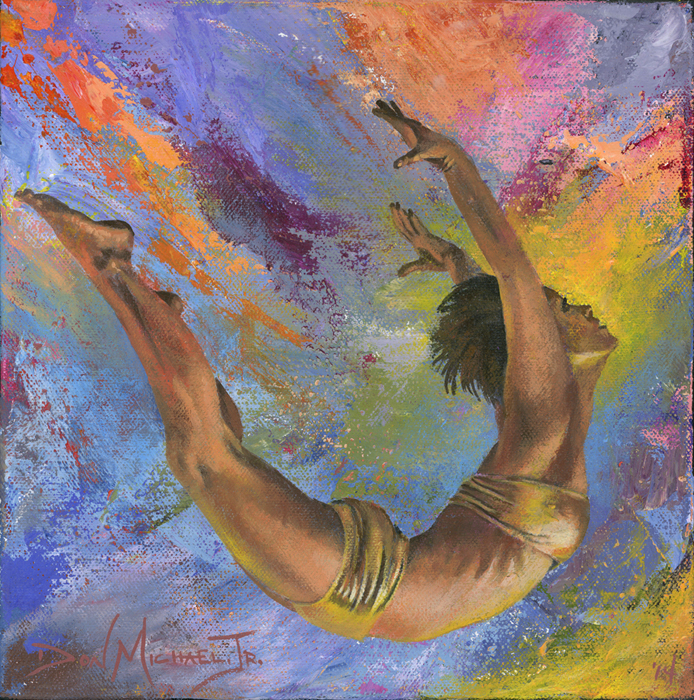 Effervescence – 10″x10″ – Acrylic on canvas – Completed 7/30/14
After painting this study, I decided to 'tweak' the coloring of the ladies for the painting Unlocked and make them even more reflective. As much as I liked the way Effervescence turned out, I felt Erica got a little lost in the schmeerings and wanted Lora and Kat to 'punch' a little harder visually. Like this…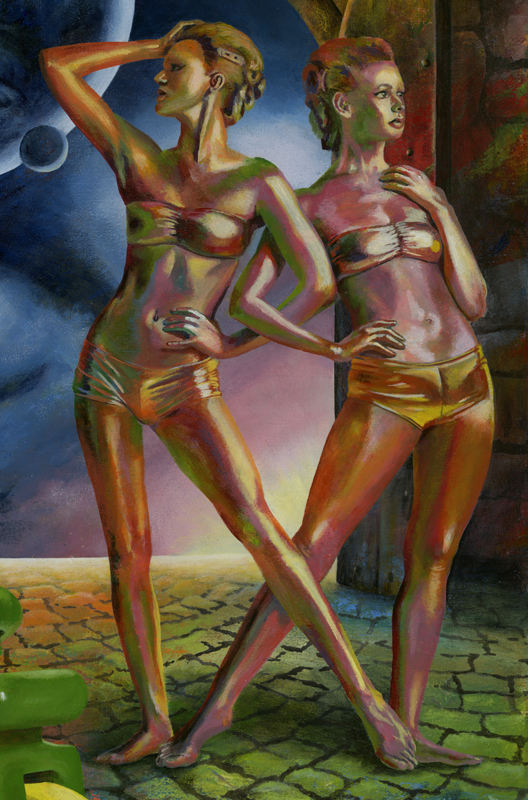 The inclusion of the little Fisher Price toy has a two-fold purpose for me. Primarily, for this event, it represents the innocence of childhood and its boundless potential. Secondarily, and on a more personal level, it memorializes our son, Donald, who lost his battle with cancer last year. Donald had a green three-wheeled tractor that he rode like a wild man from the time he got it when he was almost 3 until he outgrew it a few years later. Here he is driving it around on the Christmas morning that he received it…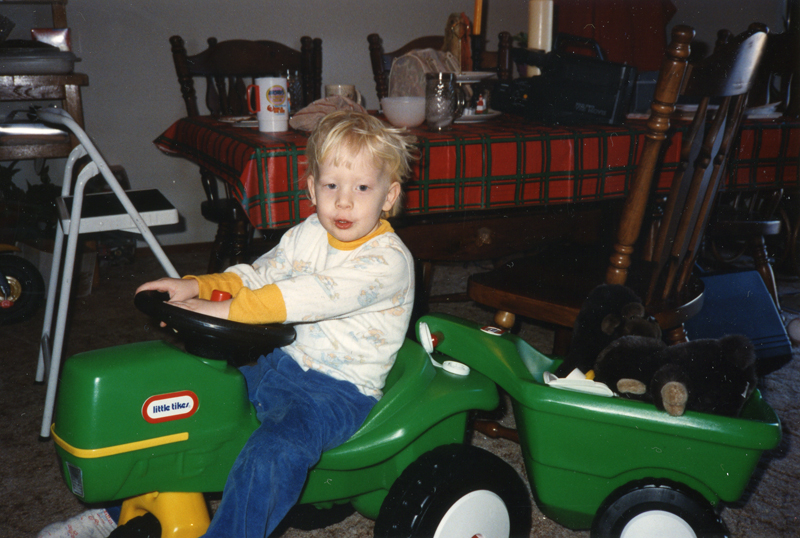 Christmas Morning 1990
Last, and certainly not least, the cross hanging on the wall… I wanted to represent the key to the doorway. The key that unlocks everything. It's been put to use. It's job is finished.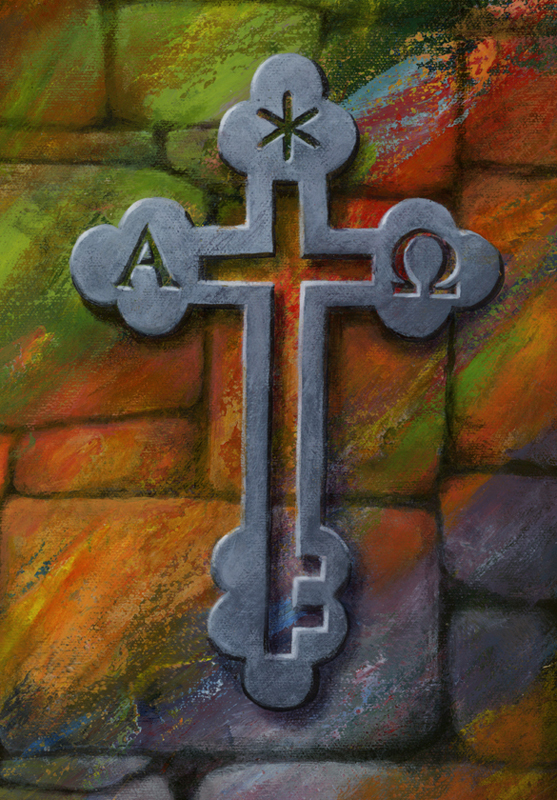 Unlocked (Cross detail) – approx. 10″x8″
So, if you're not doing anything on the evening of October 5th, come on out to The Joint inside the Hard Rock Hotel & Casino and be entertained while helping to generate funding to treat children with cancer and other blood-born illnesses. It's a labor of love put together by an eclectic, beautiful and artistic group of individuals. Click here for more details.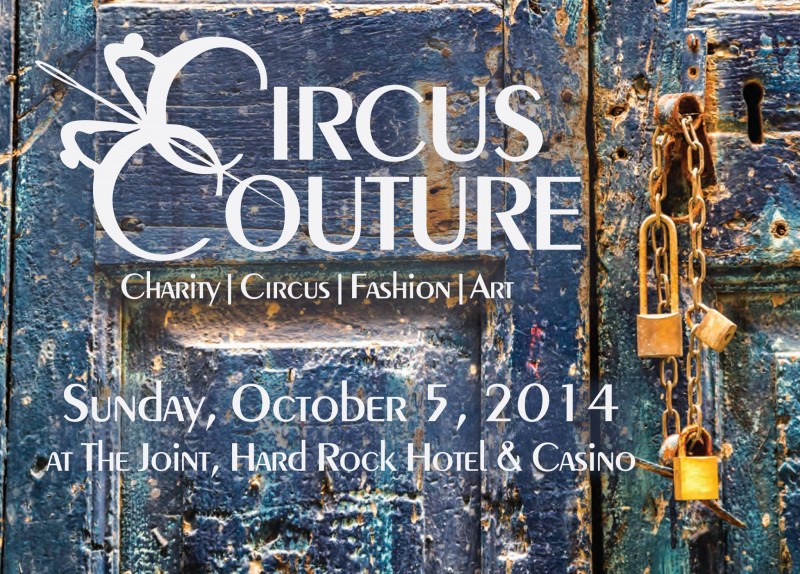 Circus Couture – Save the Date card
Happy Creating!
For the 6th year in a row I am taking part in Un-Masking the Mind, a charity auction designed to generate funds for books and supplies for Innovations International Charter School of Nevada. Here is the mask that I created for this year's event…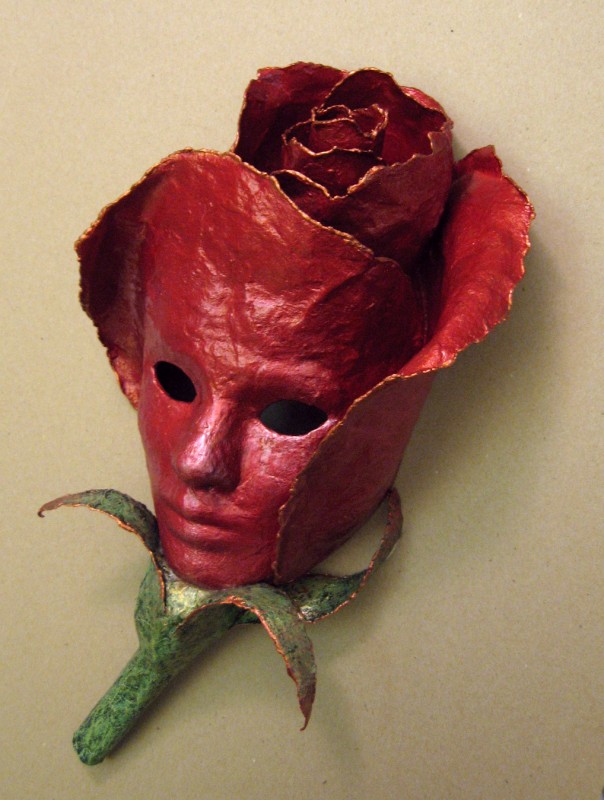 Queen of Hearts – 17.5″x9.5″x4.25″ – Paper Maché Mask – Completed 7/3/14
©2014, Don Michael, Jr.
This one was a really fun project to create. In fact, I had such a good time with it that I think I'll share some of the process…
Below is a photo from early in the process. My art table became a huge mess as I started creating the swirls for the inside of the rose. On the right you see the very center piece of the rose. On the left you see the outer swirl sitting on the mask protected by foil. And on the far left you can barely see the beginnings of the large petal that goes across the face. The brown strips of paper that you see laying around are what I use for my paper maché. The bonding agent that I use for my paper maché is a mix of acrylic medium and acrylic gel.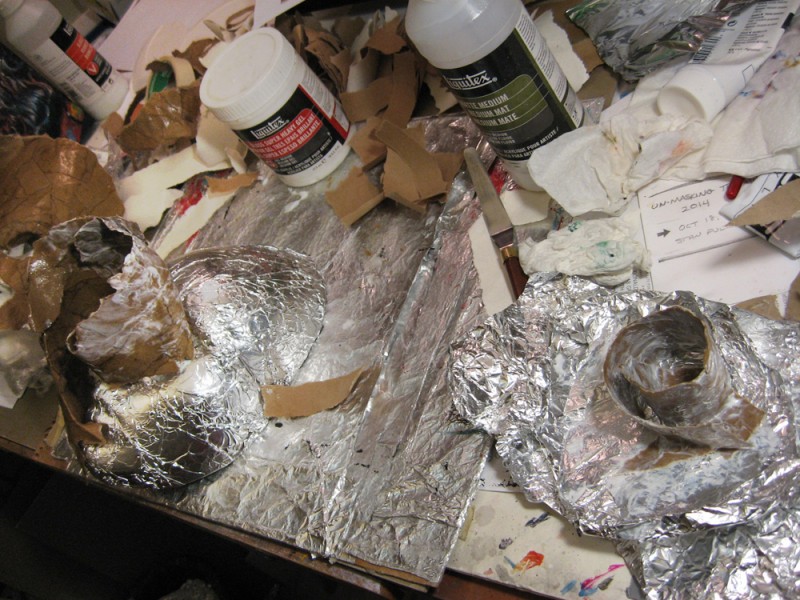 As you can see below, after the pieces dried I then attached them to the mask with the paper maché. On the right you can see the beginnings of the petal which will wrap around to the right side of the mask. I used a paper plate to create the mold/support for this petal. It worked beautifully…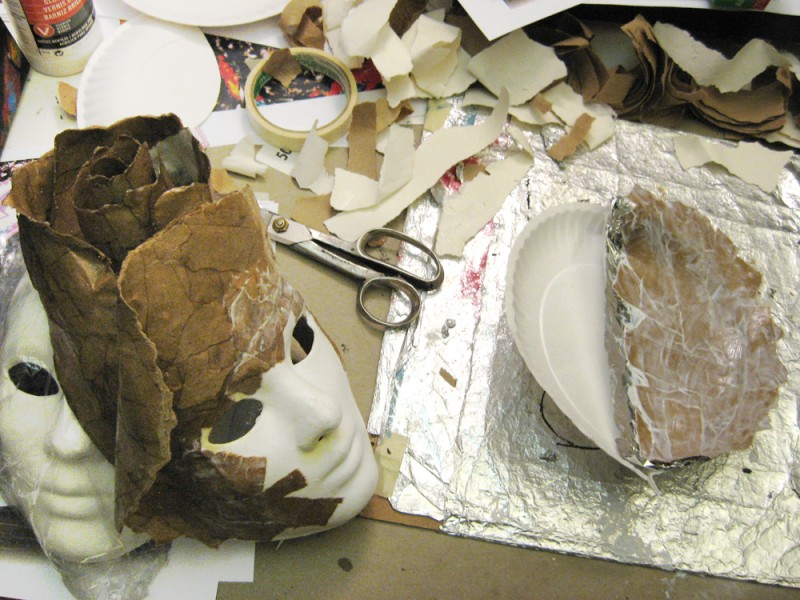 This next photo shows the rose elements all attached to the mask. There was still some adjusting needed at this point – a little tearing here and there, followed by a little addition in other places – but the hard part was done.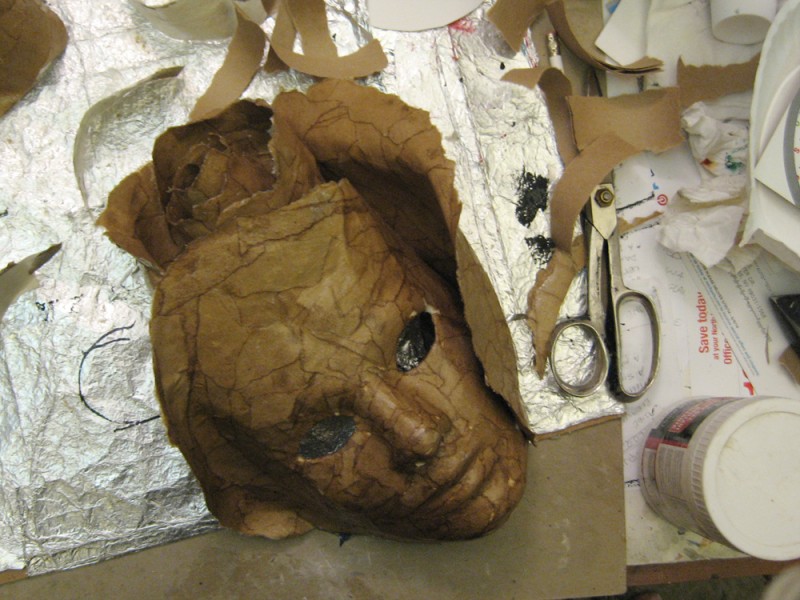 Once the flower part of the mask was finished it was time to create the stem. Below you see the finished rose and stem.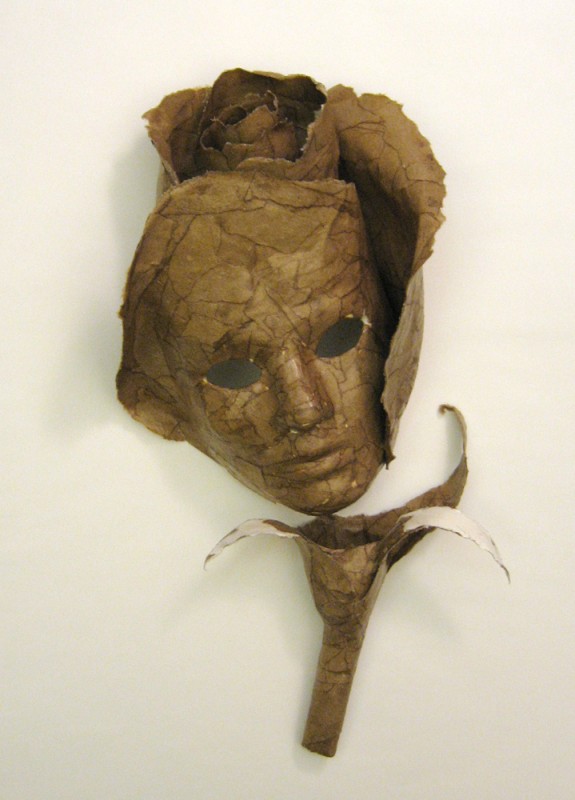 I wasn't ready to attach them together at this point. First, I wanted to paint both pieces separately to prevent any color contamination. To make sure the surface of the mask took the paint evenly I decided to gesso it before painting. Here it is after two coats of gesso… (So the white would stand out, I placed the mask pieces against one of my schmeered canvases.)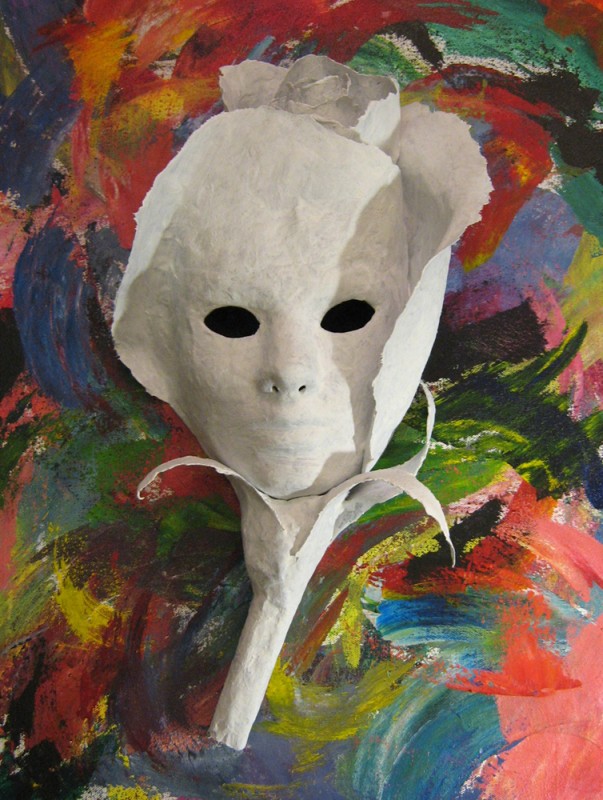 Then it was time to get started with the paint. Here's a shot of me in the middle of that process…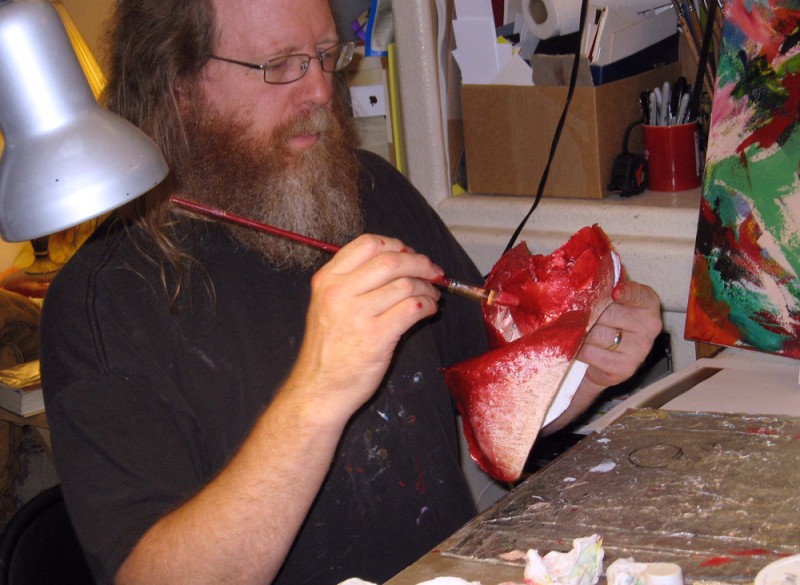 I went thru several variations of color application before finding the exact combination I wanted. I won't bore you with all those experiments. Just know that I pulled out even more of the very finite amount of hair left on my head while trying to find the elusive answers.
Below are the pieces with the final colors…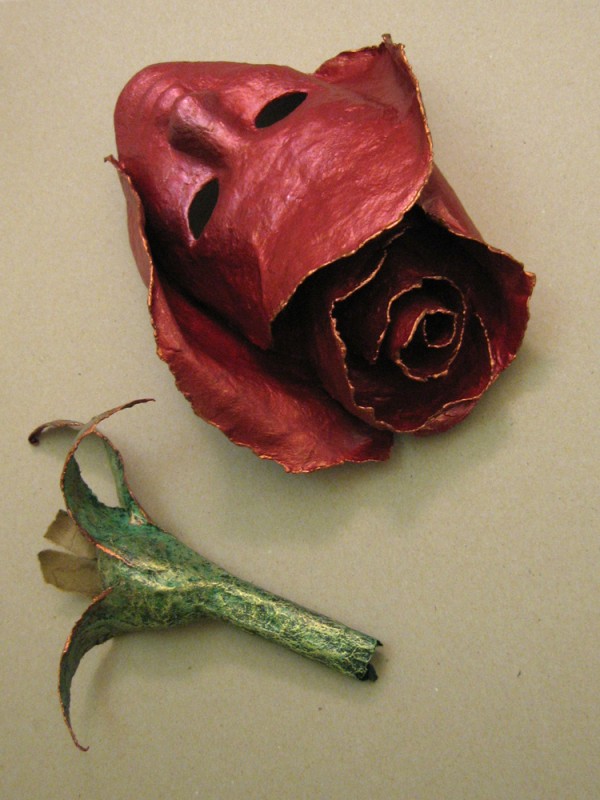 …and below are the pieces drying upon assemblage completion.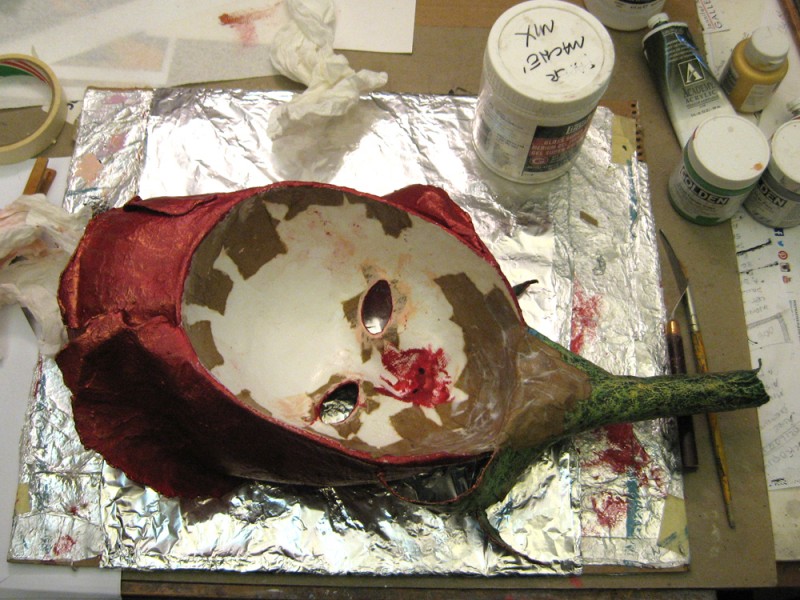 I couldn't leave my mask with a bloody nose, so I painted the inside of it black before signing, titling and dating it. Here is one last image showing both the front and back of the finished Queen of Hearts. I hope you enjoy.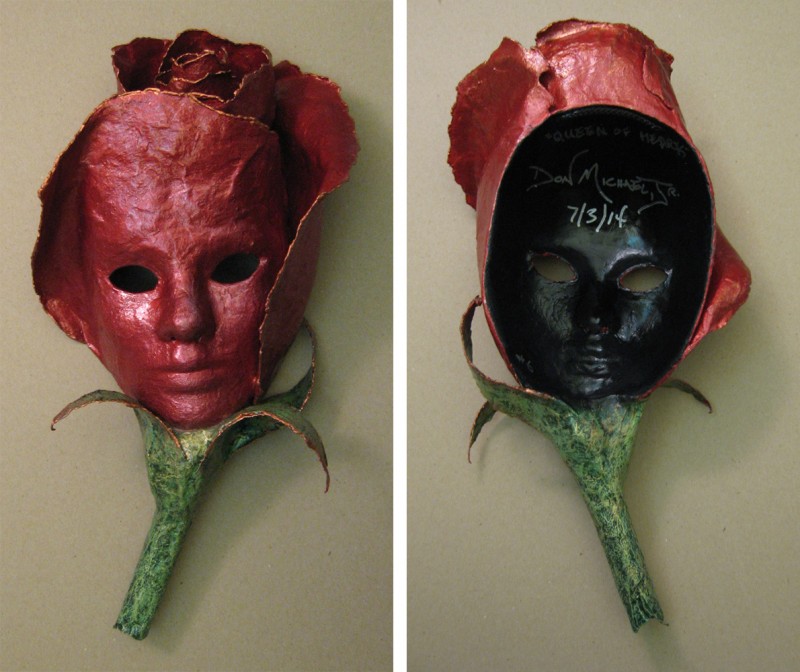 ©2014, Don Michael, Jr.
Happy Creating!
Next Page >>