Currently on Don's Blog:
November 26th, 2013
I continue my Sunflower Series memorializing our oldest son, Donald, who left this world abruptly this past summer.
As I continue to deal with all of the emotions associated with this painful loss, I turn to God daily in prayer, meditation and the reading of His word. I thank God for His Holy Spirit that comforts me, for without Him I'm not sure how I could go on. But, go on I must. And, not only must I go on, but I know that God wants me to rise above and flourish. It's Time to Blossom.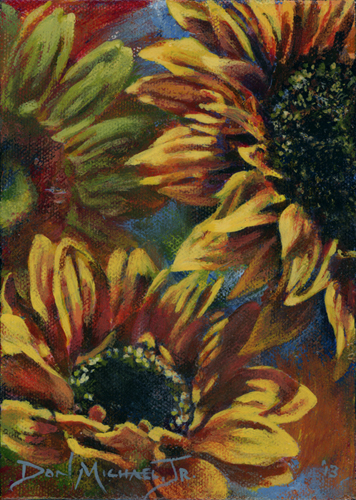 Time to Blossom – 7″x5″ – Acrylic on canvas – Completed 11/25/13
©2013, Don Michael, Jr.
2 Corinthians 1:3-5(NIV); Praise be to the God and Father of our Lord Jesus Christ, the Father of compassion and the God of all comfort, who comforts us in all our troubles, so that we can comfort those in any trouble with the comfort we ourselves receive from God. For just as we share abundantly in the sufferings of Christ, so also our comfort abounds through Christ.
Happy Creating!